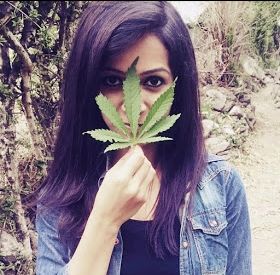 Kasol is a lovely paradise in Parvati Valley, which attracts a lot of guests from all around the world each year. Deep, dense forests, roaring Parvati river in between massive huge mountains, stunning bridges with some uber cool cafes and great views. People choose this location again and again as it has everything which each and every traveller craves for. Kasol offers you an outing of a lifetime. It is stated that Parvati river is one of the fastest flowing rivers in India, it was beautiful and dangerous at the same time.
✈How to reach ✈:
We took a Volvo from ISBT Delhi and reached Bhuntar, the nearest drop-off point to Kasol, early in the morning. From here, you can get local buses and cabs to the village, which is an hour away. We boarded a local cab to Parvati Valley. An hour later, we were in Kasol. By this time I was exhausted from the bus ride , however strolling around Kasol gave me such a wonderful feeling of energy. I at once felt the high-quality vibes and could not wait to experience the whole thing it had to offer. We determined to meet up with one of the locals who my buddy knew to check out his spot up in the mountains. He greeted us with a smiling face and after relaxing for a while we headed back into town.
We ended up finding a room at an absolutely great spot which had two rooms that were perfect for us. After keeping our luggage in the room we headed to the cafe for some dinner. This vicinity had a large patio overlooking the Parvati River so we grabbed a desk outside and ordered lots of meals and tea. I will never forget consuming a delicious dinner and sipping on hot tea with the soothing sounds of the river in the background. It was a stunning moment. After dinner, I headed back to the room to freshen up because at this point I had lost track of the last time I showered or changed my clothes. I felt revived after changing my clothes and we made some drinks, ordered more food, and enjoyed a lovely night at the cottage.
Getting Around & Things To Do
After getting some much needed rest, we woke up early the subsequent morning, freshened up, got dressed and enjoyed some tea in our room.
At 10 in the morning we walked out to discover the place. So we walked the entire market to find out woods at the end which led to Parvati River. This was the fantastic part about Kasol.
Serene pathways to stroll and think of all the right things in the world.
After exploring a few kilometres we went to the café where we ordered Honey Ginger Lemon tea and it blew off the whole world with warmth and goodness. We ordered a cheese toast on the side. After finishing our breakfast we began exploring the kasol market where you can find boho accessories, shops, cafes and shops selling woollens etc. After exploring for 1 hour or so we had lunch and went again to our cottage as we were feeling dizzy may be because we were tired by the bus journey.
We took a good nap and then woke up at 5 30 pm, and sat outside for some time, had a chit chat with other people who were also sitting outside and enjoying each and every moment of the darkest of hilly areas.
I remember sitting outdoor smoking with my friends, staring out at the mountains and wondering about how small I am in comparison to these hills around me.
After having a good time sitting outside, we decided to have dinner. After walking around for a while and checking out the shops we decided to eat at the China Town Cafe. The food was delicious, staff and service was excellent, and the overall vibe of the place was just awesome. We were completely satisfied from our meal.
After finishing our dinner we came back to our cottage and after putting an alarm for 7 am for the next morning, we dozed off.
The subsequent morning was supposed to be the day of Chalal trek.
Known as "Stoner's Paradise", Kasol is the home for one of the nice cannabis in the world "Malana Cream". Not solely the malana cream , it has Kasol cream, red ice and many different local (jungli) cannabis, which are effortlessly available in all places and are very cheap. This attracts a lot of overseas travelers, in particular Israelis. The magic does not lie in the cream that you smoke , but of course the area that you smoke.
Kasol is also recognized as "Mini Israel" due to a lot of Israeli vacationers traveling each and every year. Some of them are everlasting residents. This will become very evident when you get to see sign boards outside cafes and resorts and even some Menu Cards are in the Hebrew Language. Kasol has some splendid cafes which no longer solely serve scrumptious Israeli food, but also continental and different global cuisines. The food is simply very cheap.
Must have : Falafal , Mutton momos, Shaksuka, Shintzel and Pancakes.
Best Cafes: Shiva Mama cafe , Moon Dance cafe, the stone garden cafe , China Town Cafe, etc. Kasol also has some of the best German bakeries.
Chalal
Next morning, we woke up, freshened up and got ready. We headed to my one of favourite cafes and had some Falafel salad with bread and they were simply splendid as we expected.
After finishing with our breakfast, we started out our trek to Chalal. Chalal is a simple, lovely village and didn't take us more than two hours to cover. Chalal being a village located at the bank of Parvati river has its own attraction and one can get a room at round Rs. four hundred to one thousand during off season, depending upon your bargaining skills.
After spending entire day, sitting on the big rocks through the side of the river and chilling with my friends, it was the time to have some authentic food, we headed back to Kasol, as there are many cafes in Kasol which provide some remarkable International cuisines and Positive vibes.
We spent many of our remaining hours in Kasol hanging out inside the cafe which was empty other than us and the staff. We listened to music, laughed, watched videos, smoked a lot, and talked about life. We ventured out for some remaining minute buying and exploring then booked a cab to Bhuntar to catch our bus back to Delhi. It was an overnight bus and we had been exhausted, so we slept almost the entire way home to Delhi.
I did not go to the mountains searching for something in particular, however, I truely, found a peace inside myself that I did not recognize existed till that moment. It's a feeling I will by no means forget. It was a really worth touring these locations and I would genuinely recommend everybody to travel to kasol and Chalal, Parvati Valley.