Why triund ?
If you are looking for a beginner's trek , think no more. Triund which is just 10 kms away from Mcleodganj is a perfect choice.
It displays a completely different landscape depending on the time you choose.
While in summers it looks like a vast land covered with thick green blanket, in winters the same is turned into a fairyland. Snow covering the entire area transforms it into Narnia land.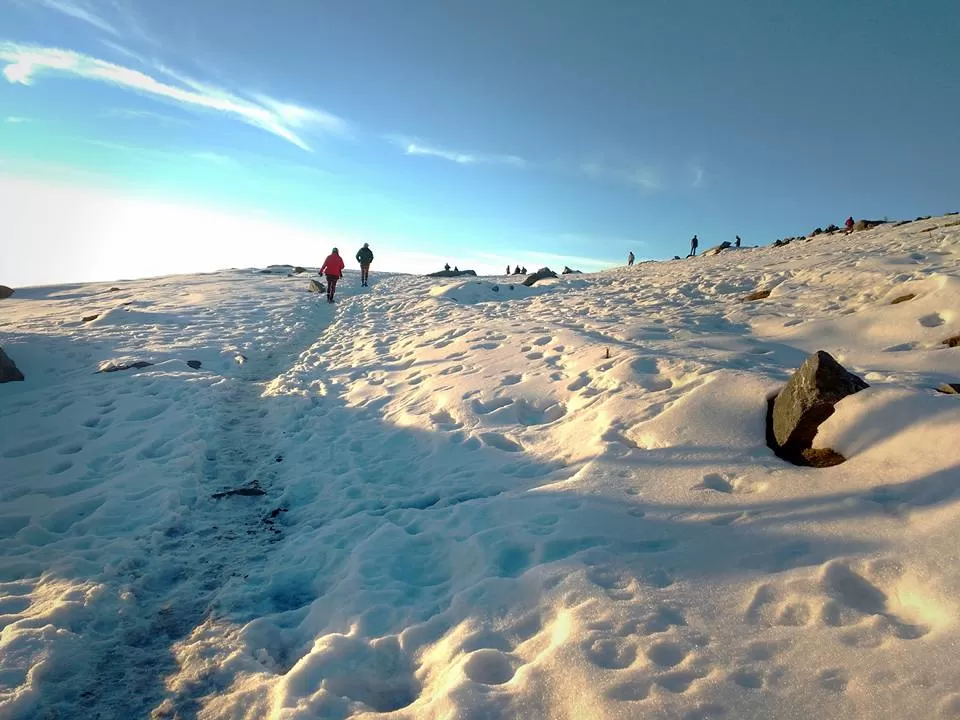 Magnanimous view of Dhauladhar ranges can be seen from the top.
A total of 12 kms to and fro distance this trek can be done in a day or two. In case you are running out of time, start early in the morning and return by evening.
In case you plan to stay make sure you have your accommodation sorted. It's quite possible that once you reach at the top, there are no tents available. In winters it's quite a bummer and you would die sleeping in the cold outside.
Food is available at the top. A little shop that serves snacks, tea and meals.
The trek starts from Galu temple. And has well laid path, so a guide is not mandatory. You'll find maggi and tea stalls on your way but I would request you to carry your own bottles just to avoid litter.
How to reach ?
You can get both private and public buses from Delhi to dharamshala or Mcleodganj. Dharamshala to McLeodganj is just 5 kms away. Regular bus service and autos are available between the two.
You can also take a train to the nearest railway station Pathankot, which is 85 kms away and further a taxi or a bus to Dharamshala.
When is the best time to Visit ?
It remains accessible for almost the entire year depending on snowfall. So, in case you are leaving in Jan or Feb check with someone if the treks are still going. I would recommend Dec end as the best time to get the most out of this place.
Keep Traveling!