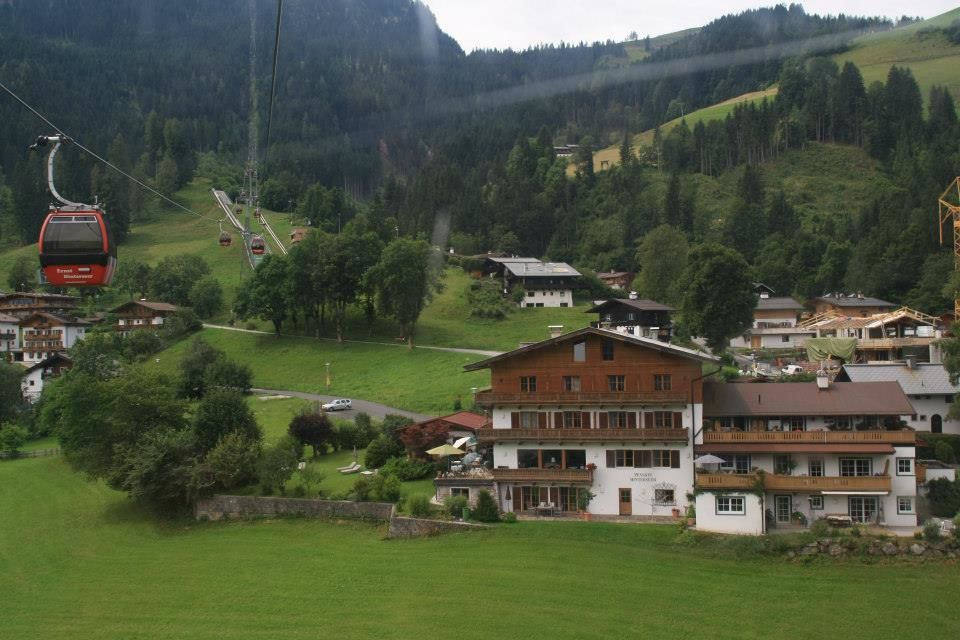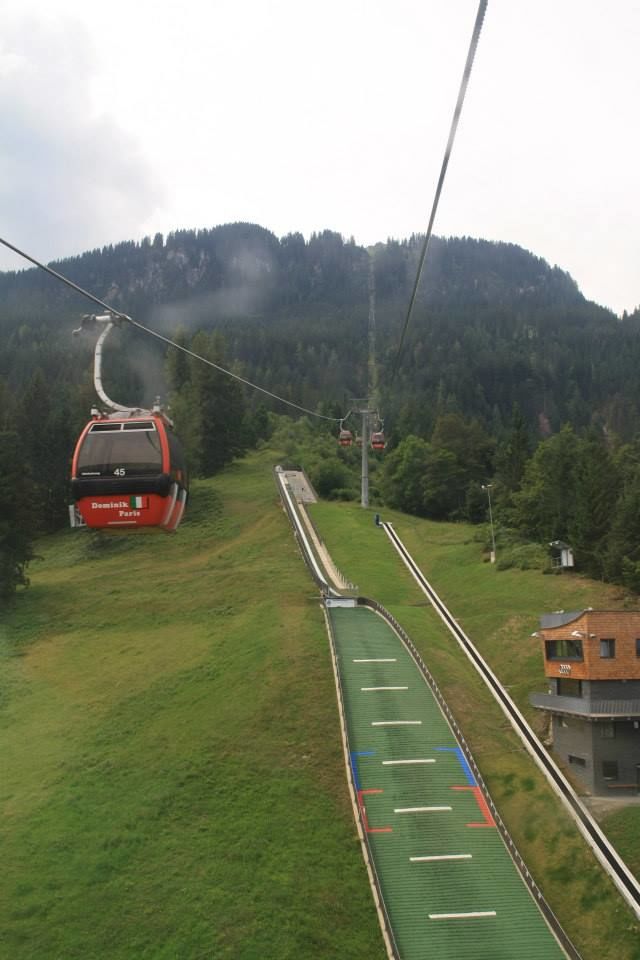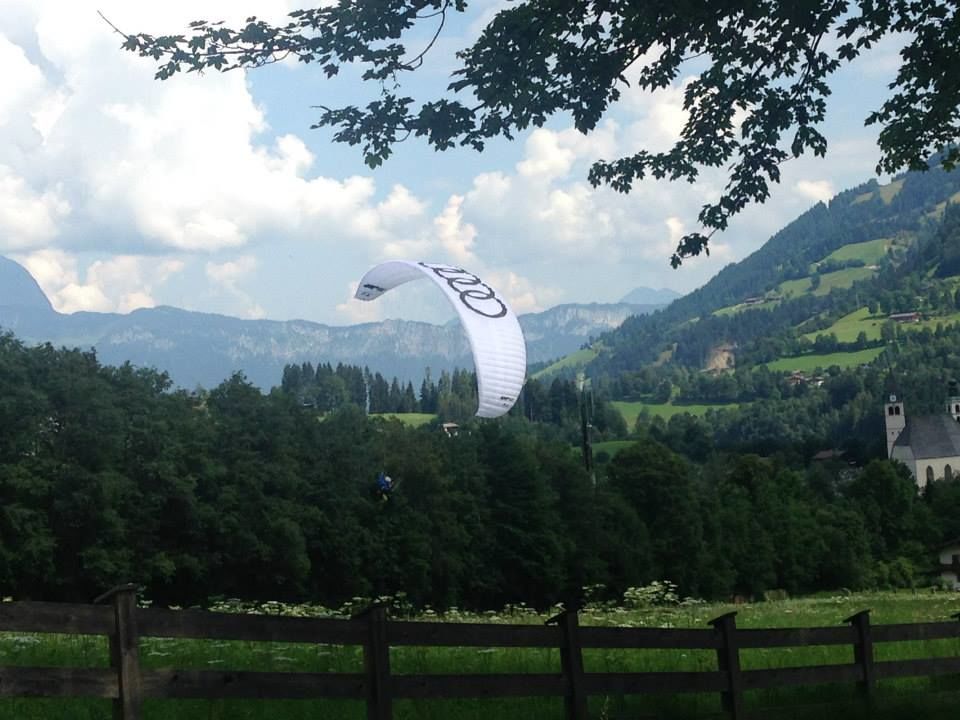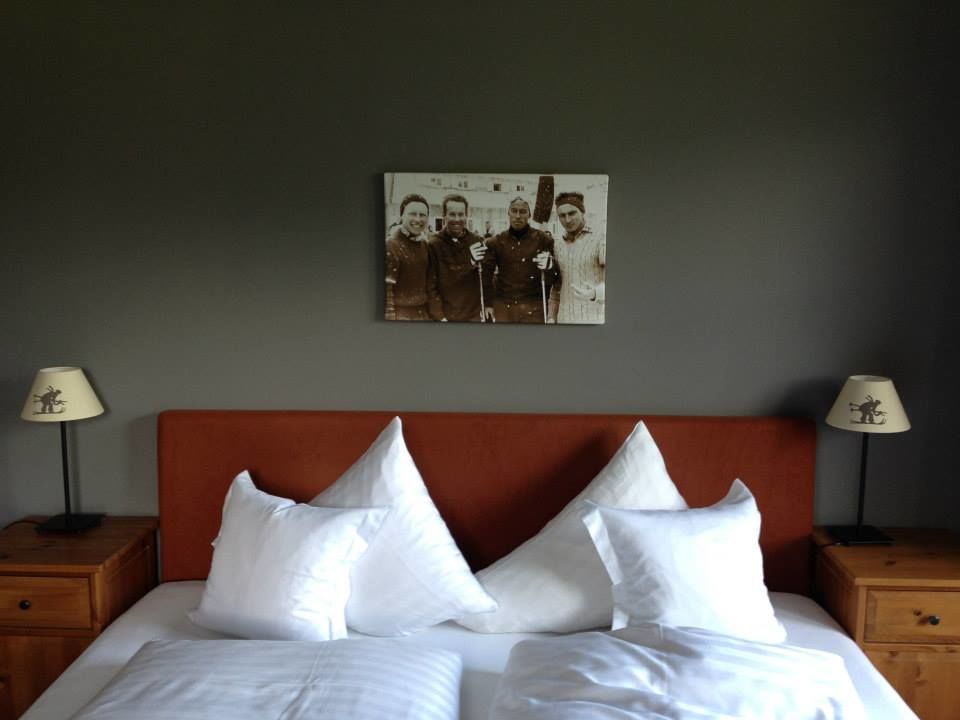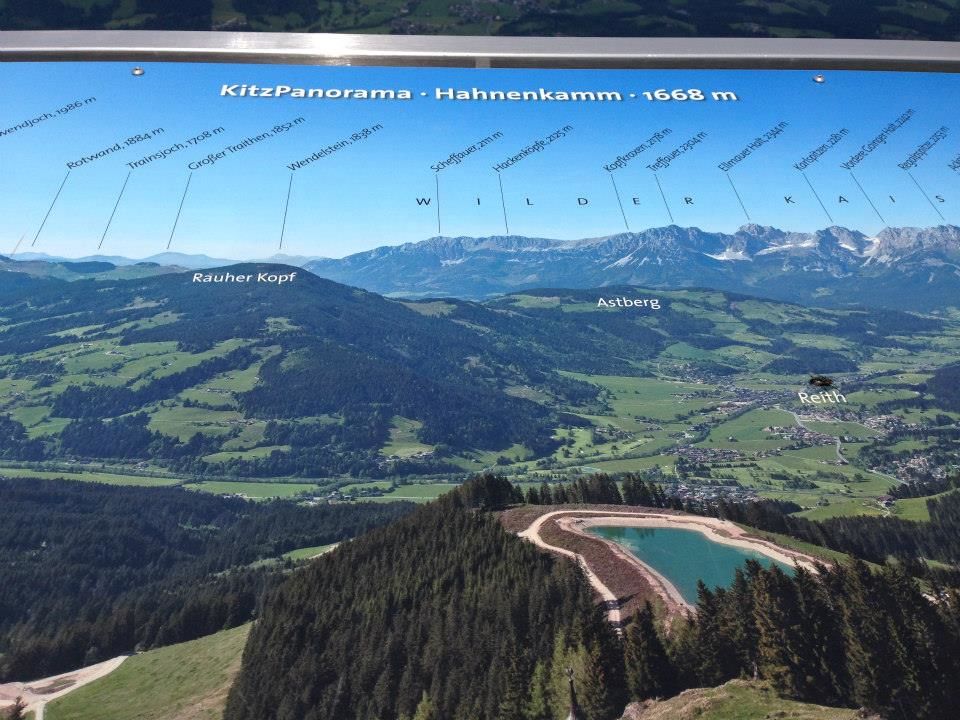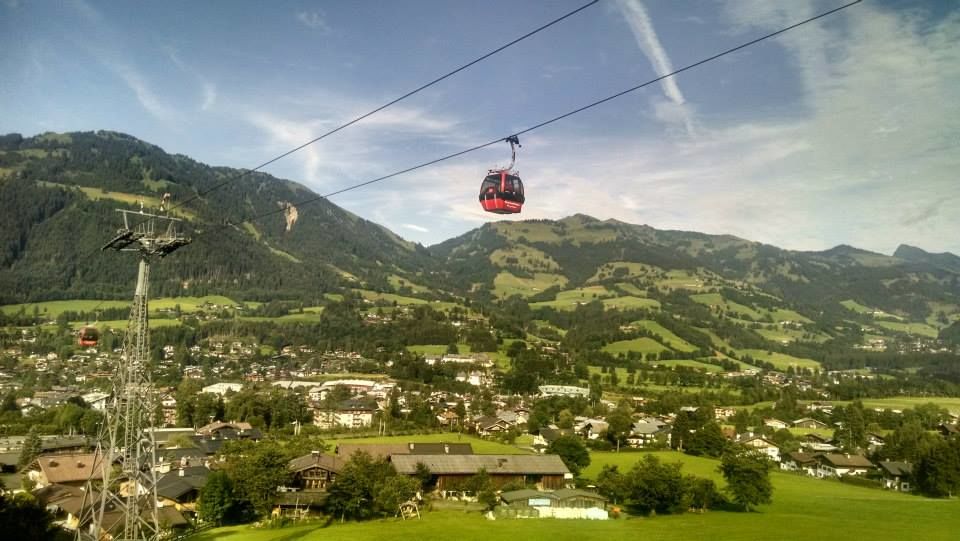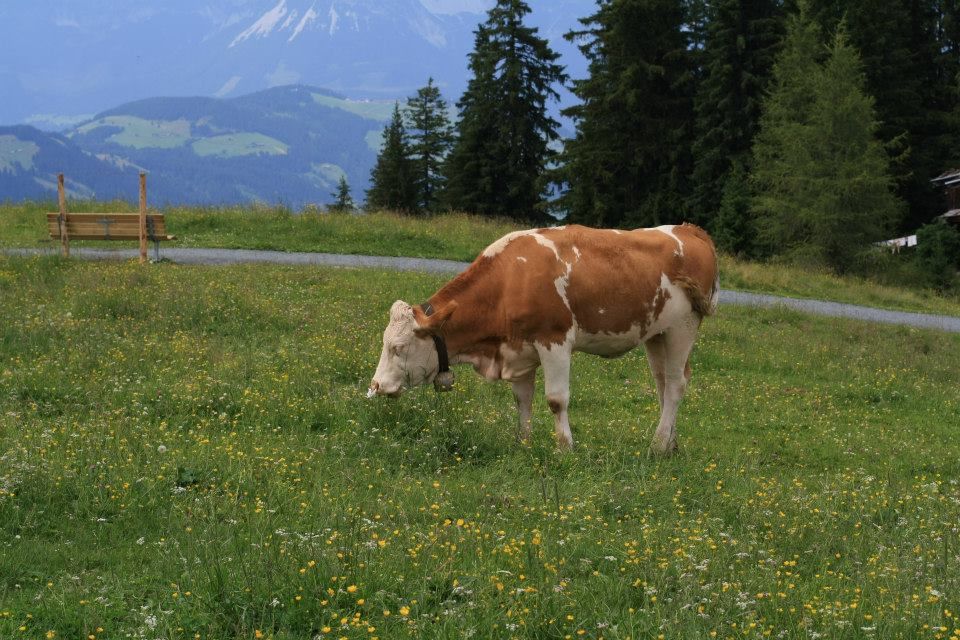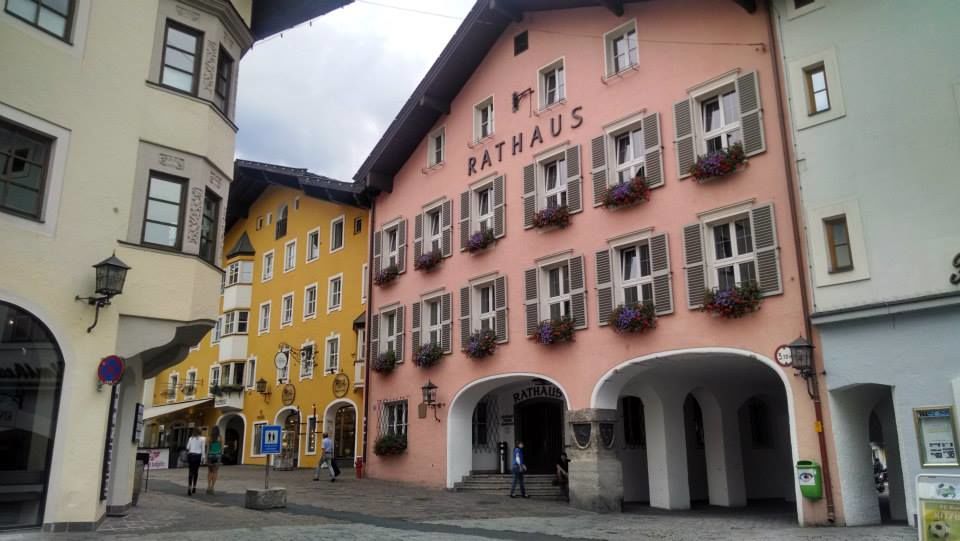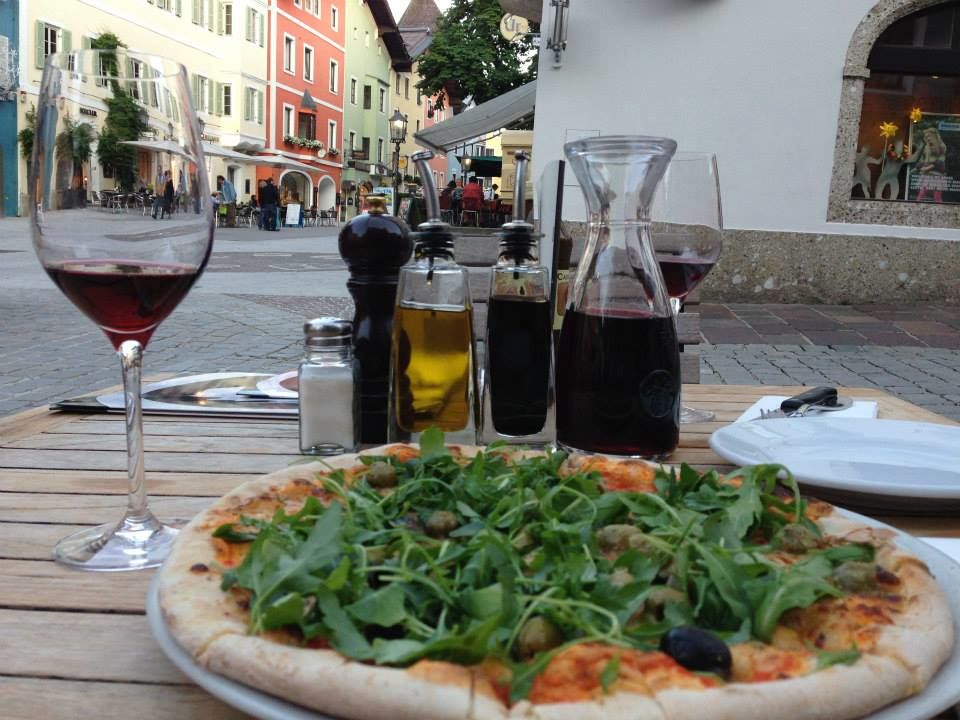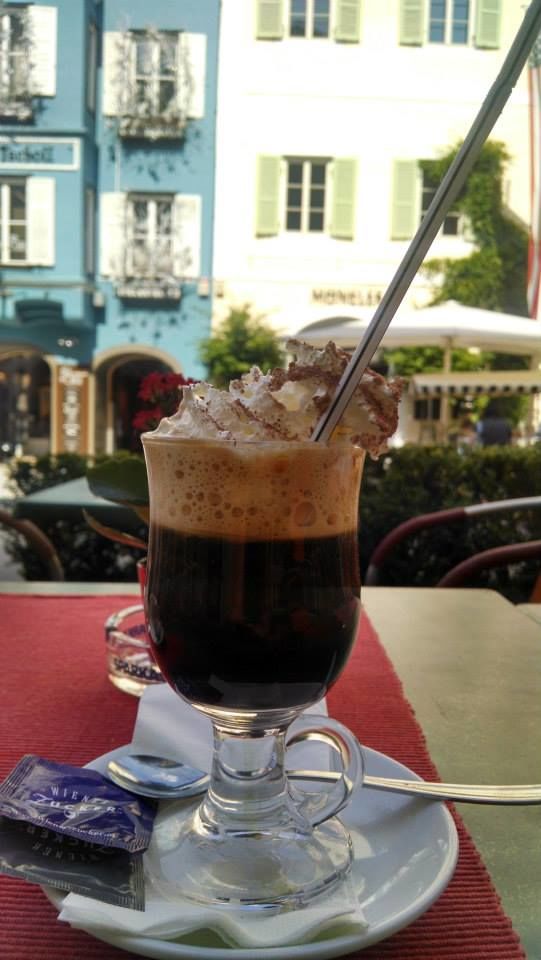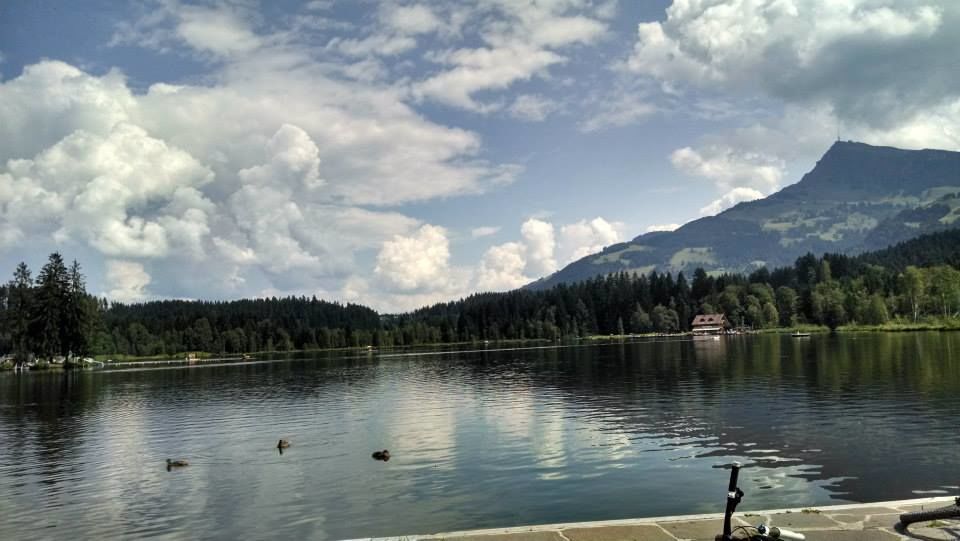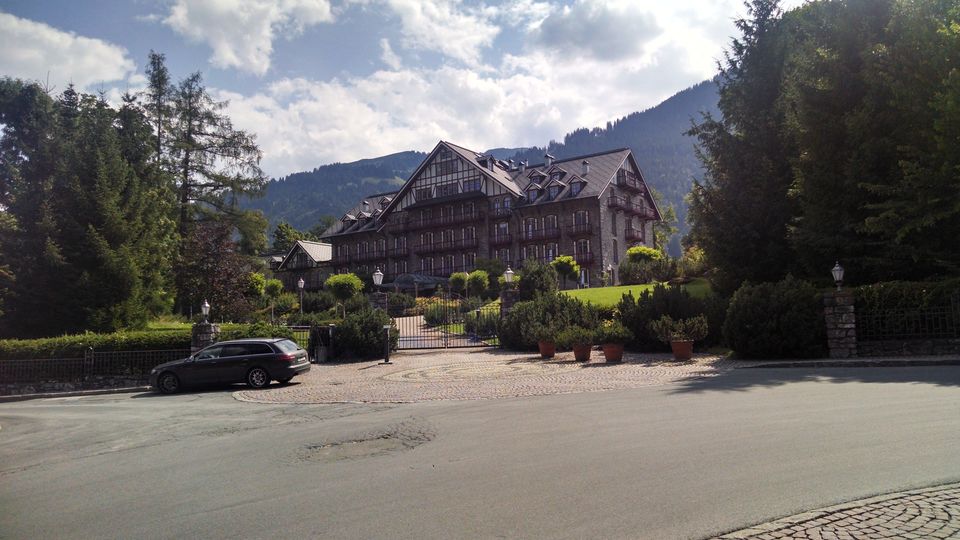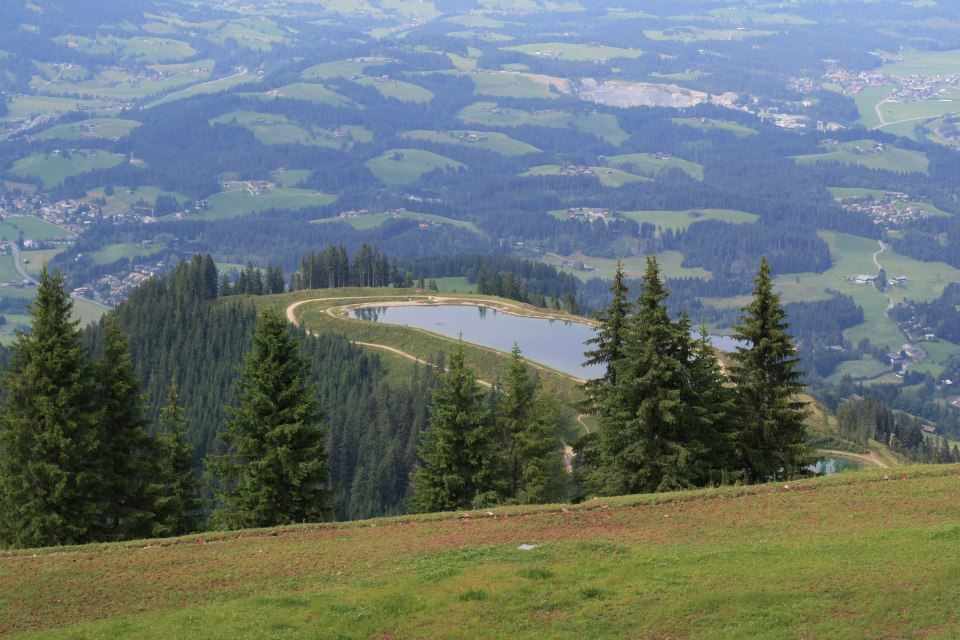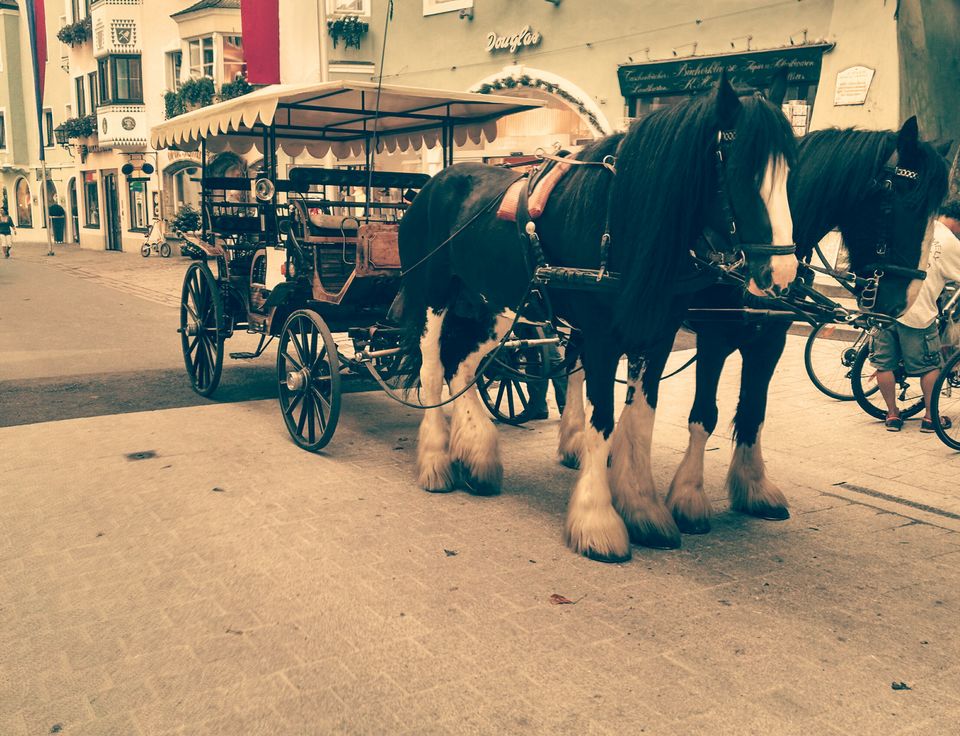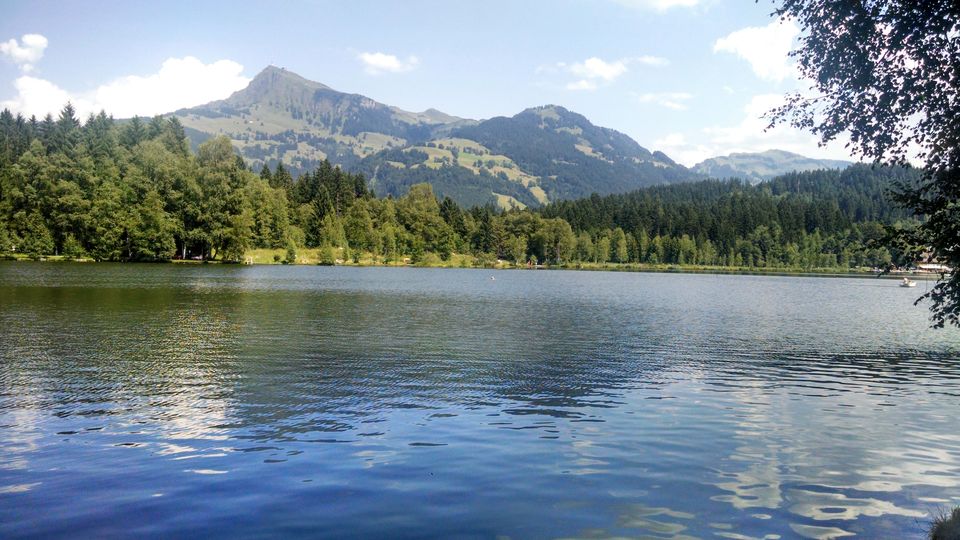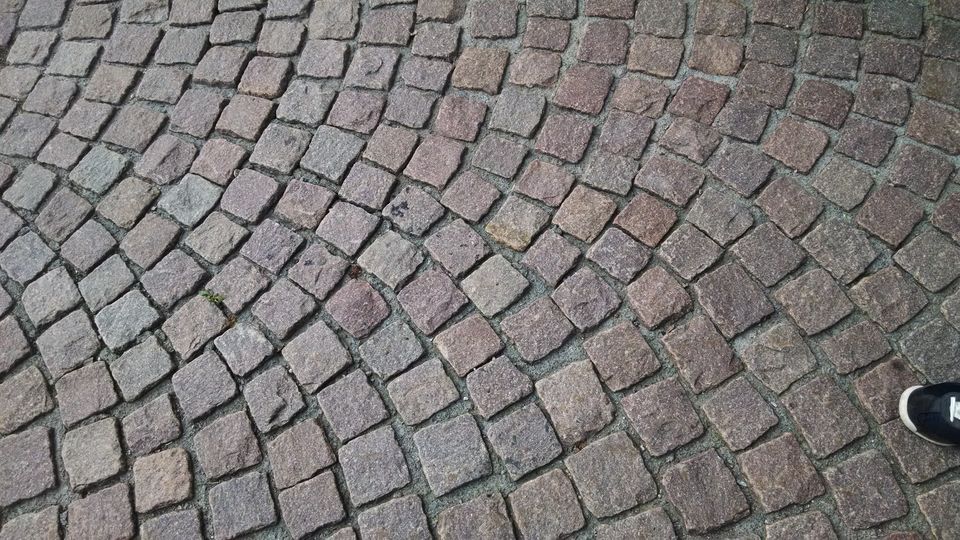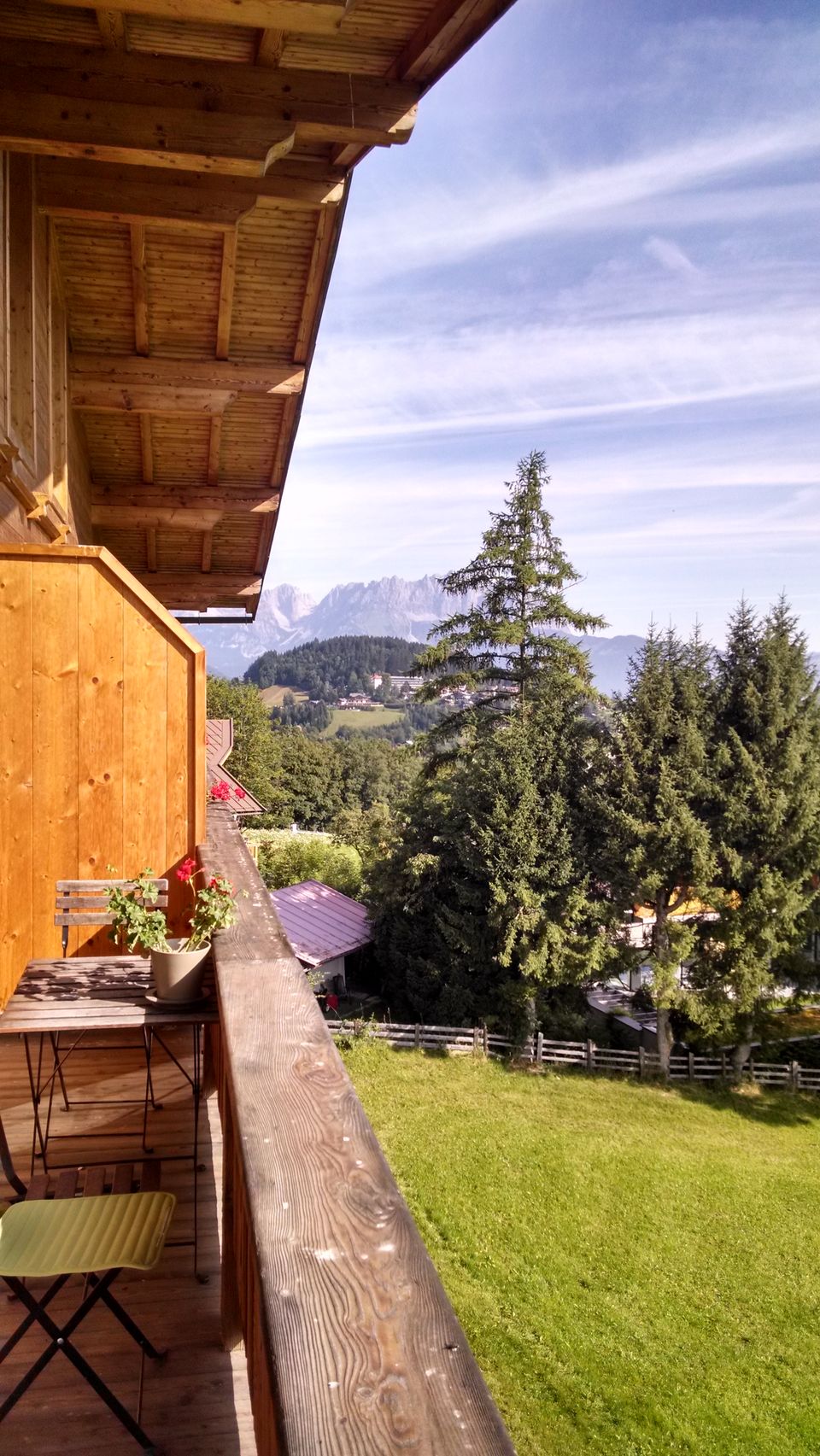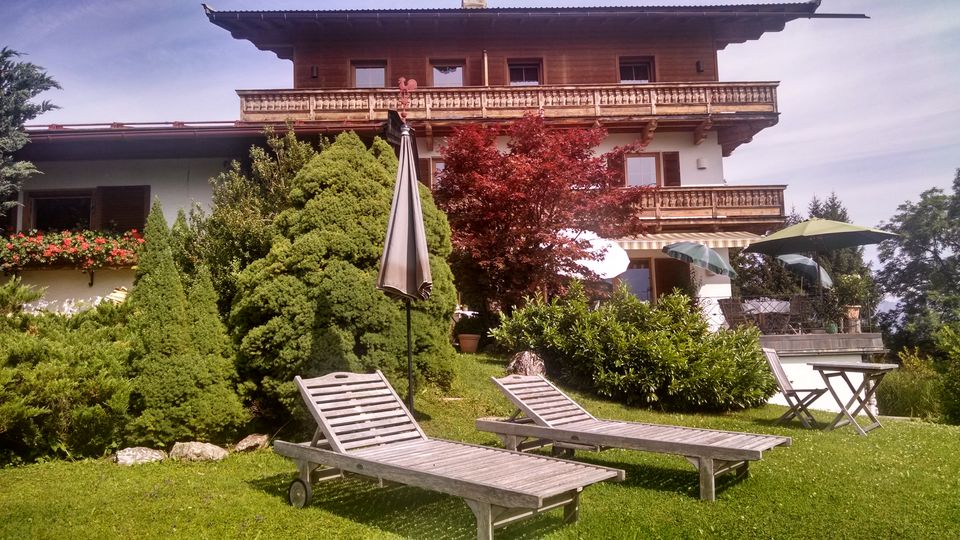 I stood in the balcony of my room at 'Pension Hinterseer' gazing at the green meadows and cable cars passing-by in every five minutes. The surroundings were so placid that I could feel my breath and wanted to converse with my partner in whispers. This is the charm of 'Kitzbühel', a valley town situated in the 'Tyrol' region of Austria surrounded by Alps with a population of just about 8,000. Primarily known as a silver and copper mining town in the 16th century, Kitzbühel is today popular as a fashionable and prosperous ski resort. Nestled between the mountains 'Kitzbühel Horn' (6,500 ft) and 'Hahnenkamm' (5,600 feet), it boasts of an average 155 days of skiing each season with more than 50 cable cars and ski lifts.
I had driven down to Kitzbühel from Salzburg, the birthplace of Mozart – an hour's drive cascading through the beautiful Alps. Salzburg had been dark, wet, cold and windy whereas Kitzbühel was just the opposite – pleasant sunny days with long nippy evenings as the sun would set late.
'Pension Hinterseer' was a modern and comfortable accommodation with about 13 rooms set in a beautiful spot above the 'Hahnenkamm' cable car station. 'Pension' stood for guest house and 'Hinterseer' was the family name of owners - Kerstin and Guido Hinterseer. Kerstin's father was a skiing champion himself and that explained the dozens of trophies and pictures of skiing competitions which adorned the quiet reading room. My room had a modern country style feel to it and was situated on the second floor. A picture of ski enthusiasts from the annual skiing event was hung on the wall next to the bed. The balcony had a small wooden table with a flower pot and chairs covered with a pink fleece blanket for nippy evenings. The cozy reading room on the ground floor furnished in Tyrolean style had an old world charm to it with big sofas, earthy rugs, an old book shelf and a fireplace. Breakfast was served in the lawn next to the reading room and comprised varieties of breads and cheese, yoghurts, cereals, soft-boiled eggs, omelettes, juices and freshly brewed coffee.
A ten minutes' walk alongside the neat pavement next to the open grasslands bordered with a wooden fence led me to Kitzbühel centre. The only noise in this otherwise quiet neighbourhood was that of super luxury cars screeching at traffic signals every now and then. This cobbled-stone area had a town hall and up-market designer stores, cafes, pubs and casinos painted in pastel colours like coral pinks, sunshine yellows and pistachio greens. The gentry made me feel as if every other person was a celebrity straight out of a Hollywood show/ movie or a skiing champion. Not surprisingly, many celebrities and the jet set visit this place for the international skiing races. Tired with all the walking, I finished my day with an early dinner comprising a wood-fired thin crust pizza topped with rocket leaves and some red wine.
The next day, I went for a ride up the famous 'Hahnenkamm' cable car/ gondola. After a steep hike of 15 minutes, I reached the summit station where fresh mountain air and unobstructed views of Alps, sprawling meadows, clustered pine trees and sparkling lakes greeted me. A glass-fenced lookout point had a map installed which depicted various peaks of 'Hahnenkamm.' I decided to follow one of the hiking trails which led me to an even quieter area - the only sound being the soft tinkle of cowbells. I sat on a wooden bench, next to which tiny white and yellow flowers popped out of the grass. Soon it was time for lunch and as I waited at the restaurant table for my order to be taken, a sturdy tough-looking guy approached me.
"How are you doing today madam?" he said while handing over the menu to me.
"Very good. Beautiful day, isn't it?" I said to him.
"Well, every day is beautiful; every moment is beautiful," he retorted with a big smile.
"Do you live nearby?" I inquired.
"Yes, in the adjoining village. I commute via the cable car every day and have been working here for the last ten years. I love my work – especially serving guests right in the lap of nature," he said.
"Yes, the view is beautiful indeed." I said nodding my head.
"During winters, this entire area is covered with snow," he added. "Hey, we have a sunset party every Friday when the cable car functions till late, around 11 pm… it is so much fun. You can enjoy dinner while watching the sun go down. You must come here if you are in Kitzbühel till then."
"Really? Well, I will try for sure" I remarked.
"Well, people of this town really know how to party hard," I thought. Watching the sun go down from the gondola while gliding up the hills and then slope down the ropeway amidst pitch darkness was almost a mini-adventure for me.
On the last day, I boarded a cab to reach 'Lake Schwarzsee', 10 minutes away from Kitzbühel town. The idyllic lake is situated in the heart of Kitzbühel Alps and is about 7 metres deep. I followed the walking trail around the lake crossing spots where people were busy fishing, sunbathing or enjoying a picnic. People swam in the lake known for its warm waters along with pets or simply enjoyed a relaxed boat ride. I stopped at a lakeside restaurant. The owner was a broad, slightly plump Italian guy. He was very friendly and seemed quite knowledgeable about Indian politics. He told me about his last trip to Asia (specifically Thailand) and recommended me to try a saffron-based risotto and the Austrian speciality - 'apple strudel' both of which were outstanding.
As the evening approached, I headed back to the high-street market in Kitzbühel centre. It was my last evening in this picturesque town and I decided to make it special by attending a live concert, preparations for which were underway in one corner of the street. Since I had time in hand, I refreshed myself with an Irish coffee topped with whipped cream and then went for souvenir shopping. I came across a wooden cart where a couple sold many varieties of cheese. As I started chatting with them, I got to know that they were farmers from the nearby village selling their local produce and surprisingly, had also heard about the recent Indian elections and our new Prime Minister. They gave me tips on how to pair different varieties of cheese with various food items like crackers and 'salami.'
Soon the concert lights were on, the crowds began cheering and the guitar strings strummed. I hurried back to the concert to ensure a musical wrap-up to my short and sweet stay in this town reminiscent of old world charm balanced with sublet hints of modernism. I did miss the sunset dinner on the hilltop but then I should have left something for the next trip as well.