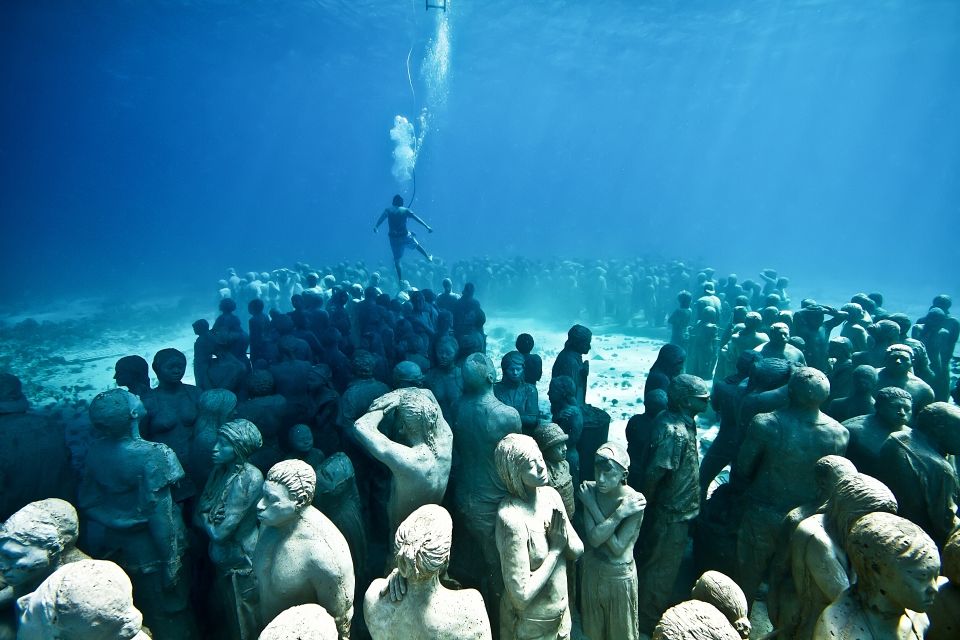 Who lives in a pineapple under the sea? If your answer is a resounding "Spongebob Squarepants!", then you are only partly right. Jokes aside, if you are an art lover and have a particular fondness for sculptures, so much so that you would go to any depths to see them (literally!) then have I got news for you!
Did you know that there are several sculptures that you'll need scuba gear to see? That's right! Some eerily beautiful sculptures are lying undisturbed at the bottom of the sea and if you're an art lover and a thrill seeker, a viewing of these statues will be the perfect union of the two. So fish out the old wetsuit and keep an eye open for Aquaman because here are some unbelievable sculptures that even the mighty Poseidon approves of:
A giant beneath the waves: Ocean Atlas, Bahamas
Just off the coast of Nassau, Bahamas, lies an 18-foot tall, 60-tonne statue of a Bahamian girl holding the weight of the ocean on her shoulders. It is the largest underwater statue in the world. Inspired by the Greek myth of Atlas, this sculpture has been designed and built by British artist and conservationist Jason deCaires Taylor. A local girl named Camilla posed for the statue and the message behind the statue is that it is the locals who can support ocean conservation the most. The immense size of the statue will create multiple habitats for sea life as an artificial reef. A marvelous statue and a conservation of truly epic proportions!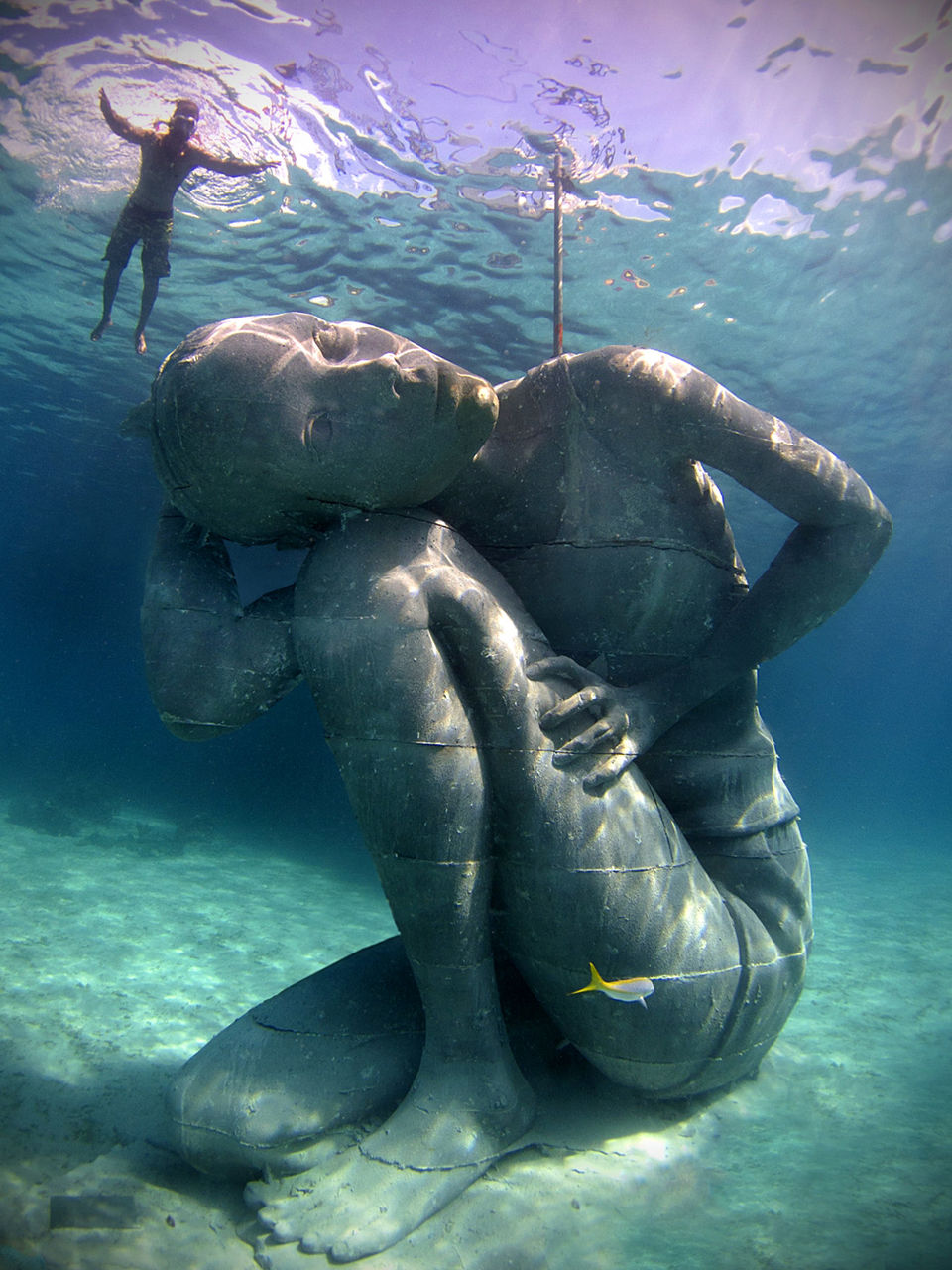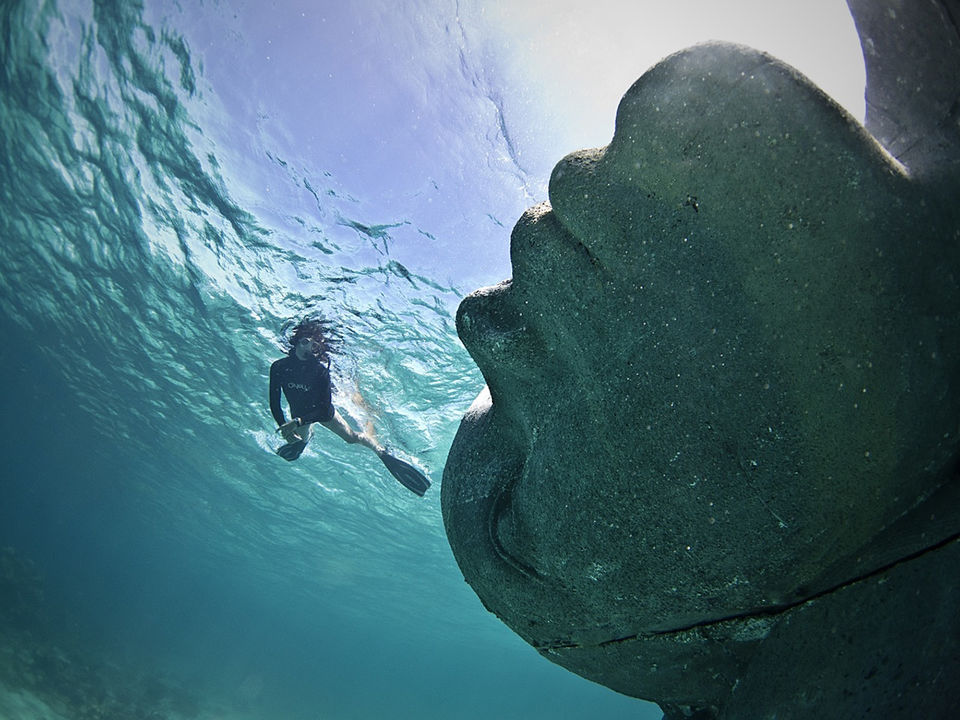 An underwater spectacle: Cancun Underwater Museum, Mexico
Located in the Cancun Marine National Park off the coast of Cancun (unsurprisingly), this museum is home to 500 sculptures that are between three and six meters underwater. The artist behind this impressive project is Jason deCaires Taylor. This museum promotes the conservation of coral reefs as all the sculptures are created using materials that allow coral to grow on them. Prepare for the ultimate underwater visual treat!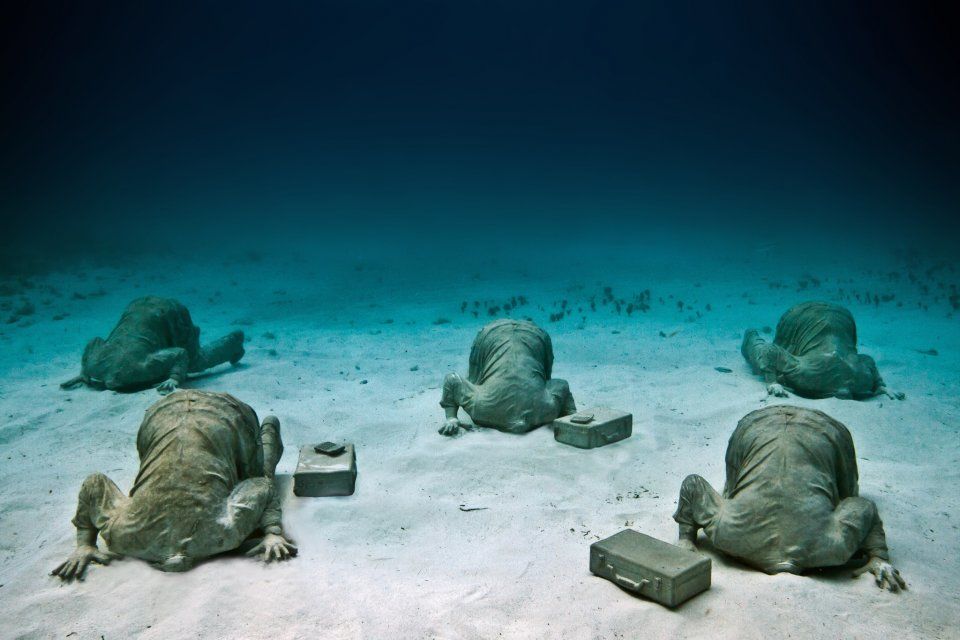 Say a little prayer: Christ of the Abyss, Italy
If you're feeling a little religious, there's a wonderful sculpture that's extremely popular among free divers and scuba divers. It's a 2.5 meter bronze statue of Jesus Christ, with his head and hands raised skyward, placed off the Italian Riviera and it was created by Italian sculptor Guido Galletti in honor of diver Dario Gonzatti who lost his life scuba diving in 1947 at that very spot. Two other statues that were cast from the original mold also exist underwater: one off the coast of St George's, Grenada, and the other off Key Largo, Florida. A spectacle of biblical proportions and a must-visit for all diving enthusiasts!


Caribbean Treasure: Molinere Underwater Sculpture Park, Grenada
Located off the west coast of Grenada, this sculpture park was also created by Jason deCaires Taylor, and it was the first of its kind. There are over 65 beautiful individual sculptures present here, and they have all been designed to promote coral growth and marine life. A more creative and stunning conservation technique would be hard to find!


Nature restored: Pemuteran Bay, Indonesia
Pemuteran Bay is home to several structures that have aided in the conservation of reefs in the area including the famous Coral Goddess sculpture. Reef structures were almost non-existent here until the Karang Lestari Foundation's Coral Reef Restoration Project helped in the enhancement of coral growth with the use of biorock. This spot is now one of the best diving and snorkeling spots in Bali. The Coral Goddess even received the UNDP award for sustainability in 2011. A dive here would be an exhilarating and enthralling experience!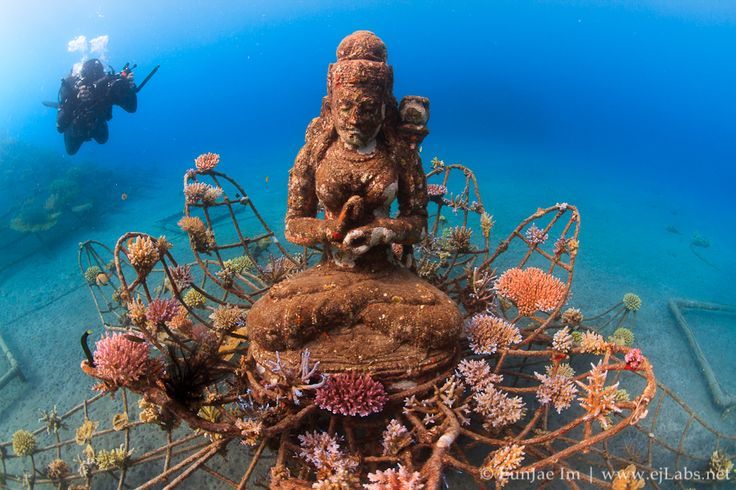 Blame Hollywood: Easter Island, Chile
Easter Island in Chile is more famous for the 887 mysterious monumental statues called moai that were created by the early Rapa Nui people. But did you know that there's one underwater too? Unfortunately, there's no mystery there. It's largely believed that the sunken moai can be traced back to a failed 1994 Hollywood movie by Kevin Costner called Rapa Nui, but at seven meters tall, it is a magnificent sight nonetheless!


An ethereal mermaid: Grand Cayman, Cayman Islands
Canadian artist Simon Morris created this 9-foot, 272 kg sculpture, so no little mermaids here! It is supposed to depict Amphitrite, who, according to Greek mythology, was the wife of Poseidon. The sculpture is at a depth of 15 meters, easily reached by divers and snorkelers alike. One of the most popular dive sites off Grand Cayman. Don't get too close though, or you might find yourself at the sticky end of a certain divine trident!


Majestically surreal: The elephants of Siam Bay, Thailand
If you're ever in Phuket and crave the kind of dive that takes your breath away, then Siam Bay is the place to be. The almost life-like elephant sculptures were created as artificial reefs to attract divers to the area after the tsunami of December 2004. There is also a sculpture of an oyster shell and a temple gate to be found at this spot. The most amazing part of your dive, however, will be the incredible marine life you will encounter. Divers, it's time to book your ticket to Thailand!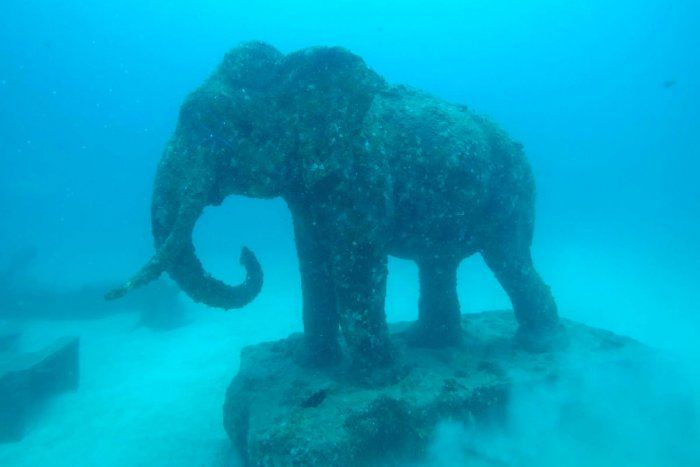 Bonus:
Mysterious Ruins: Ryukyu Islands, Japan
This entry isn't a sculpture, but its enigmatic origins will make you want to dive here and explore the area for yourself! The Yonaguni Monument is a submerged rock formation off the coast of Yonaguni, the southernmost of the Ryukyu Islands, in Japan and it's completely shrouded in mystery. Some experts believe that the structures could be that of Mu, a fabled Pacific civilization that was rumored to have vanished beneath the waves. Others believe that the site is natural and the fractures and formations have come about because the area lies in an earthquake-prone region. The debate still rages on, but there's no arguing the fact that if you're a diving enthusiast, then you have to check this place out.