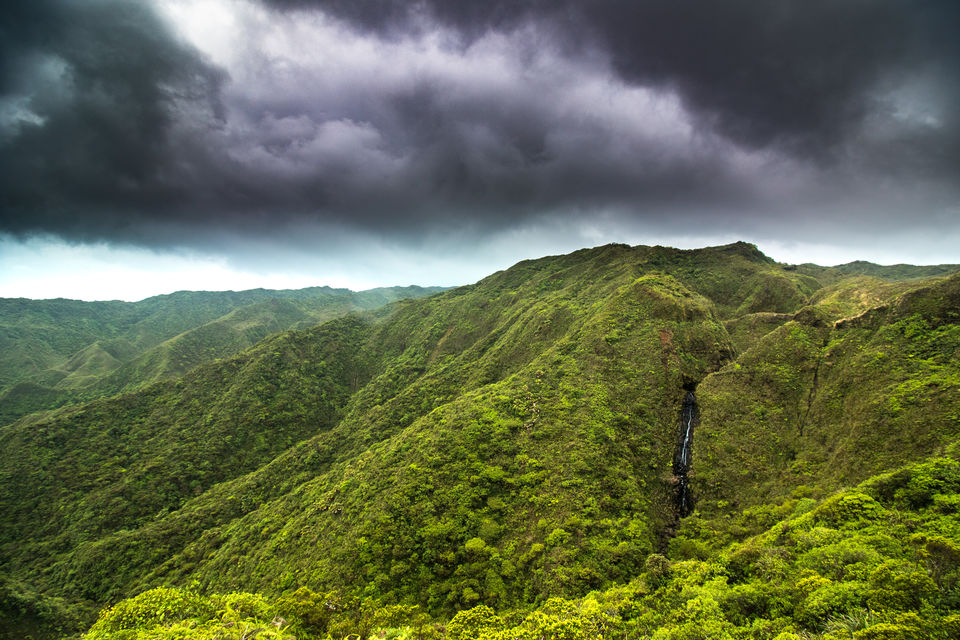 Join 40,000 others and check out my Instagram @jackson.groves
WHAT DID WE GET OURSELVES INTO
Attempting the Koolau Summit Trail (KST) on Oahu, Hawaii is something I look back on with a smile but am happy to be writing about it from the comfort of my apartment in Honolulu rather than still shivering in the cold Koloa Cabin.
The KST has only been completed by 4 people in history and takes anywhere from five to eight days to cover more than 60 miles through grueling trails and conditions. I decided to join my roommate from Norway, Just Andreas, on the KST only days before he planned to leave. Having done several shorter hikes on the island many would say I was underprepared and they would be right. I had completed a five-day hike in the Northern Territory, the outback of Australia, which gave me the confidence I needed to attempt this hike.
We were aiming for 4000 calories per day and 3 liters of water each day, always carrying 6 liters. We only packed the bare necessities but we didn't go to the extreme of buying expensive camping food and gear.
I didn't want to miss out on an opportunity to hike a trail only a few had completed and also I was excited about the opportunity to witness the sunrise and sunset from the Koolau's. My naivety, opportunistic nature and go-with-the-flow attitude led me to accept this challenge.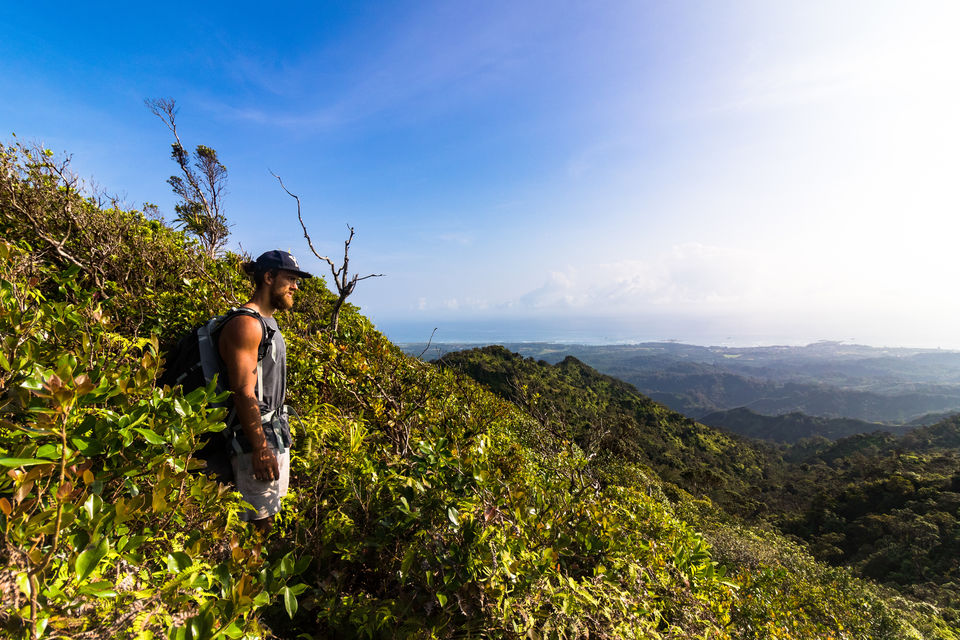 DAY 1: PUPUKEA TO KOLOA CABIN
We were dropped off at the start of the Pupukea on the North Shore with our packs and about as much enthusiasm as one can have after a 4:30 am wake up. The first couple of hours greeted us with wide open trails, firm ground and sunny weather.
The trail began to narrow and the battle against the bush began. For the next few hours we were scratched from our heads to our ankles with every step we took. Despite the heat, pants and a long sleeve shirt are necessary for most of the Pupukea to Koloa Cabin hike.
We were expecting eight hours of hiking to the cabin from what we had heard and articles we had read. After the sixth hour had passed we expected to see the cabin around each corner, but it never came.
We often stopped to take photos and enjoy the hike as we were expecting to arrive well before sunset, this would not be the case. From the trail, we could see the waves rolling in on the north shore and in all directions mountains layered themselves with different tones and textures, blanketing the horizon with shades of green and grey. My body was beginning to hit a wall but I was still enjoying the scenery and excited to reach the cabin.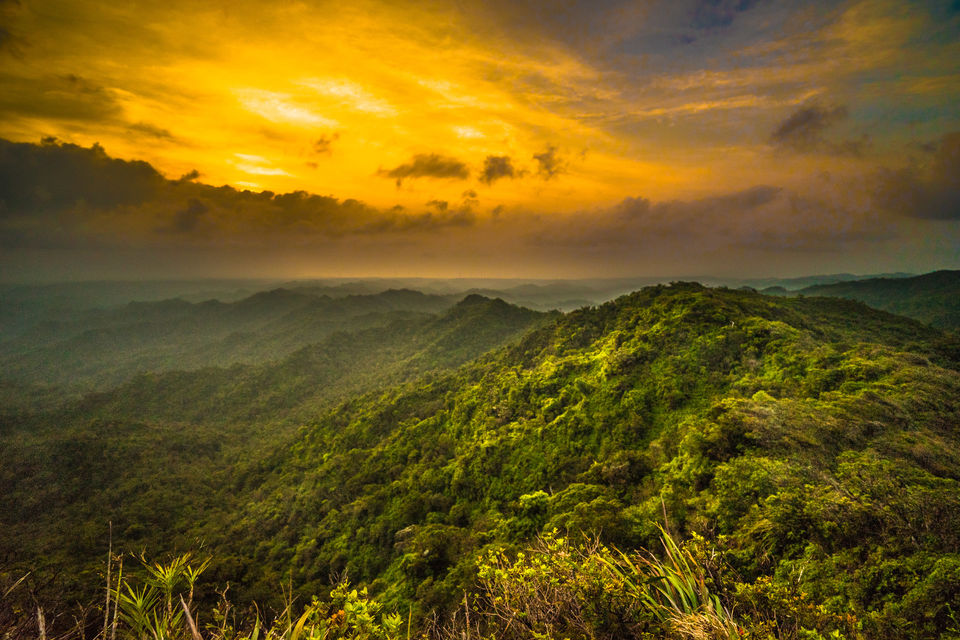 After 11 hours the sun began to set and there was still no sign of the cabin. We began to question whether we had missed the cabin as we continued to pull our weary bodies along the trail.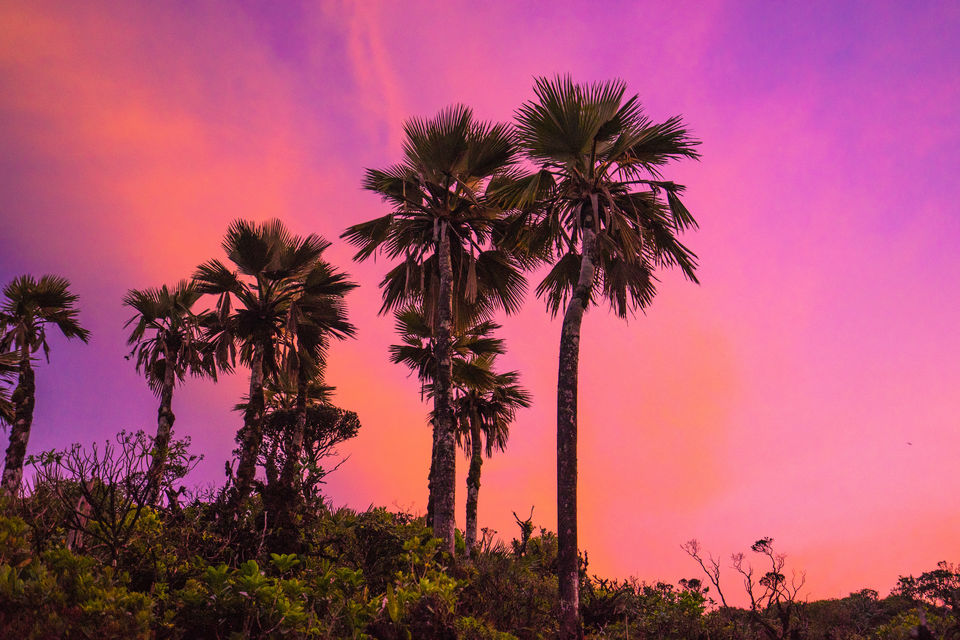 We were starting to get desperate at this point and we began to consider setting up camp on the trail for the night despite the cold weather conditions.
We kept marching on and continued to question whether to stop and camp or not. It was at this point that the severity of our challenge hit me. I felt vulnerable and powerful in the same moment. We were the ones to make the call, it was our failure or our success. There was no escape plan and no bail-out, this wasn't the hawaii adventure I had envisioned.
We pushed on and after almost 14 hours of walking, with our scratched limbs we carried our packs to a point in the trail that promisingly looked like it led to the cabin. We crawled over the fence we had been following and to our utter elation we had arrived.
The cabin had wooden beds with yoga mats, rain water, and an outdoor toilet. Gaps between the floorboards made sure that the cabin was freezing at night which made for a sleepless battle unitl the morning. Our jackets and pants hung from the ceiling drying from our sweat, too wet to wear to sleep. We had only packed one set of clothes to minimize weight, so a spare t-shirt we found in the cabin is all that I had to use. Yet I was grateful to have made it to the cabin and knew we could have easily been camped on the muddy trail in wet clothes.
Despite the challenges the first day brought, it hardened us and prepared us mentally for what would come. It was an emotional and physical warm-up for the rest of our journey.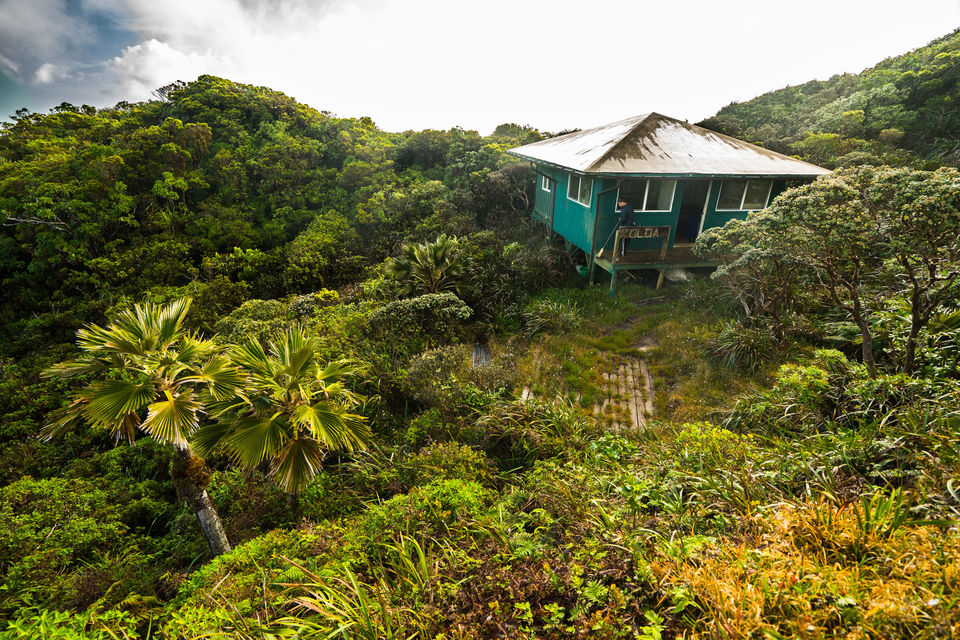 DAY 2: KOLOA CABIN TO POAMOHO CABIN
I sat on the toilet, looking out over the valley all the way down to north shore. There was no window just a big square hole where glass should be, the wind came in and gave me the chills and I knew the test had just begun and we felt ready for day two of our journey.
We tidied up the cabin, I laced up my soaking wet sneakers, slung on my pack and we began walking towards Poamoho Cabin.
We knew bad weather was on the way and we were hoping to reach the cabin early on day 2 and rest on day 3 as the storm passed, then continue along the KST. We didn't know the storm would hit us with such ferocity in the middle of day 2.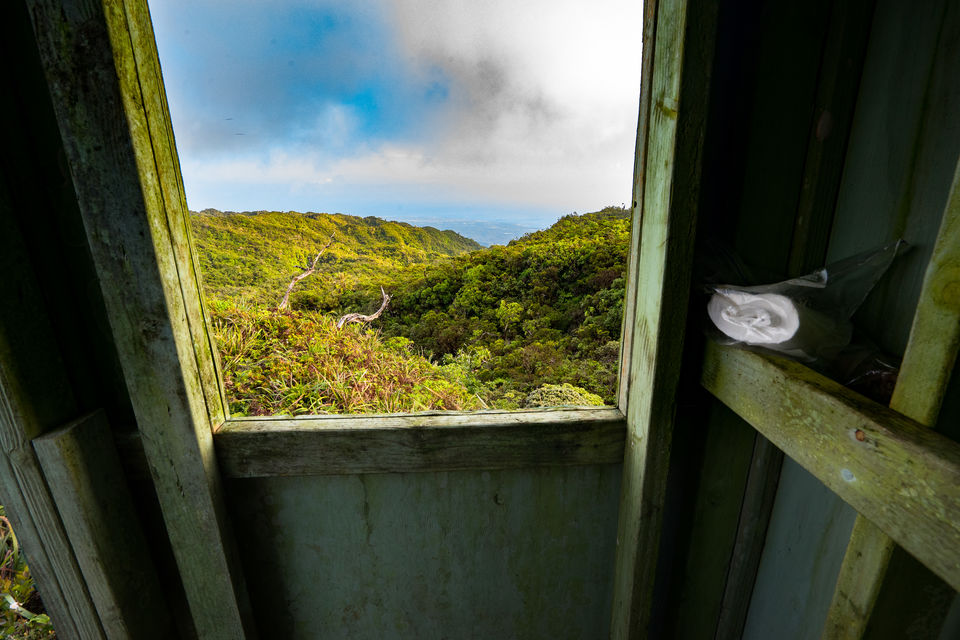 During the journey from Koloa Cabin to Poamoho Cabin, we spent a lot of time on the backside of the mountain, overlooking the valley with a steep drop down to our right. We had to watch our footing but the hiking wasn't death defying. We were on track with our food and water rations.
Making decisions about directions was critical on day two as we had never been in the Koolau's before. We were going well until we took a left which should have been a right. We continued hiking for over an hour until we realized our mistake.
It was at this point that rain started sprinkling down on us. We began making our way back to the point of our mistake as the rain became thicker and the wind began to blow sideways. By the time we had retraced our steps to the point at which we made the wrong turn, the rain was hammering at us.
Here is a video of our 3 days on the Koolau Summit Trail
My hiking partner, Just, wanted to continue towards Poamoho Cabin, however we were not sure exactly how far it was, having never hiked the trail before. With rain hammering down on us and with our faces dripping we had to make a tough decision. We decided these were not the conditions to gamble with. We couldn't afford to be stuck outside and unprotected during the night in this storm so we made the tough call to head more than four hours back in the direction we had come, back to Koloa Cabin and to bail out of the hike the next day.
Making this decision might have saved us from a harrowing night outdoors in one of the wildest storms I've ever witnessed. However it wasn't a smooth walk back to Koloa Cabin.
By now the patches of mud we had walked through earlier in the day had become small swamps. We were trudging through knee deep sludge and our energy began to wither away. This was the make or break point in our adventure. We knew that we had to remain focused and push through the fatigue to arrive to the safety of Koloa Cabin.
Every step required concentration because one slip or misstep could lead to a fall or injury that would stop us from reaching safety. I was running extremely low on energy but my adrenaline was pumping as my body met the challenge.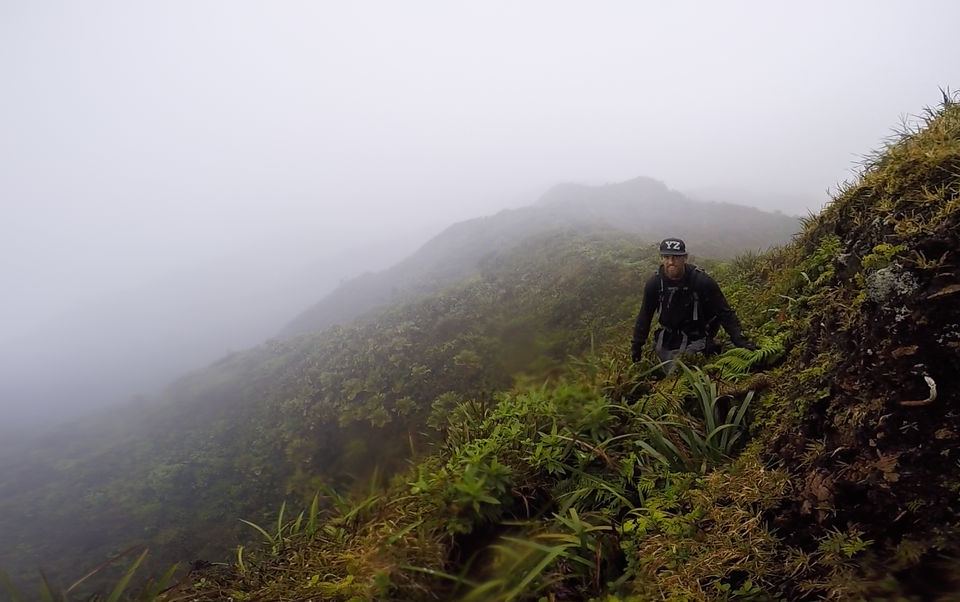 At 4 pm we reached the cabin, relieved to make it back before dark. The wind was blowing sideways through the valley and the small plants looked as if they would be uprooted and blown away at any moment.
Our saturated clothes hung from nails on the ceiling, dripping into pools of water on the boarded floor. I had a partially dry pair of spandex and a damp tank top to wear. Everything else I had with me was dripping wet.
Luckily the tent was mostly dry so I laid it out like a sleeping bag put the yoga mat inside and used the thin tent as a sleeping bag. Breathing heavily inside the tent to create a warm cocoon worked momentarily, until I had created enough moisture inside the tent for it to begin dripping cold water.
From 5 pm til sunrise the next morning I laid shivering, tossing, and turning; waiting for the darkness to disappear. Every time I fell into a short sleep I would awaken from the water inside my tent sleeping bag or from the cold. I knew it wasn't going to harm me but I knew it wasn't going to be over until the sun rose and we began our journey home. It was an exhausting night and I was overjoyed to see the sun finally light the skies in the morning.
DAY 3: KOLOA CABIN TO PUPUKEA
While the rain had stopped the wind was still blowing sideways. We decided to try and hike to Laie, which would be a 5-6 hour hike from what we knew. At this point the water and food rations were over as we only had one day of hiking left and planned to be home early that afternoon. We ate what we wanted from our packs and packed a few liters of water each for the journey home, refilling what we needed from the rain water tank at the cabin.
With wind whipping at our tired bodies, we tied our muddy laces and stepped out into the chilly conditions, grateful that the rain had stopped. For the first time on our hike we were heading in a direction we thought we were familiar with.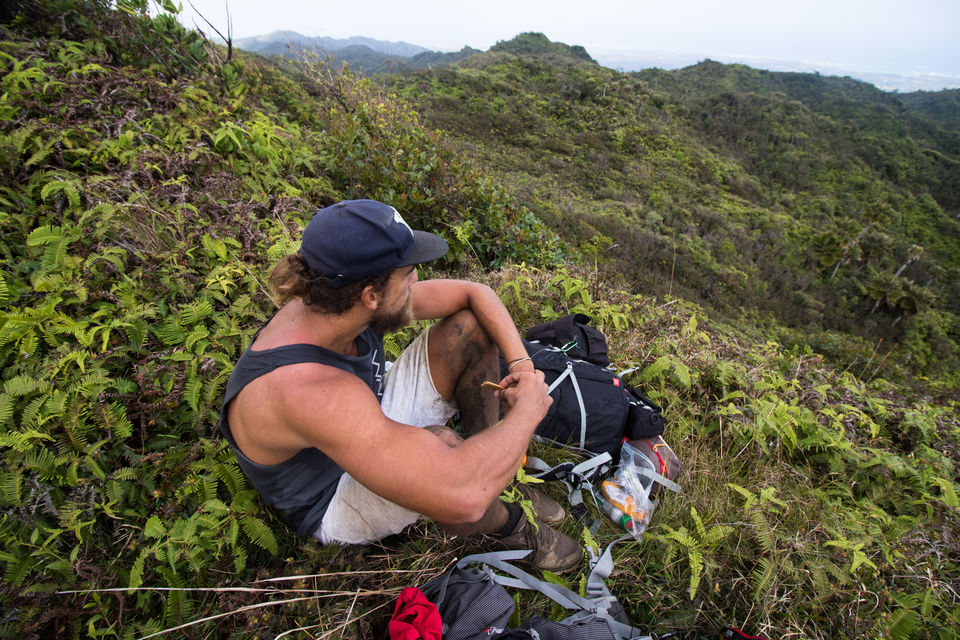 Our pace was much faster than the first day as we didn't stop for photos or long rests. However, we never saw what we thought was the Laie trail. We couldn't afford to take a trail that led to nowhere and take the risk of getting lost.
To our great dismay we would have to hike all the way back to Pupukea and play it safe rather than hoping we picked the right trail to Laie. Our 5 hour bail-out hike had turned into another day-long trek to our starting point. We were now moving as quickly as possible, the idea of spending the night wet and tired in the tent with no water was playing on our minds; we had to make it to Pupukea by sundown.
I was mentally drained, but knowing that we would be home by days end was motivation to keep walking. To our surprise we were farther ahead than we thought. We made it back to the beginning of the Pupukea in less than 8 hours in comparison to the 14 hours it took us on the way in when we were aware of the exact route.
We had run out of water and lay on the side of the road waiting to be picked up. We talked about our efforts and we were glad we had attempted the hike and glad that we had stuck together. We now have the knowledge of where to go and how to better prepare to make it further on our next attempt.
Throughout the hike and it's many setbacks I managed to internalize frustrations, maintain composure and make hard but smart decisions. I never even expected to make it to the end of the trail at Makapu'u like my hiking partner. I was always expecting to bail-out at some point as I am not a hiker and only occasionally began to do hikes after moving to Oahu, Hawaii. I am not confident about several parts of the KST trail in the latter stages, in particular the Kalihi Saddle.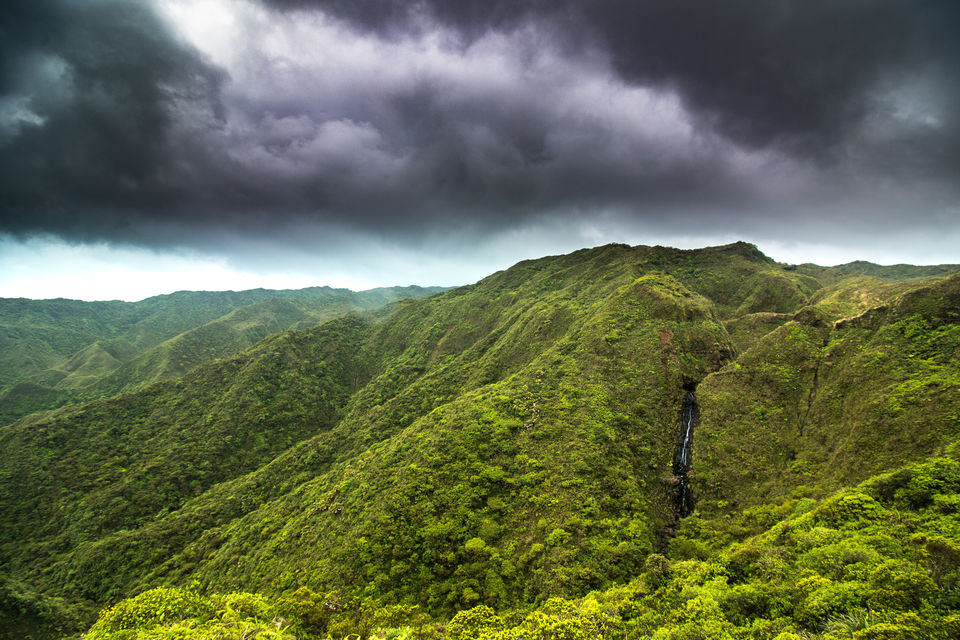 I came for the challenge, I came to push myself to the point where I wished I was somewhere more comfortable, easier, safer, warmer and to have no option but to continue pushing myself through a bad situation.
Of course I also came along for the great views and amazing experience but there is a reason this hike has been completed by four people and not four hundred people, it's tougher than tough even in good weather conditions. I would like to hike the Koolau tent-less hike and pass through all of the cabins again but I am not sure I will re-attempt the KST before I complete the latter sections of the hikes individually
I am a big believer in either success or learning rather than failure and that sums up our experience on the KST. I confirmed what I knew about my determination and drive, my will to push through a tough situation and to always find a way to keep positive in a situation that lures you to complain, get frustrated and become a negative source of energy.
I don't want to push myself through a situation like this every week but I think it is important to get so far out of your comfort zone that you feel completely vulnerable, like you are the only one capable of keeping yourself safe. It leaves you feeling grateful, empowered and full of experience you can use across all areas of your every day life.
Find out how we make money while traveling http://www.journeyera.com/our-travel-lifestyle/