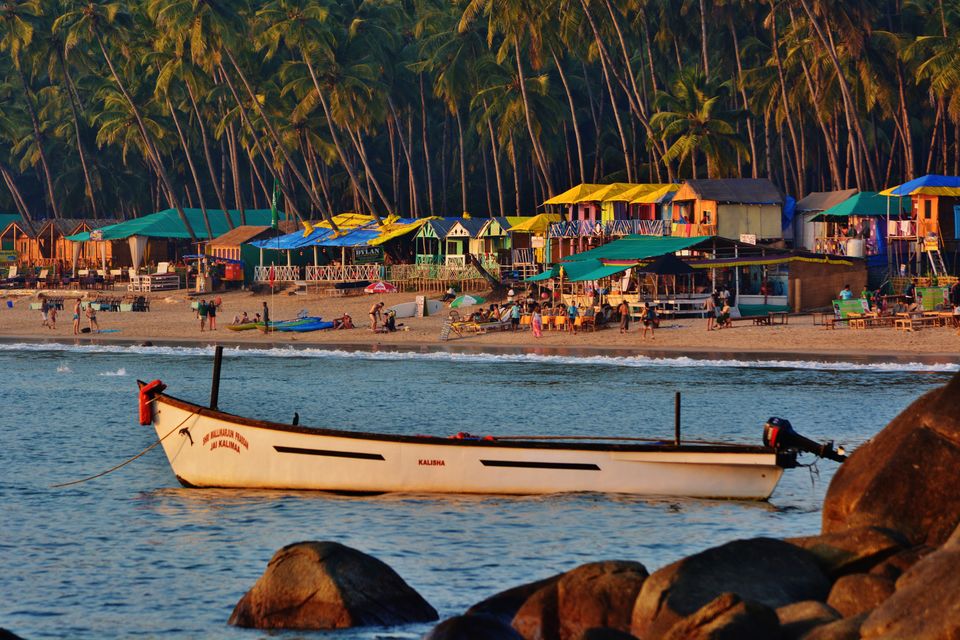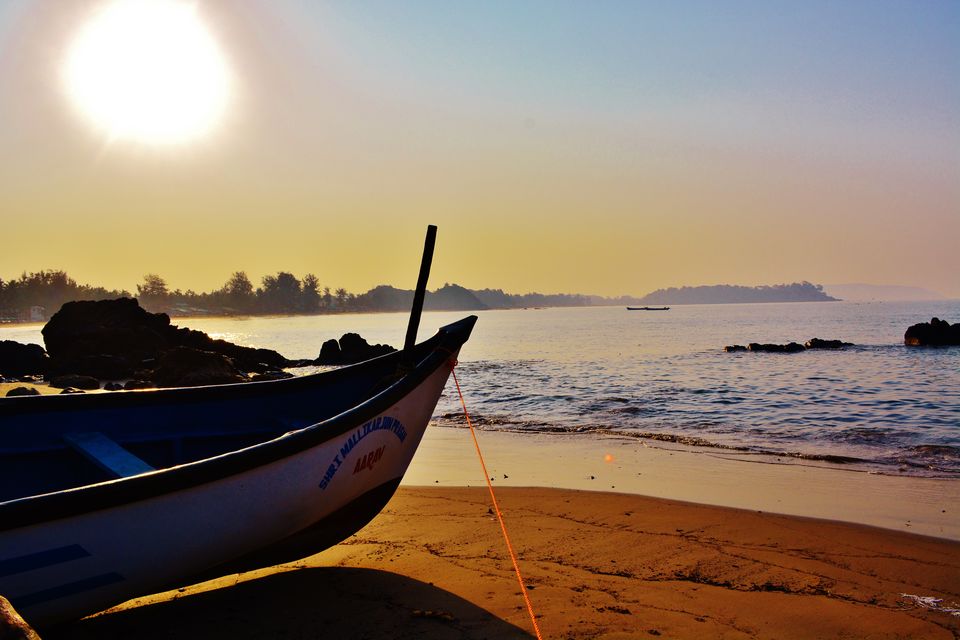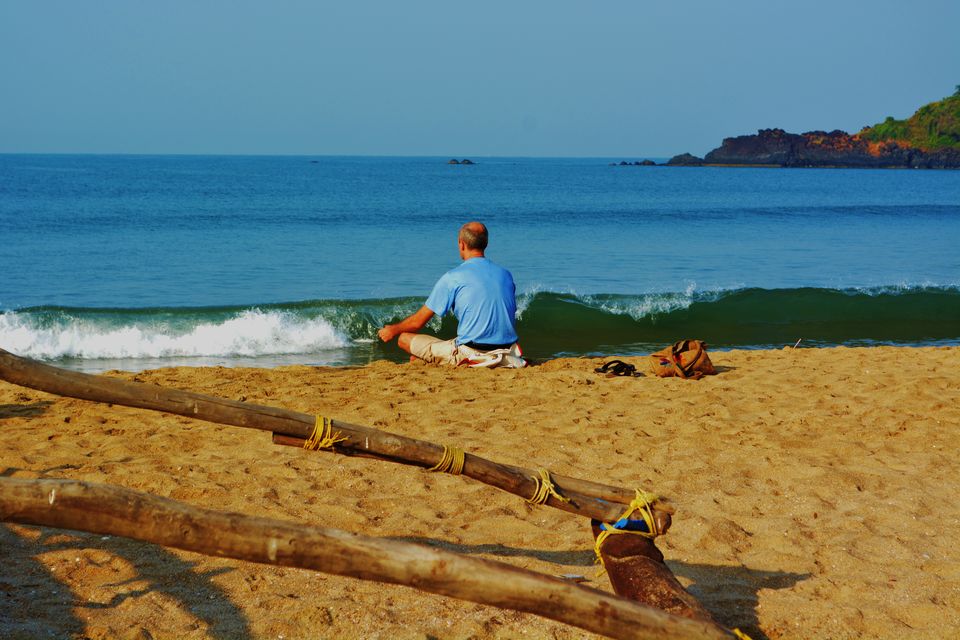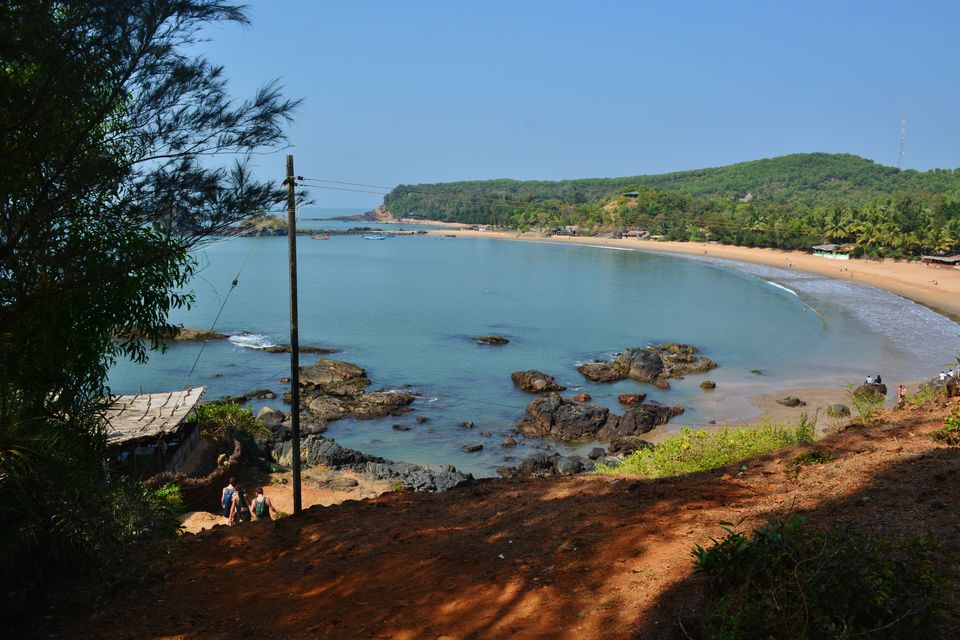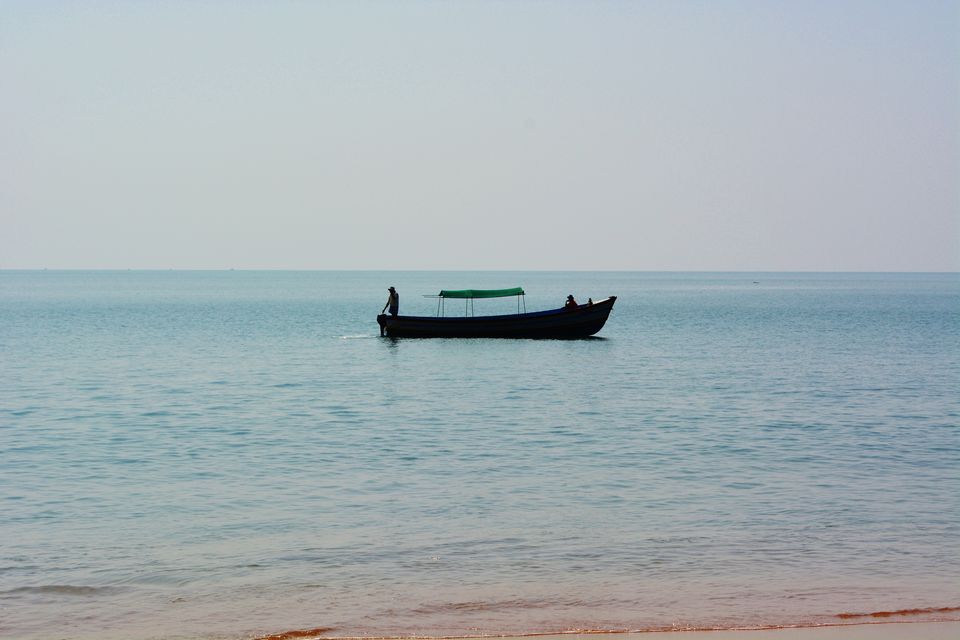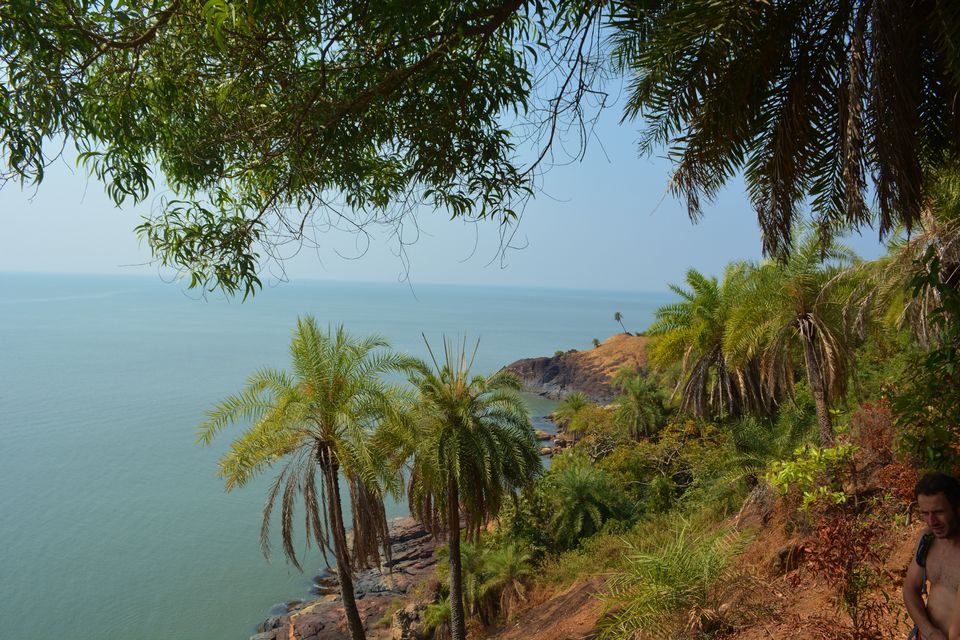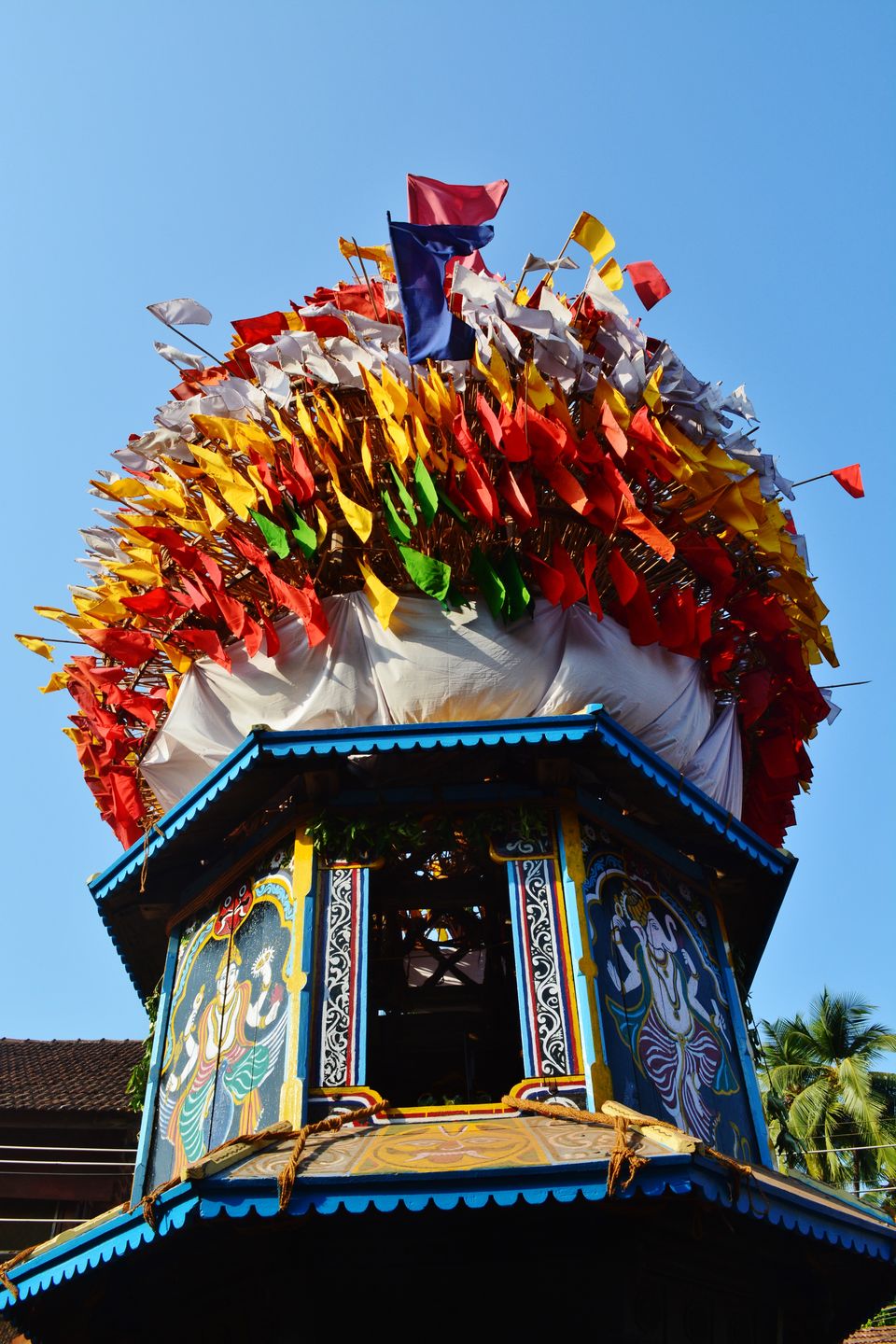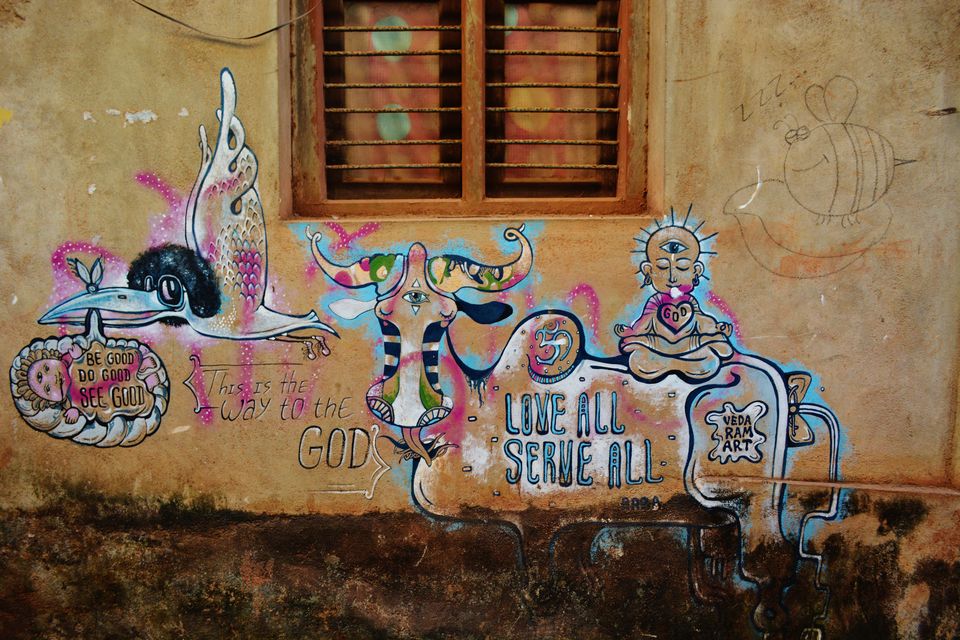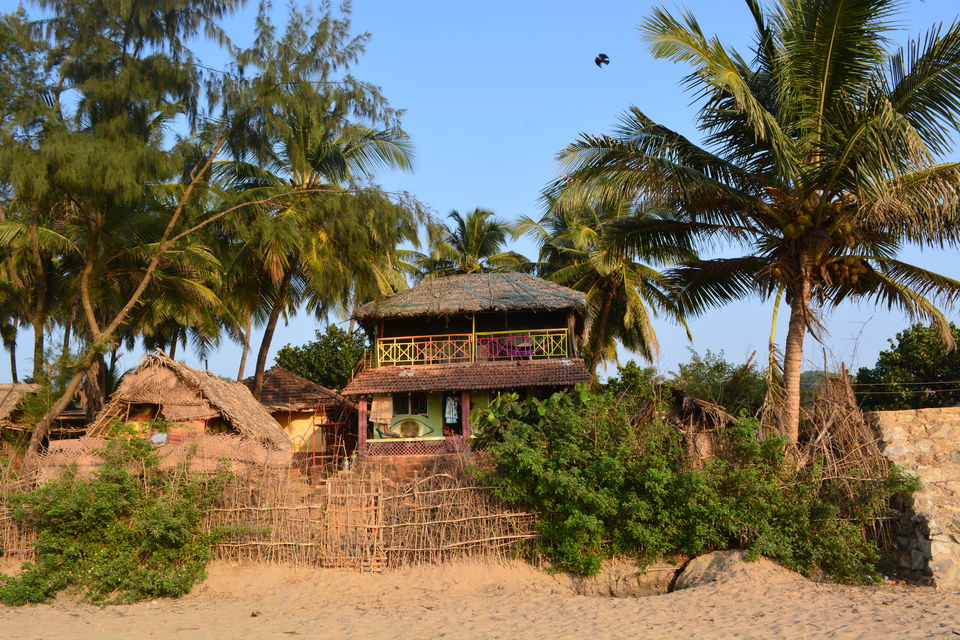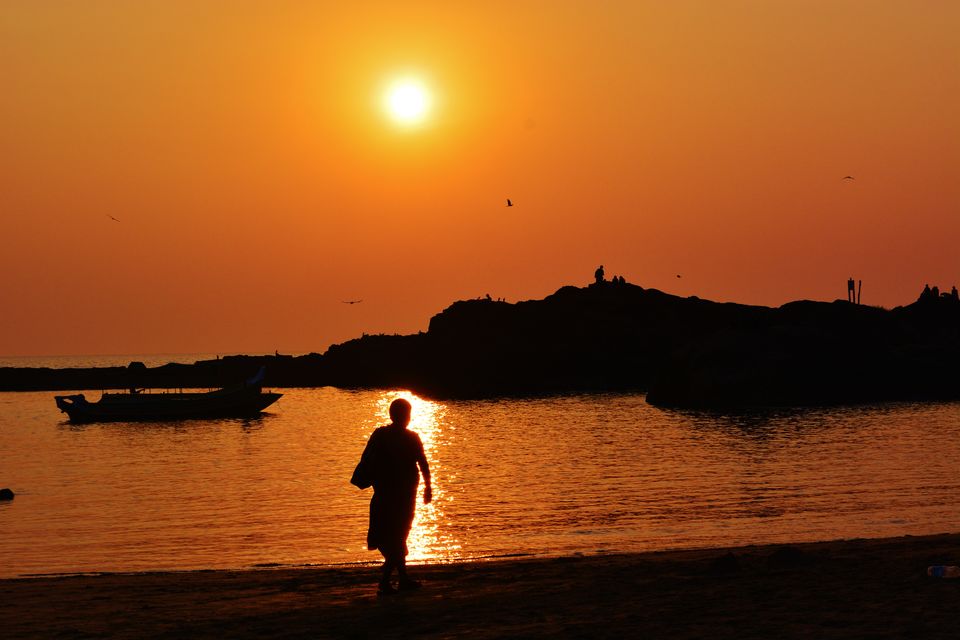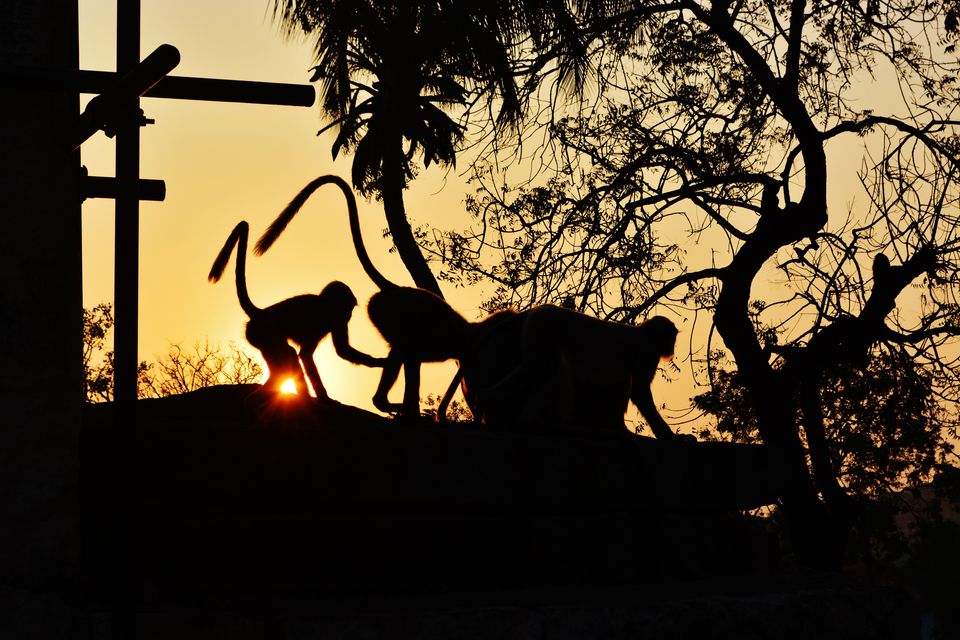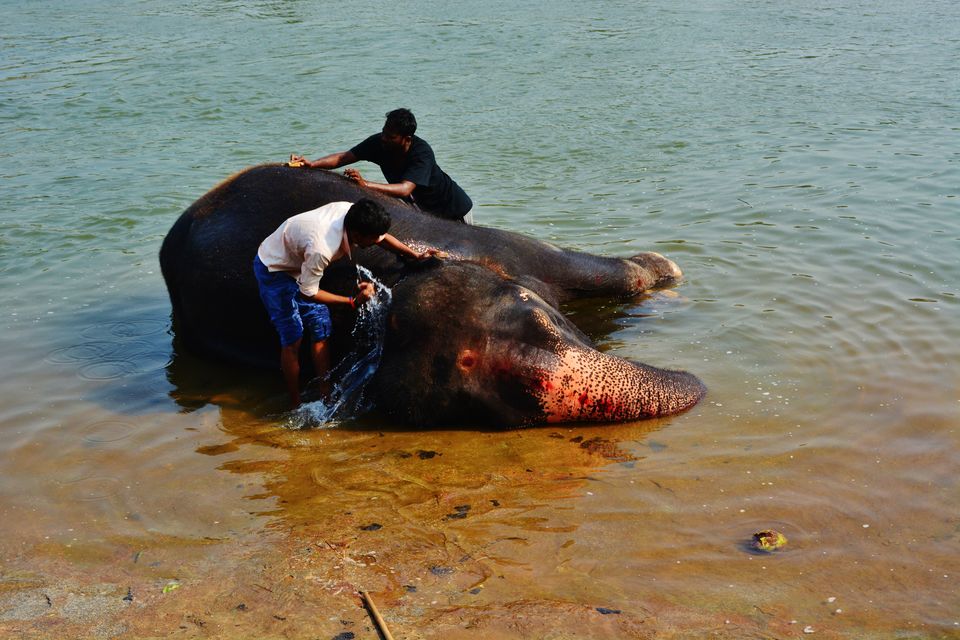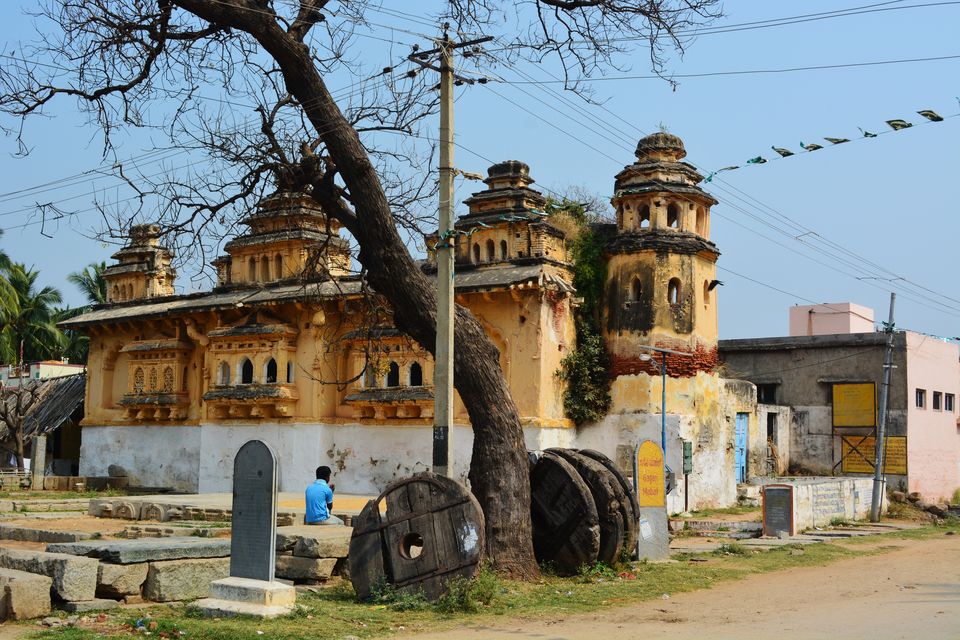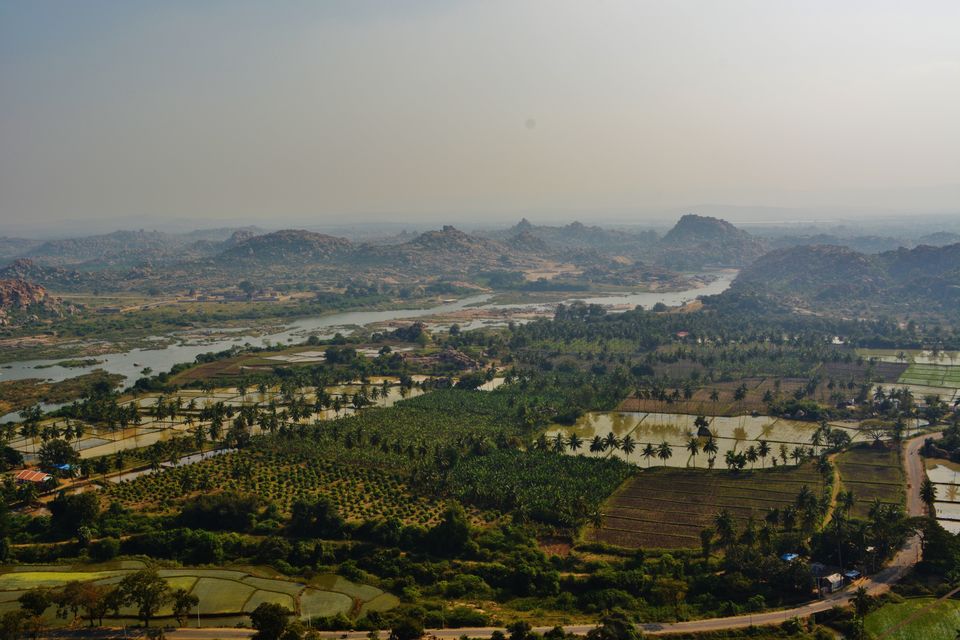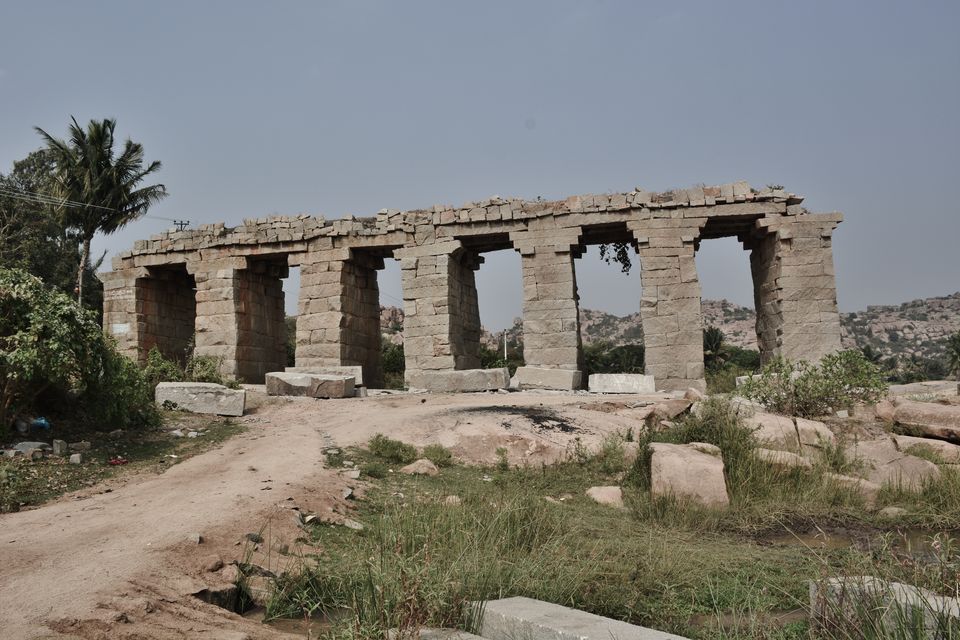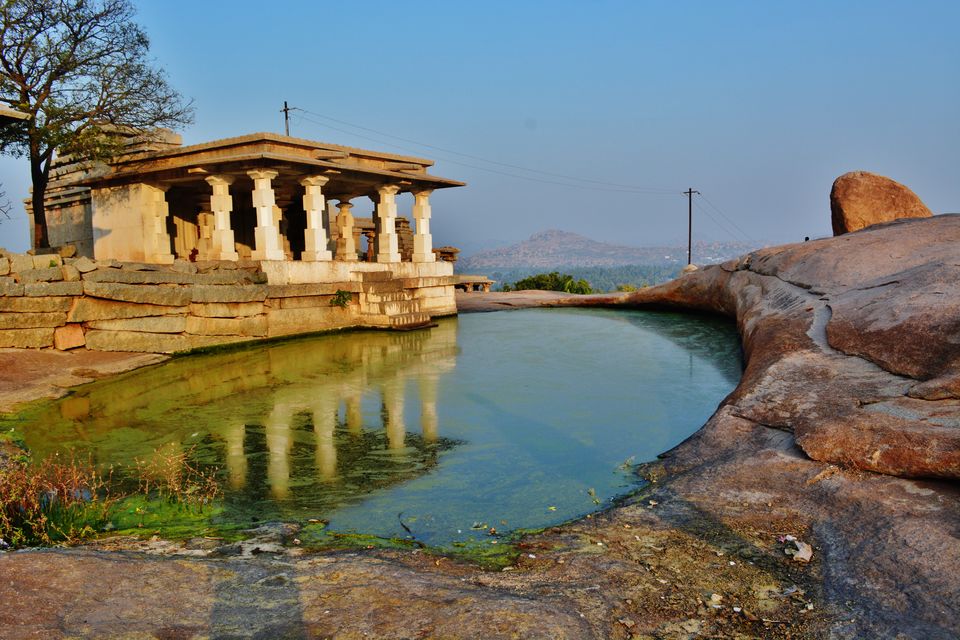 My long awaited wish to backpack across the Goa-Gokarna-Hampi circuit got recently fulfilled with a trip that began on 14th January 2015.
I live in Gurgaon and was called by SP Jain institute in Mumbai for PGDM interview on 13.01.15. I was pretty sure about the call since a month back and hence had planned my travel well in advance, though I did not get any tickets booked or go for any other kinds of reservations.
After my interview on 13th, I booked the bus tickets from Mumbai to Goa in a semi-sleeper AC bus in 600 bucks. I boarded the bus at 7.30 pm on 14th from Andheri East (Bisleri).
Day 1: 15 Jan
Next morning I was in Goa at about 8 AM, but since I had planned to go exclusively to Palolem beach I remained in the bus till it reached Margao at about 9.15. As soon I got down the bus, I took a local bus to Cancona bus stand which took about an hour to reach to a point close to Palolem beach. Till this time I had no view of the sea and the sun was quite hot for someone like me from Delhi NCR where the temperature during the days did not cross 15 degrees. I walked for a minute or two to reach the Coloumb beach, which is next to the Palolem beach and found a shack close by with an attached toilet in 700 RS. I got fresh and walked to the Palolem beach which required me to cross a cashew and coconit grove, climb a small hill and walk on a wooden staircase.
Palolem beach was clean and blue with a lot of shacks and eateries. People were enjoying different kinds of activities. And yes, the beach was aptly crowded and not overflowing with people. I bought a few stuffs for the beach, came back got dressed up for the beach and went back again. Enjoyed the sea thoroughly and went back to the shack. Much before the sunset, I went for another round at Palolem and climbed my way back to the Coloumb beach and lay down on a rock facing the sun. I could find many crabs around the rock. While climbing further on other rocks, I slipped and got bruised, but still enjoyed it. Next, I met Saira who came on to the rock to chat with me. She was from Darjeeling, and I enjoyed chatting with her about my visit to Darjeeling in June 2014. I was happy as I got to talk to someone after a long duration. As the sun was about to set, I went back to fetch my camera. As I had expected, Saira had vanished. I enjoyed taking the pics of sunset, and was amused with the perfect lighting the sun offered me at the time. Later, I went on to Palolem market to get some cash, but I found that the market had a lot of exchange facility available but no ATM's for the Indians. I took an auto to the one and only ATM in the place which was some 3 kms away from the main market. In the market, someone called out my name, and when I turned it was Saira, on a bike, tripling with her sister and her sister's boyfriend. Then, had my dinnerwith a beer, clicked more pics of the night beach and slept.
Day 2: 16th Jan
I got up at 7AM and had a morning walk to the next beaches, I photographed my way from Coloumb beach to Patnem beach. Patnem beach was a very serene beach with a number of foreigners performing meditation and asanas. The water was clear blue and the beaches clean and empty. I had my breakfast on the beach and moved on to my shack where I just chilled under the sun overlooking the sea. I left my room at 12 noon and followed a few shortcuts to reach the Concana railway station. I had thought that the station would be empty as hardly any trains stopped at this station. But it was full pack with young foreign travellers, all buying tickets to Gokarna as I did. The cheap ticket at Rs 25 amused everyone. A group of Australian teenage girls sat with me, playing games like Guess who, and inquiring from me the whereabouts of the train. The Margao-Mangalore train was half an hour late and arrived at 2.30. Unlike any of the passenger trains I had boarded in North India, this train was almost empty. The view outside the train was splendid. The Konkan railways is popular for its scenic beauty and the tunnels. We reached Gokarna road station at 3.45.
The station looked almost abandoned and except for the dozen autos which were present there to rob the foreigners, there was no one in the vicinity. Most of the travelers who were in groups or had formed groups by now took the auto to OM beach or Kudle beach for Rs 300. I looked around for a minute and began walking. After I had walked for not more than 3 minutes, a guy called out to me saying that my backpack wasn't properly zipped up. He did it and we began talking. They were 3 people from Spain- Joan and Ari from Barcelona and Migel from Madrid. Joan had already been in India for 3 months travelling to Kerala, Tamil Nadu and Hampi and had learned a few tricks. He was sure that he would not pay high for the autos and asked them " Kam karo, Mehenga hai". Finally, when an auto agreed at Rs 200, we got in. Midway, a lot of other autos were stopped at a crossing for checking. A constable came and asked us where we were going to and allowed us to move. I was happy that I did not risk it walking barefoot as the beach was mentioned to be 6 kms away from the station but it was more than 9 kms from there. Also, one needed cover approx 60-70 steps and walk for about 1-2 km on the Om beach itself. Joan asked me to find rooms for all of us. But it took a lot of time to get rooms for all of us because most of the placea had not more than 1 room because the dusk had fell. Eventually, we got 2 nice rooms in Rasta Cafe for 250 bucks per day. Migel had to find a room for himself in the next stay. It was already dark and i could not go anywhere, so, I found this French guy Julian, who smoked hash with Coca Cola. He had lost his job due to the Euro crisis and seemed to be abstract and out of mind. Though I enjoyed sitting with him.
Later Joan and Ari got fresh and all of us went for the dinner at a close by cafe where there was supposed to be free Wi-Fi. There was no network for Vodafone in the region and Reliance too wasn't fully reliable. But the Wi-Fi did not work out. I had planned to visit the Jog falls the next day, so I discussed this plan with Joan and Ari and they were ready too. We went to the travel agent behind the cafe , but, he did not seem to be in good mood. I had already inquired with him once about how to reach the jog falls, and he got angry over the fact that I came again to ask him the same thing. Joan asked me to chill and we went on to enjoy the dinner. Ari was a vegan, and I got to know more about the Vegans. She also asked me various questions on Indian culture and eating habits, status of women in India and others. Joan learnt a few more money saving tips. We went on to sleep with a plan on mind of going to the waterfalls, the next day.
Day 3: 17th Jan
I got up at around 7.45, even though I had barely slept, The Israeli's close to me room had been playing aloud, singing and merry making on the beach uptill 4 AM. In the morning, they were still found on the beach, lazying. Migel came there and asked about Joan, but they were sleeping. So, Migel, the 70 year old man, went on to chat with me in Spanish, as he did not speak English, I too, just kept nodding. The room across mine opened and two people came out, a girl from Spain and a guy from Czech Republic. They had planned to go to the next beaches after the breakfast. So, I changed the planned nd conveyed it to Joan that it would be better if we went on the Half-Moon and Paradise beaches instead of the falls, as it would just waste the day. They agreed and we went out to the next cafe for the breakfast. Here, we had a lot of conversation, everybody asked each other's occupation etc. I had a chat on the higher studies with David (26), the Czech guy while Ana(28), the new Spanish girl discussed with me about the food and the pleasant shock she got when she boarded the Delhi Metro.
We trekked towards the Half-Moon beach and it had got hot by then. All the guys shed their tops. The trek was along a cliff with sharp edges below which there was the pristine blue sea. I saw some rare trees on the trek. The Half-Moon beach was quite small with only a 7-8 foreigners. We moved on to the next, the Paradise beach where we rested. There were about 20 people here and a few hawkers selling water melon, bananas and coconut. Ari and Ana got down into their bikinis, David took a quick swim and came back to play chess with me. Our game lasted for more than an hour and then David won. He had learnt it only six weeks back in Hampi, but had been practising continuously; I too am a good player of chess which meant he was really into it. I went on to enjoy the sea, in the meanwhile Joan, Ari and Migel decided to move on to the next beaches. As i was in the sea, i denied the offer to move along. When I came back, Ana and David were almost making out and I felt that I should give them some space, so I began trekking in the same direction as the Spanish gang had. I climbed a few hills and I found nobody around. I felt that I had lost them, but I kept moving, I reached the next beach, it had coral rocks, and looked tremendously beautiful. I still had a hope that I would find my friends, but I saw them nowhere. I went on to a shop to ask for cold drink. But to my dismay, the people here did not understand English and Hindi was out of the question. This seemed a completely Kannada village with no signboards in English. I kept on walking towards the next beach, which probably was known as God's own beach. Midway, there was a Hanuman Temple with Chalisa being played aloud. Moving ahead, I found a group of langurs, took some pictures and took a U-turn to go back to the Paradise beach. As I moved ahead, my phone got the network and I made some updates on facebook. And suddenly, The trio appeared; they had gone to the interiors of village to talk to the children. They loved their warmth and naiveness. From here itself, we could get a bus to the Gokarna market. the bus arrived in 5 minutes and we went on to the Gokarna market. There was a kind of hippy maket there with a number of temples, a lot of graffitti on the walls. But, we walked on to the Kudle beach . This was the most happening beach in my entire journey. The crowd was young- toned girls, guys with 6/8 packs playing volley ball, frishbee, moving rings around their waist, performing asanas, canoeing and what not. Joan n Ari went on to inquire about the rooms for their next day stay. In the meanwhile, I learnt some Spanish from Migel.
We then, trekked the hills to come back to the OM beach which was some 20 minutes from the Kudle beach. The sun was setting and produced a spectacular sight. We inquired about Hampi and other places from another travel agent. He seemed to be as irritated as the last one as people were not asking for any packages from them but had only been inquiring. Back later, I found Julian, who again seemed to be in an outworldly mood. But this time, I bored him up showing my own pictures. He wanted to get Indian citizenship and I did not have much idea on it. I took a shower, and felt fresh water on my body after a long time. Later, went on for dinner with Joan and Ari, shared our EMail Id's, came back to the stay, hugged each other a good bye and retired for the night.
Day 4: 18th Jan
I found a beautiful crescent beyond the coconut trees at 6 AM in the morning. Got fresh and was about to leave, when a guy asked me if I was going to the bus stand. I replied positively and he asked me to wait as they were going to join me in 5 minutes. So, I met Sam(20) from Sydney and Lee(19) from Perth who were also going to Hampi as I was. Sam studied Business and Politics, he asked me what I was up to, if I lived on my own, I was amused. We shared an auto to the Gokarna bus stand. Here we found our 8.15 AM bus to Ankola. We reached Ankola at 9.15 and had to wait for the bus to Hospet which arrived at 10.30. In the interval, I chatted with 3 guys from Canada who had found each other while travelling in India. We got into the bus to Hospet, the same 3 groups accompanying me from Gokarna were there.
The entire day was spent in the bus, crossing the greenery of the western ghats, we entered the Deccan. Trees laden with tamarind caught my attention, as did the fields of Red Pepper, Bajra and Cotton. A windmill was also seen close to the destination. We were knocked out by the time we reached Hospet. But the government buses from Hospet to Hampi were exceptionally good. They were low-floored, had an announcement system akin to that in the Delhi/Mumbai Metro, had female conductors. Perhaps, all government buses had female conductors. I reached Hampi at 7 PM, walked down towards the market, got a room in 300 bucks.
I missed Joan n Ari, hence went on to look out for someone to converse with. I found an Indian group and went out to talk to them, but as I asked the guy where he was from and whether he had visited all the sites, he freaked out. "why do you want to know?" " we have seen all the places and we are moving out." I felt pretty distasteful. But the next moment I found Amelio from Spain(again) and Catia from Portugal who were strolling around, looking for a place to eat. They asked me if I wanted to join them, I said," Only if you are comfortable." They were comfortable enough. We went to a small eatery that made awesome dosas, I bet it was the best I had ever eaten. We found a guy from Finland and another from Ukraine there. And very soon, we were discussing Euro crisis. The Finnish guy seemed pretty impressed with my knowledge on Economics and History. I felt proud about Catia, when she told me that she travels to Kerala every year to learn Meditation and Yogic therapies, then goes on to the South-East Asia for other therapies and finally teaches them back in Portugal at her own Therapy centre. She asked me when would I do my own business/ entrepreneurship after studying business, and advised me not to leave everything for the last minute. Cool, she was fantastic, looked like Penelope Cruz. We congratulated the cafe owner for the great food and bid each other adieu. I was quite tired with the rickety bus ride and slept earlier.
Day 5: 19th Jan
I got up at 6.30 AM and went on to the Virupaksha temple and the ruins and boulders to take early morning shots. Had my breakfast of Idli on the way and fed two dogs some biscuits. A German guy gave me some tips on photography and he seemed pro. I came back to the hotel, checked out and went on to cross the Tungabhadra river by the diesel boat. They charged me Rs 10 for the luggage and Rs 10 for me. The other side was much cooler. The place had cool cafes with free Wi-Fi. A few stays seemed quite luxurious, but were not very high priced. But I wanted a really cheap accomodation, and I found one in the Hidden Garden, the Telugu guy charged me Rs 200 for a day. The place was surrounded with Rice fields and coconut trees on 3 sides, the river flew some 50 metres away on the fourth side. They had some cows as well; a raio played aloud in Kannada. It felt like a true countryside experience. 200 metres away was the big market, selling leather goods, hippy clothes and internet service. But again, there were no ATMs in this place called the Hampi island. I crossed the river again to reach the bus stand. The only bank here had the ATM dysfunctional. So, I had to take a bus to Hospet to get the cash. However, the nearest ATM was some 4 km away, the autos charged quite heavily for the trip. So, I went back to Hospet, got some cash, in the way, met a Russian guy, who followed me to the ATM. Way back, met Pablo from Brazil with his girlfriend who was from Japan. A young Kannada boy kept us entertained throughout the journey, asking us our whereabouts. I also had some political discussion with a localite, who was hapy with the current Congress government. Later on, I kept meeting Pablo and her girl on the boat, in the restaurants and at random places. I had my lunch and when on to walk my way to the monkey temple. You easily get a moped, bicycle or scooty from the Hampi island for local site seeing for Rs 150; you pay for the fuel. But I decided to keep walking, the Hanuman temple was some 5 KMs from the place. I met the Canadian guys midway and waved them. The temple had some 500 stairs. Thanks to the bananas, I climbed it with some huff-puff as the Sun was too extreme. The top gave a bird eye view of the entire place. As I climbed down, I found a British group and had some conversation. At the bottom of the hill, I asked one of the guys for a lift. He wasn't willing at first and moved on. But having covered a few meters, he asked me in a very heavy accent to hop on.
The guy who gave me a ride was Aron from New zealand, but had lived 8 years in Australia and 4 years in England. The gang wanted to go to the waterfalls and the lake. But another guy had some trouble with his bike and moved out. Meanwhile, due to speeding we lost the girls on scooty. Aron wished to find the girls under the waterfall, but they were never found, not even around the lake. On our way back to the Hampi island, a tractor had fallen into a pit and a crane was pulling it up. This had caught the attention of a lot many foreigners nd there was a jam. And then the strap with which the crane was pulling the tractor tore and flew across us. Aron was bustling with excitement. Nevertheless, we reached Hampi island and Aron took my cell no. to call me if he had any plans for the night.
I went back to my stay, relaxed and came out later to shop a bit. Then, I went to a restaurant where I saw Aron with some other company. I decided not to join him for the time being. I enjoyed my dinner solely. Later, I went to another cafe who were showcasing The Shutter Island. I had already watched the movie, so I just lazed on the couch sipping my cinnamon tea, watching other guys getting tuned. And thus, the day ended.
Day 6: 20th Jan
My day began with conversation with the Telugu shack owner and the English guest. A dog came there to play with me and I included the cows too. Fed all of them biscuits and leaves. I went on for my breakfast where I found two Czech guys, who were happy getting good information from me.Then, I went out to cover the other parts of the town. I took an auto to the Monkey temple, till where I had already covered. Then I walked on to the Lakshmi temple, crossed the Durga temple, met the Canadian guys again and reached Anegundi, but to my dismay Anegundi did not have any ruins. It just had a Krishnadeva Raya Tomb, which was not picturusque. I plodded back and heard a voice call at my back " Hello Mate". It was Aron, this time he had Ben on his back. He asked me how had I spent my evening and so and complained that the place was not interesting enough. I agreed. He went ahead saying, he would come back, if he finds anything worth. But, I rapidly traced my way back to the Monkey temple... where they crossed me again. In a minute, I found a lift with a Kannada guy who dropped me close to the stone bridge. I walked my way to the restaurant, where I met Aron and Ben, had lunch with them. Aron was a carpenter and inquired with me if he had a scope in the Bollywood, working on making sets. I said that he should try his luck. Asked me my plans for the day, I told him that I would leave in an hour. So, he went on to the lake. When I told Ben the kind of job I was into, he asked me the ones in which Indians work at odd hours. To which I said that I worked in the Indian hours, though many work at the odd hours.
I chcked out of my stay, crossed the river to reach Hampi bus stand, took the bus to Hospet. I went to the SRS Bus Stand, some 10 minutes away from the government bus stand. Here I found 2 German guys going back to Mumbai with me. Tickets were of 1000 bucks for an AC semisleeper and the cheapest on this route. I helped the German Aerospace students on planning their itinerary and they advised me on where to do my MBA from. Got on the bus at 5.30PM. It played 2 comedy movies on a run and on the stops the taller German would get chatty with me.
Day 7: 21st Jan
We reached Mumbai at 7 AM. I got down at Sion and found the Germans guy behind me. They wished to go to Colaba, while I was going to Powai. I lead them to the local station, got them tickets to CST and instructions on how to face the crowd. I took my own local to reach my place.