Hampi- The other side of the river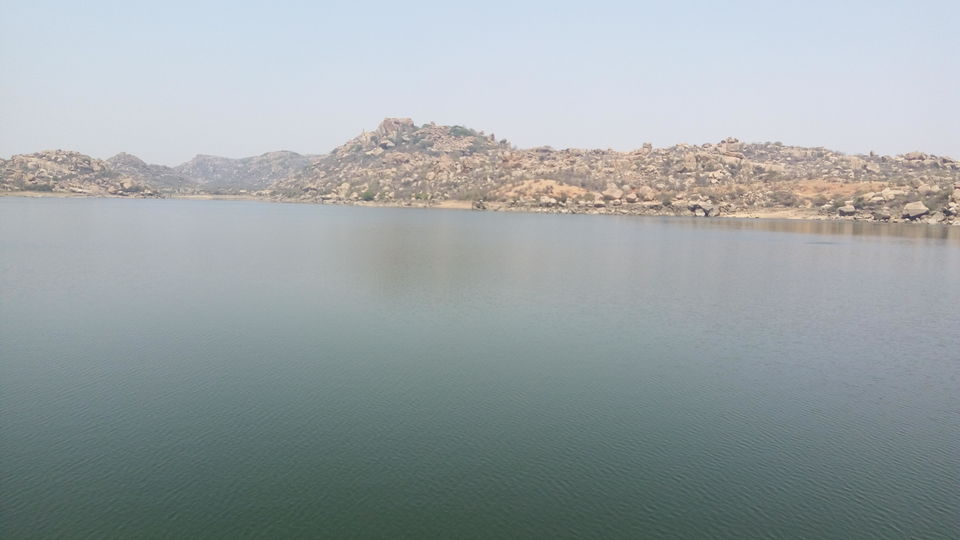 Bored of monotonous classes in college, craving to experience something new and exciting yet pocket friendly, we made a spontaneous decision of a weekend getaway to Hampi. Hampi had always been on the "go to" list as it is known for its great heritage with a rich culture and amazing architecture. Well, what I just described is only a part of Hampi's diverse facets.
As we deboarded the bus at Hospet (nearest bus station to Hampi for long route buses), numerous auto rikshaw drivers started bugging us with their offers to take us to Hampi which is about 11km from Hospet. The buses start running by 6 a.m. As we were on a shoestring budget , the idea of bus sounded more cost effective. An auto rikshaw ride would cost you around Rs. 200 whereas the bus fare for the same would be just Rs.12. The moment we stepped down at Hampi, we were mesmerized by enormous magnanimous boulders. That place has a unique ancient feel to it. This was the Hampi we had read and heard about. What really intrigued us was "the other side of the river", which refers to Hampi on the other side of the river Tungabhadra. It's not just me, this term is also used by the localites.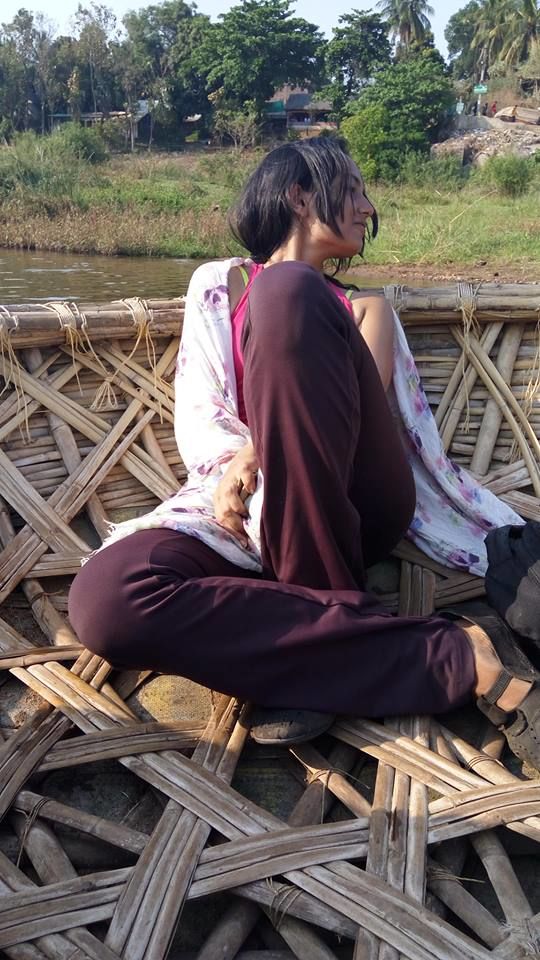 (THE CORACLE RIDE)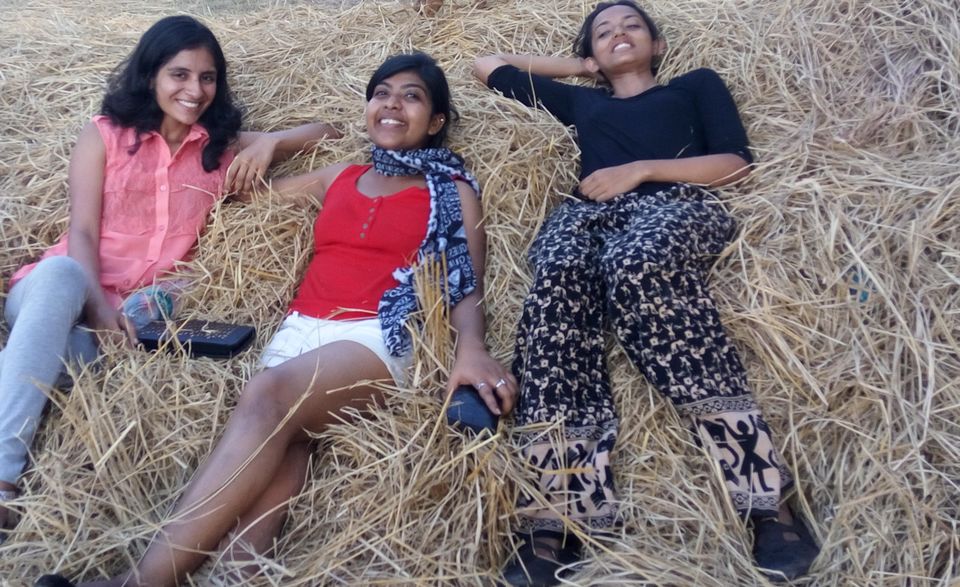 Tungabhadra river side is walking distance from the main bus stop. Please don't make the mistake of taking an auto rikshaw till there. We did. As we reached the river side, we took a boat to the other side which cost us Rs.10 per person. We saved the coracle for later. A coracle is a super cute, bowl-shaped boat. This definition is a little different from what you may find on Wikipedia. So, "the other side" has a different feel to it. This is the place you would want to be at to unwind and relax, or to be adventurous. It entails both facets. We also noticed an exponential increase in the number of foreigners on this side of the river. Also, the variety of food is amazing. Catering to an international crowd, even small eating joints offer English, Israeli, Italian, Chinese and other cuisines apart from Indian. The place has a very relaxing and comfortable air to it. The beautiful paddy fields contoured with tall and strong boulders is a site to behold. We soon started looking for a place to stay. Most of the guest houses offer a variety of stays ranging from luxury shacks to tents in the garden. We opted for a non-AC typical shack at "top secret river view" guest house. Yes, that's the name. As we entered the place, the "top secret" was revealed…the view overseeing the river was wonderful! A typical shack costs around Rs.1500. If you plan to go for tents which would be much cheaper, please buy an Odomos cream in advance.
As we were lazying around in the afternoon, the trip just became more interesting. We bumped into a bunch of people who were going trekking to the Hanuman temple and we just tagged along. Hanuman temple, 570 steps climb up Anjaney hill is believed to be the birth place of lord Hanuman. Our starting point (hills near our guest house) was quite some distance away from Anjaneya hill itself. On our way, we came across a really interesting spot where all the boulders had eyes painted on them! It looked spooky yet cute. We made our way through a couple of hills, walked some roads and even chilled at a caffe on the way. The temple is open from dusk to dawn.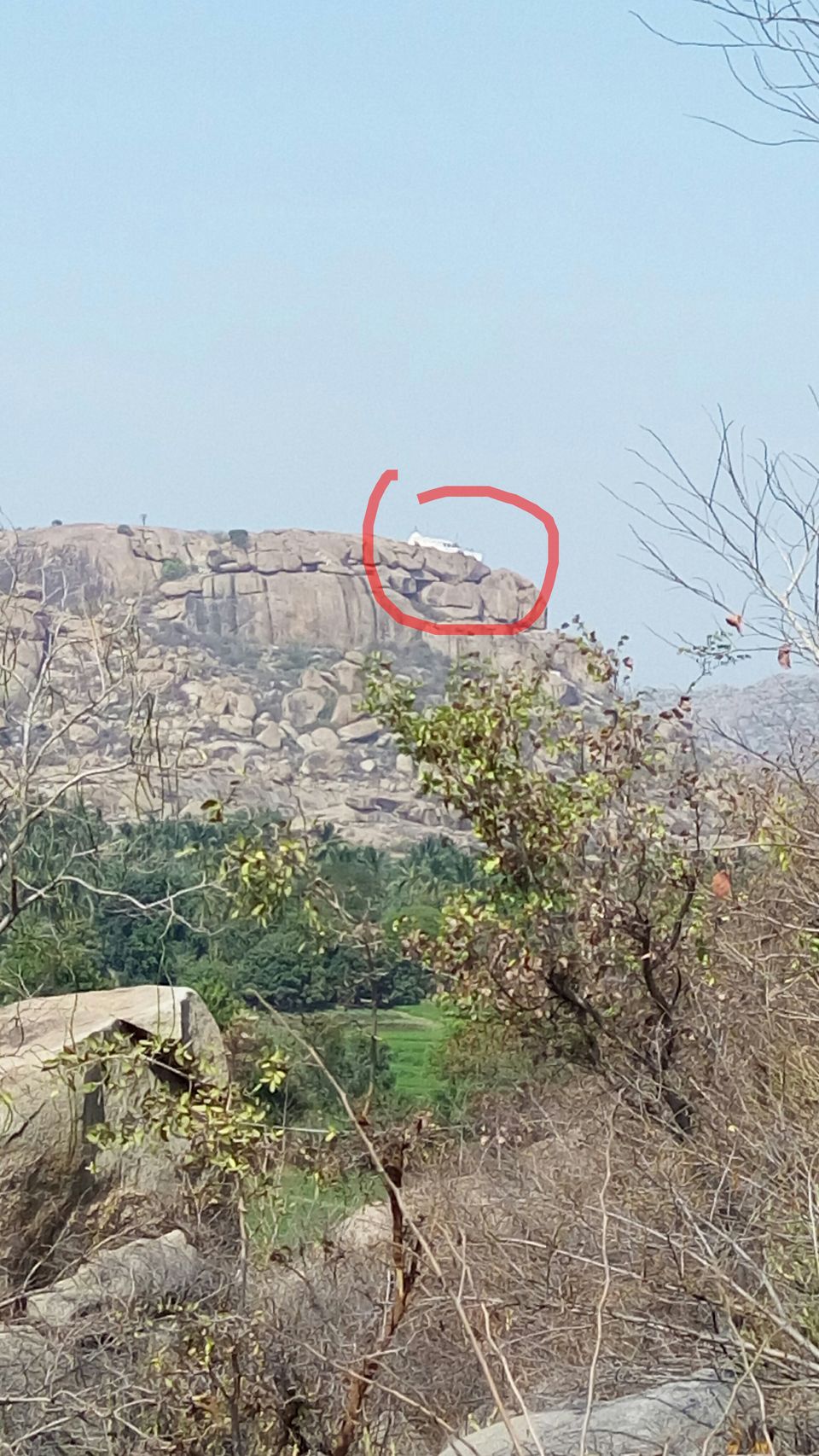 (TREK TO HANUMAN TEMPLE)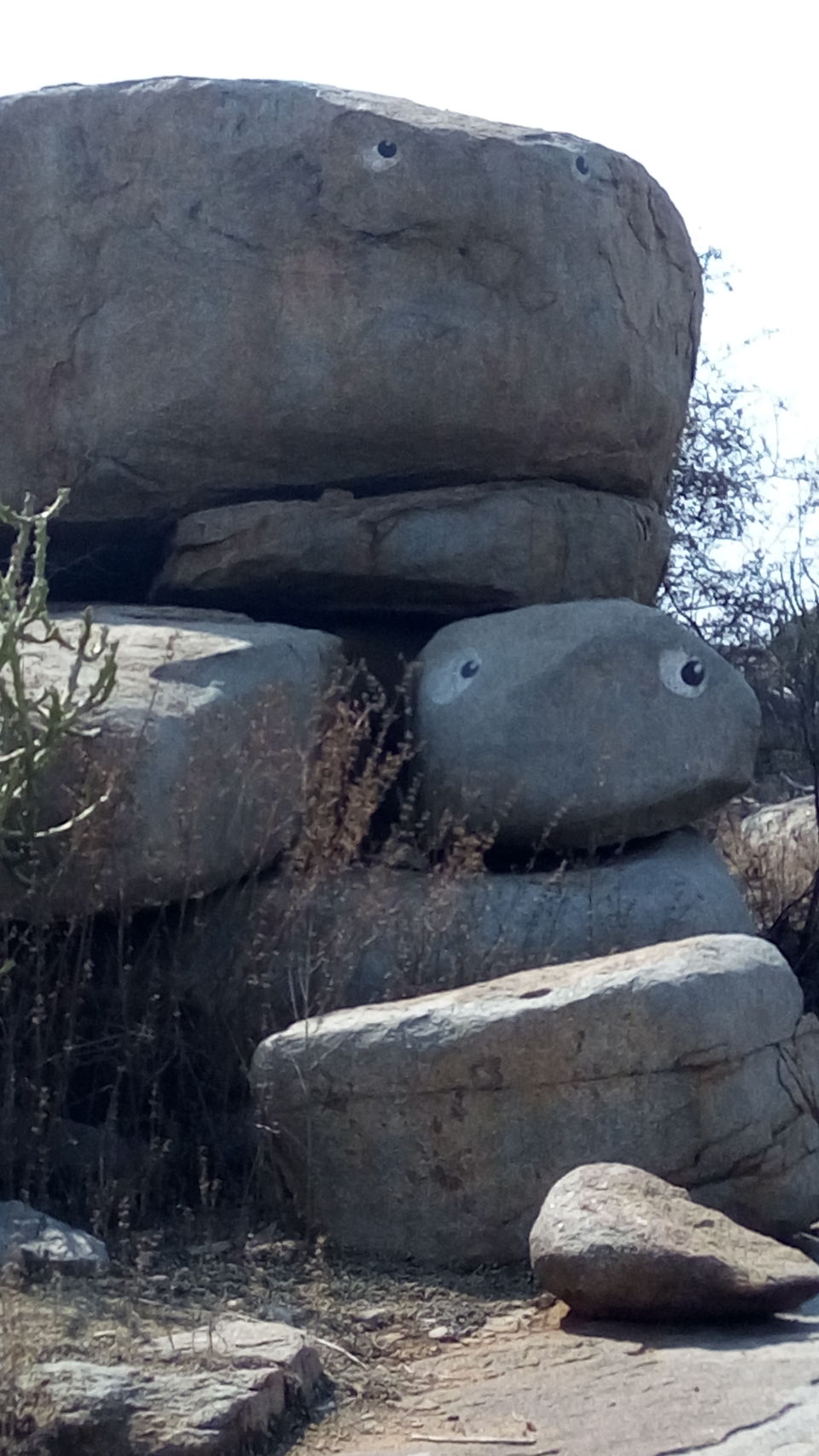 (BOULDERS WITH EYES)
Trekking back was even more fun as the sun was not so harsh. We reached "the sunset point" right on time. The sunset point is energetic yet relaxing, vibrant yet calm. The view of sunset is accompanied by rhythmic beats and feet tapping music. All played by the people gathered at the place to behold the sun set. It's an experience not to be missed. As the sun set and a day came to an end, a fun night unfolded. We spent the night at the restaurant of our guest house. Within no time we made new friends and the night was well spent eating, drinking, dancing and being dazzled by card tricks! It also included my terribly failed attempt at playing drums.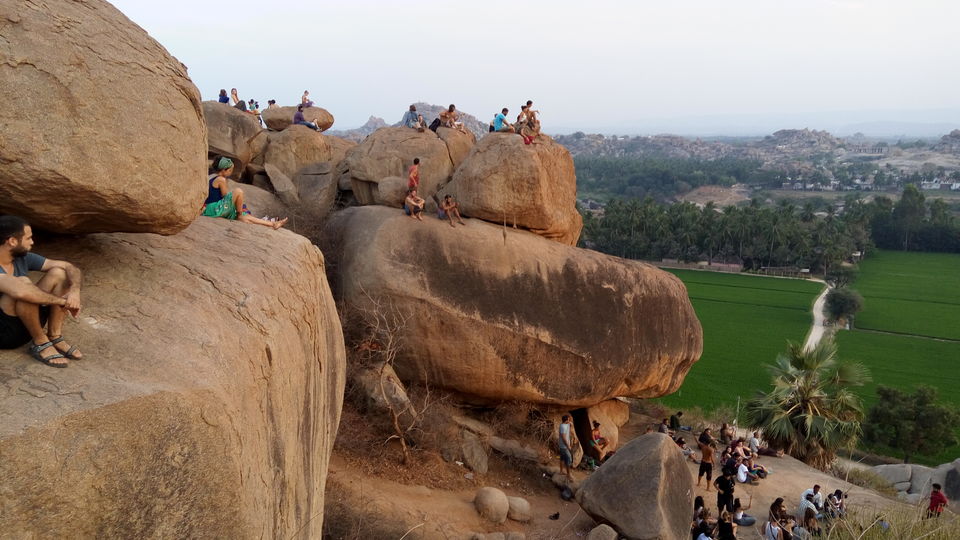 (THE SUNSET POINT)
The next day was even more eventful. We hired a moped which costs Rs.150 for a day and went exploring to the lake. We asked directions from locals referring to our destination as "the lake" and it worked. I still don't know the actual name. So, "the lake" is a beauty. It is a great place to relax or jump into! By jumping, I mean cliff jumping. Where there are boulders and cliffs, there has to be cliff jumping.
Tired but happy, we had a nice lunch and headed back to the guest house. Unfortunately, the trip had to end there but just a two day glimpse of Hampi left us wanting for more. Looking forward to going back and exploring in depth.
This place is cozy and comfortable to stay. The people running the guest house made me feel at home. Not to forget, the pleasant view of Tungabhadra river.
This view from this place, of Hampi covered with magnanimous boulders is amazing.