Hotel 105- A townhouse Hotel/ R13- A townhouse hotel/ 4th floor Hotel are the one which you can get in around Rs 5000/- per night.
Day 2
Here starts the Journey. Drive to the kerid, the scenic lake occupies a 3000 years old volcanic crater in south Iceland. An Entrance Fee of RS 200 is there to access this stunning view. Well if along in the journey you want to be there to explore Hot spring, then secret lagoon is at your way. A half an hour drive from kerid where you can get in for as low as Rs 1500 and varies as per the packages. Well to reveal its medieval history, it was made in 1891 and it's the oldest swimming pool in Iceland. From here take the route towards Seljalandsfoss Waterfall, the most beautiful waterfall of Iceland and key highlight of Iceland's southern coast and its one of the few places in the world where it's possible to walk behind the waterfall. Well the Gerua Song of Shahrukh Khan is filmed at this waterfall. Driving to another stunning waterfall of Iceland is Skogafoss which is just 25 Minutes drive from Seljalandafoss. The Place where you can embrace the most beautiful rainbows. Also the most popular Games of thrones is filmed here. To 9 minutes drive from this place is another scenic view of your lifetime which is Solheimasandur Plane Wreck, a landscape that looked like the surface on the moon. A crashed plan from 1971 on the black sand. Well again the Gerua Song of Shahrukh Khan featured this place. Another stunning view waiting to catch your eye is Dyrholaey Arch. One in a kind of experience where you can remove your fear of heights. The last point for today is Reynisfjara Beach black sand beach which is truly a unique place to visit.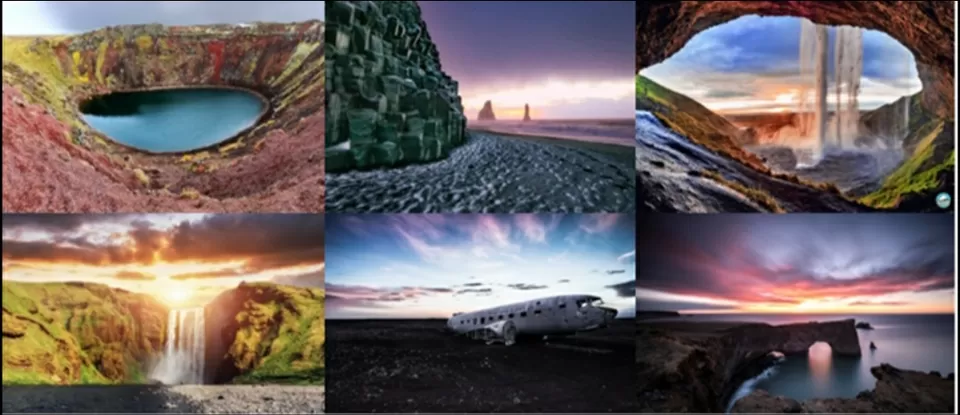 In the bucket list of every traveler is the country of Iceland. From the stunning waterfalls to the sparkling glacier, the beautiful mountain ranges and the amazing northern lights, this country offers altogether wonderful experience to the travelers. Being one of the most expensive country in Europe, this country attracts a lot of tourists every year.
Here is the 10 day Itinerary for getting the most of Iceland
Getting there
There are flights connecting from most of the countries to Keflavik Airport. From India, it takes around 15 hours to get there. A round flight ticket to Iceland from New Delhi will cost you around Rs 40,000-45000 depending upon how much early you are booking. Best time to visit Iceland is May-September.
Visa
For Iceland, you need a schengen visa in Denmark embassy which you can apply by yourself and it will cost you around Rs 4,400/- . You need to book flight and hotels before applying the visa.
Vehicle
Well to get the most of Iceland in 10 days, you need to travel by car. You can book car of your choice on europecar.com. You will get cheapest rental here. You can add pickup and drop location. You need to carry you driving license along with id proof.
Day 1
You will reach Keflavik airport after the 15 hour long flight journey. Pick up your car rental from the airport itself. If your flight is of early morning, you can reach Iceland in afternoon and can explore one of famous destination of Iceland which is Blue Lagoon, a 20 minutes drive from the airport. The cost will vary from Rs 5,500 to 20,000 depending upon the packages. You can book online on their website.
PRO TIP – try to get there in evening to get discounted price.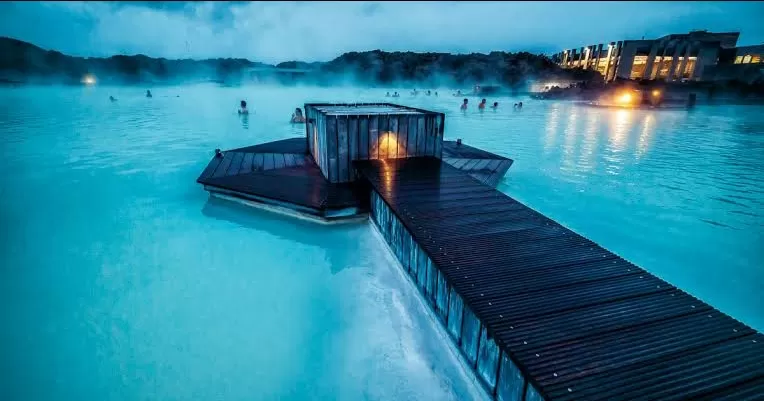 Hotel Kluaster/Hotel Laki/ Fosshotel Nupar are the one which you can get in around Rs 5000-6000 per night.
Day-3
Starting the day from our first visit to vatnajökull national park which is centered around Vatnajökull glacier showing the dynamic nature of fire and ice, another stunning view to catch your eye. After exploring this, move to another amazing location of Ingólfshöfði where you can explore the puffin paradise. Well it's not possible to go there by car. So, it's better to book a guided tour which is run by the local family. You can check it and book. It will cost you around Rs 4760/- per person. From here, take a tour to fjallsárlón/ jökulsárlón, both are glacier lagoon where you begin to feel the magic of an ice show. It's one in kind of experience of your lifetime. You can book this online and it will cost you around Rs 4000/- per person. Highly recommended to everyone. Ahead of this, is the charming and majestic view of the Diamond beach which you can access yourself.

Hotel Icelandair heard/Lyngas guesthouse/Hótel Valaskjálf/Olga Guesthouse – Rs 5000-6000 per night.
To just get off all the tiredness of the travel, you can access the vök baths where you can relax and enjoy the scenic view ahead of the beautiful Lake Urriðavatn.
Day-4
First location of today's drive will be Krafla crater in Northern Iceland. Drive to this scenic view of crater filled with deep blue water and surrounded with colorful mountains. To 12 minutes drive from here is hverarond geothermal area 'the wow factor of Iceland'. It's just something that defy your imagination, a stunning arctic desert. Moving towards the second powerful waterfall in Europe which is Detifoss waterfall. Fall in love with this mesmerize beauty and its breathtaking views. From here you can walk towards the selfoss waterfall to enjoy the view of yet another mesmerizing location. Another breathtaking view is this horseshoe shaped canyon of Ásbyrgi which is absolutely stunning. Well if you love to part of whale watching then húsavík is at your rescue. You can book it online and it will cost you around Rs 5500/- for 3 hours tour. From here take you way to Myvatn Nature Baths and enjoy nature at its best costing as low as Rs 1400/- per person.

Foss Hotel/ Icelandair Hotel Myvatn/ Elda Guesthouse- Rs 5000-7000 per night.
Day-5
Drive towards one of the most popular picturesque volcanic destination of northern Iceland which is Dimmuborgir. Many series were shot here. From here drive to the most stunning Godafoss waterfall. You simply just can't ignore this beauty. Make your way to Langhus Farm house, you can't miss horse riding if you're in Iceland and this happens to be the best place for the same. While driving to this place, explore the beautiful town of Akureyri and siglufjörður.

Hotel Akureyri/ Hotel Kea by Keahotels/ Hotel Edda – Rs 5000-8000 per night.
Day-6
Make you way towards one of the most photographed mountain of Iceland, Kirkjufell look like a freshly scooped ice cream. Near to this, is short and well situated waterfall known as Kirkjufellsfoss. Together they make the perfect picturesque scene. From here make way towards Gatklettur, rocks forming spectacular view which is too good to miss. Ahead of your way do stop at Hellnar View Point. Waiting ahead is you next destination, a 700,000 year old glacier capped stratovolcano which is Snæfellsjökull, Iceland's finest asset. Well if you want to enjoy seal watching then do stop at your way back to Reykjavík which is Ytri Tunga beach.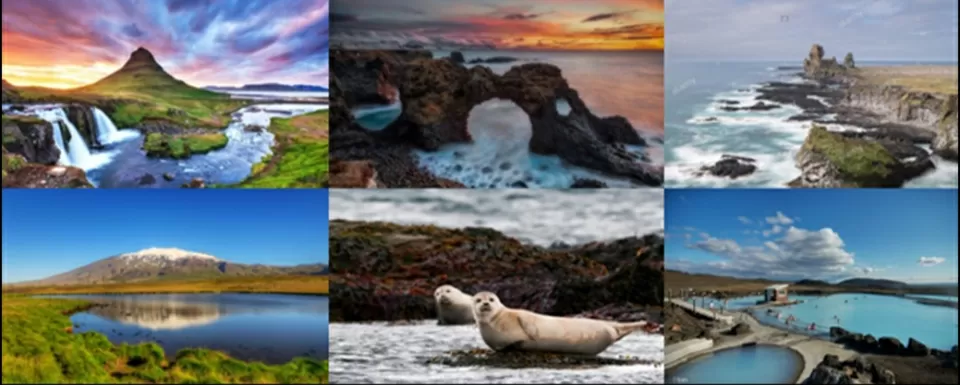 105- A Townhouse Hotel/ R13- A townhouse hotel/ 4th floor Hotel - Rs 5000/- per night.
Day-7
Well make you way to the first destination which is thingvellir national park, a historic and UNESCO world heritage site of Iceland's parliament from 10th to 18th centaury showing the true beauty of the country. From spectacular views and walks, lakes and waterfalls. This place makes you feel spellbound. Close to this is silfra diving, the cleanest water to dive in Iceland where you can do snorkeling between two continents. You can book it online it will cost you around Rs 5000. Do stop by Friðheimar which is a greenhouse where you can have unique food experience among variety of tomato plants. Drive towards geysir, first geyser known to the modern Europeans, the most popular tourist spot in Iceland. Check out its neighboring Strokkur also. It's a once-in-a-lifetime experience! Last stop of the destination is Gulfoss Waterfall, the very unique and beautiful waterfall of Iceland that you're going to really enjoy.

105- A Townhouse Hotel/ R13- A townhouse hotel/ 4th floor Hotel - Rs 5000/- per night.
Day-8 & 9
We are in Reykjavík and we will explore this city in the last leg of the journey. To explore it better take the 48 hours pass for the city tour. Free entry to all public museums, public swimming pool, city bus and the ferry to Viðey Island. With this pass come discount offers on various stores and restaurants. Well there are two three things apart which you can experience in Reykjavík which is a must to try. Magic Ice Reykjavík, Fly over Iceland Also do Northern lights boat tour. You can book it online by yourself, a 3 hour tour which will cost you around Rs 6000/- a worth watching experience of lifetime.
105- A Townhouse Hotel/ R13- A townhouse hotel/ 4th floor Hotel - Rs 5000/- per night.
Day-10
Catch your flight way back to home. If you're having flight in the afternoon you can stop by Blue lagoon and get mesmerized by the beauty of it.
Image Source- Google