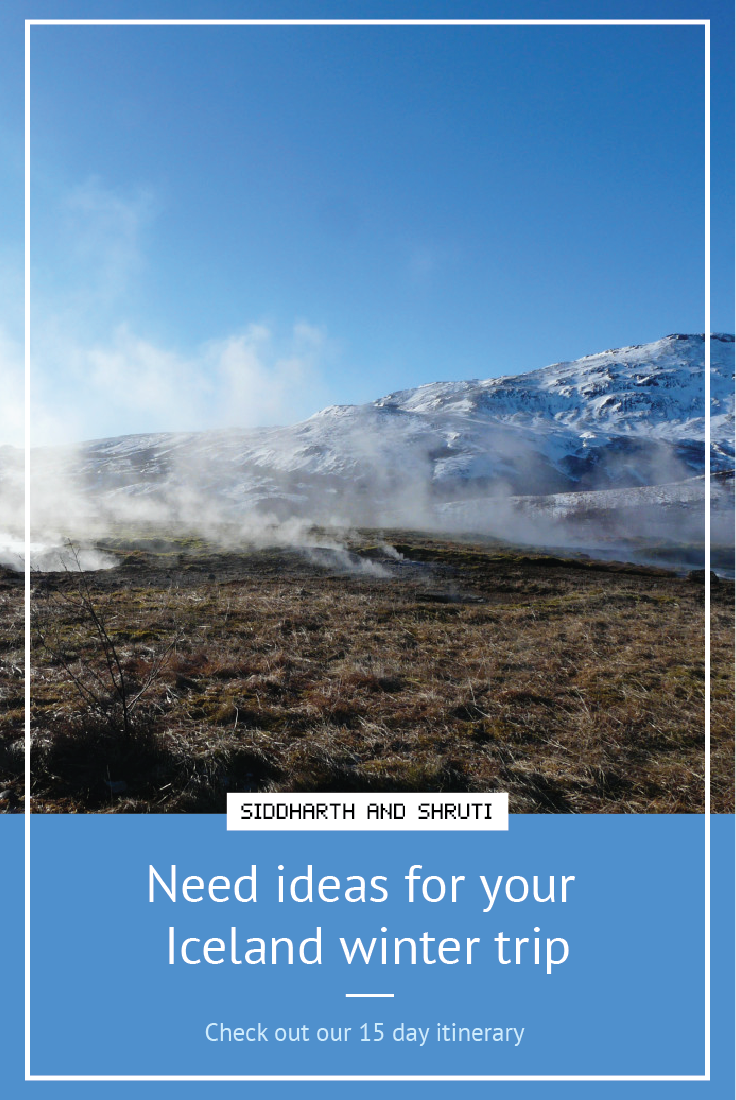 Planning a winter trip to Iceland? My wife Shruti and I traveled to the tiny Nordic island nation for our honeymoon. We did a self-drive trip around the country (15 days/16 nights) starting and ending in Reykjavík. Read on for some tips on drawing up your itinerary.
We did a lot of our own research (mostly online) for the trip and would like to share our thoughts on what worked out and what could have been done better. We will also put up links to detailed posts of the major stops/attractions on our route (including a few hidden gems) so watch this space.
The map below broadly shows our trip route beginning near Reykjavík in the southwestern part of Iceland and traveling counter-clockwise around the country's Ring Road (Route 1).
Arriving into Keflavik International Airport (KEF), renting a car from Lagoon Car Rental and driving to Reykjavík for an overnight halt at Stay Apartments, Bolholt.
A visit to the Reykjavík Botanical Garden and shopping for the upcoming days on the road.
Heading out onto the Golden Circle; Þingvellir National Park, Strokkur geyser & the waterfall at Gullfoss. A stay at the cozy Lambastadir guesthouse near Selfoss.
Driving towards Vík; the spectacular waterfalls at Seljalandsfoss and Skógafoss, a bit of off-road driving near Sólheimasandur & the beautifully decorated Guesthouse Vellir.
The long drive to Höfn in the shadow of Vatnajökull & a hike in Skaftafell can certainly whip up an appetite for a hearty dinner.
A tip by our hosts at Nyibær Guesthouse leads us to the hidden black beach at Stokksnes & we drive the sea-hugging cliff roads to Egilsstaðir.
A short drive to Mývatn gives us some time to explore the hellish landscape of Hverir. An overnight stay at Dimmuborgir Guesthouse and dining with cows at Vogafjos Cowshed Cafe.
Are you traveling to Iceland in winter? Here are some ideas for planning your itinerary. Click To Tweet
A snowy hike to Grjótagjá & our misadventures near Hverfjall made us want to do nothing but soak our troubles away in the turquoise blue waters of Mývatn Nature Baths.
Another short drive brings us to our favorite city in Iceland; Akureyri. Nestled between mountains on the southern shore of Eyjafjörður, this charming little town stole its way into our hearts. Read about our stay at the incredible Akureyri Downtown Apartments in Hafnarstræti, a sushi lunch & a walk around the beautiful downtown area.
Learning how to ski on the slopes of Hlíðarfjall mountain, a most excellent dinner at Kiljan Guesthouse in Blönduós and a night's stay at the slightly creepy Dæli Holiday Farm.
Returning to the plains of East Iceland for an overnight stay at the clean, functional Egils Apartments in Borgarnes before heading towards the famous Snæfellsnes Peninsula.
A drive to Snæfellsnes Peninsula takes us into the picturesque seaside village of Ólafsvík. A short respite from the bad weather permits us to explore the hidden white sand beach at Skarðsvík and the impressive Saxholl Crater. We wind down our day with a dip in the local swimming pool and a delicious meal at Hraun Restaurant.
Checking out the Vatnshellir lava cave on an extremely windy day before returning to Borgarnes. Continued bad weather forces us to stay indoors; an evening spent binge watching Harry Potter movies over cups of hot chocolate is a good evening!
Sightseeing in Reykjavík; the Hallgrímskirkja, the quirky, classy Kol Restaurant and a walk down Laugavegur (Reykjavík's answer to London's Oxford Street) to wind down an amazing holiday in beautiful Iceland. Time to head home after a night halt at the Bed and Breakfast in Keflavik.
Stalk us on Instagram for more ideas on how to plan, budget and find accommodation for a winter trip to Iceland.
This article was originally posted on 'Siddharth and Shruti'