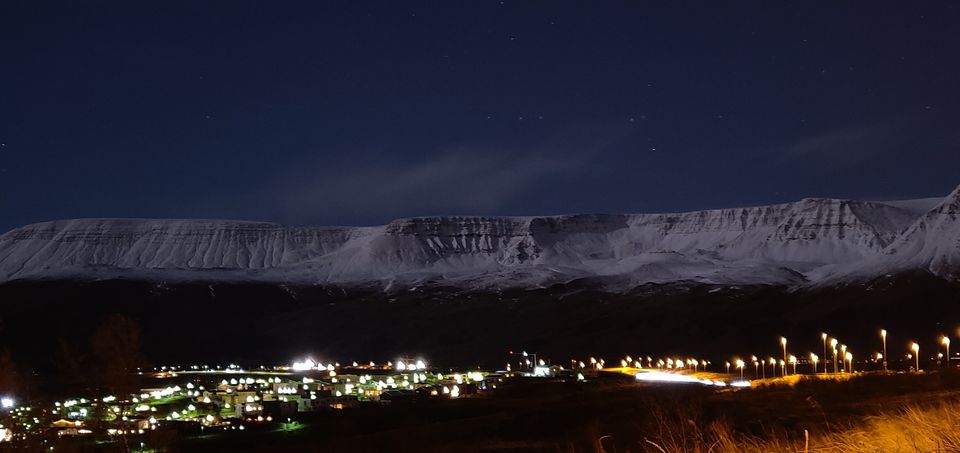 Before I tell you anything more about our Iceland trip, let me tell you that my wife is not that demanding and she never asks for any gifts be it her birthday or be it our anniversary. This year when I asked her what do you want on your birthday? she jokingly said, "how about a diamond RING"?
I said why not, off course you can go ahead and buy it for yourself on my behalf! and we both started laughing.
But that was the time when I started thinking about a road trip through Ring Road in Iceland. I told her about the idea of going on a road trip in Iceland during winters so that we can tick off one of the things that we had on our bucket list i.e. Watch the northern lights dance in all its glory. She didn't hesitate even for a second and said YES.
That was it and we started researching about things we can do, things that we need to carry, how to apply for a visa, the period when we can book the cheapest tickets, etc.
We will share our itinerary with cost in a separate blog but for now, let us show you some of the best places we explored during our trip through ring road in Iceland.
1) Reykjavik - First up is the capital of Iceland. We never like to travel to cities BUT Reykjavik was different. The reason why we fell in love with Reykjavik was - right in the middle of the city we found our favorite thing - MOUNTAINS. The first sight of the range made our jaws dropped. We wanted to capture the best possible picture we can and I think we were successful in doing it. Here is a picture of Mount Esja!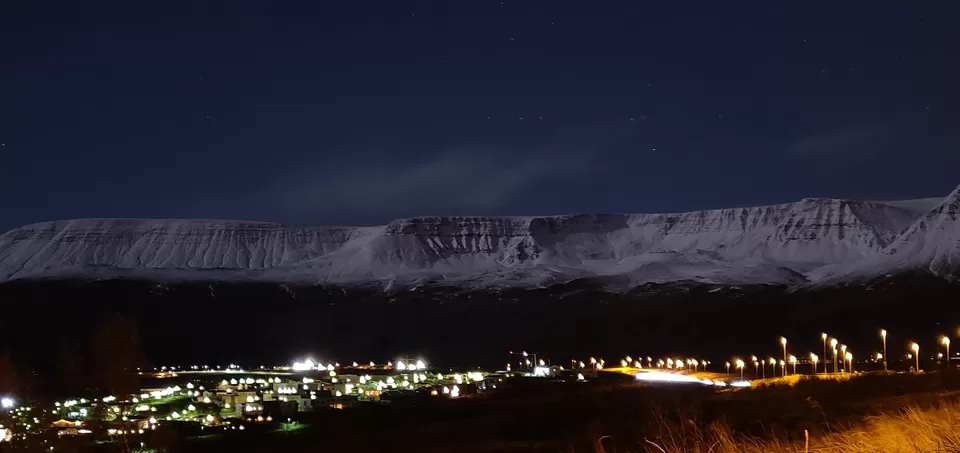 2) Hraunfossar & Barnafoss - Next up is one of the most beautiful waterfalls we have seen by far. When we started planning our trip, we realized that we will be witnessing many waterfalls on our journey. This particular waterfall has a story behind it and when we got to know about it, we got goosebumps and we had a quiet moment before we made our way back to our car. So here is the story behind it -
There was a widow who used to stay near the fall with her 2 kids. On Christmas Eve, she left to get something and on return she couldn't find her 2 kids.
While searching for them people found their footsteps leading to the fall and it is said that they fell into the waterfall. Since then the waterfall is called Barnafoss which also means Children's fall.
The story may be scary but the place is surely surreal.
3) The Black Little Church: Do you know the actual name of The Black Little Church is Budakirkja (Búðakirkja in Icelandic language). However, since the pronunciation is difficult (just as for all other places in Iceland) people have started calling it "The Black Little Church". So if you are trying to find it on GPS, please search for Budakirkja instead of Black Little Church.
From all the churches that we have visited by far, this church has the best backdrop which makes it look surreal. With snow clad mountains in the background and an open blue sky, it makes for a picturesque location.
Hellnar is an ancient fishing village, a cluster of old houses and buildings situated close to Arnarstapi on the westernmost part of the Snæfellsnes peninsula. When we were doing the research we saw this rock formation going into the sea and we wanted to have one of us walking on it. It is not recommended to try it and probably not allowed as well. We tried looking for a sign which would have said whether it is allowed or not, but we couldn't see it. So, we took the chance and I decided to go for it. I told my wife to try and click as many pictures as you can and she clicked one of the best image of our trip. It was windy and I can tell you the winds does feel like a storm. So I wouldn't recommend to do it and I wouldn't do it either.
5) Kirkjufell: When you search for Kirkjufell, you will see pictures of a mountain across a waterfall. However, we found a different spot which we believe is a hidden treasure. The spot where the Iceland ends! The view from the spot was beautiful and we actually spent almost 30 mins just admiring the view.
6) Laufas: Laufas is a place we will never forget. We wanted to go to Laufas Museum which has some identical looking farmhouses. If you google it you will know what I am trying to say. BUT we never made it there. We got lost and we reached a place called Laufas which is on the wrong side of the ocean. One thing I can tell you - If you are planning a trip to Iceland, make sure you exactly know which place is located where and mark it on GPS. There are many places which has a similar name and also you need to know the correct name that you need to enter on GPS otherwise it is very easy to get lost. On my Instagram post I mentioned a detailed story of what & how things went wrong.
Although we got lost, we found a beautiful small village which has some extraordinary houses and some great view. When we reached Laufas it was covered in snow and it was the first time we witnessed a snow fall.
7) Godafoss: Although we couldn't see the museum at Laufas we were not disappointed as the next day we witnessed something spectacular - Godafoss or should I say waterfall of Gods. There is a long story on why it is called the waterfall of Gods which you can find at the church in Akureyri or just google it.
But the view of the waterfall was mesmerizing and one can only smile after watching it. Well, I smiled only for the picture because when we reached Godafoss it was -8 degrees and the moment we used to open our mouth our teeth used to start shivering. But that was the kind of adventure we were expecting and Iceland did not disappoint.
8) Vestrahorn: This is the place which is very difficult to find and the GPS won't tell you the exact location. If you want to reach this place search for Viking Cafe and the GPS will lead you to the right spot. In my next blog I will tell you how to find the exact places in Iceland. Vestrahorn is famous for 3 things - 1) The Viking Village 2) The light house 3) The Mountains which meets the black sand beach which makes up for a beautiful landscape.
The landscape was also used a backdrop for one of the most popular bollywood songs featuring Shahrukh Khan & Kajol - Gerua.
When we reached this place it made us realize how insignificant we are in this whole wide world and how we are running behind things which does not matter to us. This thought actually inspired us to write a poetry which you can go and read in the stories section of my instagram handle. Here is the picture that inspired us to write the Poetry.
9) Diamond Beach: She wanted a ring BUT I got her a Diamond :) The name is so fascinating in itself. The beach is made up of black sand and the ice block that comes from the near by glacier lagoon gets deposited on the beach which makes it look like diamonds and hence the name - Diamond beach. In the sun the ice blocks shines and it is one of the best things you would see on your trip to Iceland.
10) Jokulsarlon Glacier Lagoon - One of the other place that we fell in love with was the Glacier Lagoon at Jokulsarlon. Have you ever walked under the glacier? If not, this is where you can do it. You can also take a boat ride to experience the glacier from real close. You can search on Instagram for the pictures of this place and you will immediately put it on your bucket list.
11) Reynisfjara black sand beach & Basalt rock columns: You will be in awwww if you look at this place from top. You will see beach on one side, layer of black sand in the middle and snow covering the other side of the sand. It is a rainbow of its own kind. The basalt rock columns is an architectural marvel. One of the places where you can click pictures with your BAE which will be a memory for lifetime. More pictures from this place will be uploaded soon on our Instagram handle.
12) DC 3 plain wreckage: Sólheimasandur beach turned into a tourist destination when US Navy airplane - a Douglas Super DC-3 - was forced to crash land on the beach. Everyone on that plane survived the crash but the plain wasn't recovered from the site. Post which the site has been converted into a tourist spot. You can either walk to the beach or you can pay 2,500 INR to take a bus ride. When we visited the site there was an extreme storm going on and we had our own story that we can remember. Check out the below post to know about the same.
13) Blue Lagoon: We ended our road trip through Ring road by chilling at Blue Lagoon spa so that we can relax a bit and get ready to travel back home. We always wanted to visit Blue lagoon and we spent almost 6 hours at the lagoon sipping pina colada in one corner. The end to our trip couldn't have been better than this.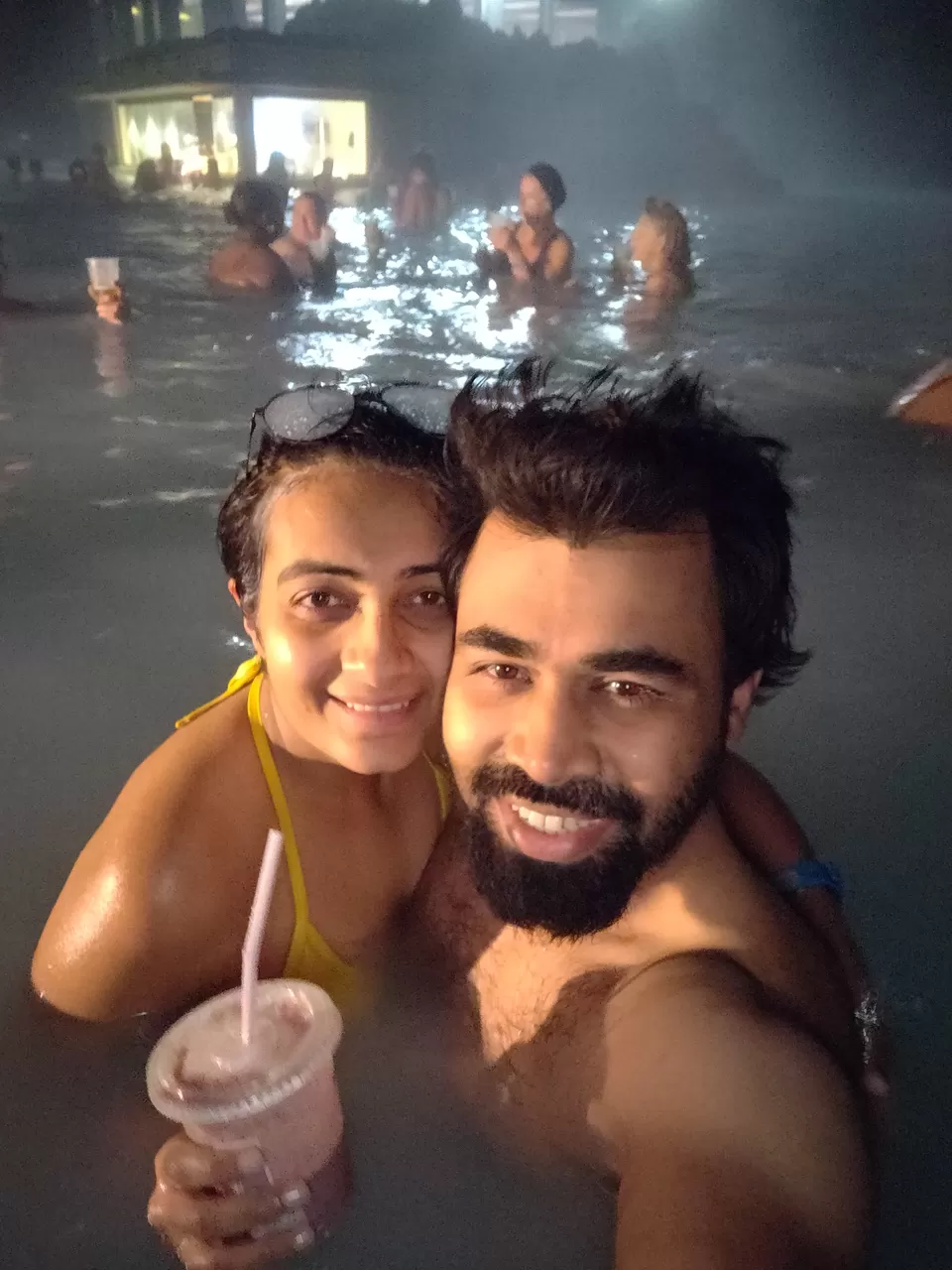 Our trip through ring road will be the most memorable trip of our life and my wife is looking forward to many more celebrations like this on her birthday.
We will be posting pictures on our Instagram handle @the_tripster telling you more about the experiences we had on our trip. Also, we are currently writing a separate blog giving you more details about our itinerary and cost. So keep following this space for more details.
We will be now traveling soon to one of the other destinations that we always wanted to visit.
We will be sharing details about our next trip as well. Till then keep traveling and keep exploring like a tripster.