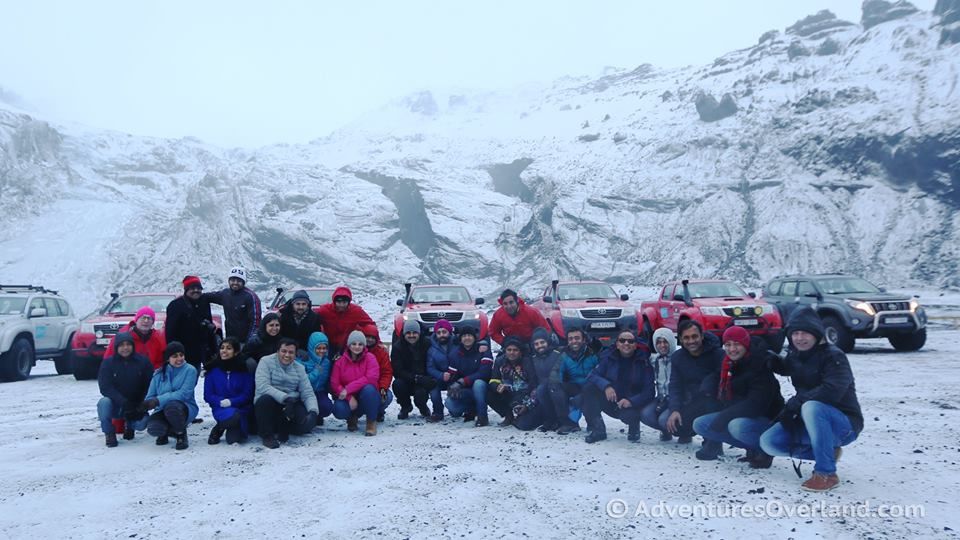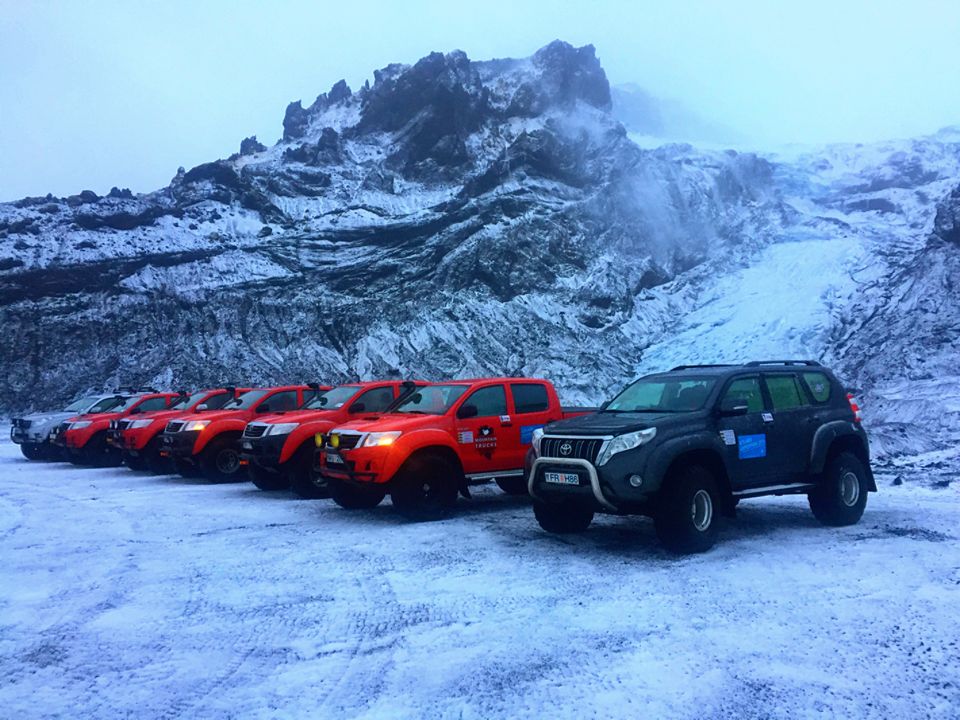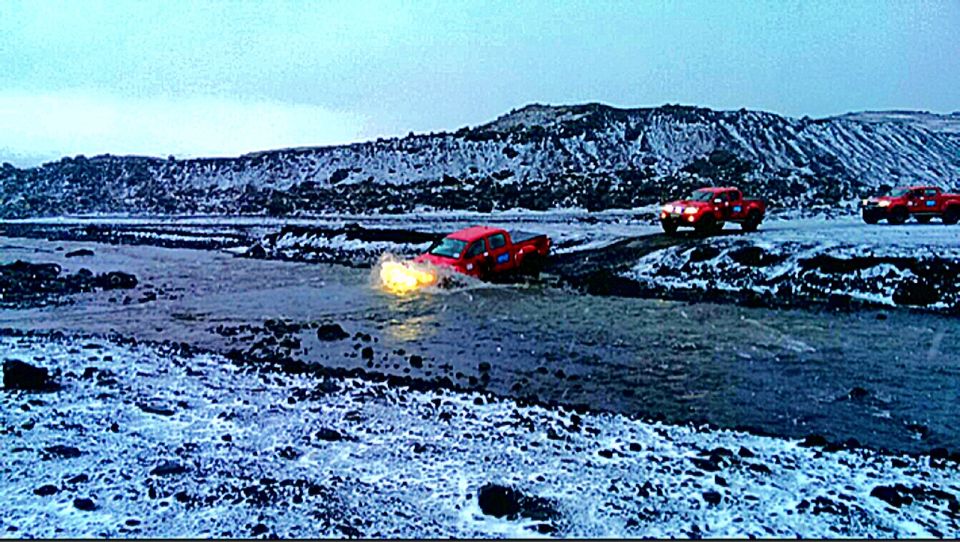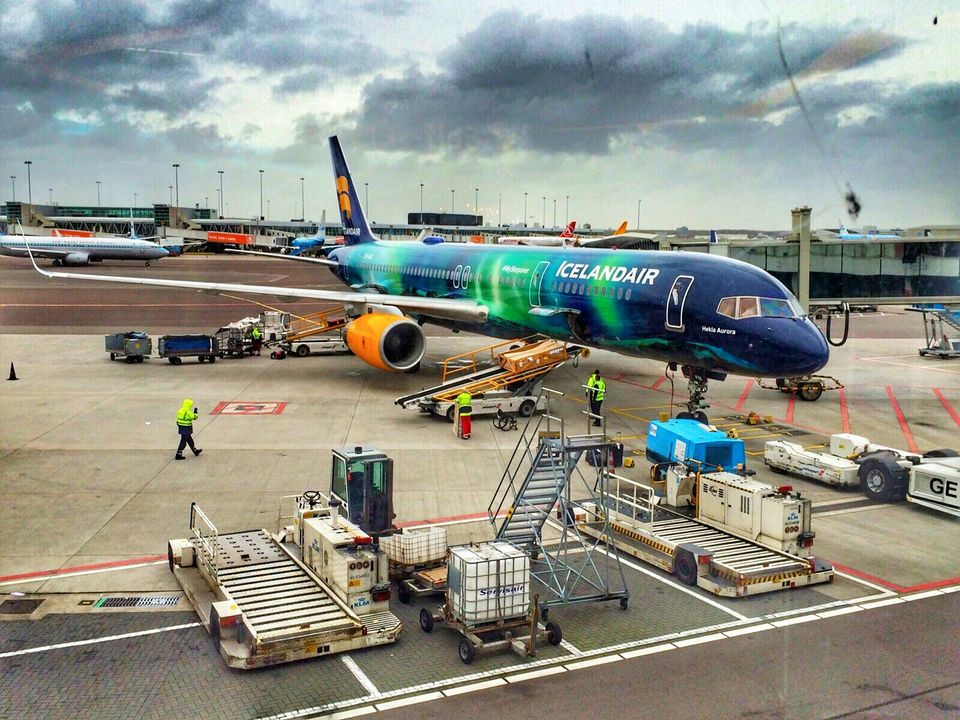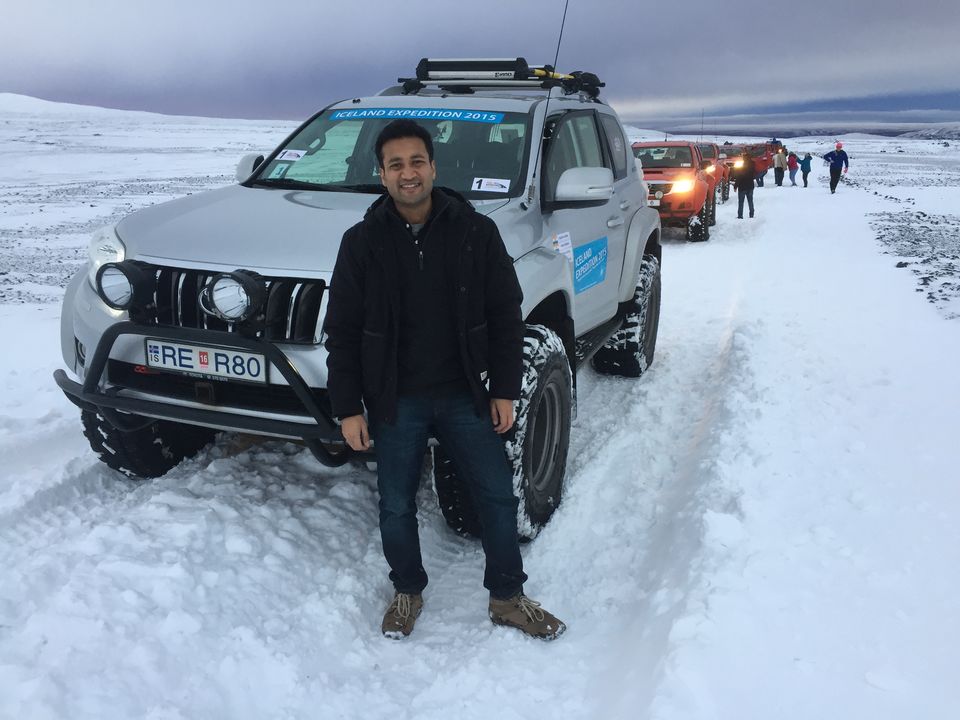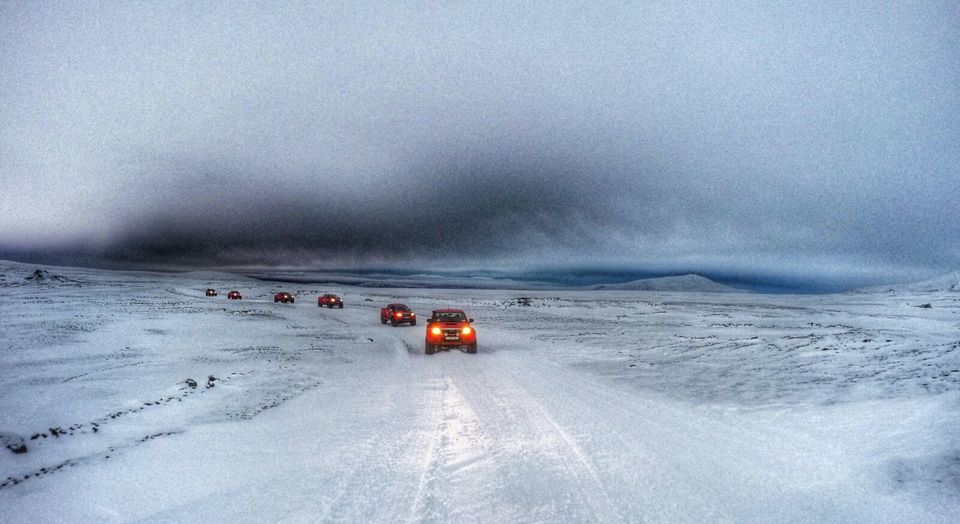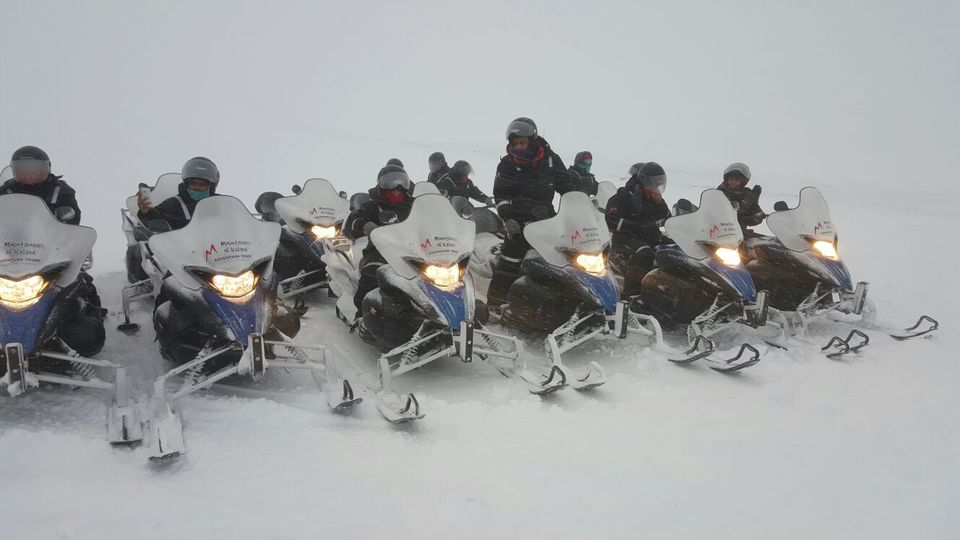 "That looks like a very interesting truck!" I said to Sanjay pointing out at a modified red Toyota Hilux Truck displayed inside the exhibition halls at ITB Berlin, the largest Travel Expo in the world. Sanjay and I visited ITB in 2014 to explore new destinations and boy, did we find one! The red truck lured us and we walked over to speak to the Icelandic man standing proudly in front of it.
"Have you visited Iceland before?" he asked us with a smile.
Iceland. Hmm. No. Who goes to Iceland? I mean, we have driven around the world, been to all 6 continents, but it never even occurred to us to visit Iceland. How come we never thought of Iceland? I cannot even pronounce the name of its capital city, Reykjavik! Steiner, the guy standing next to the truck was representing a company called Arctic Trucks that organize driving expeditions in their modified vehicles in Iceland. He explained us the features of this monster truck from inside and outside and then 'virtually' took us for a drive to Iceland. He was carrying with him this gadget that was put over my eyes and as he turned it on, I was 'virtually' transported to Iceland. He played a film on the gadget and it was designed in a way to make me feel that I was part of the film. I could almost feel that I was sitting inside a car that was taking me through different terrains of Iceland. I was driving on glaciers, volcanoes, crossing rivers, passing waterfalls and even riding a snowmobile scooter! Sold.
Fast forward to 2015, Sanjay and I decided to launch an expedition to Iceland and turn the virtual experience to a real one! This was going to be the first time that we would do an expedition in a region where neither of us had been before. A 2 minute virtual experience had convinced us about the incredible experiences that we can make people have in Iceland. We packaged a very exciting itinerary and were able to form a group of 25 travelers from all over the country. After a year spent in planning the expedition, finally the day arrived when people from all over the country came together for one common goal. Iceland. We took the KLM flight and after a stopover in Amsterdam boarded the Icelandic Air flight to Reyjkavik. The 'Icelandic Experience' began from the moment we boarded the Icelandic Air flight. The aircraft was painted on the theme of the Northern Lights, a breathtaking phenomenon where you see florescent green or pink lights in the sky on an extremely cold, winter night. The Northern Lights are actually the result of collisions between gaseous particles in the Earth's atmosphere with charged particles released from the sun's atmosphere. Variations in colour are due to the type of gas particles that are colliding.
"That's a great introduction to Iceland" Deepak, our cameraman said as we boarded the aircraft. As we walked into the plane, the cabin ceiling was also lit up to give a 'Northern Lights' effect. I had never seen any aircraft that looked so attractive!
We touched the Ice'Land' in a few hours and as we walked out of the aircraft the extreme cold wind hit our faces. It was -5 degrees outside and without wasting a second, our scarfs, gloves, caps and more layers of jackets were pulled out. I was secretly feeling very happy that it was so cold. What's the point of going to Iceland and not experiencing the extreme cold temperatures? We boarded the bus to the hotel and I couldn't help noticing everyone looking out into the dark sky hoping to catch a glimpse of the Northern Lights. But it wasn't going to be that easy! We reached the hotel, got everyone checked in and next morning, we took the group to the Arctic Trucks Head Quarters where the man (and the woman) was introduced to the machine! Parked proudly in front of the building were 7 Super Trucks that were going to be our home for the next 7 days. The excitement, the joy and the happiness that everyone felt on seeing the trucks was priceless. It didn't matter if you were a 30 year old or a 60 year old, at that moment, every single person was a child, a very happy child!
Sanjay and I had already organised the sequence for the trucks and decided who would sit in which truck. After a briefing session conducted by Ingo, our local Icelandic guide, the group boarded the trucks. We switched on the ignition and I announced on the radio,
"Welcome to Iceland. Convoy Rolling now!"
Our Icelandic journey started. Over the next 7 days, our convoy of 7 trucks drove through the snowy terrains of Iceland and experienced the highs of this incredible country. We saw incredibly beautiful waterfalls, the interesting part about of one the waterfalls was that you could see this waterfall from the front and even from behind by walking through a little trail that would take you behind the waterfall.
"We don't want to have a normal touristy experience. We want to experience something that we will remember all our lives" Manish, one of the participants had said to me before booking the expedition. Well, all I can say is, be careful what you dream for, because dreams can come true! In this particular case, the dream came true on day 2 of the expedition. We were driving on the Langjokull Glacier, the second largest glacier of Iceland and our convoy was hit by a severe snow storm. We faced fierce winds and a complete white out while driving up the glacier in a remote part of the country. Being responsible for the whole group, Sanjay and I were just hoping for the vehicles to keep running and not get stuck in snow. But, it seemed like the 'snow gods' of Iceland read our minds and decided to have sun fun. 5 out of 7 cars got stuck in snow! It took us 2 hours to pull the vehicles out. Our guide Ingo, was the start of the day, he singlehandedly managed to pull our every vehicle and in the end all he had to say was,
"Just another day in office". Perfect. It was a very exciting day, nobody was expecting to experience what they had experienced and for some of them, the thrill and the excitement they felt on second day of the trip had already made the trip worth their while.
Every single day spent in Iceland was better than the last one. On one of the days, we drove for 5 hours straight through an absolutely white terrain towards an isolated mountain hut. Nobody in the group including me had ever seen so much snow ever in their lives. It was surreal, it was like a scene out of a movie, 7 red trucks driving through pure white snow as far as the eye could see. On this particular day, there was neither wind nor storm. It was a perfect, calm day. We felt so far away from the world but so close to nature. Just us, the snow and the volcanoes. It was mother nature in all its glory. We reached our mountain hut by evening where we had planned to spend a night away from civilization. A group of 25 Indians spending a night in an isolated hut in the middle of snow country was probably as rare as witnessing the Northern Lights!
"Umm, this hut looks just like the hut in the old horror film Evil Dead" someone joked. Well, we were still alive and kicking in the morning after a night full of drinking and singing and even taking a dip in the natural hot springs located a few min outside the mountain hut.
Our trusted trucks took us to places where no tourist could venture. We continued driving through isolated, snow terrains of Iceland. Ingo even took us driving on the top of a volcano. As we parked our vehicles and walked out, he asked everyone to maintain pin drop silence.
"Guys, on a count of 3, I want everyone to freeze. No sound please" We followed. For 1 minute no one made any sound or movement.
It was during that 1 minute, that we heard an incredible sound. The sound of silence. I closed my eyes and heard the silence. A complete silence. Nothing. Just nothing. No birds, no animals, no wind, no trees, no cars, no machines, no buildings, nothing. It felt magical. It was the best one minute of my life.
From a complete silence to the most thrilling adventure of the journey. Riding the snowmobile scooters! 25 people geared up in overalls, helmets, snow glasses, gloves and protection shoes and took position on their respective snowmobile scooters. For the next one hour, we experienced the thrill of riding these incredible machines on snow going at speeds as high at 60 km/hr exposing ourselves to the freezing temperatures but the adrenalin rush was enough to keep us pumped up. The snow fall started coming down at the perfect time and the whole experience became even more thrilling. At the end of that one hour, the entire group couldn't stop smiling. It was an absolutely thrilling experience and even though we all were cold and wet, but we didn't care. We wanted fun and excitement; we got it all in abundance!
The final day of the journey was spent in the soothing waters of the Blue Lagoon. In -5 degrees, we walked out in our bathing suits and walked into the cozy natural hot springs. 2 hours were spent quickly and we didn't feel like coming out. But all good things must come to an end and so did our experience of the Blue Lagoon.
We switched on the ignition of the vehicles for one last time as we drove back towards the Arctic Trucks Headquarters from where our journey had begun. A lot of things had changed. We were connected to these trucks now, people who met as strangers a week ago had formed a bond for life. We had experienced highs together, we had overcome difficult situations together and we had all pushed ourselves out of our comfort zones together. Iceland had brought 25 strangers together as a team, as a close group of friends and even as a family.
We said goodbyes to the trucks, we said goodbyes to Iceland and eventually we said goodbyes to each other with a promise to meet again soon. As I boarded the flight back home, I couldn't help think about that moment 1 year ago, when Sanjay and I had casually walked over to check out the red truck parked in the exhibition hall in Berlin.
Upcoming Iceland Expedition: 26th March - 2nd April 2016