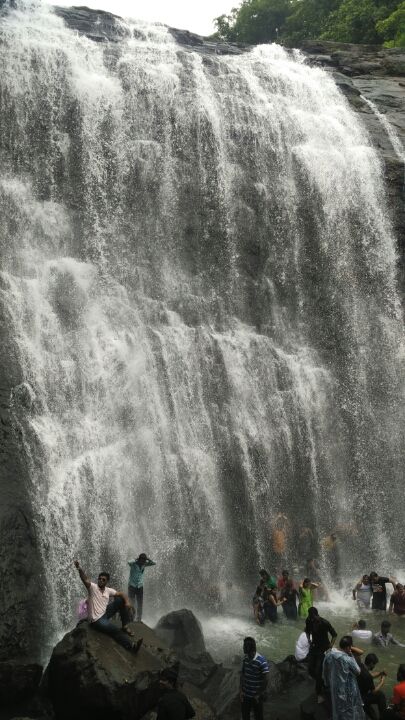 Monsoon was here and yet I couldn't manage a single outing. My feet was itching and so though we couldn't manage an overnight trip we thought of going for a day. Naturally we had to choose a nearby location and that is why Igatpuri was decided.
Have you ever experienced some days where everything falls in place.Perfect weather,no traffic ,lush greenery ,roaring spectacular waterfall,no crowd and a quiet beautiful serene village. I couldn't believe something this beautiful is mere 2 hours drive away from Mumbai.With our window panes down ,and music on ,we drove the entire stretch.
Ashoka waterfalls (named after the movie Ashoka was shot there) in the village of Vihigaon on the way to Igatpuri.A small diversion from the kasara ghat would lead you there. Just follow the maps ,it is accurate. A small fee of Rs 10 pp is charged as you reach the falls. We parked the car and headed for the falls . Oh the first sight of the thunderous waterfall is captivating!!. Without wasting anymore time we trekked to the falls. Time and content never see eye to eye. Without even realizing we spent nearly two hours in the fall.
There are chaiwalas,bhajji stall and corn-sellers to satiate your appetite.There were signs indicating rooms available for changing;but I did not change there.We left the spot and headed towards highway.On the way we found a beautiful spot in the village.The weather added to the charm and we ended up sitting there and listening to songs.We found a group camping there .Definitely they had hit a jackpot.As the weather changed and it started drizzling ,we realized how hungry we were.We headed back on highway to Igatpuri. Green Land restaurant was our lunch destination.I changed in their washroom(well maintained).
We headed back around 4.30 pm .For a while the weather had become extremely misty .The visibility was low and we had to take care while driving.Luck was on our side and the weather remained perfect throughout our return journey.
And I truly believe the universe conspired to give me the perfect monsoon outing :):).
Happy Monsoon!!