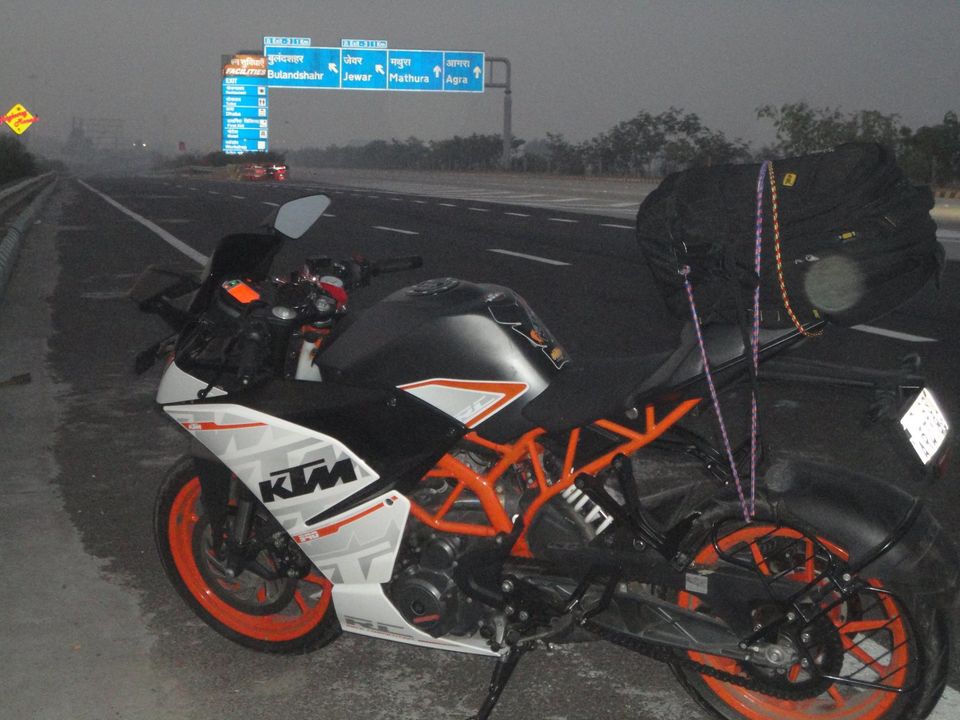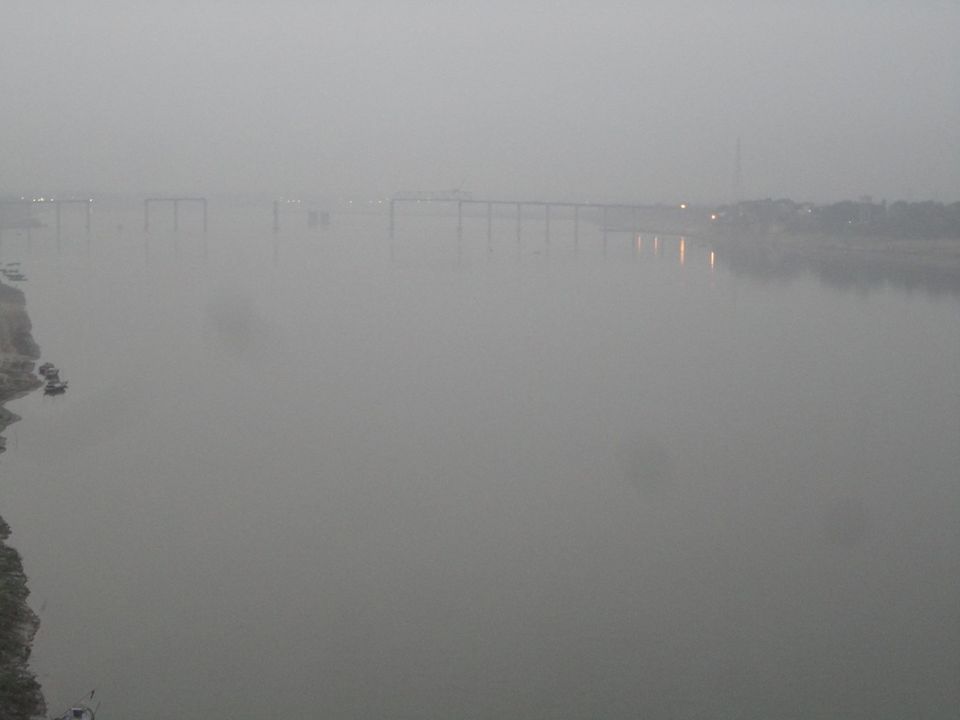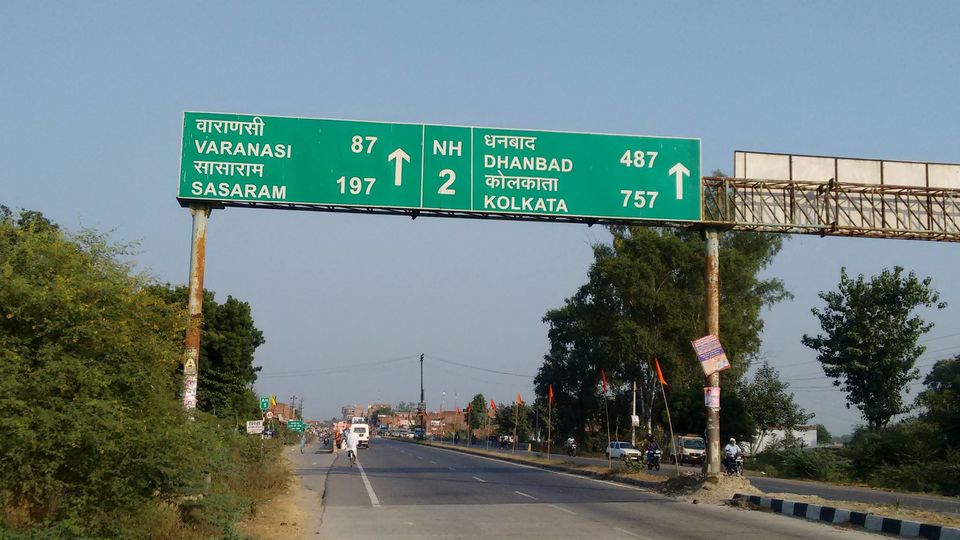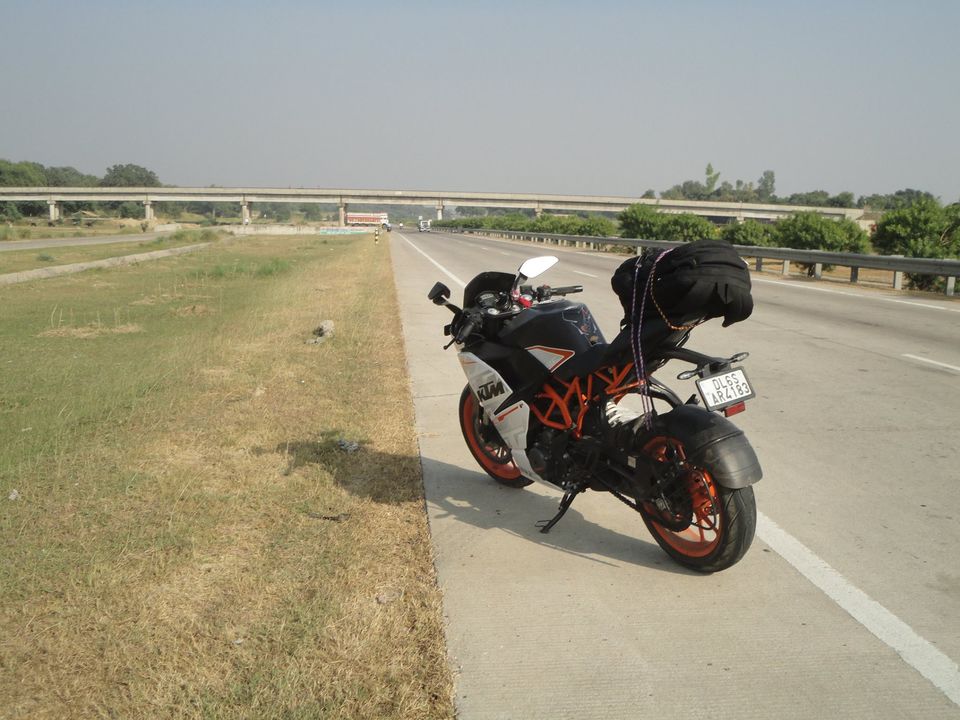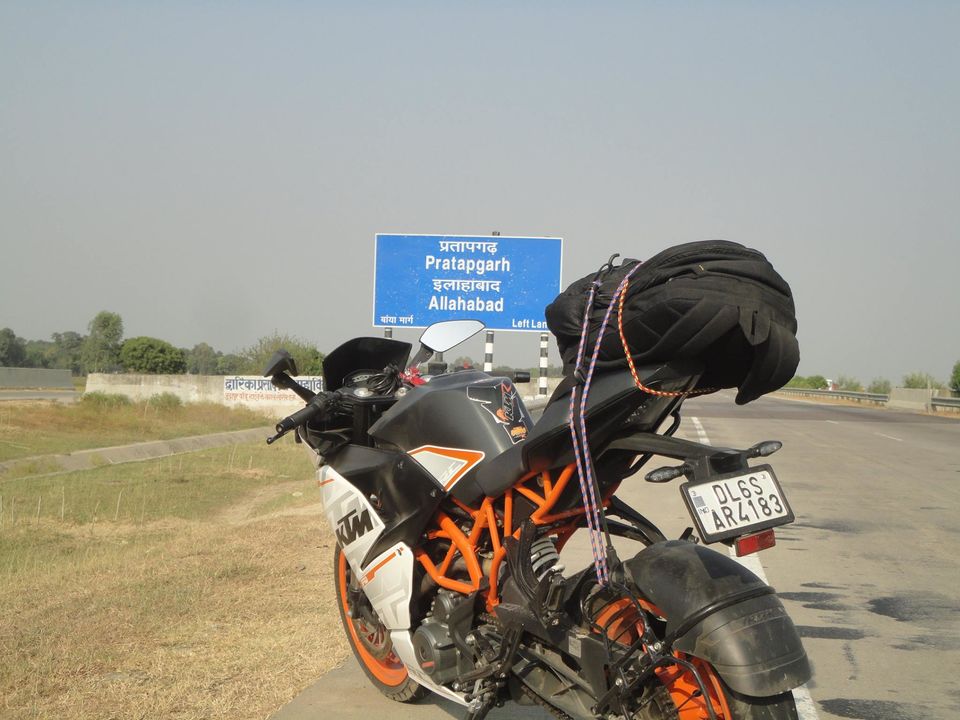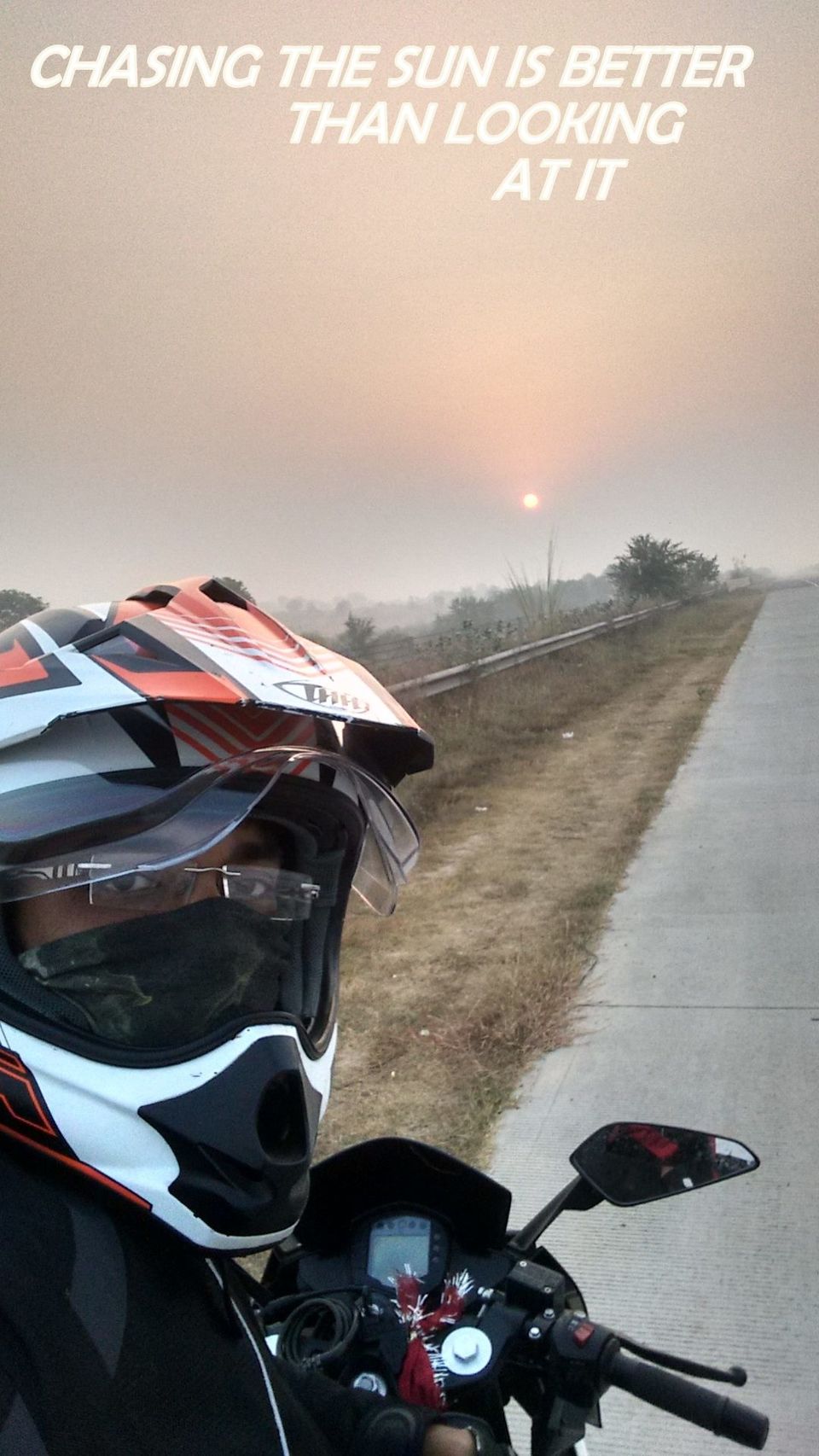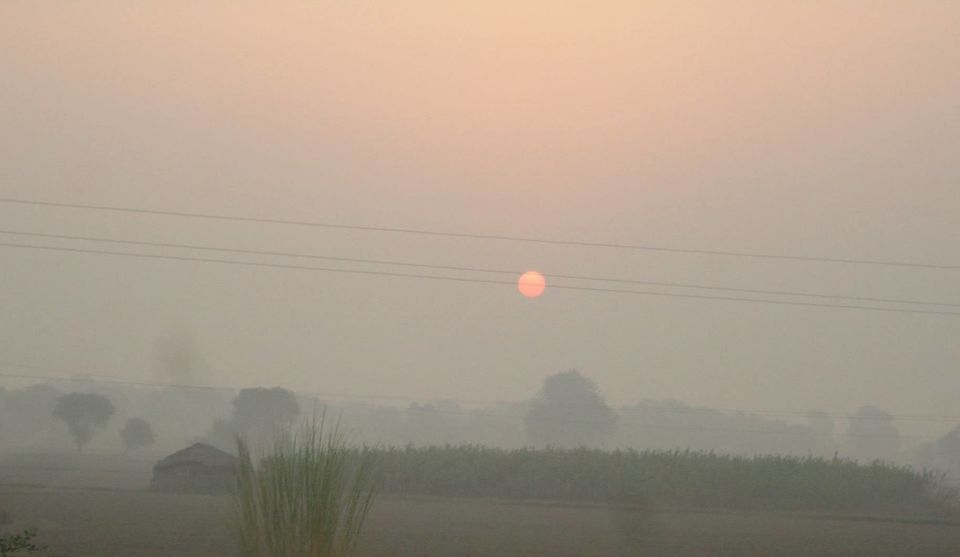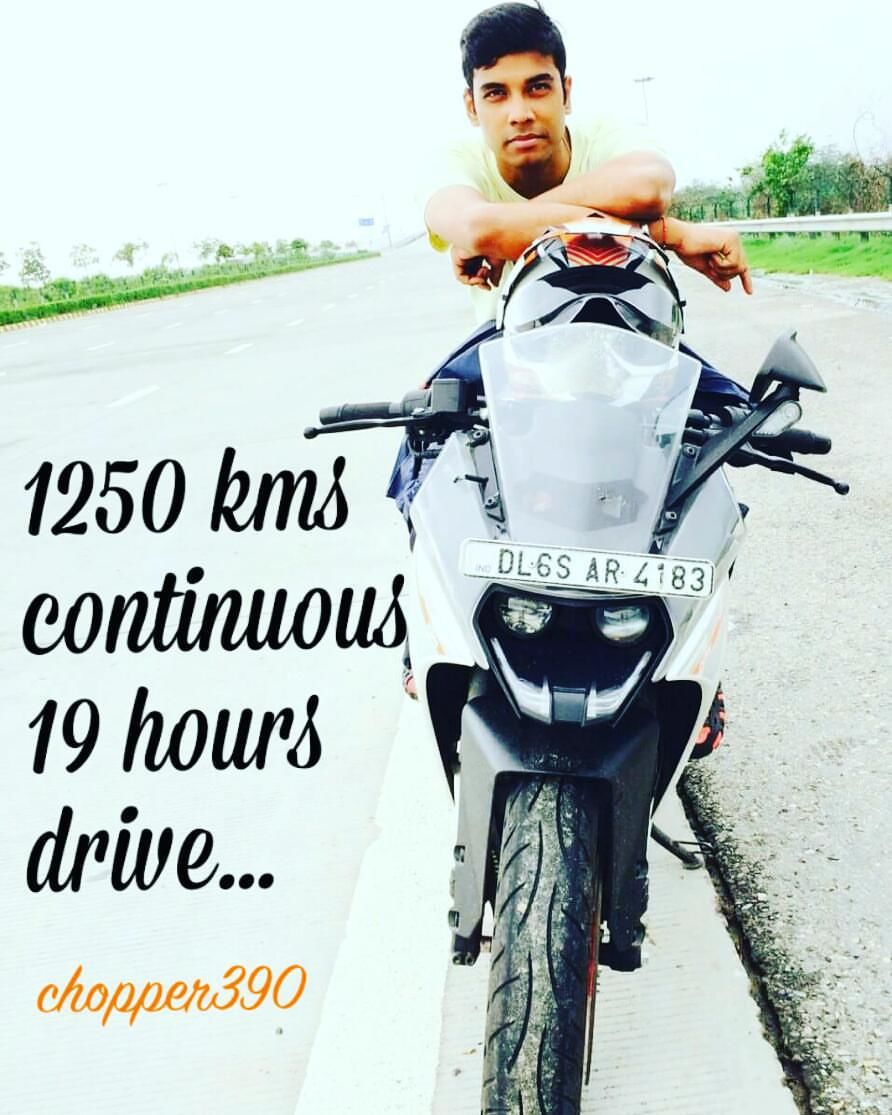 Hello fellow riders/travellers
I am Dr. Anshul Anand '' doctor by profession and biker by passion" owner of KTM RC390.I live in Delhi but my home town is ranchi.I was planning to come to home for dusshera vaccation in october15 and so I booked my ticket in rajdhani from delhi to ranchi for 21st october,which takes 18 hours.In mid august I read an article of a rider who covered 1600km in 24hours and after reading that article,everyday it was coming in the back of my mind that even I should ride my bike to ranchi and One final day I decided I will ride my bike covering 1250km in a single day.
now the toughest part was to get permission from my parents,the answer to which I already knew was NO NO NO and also they said NO.I told my brother and he said yeah you can do this but its risky and also I will not allow you to cover the entire stretch in a single day you will have to stop at varanasi for a night and cover rest in 2days I tried to convince him but he was not ready,I also told few of my friends and everyone said yes but to cover in 2days.
So after my brother was ready I started planning and my route was Delhi- Agra-Kanpur-Allahabad-Varansi-Barahi-Hazaribagh-Ramgarh-Ranchi.
since It was my 1st ride and didn't wanted to make it my last ride so safety was my 1st priority and therefore I bought riding jacket,knee guard.and started calculating my speed so that i could cover 1250 kms in 18 hours because I wanted to reach Ranchi in the same time as that of rajdhani train which is 18 hours, so after my calculation I decided my average speed should be around 100km/hour and to me it looked impossible to maintain 100km/hour on Indian road.
Date of journey decided was 16th october(my birthday date) and then I started searching for some rider on different travel forums who covered the distance from delhi to ranchi. I got a reply from one of my school friend who covered the entire stretch in a single day but on his HONDA CITY and I was happy that it is possible to cover and I never underestimated my RC390 and started thinking now its a challenge for me and my chopper390.
As 16th october was coming closer level of adrenaline was increasing day by day.on 11th october my dad came to delhi and he was not sure of his returning dates and that day my whole planning came to an end as I didn't tell him about my palns,everyday I was telling him go back so that I could continue with my plan but my dad didnt go and on my birthday he was with me and we celebrated but I was not happy.He went back on 17th evening and left me confused but whole night i was thinking what to do and at last I decided to ride on 19th morning.
On 19th I started my ride at 430am form Gurgaon and by best buddy was with me to give company till Noida.Nothing is easy in life and there comes a second problem,In the morning I went to ATM to withdraw cash and my transaction was declined,and I was like wtf but my friend told lets try in another ATM,and guess what?? transaction declined for the 2nd time and that time I was feeling totally ***ked up... and then I thought my dream ride will be a dream but my friend said lets go to SBI ATM and bingo!!!!! I got my cash and then we started our ride and by friend turned his bike from Delhi-Noida Link road and I started My solo ride at 5:20am.
Just after few minutes I reached Yamuna expressway,one of the best highway in our country and now I was feeling like a free bird who was flying at a speed of 100km/hr and was very happy and singing inside my helmet and after that I saw a yellow gaze in the sky and after few kilometers sun was up. I crossed agra and reached kanpur arond 10 am and stopped a roadside dhaba to wear my lens and glasses since my eyes was closing due to sunlight.After Kanpur I increased my speed to 120km/hr as NH2 was smooth and well maintained by NHAI and also less traffic and then i reached allhabad bypass which was just amazing, difficult to describe in words. After that Varanasi which I reached at 5pm and called my brother and he told me to rent a room and stay ther for night but I convinced him that its only 5pm and I can continue for few more hours and he said okay go on.
Just before barahi,there is a place known as Dobhi (aka Bermuda triangle of Bihar) because of many robbery in that area which I think is 12kms and is covered by dense forest on both sides before reaching Dobhi I was scared as it was already around 9pm and thought of riding in full speed in that area and will not stop for anyone and I did the same and just before reaching bihar-jharkhand border I was confused about the road so thought of asking for a help and at the border I saw few men and asked them "bhaiya ranchi Ka kaun sa road hai ?? they said ranchi and started running towards me and widout even thinking for a second I just ran away in full speed and stopped in a dhaba at 1030pm and called my brother and narrated him the whole incidence and he shouted at me told to stop for whole night at the dhaba but for me this ride was a dream,a challenge and i didn't listen to me him and I saw one tourist bus crossing the dhaba and within a second I got on my chopper and went behind the bus so that I could ride safely behind it.
After all this mess I reached hazaribagh and now its my home state so I was happy and my throttle was in a full swing and also roads were very smooth with street lights on and after crossing Ramgarh i reached Ranchi my home at 12:45am and My mother came to door after the door bell and she was shocked to see me and behind my mother my father was coming to see who is on the door so late and even he was shocked and said "aakhir kar hi liye nah tum ride" and no one shouted/scolded me and after reaching home after 19hours of drive was still feeling fresh and started talking to my mother but she was sleepy :-D.
So at last My 1st adventurous dream ride was complete in 19hours with total 12 stops(7 at gas station+5 for snacks) and yeah the most important thing while riding in sun is to be hydrated and in my entire drive 1 ate only 1dosa,1mango frooti,2cup of tea,and 2-3 liters of water.
Total cost including petrol and toll tax=Rs 2900
After reaching home now I am planning to cover 1600 km in 24 hour.
4 30am before starting my ride