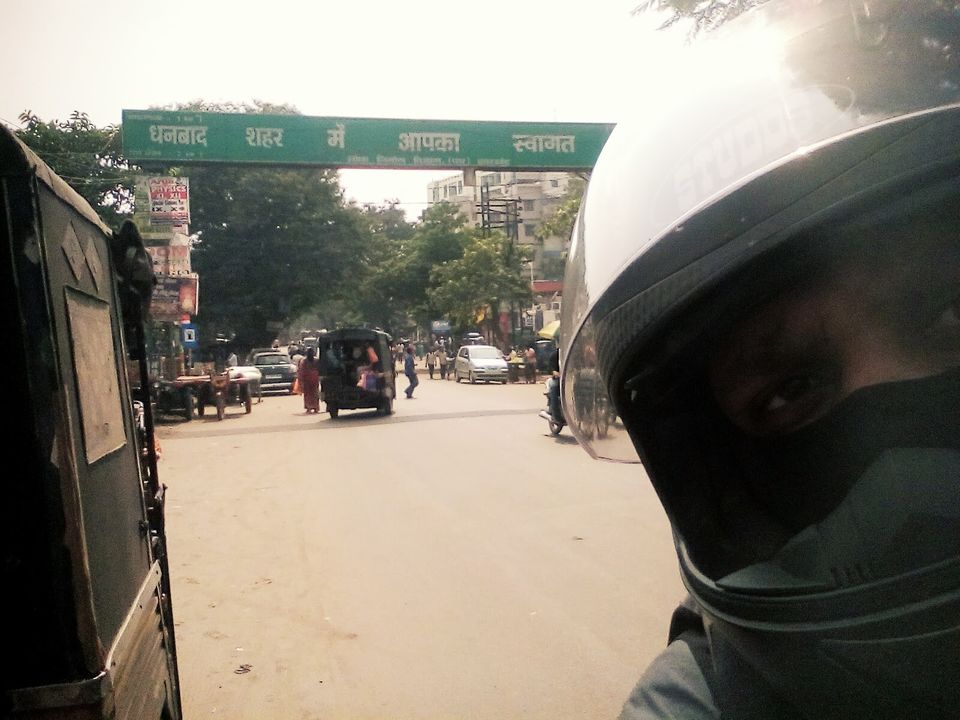 37 Likes

Delhi to Dhanbad on a motorcycle.
Caution: Long Travelogue ahead.
Me: Hi, Can you advise me a reliable hotel for a nights stay in Banaras?
Friend: Banaras for a night?
Me: Yes, and I need a covered parking for my Bike.
Friend: You going to Banaras on bike???
Me: No, I am going to Dhanbad on my bike and will stop for a night at Banaras.
Friend: Are you Crazy?
Me: Yes.
Friend: Are you going alone?
Me: Yes.
Friend: I am sure you are crazy.
Thus started my long awaited wish to ride from Noida to Dhanbad my hometown. It was an unfulfilled wish since 2007 when I migrated to the national capital region in search of a job. And ever since it was all about day dreaming with no concrete plan.
Then I met a colleague turned friend in 2010 who till then had ridden to places like Kolkata, Ladakh, various places in Rajasthan, many places in Himachal and Uttarakhand. It all started since then and till now I have ridden to some places in Rajasthan (Jaipur, Ajmer,Bharatpur, and Bhangarh), Uttarakhand (Couple of rides to Rishikesh and Nainital) and a couple of places in Himachal and UP.
However, all these were group rides except one to Agra. Hence I was skeptical about a solo ride of 1200Kms and that too when you talk about riding through Bihar & U.P. and finishing at Jharkhand a good feedback was difficult to find. I was a little concerned about it.
Then there were few unfortunate people around me who had no idea about the pleasure of riding but always there to give their expert opinion about how bad the roads and people are in UP and Bihar. It wasn't an easy job to convince myself and stay motivated. I realized then how important it is to speak to the right people about the right things. And who would be better than my office cab drivers who spend almost 18 hours a day on the road. Then there were friends who have spent lacs of kilometers on the highway.
I tried to search for travelogues on the internet and was surprised to see the number of people who did the Golden Quadrilateral in record time. And my route was a small part of their rides. After going through all these blogs, I finally made up my mind that this is the right time to do it or else I will never be able to do it at all.
10th Oct15 Friday: After cancelling my return tickets to Dhanbad. Called my parents and told them I will be travelling to home with a friend in his car this Durga Puja (If I did not lie I would not have been able to do it at all).
After spending the entire week reading travelogues on sites like Teambhp.com, xbhp.com, BCMTouring and so on. I kept preparing for the ride, like servicing the bike and adding various accessories like reflectors, gloves, saddle bag etc. And eagerly waited for the D-day. Each passing day felt like a month, it was unbearable to stay focused at work for the entire week.
17th Oct'15 Saturday: Reached home from office at 5AM. Plan was to sleep for the entire day and start the next day early morning at 3 AM. As you will know about sleep, you never get it when you need the most, and especially before a ride. It never showed up. Spent the entire day on the couch fighting with the butterflies in my stomach. Kept getting calls from some good friends who were backing me to do it. This list includes my wife who was nervous like hell but still put up a brave face in front of me and always backed me.
18th Oct'15 Sunday: Woke up at 1:00AM, I was bit annoyed by the fact that I did not get enough sleep for the ride but now it was too late to think about it, so started packing up. Within 30mins I was done with the packing my Viaterra claw (it was a amazing bag i must say) and now with nothing to do but wait for the right time I was becoming impatient.
I took my bath and tried to sleep for some time but it never worked. The thought of leaving at 2AM also crossed my mind but my better half wanted me to stay back till 4AM (I could read in her eyes that she wanted me to stay back so I could help with her nervousness, but I was fighting the same devil within me as well). So I asked her to cook something for me and she agreed. We had our share of Aloo k parathey and Curd and while doing that I told her about the people who have ridden to these places and there is nothing to worry. By now she was somewhat convinced and so was I.
The clock stuck 4 and I pressed the ignition button on my CBR 250R. The destination was very clear in my mind (Dhanbad it was!). Its all going to happen finally. Its amazing how all the clutter in your mind disappears once you are on the saddle. After the customary five minutes of idling and some sips of water I was feeling like Valentino Rossi waiting for that green light to turn on.
One peck of good bye kiss and I was on my way to 1200kms of date with myself. I have always found riding to be an alternative of meditation, an activity that allows you to spend lot of time with yourself and get your thoughts together. I hit the Yamuna Expressway at 4:30 AM. It was still dark and I promised myself not to go beyond 100Kmph which I was able to sustain for the next 35kms.
The speed kept increasing with every passing moment and before I realized it was above the permissible limits. With the early start, high average speed and no stops I managed to save a lot of time and before I realized the expressway was over. By 6:30 AM I ended up on NH2/AH1. The bike was performing well, it was smooth and subtle. By now I was growing in confidence and started calculating my average speed and time to reach the next planned halt at Kanpur. As this was a long ride I planned to stop only at major cities (Kanpur, Allahabad, Banaras, Sasaram, Aurangabad and Dhanbad was my plan).
There were no plans for even short breaks in between (This was a mistake I realized soon). The Yamuna Expressway ends at Kuberpur, and the road from there till Firozabad was a regular Indian highway with broken tarmac, hawkers and truckers all over the place and at timesdriving on the wrong side of the road. I decided to ride slow, 80-85 Kmph was the average speed I did till Auraiya.
A small tea break of 10 mins and I was off to Kanpur here the road condition improved so did my average speed Reached Kanpur by 10:30AM as its the birth place of my love so had to take a pic of the highway signboard.
The ride was very uneventful till Fatehpur where I stopped for lunch. And then it stuck me. The sleep that gave me a slip the other day was back to haunt me. The needle on the odometer went down to 20-25Kmph. It felt like I was possessed. I was desperately looking for a Dhaba so that I could rest for some time. But couldn't find one. A stop was inevitable as I was barely able to keep my eye lids open and control the handle bars. As far as I could see it was only farm lands all around me. Finally I decided to stop and sleep on one of those paddy fields under a tree to avoid slipping on the asphalt under some heavy moving vehicle.
A farmer was working in the field and I asked him if he could look after my belongings while I take a nap and he agreed. I had learnt the art of power nap from one of my rider buddies and it was time to use it. A count to five was good enough to put me off. The bike was hidden between the bushes to avoid any unwanted circumstances. It was an amazing feeling sleeping beside a highway. If you are a motor enthusiast you would love the idea of passing vehicles playing a humming music and putting you to sleep. The earth beneath was indeed feeling like mothers lap and the sky above reassuring me to take a good relaxed nap.
It was a good 45 mins sleep and I woke up completely fresh and looked at the time it was 3:30 PM. It was time to decide whether I should stop at Allahabad for the day or should I ride till Banaras to save some time next day. Called a friend who did Delhi to Kolkata in 2010 for the Rider Mania. It has been my experience or rather his experience that his advice about a ride has never gone wrong. So the decision was made, night halt at Allahabad was final.
I was cruising slowly around 40 kms before Allahabad when unexpectedly I saw a sign board. Take left for Banaras. You take a slight left turn and an entire new world opens up to you. I read about it in the travelogues however never expected a brand new expressway with amazing greenery all around and a magnificent highway.
Standing at the crossroad between Allahabad and Banaras, I quickly did a search for Varanasi on google maps and it showed 140 odd kilometers. It was 4:30 PM. At 70kmph I could do this stretch in two hours. And on top of that this was as expressway. A change in plan was evident. I took the left turn and it felt like home away from home, with the views similar to the Yamuna Expressway. It was time to test the top speed of my baby CBR. Wish I could disclose the speed on the open forum. It was another Valentino Rossi moment and I was elated to say the least. And then a thought crossed my mind (High-speed = Less Mileage). I felt like looking at the Fuel Gauge and it showed just two bars.
Calculations started again and the top speed came down to 80Kmph. But wait NHAI is there to take care of your highway worries. There was a petrol pump on the expressway and that too was visible and easily accessible unlike the ones on the Yamuna Expressway where you have to keep an eye for it. A quick fill up and I was back on track gunning for Banaras. My ride was slowed down at the end of the expressway which ends at Handia and from there it was more of a state highway. With only two lanes and vehicles from Delhi and other nearby places trying to reach the holy city on a weekend it was jam packed.
I lost quite some time on this stretch with the backlog of travelling whole day I was feeling tired by now and was desperate to reach the city as soon as possible. The route to Banaras is a tiresome 10 Kms detour from the highway and I reached Banaras by 7:30 PM. A quick browsing through some hotels I finally stayed at an under construction hotel named Swastik near Dasaswamegh ghat. Submitted some ID cards and Rs 500, some quick phone calls to home (my parents still knew I was travelling by car.) I quickly took out the riding gears and crashed on the bed and was gone for good five and half hours.
19th Oct15 Monday: After waking up at 1:30AM feeling completely fresh, I took a bath and decided to roam around the city. It was a pleasant ride through the vacant roads and alleys of Banaras. I went to the ghats and some temples. There were only police personnel and parking attendants along with some tea sellers all around the city. After roaming around for good two hours and couple of kulhar teas with famous Banarasi Mathis I left for NH2 at 4AM.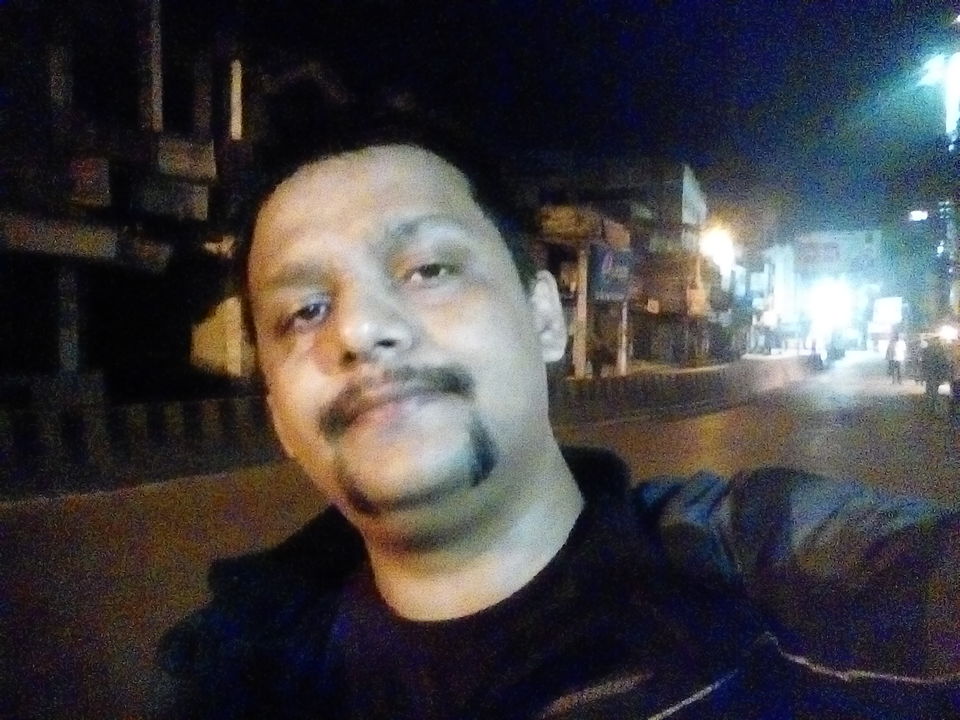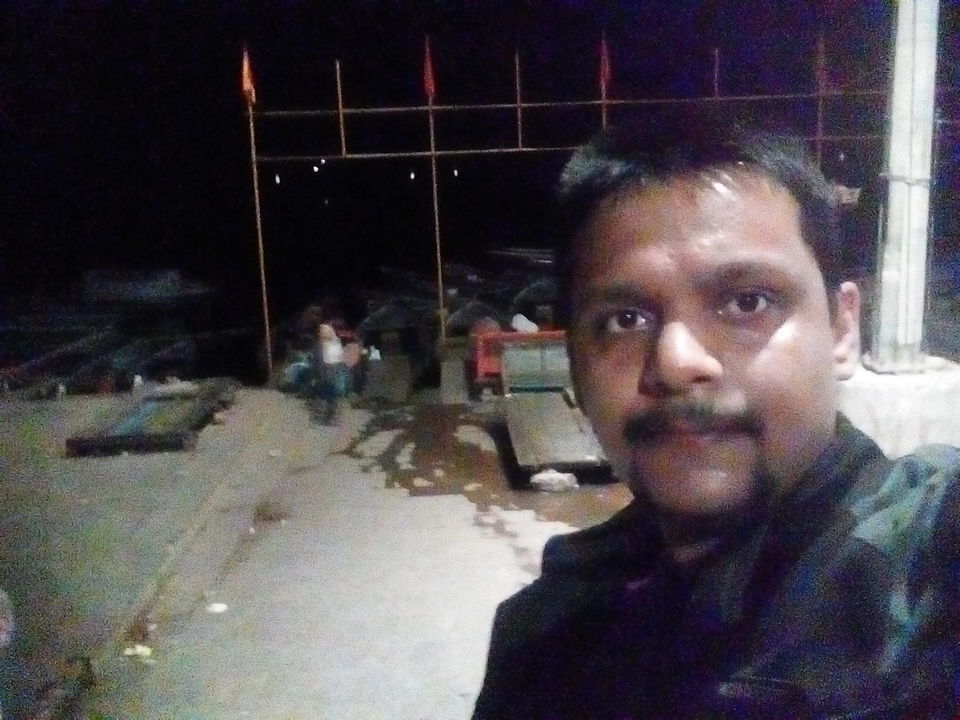 Dhanbad was 418 Kms away. I was happy and confident of the fact that the CBR ran throughout the day without any fuss and saved a lot of time for me, now it was all about staying focused andpatiently complete the home run. It was dark and the road till Bihar border was broken and to top that a couple of heavily loadedtrucks were ferrying locomotive engines. From a distance it looked like the engines were running on the road itself. It was an extraordinary view. The visor of my helmet was gathering dust flying from the trucks. I was a little scared to stop on that highway as I saw most of the dhabawalas and truckers were enjoying their chillums in the open.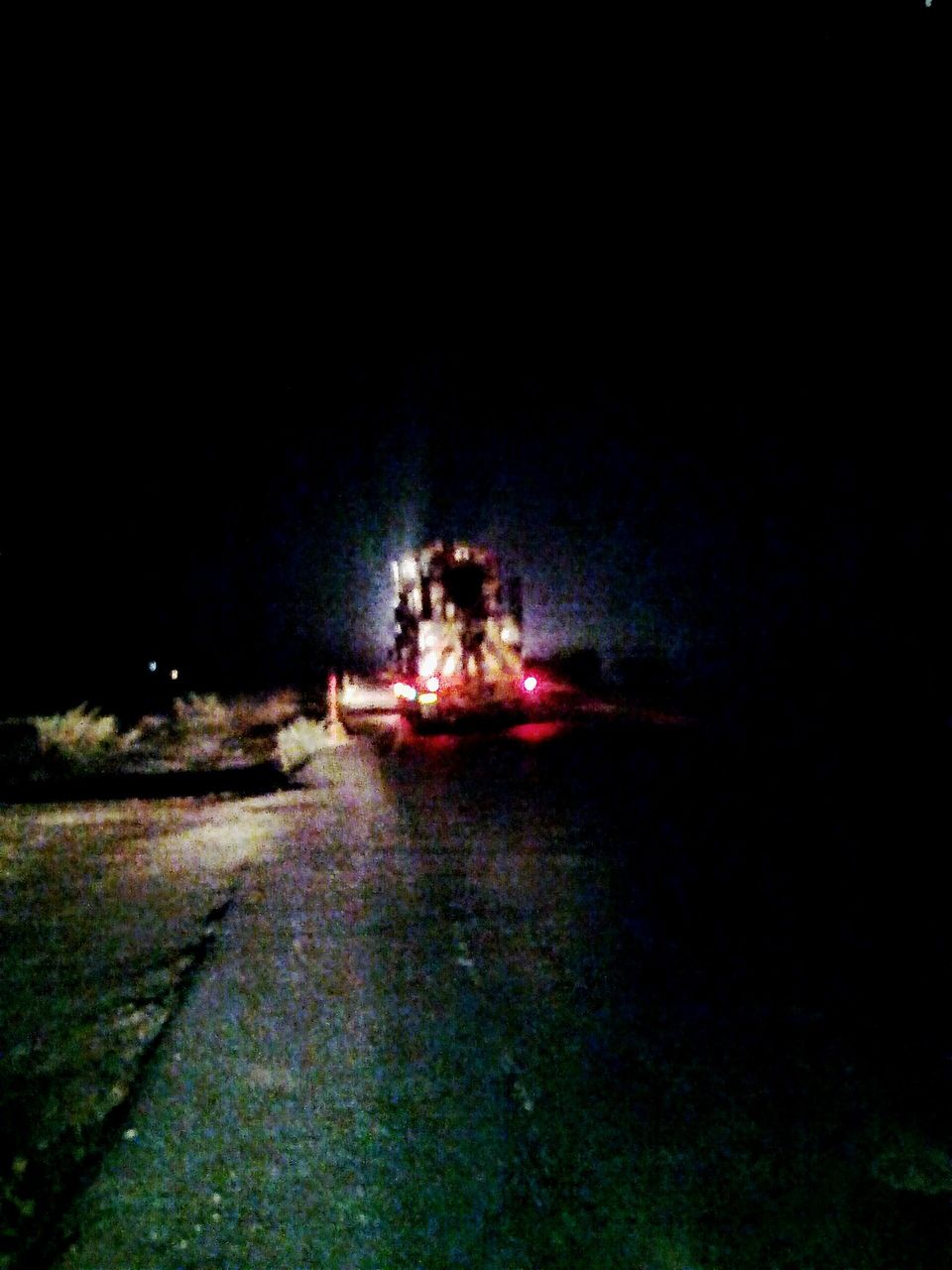 The visibility was so poor that I had to gather some courage and stop at a dhaba and surprisingly they spoke in a sweet Bhojpuri tone and very courteously offered me tissues, water and tea. Now the challenge was to cross the huddles created by these trucks, it was time to do the city trick that we all do, some quick downshifts and voila! There were no trucks at all, not even on my rear view mirrors as I rode towards the dawn.
Riding in the dawn must be the most romantic and sought after view for every biker. The feeling is something that cant be defined in words. Add to that the surprise factor of some wide and butter smooth highway that too in Bihar and I was in the seventh heaven.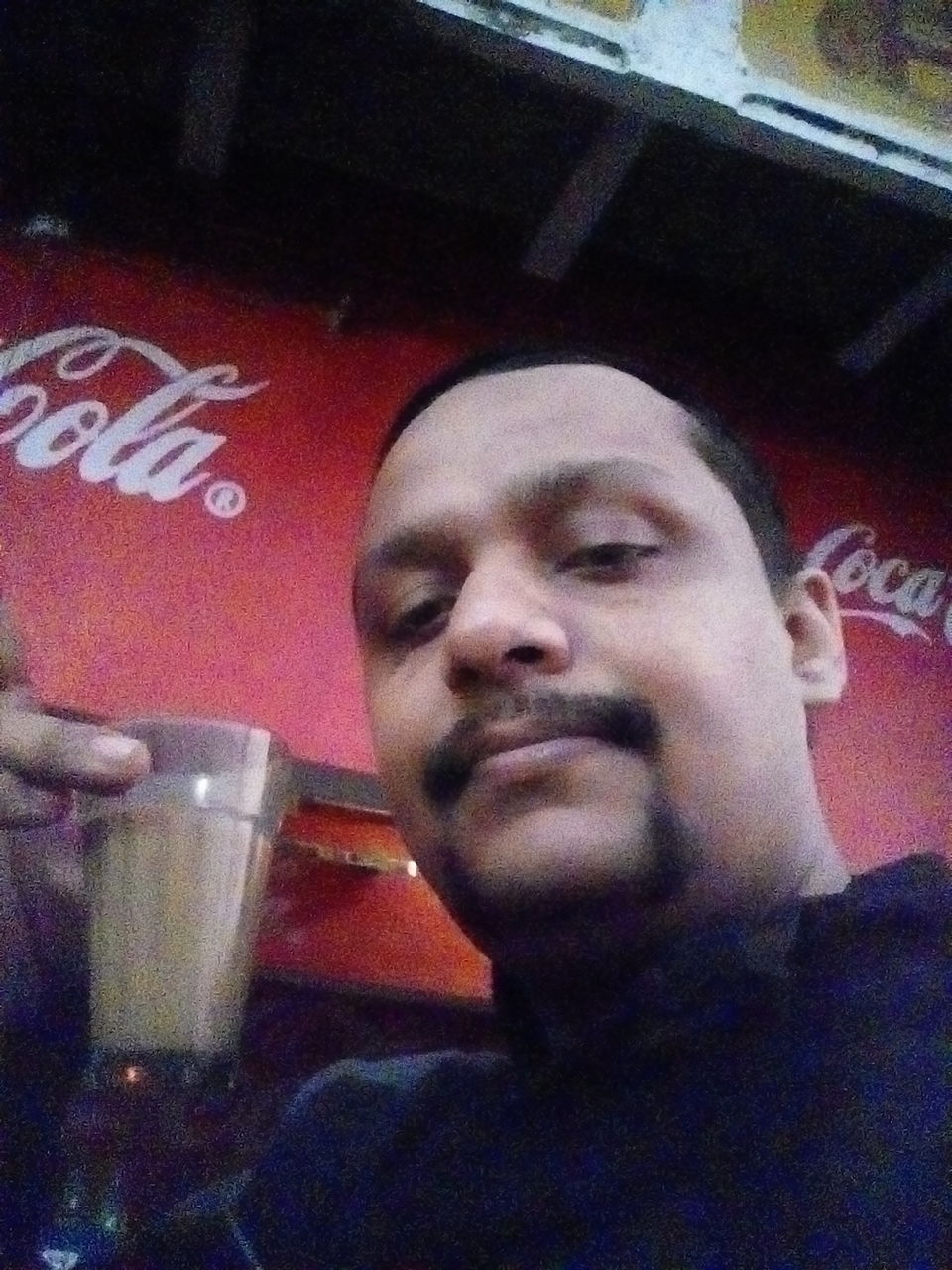 A small tea break (Could not miss the famous rampyari chai of Bihar) at Mohania and started my journey again. At the Sasaram Toll I met couple of truckers who were gunning down the wrong side of the road (probably born in Americas). One of them even stopped in front to me and advised me to ride slow, as if I was the one riding on the wrong side. While I was slowly maneuvering though them I saw a small sign board that said: Take left for the Tomb of Sher Shah Suri.
It was in the initial plan to visit this place and leave a thank you note for the person who started the whole highway saga in India, One who made the Grand Trunk Road Starting from Kabul to Kolkata. The city was crowded but my determination to locate the tomb was stronger than the hawkers and pot holes. Assistance from Google Map was seeked and after swerving through some congested alleys I finally reached the place at 6:30AM.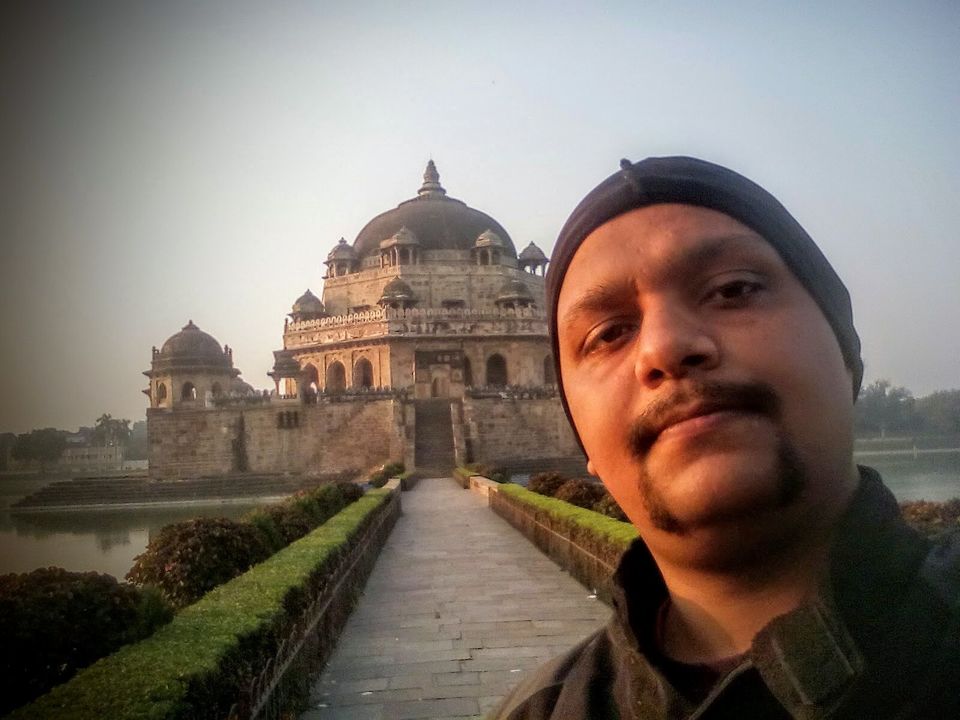 The tomb was as magnanimous as I thought it to be. It was built between 1540 and 1545. Constructed with red sandstone it stands at 122 ft. height in the middle of an artificial lake, a perfect example of Indo-Islamic architecture, it was designed by the architect Aliwal Khan and completed on August 16, 1545, three months after the death of Sher Shah during the reign of his son Islam Shah.
After taking a couple of rounds around the monument and offering my prayers and thanking the emperor for building the GT Road, It was time to say good bye to Sasaram and its sleeping king.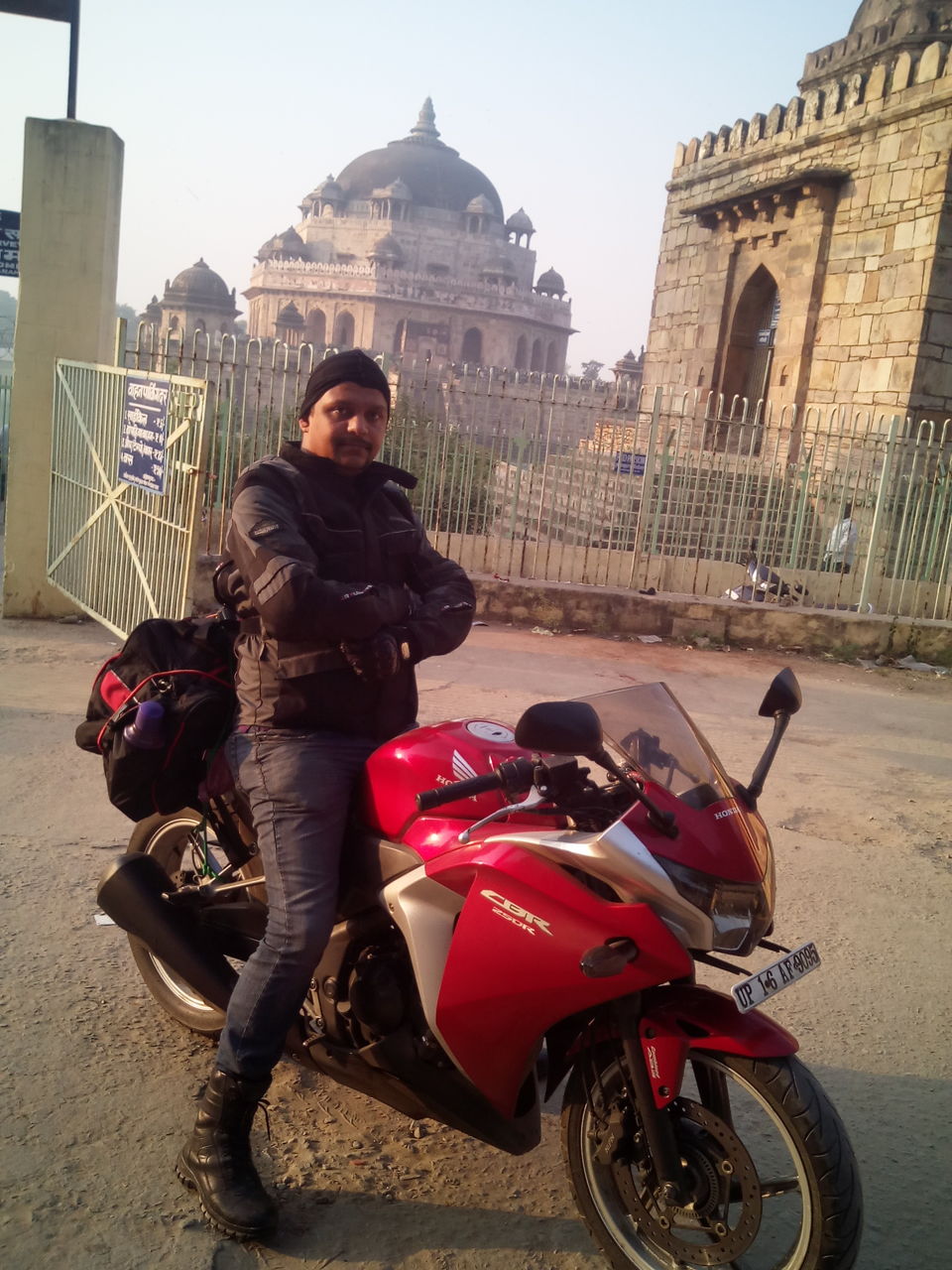 Struggling through some really nasty roads out of the city I joined back on NH2 at 7:00AM. The smooth concrete road was a pleasure to ride on.
I was enjoying the ride through the beautiful mustard fields and singing some of my favorite Kishore Kumar numbers when all of a sudden a pulsar flew from in between the dividers and crossed straight to the other side of the road at full speed, a heart in the mouth situation for me. I quickly braked and looked at the odo and it was showing triple digit figure even after applying the brakes. This is when I learnt that you should always listen to people who are more experienced than you and a word of caution should not be counted as a negative statement. I was repeatedly told by everyone to be extra careful on this stretch.
The top speed now came down to 80-85 Kmph now and it created such a barrier in my mind that I was never able to go beyond 85 Kmph for the entire ride. Except once when I reached another attraction on the NH 2. The famous 3.6 Kms long Sone Bridge. The Bridge on Sone and the Tomb of Sher Shah Suri were two points I had marked as things to see while planning for the ride and surprisingly they slipped out of my mind completely.
It was a small signage on the highway that reminded me of the tomb and in case of the bridge it just appeared all of a sudden and probably that element of surprise was also a factor that I was mesmerized by the vastness of the river and the length of the Bridge. It was scary and yet arresting.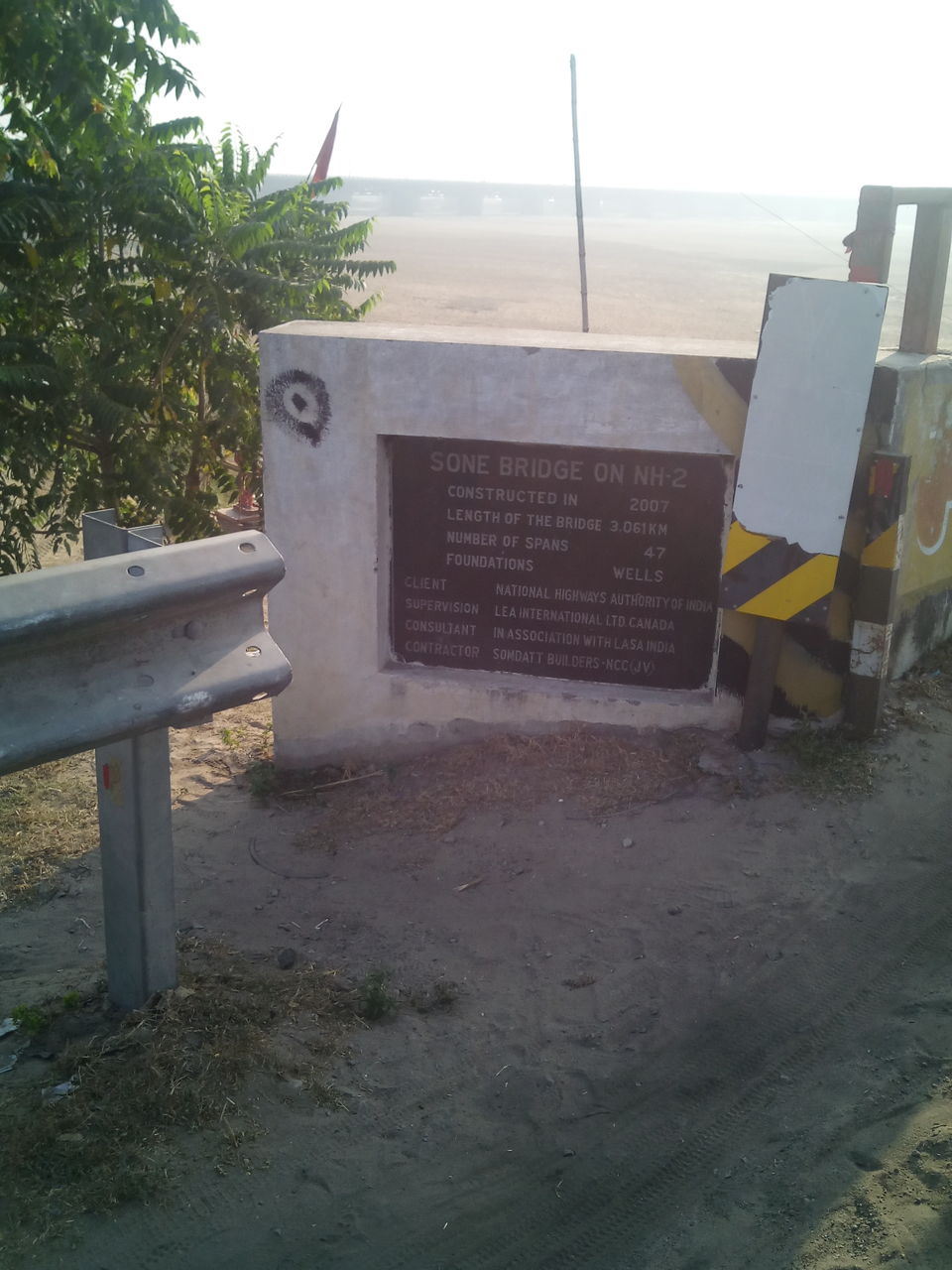 I decided to ride thrice on the bridge. Plan was to cross the bridge at high speed take a U-Turn cross at high speed again and then go at a slow speed. First time, to check how long does it take to cross the bridge at top speed and second time at slow speed to enjoy the sight of it, and I must say it felt long and never ending every time.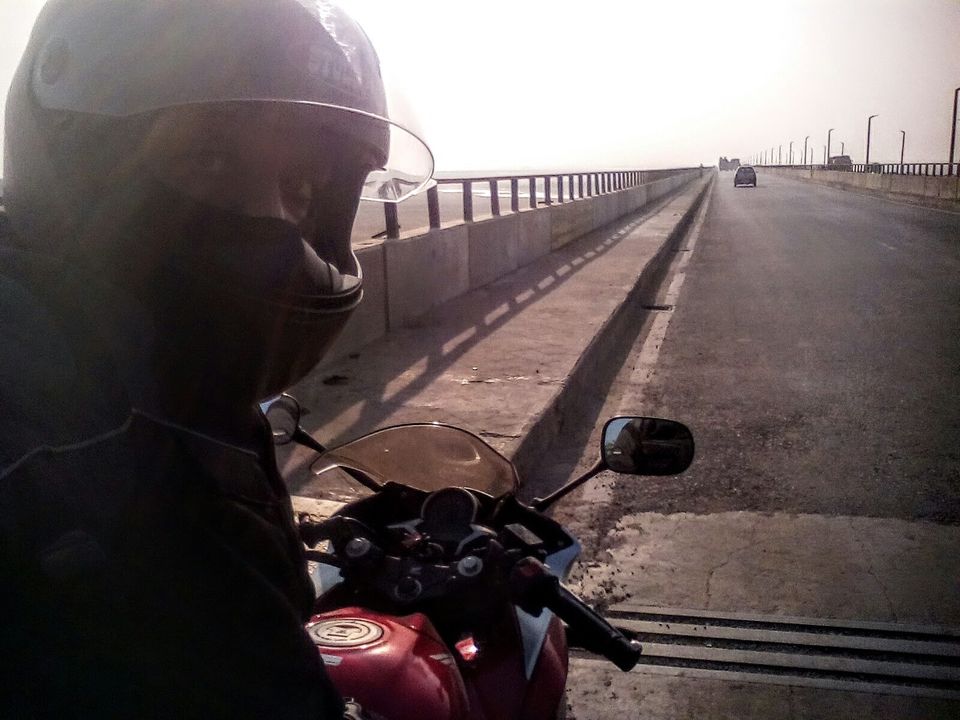 Built by Gammon India Pvt Ltd in a joint effort with Japan in the year 1965. The bridge is now maintained by NHAI as it falls on the NH2. And they have done a good job of creating a fine drag strip of 3.6Kms. The views around the bridge was breath taking and its sad that you are not allowed to stop in the middle and take photographs there.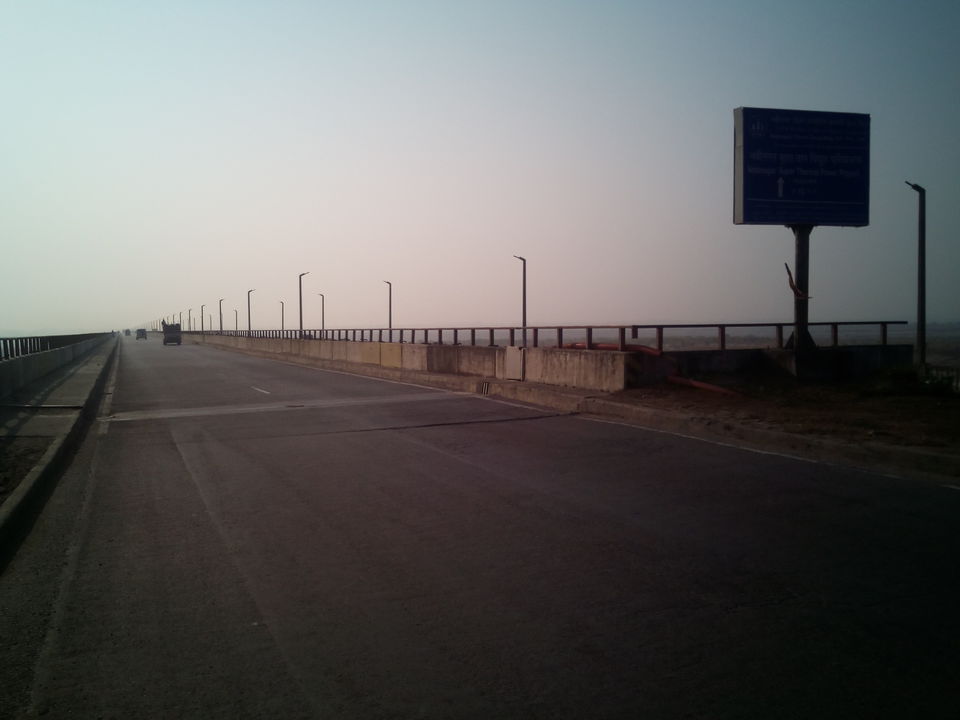 Moving over, from the Sone Nagar Till Chouparan the trip was uneventful and I saved a lot of time on it as the route was wide and boring for people interested in sightseeing. Except a few water bodies like Falgu river in Gaya (Which they say was cursed by Sita to be dry forever and whatever I got to see it was really dry). Some local people say that the water runs under the sand crust. With my destination 200 odd kilometers away I decided not to waste much time, so moved on till I reached Jhumri Tilaiya.
Yes there is a place by that name and they do have a lake on which the Bollywood number (Talon mein nainital baki sab tilaiya) is based on. The lake was not what attracted me but what attracted me was the road. It was as if god wanted to create a F1 track of his own. The road is 100Kms of finely paved small mountainous tarmac, full of twists and turns and to top it off there was no traffic. And when I say no traffic it was absolutely empty. With huge trees and greenery all around it was incredibly beautiful. No prize for guessing what I did on that stretch.
The party continued till Bagodar where I stopped at a small dhaba to take the first course of food for the day at 11AM. Yes I was so excited and engrossed in enjoying the ride that I forgot about breakfast. Its been some time that I tasted Jharkhandi Tadka, (I strongly believe they make the best tadka on earth). The bill of 76 INR for4 Chapatis, 1 Plate Tadka with salad a small bottle of Mountain Dew and a Cigarette was shocking and needs special mentioning. I paid 150 for the same at Firozabad.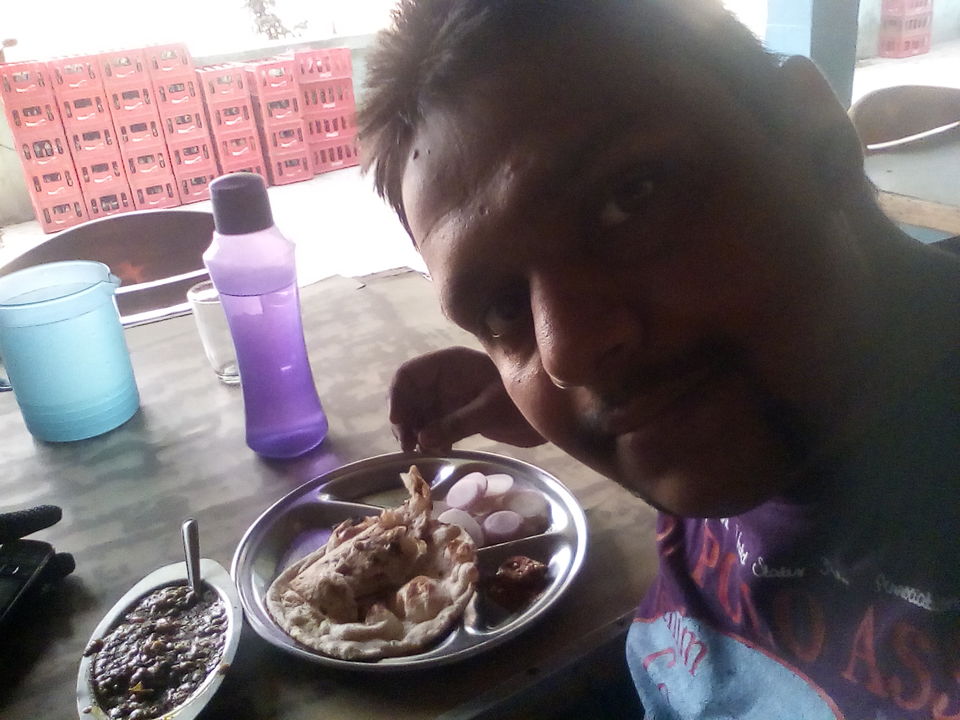 After a sumptuous meal it was again time for the roller coaster twisties in the lap of Parasnath and its adjoining mountains. They say its a naxal infested area and if you can keep that shit out of your mind you would find a riders heaven there. It never seemed to end and I never wanted it to end when suddenly I saw a milestone that said Dhanbad 50 Kms.
This is where all the riding pleasure took a back seat. The thought that I was so near to home switched on a panic button within me. On one hand I was worried about my parents who were still waiting for a four wheeler to drop me at home. And on the other hand it was the itch to reach there and meet all of them at once was making me emotional.
As they say never try to ride hard when you are nearing your destination. I was riding under pressure to reach home as soon as possible. Forgetting about all practicality and calculations I was finding it difficult to believe how long it was taking me to cover that 50 odd kilometers. Sitting on the saddle was becoming unbearable and at the same time I was avoiding taking any breaks. It was a stupid thing to do! I was told by a very senior rider. But as I mentioned I lost all logic as I was riding high on emotion and wanted to stop only at my home and kept riding.
The mountain passes are over now and I was passing through the Isri Market and those who have been through this road would know how irksome this route is. It was full of Hawkers, jay walkers and wrong side drivers. Probably trying to put up a last test of my patience and riding skills. I was trying hard to escape and the more I try the more they choked me from all around. Some of them I thought were intentionally trying to drive close to me as they wanted to take a close look at the bike and more over the riding gears were also something that they were not used to. I was so done with all these that I decided to stop and take a breather.
And while I was looking for an empty sutta shop I saw a sign board: Take Right for Dhanbad: 10Kms and it was only 12:30PM. Thrilled, Excited, Over joyed I am not sure how to explain the feeling. I was completely over the moon. Seven years of thinking, dreaming, planning reading hundreds of travelogues and the frustration of not being able to do it, everything was playing in a sequence in my mind. All the irritation of the last 25kms was just irrational thought and the itch of reaching home. The world around me stopped for a moment. I was yet to believe that it happened to me and it was unrealistically pleasing. But wait my home was 15 kms away. Made a quick call to both the families in Noida and Dhanbad took a pic for the blog and I was back on the saddle completely energized and happy.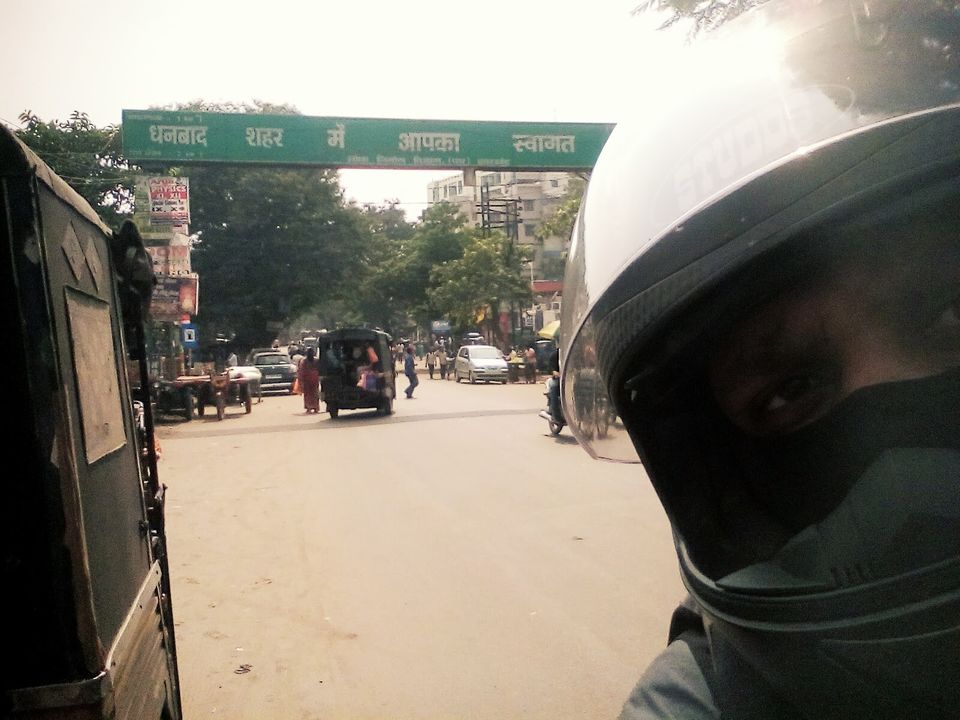 I was cutting through the busy traffic and small markets full of hawkers as if I was playing a video game. The throttle and gear box was put to test, the engine was getting hot but who cares I was riding in my hometown. And finally I was there. Home Sweet Home! All I saw there were some puzzled faces staring with their eyes open as wide as they could. Some long twist of the throttle to announce my arrival and there they were. Mom, dad, sister, Cousins, uncle and aunts. Its a joint family and they all were standing and staring at me as if they just saw a ghost. It took my mom and dad a good thirty minutes to come up with the first word. And guess what it was? Are you crazy? Yes I am. And I hope this craziness stays with me forever. Because this is what I live for. Being normal is too boring.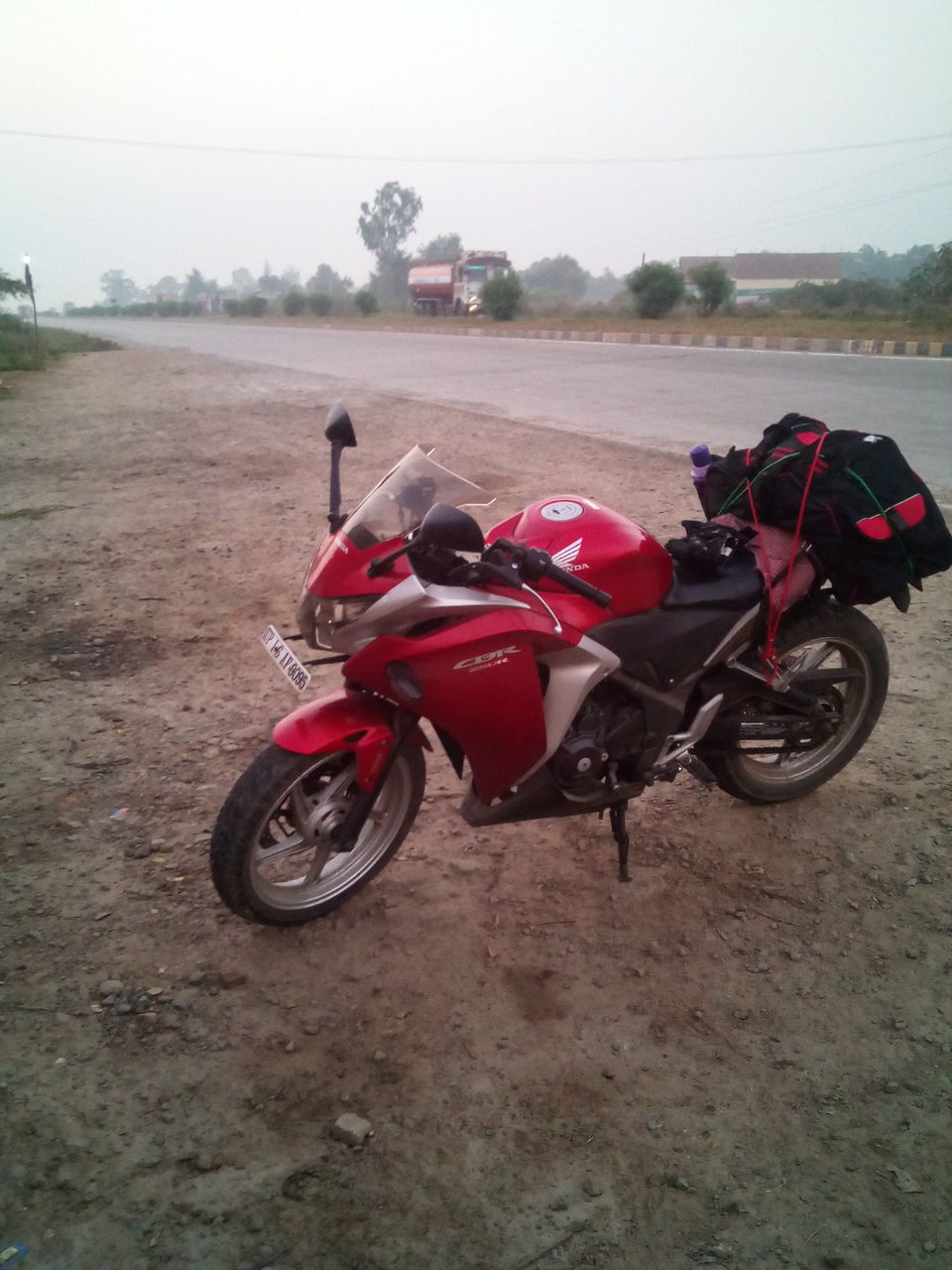 Frequent Searches Leading To This Page:-
bike trips from delhi, road trips from delhi, delhi bike trips to Dhanbad, Delhi group Bike trip, Go Off-roading With Delhi's Top 10 Biking Clubs