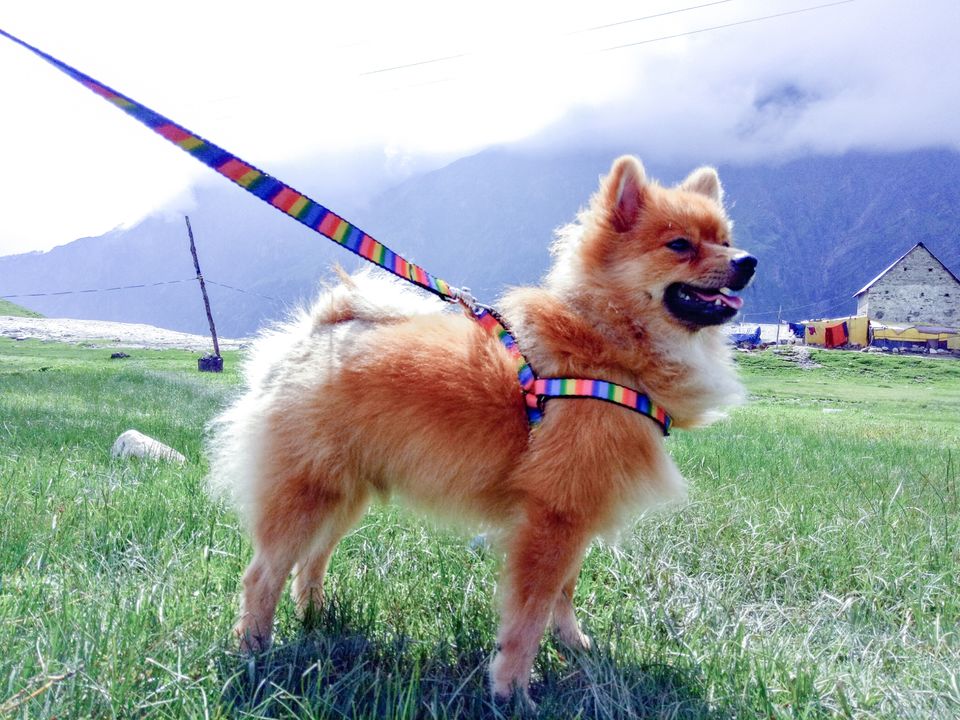 After getting a new rainbow leash, a mandatory pre-travel visit to the veterinarian and his food packed in a humungous box, Pepper, our fluffy little Pomeranian was all ready to set out on his second road trip to Himachal. The only difference being this one was way longer and the mountains way higher for a tiny dog's eye view as compared to Shimla, whereto he took his first road trip. The route was Chandigarh-Manali-Kullu-Manikaran-Manali-Rohtang Pass-Chandigarh.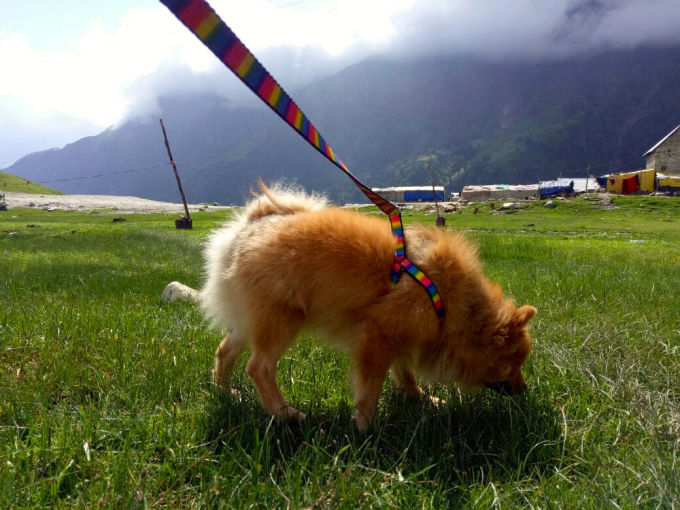 Pepper is a small dog, only a little bigger than typical toy poms so he could fit comfortably in his small bed, and was very much used to playing and taking naps in it at home. His bed was set in the rear of the car with his toys and biscuits. He travels in the same car often and is comfortable. But this was a long journey. To my horror, he wasn't fine after the first fifty or sixty kilometers and made all of us feel helpless when he started feeling restless. We stopped and waited for a while. The trip was called off and we were to head back when we decided to pamper him a little more and see for the next few kilometers. He took turns in our laps, played and slept and played in his bed as well. Affection, hugs, and cuddles from his humans was the way to follow. It was a mistake to leave him in his bed at the beginning of the journey. So we took turns with him for the entire journey while he enjoyed as well.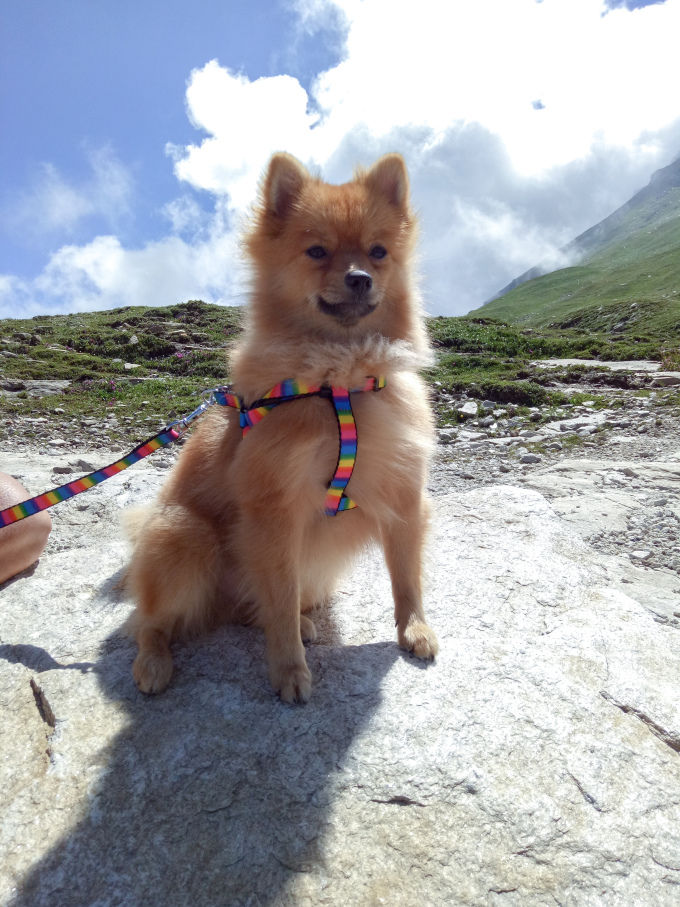 The drive was long and lovely with river Beas flowing alongside. We reached Manali in the evening. The weather was cool and we checked into the hotel first. It was important to book a pet-friendly hotel and we had double-checked with them via phone while booking. By the time we freshened up Pepper had explored the room and had found a comfortable spot. He then devoured his food, took a nap and was ecstatic to stroll around the mall road. The place really has a lot of beautiful dogs. True to his nature he gets envious of any other dog who diverts his humans' attention towards them. Unsuccessfully, as always, he tried to scare them away. Though, the confidence of this tiny tot when challenging huge dogs is surprising and inspiring every time. By then Pepper had relaxed enough to let us eat in peace, let alone those puppy eyes asking for chicken.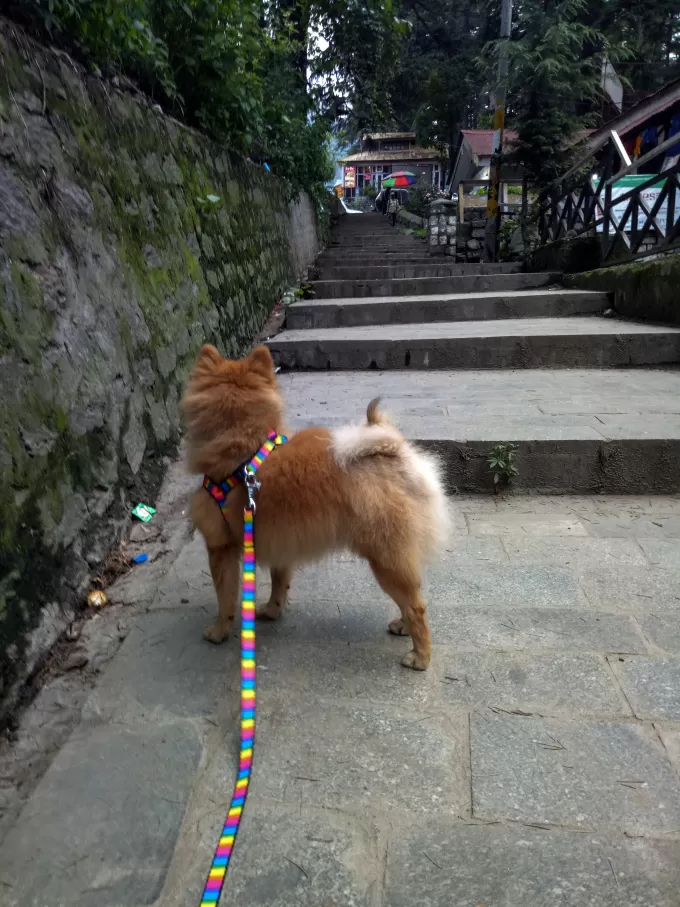 Old Manali is a foodie's paradise be it humans or dogs! This place has a dozen of charming cafes that serve some tempting food. Manali trout and all the chicken dishes here are delish. Some of the cafes which are picturesque as well can be looked up here. After a hearty meal at one of the cafes and sharing a little chicken with Pepper because fell for that face and precisely those eyes, again, we were all off for a good night's rest. On another note, Manali can be explored in various ways if there is more time on hand.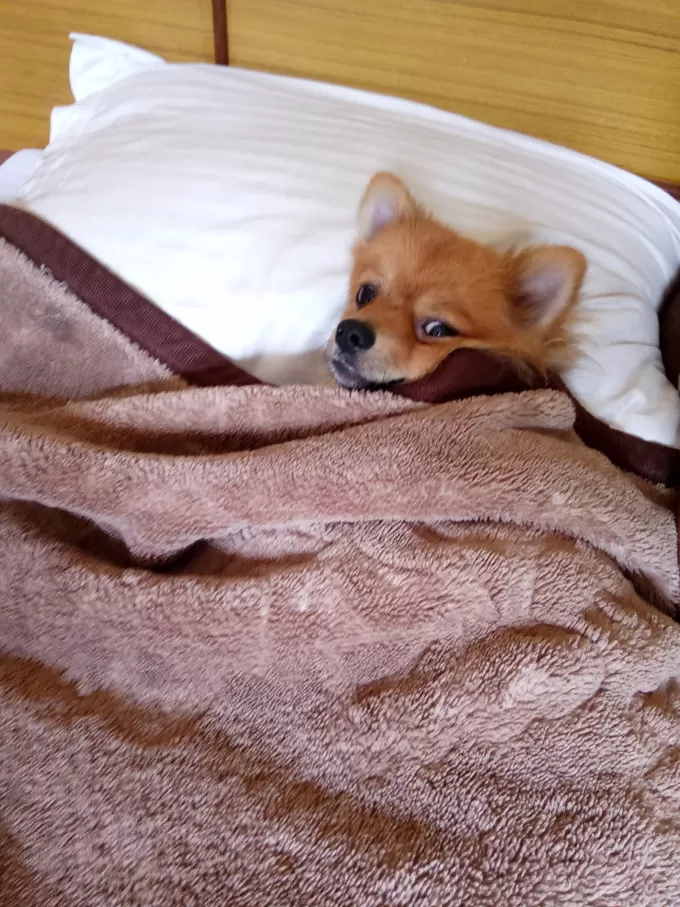 The initial plan was to traverse Rohtang Pass on day 2 but we got the permit for day 3. So instead, we took a small detour to Kullu and went to Manikaran Gurudwara Sahib. The morning started with feeding Pepper first so he had enough time to go for a walk and freshen up and was comfortable to start the journey. We had a quick breakfast at Sharma Dhaba en route. Upon reaching Manikaran we took turns with Pepper while darshan of Gurudwara Sahib. I need to pause here for a while and appreciate how beautiful and blissful the place is! It also has natural hot water springs. Isn't nature amazingly mysterious?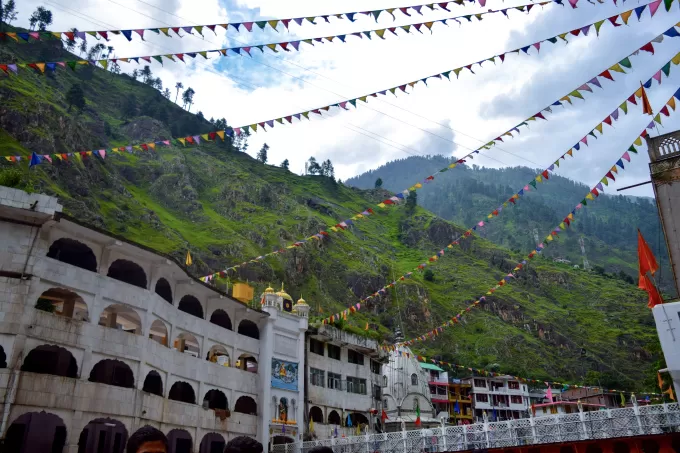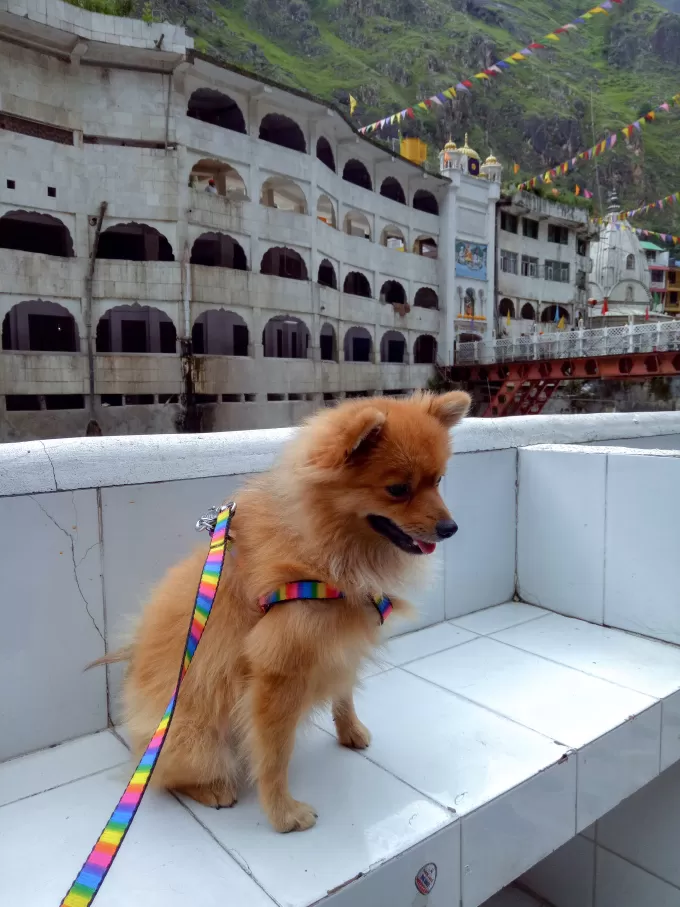 Meanwhile, Pepper was enjoying being in the limelight while waiting outside and getting clicked with sweet strangers. He would be confused though but was quite well behaved. Oblivious to us many dogs had found shelter inside the Gurudwara premises actually and kept themselves warm there.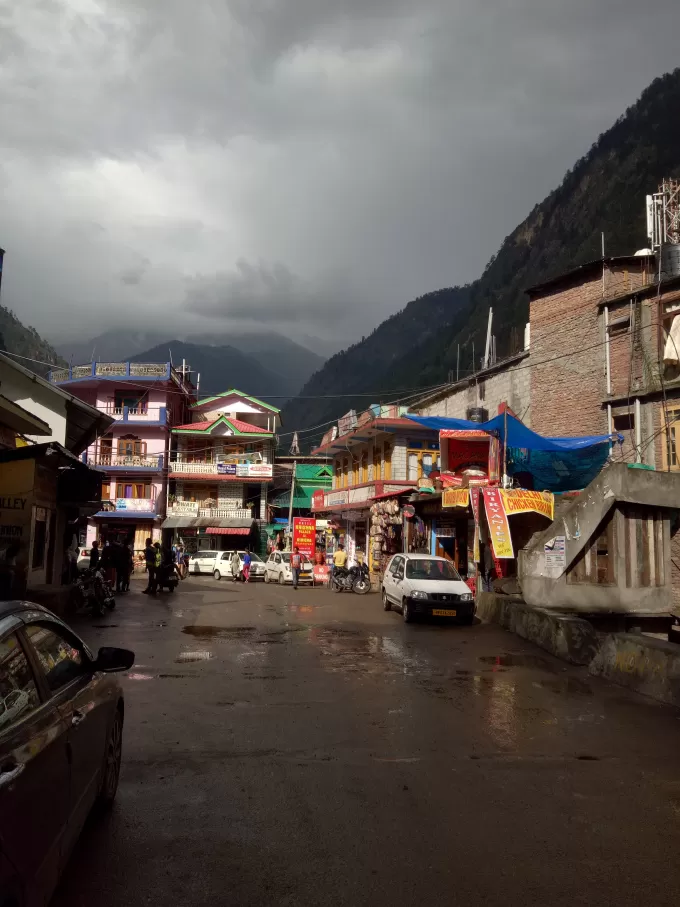 On our way back, we took a little halt in Kasol. The place had a small market by the river and a bridge connecting the other side which was covered by lush green trees. Pepper seemingly enjoyed walking on the bridge and was so curious of his surroundings, pausing and looking in every direction every now and then. He had his leash on all the time because that's how he stays with us out of the house. It's never wise to leave pets alone in the wilderness because if lost they don't really know how to find food for themselves, they mostly can't defend themselves and they are really attached to their humans a lot. Anyways, he took his time, wandered around and then we started our journey back. We reached Manali by the evening, Pepper had his dinner in the hotel room and later snacked on a little chicken when we had dinner at a café in Old Manali, a win-win deal for him always.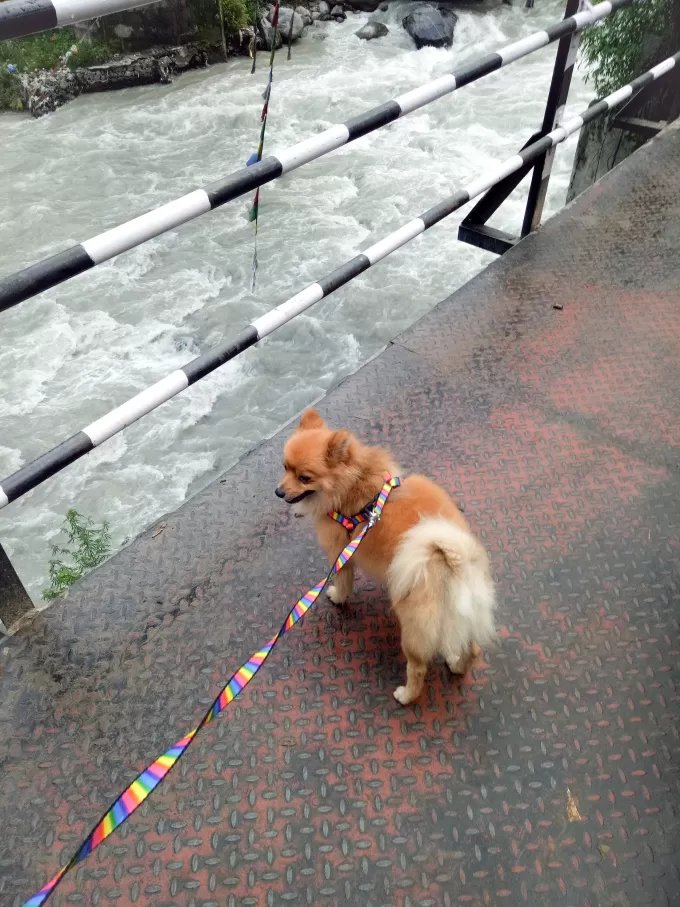 On day 3 we wrapped up all the morning rituals early enough and left for Rohtang Pass. The road narrowed down as we kept climbing up passing theough beautiful through Gulaba en route. Words fall short to describe the sheer beauty of the entire journey. The kilometers feel false as only a few turns can suddenly make us climb up so high. It was so breathtakingly beautiful and dangerous at times as well. The wind almost left us shivering and the shadows of clouds were chasing us. What a beautiful planet to be living on. Earth, for sure, should never be taken for granted. We stopped every now and then to sit and absorb it all in, and take pictures of course!
Every time we are at a new place where I am completely blown away by the experience I always wonder how Pepper feels. In cities and towns, he would not feel much different as he is used to seeing traffic on the roads. However, at places so beautiful and clean wouldn't he be baffled! I sure was when I first visited Himachal after living in plains for the first two decades of my life. We kept driving past Rohtang Pass for a while.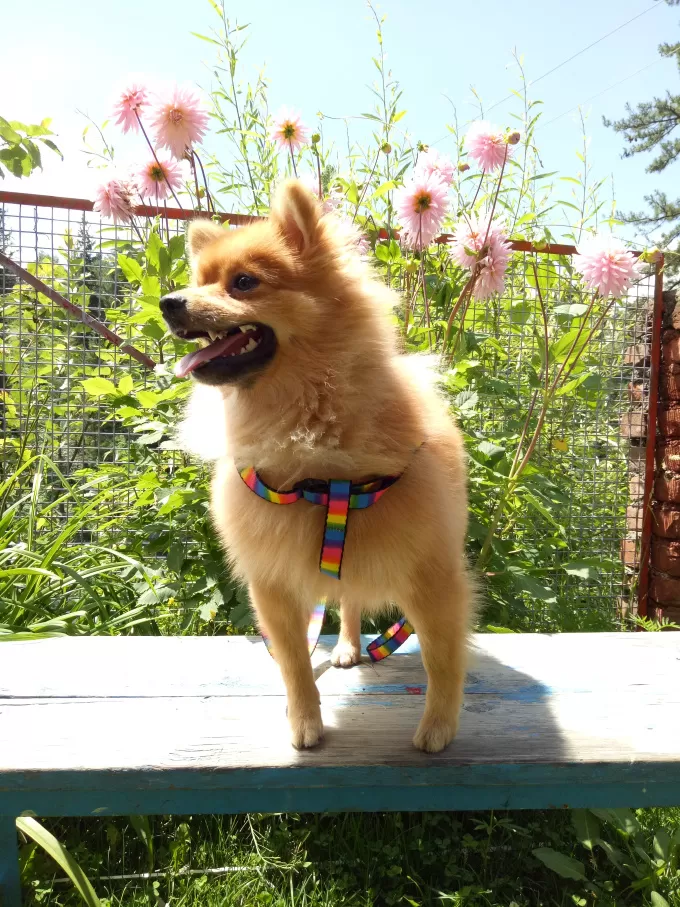 Touchdown
It was like a painting coming to life. A whiff of fresh air and Peppers mane was dancing in the wind. The landscape was beautiful with vast stretches of grass fields and the picturesque backdrop of the mighty Himalayas. The place is magical and brings all senses alive. It's so massive and surreal and clearly depicts how amazing and bountiful nature is. One of it's kind, this valley offers peace and tranquility.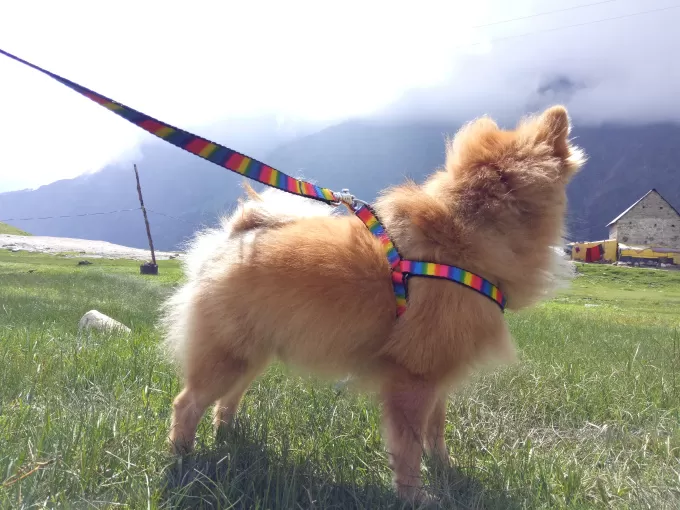 A lone house stared at me in the distance. I walked Pepper towards it, the sound of the wind grew louder and before I could see clearly dust started rolling with the wind. I had come far enough for anyone to see me. The force and the sound of the dust storm grew louder and shriller and I couldn't see or hear anything. I feared little Pepper would be lost with the house in the whirlwind and I would be left helpless.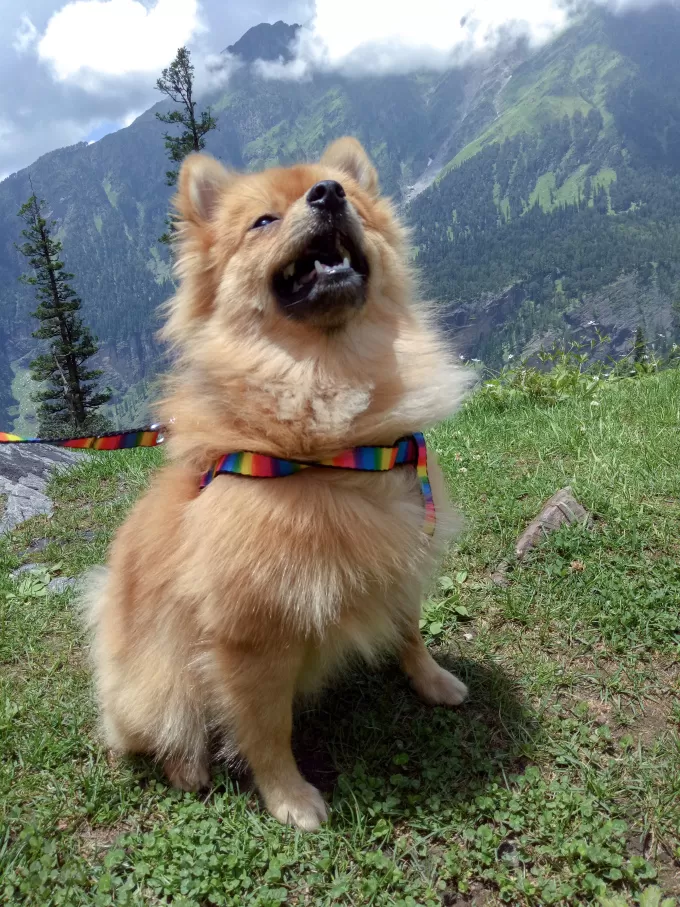 He barked loudly in his squeaky little voice. I snapped out of the trance and held Pepper close. It was a flashback of 'The Wizard of Oz' that had started playing in my mind out of nowhere. It was the first storybook I read as a kid when I was in Class III. I had asked my dad to buy a storybook for the first time and there the love for reading began and now I get books for him. That's the thing with memories, they are sleeping deep in the mind somewhere and suddenly play the picture all over again when we least expect it, and this one, not so gently reminded me that I had always wanted to visit the tiny house surrounded by vast fields where a little girl Dorothy lived with her tiny dog Toto. One day a swirling wind took them with house… I was glad to come back to reality because all stories are different and I loved mine way more at that moment than a long-forgotten wish of an innocent child's dreams.
We head back to Chandigarh from there taking breaks all along. Spiti Valley was meant for an entire trip reserved for it for some other time. I'm so glad that Pepper joined the trip as well and wherever he can travel comfortably he will find himself tagged along.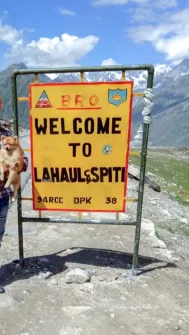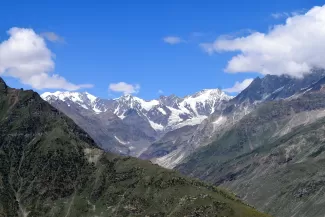 All pets have a few habits or patterns and it's good to take care of their daily routines as much as possible while they are away from home.
We made a lot of pit stops along the entire journey so that Pepper can walk around.
If and wherever possible, in an enclosed place, let them roam free without the leash.
Don't rush him around too much.
He was fed in the same way he is fed at home, sitting in the lap with a towel around his neck.
He sleeps on the bed with a pillow and his blanket, so give it to him.
Be prepared for the journey to take longer than usual.
Not having the stress and guilt of leaving him home and the cuddles make it all worth.
And they are less likely to ditch vacation plans last minute, unlike 'the goa travel group buddies' ;)
#travelwithpets