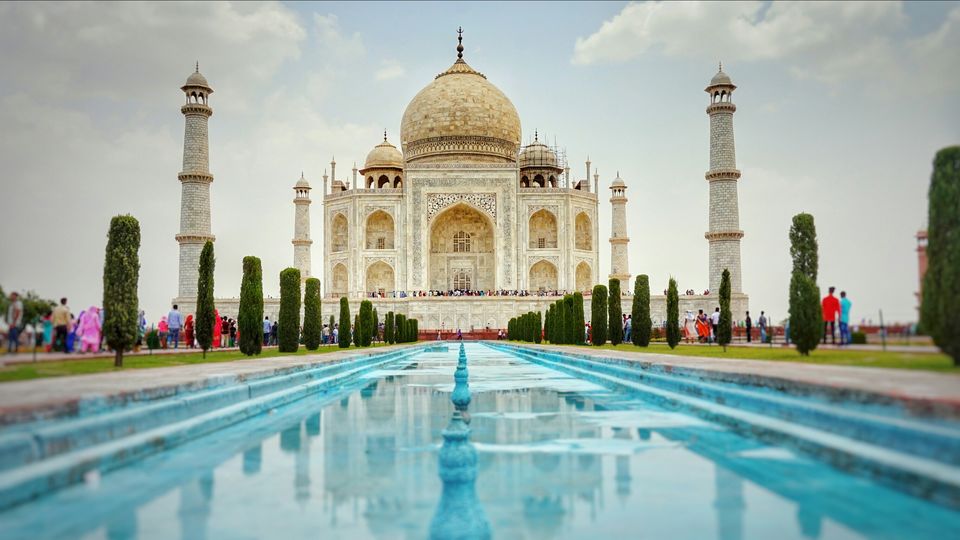 Got to Delhi by train from Karnataka on 14th at around 11 in the noon. I left to my friend's place in Noida. Refreshed and had some rest after 2 days' train journey. Then immediately left to Akshardham. I arrived at Akshardham by 4.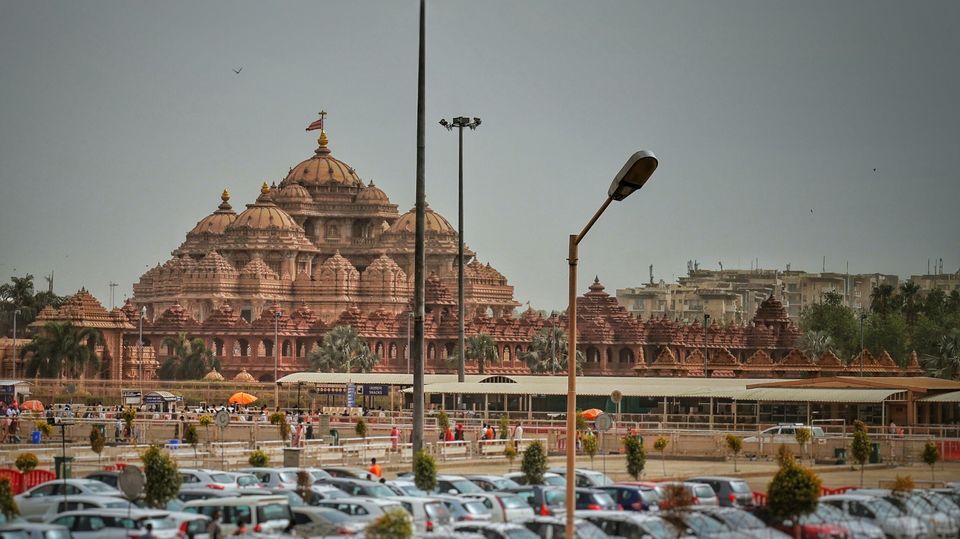 A place dedicated to Swamy Narayan (Neelkanth), a person with ethical and cultural values, who lead a vedic life. He's worshipped because of his deeds by many.
Architecture of this temple is marvelous! No cameras and phones allowed inside. So you have to visit it to understand the place and see the great architecture. Apart from being normal temple, it has some unique way of entertaining visitors, only if you visit at around 4. There is theatrical presentation of Swamy Narayan's life. An artificial boat ride into the ancient times of India, its rich heritage and life of many scholars in various fields like commerce, science, human physiology and surgery, war strategy etc etc!! There's a water show at the end when it's dusk.
I recommend everyone to buy combo tickets for each and every thing. By this, you'll know what's our culture and what it was to be in ancient India like!
After this, the day ended and I returned my friend's place which is 15 min by metro from Akshardham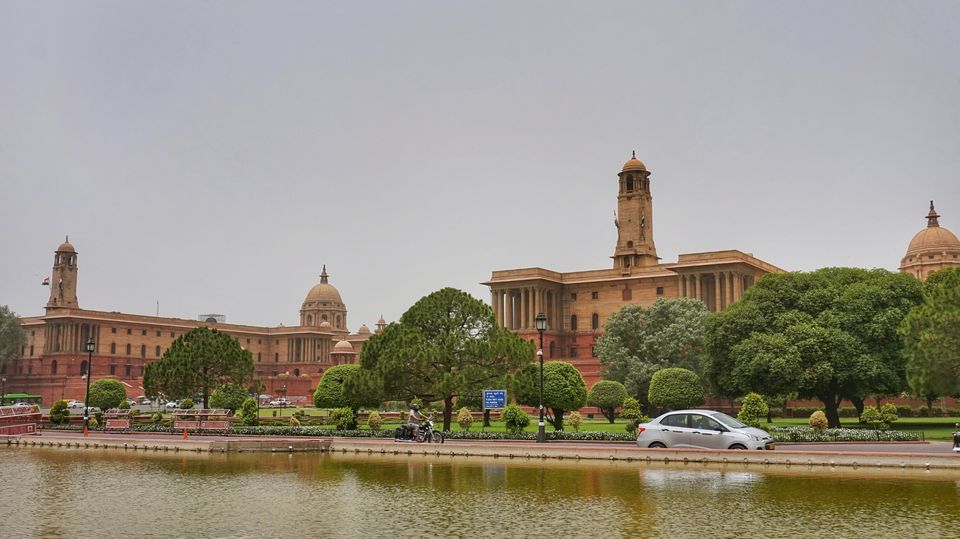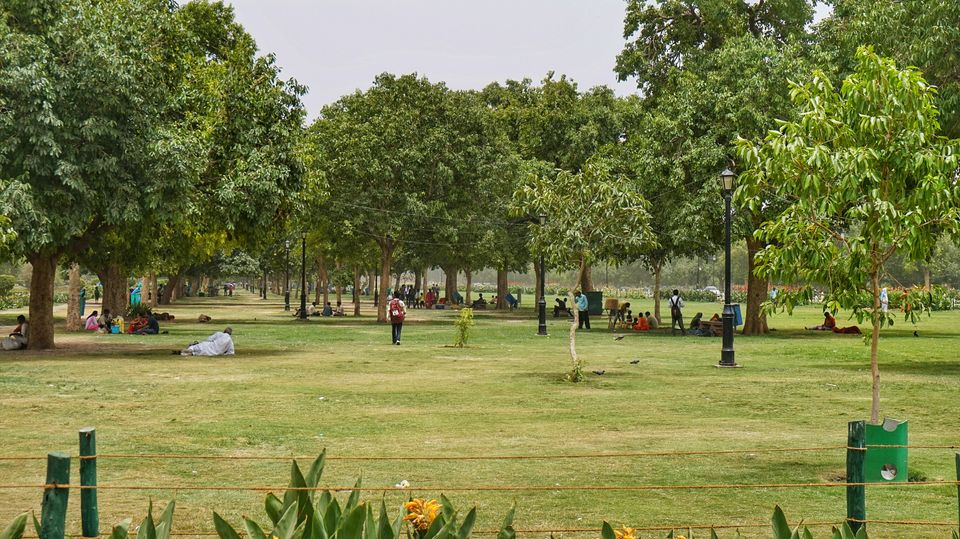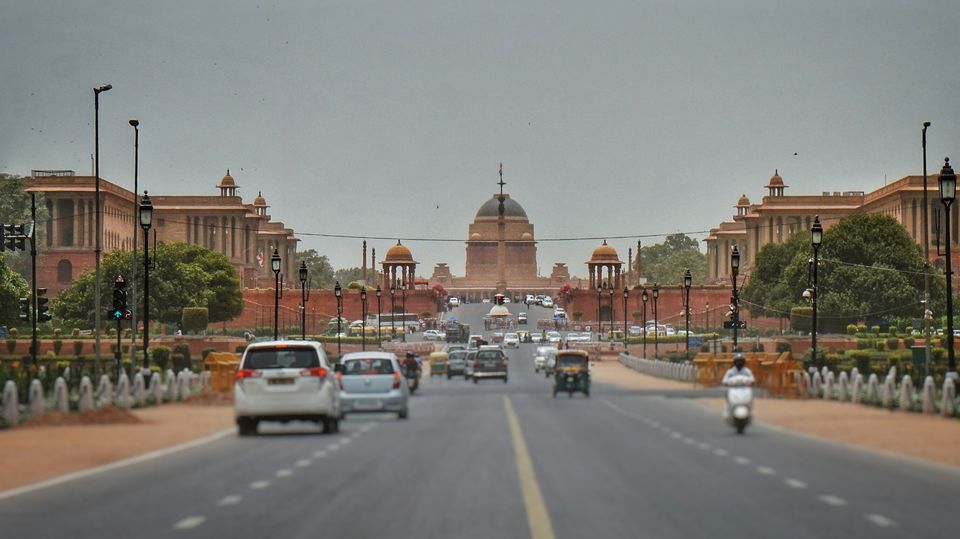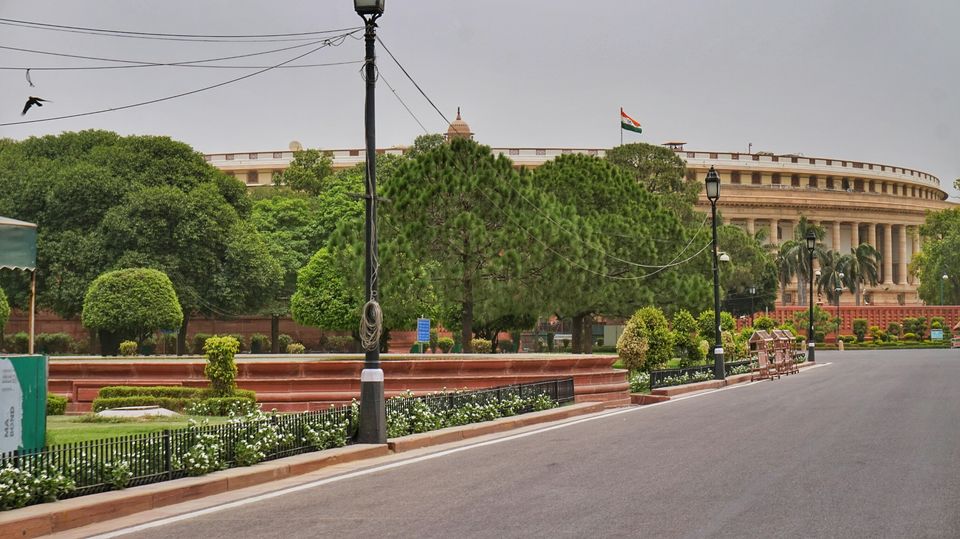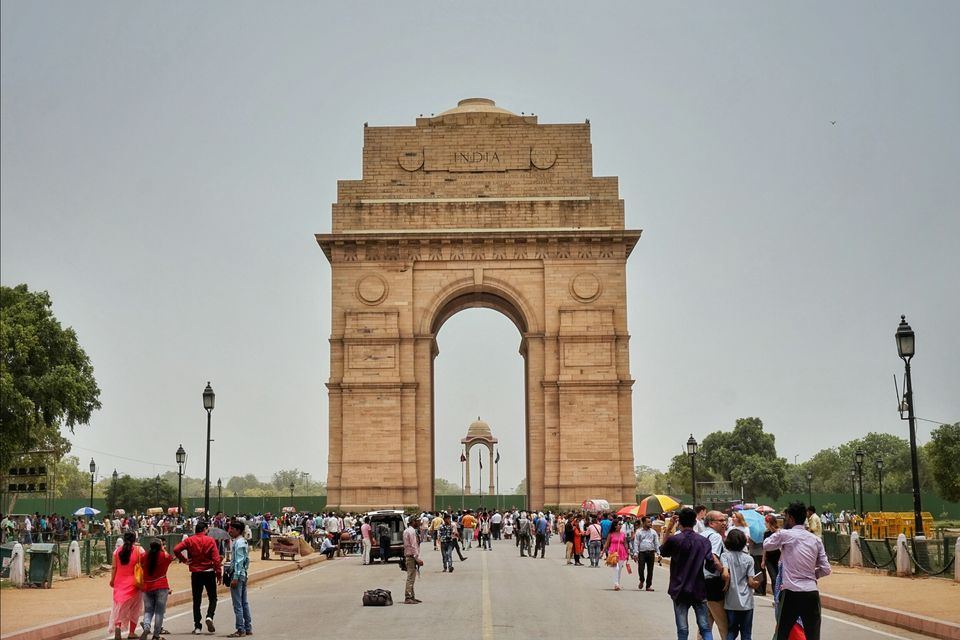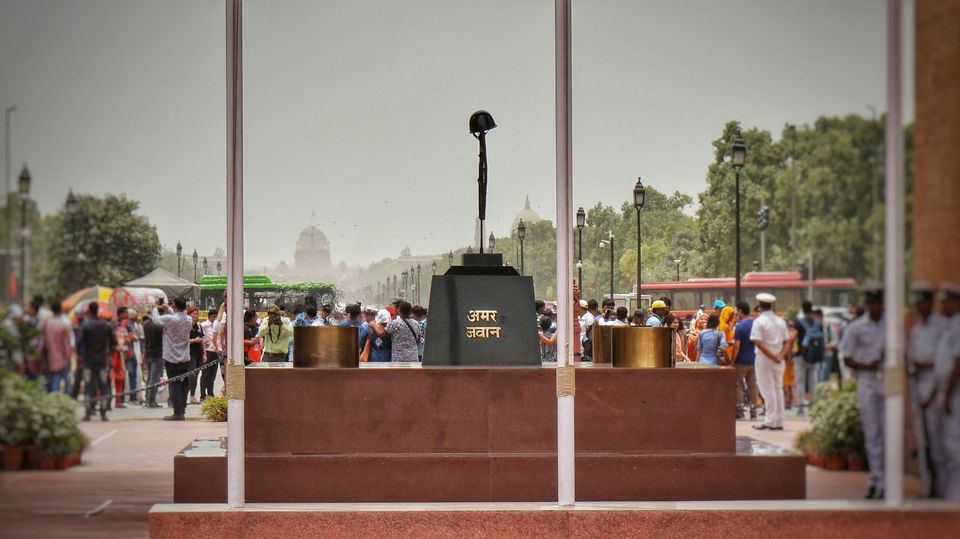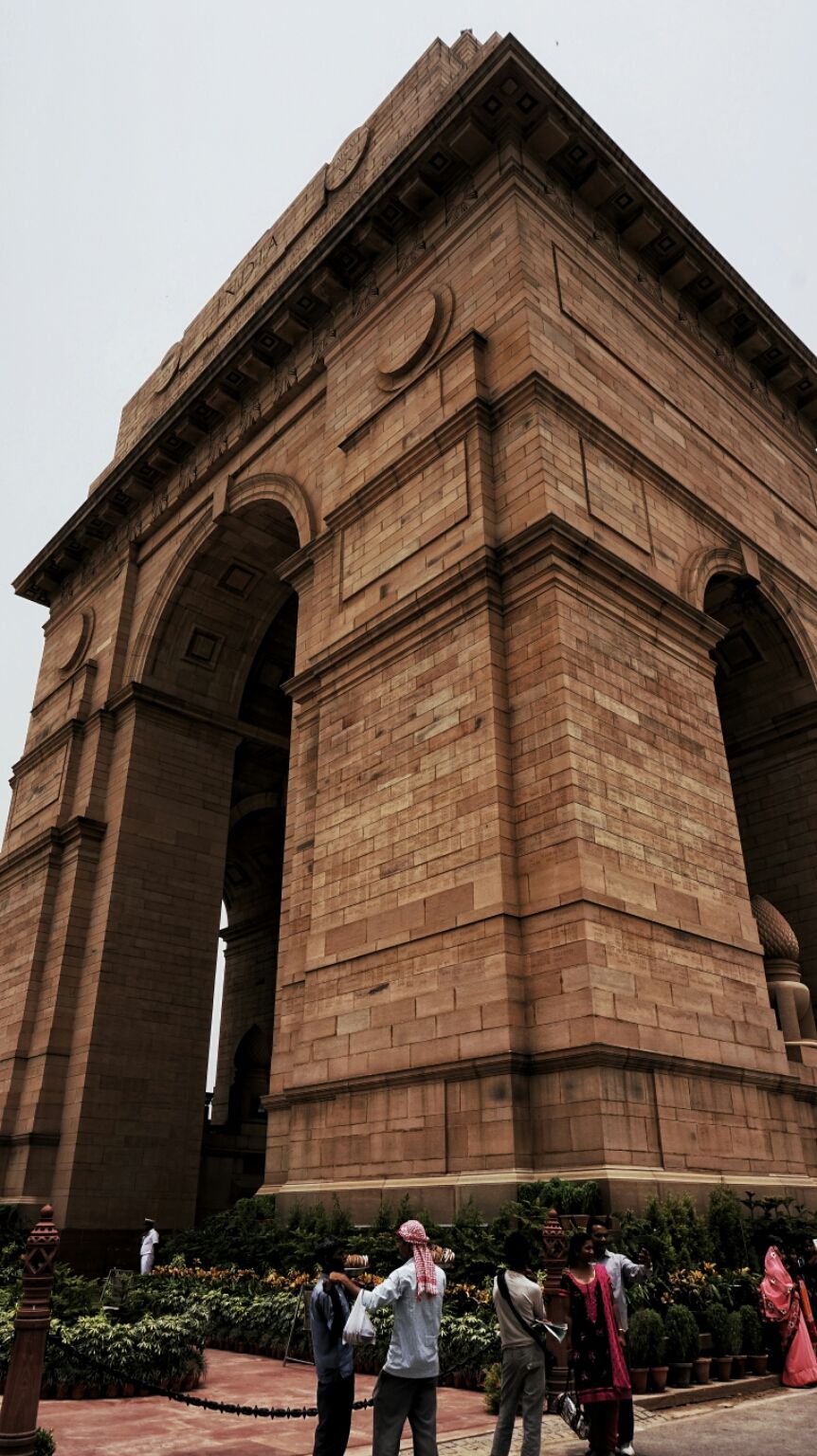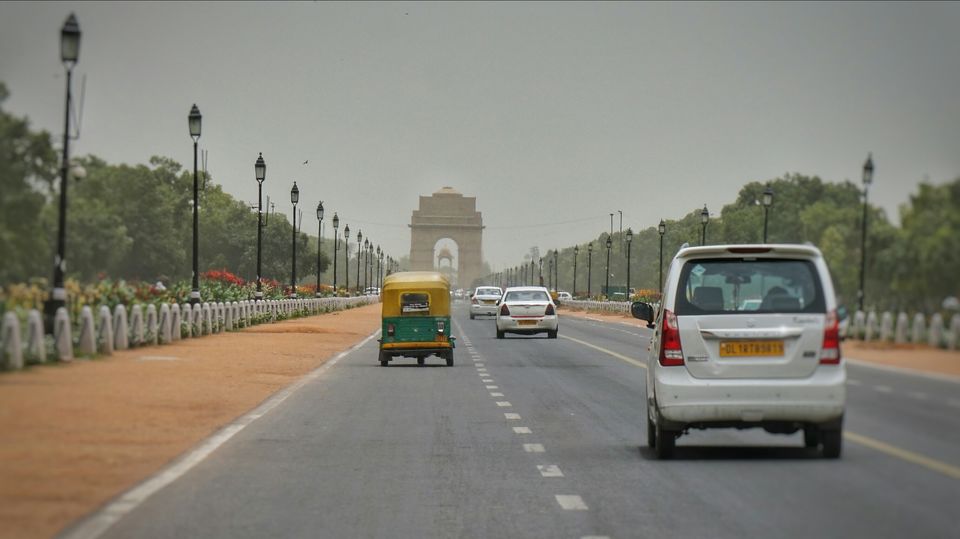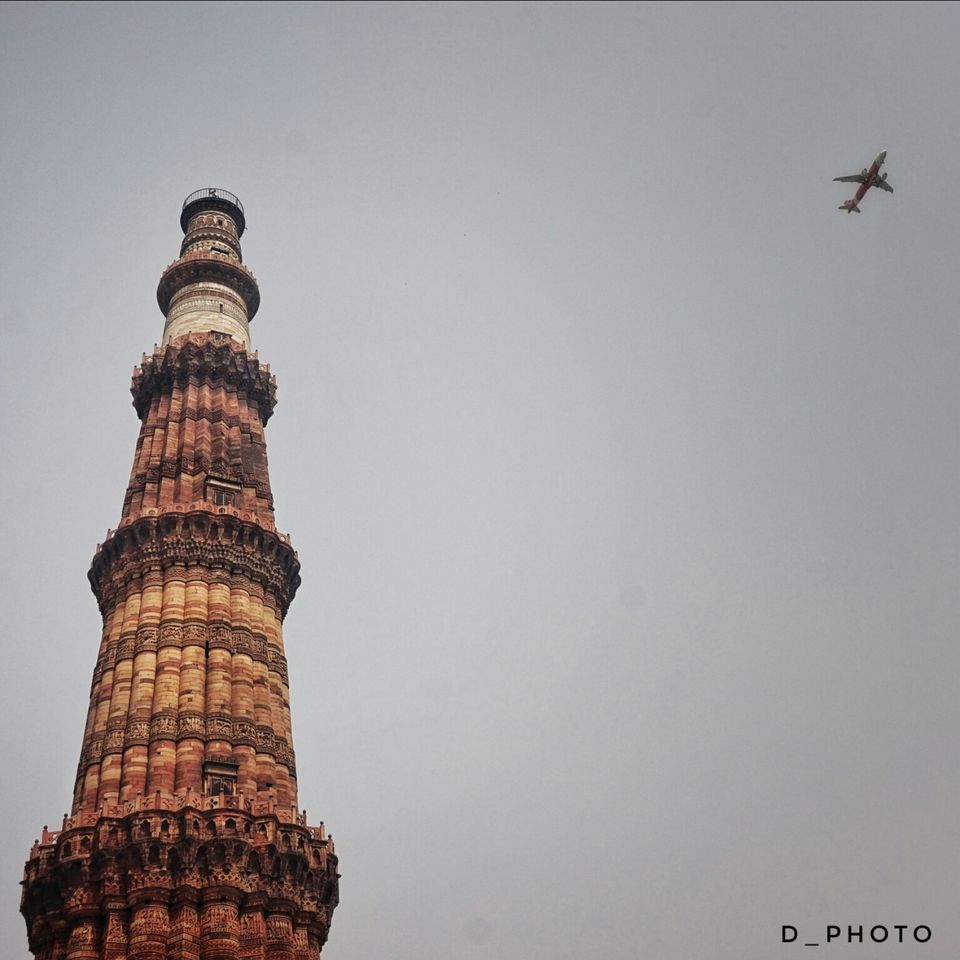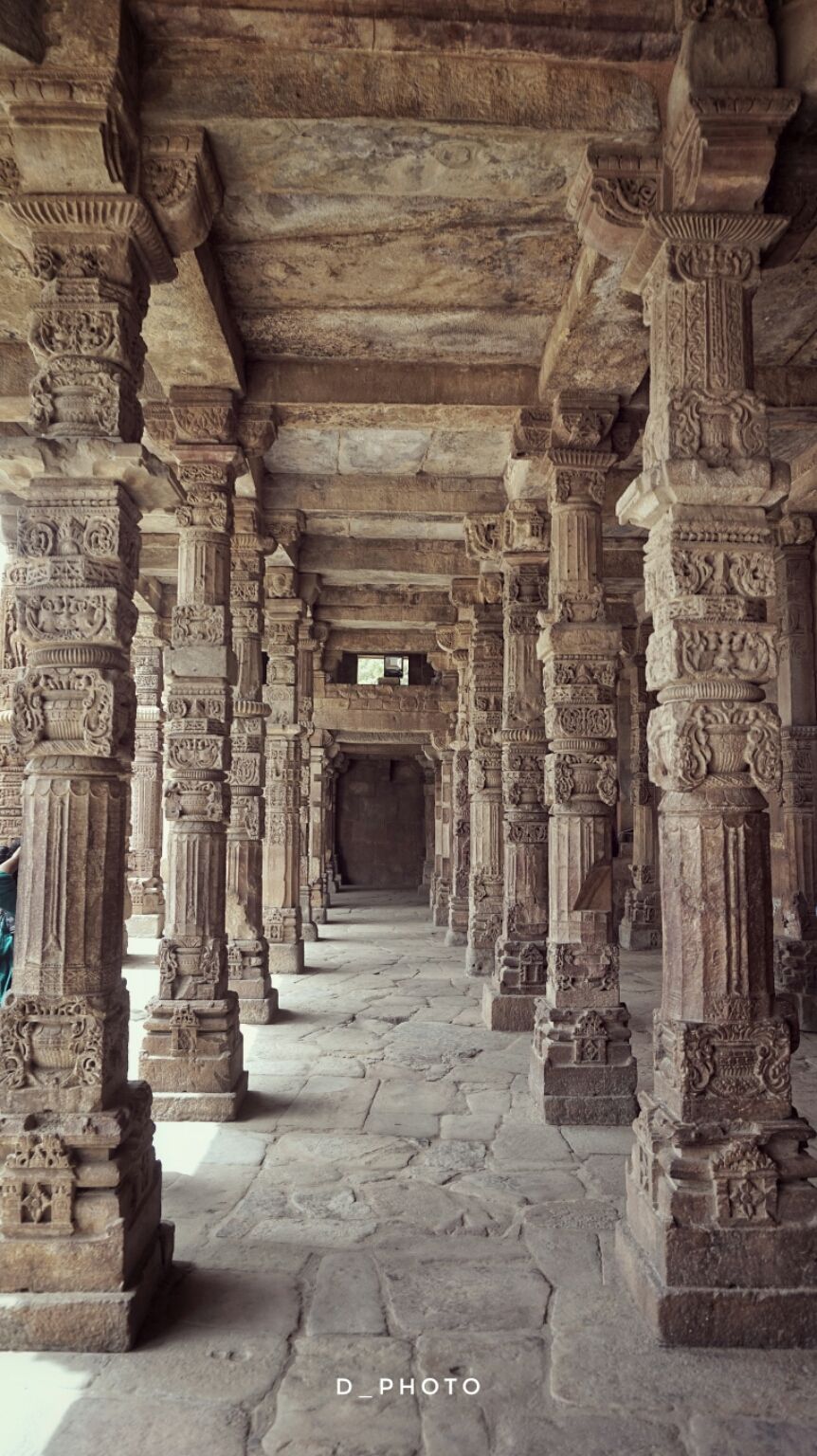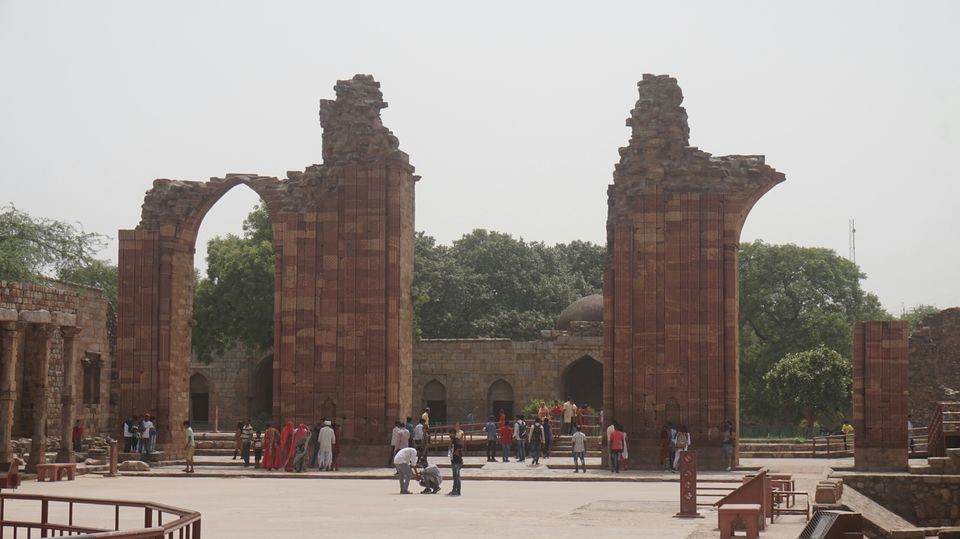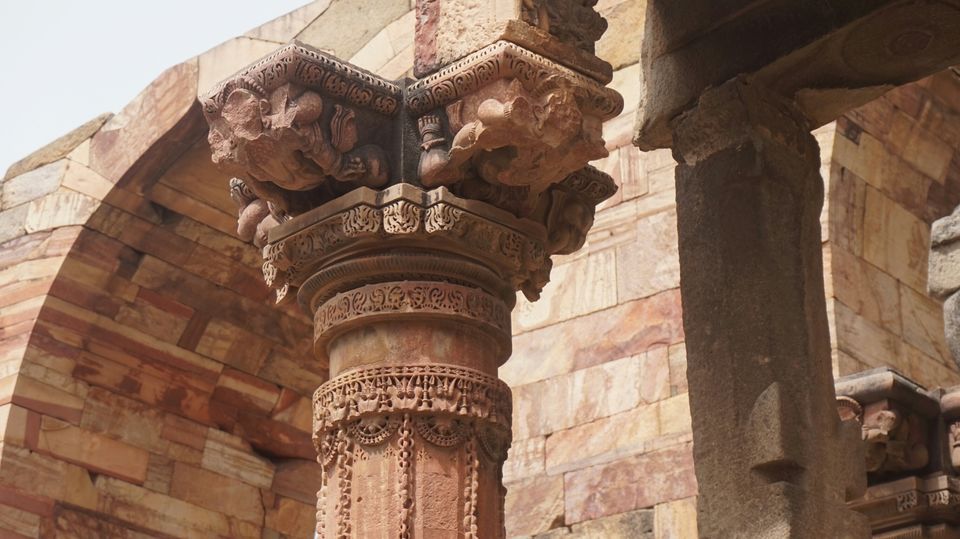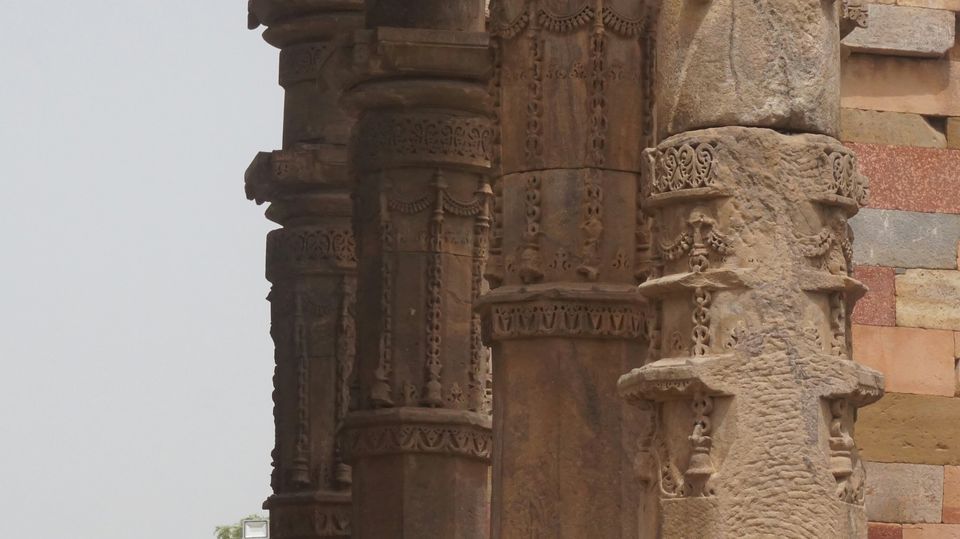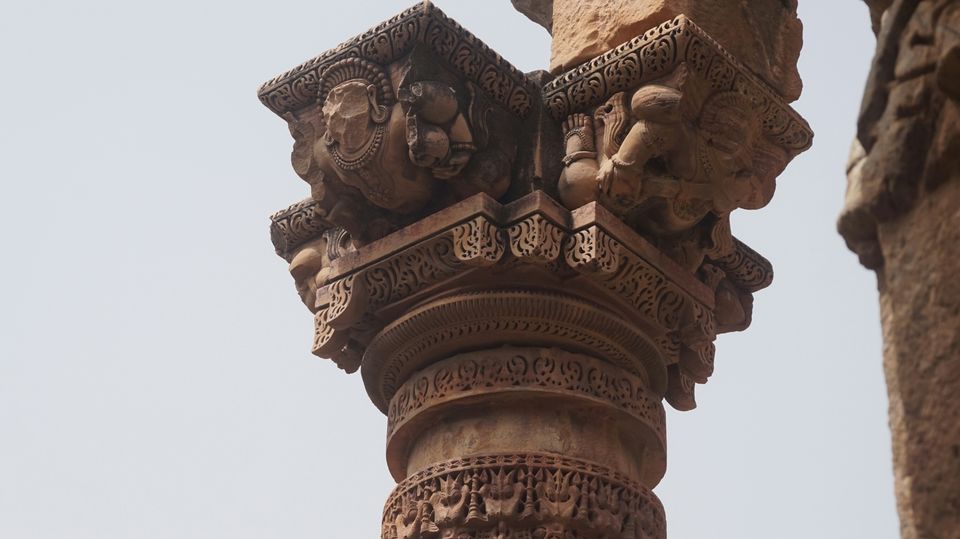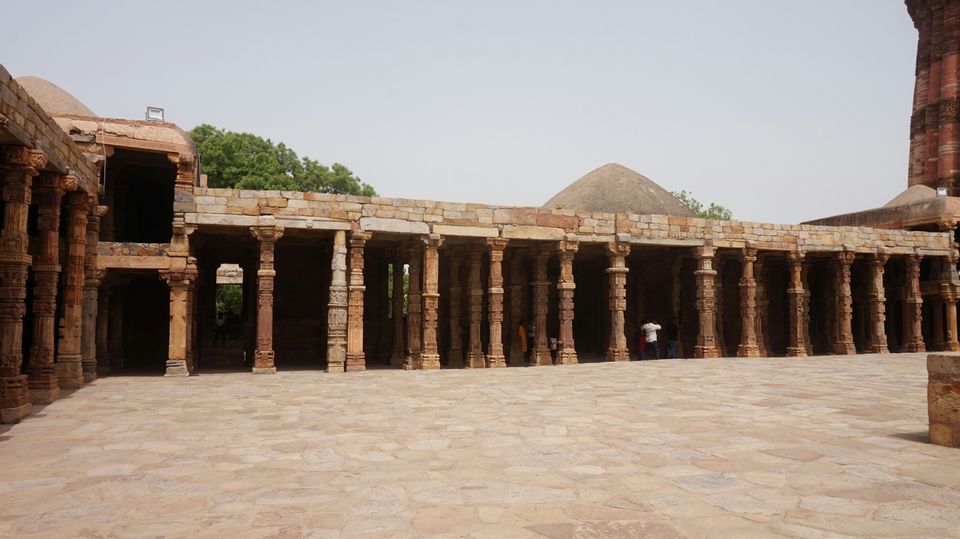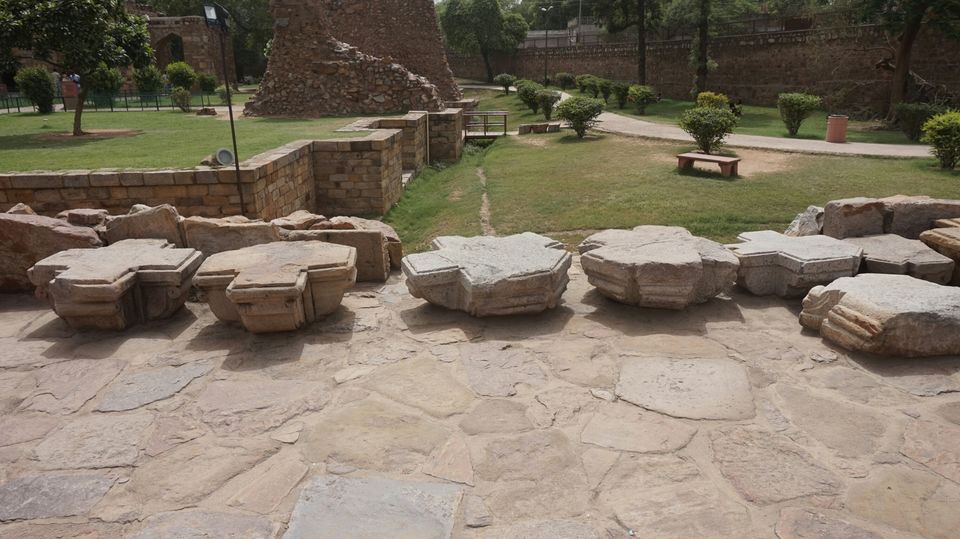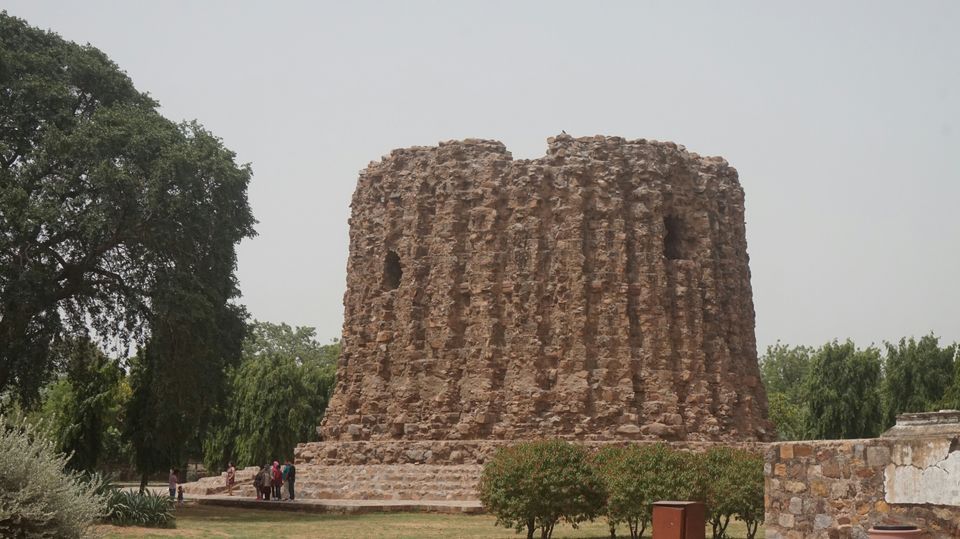 With a new day, began a new life! I started as early as 5:30 by metro from Noida to Rajiv chowk. I had some personal work at Nyaya Marg by the time I finished, it was around 11 in the noon. Soon I boarded an auto and left to Rajpath. The place where the Parliament of India, Rashtrapati bhavan and the India gate all three fall!
Rashtrapati bhavan is the residence of the president of the republic of India. It is a colossal architecture and built entirely of red stone and brick. Over the building, flies proudly the tricolor!
The parliament falls next to Rashtrapati bhavan. I couldn't capture the full structure because of dense greenery around and strict vigilance and restrictions around the Parliament. It is also a humongous circular stone structure which represents the Ashoka chakra! This is all built in white stone and marble.
Next along the Rajpath road is India gate. Every parade on 26th January (Republic day of India) is held on Rajpath road and towards India gate! Along the Rajpath, on that day, the seats will be arranged in the lawn! And people can watch the parade and spend time in the park! There are inscriptions on every stone of India gate. Also at the centre, burns the eternal fire in the name of Amar Jawan (Immortal army) dedicated to those deceased in war!
I still had some time of the day left. So I decided to visit Qutub minar.
From central secretariat metro station, which is not even 500 mtrs away from Rashtrapati bhavan, I left to Rajiv chowk. There is no metro running towards qutub minar directly from Rajiv chowk. So I boarded on a metro bound to new Delhi metro station. Then from new Delhi metro to Qutub minar metro station. All this takes around 45min. You can have a look at the metro map in any metro station to have an idea of how to reach the destination.
One more thing, having a metro card (smart card) helps travelling cheap and fast! I would recommend it for tourists.
Now at Qutub Minar, the UNESCO world Heritage site built in 1192, stands at 73 mtrs of height. The unmistakable red beacon. There is an antique steel pillar, which denies to rust, no matter how old it gets. Defying the chemistry. Many researchers are still amazed of this behaviour and trying to look into the composition.
There are many ancient Dravidian style stone carvings and monolithic architectures surrounding Qutub Minar. Serving as the witness of destruction of already standing ancient Indian architecture by Mughal rulers.
There are also some partly constructed structures around the place.
This day was dedicated to shopping and strolling in the streets of Sarojini Market.
You can find some good stuff here. Not a great quality goods though. But worth what you pay for.
Stall keepers of leather products try to fool you for original leather. But honestly, there is no leather here. You can buy them though by bargaining for a lesser price than what they quote.
You can find dress, night dress, shirts, T-shirts, belt, accessories, shoes, etc, etc what not?!
All day strolling, still you'll have something left!! It's great place to spend time with friends. Doing some photography, gosipping, etc.
With that, we came back. And the market was at our room now! We were all showing things that we bought from the market and everything was on our beds like we were selling them again!
After packing them, we went to bed planning for next day.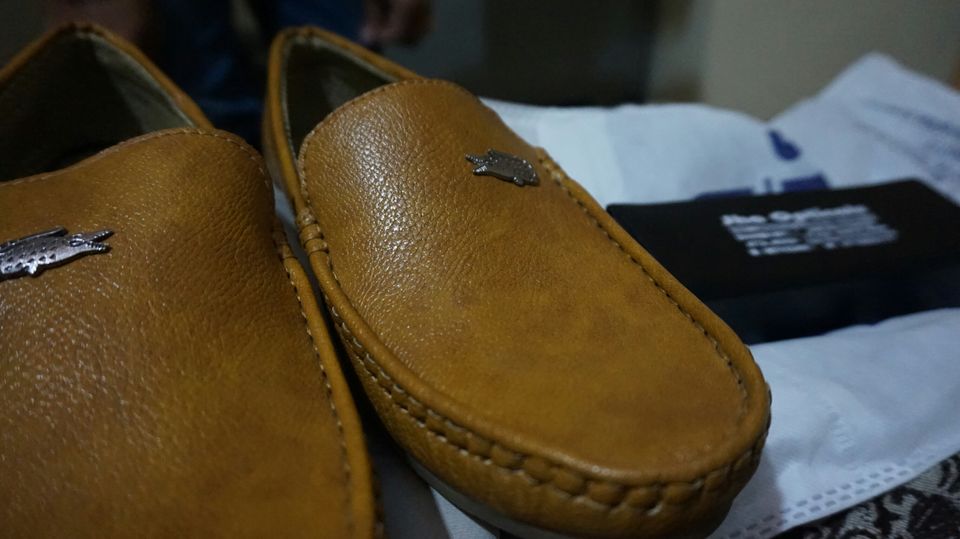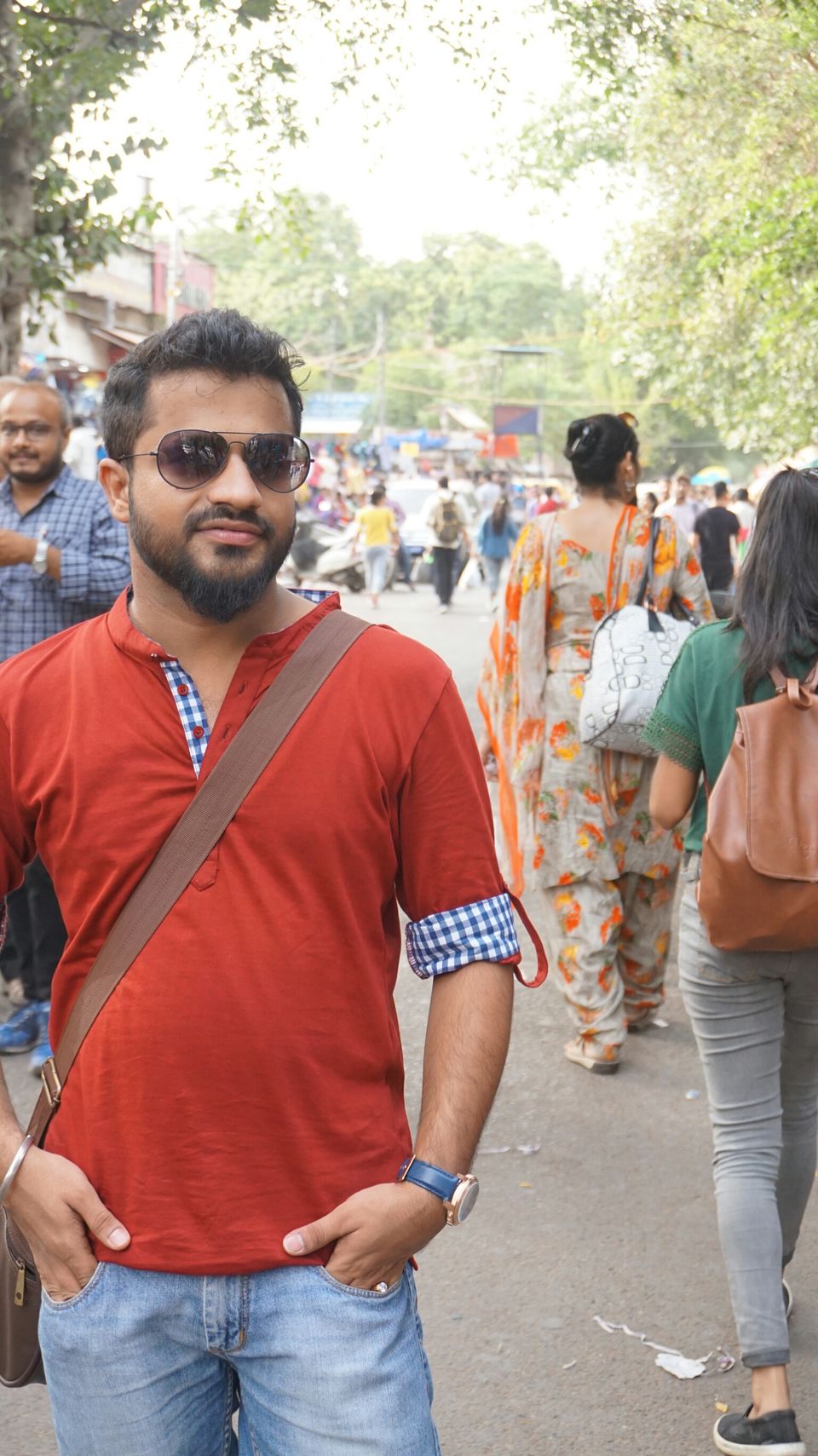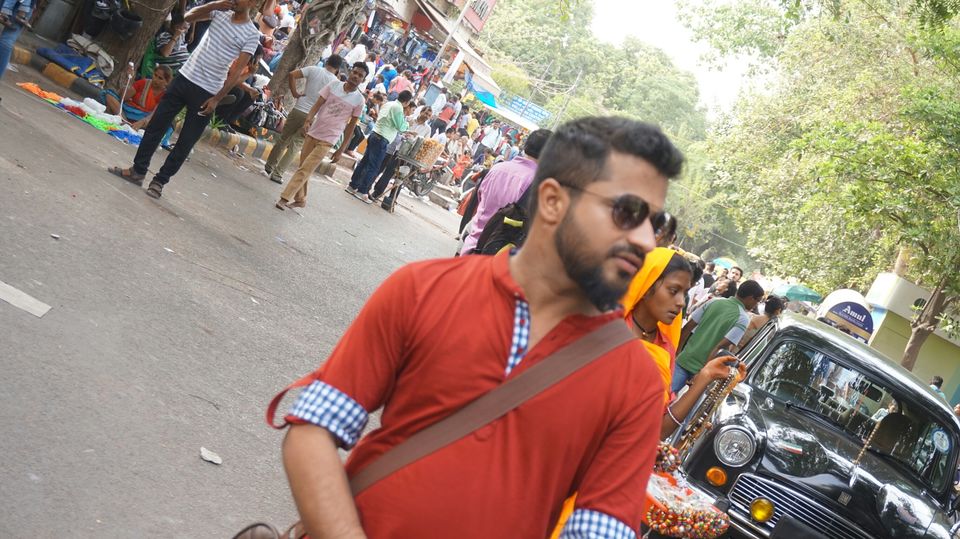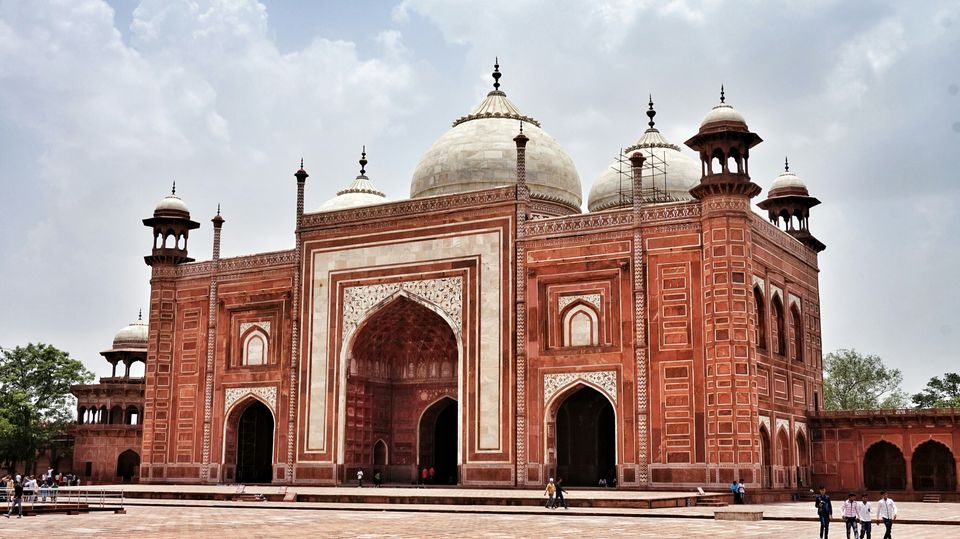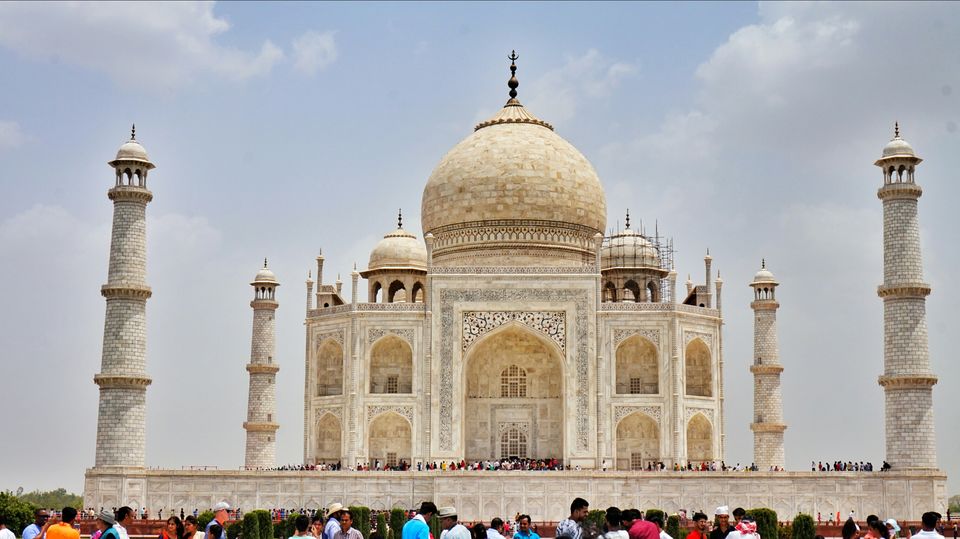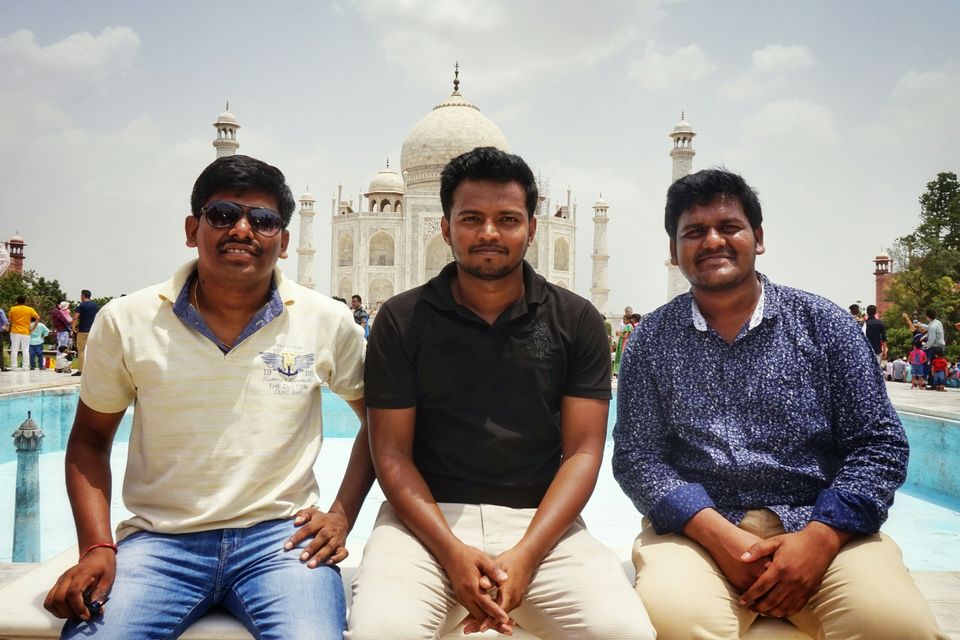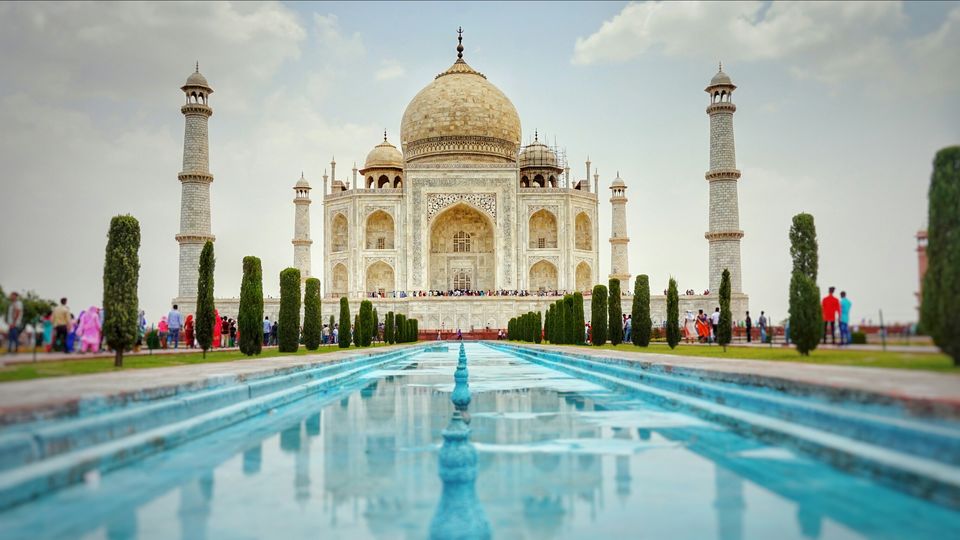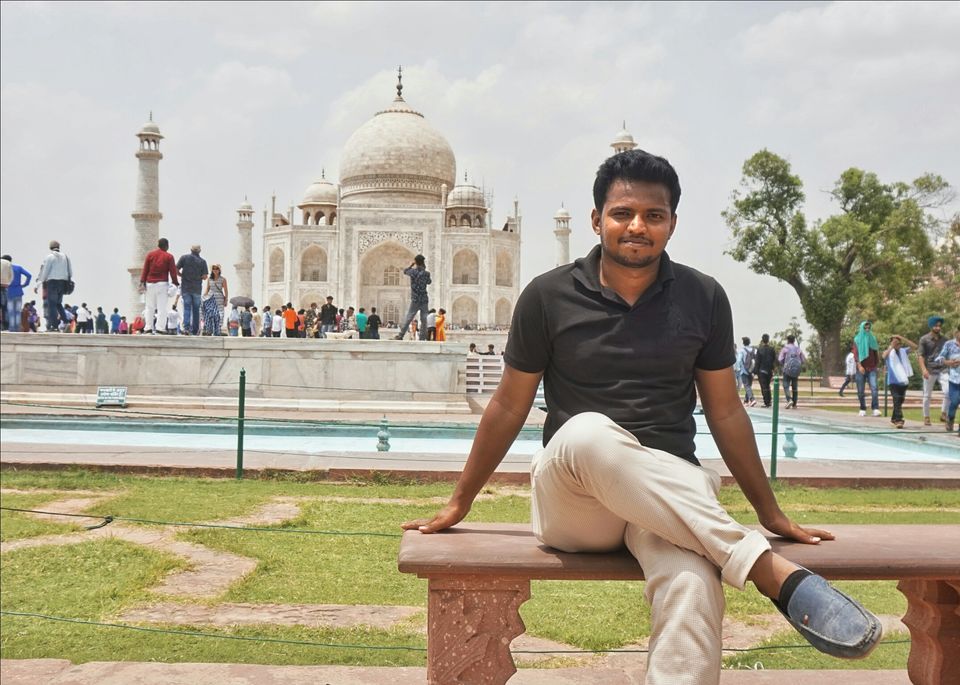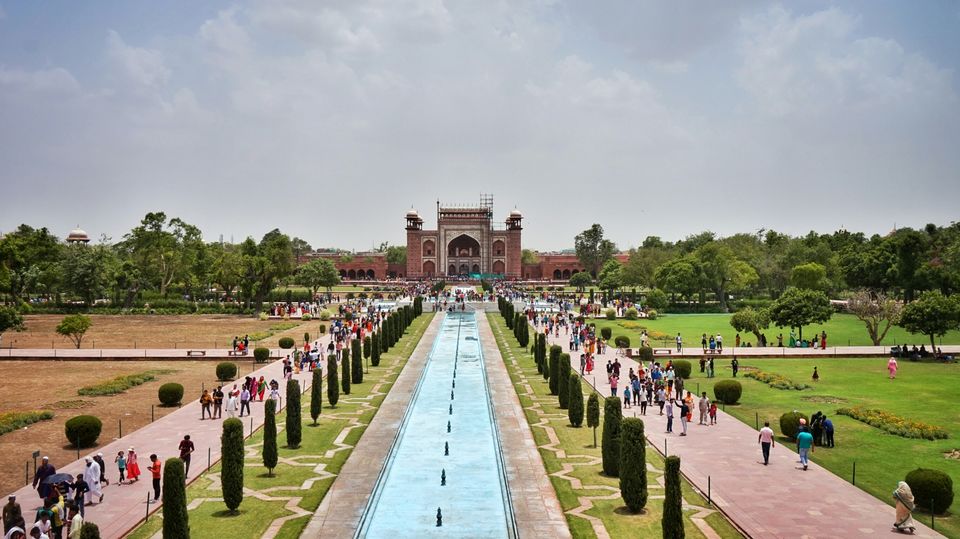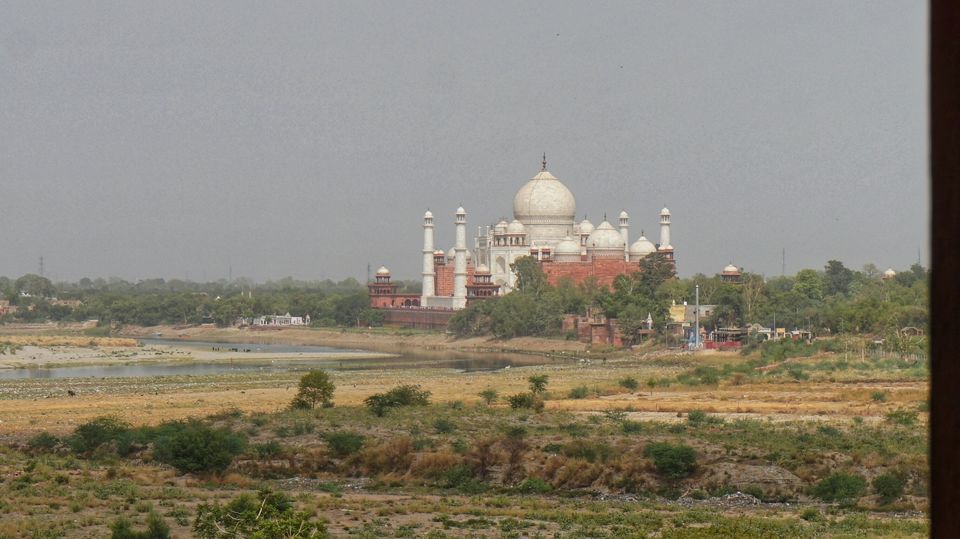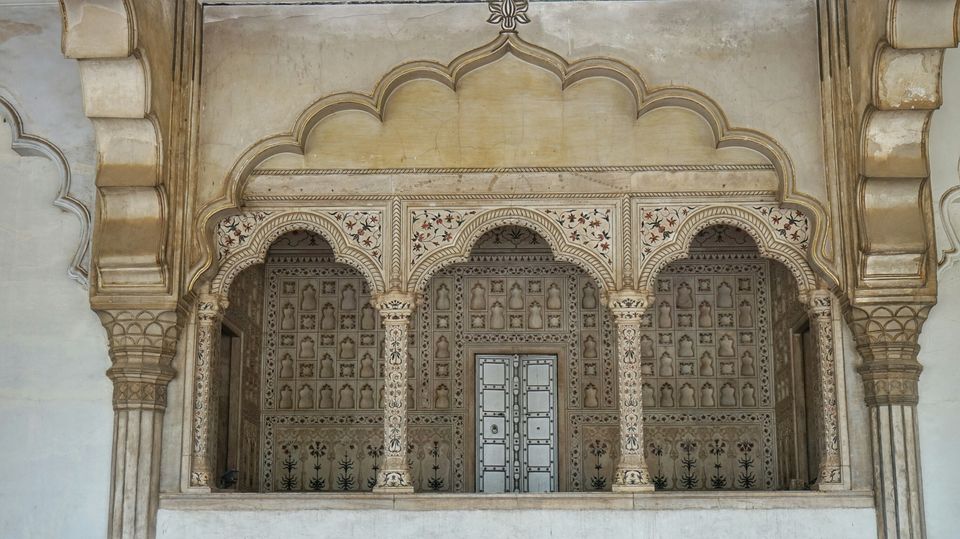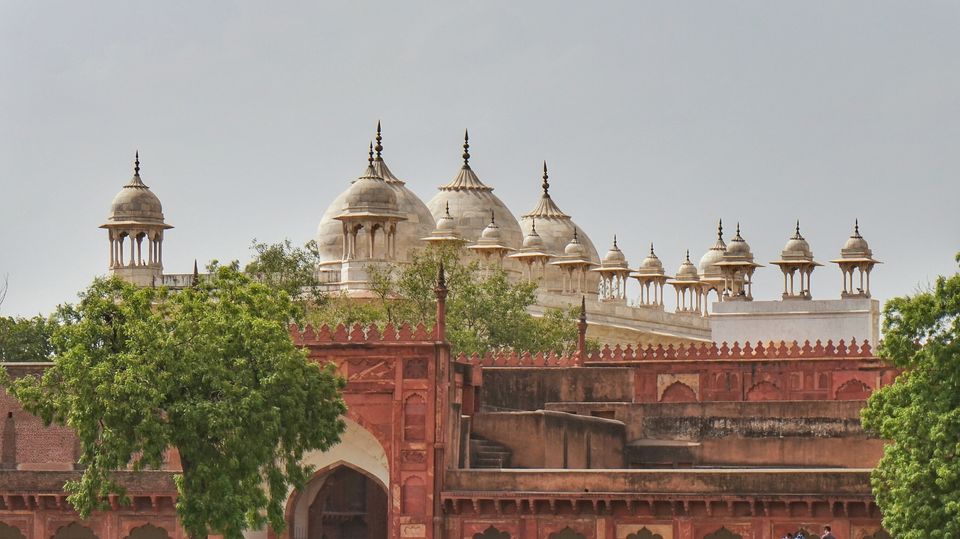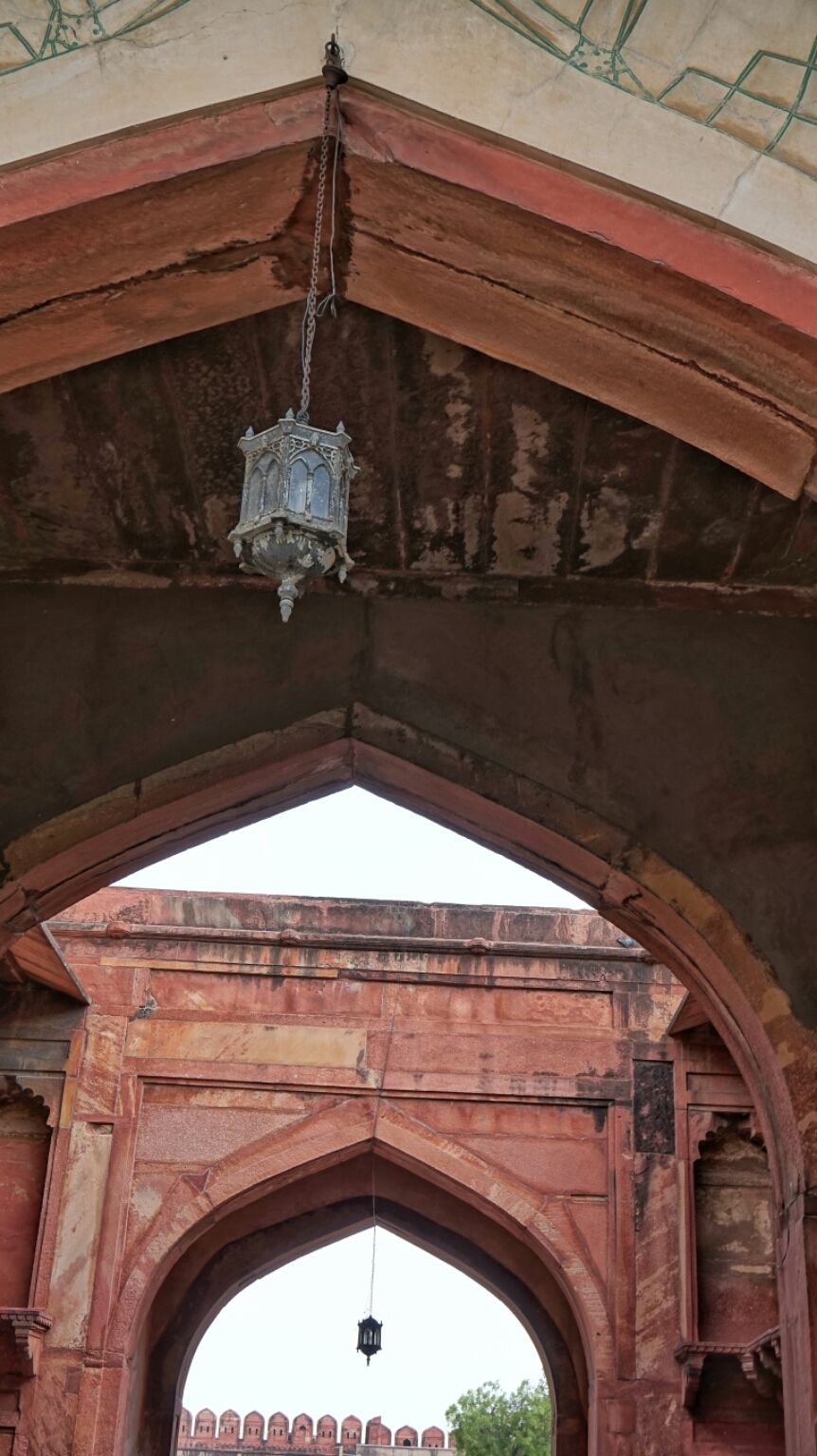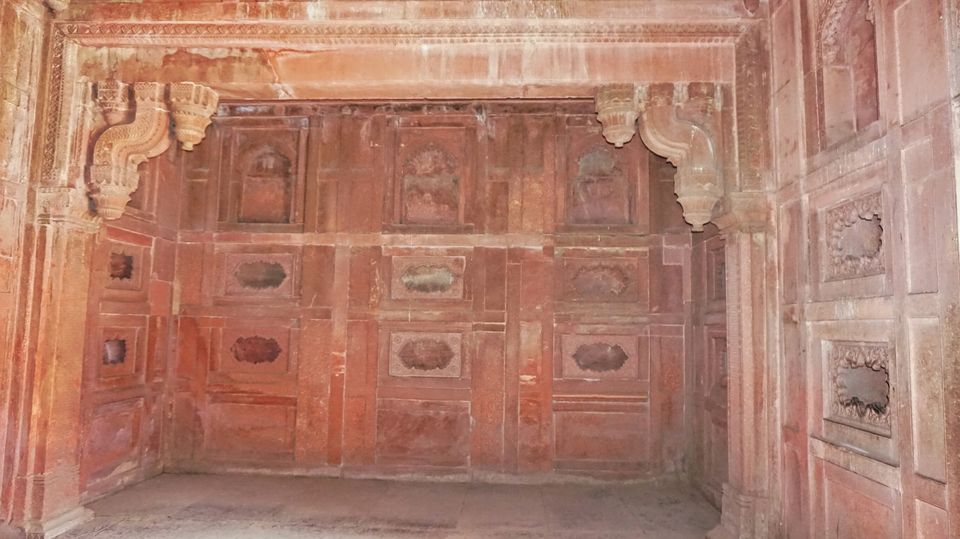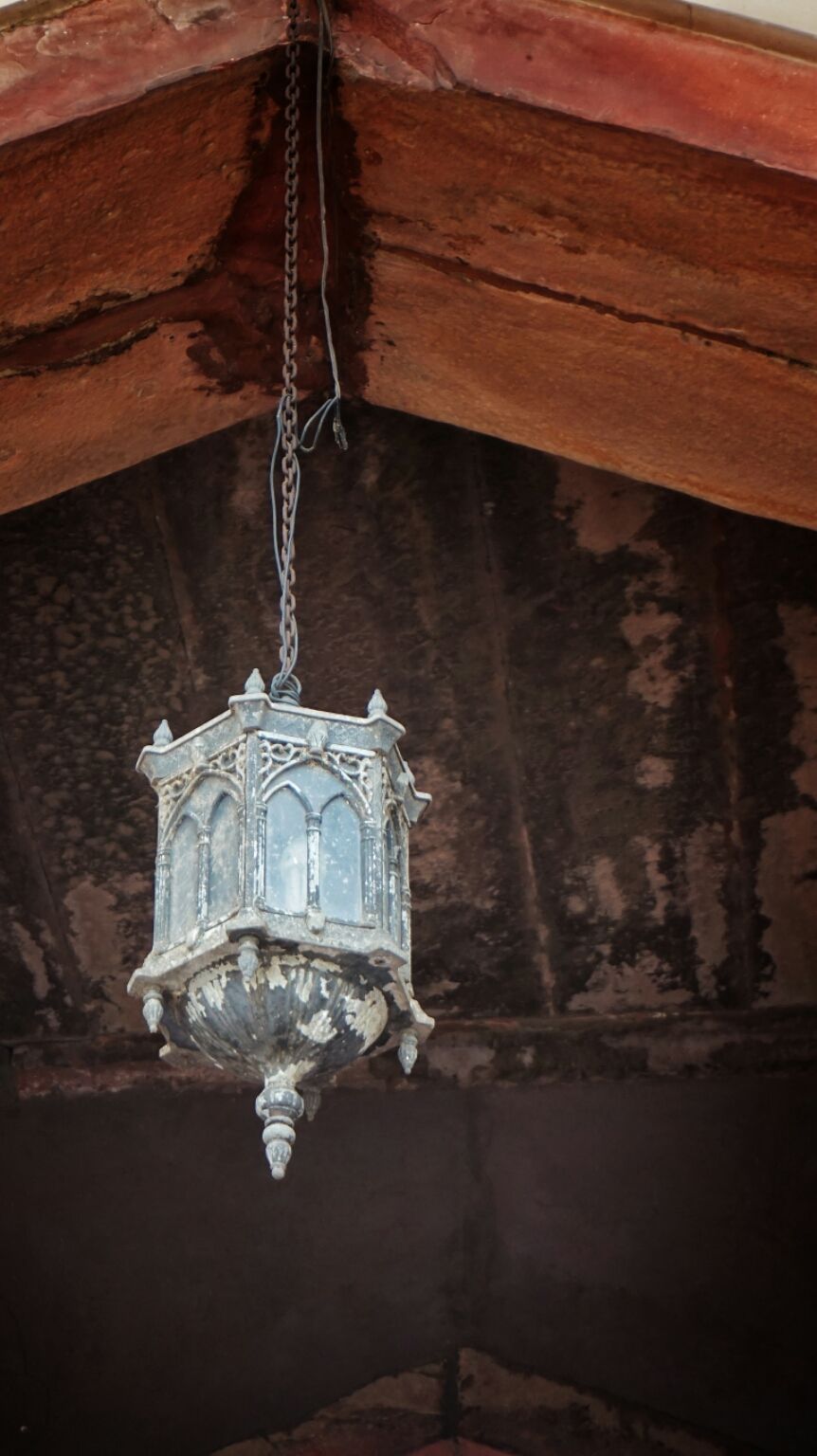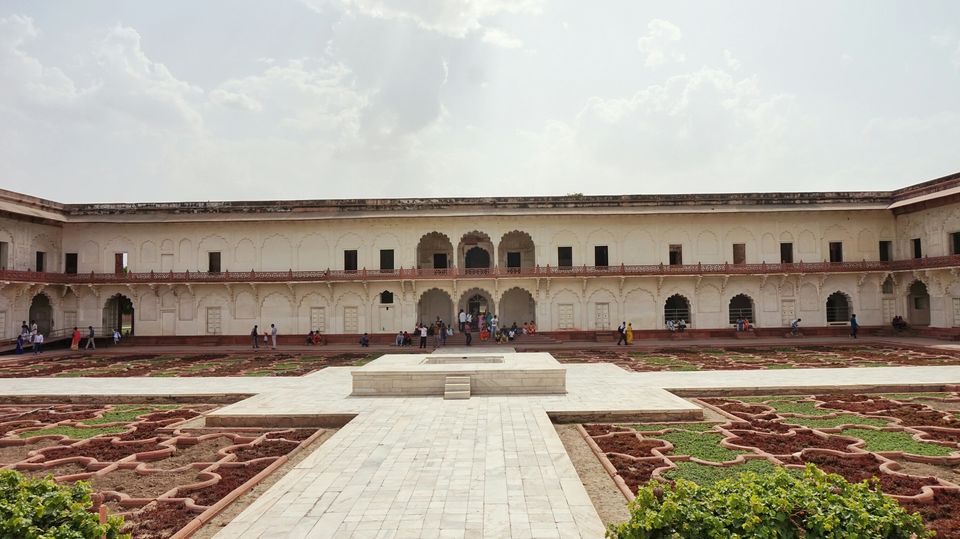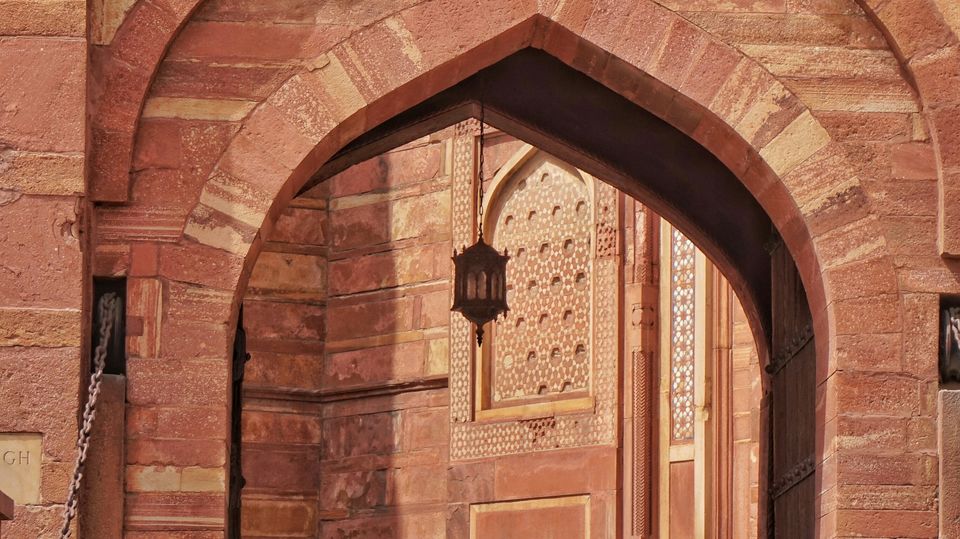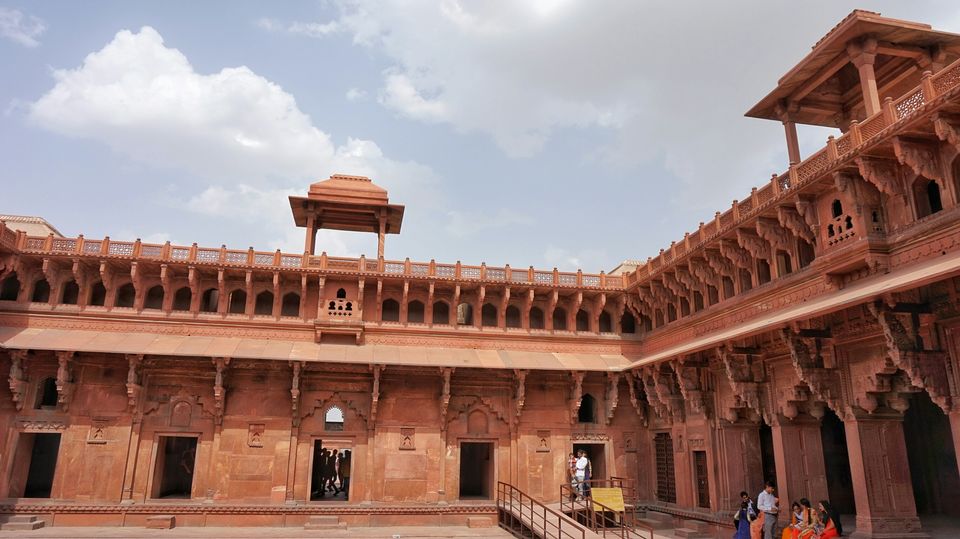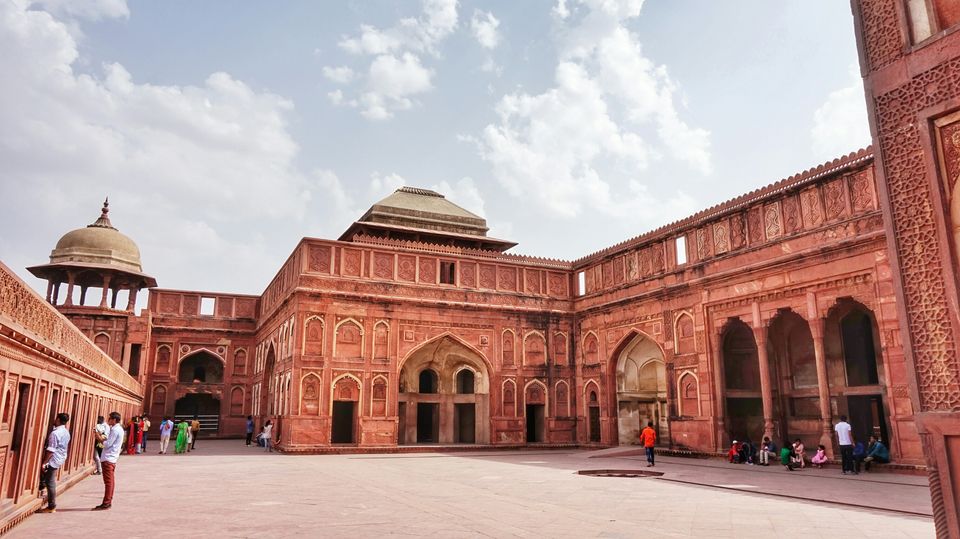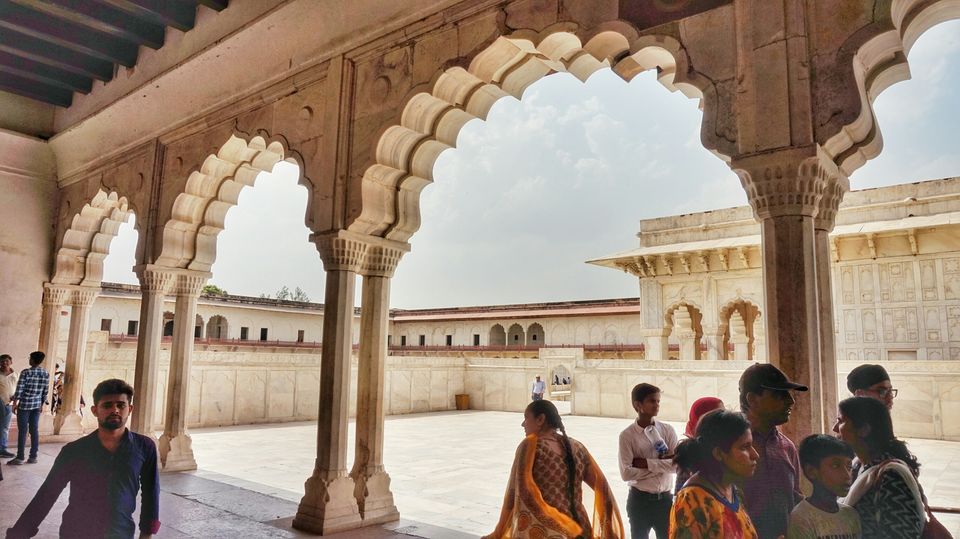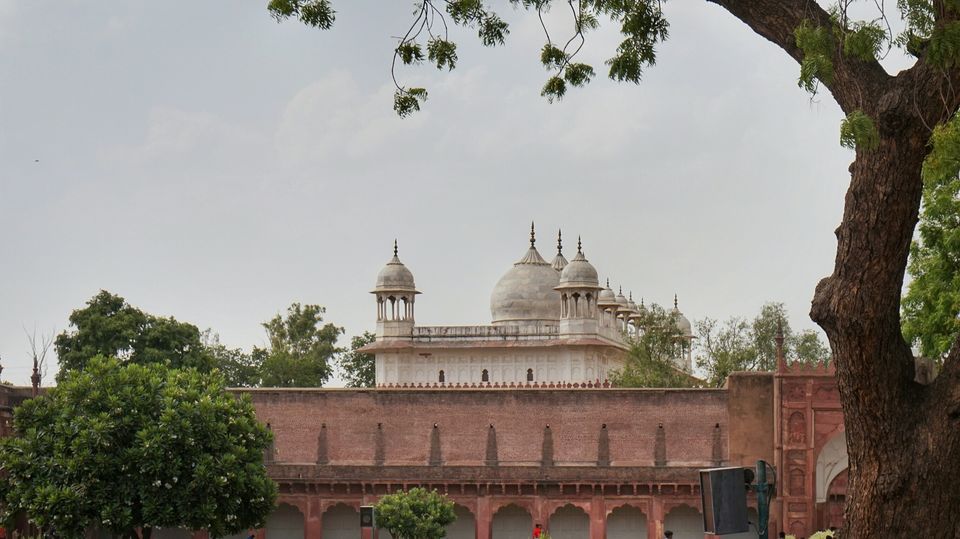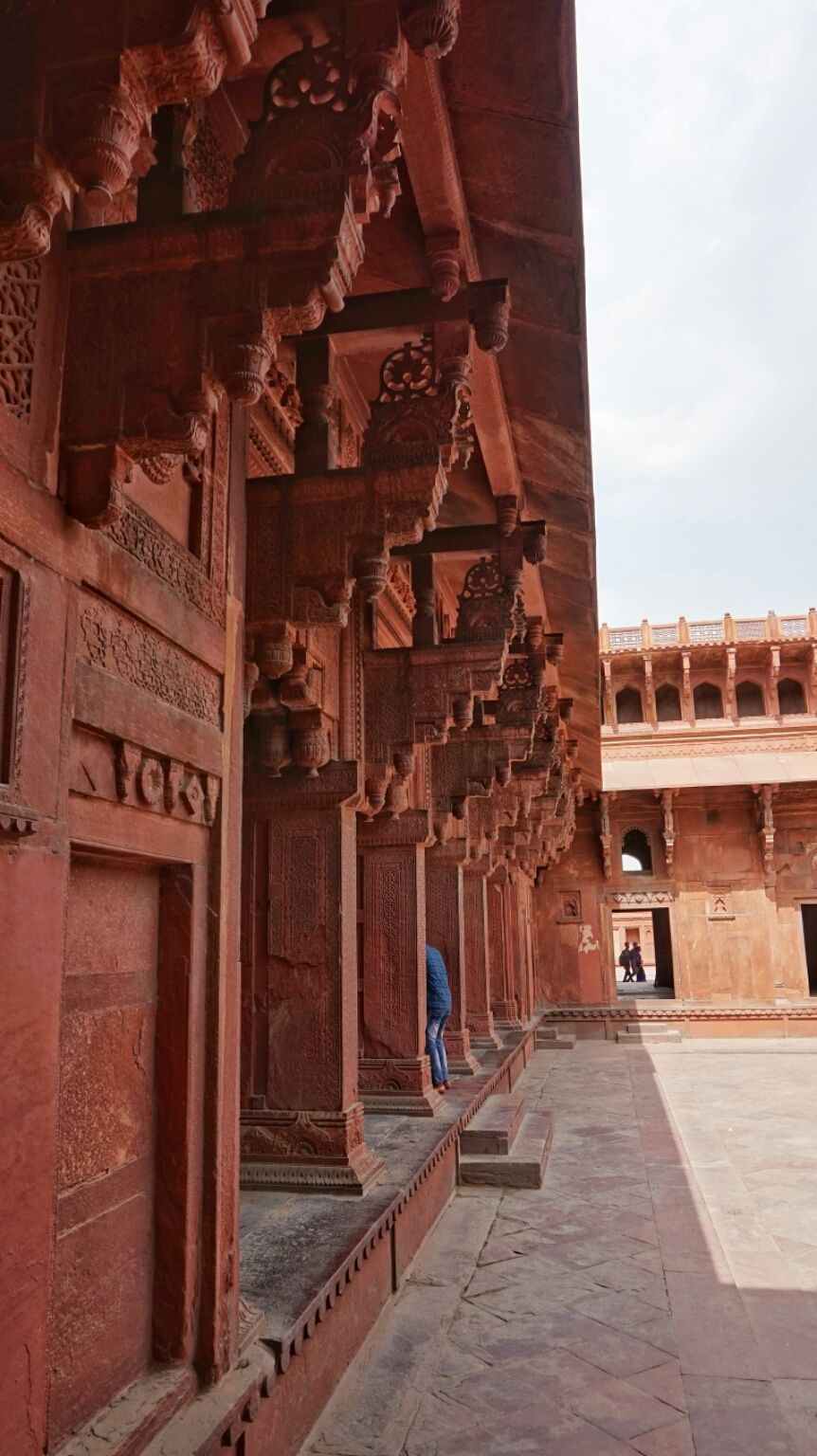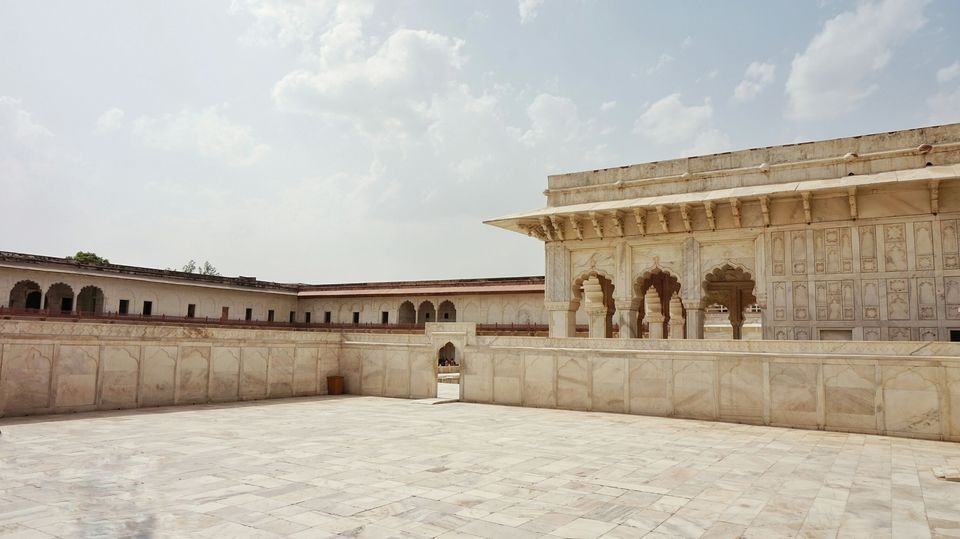 Here comes the most important and memorable day of the trip!
The King of monuments, Taj Mahal!
One among the 7 wonders of world. And the red fort of Agra.
I was so very excited that the journey from my friends place at Noida to Agra felt very long. we had left as early as 6 in the mornong. Finally after 4 hours of journey, we arrived at Agra.
From the point bus dropped us, we took Horse cart ride to the marvelous structure. There was a long que again for the tickets, four of us stood in four different ques, so that whoever gets first would buy tickets and rest come back.
The place was overcrowded that we had to fight for a place for photography, even for few seconds. Everyone will just be wandering around and stumble onto the frame and don't even care about it!
After some fight, here it is. The clear picture of the wonder! And the mehman khana beside it.
As you get closer to the monument, you'll notice the art work so painstakingly done. Even the smallest of the details! Carved into marbles. Different stones used for colours and design. As we get inside, we see two tombs. Mumtaz and Shahjahan. Even with so much crowd, inside is so airy because of its ventilated marble design. No wonder why it's considered among the 7 wonders!
After visiting Taj mahal, we were hungry and had lunch in a hotel close by. Then headed to red fort.
This one is humongous fort! It takes around 2 hours just to roam around and inspire the fort and it's architecture! All the details again carved in the red stone. There are some white marble structures in contrast to red here and there inside. Especially the court and throne place.
The theatre is gorgeous and brought me the thoughts of black and white movie style where Kings and queens with all their family would sit in the pavilion to witness the performance/dance(Nritya) on special occasions!
There were also some racks carved in stone and given beautiful design. I wonder how people those days shown their art almost everything.
Taj Mahal was visible from one set of windows of the red fort, at Agra!
Apart from these there were three domes visible from the court and lawn. But for some reason, tourists are not allowed to visit that place. I capture the picture of those domes looking awesome from the lawn. The trees and the grass in the lawn created a beautiful ambiance!
We spent 2and half hours in the red fort. Then it was time for us to leave for Mathura and Vrindavan.
Mathura, the birth place of Krishna, in the jail. This is considered holi and the camera/phone was not allowed both in Mathura and Vrindavan.
Vrindavan is were Krishna held the hands of all 16000 Gopika sthree (women) at once, by his miracle! Both these places have numerous temples and gow shalas.
Visiting the pilgrimage at the end of trip, with the blessings, we returned to our homes!