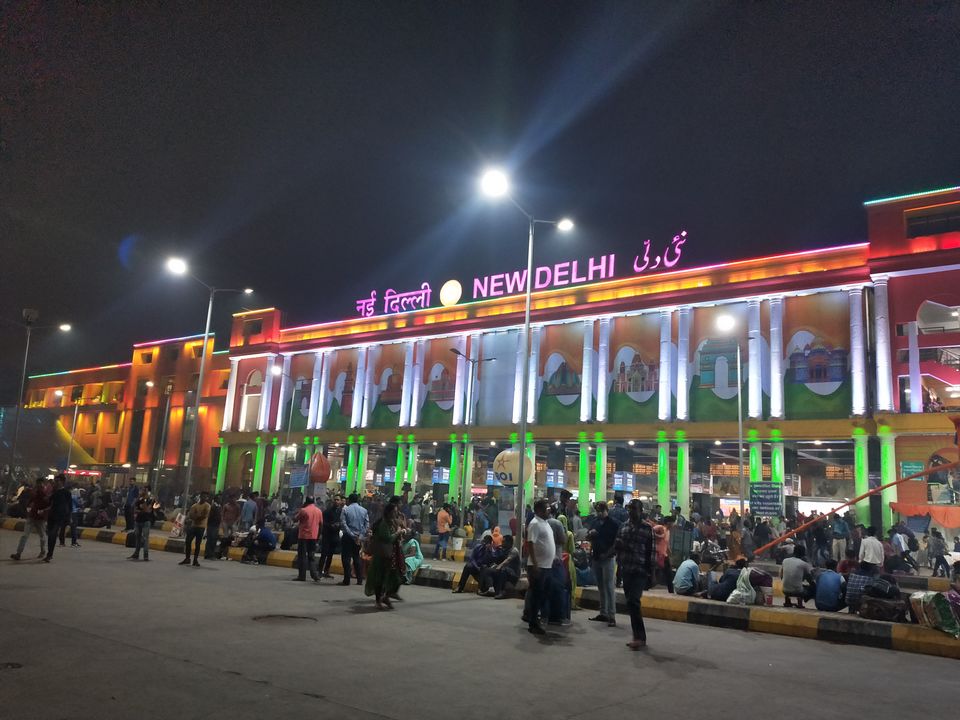 I have just completed Delhi solo trip between 28th oct to 1st november.It was quite a good experience for me to travel solo. I learnt lots of things during the trip,people nature, style, humanity, integrity,helping nature and explore myself.
It has become a memorial trip for my life.I didn't plan for it actullay.It was a hard and fast trip.On Diwali I booked my tickets for Delhi from Ahmedabad and it was in long waiting list when I booked.Fortunately, I got it confirmed next day afternoon, and become so excited as there were four hours remaining to catch my Train and to pack luggage.
29th October, I landed New Delhi station early morning and booked ZOSTEL.ZOSTEL is the hotel where a solo traveler can live with share rooms.It was an amazing experience for me to stay there as I met different continental people.I lived Paharganj area in New Delhi which is situated near New Delhi railway station.
I visited India Gate, Parliament house, Presidential house,Chandni Chowk, Jama masjid, Gurudwara,Redfort, Lotus temple, Rajghat, Iskcon temple , kalkaji temple,Digambar jain temple,Akshardham temple,Qutub Minar,Humayun's Tomb,Paharganj street. I had reserved three days for Delhi.
Until the end I was not confirmed about to visit of Taj Mahal. But Don't know ,It was God's Signal, for Agra I booked ticket of Taj Express prior 7 hours and lucky to get confirmed tickets of 6:45 A.M and get off at 9:30 A.M at Agra Cantt Station.
I took sharing auto from Railway station and reached Taj Mahal west gate parking,for it I paid 30rs. I like to try different transport facilities so I pick up Horse trading to reach Taj Mahal area which is appro. 1 km far from west gate parking area of Taj Mahal.Before entering main arena you have to deposit your luggage to locker room,Only mobile ,water bottle and DSLR camera are allowed to take with us. Food is not allowed.
There was too much of a crowd as it was a Thursday and Friday TajMahal is closed for maintenance work.Only resident Muslims of Agra are allowed to offer prayers on Friday in the Taj Mahal, interstate or international Muslims aren't allowed to do so.There are two types tickets counters ,50rs and 250rs.In 50rs ticket you are able to see TajMahal ,you are not allowed to step up on mausoleum of Mumtaz. To see mausoleum of Mumtaz you have to purchase ticket of 250rs. It took almost 35 minutes to collect entry ticket for Taj Mahal. There is an option available for online ticket but network connectivity is not upto the work so was not able to do it.Even didn't able to do transaction so ultimately I had to stand in queue to take tickets. I don't why there are only 4 counters including Forerign Tourist counter. I personally felt mismanagement of giving tickets to tourist. They have extra place so they can implement more ticket counters to reduce rush and provide flexibility to tourists. Become more excited when saw entry tickets in my hand.I wanted to capture memories so took DSLR camera with me.As my steps were going towards Taj Mahal arena my excitement was growing.
Finally, After seeing magnificent Taj Mahal , I fell in love with it.you just keep hours and hours to see it. I spend almost two hours there and captured photos of TajMahal and took selfies. They provide token while taking tickets,you have to keep it with you until don't exit.It requires token to exit.After visiting TajMahal ,you can go to visit Agra fort which is 1.5 km far away from TaJMahal.There are many transport available to reach there. If you have timeyou can go through by walk. You need to must visit Agra Fort because from it you are able to see TajMahal from AgraFort. Even Yamuna river and Garden spread throughout the grounds.In Agra fort i visited Angoori Bagh, Diwan-i-Am , Jahangiri and Akbari Mahal ,Naubat Khana and many more places.I spend my whole day in Agra. Booked Volvo bus for New Delhi at 5.00 P.M. Agra is famous for its confection 'Petha'. I bought it for friends and relatives but unfortunately while I was getting off the bus I forgot into bus, still it is paining me.
Now, It was the fourth day and still many places were remaining for me to visit like Rajghat,Humayun's Tomb,Lotus Temple,Qutub Minar.So I started my journey from Delhi Metro to Lotus temple , to reach there I took the metro to Kalkaji Temple from there you have to walk almost 1 km to reach there.Lotus temple,Iskcon Temple,Kalkaji Temple are surrounding within 1 km area so , in one visit I covered all places.Before going to visit Lotus Temple please confirm timing of it.Must visit Lotus Temple to find your inner peace and pray to your GOD. After visiting Lotus temple I took the metro to Delhi gate from kalkaji metro station.From Delhi gate station I walked approx. 1 km to reach Rajghat,Samadhi of 'Mahatma Gandhi' And spend one and a half hour.I had to catch up train at 7:55P.M.So was in a hurry to cover Humayun's Tomb and Qutub Minar in less time and I did it.
It was an awesome experience for me to travel solo , learn lots of new things in my life. Each and every thing I managed and make time table to which place need to cover and how much I would have to spare time. If you stuck in any place just ask, people will help you. Throughout my journey I asked Policemen, Traffic Policeman,Street Vendors and Metro customer care while I was getting stuck and didn't find any path.I am so thankful to those all person who made my trip unforgettable. Yes,You have to be alert while traveling solo , I experienced three places where someone was following me as I got an idea, I stopped and looked behind and they had changed their path.So alertness must needed.