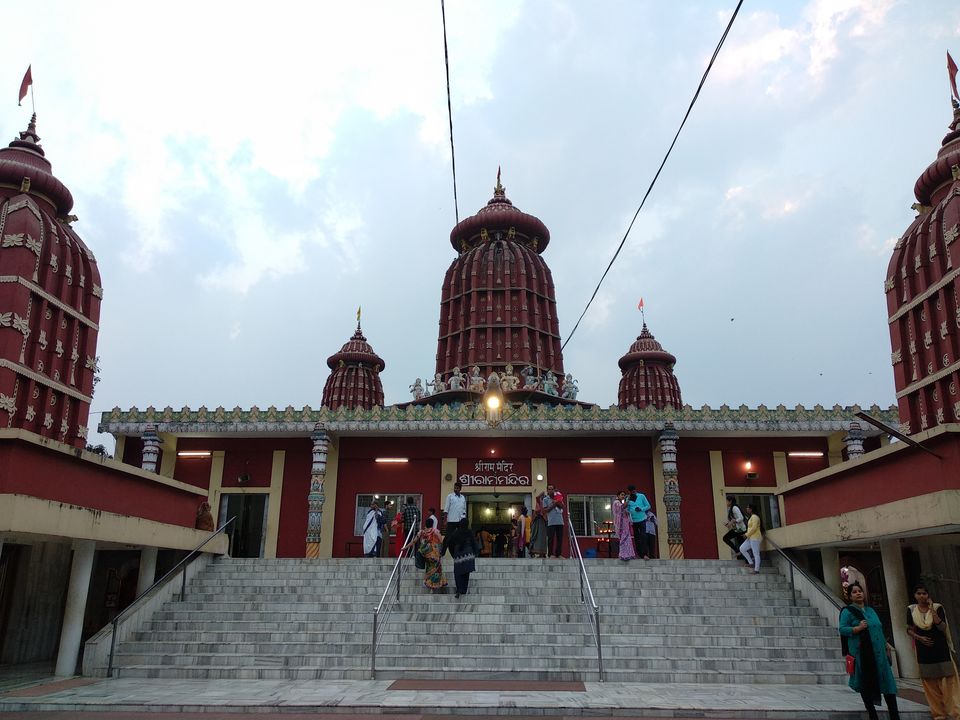 Anyone who is booking the ticket for a trip, will remain excited till next trip starts. And that's when I booked tickets to this place which was my second home back in 2015-16, the excitement got doubled.
Yes! most of you who reads my travel blog or follow me on Instagram or even better who watch my V-Logs on YouTube channel, they better know that this place is actually close to me.
DAY 1
And I have been to travelling to Bhubaneswar after 3 long year. It was again a Beginning of something new.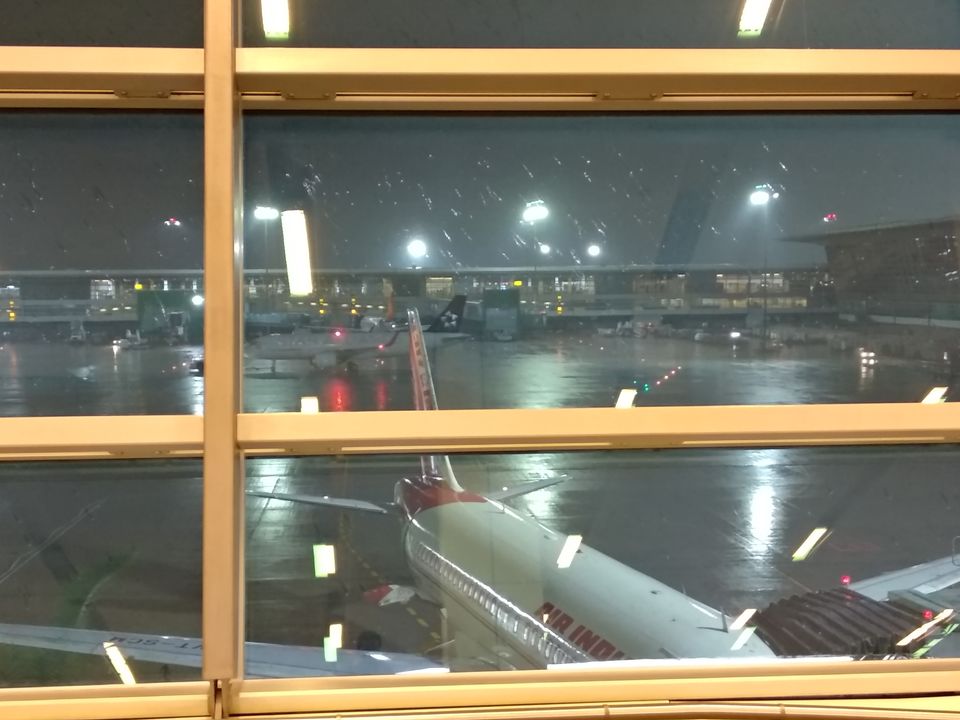 On 7th Feb 2019 I took my flight from Indira Gandhi International Airport, wait wait wait! did I tell you that day NCR was covered with snow, not actual snow but the weather was rainy that day when we left from home and when it was 6:40 PM, time to our flight, Hailstones disrupted our way, started to appear at Delhi/NCR due to which or flight got delayed and as per the sources our flight Air India AI-473 which was going to take us to Bhubaneswar now diverted to Jaipur Airport and damn! we waited for 3.5 hours.
In the meantime we went to McDonald's and ate something as we were hungry and actually waiting for In-flight meal. And the most tragic thing happened when me and my mom spent Rs 400 at Mc'D on Two Burgers, 1 Fries and 1 Medium Cooke, came back to our respective gate, the ground staff announced free meals to all by AIR INDIA. Me & My Mom were watching each other and smiling, but we still went for some more food as Punjabi's don't want to miss the opportunity of getting food.
Everyone was waiting after having the meal, we were updated with continuous change of boarding time at 7:45, 8:30, 9:00, infants were crying, some were getting rude with staff, some were calm and just continuously asking and then finally 9:45 boarding got started and we took off at 10:30, had dinner in the flight again and slept for like 1 hour.
When the flight landed at around 12, I was watching outside and that when I got the same view when I landed in BBSR 3 years back missing my home. In my mind talking to myself, I am here again and all the memories and flashbacks with this place will now appear and at the same time excited to feel the same again.
We got out of the Airport, took a cab to my friends place. Cheers! to my friend she was waiting for since long due to flight delay, although I booked the hotel earlier near to the same place only, but last moment I cancelled because my friend's roommate was not in town so she asked us to stay at her flat. The area I have been before was actually family oriented place near to Jagannath Temple in Sailshree Vihar.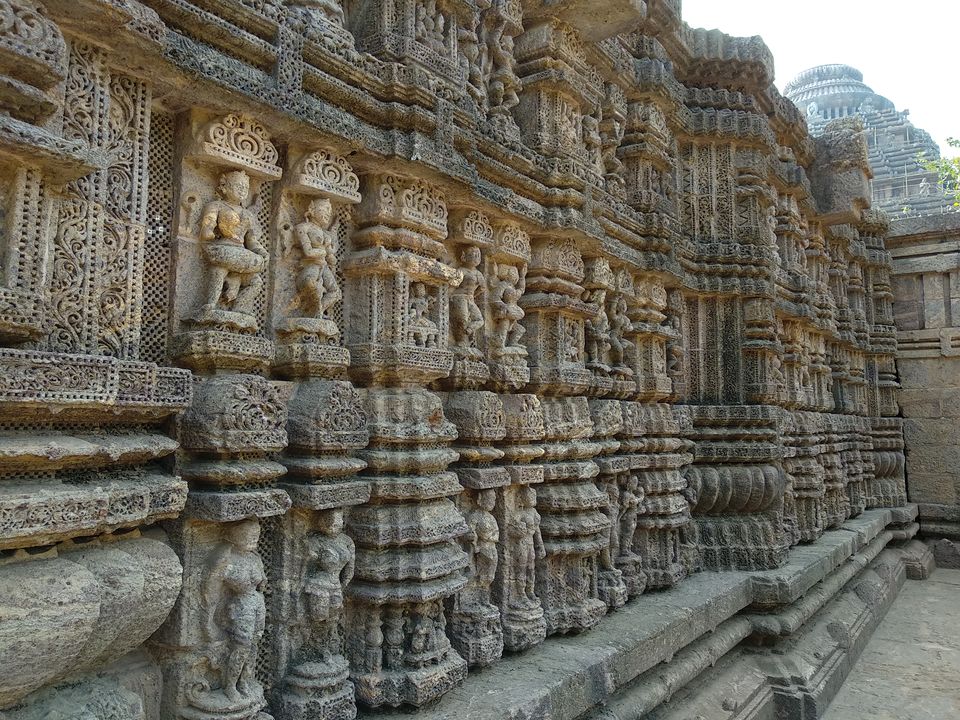 A night off and next morning we got ready early so that we reach, wait, now the reason I decided to do this trip was to take my Mom to One Dham out the Four Dham's in India.
NOTE: The Four Dham's in India are Badrinath in Uttarakhand, Dwarikadhish in Gujarat, Rameshwaram in Tamil Nadu and Jagannath Temple in Puri.
And we are here to cover Puri Dham in Odhisa, although I have been here 3 years back but I haven't been to Konark Temple which is also on of a tourist place in Odisha. The history of all this will be covered in other post.
Had our breakfast which was Masala Dosa, me and my friend brought it from Dosa Plaza near in Infocity where we drove her scooty and I was actually reliving the moments of being the same road all over again and it was like I still stay there. Anyways, after the breakfast we took cab to Kalpana Square Bus Stop where we can get all the Buses to Puri/Konark.
Reached and waited, most of the buses were going to Puri as we wanted to go to Konark first and while covering Chandrabhaga Beach we can go to Puri where our Hotel was already booked. So, for our ease what we did is took an auto, though it will cost more than bus, but still we will have our own auto without any rush. There was one more girl with us, she knew we came for travel purpose and also not from this town, so she treated us like she knew us and was sharing information. People are actually nice in Odhisa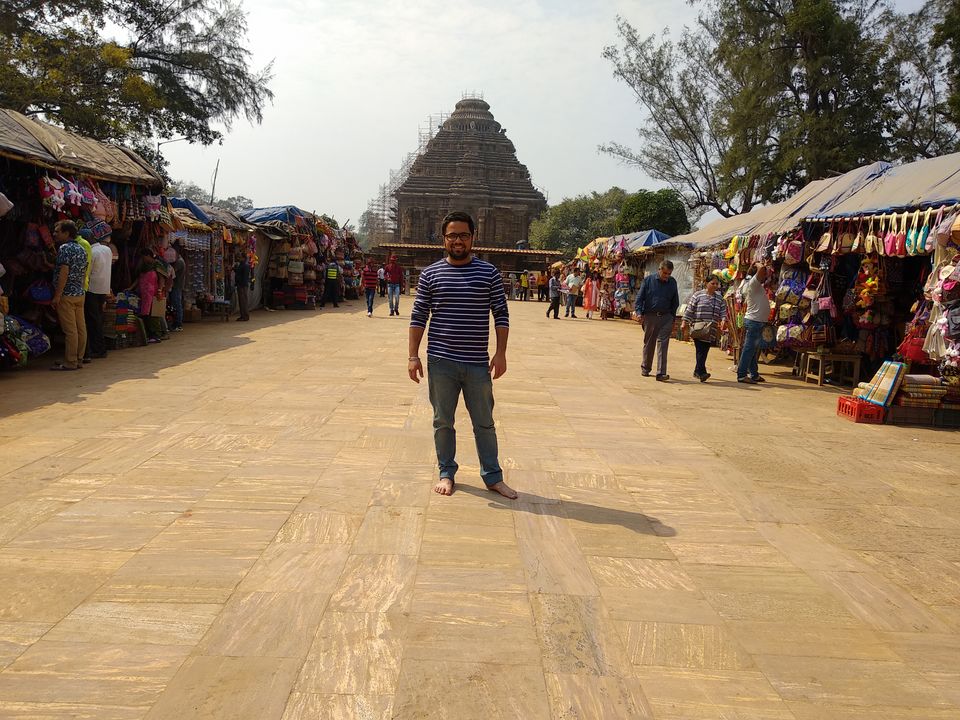 After an hour in which me and my mom were sleeping one by one, the girl stopped the auto to buy some sweets as she was working in Pune and going to her home, and also she bought for us well to taste the famous "Chena Jhilli" which looks similar to Gulab Jamun but made of Cheese, isn't that yum!. And few minutes later, She then wish us good luck for the trip and we reached Konark Temple after some time. In the meanwhile, where we decide to go to Puri by Bus, our Auto driver convinced us to take us to Puri in Auto itself with no doubt extra charge. I would suggest not go this way as there are options available to travel between Konark and Puri.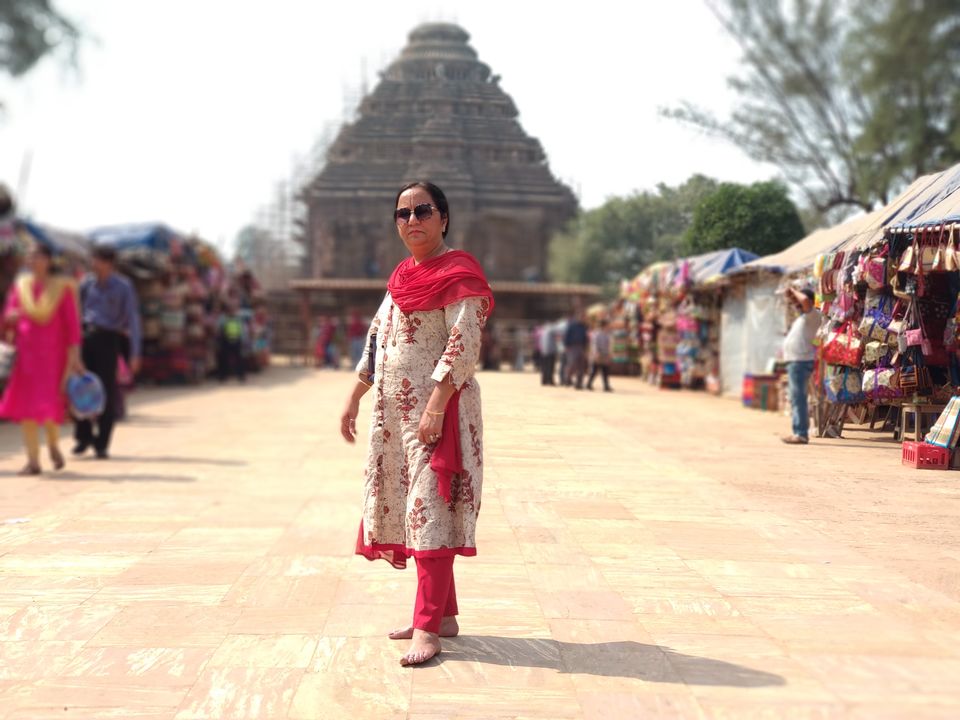 Bought tickets for Konark Temple Rs 40 per person which is not even worth it. I mean the place was amazing if you know some history of this Sun Temple and even if you don't know then I have written article on it and also posted a video on YouTube, you can check out, they are not in exact and complete but you can get to know.
Covering all of Konark Temple, basically its a Monument which was surrounded by greenery and various old structures made of stones, stories in the form of stones were carved on Konark Temple and every carvings tell a different story. Also, the monument was in construction, the purpose of the Sun Temple is not fulfilled.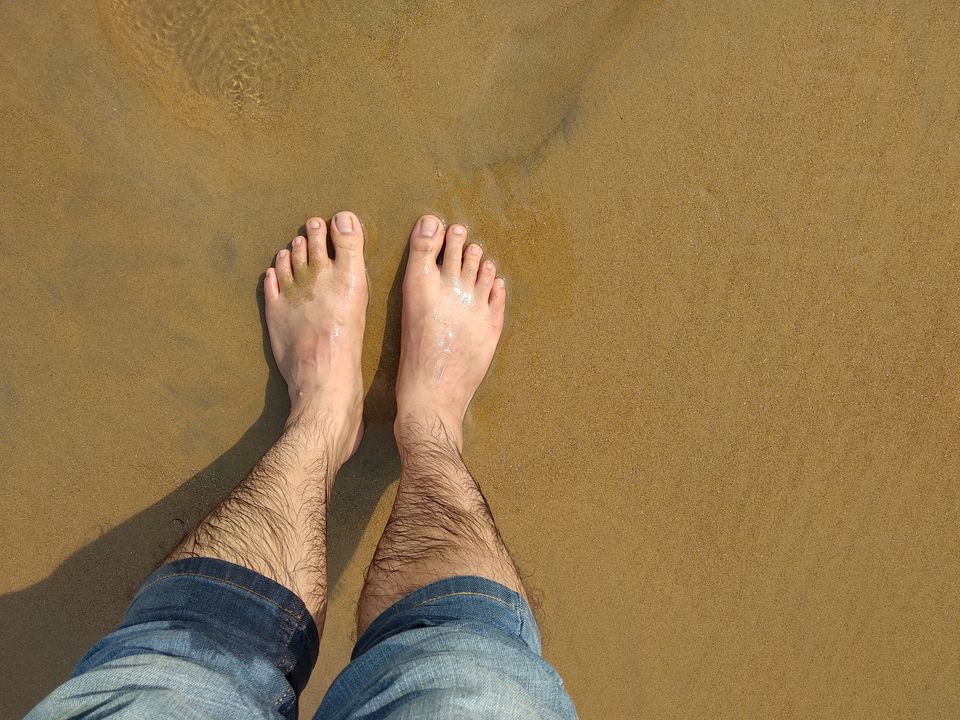 Later, we visited the most famous beach which is about 10-15 minutes from the Sun Temple, and oh my god, I have seen and enjoyed at a beach after like a long long time, although 3 years back when I visited Puri Beach, that was just to cover the place and was in hurry so I just enjoyed being there not even touched the sea and went back. Maybe because Beach was crowded.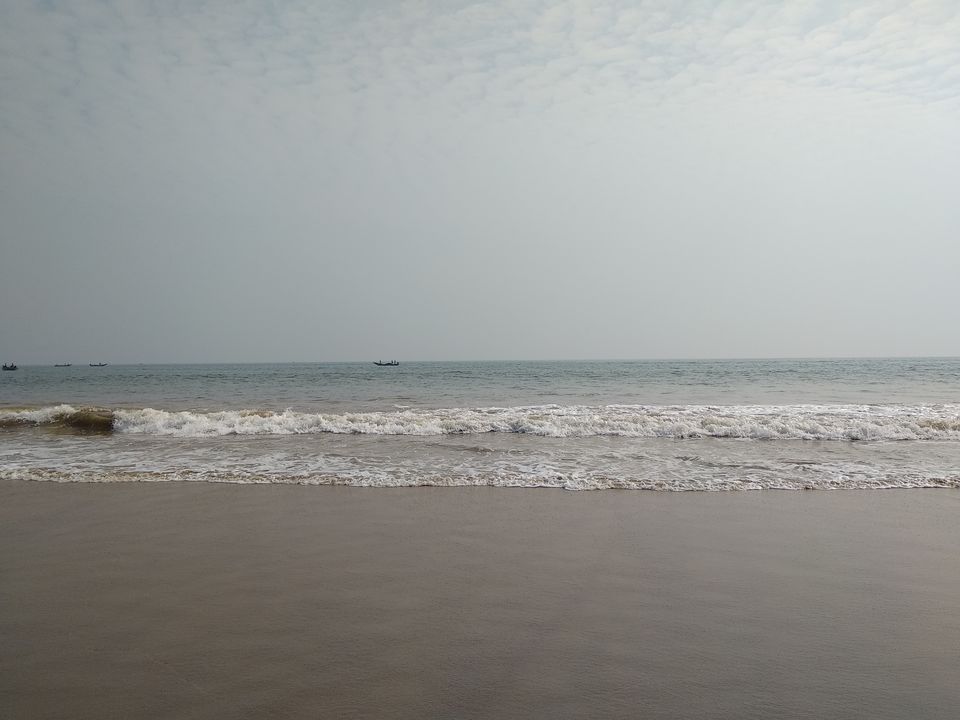 But now it was whole different level feeling listening to the sound of waves and enjoying when water touched our feet and thinking how deep and how far is the limit of this sea, The Bay of Bengal.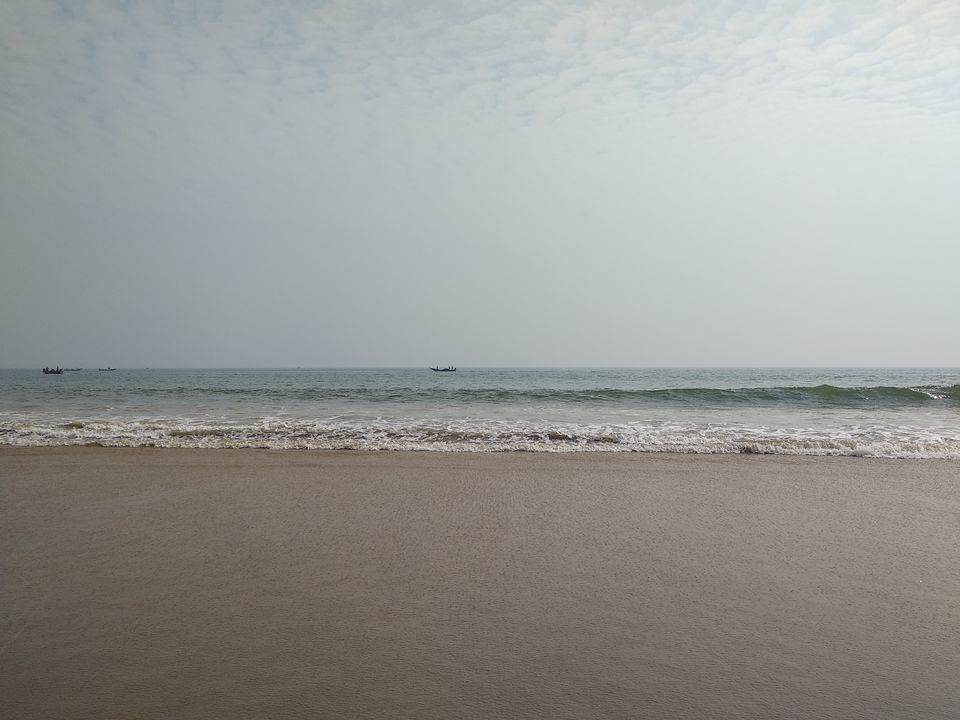 Video Calling our near ones, making video for V-Logs, clicking pictures, enjoying the sunshine and beach was so relaxing that we didn't wanted to leave, and so after like about hour and a half we left from there but the view from the auto was still amazing with one side trees and other side beach and water.
Well,1 hour later we reached at our Hotel, payed the Auto Wala Rs 1150 which I know is a lot but what can I do, I don't want to trouble my mother in buses and changing buses and auto. We checked in to Hotel Sapphire International, to our room and got freshen up, had lunch and few minutes later left for the Purpose we came.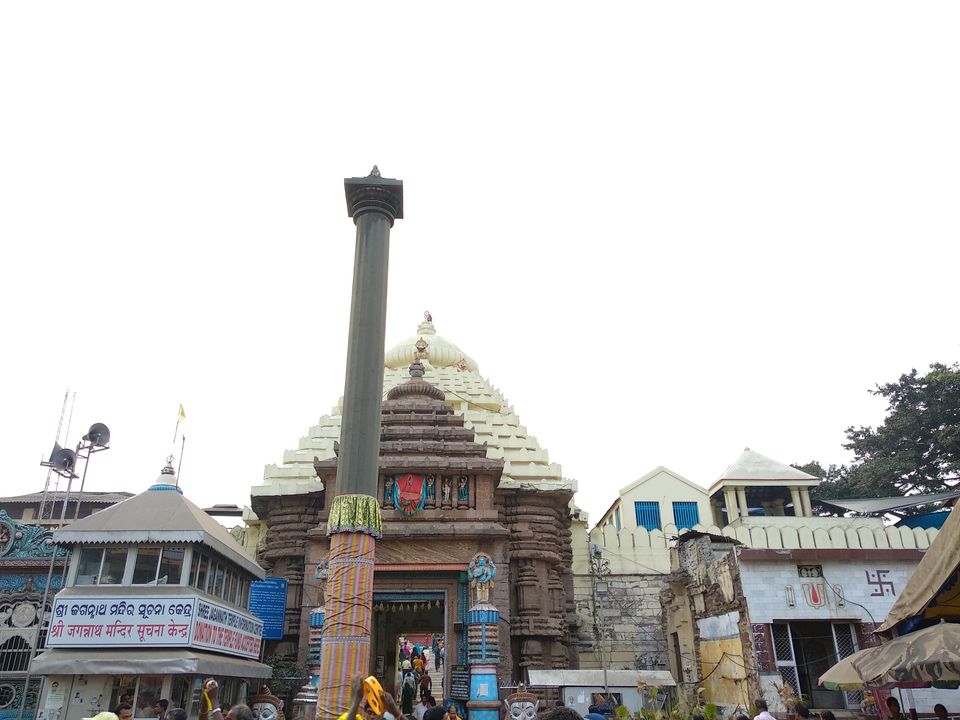 The Jagannath Puri Temple Darshan. Phones, Shoes and Bags are not allowed inside so you can submit outside the temple only at free stalls. After an amazing Darshan, my mom was happy and satisfied which was clearly visible on her face. We came out and collected out stuff from stalls, mom bought some thing from outside shops and also took some Prasad.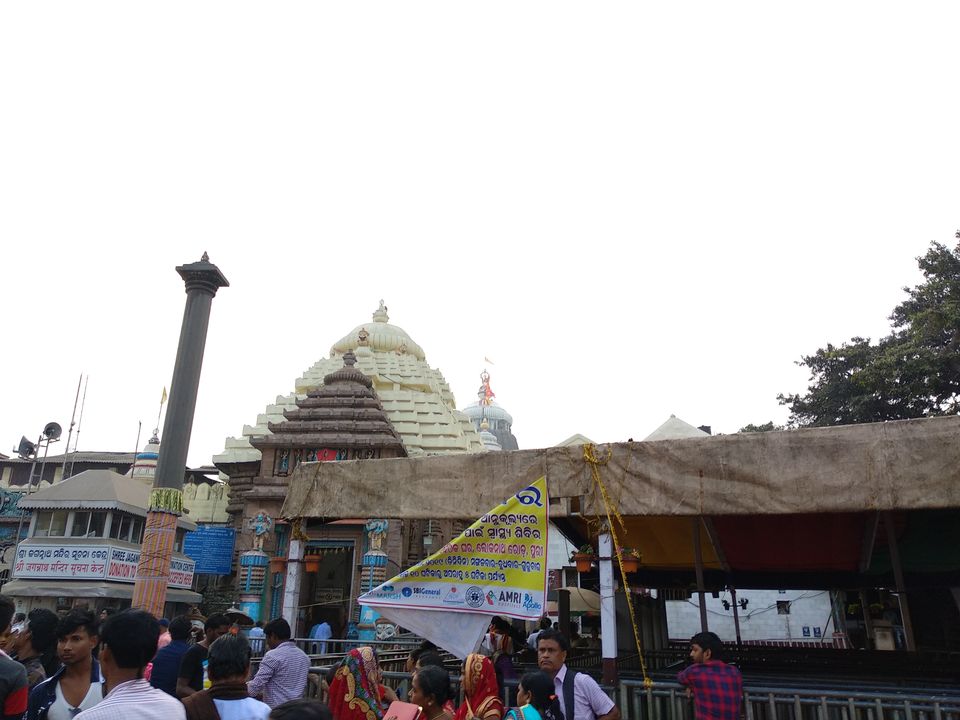 We then took Rickshaw and went to Puri Beach and by the time we reached, it was almost dark and as usual crowded, but we still enjoyed there as well, after which we went back to our Hotel. We did dinner early and came back to room to sleep. It was around 8:30 in the evening but we were tired and there is nothing much to do so we slept and also I had to wake up early so that I could record Sunrise in the morning and also we had check out of Hotel at around 8. So, this is how our Day 1 Ended.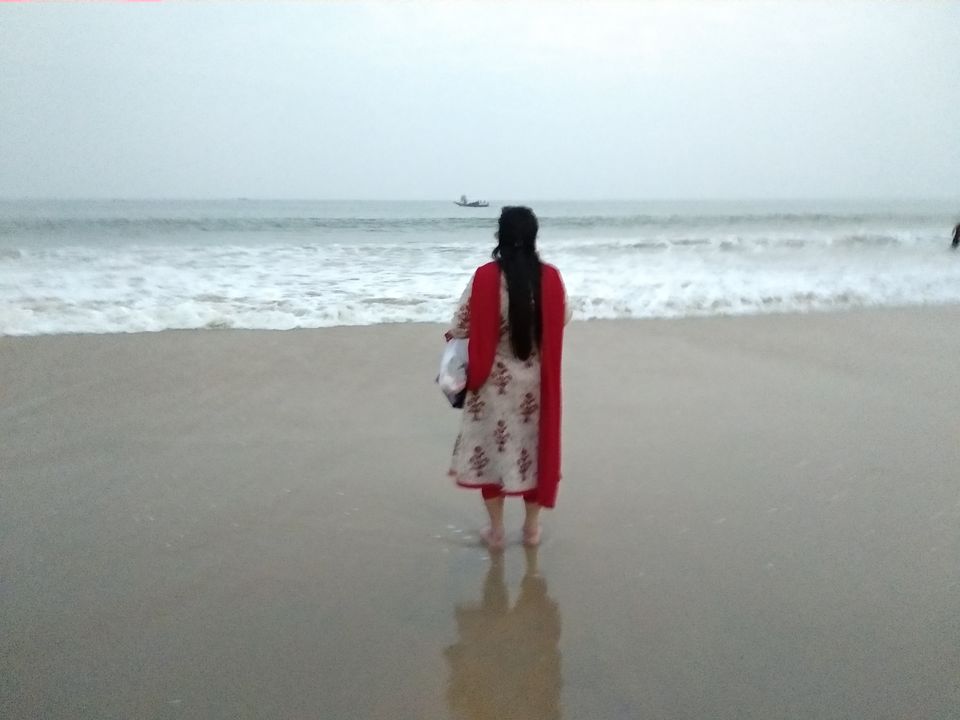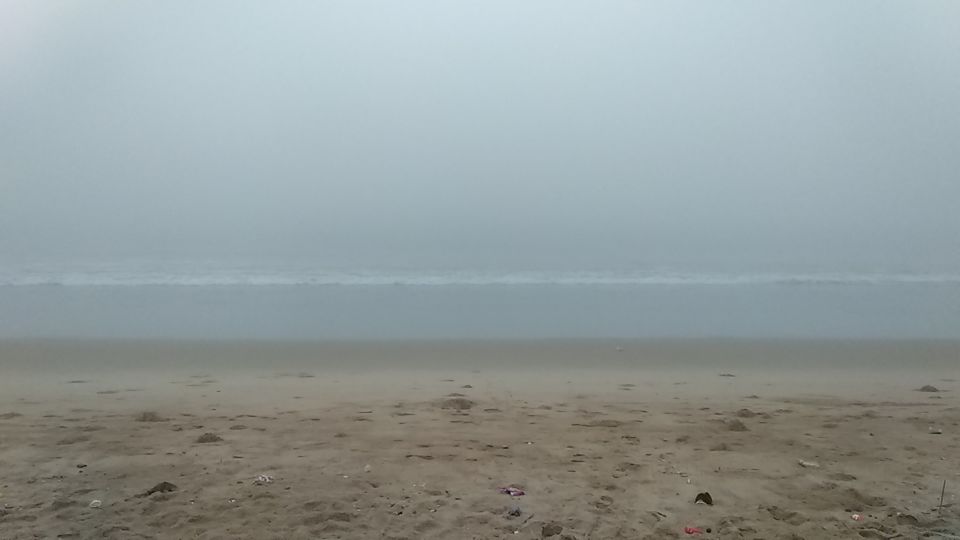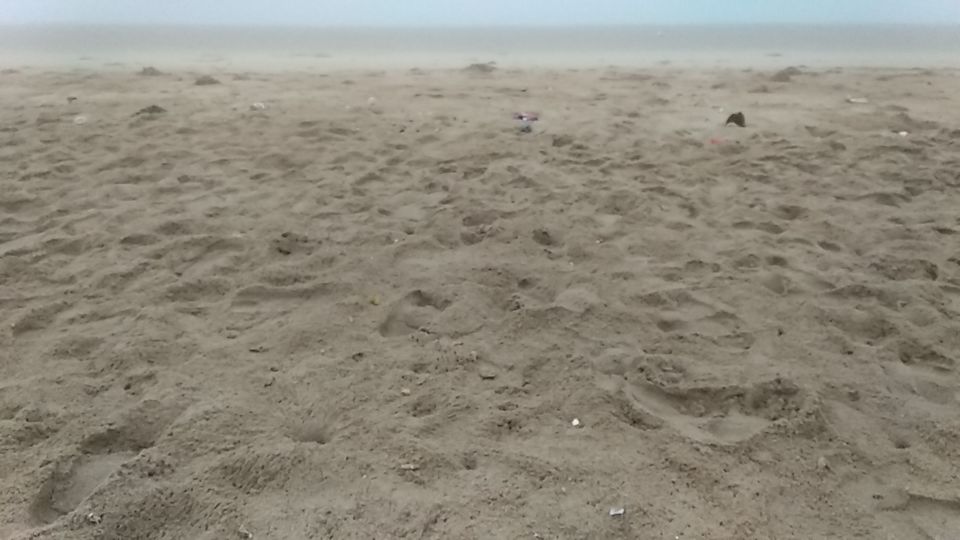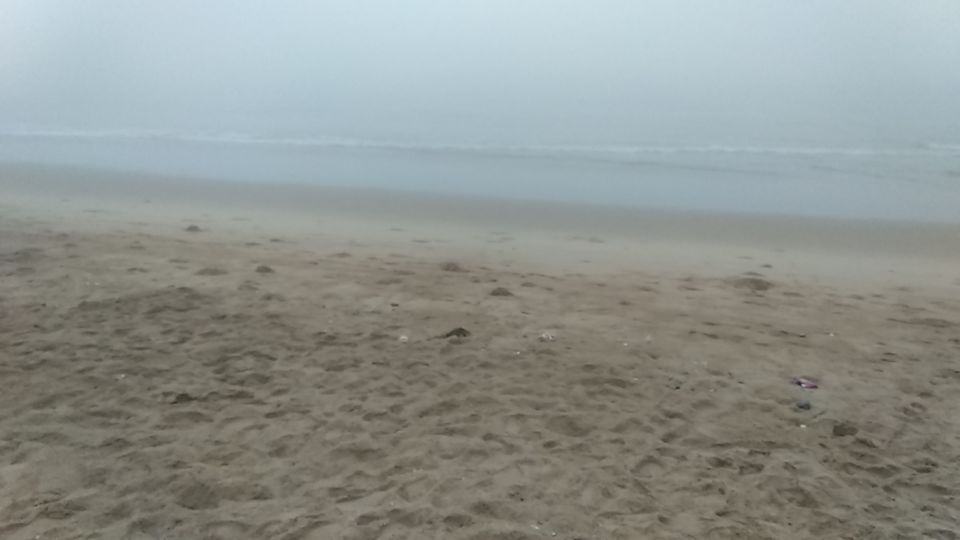 Woke up at 5:15 AM in the morning, it was a little cold weather outside and when we left our room at 6, what we saw is Fog all around the area and sea beach as well because we went to beach which is just 2-3 minute walk from the hotel. I booked this hotel because of this reason only but the mission failed because we waited at beach for about half n hour but their was no change in the weather, and there was no chance that the sun will rise in next half and hour but we had to check out at 8, so we came back to our room, rested for a while and later got ready and checked out successfully. Last part of the Hotel was Breakfast which was free, Yayy!. So, we had our breakfast and Uttapam, Poha, Upma and coffee and left to Puri Bus Stop.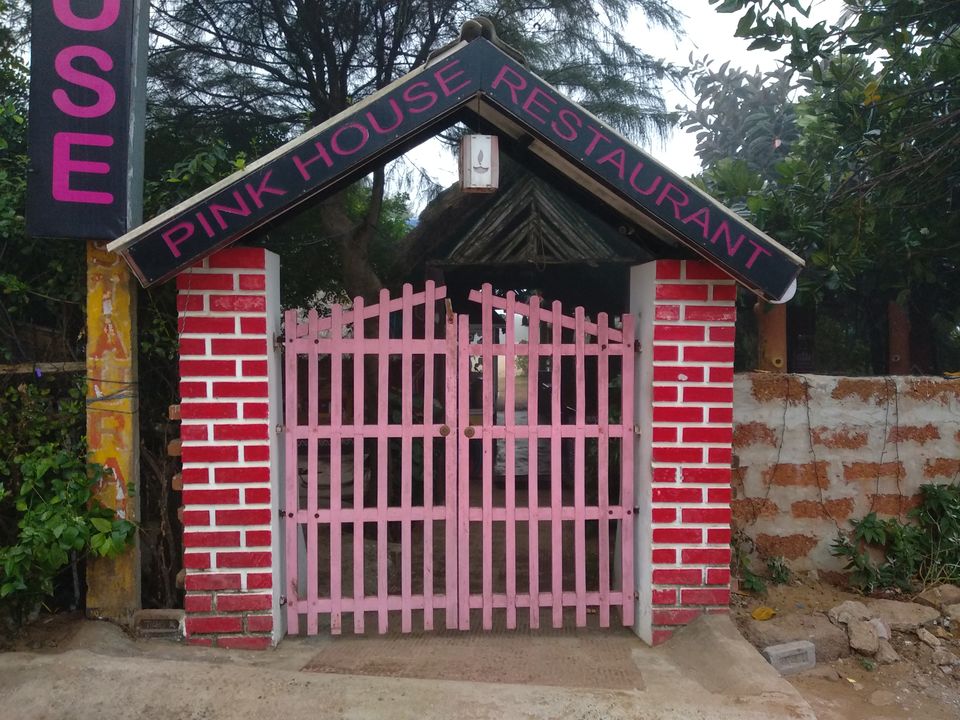 One thing I would like to add, that's obvious because its a tourists place but still I would like to say that Auto and Rikshaw Wala's charge hell lot of money to travel a short distance, even after reaching Puri Bus Stop, we had fight with one Auto wala as he misheard the amount of money I offered him, but at the end I gave him the right amount not what he said neither what I said.
Immediately we took Bus to Bhubaneswar which costs 50 per person, now see the difference we paid to Auto Wala last day, anyways that was my choice, I just wanted to tell Auto Wala does not charge the right amount there.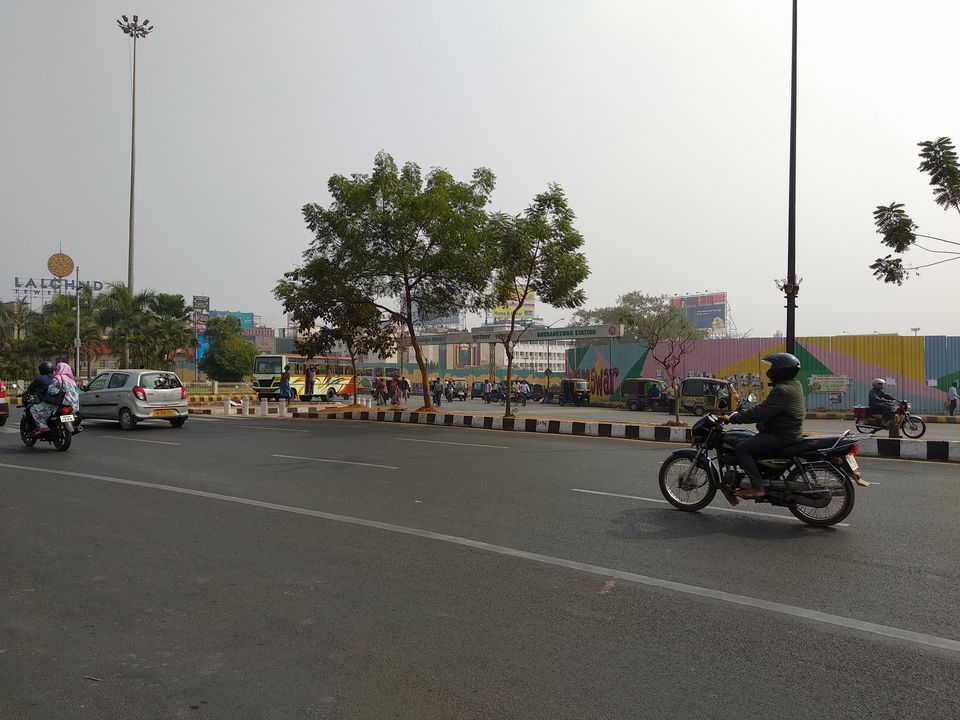 After about 1.5 hours, we got down at Bhubaneswar Railway Station and the took a Cab to 3 years back, where I spent my heart out freely and that place is still one of the most memorable place of my life which I will never forget. Some people are so fond of few places that they want to convey to their loved one and I always wanted my Mom to know all these.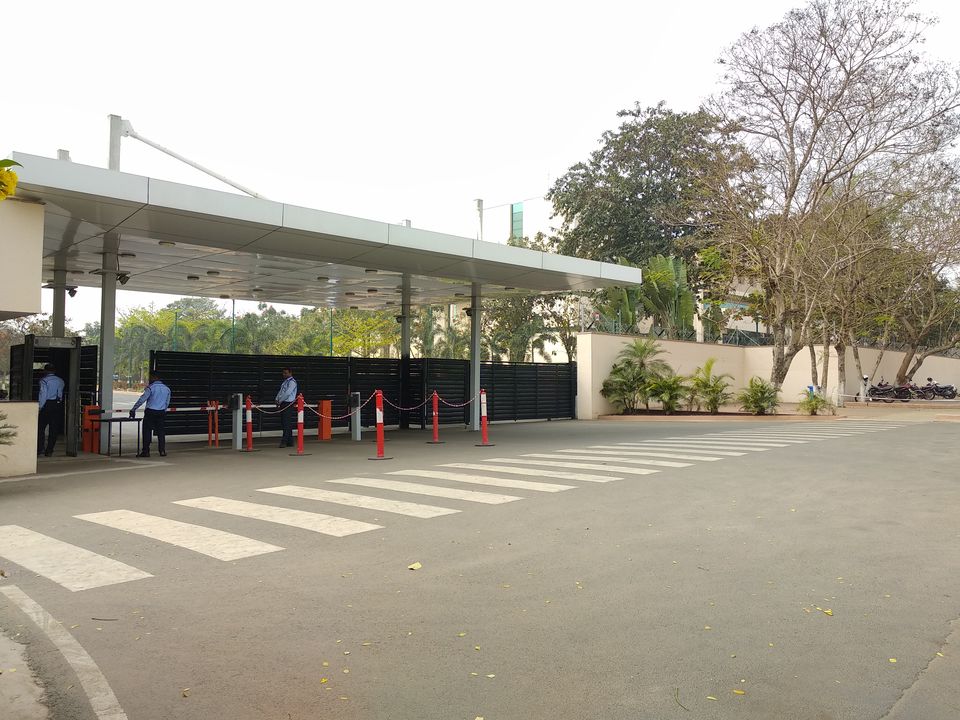 Before reaching when I was V-Logging, I told that this could be nostalgic moment for my friends who watches my Vlogs. And here we reached Infosys Bhubaneswar Infocity, Patia an My O My, this place, the entrance, roads outside, the small walking lane everything was in front of my Eyes and feels like I have been still working here. Few minutes later my friend came and helped us getting inside as she still works here.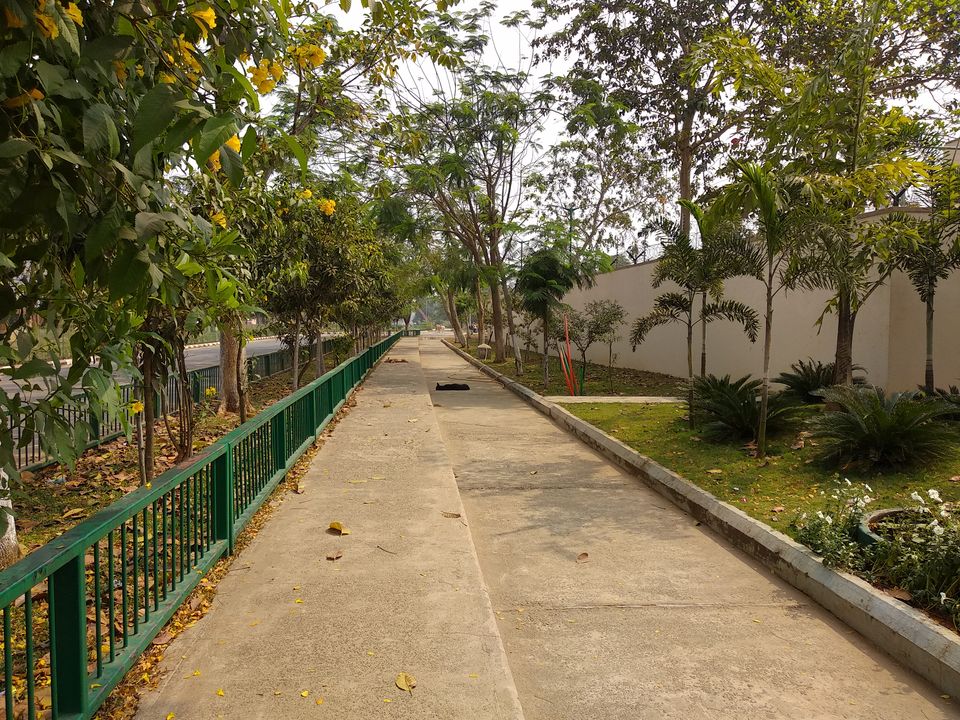 Took our Visitors Pass, Scanned our Bags and here was it the most beautiful Entrance of most beautiful place. As we entered, I noticed more greenery than before, more plants and flowers and the building where we got trained was renovating but roads were still the same, I was recording everything although few parts like inside training building where I was not allowed my friend recorded everything.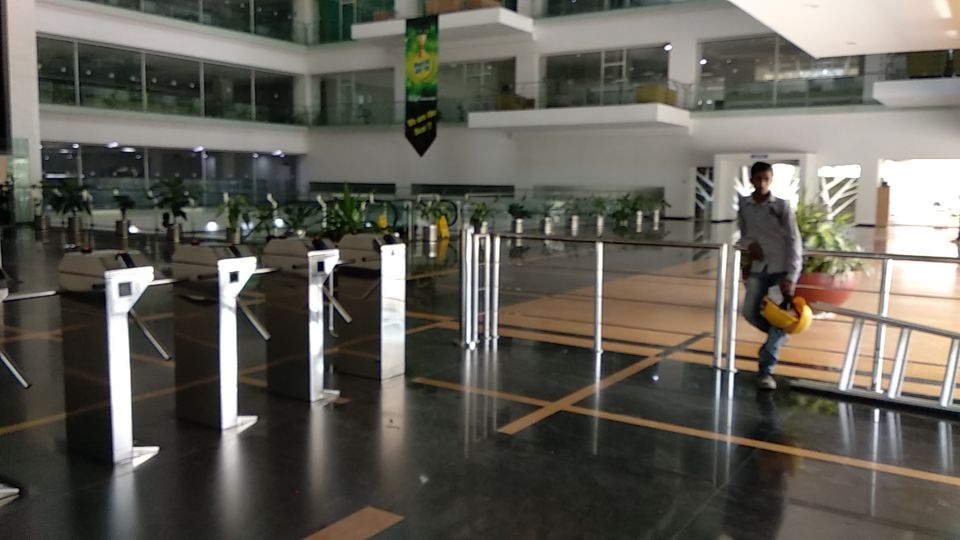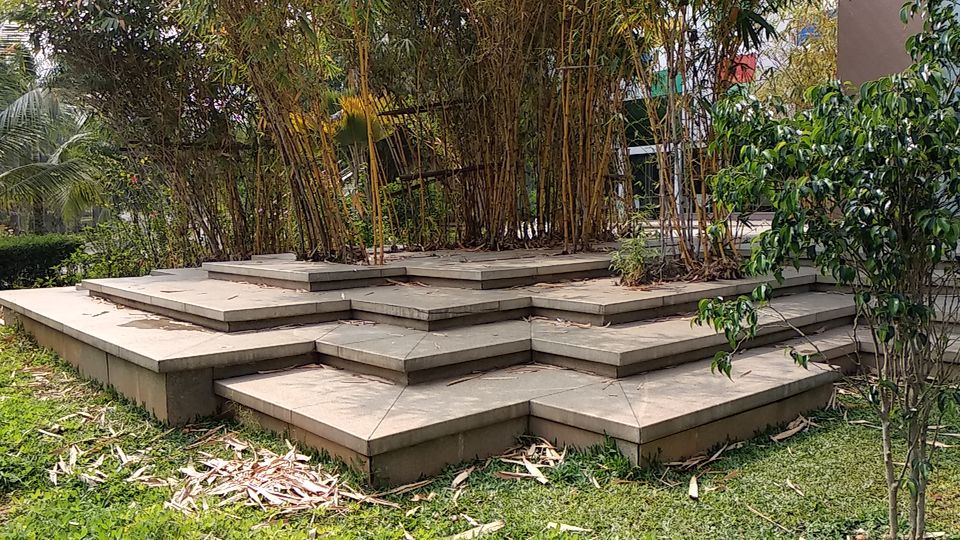 We then visited Food Court where we spent eating our breakfast in hurry to eating Upma and Tea late night after studying at 11:30 PM, and I again relived the moment of enjoying my Tea from famous MDP. There is a lot more in the campus to see like Machu Pichu, Hostel, GYM, Swimming Pool and alot more but I won't write as I have already made a V-log on the same. So, kindly watch it. Also, if I get right time. I will right about it.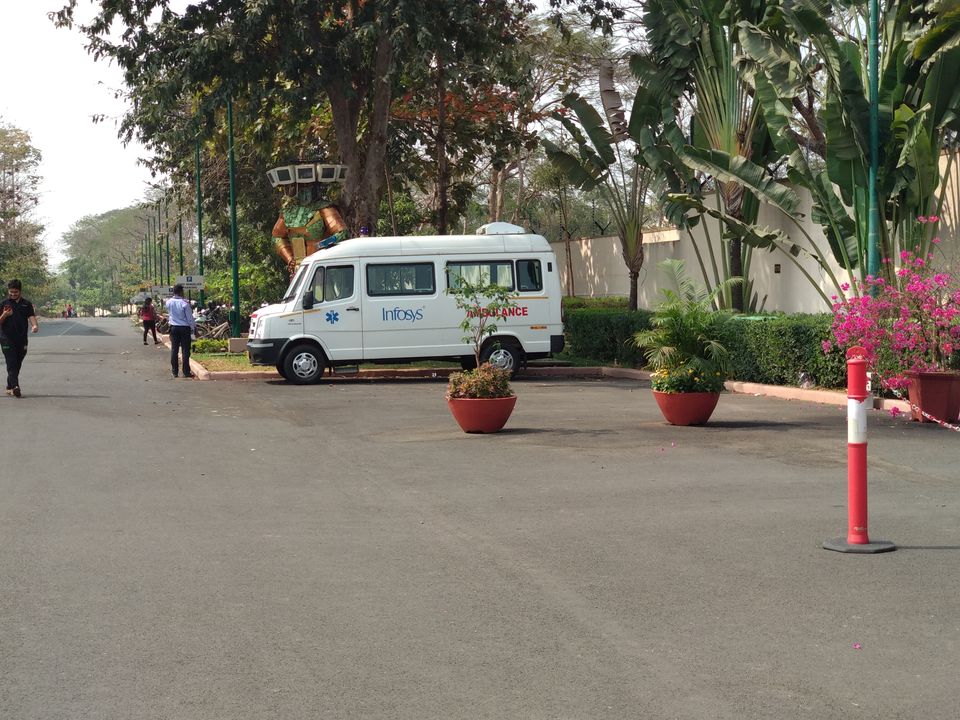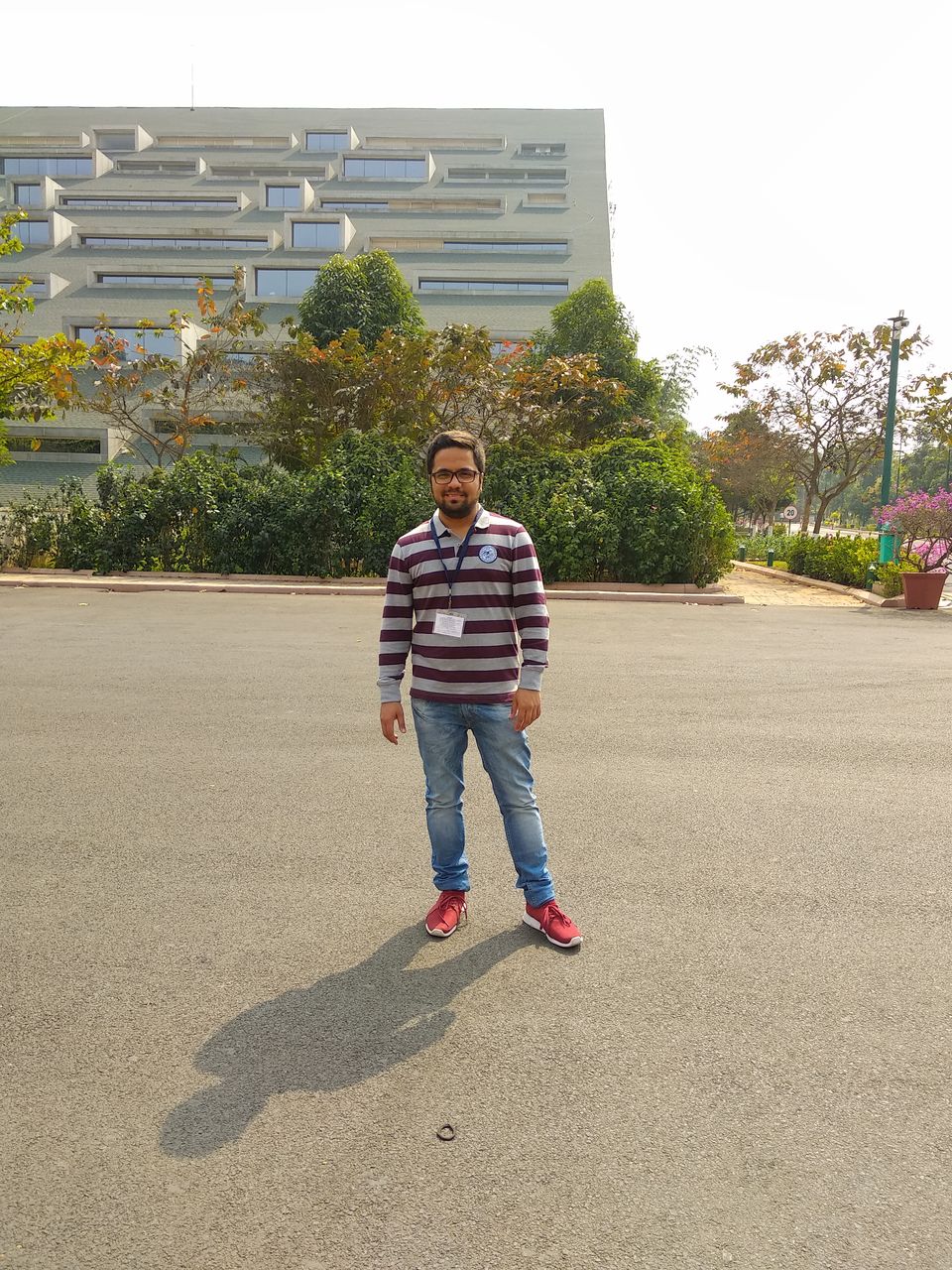 After having 1 hour campus tour, we then came out with same feeling when I was leaving and going to Chennai 3 years back. Anyways, we had our lunch from silver spoon. Although we decided to go 99 North, famous restaurant there. We had memories there also and many restaurants nearby.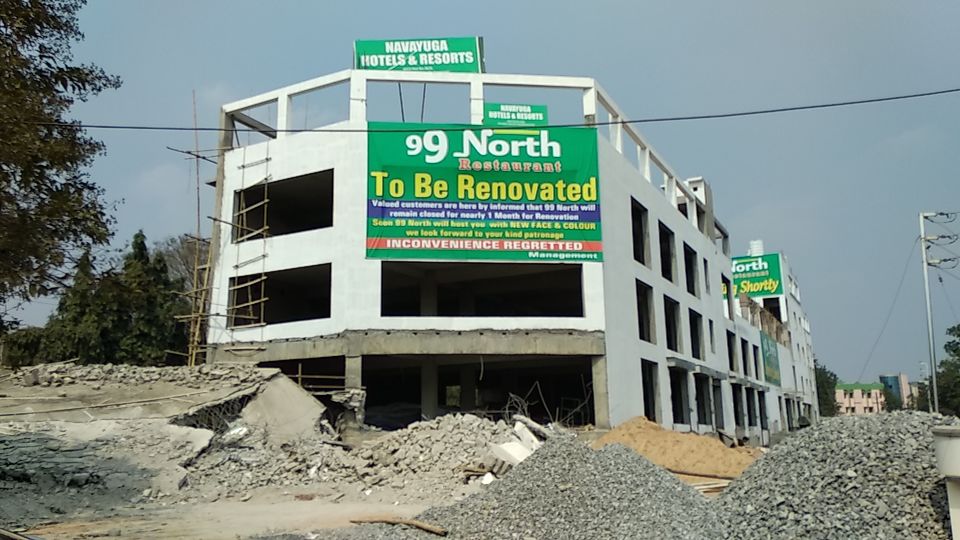 After Lunch we took a Cab and when to Market Building where Mom did petty shopping and near to the market building we bought some famous sweets "Chena Poda" & "Chena Jhilli" but we kept with them only in refrigerator. Till the time we went to Lingaraj Temple. Again cameras and mobile devices were not allowed, so kept outside and did Darshan. While coming out of the Temple one Pandit Ji crossed our Path and forcing us to see one Statue of Sun God (Surya Bhagwan) amd actually that statue was Smiling face. He was forcing us to see because that statue with smiling was made a long back when magic hands created these Statue. Nowadays, you won't found statue like the one we saw. Also, he told us story of Lingaraj Temple, Temples of Bhubaneswar, Jagannath Puri Temple. He was so knowledgeable and he was not even asking for any money like other ones.
We then came out of the temple searching for Auto, saw coconut water. Mom and my friend had one each and then we took auto to the same sweet shop, took our sweets and then direct to Ram Mandir our Last Stop. The cameras were allowed there but unfortunately I recorded everything in Time-Lapse mode which was of no use. Left from there, we came to my friends house where our Luggage was there, I also wanted to take my mom to Sai Mandir near to her home only but we were tired and also, getting late for flight.
Reached there, had tea and Pakodas, which we bought while coming back. Packed our unpacked stuff and after half and hour bid good bye to my friends left from there to the Airport. I would like to say again that A Big Thumps Up to my friend who helped us a lot. Giving Accommodation, Getting entry to campus and traveling with us all over. Thanks to her! really.
I was feeling a little off as I was leaving this place again but even I could do nothing. My saying is "A Place or Anything Becomes a Memory only when you're back to Home". We reached Airport around 7 45 PM and did all the check-in procedure. Finally, passing the last security check and we were free to explore BBI Airport which I know has nothing but few shops and we actually bought some clothing from D&J a brand from Big Bazaar Fashion.
Ending up my V-Log there itself we boarded our flight, had dinner and slept for an hour till we reach Delhi. And this is how I ended this Beautiful Trip. Next Day was Sunday so we could rest.
FOLLOW ON BELOW SOCIAL MEDIA for MORE UPDATES
Frequent Searches Leading To This Page:-
wildlife tours of Orissa, Bhubaneswar Puri & Konark tour package, puri to konark distance, family tour of odisha, road trip from puri to konark, weekend getaways from delhi