"When life gets tough, the tough get going." That's the saying, isn't it? For me, my philosophy sees slight echoes of the same - "When life becomes seemingly lame and boring, Disha likes to get the heck out of the monotony and go somewhere new." In a nutshell, I am restless; restless when I'm in the same place and doing the same thing for what seems like far too long. At the onset of the New Year, I promised myself that every month I owe it to myself to take a short break - a weekend away from Delhi, if nothing else. While January was full-fledged, with trips to Coimbatore and Bazpur (that I will blog about at another date), February was lacklustre, with work pressure mounting and my nerves fizzling. Salvation and momentum to keep going came in the form of a mini break planned to Jim Corbett National Park from March 18 - 22.
Located in the state of Uttarakhand, Jim Corbett National Park, named after the legendary tiger maneater hunter, is the oldest national park in India. I'd already had the pleasure of visiting the park twice since my time in India and - humble brag alert - spotted a tiger both times. But as they say, the people make a place and this time I was travelling with some very special friends for days of raving, relaxing, and rejuvenating, as opposed to wildlife watching - to which I will till date say, sorry not sorry.
Four of us left Gurgaon at 5:30 am, but our estimated journey time of six hours was foiled even though we managed to avoid the infamous, chock-a-block traffic that is synonymous with Ghaziabad. The reason? A seemingly never ending 50 - 55 km road from Moradabad to Kashipur. Seriously, it was all fine and well while it appeared to be a 'fully functional state highway', but of course, hopes and dreams were shattered when it gave way to a pseudo dirt road that went on and on for over two hours. I shouldn't complain because it finally did come to an end. My takeaway from that experience? I now know what bobbleheads feel like.
We changed cars at Ramnagar, the closest 'big' town to Corbett, when Keerat, our fifth compadre (and my canim/awesomesauce person) joined us. Saying we all breathed a collective sigh of relief when we reached The Den - our home for the next two nights - is the understatement of the year. Our first day was one of relaxation - big time. From The Den we took a three minute drive down a secluded path which was just about wide enough for us and us alone. We found ourselves on the beautiful, boulder-y banks of the Kosi River and that was when I pretty much lost it. Why, you ask?

I'm a big time water baby who loves to be in and around water. Growing up a stone's throw from South Beach, Florida may have had something to do with my fascination for water. Show me a relatively clean, shark-free body of water and I'll be dunking myself in in seconds. That, my friends, is precisely what happened when we got down to the banks! My momentarily cautious self was flung out of the window as I walked into the Kosi and sat down. It was perfection - not too cold, not lukewarm; just right. I more or less managed to convince the rest of us to get their butts wet while I literally floated down the river. For anyone who was worried about me floating away into the distance and/or cracking my skull on the way down, I was able to assure them that my entire self is a more than sufficient flotation device, cushioning me from the rocks beneath. Junk in the trunk, amirite.

I'm not one for capturing too much of nature but rather the beautiful people within it. So for anyone who was expecting photographs of sprawling green hills and sheep and meadows and what not can slowly walk away right now. Instead, here are the beautiful subjects that matter to me more than any tree or river could (...which, I understand, is slightly difficult to believe given the depth to which I professed my love for water bodies.):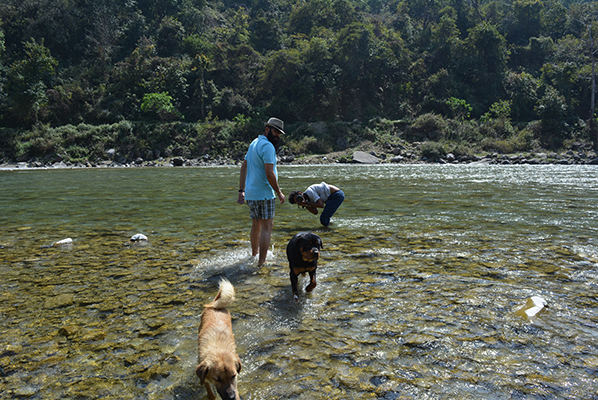 Who let the dawgs out? There were three furry beasts prancing about the banks (and no, that reference does not include the two handsome men in this shot, before you ask). Super cute and friendly. The black one in particular looked like a dream that I wanted to snuggle with. Just saying.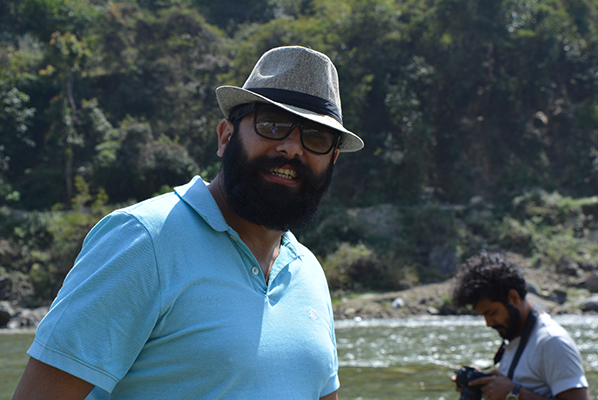 Dudes Being Cool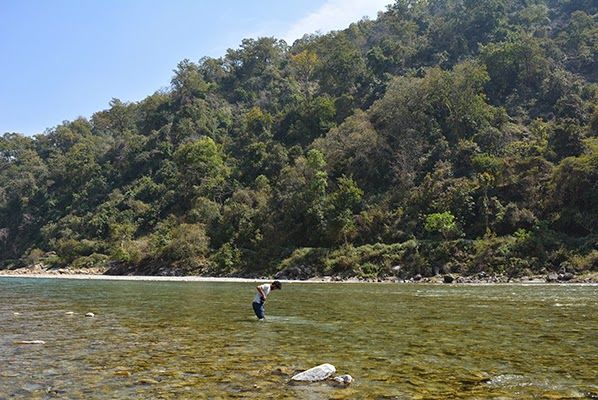 If you're around Shava/Rawat/Ashish when he's taking pictures, you'll have the pleasure of observing all the crazy angles and positions photographers contort themselves into to get that one perfect shot.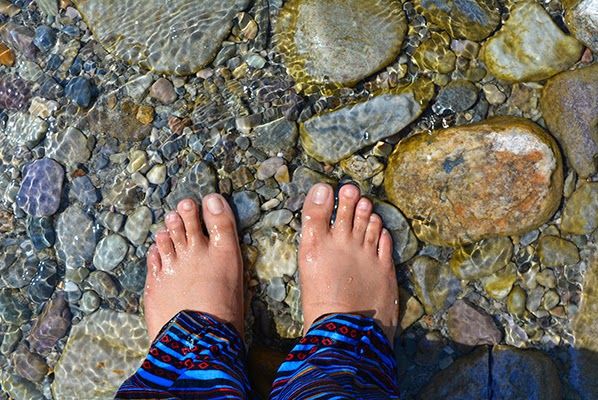 You'll see a lot more of feet/shoe shots. It's not a fetish , okay. It is a Disha specialty though.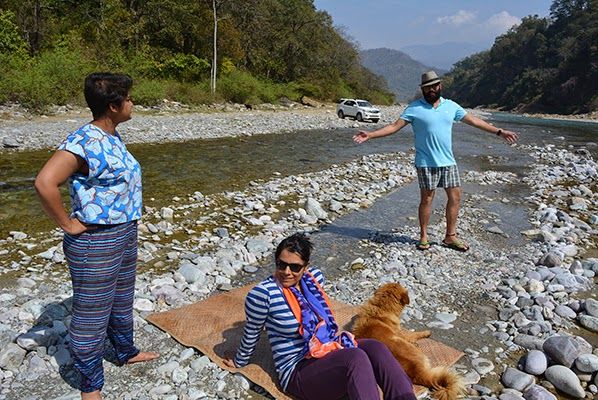 The only flipside of pretending you're the Little Mermaid is that one's honour has to be protected when their beautiful pants split down the middle. Curse you, rocks. While a raging Triton was not around, foresight ensured that there was a spare pair of boxers I could quickly change into before resuming my much loved position.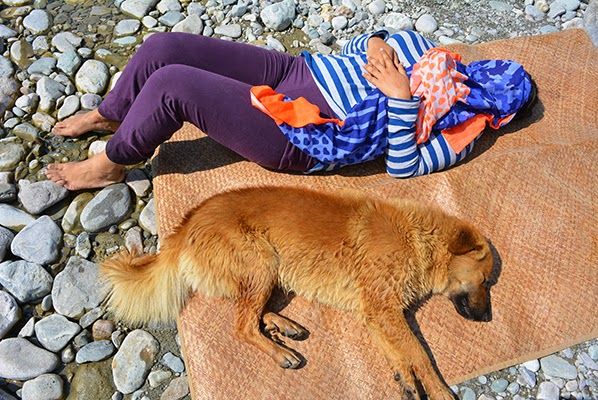 Casual sun bathing (or not).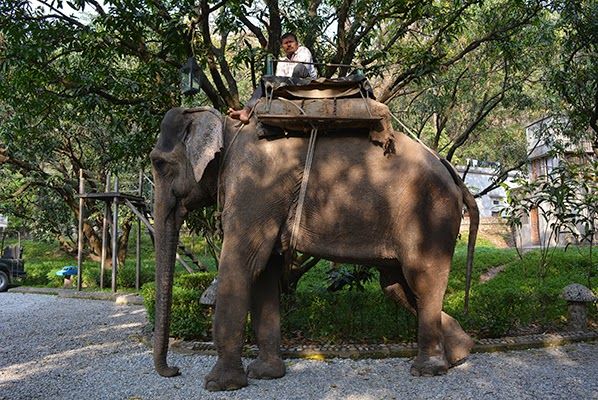 Meet Pawankali, who so kindly ambled around the Corbett buffer zone with us on her back. I've been told her name roughly translates to 'flower of the wind'. While this is currently unverifiable, I'm going to go with it because it's beautiful. I'm not going to lie, I was jealous of Pawankali; jealous not because she had six lumpy humans strapped to her back for two hours but because the world is her bathroom. For someone such as myself whose biggest fear during travelling is finding a potential bathroom/bush, Pawankali is living the dream.
Obligatory selfie from on top of Pawankali using the twisty viewfinder. What a great feature it is.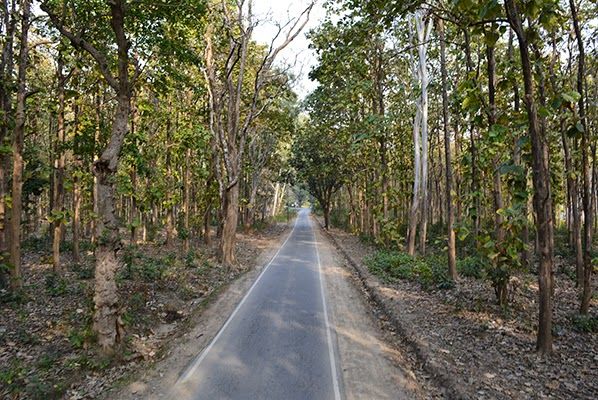 This is the one and only photograph I have of the two hour 'safari' we went on because I'm irresponsible and happily assumed I had enough battery to last me the day. Wrong. Kids, never assume your camera is charged because it probably isn't. Now enjoy this token picture of trees.
One solitary blog post is hardly enough to encompass all the feels, moments, and good times that we had. This paltry post was just the start of many more to come. Stay tuned for more, much more from my time in Corbett and thereafter, Kasar Devi. You can be assured I'll bombard you on as many social media platforms as I possibly can to keep you coming back for more. Love is there!