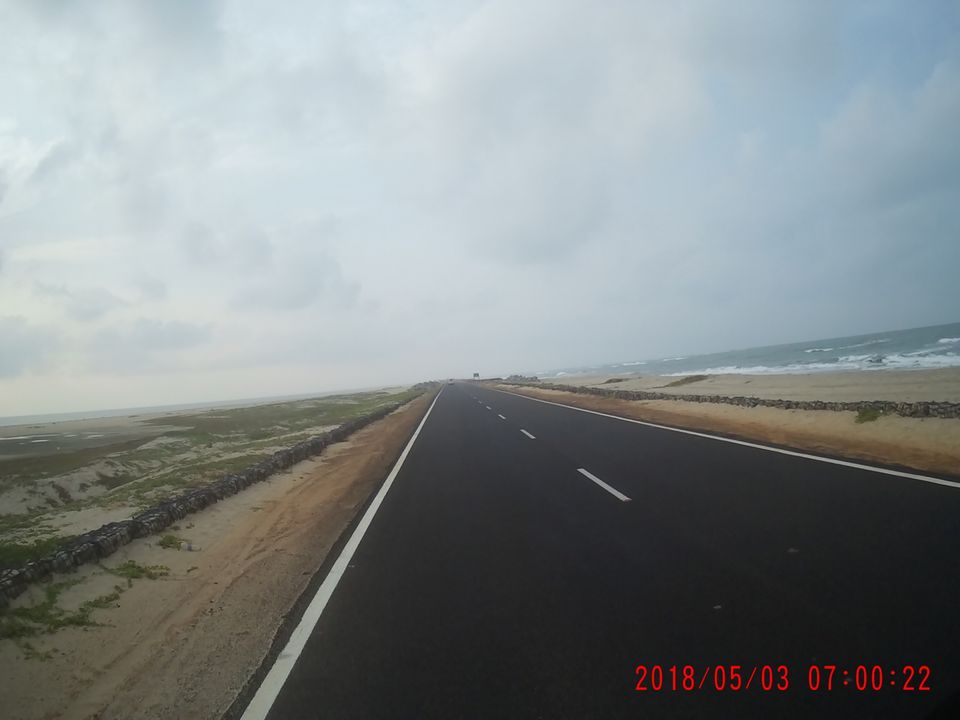 Now a days reading many travelogues resulting in addition of some good places in my bucket-list. And from past one or two years the list kept getting bigger and bigger. So I decided to target atleast one from it, in my upcoming holidays. My wife decided to travel to her hometown in south, so there I grabbed my opportunity and I decided to go for solo bike trip.
Considering all situations, North India was not feasible in 5-6 days so radar was scanning some places from south-India and finally got locked down to Dhanushkodi, The ghost town, Dhanushkodi: as per the mythology, from this place lord Rama traveled to Srilanka and brought back his wife, Sita.
(But i was not in mood to do the same in my trip ☺️)
Though my destination was decided and planned but the trip was not... ☺️ There were some eyebrow raised questions for me:
Weather -summer and in south india?
Solo travel and that too on bike?
Why not some short trip?
Is it Safe place? ( @@ Being Indian I really hate this question..Yes India is safe to travel )
----
But anyway as per promise to my wife the plan was to stick with cruising speed of my RS200 along with all safety measures. And I left Pune around 5AM. Target was to cover 800+ km and try to reach as close as possible to Bengaluru.
I am from Konkan, so familiar with NH4 upto kolhapur. And definitely to trigger my escape velocity for this solo trip, i had to cross kolhapur. With frequent breaks, my major stop was at Goa ves hotel, Nipani.
My next break was targeted close to Hubbali which i managed and Bengaluru was looking in sight.
Hopes to reach Bengaluru by evening was continuously fluctuating due to the hot weather which was reducing my average speed further.
But once it was 5PM i tried to stretch to drove nonstop to reach Bengaluru by 7PM.
Looking at the clock my greedy mind was insisting to stretch further. But I opted out,because unavailability of staying option around bypass. I quickly had meal shortlisted hotel Blue Bell( got quite good deal with ac room to have good rest!)and called off for the day with 500+kms closer to Dhanushkodi.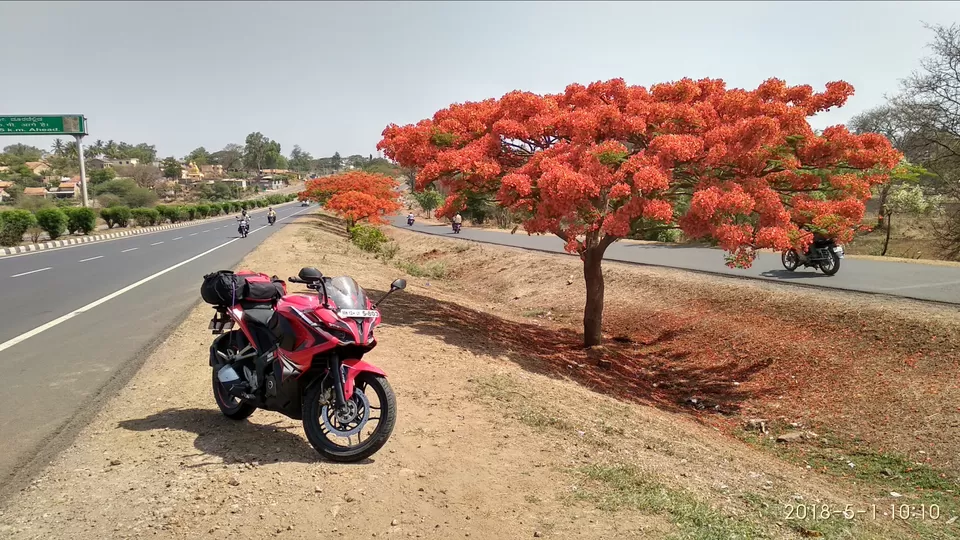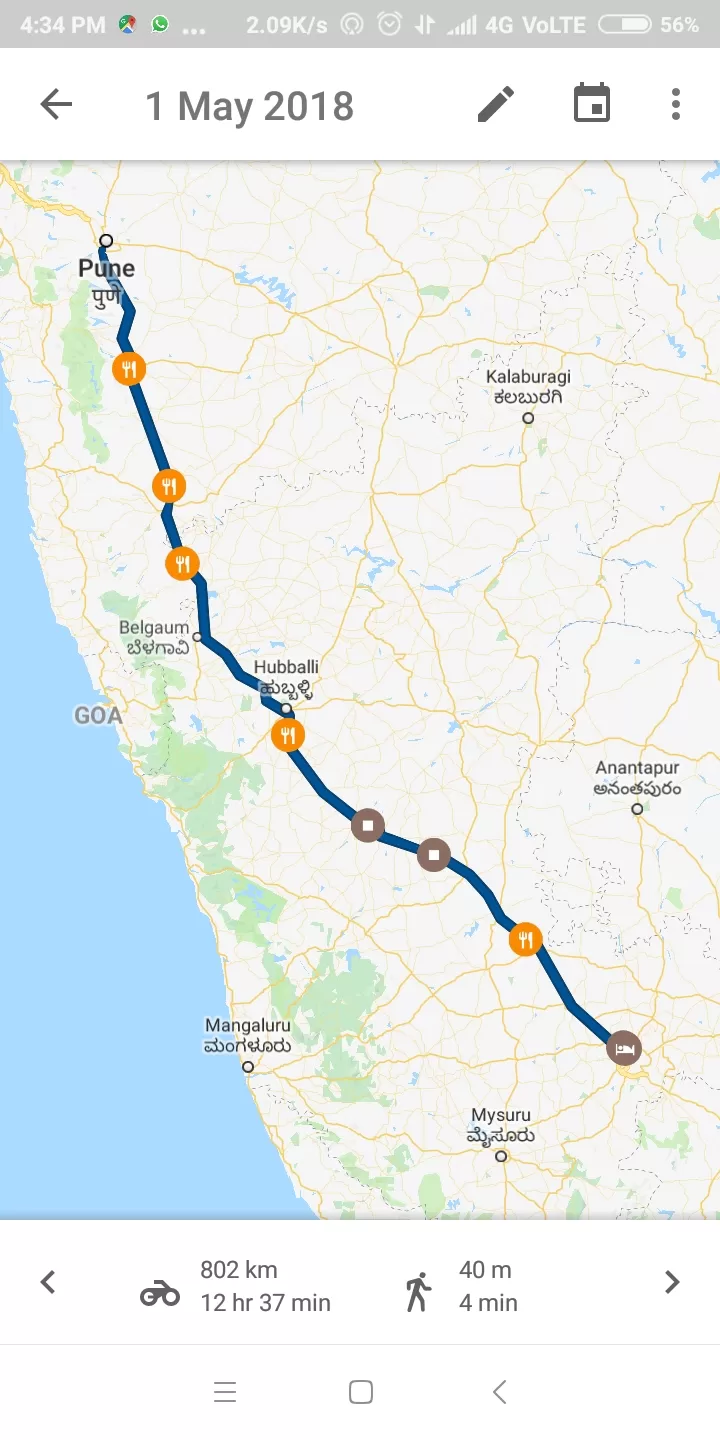 As per plan "wake up early, leave early" day started at 7AM, but got delayed since I was waiting for free breakfast...☺️(greediness again ). Anyway after having Idli-sambhar , my bike started towards Tamilnadu.
Earlier day NH4 smooth ride raised my expectations for my next destination and it began well.
Upto half point, Till SALEM it was good, but it started becoming dull/hot while moving besides Cauvery river, Trichy. Dry place makes bike-driving uncomfortable. This was expected in the May month. But it was also making things difficult to cover the remaining 200-300km. By now my body had adjusted to bad roads and I started to countdown for the remaining kilometers.
As soon as Ramanathpuram got closer, my mind started to ignore the ride discomfort :p
Since it was getting dark I skipped Pamban bridge stop and started to search hotels in Rameshwaram.
My first impression was due to holy places and other similar background the place is yet to be known for tourism, which makes it little difficult to find Budget rooms to stay and quality food as well.
Somehow i managed to find hotel with non AC room after much bargain at a cost which was for AC room in Bengaluru ????. No matter what I booked for the stay, was excited for tomorrow.
From the time I was in Tamilanadu, i was finding it hard to communicate with locals. By now I was using sign language and some keywords in hindi/English to communicate.
Somehow I preferred local food as I was not in mood to try north Indian dishes in South. One of the tasty dish was Iddyappam.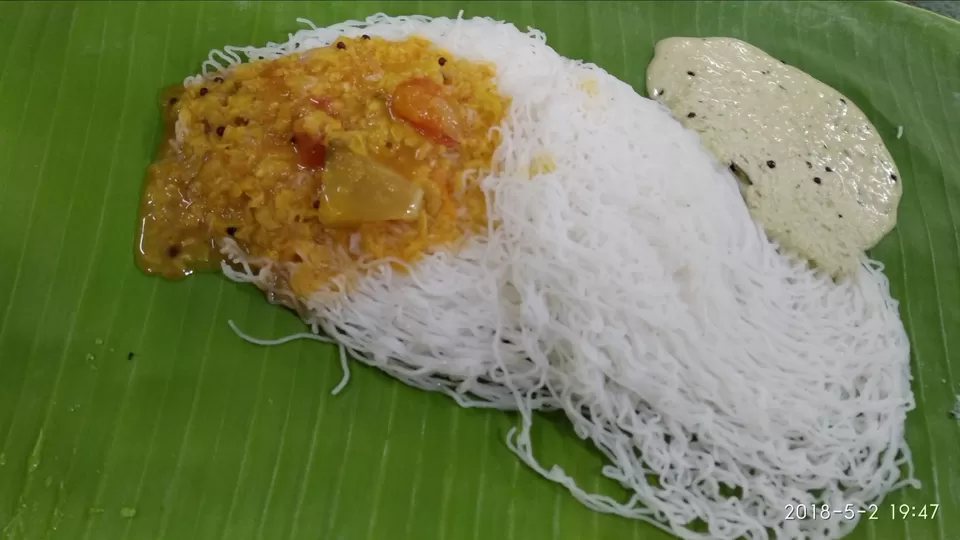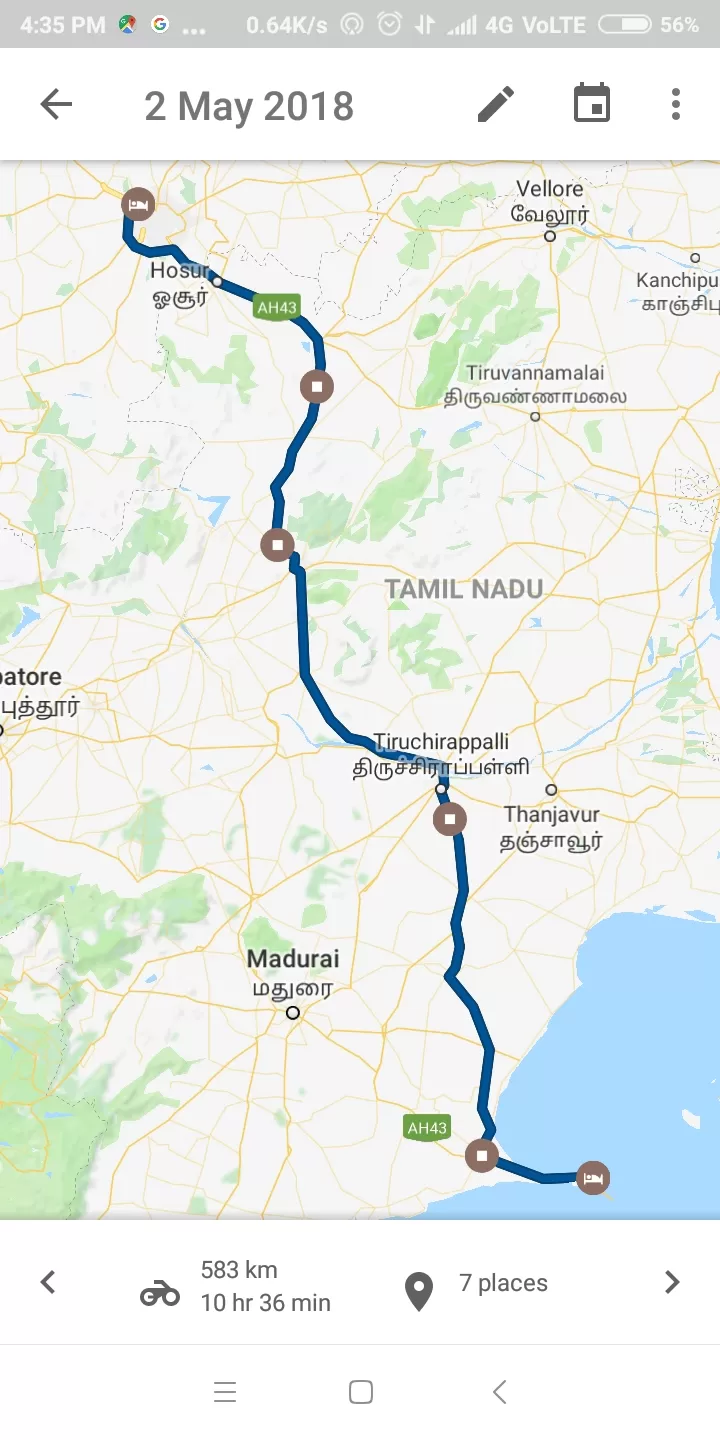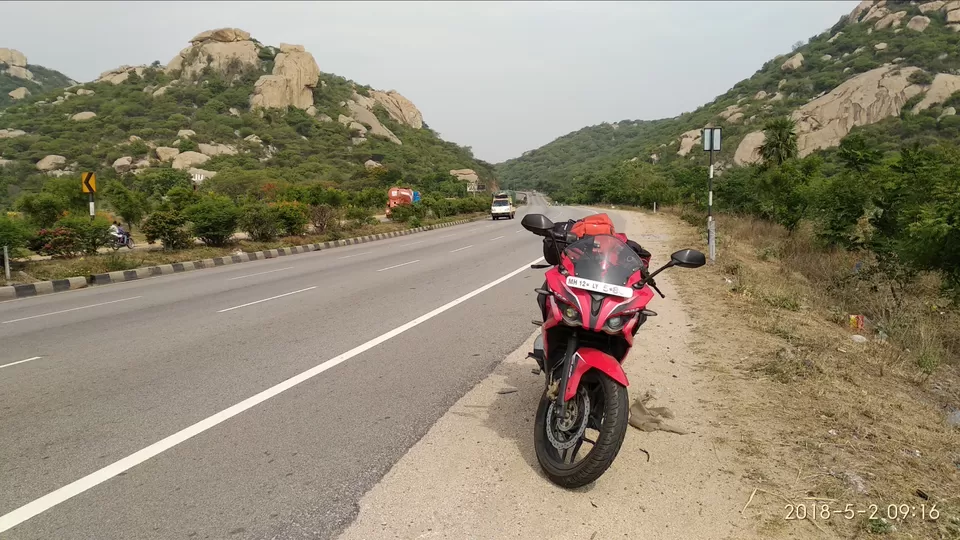 For what I drove 1400km, Dhanushkodi it was!
Target was to leave early morning for sunrise.. but I missed major opportunity. Nevertheless I started little late. Starting from hotel within 10 km it was feelings of some unknown lands.. roads looking empty, for few kilometers it was both sided palm or coconut trees.. it was the sign that I am leading towards the land which is last part of Indian land
I was enjoying ride with 40 km/ hr mark and sinking in the beautiful scenic place it was . Minute by minutes I was getting disconnected to India..its crowd... My last 2 days... Body fatigue... Emotions.. dehydration.. and many things. NEVERTHELESS HAPPY I WAS.
The drive on the newly laid road is what made me speechless. On My left side there was Bay of Bengal which is quite in nature and on right side much aggressive Indian ocean. I was totally lost in the view and difficult to explain its beauty unless you, yourself visit the place. After enjoying Ramsetu point, I moved to visit ruined ghost town.
I started imagining what the town went through few decades back.
There are some shopping stalls here, having some artistic products made by locals from sea shells.
Spending some hours to observe Dhanushkodi I was waiting for the local food/stalls to open as temperature began to rise and humid condition are indicating that you should leave the places as soon as possible.
Luckily one stall/hut was about to open, and (again using sign language) I manage to select fresh fish/prawn to prepare as fish fry. In no time the stall owner couple started cooking and within 10 mins it was ready. I will definitely say you should not miss this tasty fish if you are travelling here. The shop couple was curious about my bike and safety gears , with this , my bike started and I left Dhanushkodi with filled appetite and good memories.
Things to do:
Visit to ruined town
Ramsetu
Rameshwaram temple
Things to taste:
Palm jaggery
Local fish fry
Local tea prepared by decoction method.
There was plan to explore Rameshwaram but suddenly all other places are looking super crowdy. Compared the emptiness at the heart of Dhanushkodi.
Having quick visit to Pamban bridge(with a lucky view of Train passing from the bridge),, I moved further towards Madurai. The surroundings are still Humid and hot plus drive was pretty lonely since the roads are not in good condition.
While searching restaurant for lunch I found one on the way. The restaurant was quite new and had humble owner. His emotions and expressions were telling that he was there to serve people not for money. In 80 rs unlimited thali, its "Shree meenakshi bhavan". He himself is serving in the hopes that his son studying somewhere in Chennai will get kind treatment...
With another life lesson, I moved towards Madurai.
It was crowded in Madurai to drive so I parked my bike somewhere in the market and walked.
If you are visiting temples in south India keep in mind that temples are usually closed in afternoon. I was amazed by its huge structure and symmetry, 2 to 3 hours are less to experience it deeply.
I quickly had internal temple visit and moved for the drive. By now I am far from humid weather and also the roads are surrounded by hills and tree. While enjoying sunset was replying the surrealistic experience in my mind and feeling content.
There was twist in my bike trip: sunny climate changed to cloudy n thunderstorm, plus the place where i supposed to reach by 8PM has no staying options. Still it was 7PM in the clock, I decided to drove back to nearest town Karur and located+bargained+booked hotel and calmly slept for next days early morning start.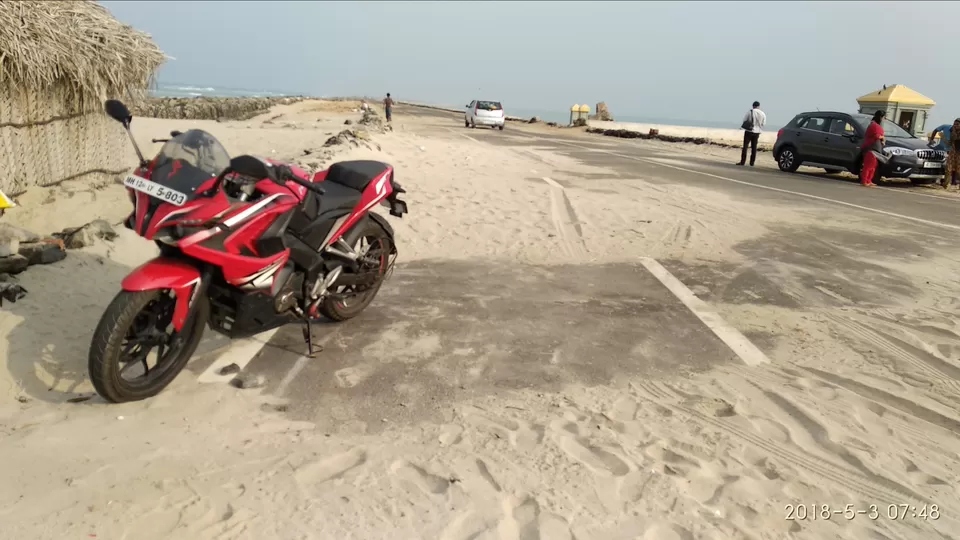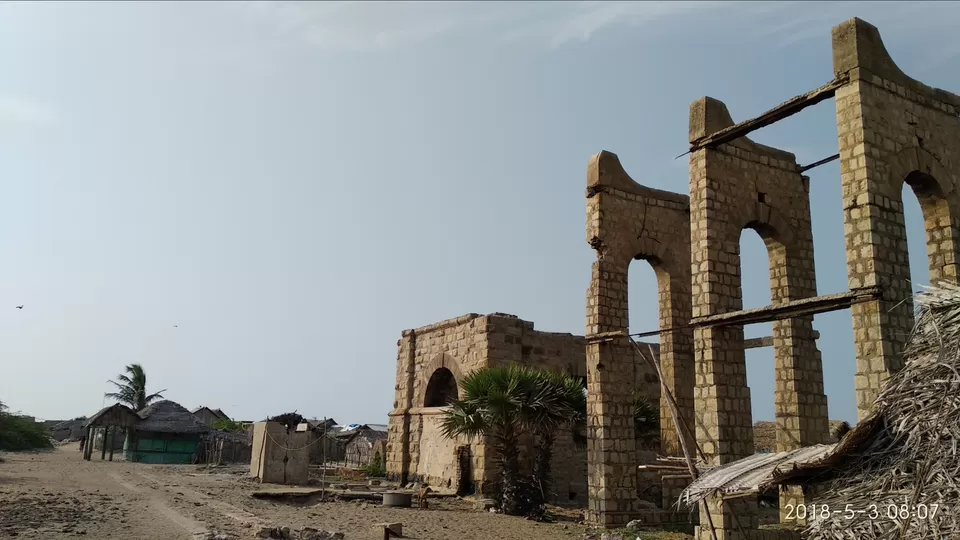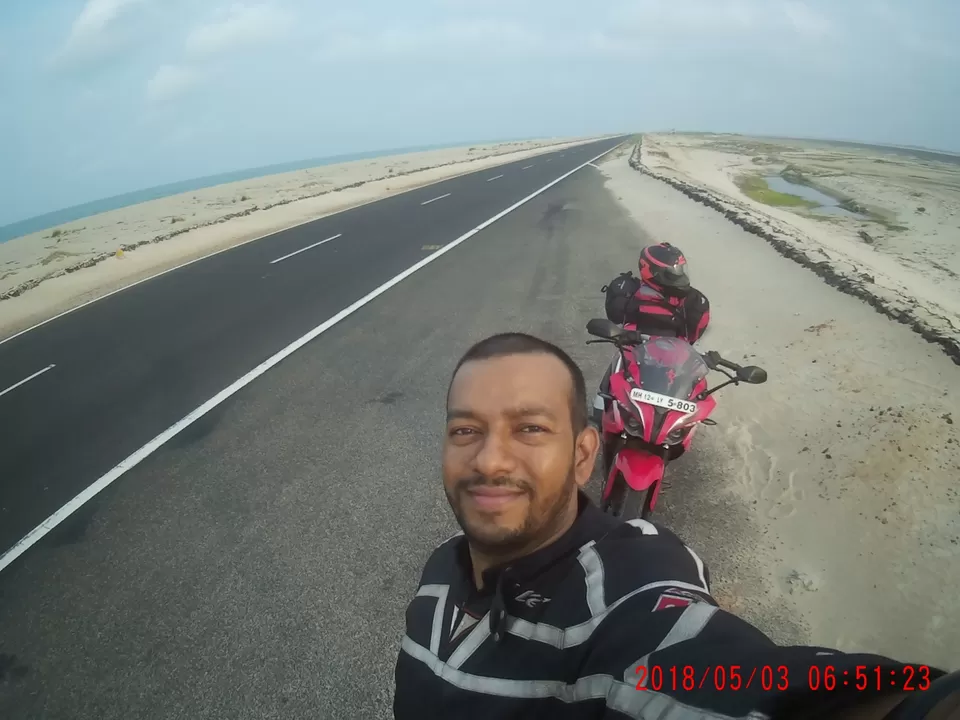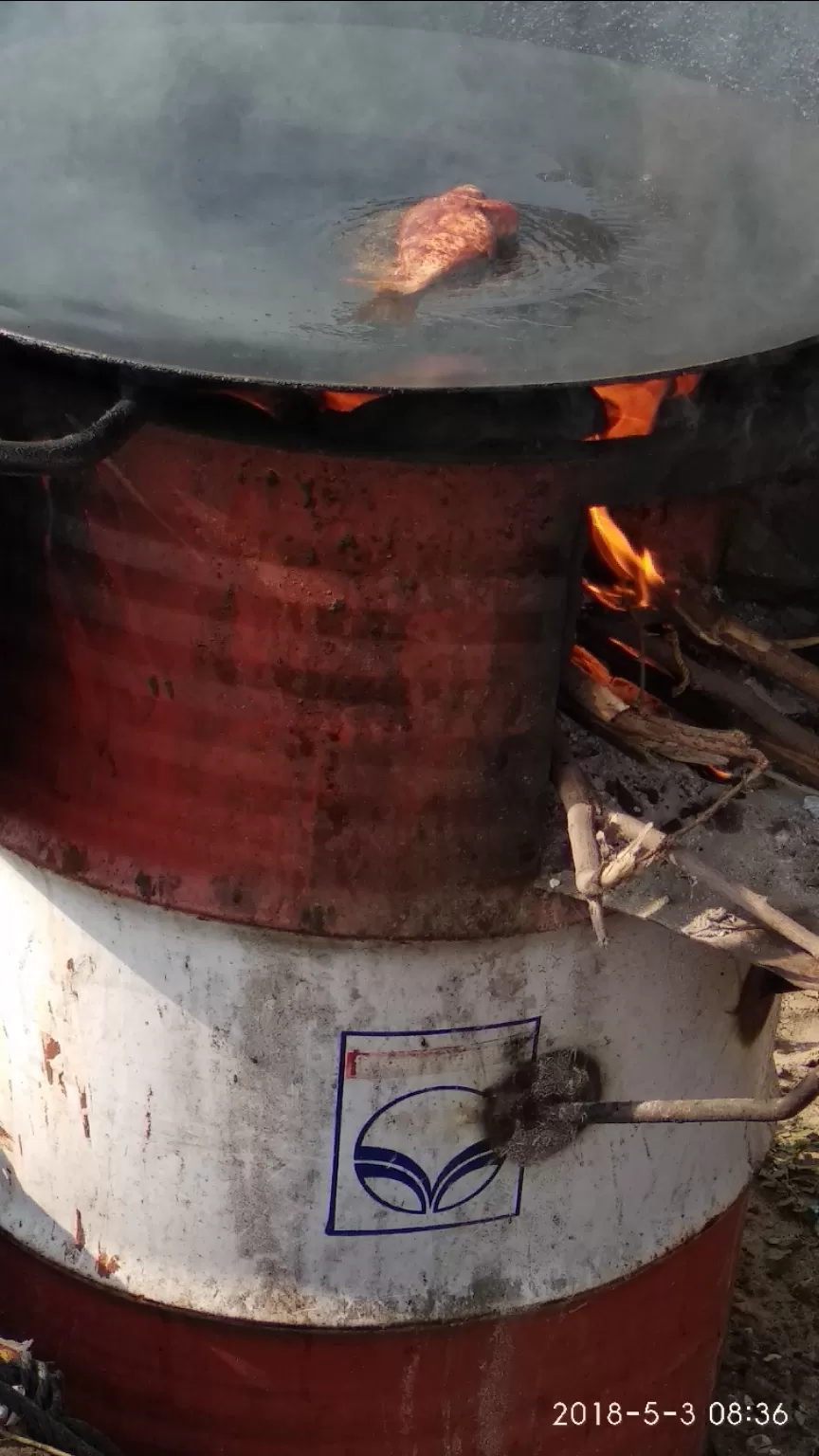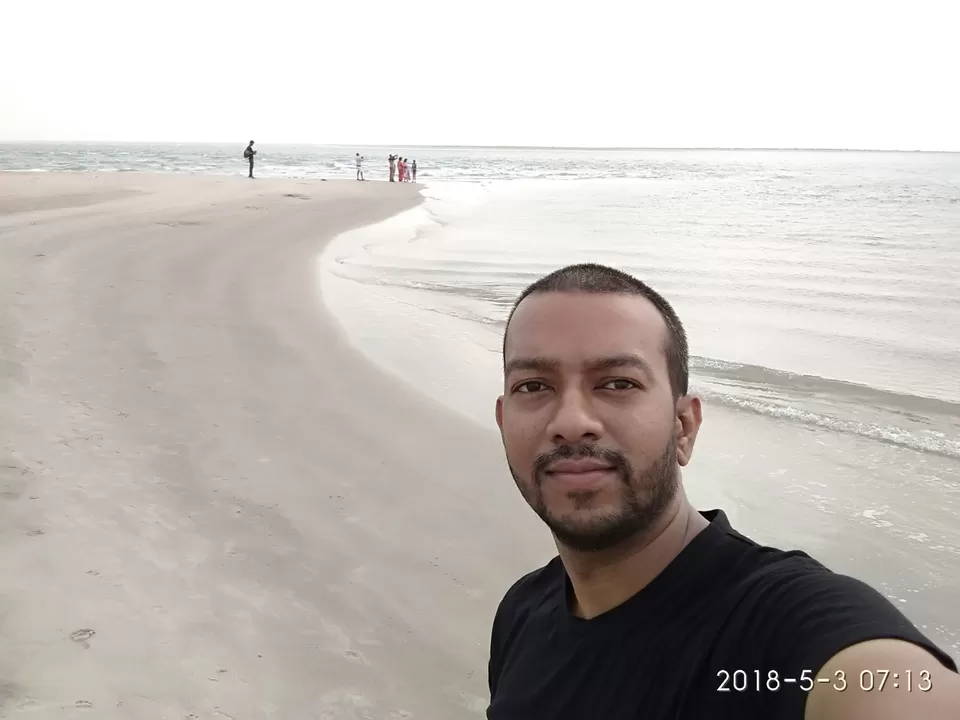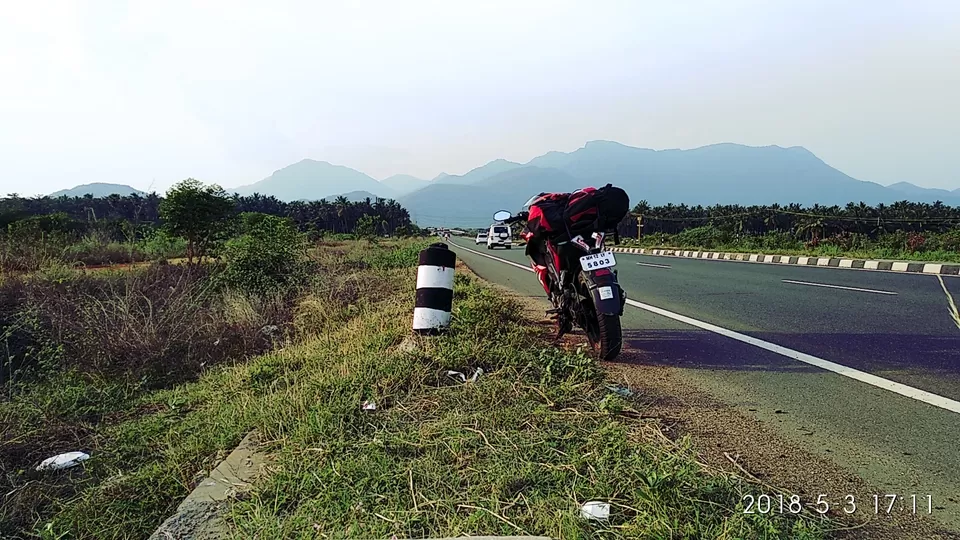 I was not here only to drive 3000 km to see Dhanushkodi. And also bike trip can not be completed without passing through forests and ghat roads.
Hence I decided to return Pune via Talamalai reserve forest. With routine breaks I reached Satyamangalam town which is base to Talamalai forest. Having a quick shopping from the last village of the Tamilnadu ,I was about to enter Karnataka.
The road towards Talamalai are scenic, that leads to passing from small villages, curious people, coconut plantation, lush green farmfields. Last night rain made the scene more clean and I could see nature's HD mode.
With many hairpin bends the ghat section takes you to 1000mtr above sea level in no time.
Once you are at the top you can either continue to BR hill road or Dzogchen monastery.
I took monastery road, which also provides a superb view with great drive for about 30km through forest.
Once you are in Karnataka, the road and scenery becomes dull and your mind will definitely ask you to take U-turn.
But to move towards Pune which was the priority and hence I visited monastery quickly and decide to join NH4 highways, by evening.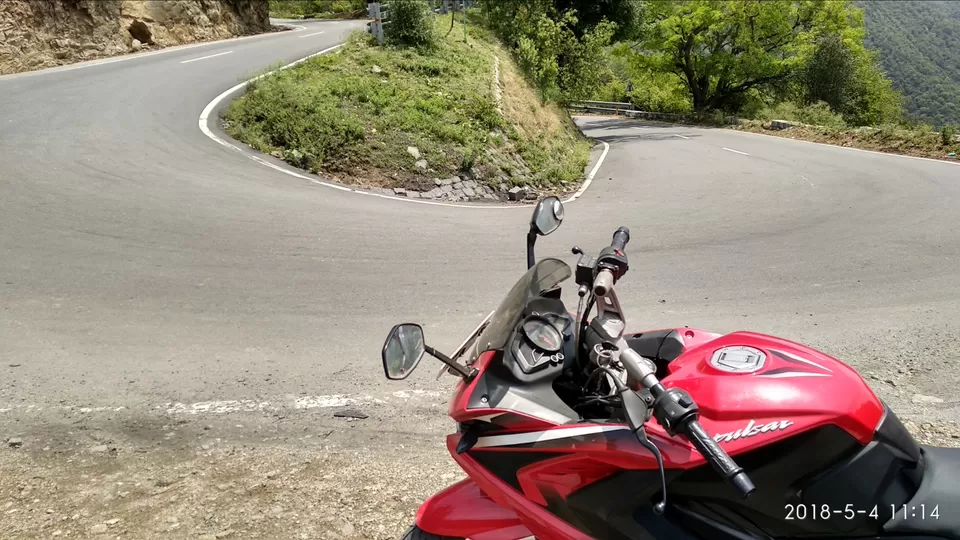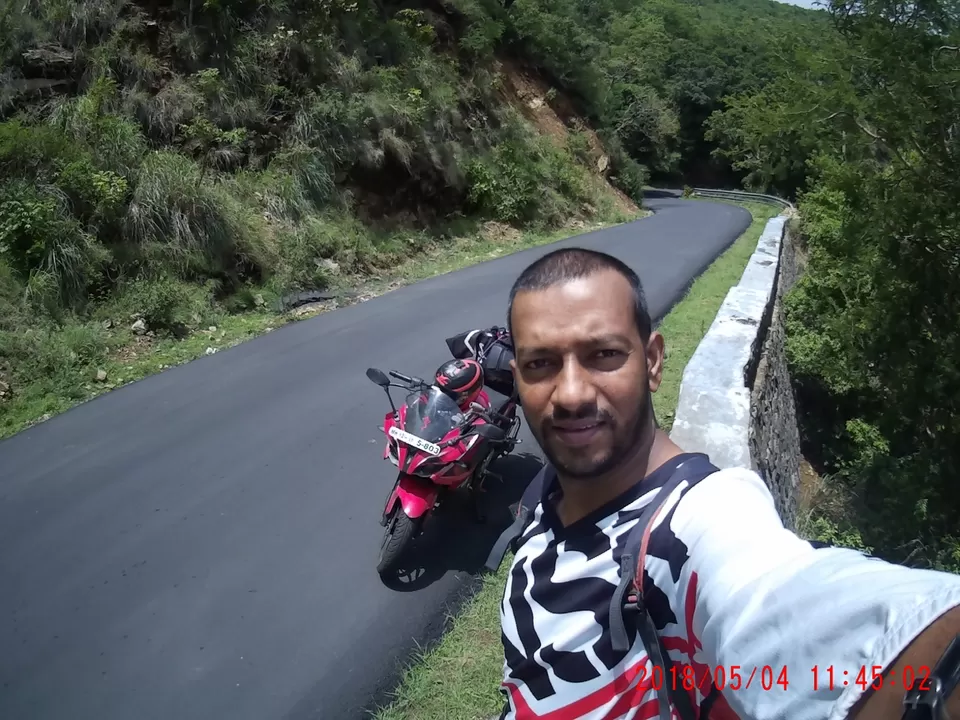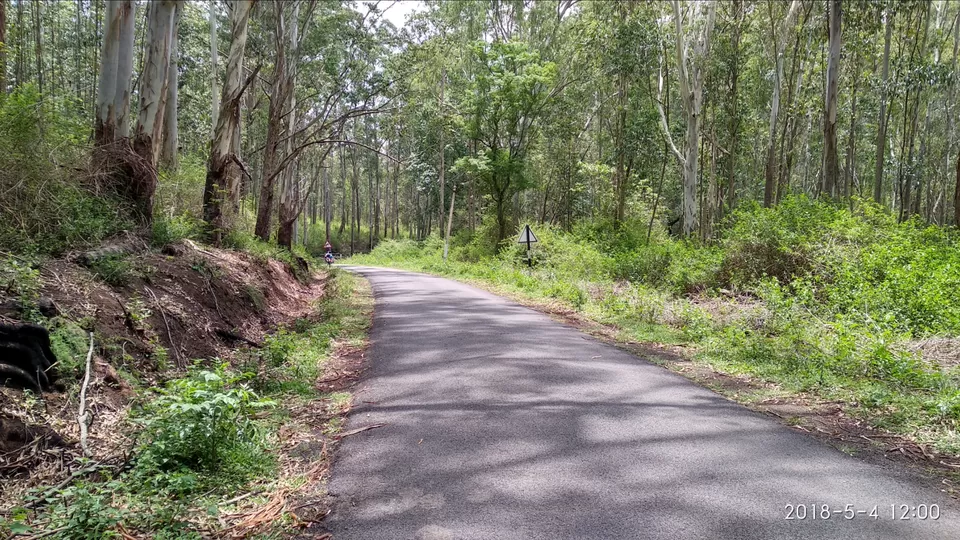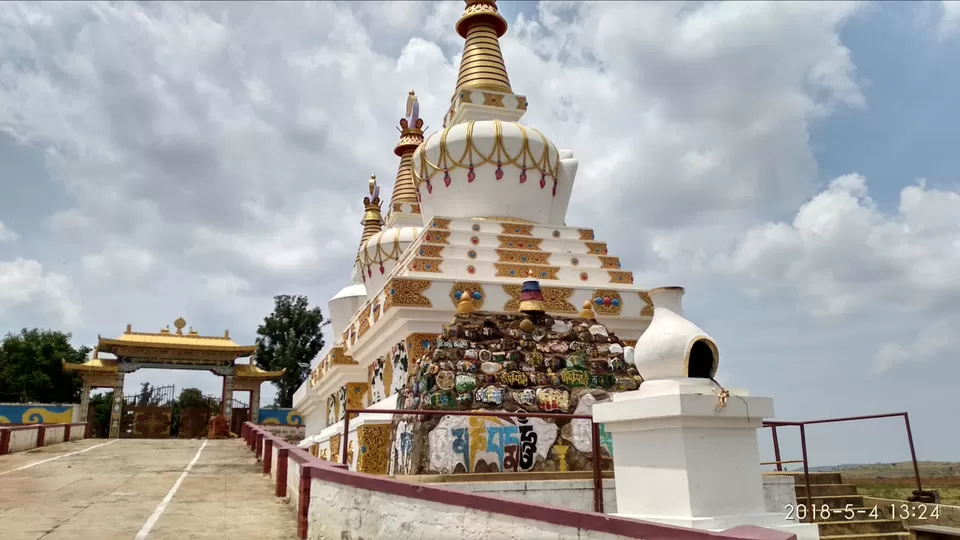 Nothing special here since i was only targeting to complete remaining 600+ km. By 6pm i was back to Pune despite Maharashtra's hot n dry weather took some extra time.