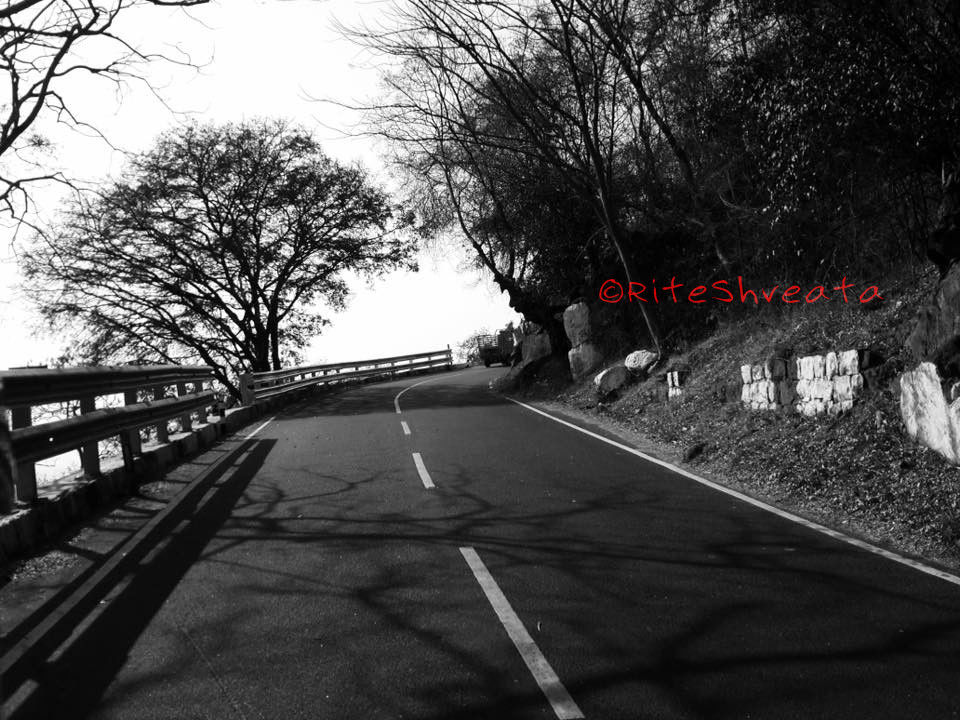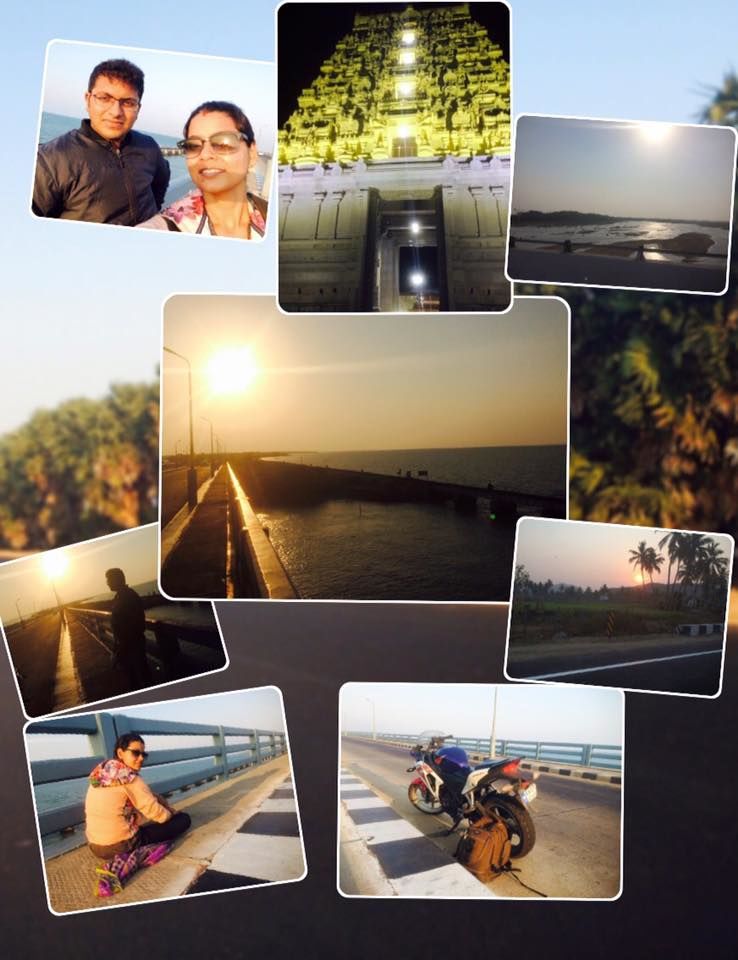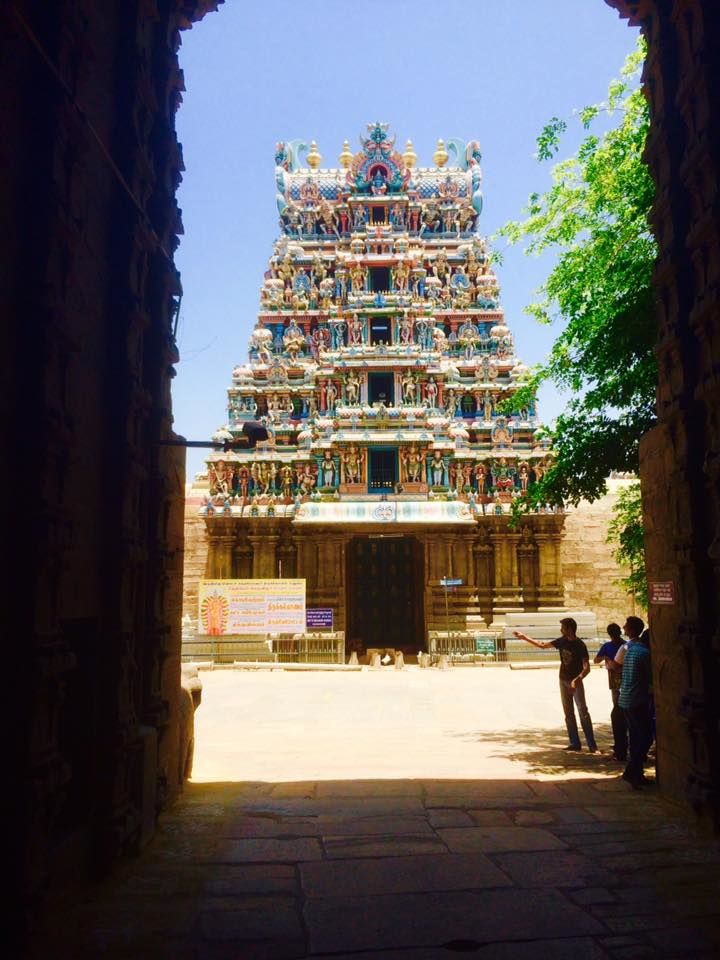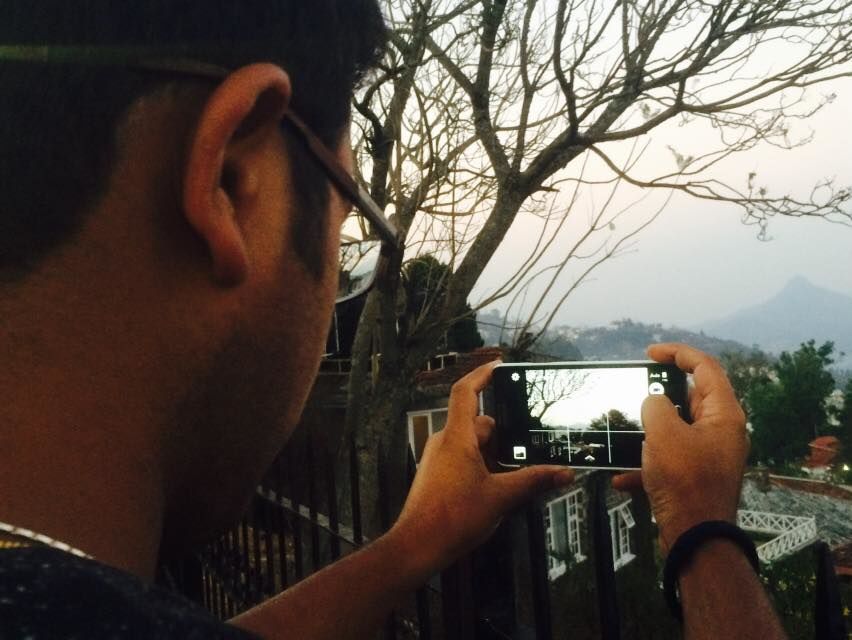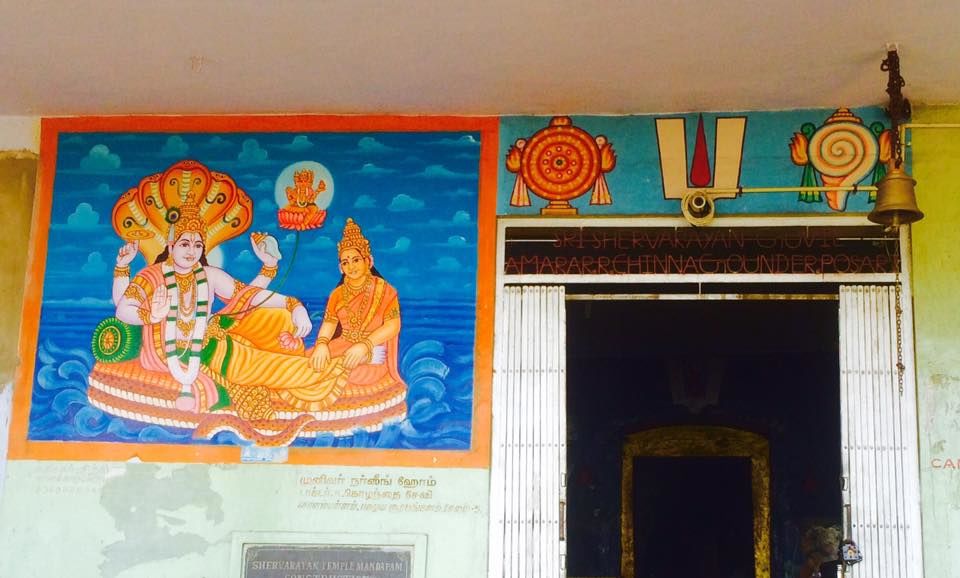 "A good traveller has no fixed plans".
And we both, I and my husband believe in this zinger entirely. To all the bike trips we both had been to, were always unplanned and yet adventurous and extremely an exhilarating experience. This time again this unexpected trip popped out from my hubbies mind on Thursday evening: the day Holi was celebrated in Banglore. Let's go to Rameshwaram on this long weekend? He said deliriously. Alright, but when? I inquired. Obviously tomorrow, he confirmed. Just Rameshwaram? I questioned. Nah..!!! Banglore to Rameshwaram, then to Madurai, Kodaikanal and back to Banglore, he explained. And by the end of Thursday we were set to leave on this unintentionally planned trip.
Day 1: Friday- (Banglore to Rameshwaram) -
Friday morning, i.e. 25-03-2016 at 3:30am we were on our go on CBR.
On the way, sight was extremely beautiful and fascinating. Though when we left it was dark and quite cold but the Sun rise on our way to Rameshwaram was simply serene. We decided that we'll be going to Madurai first which is around 450Kms and from there we'll be going to Rameshwaram which is 3 hrs from the place. As Rameshwaram is not the best place to stay or to spend your nights. The highway from Madurai to Rameshwaram- (NH49) is under construction and its too much humpy to give you saddle sore. But ones you reach to Pamban Bridge, The Ramsetu ... wowohooo!!!! it's a heaven to be; the cold breeze, the sound of water, the boats and the peace in the environment is totally magical and fills you with the spiritual sense. We left Madurai after check-in our hotel at around 2pm and by the time we reached Rameshwaram, on Pamban Bridge the sun was all geared up to gloam, and it was extremely a view to die for. We then proceeded towards the Rameshwaram temple which is 4kms from the bridge. Keeping all our belongings in the locker room we rushed to have the 22 well Terth Snan before the clock hits 8pm with the ticket of 25Rs each. This snan experience was exceptional and the intrinsic part of the visit to temple. We both together went to have darshan of Lord Shiva which is mandatory after the Snan.
Note to be taken: Wet clothes are not allowed when you are going for Lord Shiva Darshan, there are changing rooms and after the 22 well's bath u HAVE TO CHANGE in dry clothes.
After the Darshna we left immediately for DhanushKodi 6Kms, the place from where Lord Rama builds the bridge to Sri Lanka when Sita was abducted by Ravana. Again a must visit place in Rameshwaram. But make sure you reach there before 8pm, as the ocean flows on both the sides of the roads we'll be walking on and could be quite hazardous.
By 9pm we left Rameshwaram to be back in Madurai. On the way, you won't find any dhabas or restaurant for atleast 2 hrs, so better you have your dinner done in Rameshwaram. As we have been through the same situation and we had our dinner around 11:30pm in a small dhaba at Ilayangudi.
Note to remember : Not to take ride at night on Rameshwaram to Madurai Highway, as the roads are under constructions, jungle area, no roadside lamps or electricity and it's not at all safe. We had to take up the risk and courage to ride back, as we had our booking in Madurai, but if you guys are travelling make sure you are back in light instead of dark. Anyways we were back to Madurai around 12:45am midnight. And the day one of our #bykYatra was over. The night ride was extremely exhausting and frightful experience through those jungles and dark roads. It was time to fuel ourselves with few hours of sleep to machinate for the next destination.
We checked out from the hotel around 10am in the morning and went to Meenakshi Temple or Meenakshi Amma Temple. One of the famous temples dedicated to Lord Shiva and Goddess Parvati. It is surrounded by 12 Gopurams (towers). The outer towers are the landmarks of Madurai. They are:
East Tower (Nine Storeys).
South Tower (Nine Storeys).
West Tower (Nine Storeys).
North Tower (Nine Storeys).
The day we visited the temple the Paat (door) of Lord Shiva and Parvati was closed. The Pandit told us that God went to the marriage of their son Lord Kartike and will return around 10 pm. quite strange na...!!? When we heard this, we took it as a banter. But, this was really the reason. Perhaps, we were still fortunate enough to meet Nandi, who serves as the mount to Lord Shiva to carry our message to ShivParvati. We explored the temple barefoot at the temperature of 37C. It was extremely hot in Madurai and this we realized while walking in the temple premises and had blistered foot.
Day 2 – Saturday (Madurai to Kodaikanal) –
We left Madurai at 11:45 am for our next destination i.e Kodiakanal 120 Kms apart. Kodiakanal is totaly a Ghat section, pleasure for bike riders. By the way before you take your ride up to the ghats do not forget to gulp coconut water with malai .... ahaaaaa!!! super energy booster. Well Kodikanal is the place of waterfalls, the gardens, churches and parks. Though there are not many places to visit but still the place to visit are Kodiak Lake, where you can enjoy boating. The roadside to Kodik Lake you can get cycles to enjoy the rides in the green beauty into the woods for 2 hrs for Rs60/-. Can even enjoy balloon shooting, horse riding as well. Near to Kodiak Lake is Anna park at walking distance, 3 kms apart is Coakers walks the best walk you can have, lovely sunset, super romantic evening and walk side bhel of Peanut, fruits and spices. The Mountain View and the horizon are mesmerizing. It's the far better place than Nandi Hill's ( Banglore ). If you are a park lover then can even visit Bryant Park and Anna Park as well. Especially for the ones who have kids, they can have a gala time there. Around 6pm we went to Kurinji Andavar Temple of Lord Kartik; beautiful view and sight to watch. The cameras a big no in the premises and if caught you'll be charged 2000/-. Do not forget to have mirchi pakoda, vada and tea near to the temple area, extremely tempting and luscious. While returning back to our hotel we had traditional Kodiak dishes for dinner. I being non- vegetarian ate Khozy Varutha Curry in Chettinad style and my husband being vegetarian tried Panner kadhai. By the time we reached our hotel we both were frozen. It was too cold, so better have at least one jacket or some woollen to keep you cosy before you visit these places.
Around 9pm we went for a walk near Kodiak Lake. Though the boating timings are 6pm but you can spend some time with your partner, and family, by the lake side; tranquil and breezy. You can enjoy lake side food, tea, snacks and ice cream. Do not forget to eat Arun ice cream's Rasperbery, it's yummmmm!!. Well I was not at all aware of another at-random plan that was waiting for me, when my husband flummoxed me by telling we are going to Yercaud tomorrow. I was speechless and could not afford to react except a blank face. Though it came to me as a pleasant surprise, as I am always ready to go extra mile.
Day 3- Sunday (Kodiakanal to Yercaud)
We bid adieu ! to Kodikanal to be in Yercaud 290Km 4970ft. Above sea level, the another Ghat section. On our way we went to Bear Shola Falls and Silver Cascade Park Falls in Kodiakanal. All these water falls were without any water as the season for them is August onwards. So plan out near that season if want to enjoy the place with falls. Now time to vrrrooom... to Yercaud. Though the experience up to Kodaikanal was not that fabulous as the roads were not smooth and the greenery was dull along the sides, so was expecting at least Yercaud to be little close to being good. But as we rode in the Hair bend 1 (the names of all the turns on the roads and they were 1-20 Hairbend and 20th means you have reached Yercaud !), and saw those green pathways, those colorful leaves, purple, red, maroon flowers, the well arranged sideways they caste the spell on us. Smooth roads, curves, turns, were all spell bounding. By the time we reached Yercaud Hair Bend 20, we were already had fallen in love with the place. Our hotel Golden Nest, was at the best location in Yercaud, the complete view of the city with the lake and mountains shining in golden, all could be seen.
We relaxed for an hour and went on to explore the beauty of Yercaud. After a round near the Yercaud Lake we went to see Gents and Ladies seat. These are the points from where you can have the best sunset view of Yercaud, which is one of the specialty of this place and down look, you can see green but colorful abyss. Near to Ladies seat is Rose Garden, with varieties of Roses in different colors and fragrance all around. Though you won't find any blue or black and multi color roses. Some 5kms from Rose Garden is Botanical Garden and Orchidarium with lovely collections of Orchids. On the way up to Orchidarium, you'll find Deer Park. Though deers are not there but can still see some cows grazing and dogs fighting over a piece of bread. By the time we returned after watching Mont. Fort School, one of the residential school founded during the First World War have many of our famous philosophers, politicians and artists engraved on the outer walls of the school, it was dark. On the way we had famous Yercaud Coffee. We were also very hungry and could not afford to waste our time sitting in some restaurant and missing the India VS Bangladesh T20 Match, so decided to have our food packed. So for dinner we had Yercaud's special Millet Rice with 3 types chutneys and Gingerly oil Dosa with sambar and coconut chutney. The day ended with the glorious victory of India and awesome exploration of Yercaud.
Day 4- Monday (Yercaud to Banglore) –
Monday, we were leaving for Banglore. But there were still few places left to be explored. So on our way back, we went to Kiliyur Falls, again a Fall without a water, our hardluck. But the paths to the falls was really a narrow muddy road between the thick bushes passing through the jungles and have to step around 500 steps down to watch Kiilyur Falls. Imagine 500 steps and no water :'( . From there we head towards Servarayan Temple : Vishnuji's Temple. This temple is situated on the highest peak of Yercaud in Shevaroy Hills. The temple is a narrow and dark cave and an idol of Lord Shervaroyan and Goddess Kaveri are placed inside it and is believed to be 2000 years old; beautiful, calm and divine place to be. From there we went to world's biggest Shri Chakra Maha Meru Temple : Kartike Temple, just 4Km from the Servarayan Temple, located in Nagalore; again a big no to the use of cameras in the temple premises. Now the only place in Yercaud was left to be explored was Pagoda point, away from the town but good approach through roads. You can have a great view from there but place needs to be maintained properly. Before leaving the place we tried our hands on shooting and archery on Pagoda Point and left for Banglore. Total journey was of 1500Km ..!
Mind it:
Never ride late at night in hill areas.
Always have a jacket or woollen packed.
Must have full charged cell phone with Google Map, boon aap. For the travellers.
Always eat light when have to ride.
Have a safe ride and enjoy the journey... The journey when ends, is actually the beginning! VRRRrrrrroooommm.....!!!!