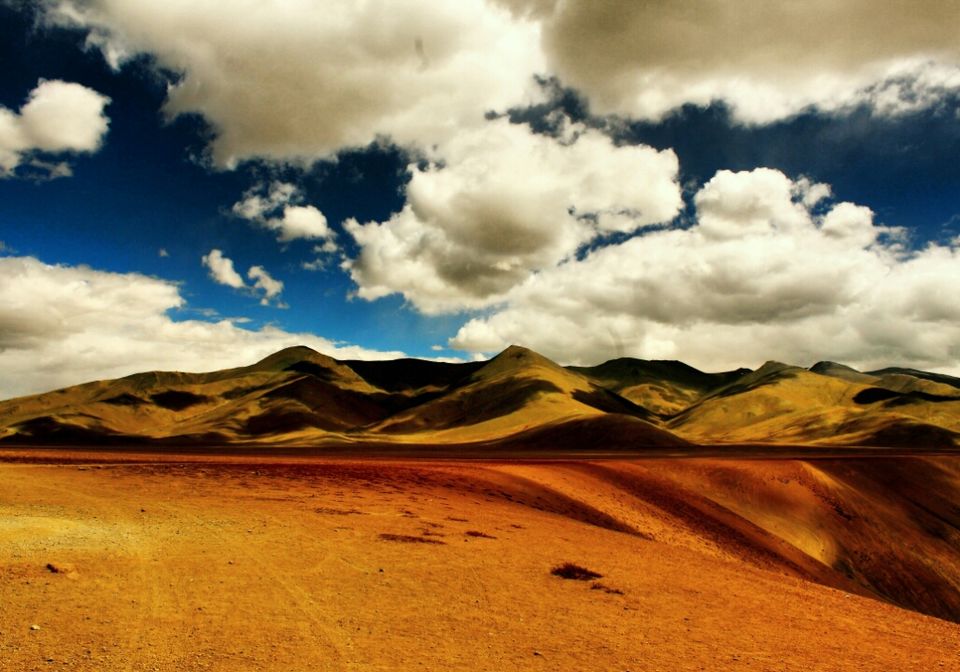 Julley..!!!
They say there is an appropriate time for every single act to happen.It's been four long decade like years since i craved for it to happen and this time around the fortunes made it happen.ॐ मणि पद्मे हूँ... !!In September 2016,the moment finally arrived and my pilgrimage took off. It was time to get leh'd in the mighty passes of Ladakh.
Geared up with hell lot of enthusiasm and excitement, I started this journey of sheer thrill and adventure into my beast Toyota Fortuner. After an overnight drive i reached manali and took some rest to prepare myself for the best roadtrip of my life till now.I arranged the permit to cross Rohtang la from the SDM office in manali. The process is pretty simple, they just ask for the photocopies of registration certificate,PUC, driving license and a form filled by you asking about the places you are planning to visit.Online the fees is shown as 500 bucks but they charge only 100 bucks so keep that in mind and don't get fooled by these acts.
Next morning i started early to avoid the traffic at Rohtang la.As i progressed through my way,the lush green mountains started to turn into barren mountain.I started to feel getting into the lap of land of lama.I got my car and an extra tank fuelled up at tandi which is the only fuel station on the manali-leh highway.It was 4 in the evening and i reached jispa which led me into a dilemma whether to stay here or go for sarchu. After a few minutes of analysis of the situation i took my chances for sarchu,took a diamox tablet to avoid the AMS and it went as per the plan.I reached sarchu by 7 in the evening.It was damn chilly there and altitude shooted from 7000 ft to 14000 ft.After a hot supper i went to sleep early.
I started at 7:30 in the morning as the plan was to reach Leh before dusk.After some initial bad road conditions till pang,the landscape turned into a magical heaven namely more plains.One can only dream about such a picturesque sight.It was one of the most beautiful sights i had ever witnessed before.It was 3 in the afternoon when i saw a gateway saying "julley" and a smile came up on my face as the dream of stepping onto the holy land of Ladakh was turning into reality.I reached leh by 4 in the evening and took shelter at Sheldan holiday home at Changspa road.This is the place to stay in Leh as one gets everything into reach.The facilities are great and pocket friendly.
Due to the ongoing riots in srinagar I decided to make my trip back to delhi via manali itself.Hence i decided to travel to kargil. Kargil is 240 km from leh so I started early so as to reach kargil before dusk.I started my journey by seeking blessings at Gurudwaara Sri Pathar Sahib.Situated 23 kms from leh,this place is a gem of a place to be at.This place is completely maintained by our own Indian Army.Three cheers for them for such great hospitality and warm welcome there.I was fortunate enough to enjoy that delicious langar there.After some great food i had some interacting session with the armymen over there and then i asked them to tie a sikh turban for me as well.I was a bit anxious as i didn't want to offend them but they were so generous that they instantly agreed to my request and Mr. Sarmukh Singh ji turned me into a sardaar..:)Now was the time to start my journey further after a few kilometres came the famous magnetic hill. This place is said to defy the properties of gravity but the fact is that it's an optical illusion. I tried some off-roading there and then went on to carry on my journey towards kargil.The road is excellently maintained by BRO. Kudos to them for executing such a great effort at such height. I reached kargil by 5 in the evening and took halt for the night.
Next morning I left for the Kargil War Memorial which is another 50 kms from Kargil town near Drass which is the second coldest place in Asia. This land of martyrs is a fantastic blend of patriotism and peace that is surrounded with beautiful mountains and surreal landscapes. For a moment i felt that if i could stay there with all the army men and serve my motherland India.Next I started onto my way back to Leh. The whole day was filled with patriotism,dancing on road.By evening i reached Leh and went to sleep early as the coming day was another long journey in the mountains.
The day was sunny and bright and so was the level of excitement.Today i was heading to the highest motorable road in the world.Yeah you got that right the mighty Khardungla Pass.Situated at an altitude of 18380 ft,this pass is such an awesome place to be at. Khardungla pass is a 40 km uphill drive from Leh and believe me it's one of the best driving experiences one can ever have.One has to register their vehicle at South Pullu before moving further towards Nubra Valley.I spent an hour at the Khardungla pass having delicious lip smacking maggi with a cup of a hot lemon tea, that place just made my day.Next i started to move further towards Nubra Valley.After a couple of hours from the Khardungla Pass,suddenly the terrain turned from hills to deserts and that sight was just out of the world.That was the first glimpse of hunder. Then there came the Diskit Monastery which is the home to a 106 ft statue of lord Buddha that is a beautiful sight in itself.I reached hunder by 4 in the evening and chilled out in the deserts witnessing the dusk.The day was getting into the darkness and i was looking for a shelter and i was lucky enough to find a beautiful homestay namely Ldumra Oasis guest house.The owner was courteous and gentle and was always available for any sort of help.
I woke up at 6 in the morning,the sky was beautiful and a rejuvenating yoga session was always on the cards in such a mesmerizing landscape.After some information about the route i tried my luck for the unexplored route directly to spangmik via shyok village alongside shyok river.This route is a bit tricky as there's no help on this route in case of any mishappening means one travels on his own.I went in September and even then the road condition was not upto the mark.An SUV is a must on this route.The drive was a tiring one this time but the moment i reached Lukung,all the sluggishness vanished.The Pangong lake was in front of my eyes and out of a sudden I went wild. The torquoise blue water of Pangong Tso was the ultimate visual for my eyes.It was windy out there and the sun was dropping and the temperature was dipping. For a moment i stood into the lake and believe me out of a sudden i couldn't feel my feet.I arranged for my camp and asked some fellow travellers to join in for a cozy bonfire.The night slowly went into dark with some melodies with guitar,a peg of old monk and endless talks with fellow travellers.It was damn chilly in the night.
Next morning i packed up and got into my beast for the way back to Leh.I was just a few kilometers from Pangong Tso and my instincts were getting restless as if i was missing out on something. I stopped and thought for a second and yeah i got my answers.I travelled through the mighty passes and witnessed all those moments and it couldn't end like that, a dive into Pangong Tso had to come here. I turned back and went to the shores of Pangong Tso and just did it..:):).Then I felt completed and headed towards Leh afterwards. I reached Leh by evening.
Next day i just had some wanderings into the streets of leh exploring local cuisines,meeting people from across the globe,etc.
Then the final day in Leh arrived and that too with helluva joy and happiness.It was the day it was all about.I geared up for Ladakh half marathon. The race started at 6:30 in the morning from the holy Shanti Stupa. The morning was chilly but my adrenaline rush was so high that i didn't feel the cold at all.running a half marathon at an altitude of 11500 ft was an ultimate experience one can ever have. It tests one's determination,hardwork,patience,stamina and a positive attitude towards life.I finished my half marathon in 2 hours 28 minutes and the feeling of completion and achieving that medal is something i can only feel. The smiling faces of people around provide such positive vibes that one can inherit from them and learn to be positive towards life come what may.

It was time that nobody likes as the time came in for me to head back to Delhi, but i was not alone,with me was a page full of memories which in life whenever i'll look back in the book of memories, will always put a smile on my face that i could step onto the holy land of Leh Ladakh and live my life the way i wanted.

I would sign off with just a few words that say "deep in the mountains my soul found it's home"...!!