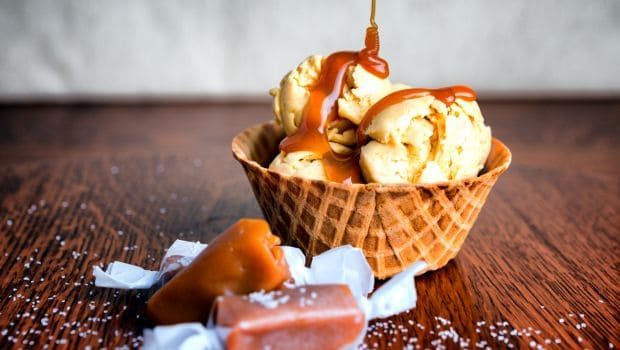 The innovation of ice cream has proven to be a blessing for mankind. The importance of ice cream goes very deep for us. Be it heartbreak or celebration of any kind, ice cream fits in easily. The frozen scoops of happiness are just perfect for a hot summer day. Today, in spite of having a variety of flavours, chefs and home cooks around the world are still experimenting and creating new flavours, that will absolutely blow your mind. Here is a list of some of the most unique flavours of ice cream created and where to find them in India.
Flavour: Pani Puri Pataka (Sorbet)
Pani Puri has a separate fan base in India. Mixing India's most l0ved street snack with cold refreshing dessert is one of the best innovations that has happened for any Indian in the food sector. This combination of Indian spices and Italian sweet is a bomb and a must try at Apsara Ice Creams in Mumbai, Bengaluru, Chennai, Hyderabad, Ahmedabad and Jaipur. They have in total of 69 stores all over India.
Flavour: Masala Chai
Most of the Indians start their day with a fresh cup of Masala Chai, but this restaurant in Noida Sector 63 gives you the opportunity to end your day with the same Masala Chai. Doesn't it sound amazing! If roasted coffee beans can taste good in ice cream, then tea has to be better than that. Because we Indians love our chai as much as we love coffee in our desserts.
Flavour: Kaju Katli, Milk Bacon, Blue Cheese Honey and Lavender Honey
Bono Ice creams of Bandra, Mumbai has always been a buzz in the city for its exciting unique flavours. One of the most interesting ones is the Kaju Katli flavoured ice cream, which is easily adaptable to the Indian palate. No festival is complete without Kaju Katli, and therefore, it is a perfect frozen treat for the festivals. The other must-try flavours here are Milk Bacon, Blue Cheese Honey and Lavender Honey.
Flavour: Smoked Avocado
Avocado is a new obsession among fitness freaks. It is currently everywhere, so how can it not be in ice creams. Get the goodness of this super food in the extraordinary form of ice cream. You can get your hands on this tasty treat at any of the five restaurants of Burma Burma located in Mumbai, Delhi, Bengaluru, Noida and Gurgaon.
Flavour: The Stardust Ice Cream/ Black Ice cream/ Charcoal
Well, as the name suggests the Black Ice Cream is all about its colour. This new flavour is a different take on ice creams. The ice cream gets its colour from activated charcoal sourced from the husk of coconuts which makes it safe and edible. Mama Mia has several stores in Kolkata and Delhi. One picture of this ice cream will light up your Instagram feed.
Flavour: Bloody Mary, Beer and Sangria Popsicle
If you are hosting a party and are too lazy to go out and buy booze, then here is a shortcut that will get everyone happy tipsy and get the party started. Frozen Tree of Kolkata prepares all sorts of popsicle on order. The Frozen Tree has two branches in Kolkata.
PS: White Owl in Lower Parel Mumbai also serves Beer Popsicles.
Flavour: Wasabi and Black bean vodka
These gourmet flavours are a must try for anyone who is looking for a gastronomical adventure in Chennai. Wasabi, a well know fruit in Japanese cuisine has gained sudden popularity in the food industry and therefore has found its way to enter the world of ice creams. Try these unique ice creams at this Chinese speciality restaurant in Chennai.
Think we missed out on something. Tell us about it in the comments below.
Get travel inspiration from us daily! Save our number and send a Whatsapp message on 9599147110 to begin!