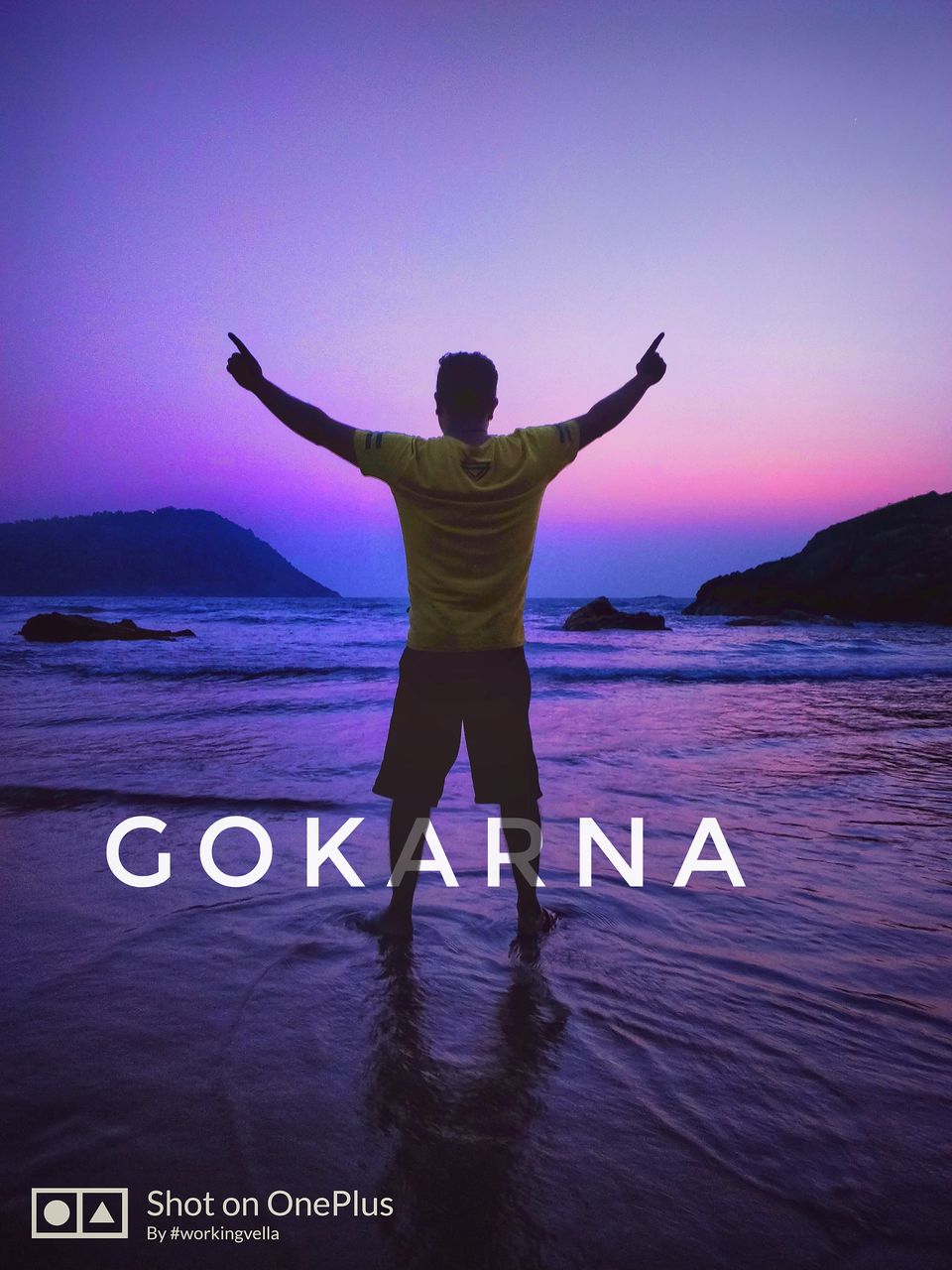 People in India often associate beaches with GOA on mainstream notion.While most of the people head out to goa during the season or new year period,there is a much cheaper, less crowded & cleaner version of the beaches than goa.(North Goa commercialized beaches)
Named Gokarna,a small nondescript town lying in the uttar Kannada area of Karnataka. Its based out on the Arabian sea side,popular destination for Hindus,as sacred sites like Mahabaleshwar Temple, Koti Teertha are present. The town is also home to hippies due to clean n flat beaches such as palm-lined Gokarna main beach,Kudle beach and Om beach & others.
How to reach ?
Travel-

# Plan in advance- Must
#Best plan - Travel overnight on Friday.
Stay over a weekend. 2Days/1Night.
Get back by Monday morning.(Always Prefer Train)
*Bus- Time ranging from 19.5 hours to 15 hrs -AC sleeper, Price 2200 - 1100 (AC/Non AC)
Drop at madengiri-25 mins ride to gokarna town
*Train-
#MATSYAGANDHA EXP -12619 - 11 Hr 46 mins(LTT to Gokarna road) Sleeper - 460/-, 3 Tr - 1215 /- , 2 Tr - 1735 /-( runs daily).
#MARU SAGAR EXP -12978- 11hr 5 mins(Vasai Road to Gokarna Road) Sleeper- 460/-, 3 Tr - 1225/-, 2 tr- 1750 /-(Runs Saturday Only)
* Also accessible by road - 19 + Hours counting bad roads n numerous pit stops. Good roads @ Pune expressway, Satara Kolhapur highway n karnataka Highways.Expert drivers required as well as hard cash for numerous tolls.If going by bus or Train hire a local two wheeler for going around.It is very handy.Carry your own water bottle,refill at cafes or hotels.
What to Expect-
*Clean beaches
*Irritating vendors selling beads,
*Irritating Indian tourist's habit's of throwing cans,plastic wrappers & water bottles & glass bottles post consumption of beer or liquor.
*Clean water to swim in.
*Good accommodation.Good food if u go to the right places
*Beer & Beautiful sunrises & sunsets
What not to Expect-
*Hard liquor (Banned & risky if found on body)
*Weed (Although banned but still available would suggest to avoid it as its risky if found on body by cops)
*Relics or Monuments
*Water sports
Must Experience :
*Namaste Cafe at Om Beach.
*Zostel at Kudle Beach.
*Hummus at Premaa restaurant(They are building a new one near downhill road to kudle beach.)
*Coffee at Namaste Yoga Farm.
*Sunrise from the mountain top behind halfway home/ New Premaa restaurant
*Stay in a tent @ Halfway home
*Phytoplankton experience thru local guides.(If possible book in advance for the same.Its a late night trek to a village in full moon where u can experience it.)We skipped it. :(:(
Where to stay ??
Halfway home at kudle beach.We booked it thru booking.com.The caretaker Karthik is a really a good n understanding guy who never says no to any requests.The stay was arranged in tents.Do buzz him in case of any special requests.
Tips -Carry a tube of Odomos or any mosquito repellent, if u plan to be there around the tents between 5 PM- 7:30 PM.Huge size mosquitoes appear in that time-frame post which they magically disappear.And you will find tiny colorful frogs all over the loo area,busy snoozing.They wont disturb u.
We rode out from Mumbai in 3 cars at about 5 PM on Friday. Dinner was planned at Manas resto on satara bypass road.Must try is the mutton thali for red meat lovers.
We took about 15 hrs with about 11 pitstops to reach gokarna.
Early morning breakfast in in karnataka.So always expect fresh hot piping dosas or vada's along with poha/ upma to be there on the menu.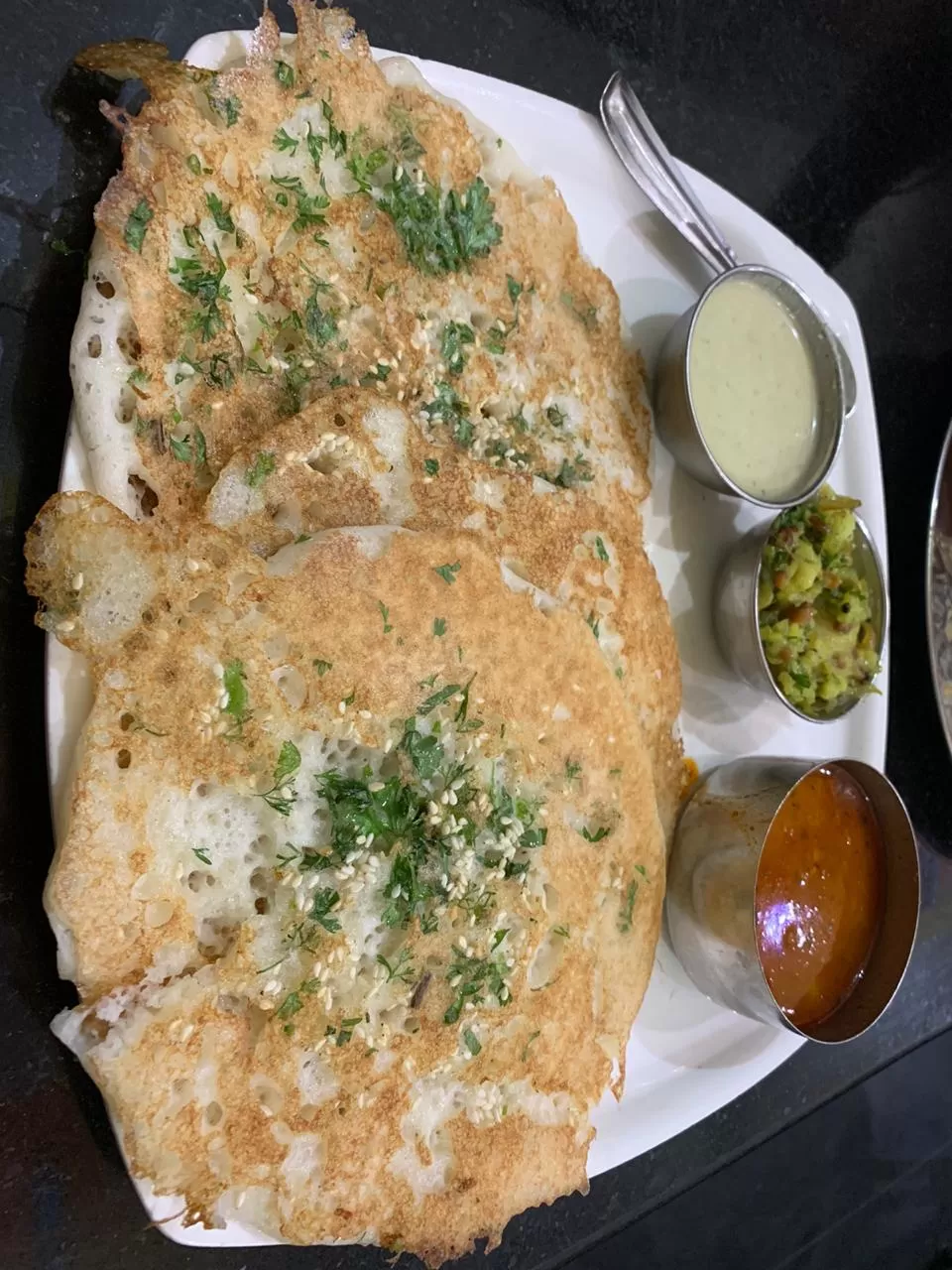 Accommodation was already booked at Halfway Home.The stay was for about 15 people in 8 tents on twin sharing basis.We reached somewhere around 11:30 am tired & sore of the journey.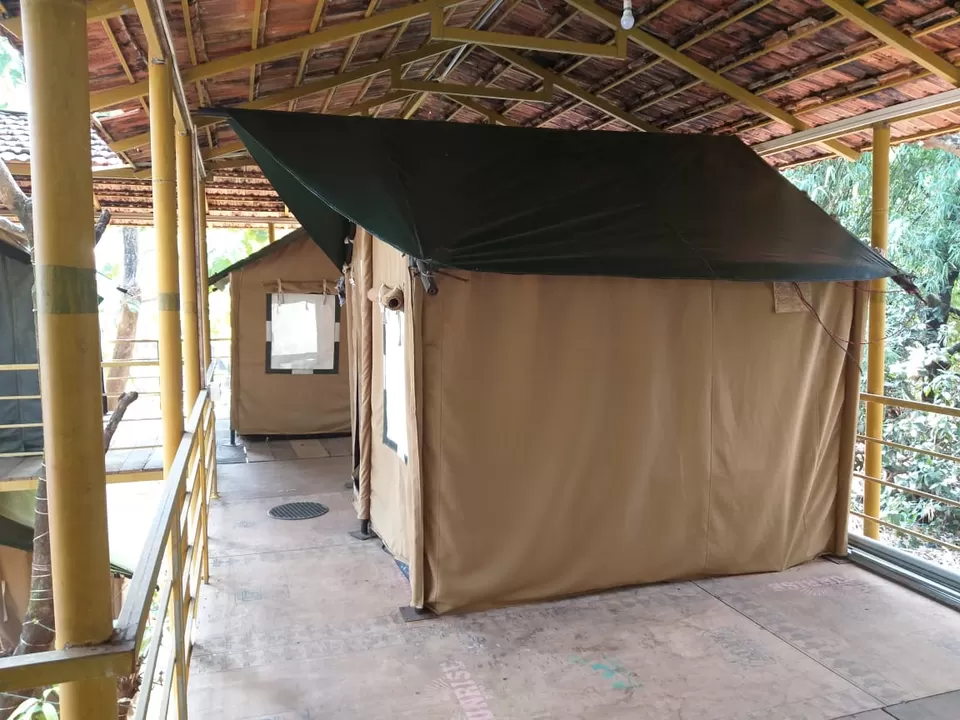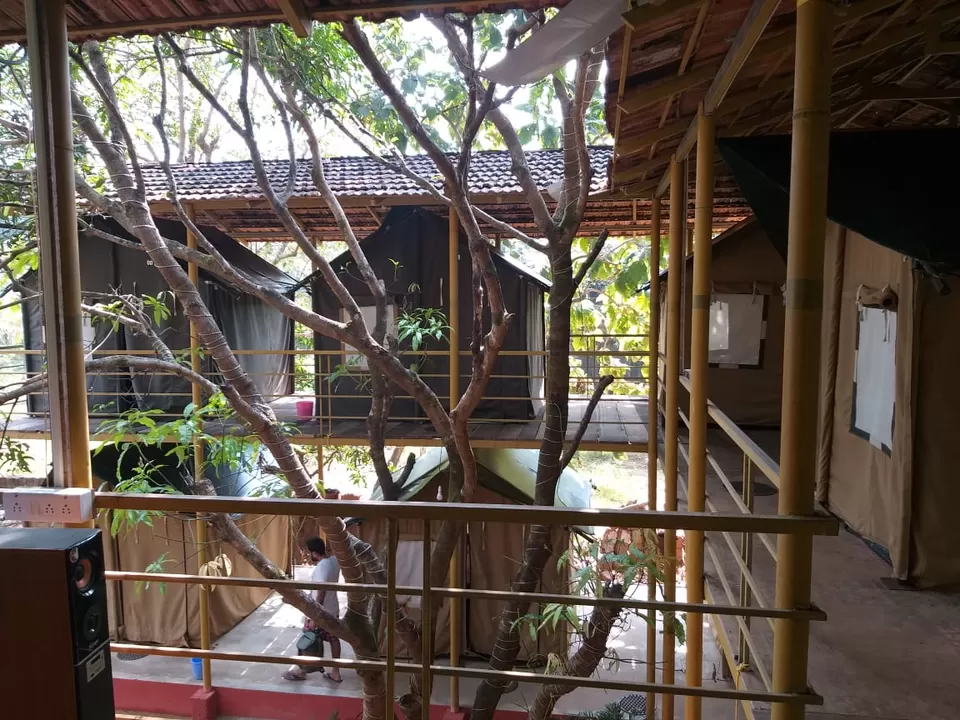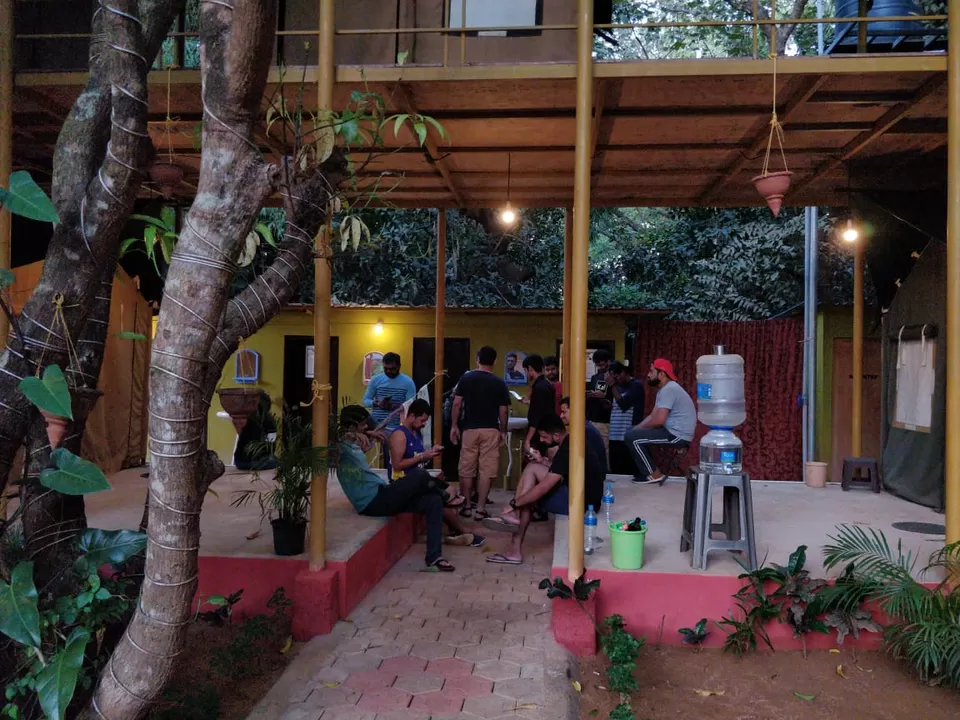 Quickly freshened up, had a couple of chilled ones with having a game of carrom & UNO before settling down for freshly home cooked lunch.The base for lunch is a local veg thali consisting of a dessert,curd,dal,2 dry bhaji,2 kinds of sambar,rasam,chutney & rice.You can order for fish fry to accompany the veg thali. The same will be arranged.The food & the fish are as fresh as it can be.There are basically 2 kitchens at halfway home.One is Non veg other is pure veg.So expect clean fresh food.Post lunch we rested till 3 before heading out to the beach for a swim.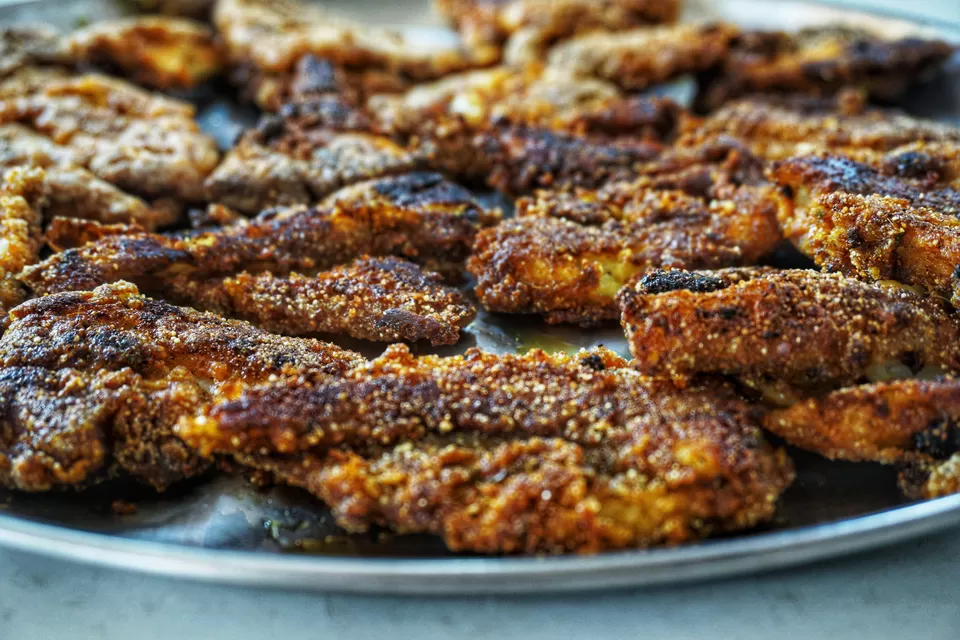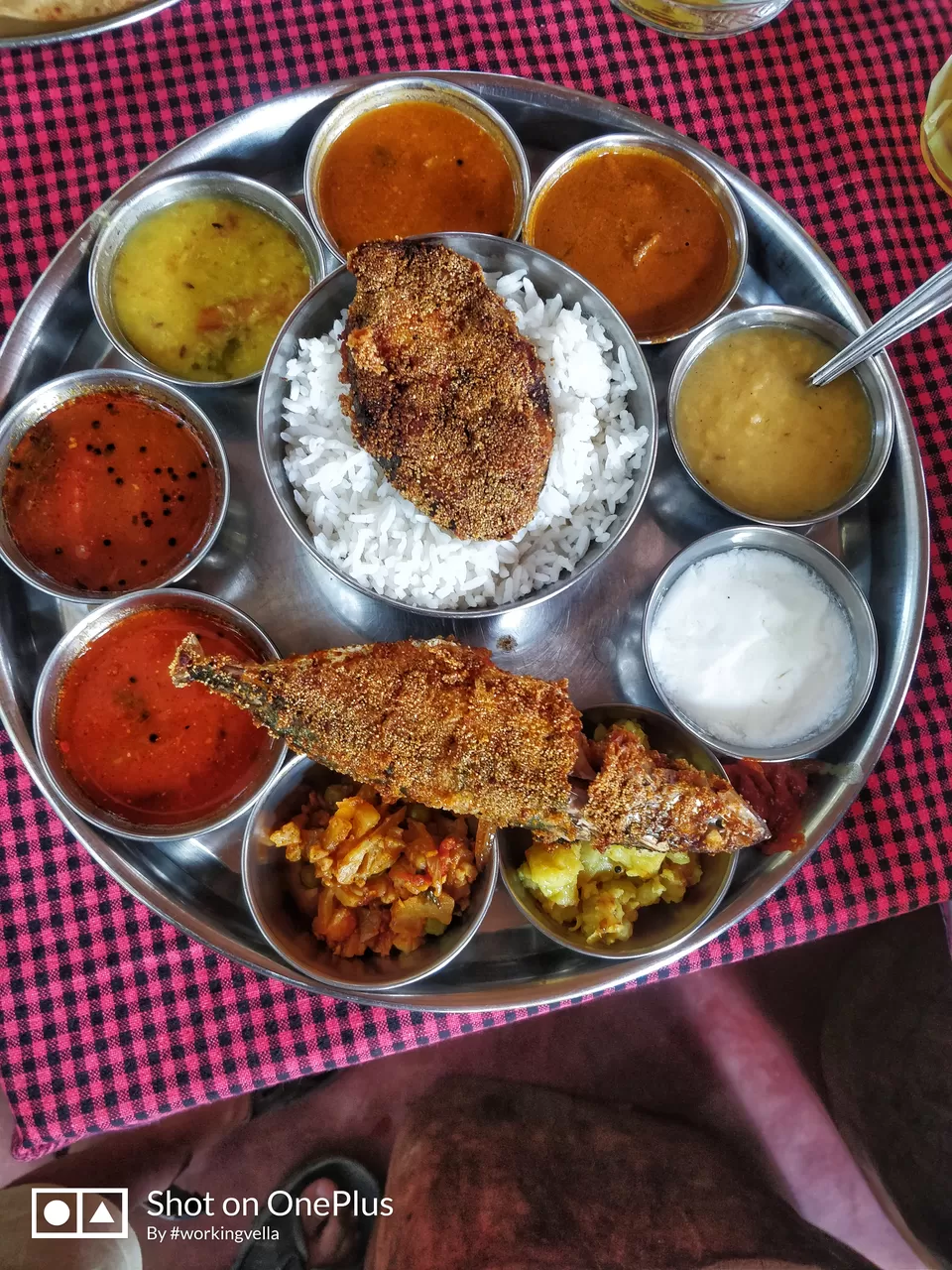 Tips- Call up the guy in charge in advance- Karthik. Ask him to arrange & chill the beers in advance along with some snacks & specific fish or prawns.
We went to Gokarna main beach found it a bit crowded with vendors & tourists.Post a couple of snaps we decided to switch to Kudle beach.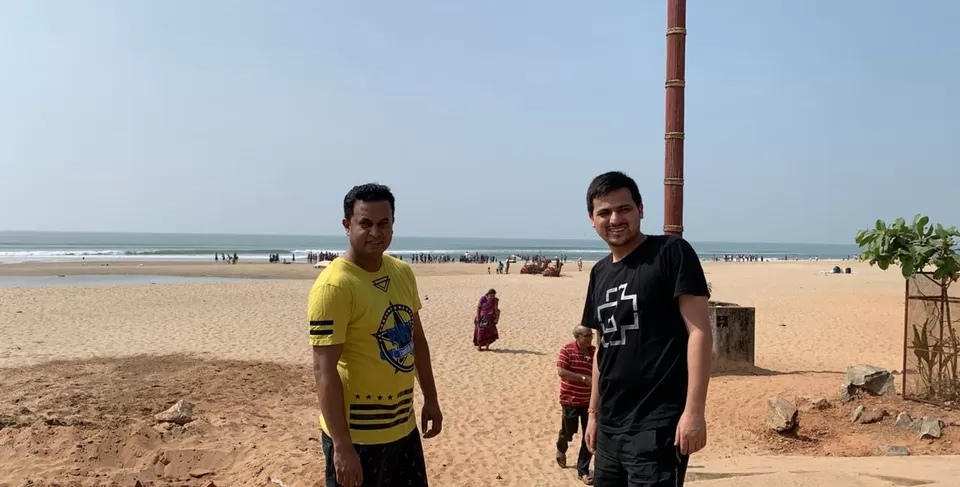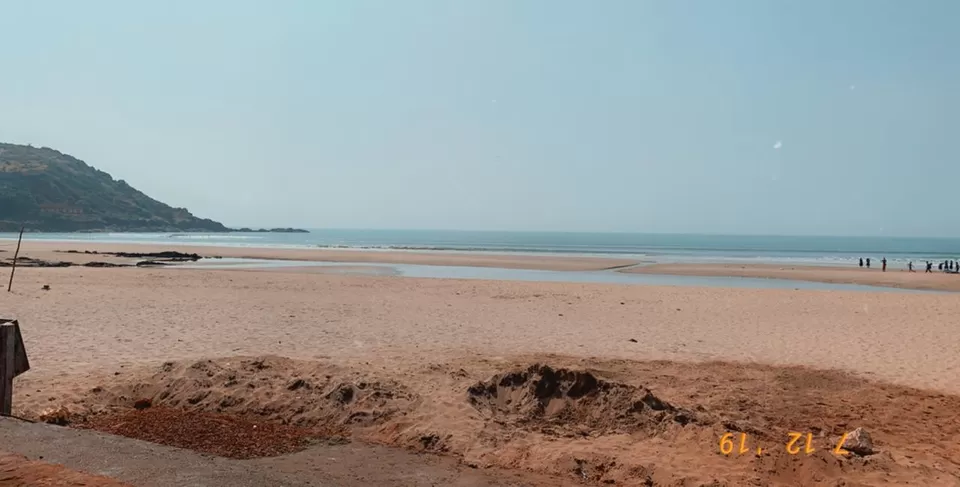 For Kudle beach u have to walk downhill for 15 mins to reach the beach. It is the 2nd most commercialized beach after the crowded Gokarna Main beach.There are about 10-12 good shacks for chilling & enjoying the beach view.You can go for a swim,take a shower & chill at the shacks. Please don't compare these shacks with those of goa.We had fun for about 2 hours in the sea before settling down for snaps.Beach & the water is clean.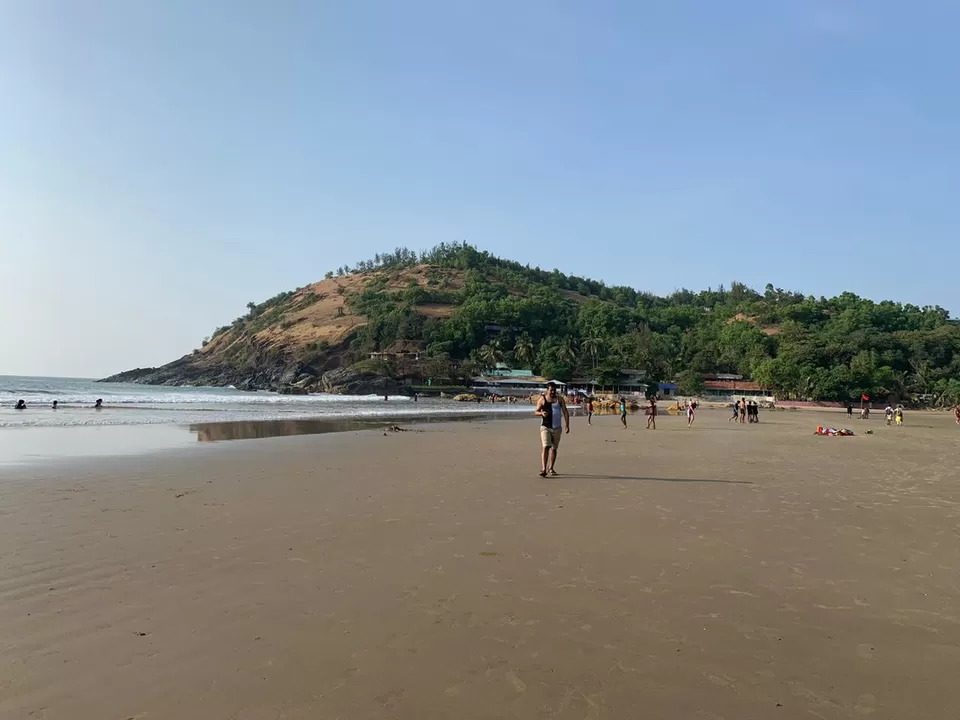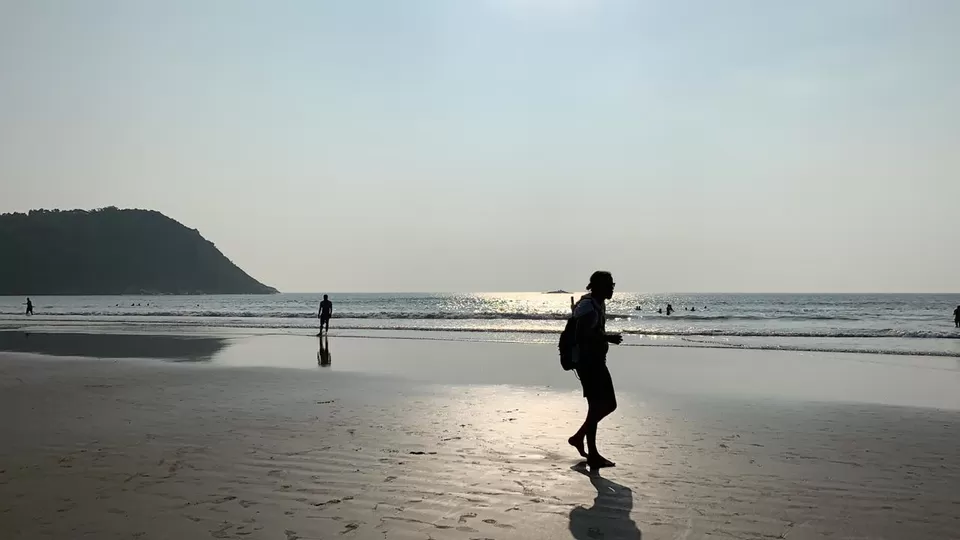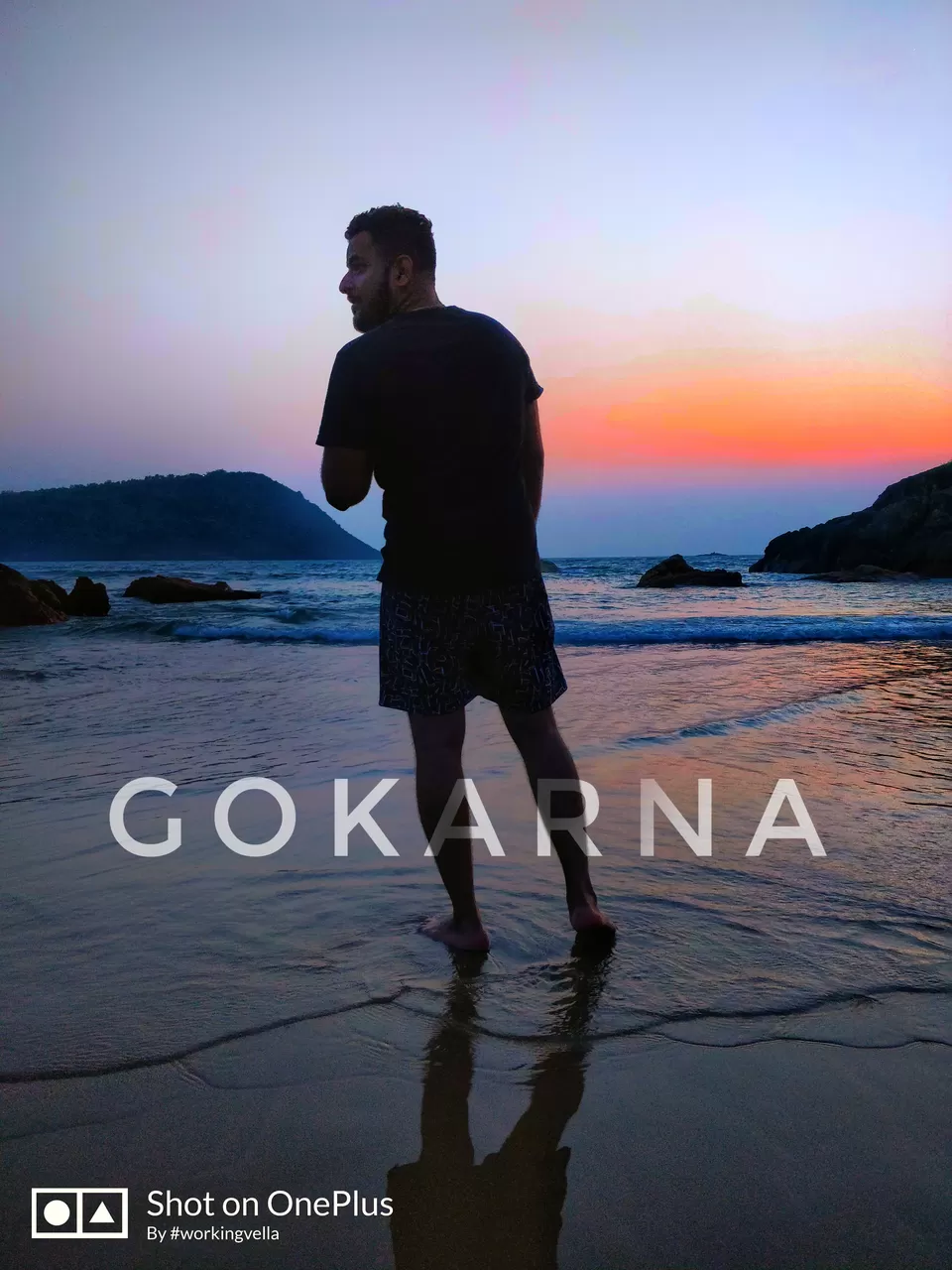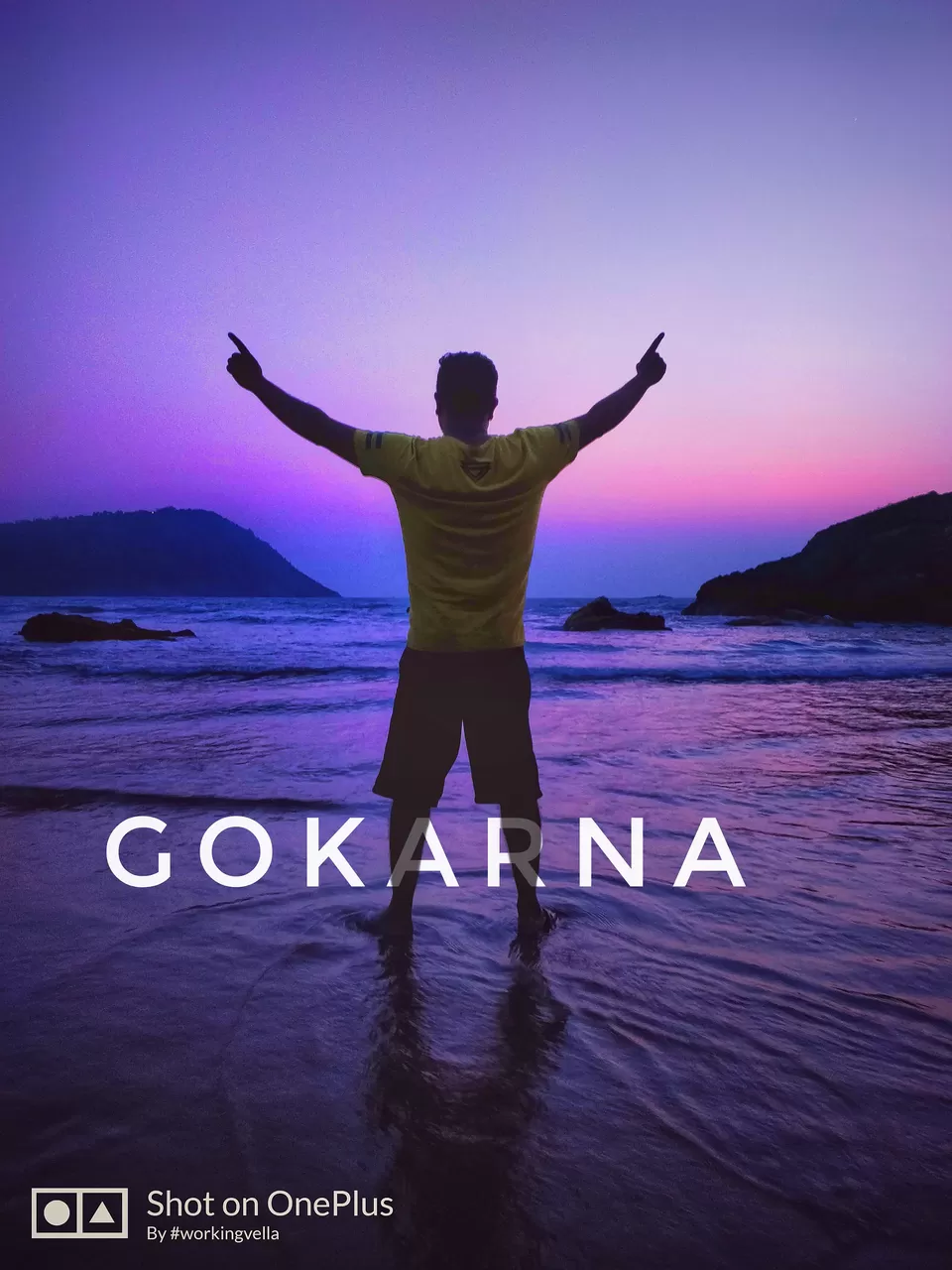 We went for OM beach at about 5 pm to get the sunset.It took us abot odd 15 mins via car.You can hike up to the beach from kudle beach also which will take about 45 mins.There are a couple of shacks with good vibes & food on offer.
Came back, chilled at halfway home with music,beer & fish/chicken thali for dinner.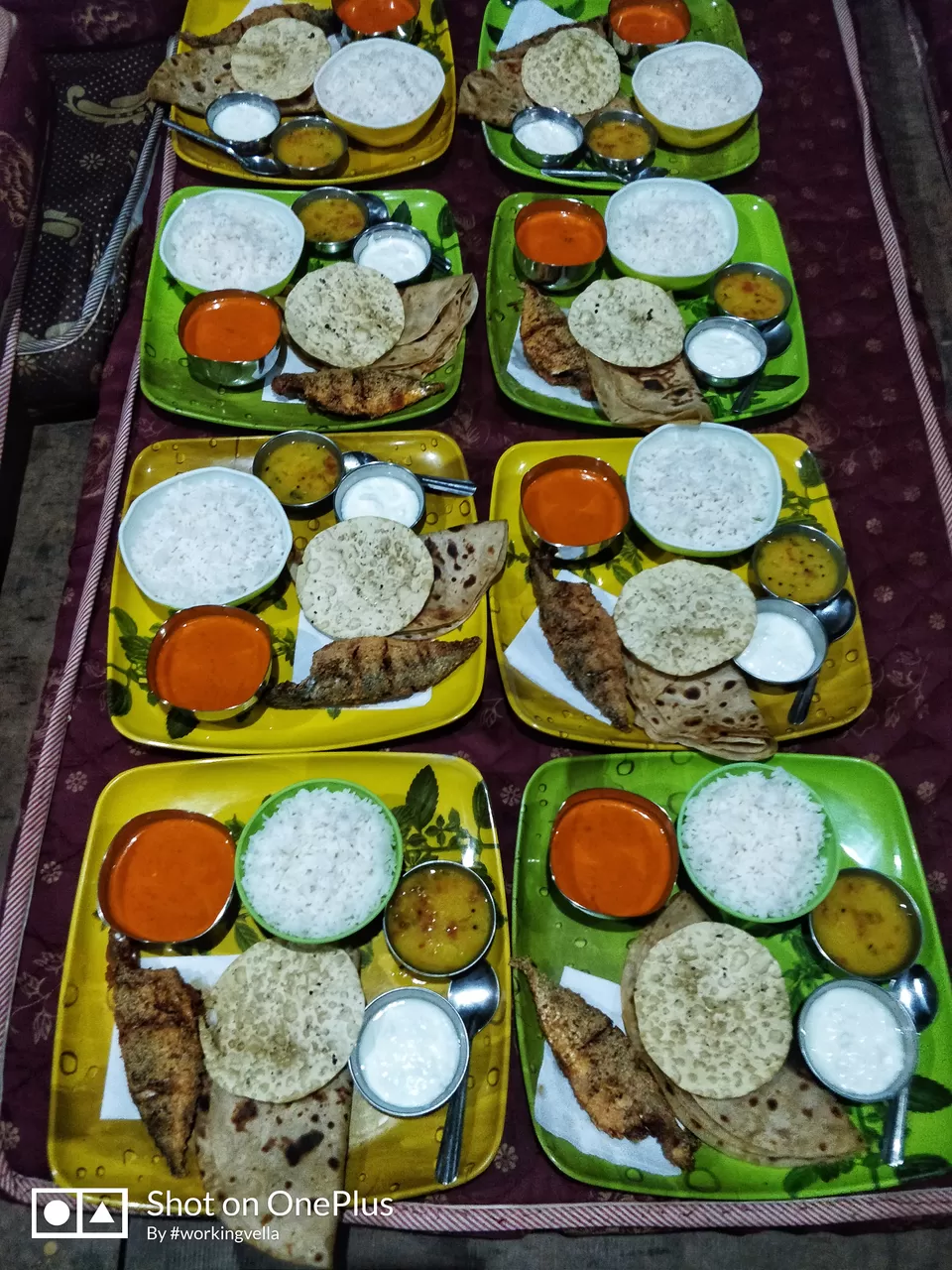 Post dinner you can always have fun talking while swinging away in the hammocks or dancing away till late night or go to the cliff behind the place & enjoy star gazing till late night.Carry your torch lights & wear full pants.Or you can take a hike to kudle beach & chill on the beach itself with light music while gazing at the stars or sipping a cold one.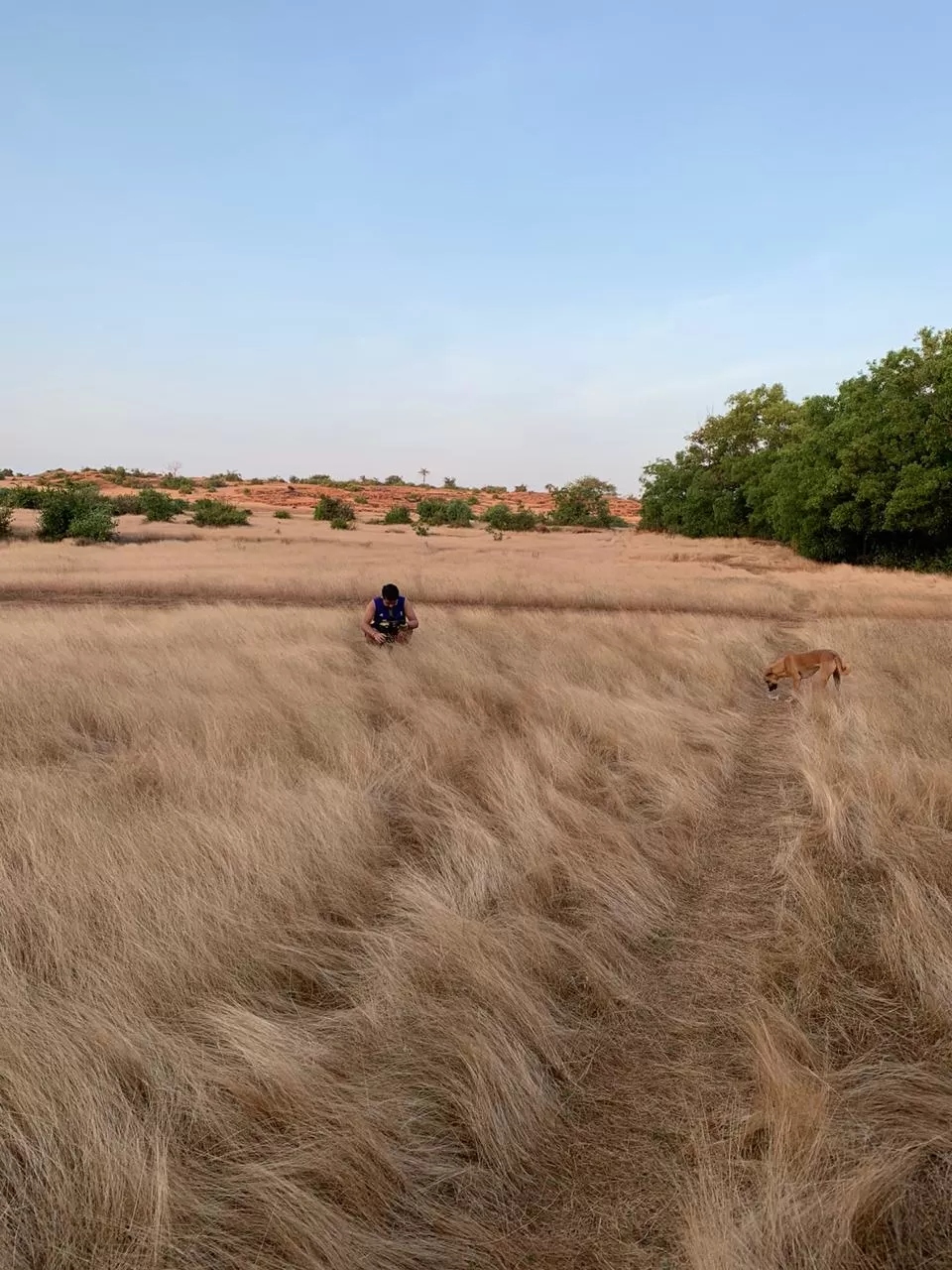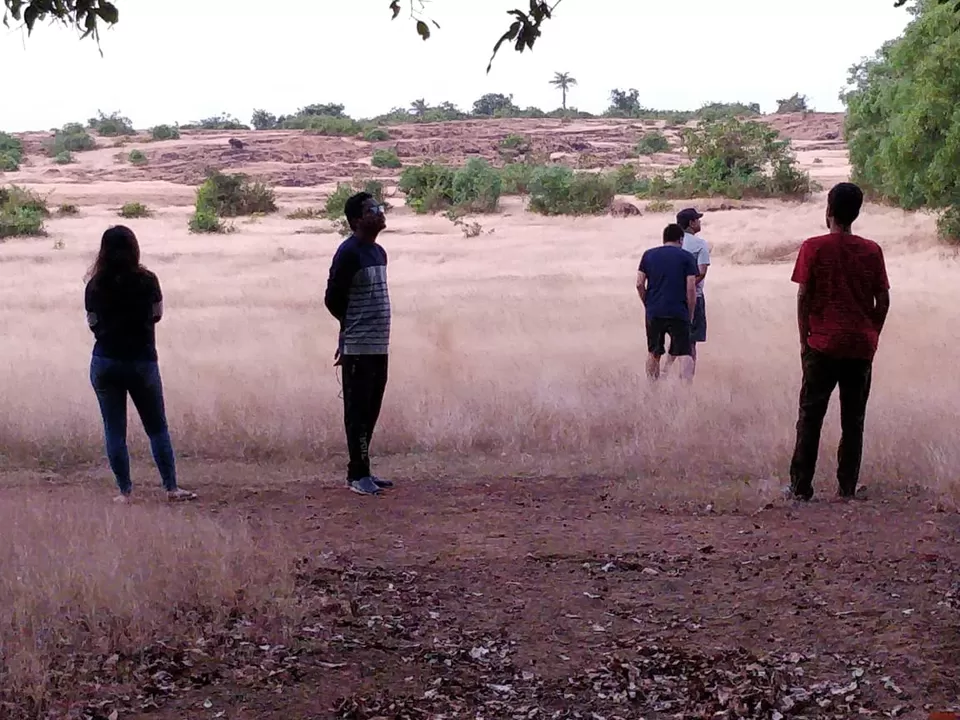 Early next morning at about 5 am we decided to go for a quick hike to Paradise beach.But u gonna have to toil for reaching the same.About 1 hr (4.0 km) via Kudle Beach Rd and Half Moon Beach Trail.The route is there on google maps but the trail is seldom crowded.Wear full pants, not to go alone as it goes thru a small jungle.The place blows you out immediately as u reach the cliff.Below the cliff lies the beach with clean golden colored sand.although used nets & empty cans n bottles are found in nooks n corners but still then the beach was comparatively.Don't Swim as there are nasty waves with undercurrent coming in.The locals we had asked about the place had suggested we can do camping for overnight stay n stargazing but as we had less amount of time of hand we decided to devour the sights & head back to our cars.We also covered Kumta Beach which is a straight plain clean beach with lots of baby crabs & crab holes.Wear fully covered crocs or shoes to avoid the claws in case u encounter big ones.
Due to less time we decided to skip some other Beaches --God's own Beach, Heaven Beach, Mystery Cave Beach, Half Moon beach.Most of the beaches have a hippie crowd in the evening. Suggest you to go n enjoy the ambiance on the beaches without disturbing anyone.You will find a variety of characters who will make up for your time while keeping you fully entertained.
Must do if you have time - Vibhooti falls.(We did)
The roads are marked on google maps.The road to the falls from the checkpoint on the main road is superb for drives & photography.Try to reach there as early as possible before or by 7:30 for a good photo opp.
It's one of the most beautiful waterfalls in the midst of green woods u will ever see.Park your vehicles in the clearing below the parking area.Do the short 1 km beginners trek from the parking lot to the falls.Wear clothes to get wet.The clean crystal clear water will always provocate u to take a dip which u must.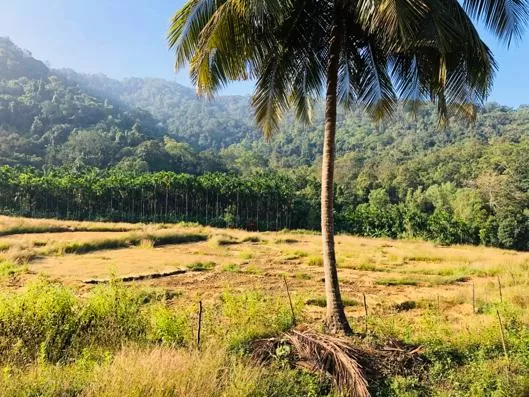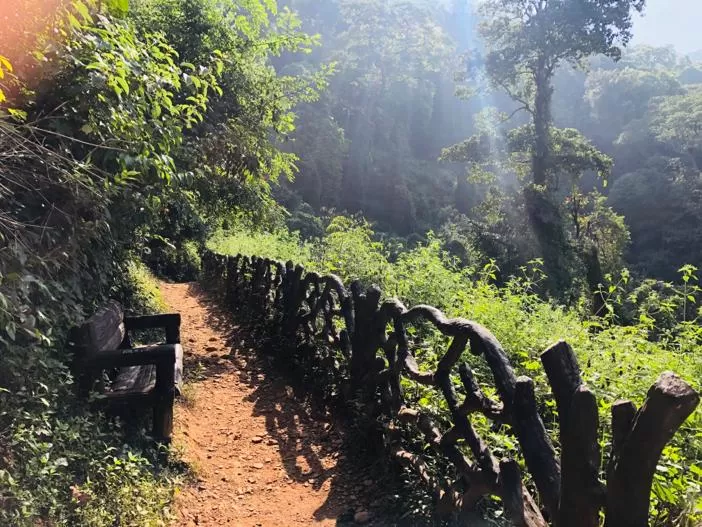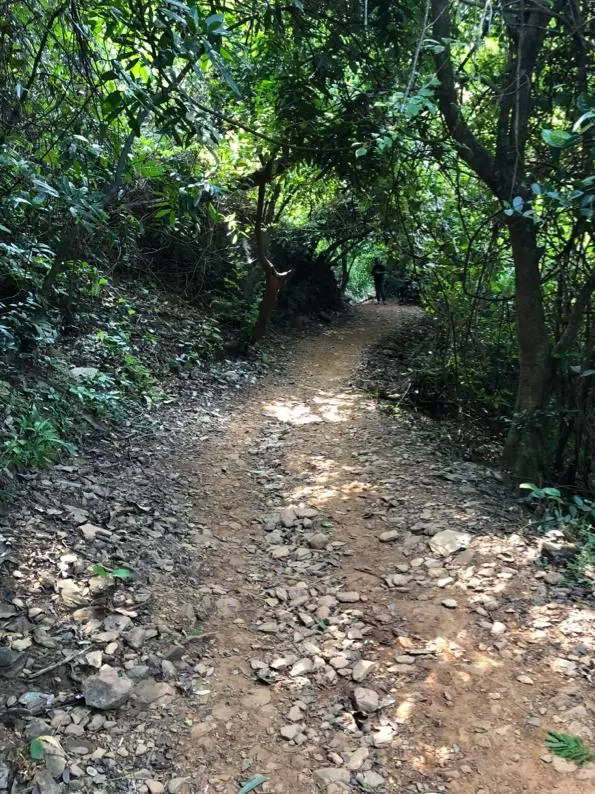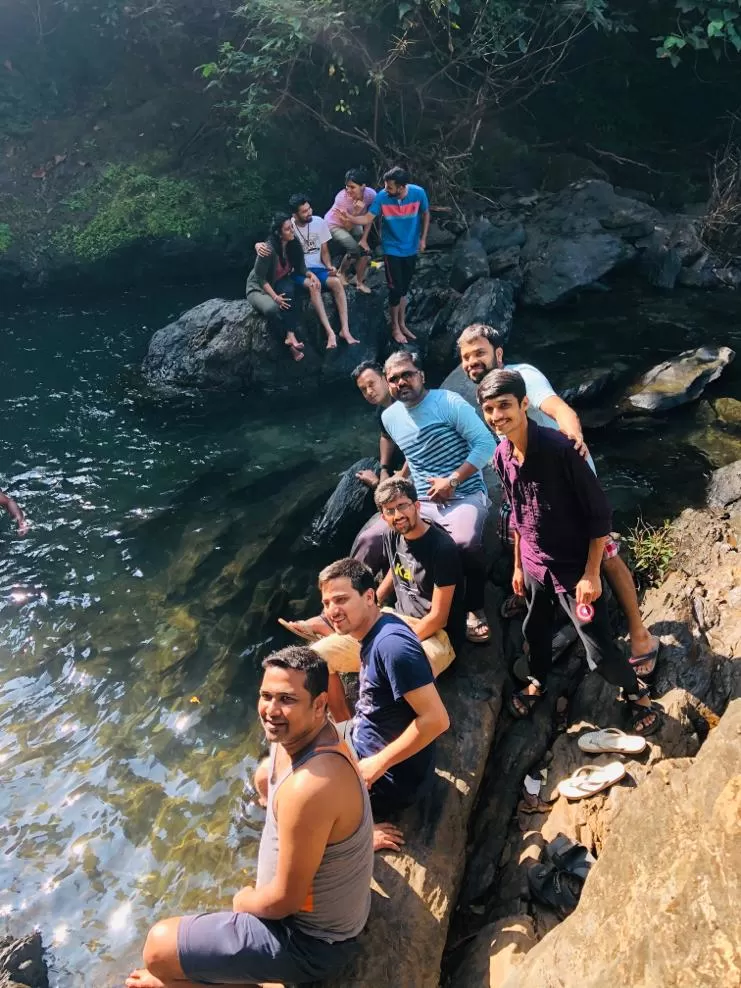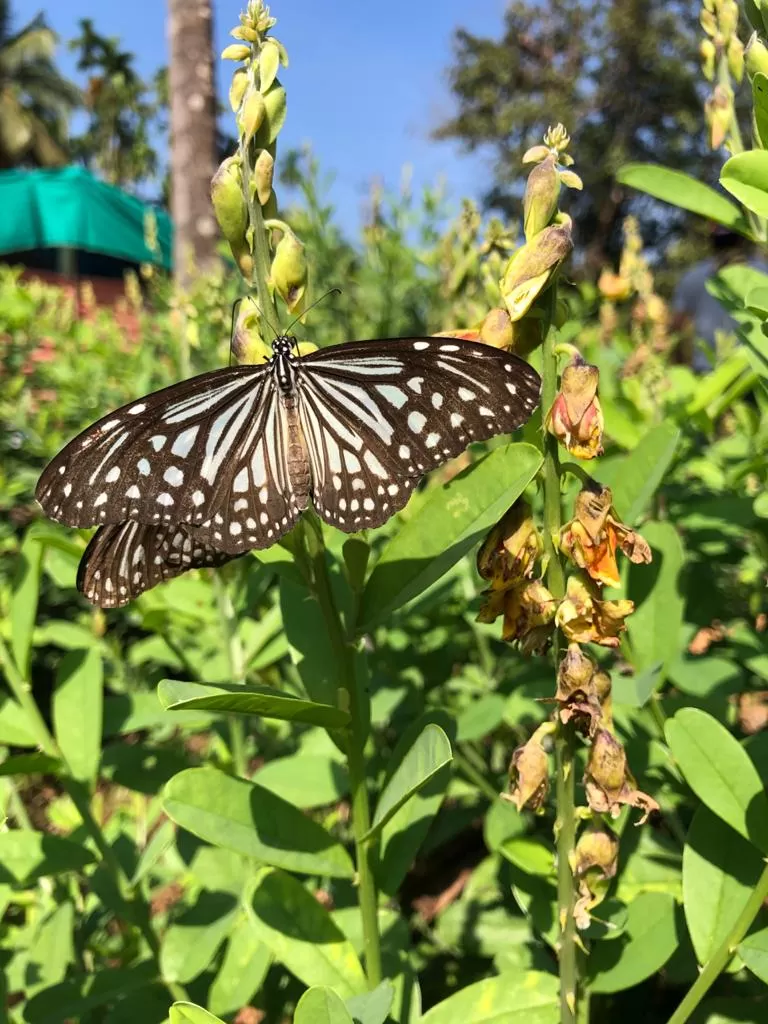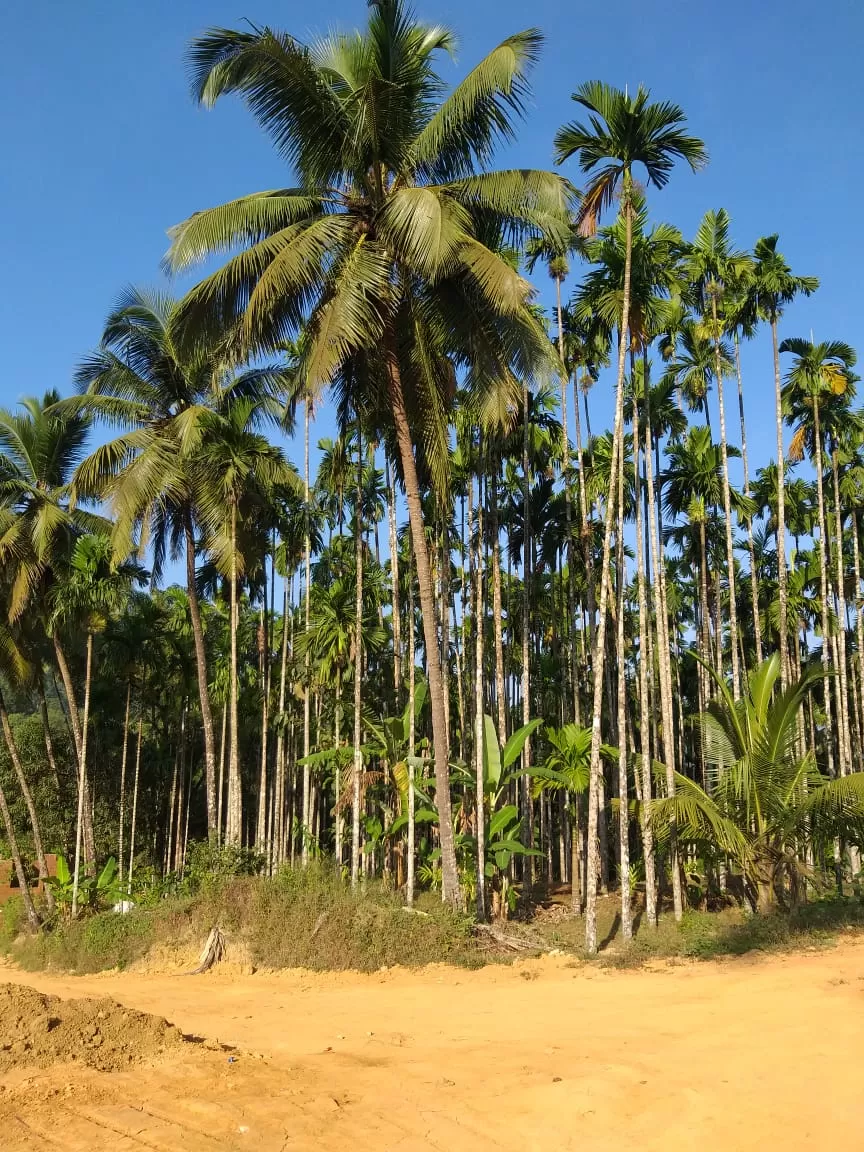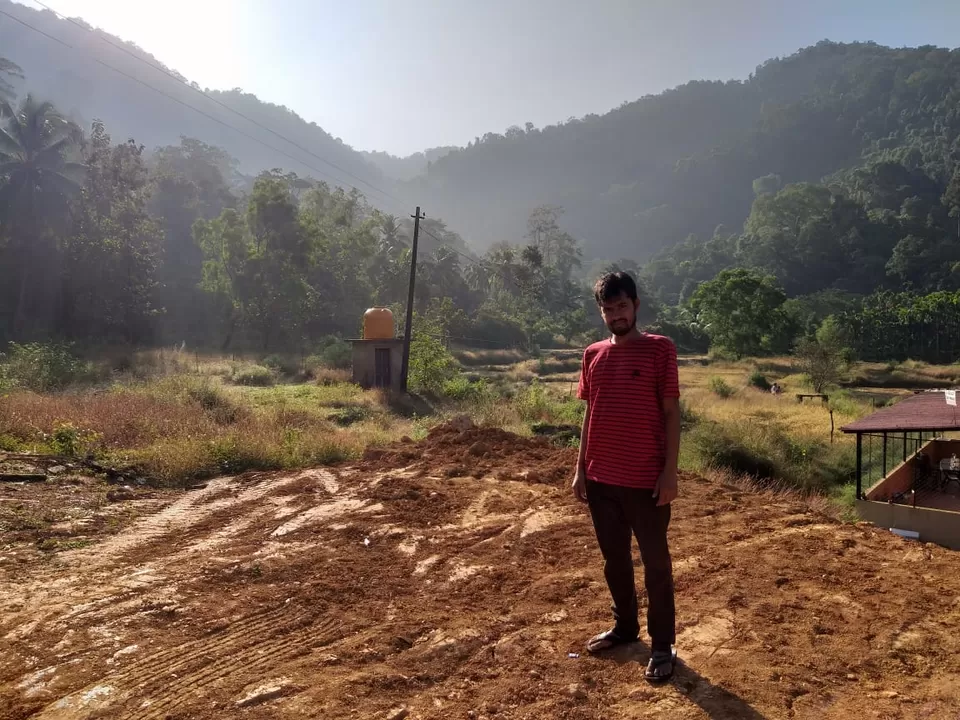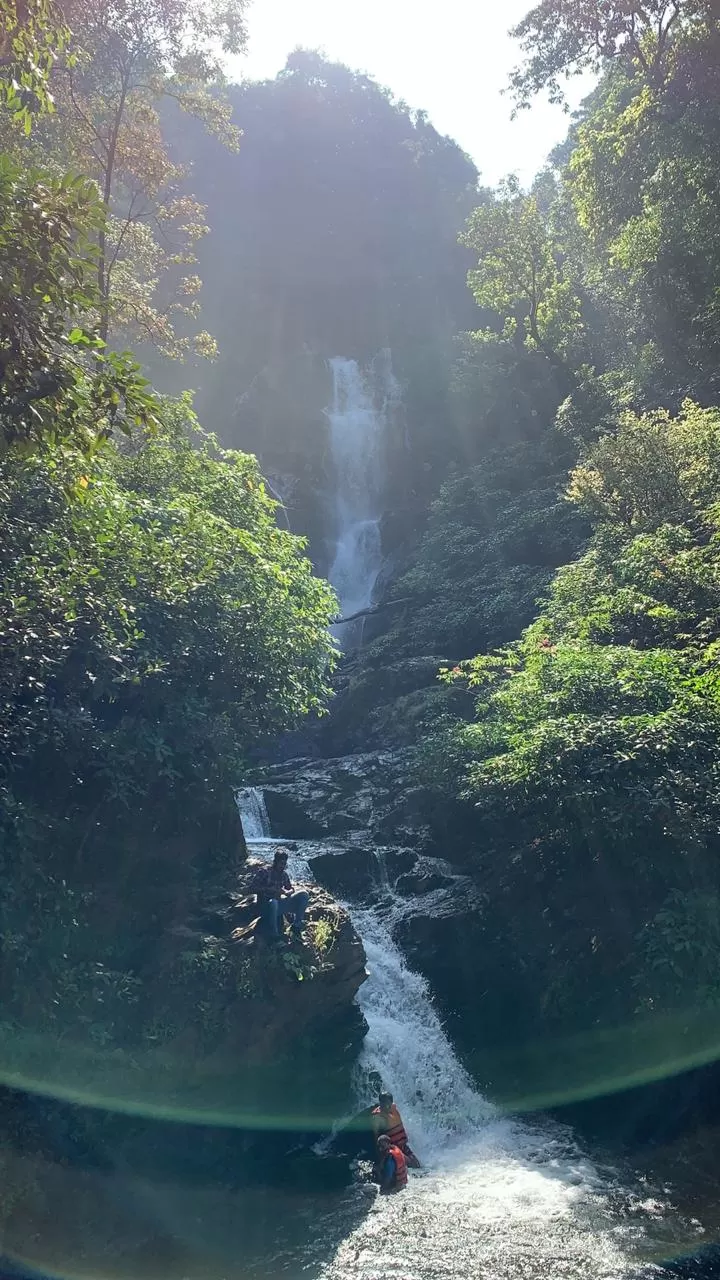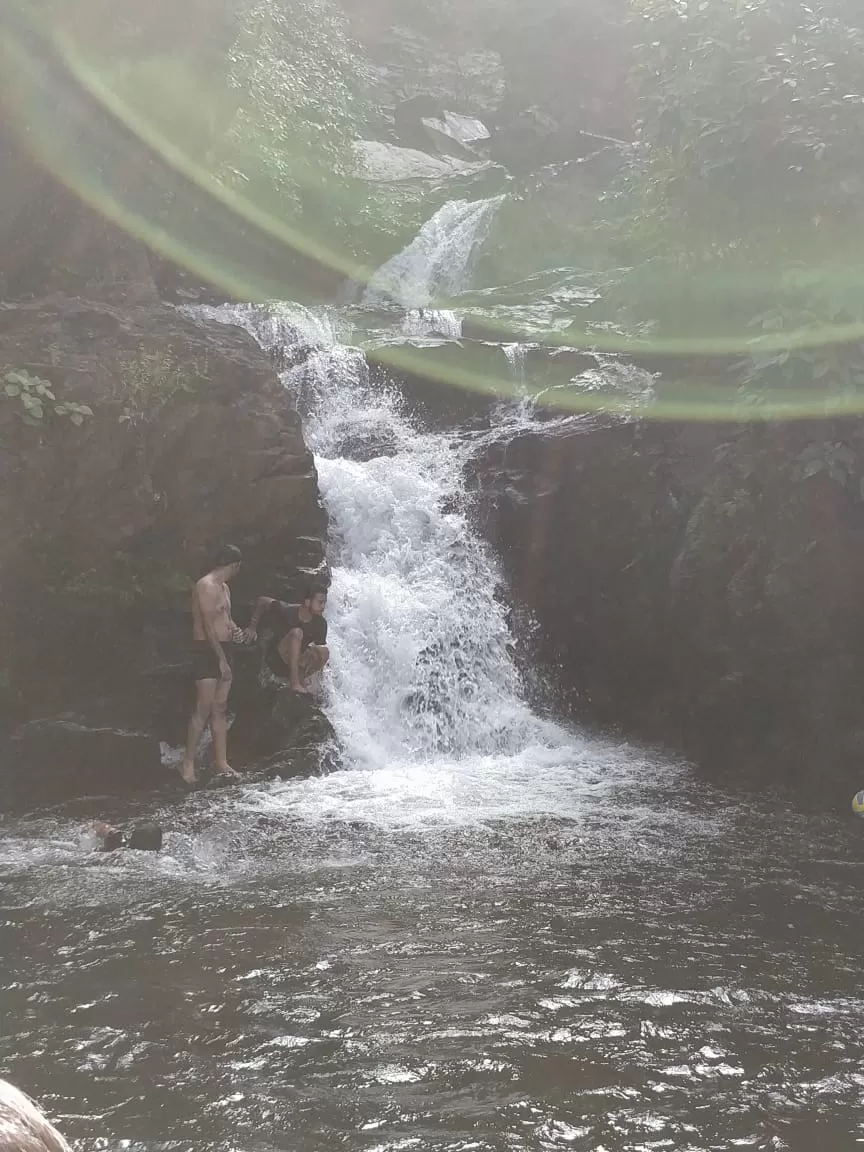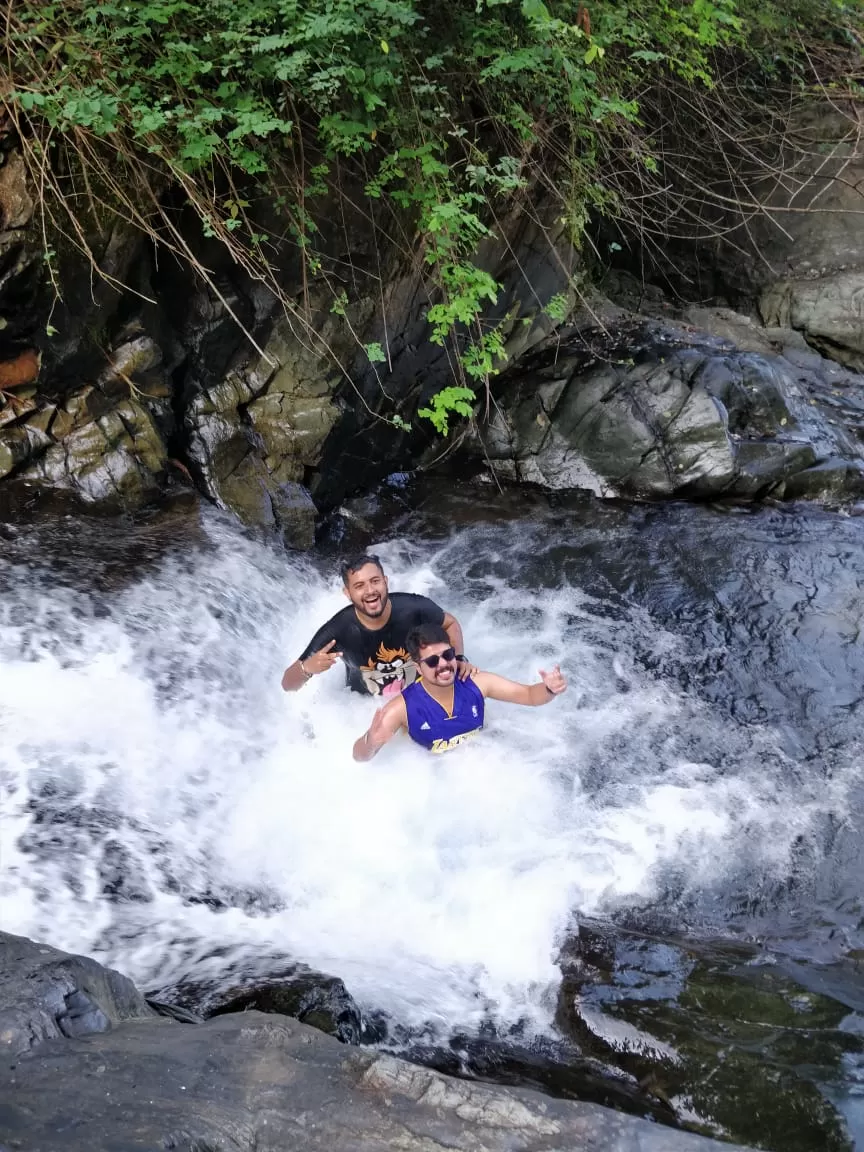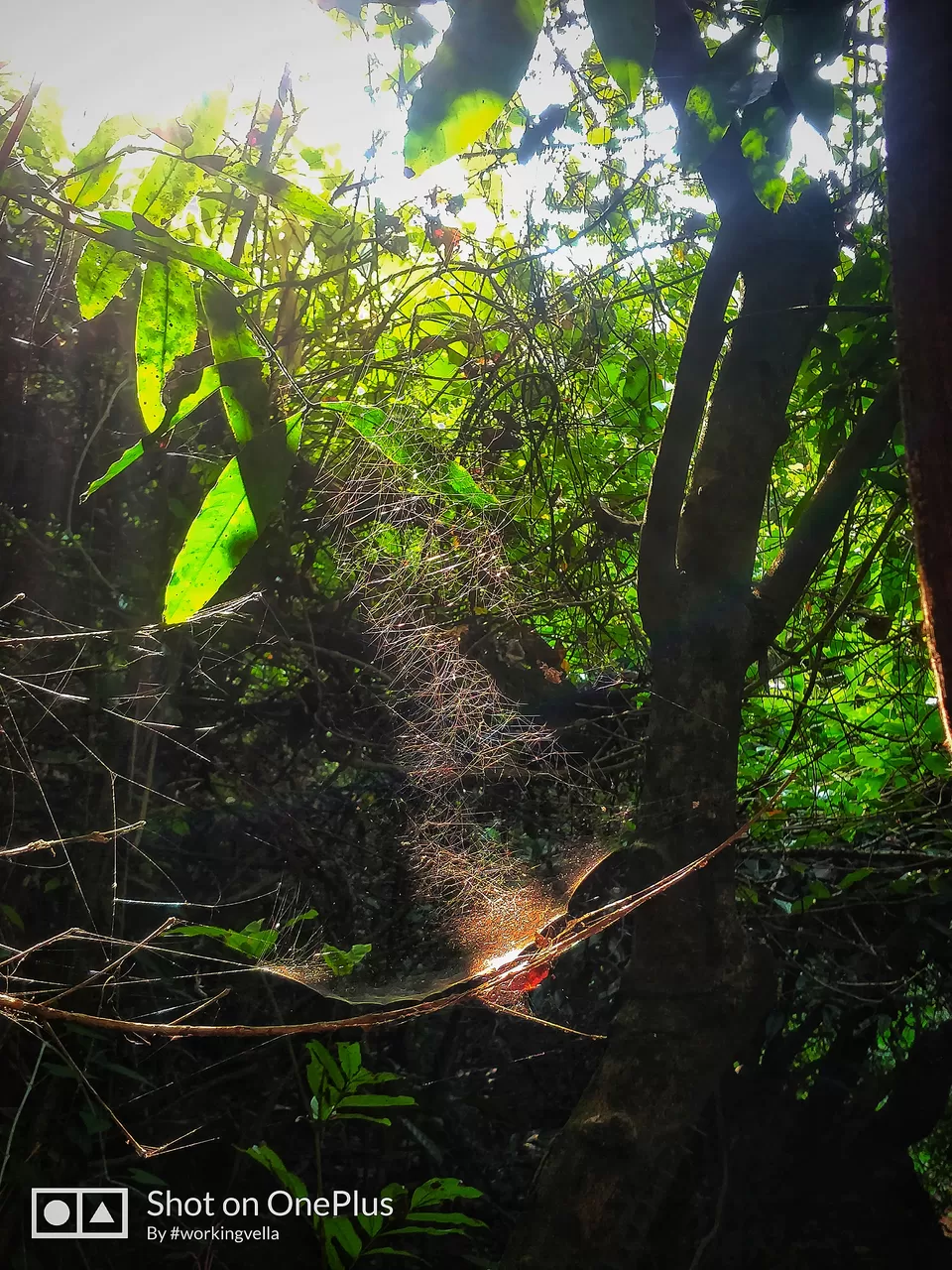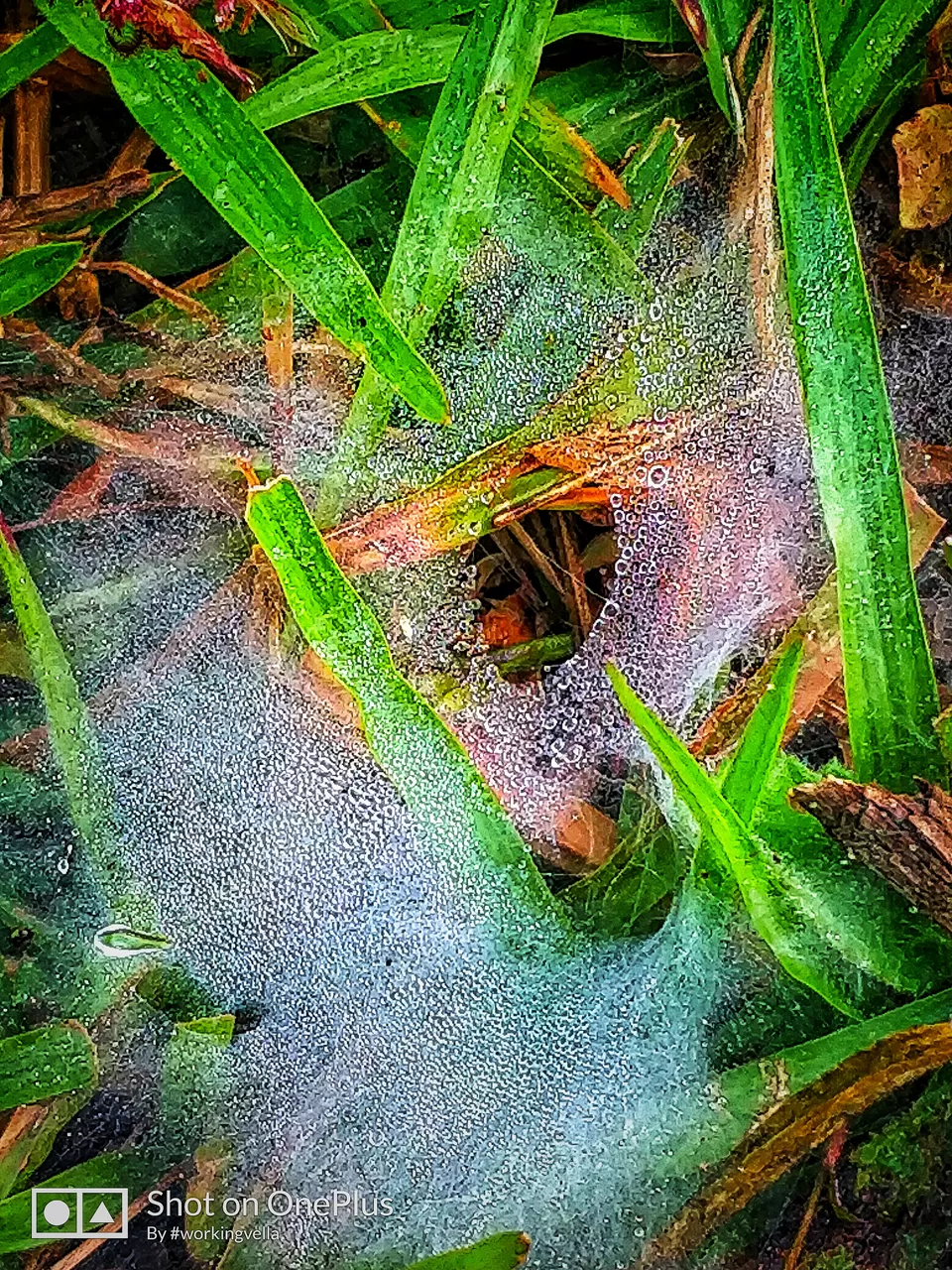 Visit the falls n then come down to the parking lot.Diagonally opposite to the falls is a small place run by a family.Everything is prepared by the lady of the house that too fresh from scratch.Ask for the spiced rice & omelette.They do have some good upma & poha also.Sip on a coconut water while the breakfast is getting ready post which ask for a Tulsi leaf tea.(must have's).There is a clump of bushes near the shop where you will find butterflies chilling on the flowers.perfect for any photographer.Ask the shopkeeper to wild tulsi plant & curry leaves plant.He gives them away with pride & tips on how to grow them best.
Ride out with the suggested route by google.Have snacks on the way back at dharwad or kolhapur(Vada pav/Misal pav-must try.)
If you are riding back on a sunday as we did be aware of numerous police checking as soon as u enter Maharashtra border.All Mumbai registered vehicles are checked. Make sure you are not carrying any booze or empty bottles or cans of booze with you.
Try out the dinner at 7-12 hotel at Satara or go for Manas resto again.(Best places for red meat.Ask for black mutton or desi chicken.)
Drive safe post having a early dinner as it tends to be heavy.
We reached at about 2:30 am at Mumbai. Did about 15 odd hours of driving again.