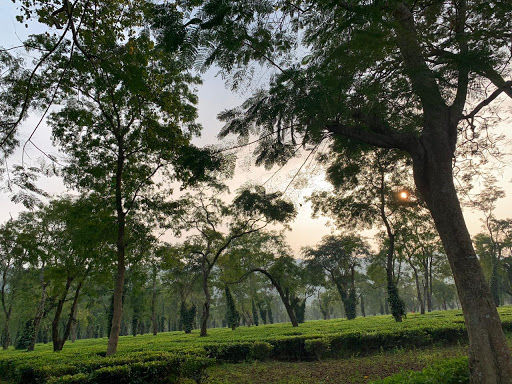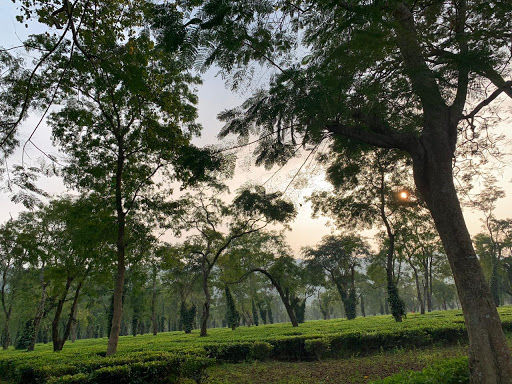 I started at around 7 am from Guwahati as it helps to beat the traffic and helps in enjoying the early morning views and scenery, well for breakfast I Stopped at restaurant called "NI4" hotel in Jagiroad as I wanted to have puri sabji and obviously tea.
So after having the breakfast, I started to drive and reached the 2nd kaziranga view point,we decided to stop near the view point near kaziranga to get a good view of the Rhino's out there as well, O ya I forgot to mention, there is a small temple in Burapahar before reaching Kohora called "Burhi Aai Thaan", it has great significance and history, everyone passing through this route stops and bow their heads to seek blessings.I decided to make a small visit out there. Anyways now back to the track, Here is a pro tip for you when you are in the viewpoint, ask the guys with binoculars to take a picture of you keeping the animal in the background along with you through the binocular, they take lovely picture like that.
After spending 15-20 minutes out there and having a cup of tea, we again started our journey towards Kaziranga and checked in at the hotel Green reed.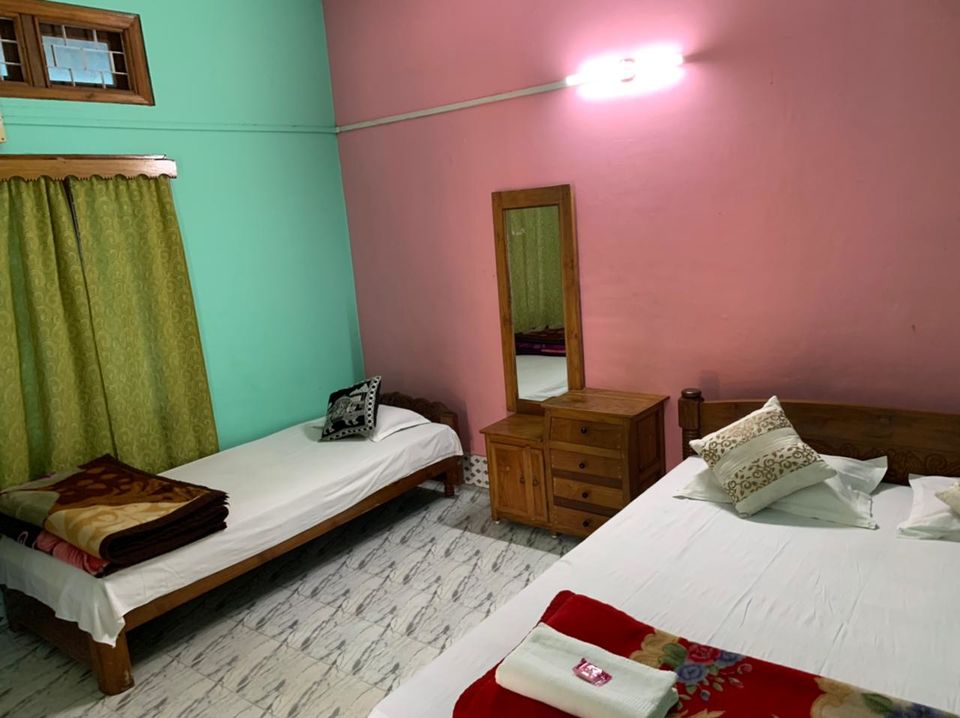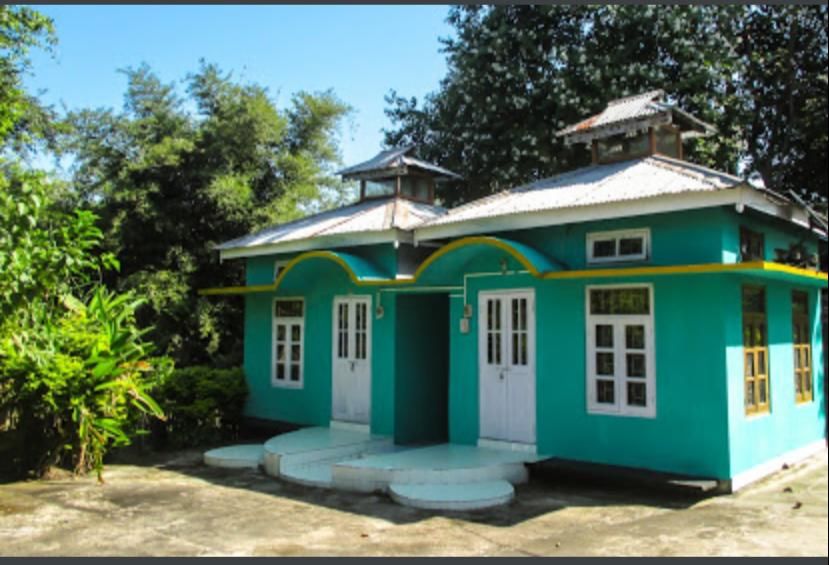 entry of home stay available throughout which you can book online. After resting for sometime, at around 2.30 pm we went out to have our Assamese traditional thali lunch at orchid Park, the thali consisted of around 18+ items, the thali here is amazing, must try the thali here.
Everyday a cultural program is also organized in the garden from 6pm onwards. But we decided not to stop for that show as we had earlier seen it twice. After having a great lunch, we decided to walk around the park for a while and then at around 4 pm we came out from that place and just strolled near the Kohora entrance park to book our jeep safari for the next day. You will get plenty of jeep safari guys with vehicles near the kohora point to book. For 3 people it costed us around Rs 2300, After walking and exploring the nearby area for a while, we then decided to go towards Bokakhat, the place is knows for its sweets "Peda" and "Puri Bhaji" its just around 30-40 mins drive from Kohora.
We reached the spot at around 6.15 pm and we munched on the "Peda's" and some snacks, we 3 guys ate almost total of 15-17 peda's overall. Yes you guessed it right, we do have a very huge appetite.
Anyways after that amazing snacks, we returned back to our hotel and played some UNO card game which we took along with us. After playing a few games, at around 9 pm we got hungry again and we were in the mood to eat some chinesse food, fortunately "John's Kitchen" has opened up near Kohora range, they serve great Chinese food at reasonable price. They have their one restaurant in Guwahati as well. We had soup, Chicken and pork momo and fried rice along with chilly chicken, the classic combination for sure. If you visit there, you must try the Momo's.
After a great semi heavy dinner, we made our way back, and driving at night in winters out there is totally amazing, just put down your car's window and feel the cold breeze on your cheeks.
SO we reached around 11 pm since we were very tired from all the travelling and eating we dozed off and woke up at around 5.30 am for the morning elephant safari.
We drove off to the elephant safari spot, and we 3 were ready to go deep inside the jungle with our bablu ( That's the name of the elephant).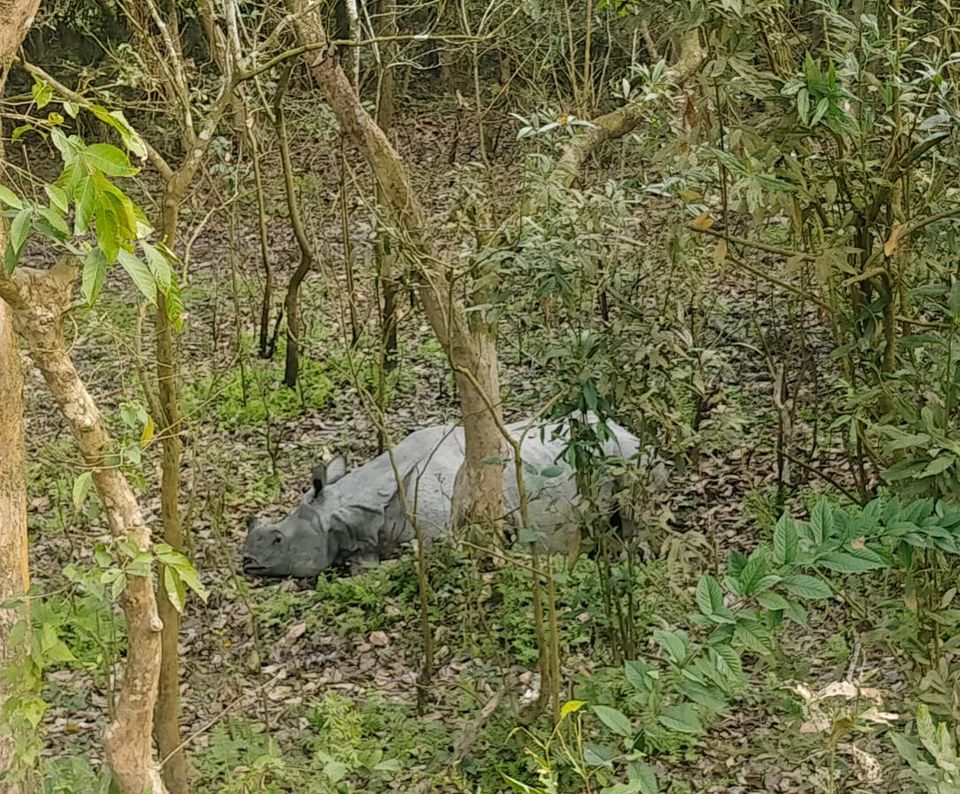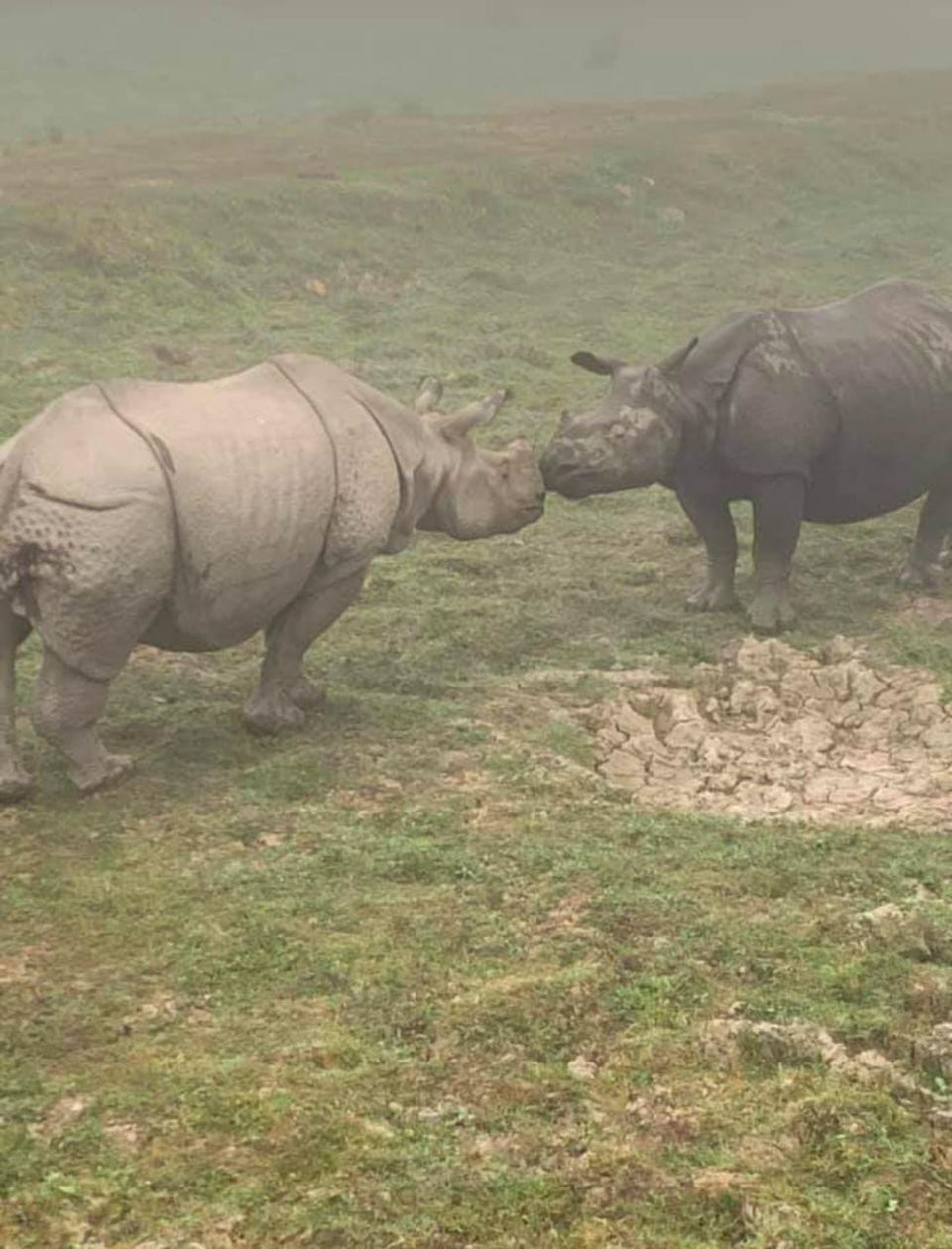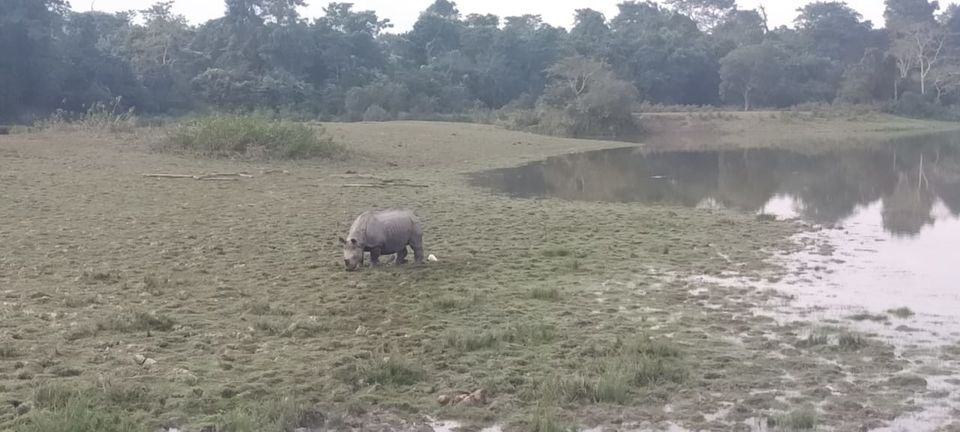 The elephant safari is a must have when you are out there in Kaziranga, we saw wild boars, wild elephants, loads of different species of birds and the great majestic one horned Rhino just a few meters away from us. That experience is totally amazing, you can observe the animal at a very close range. After that breathtaking moment we then went a bit more further within the jungle to explore some more animals, Tiger wandering around are also a bit common out here, but unfortunately, we didn't saw any tigers that day though.
Well after that we again went for the jeep safari from the Bagori range after having a cup of tea along with some local snacks ( Pitha's), We entered the range, the road was very bumpy and we can clearly hear the beautiful chirping of the birds, it was so very relaxing and the sound was music to our ears. From the jeep safari we observed many migrated birds, One horn Rhino's,wild boars, swamp deer's, we also got down in a point to click some photographs and all. The safari is worth a try.
Both the jeep safari and elephant safari differs from one another, the elephant safari has its own beauty whereas the jeep safari is also very marvelous.
Well after having back to back safari's, we were a little bit tired as well, So for a good breakfast we decided to stop at "Laheke Chai Cafe" in Kaziranga for breakfast.
It was a good decision for us to visit that café, I just loved the ambiance a lot and the food out there is delicious.I tried some assorted pastries, sandwiches and chole bhature ( puri sabji) along with a cup of coffee. We sat there for about 40 mins, its a lovely well decorated café.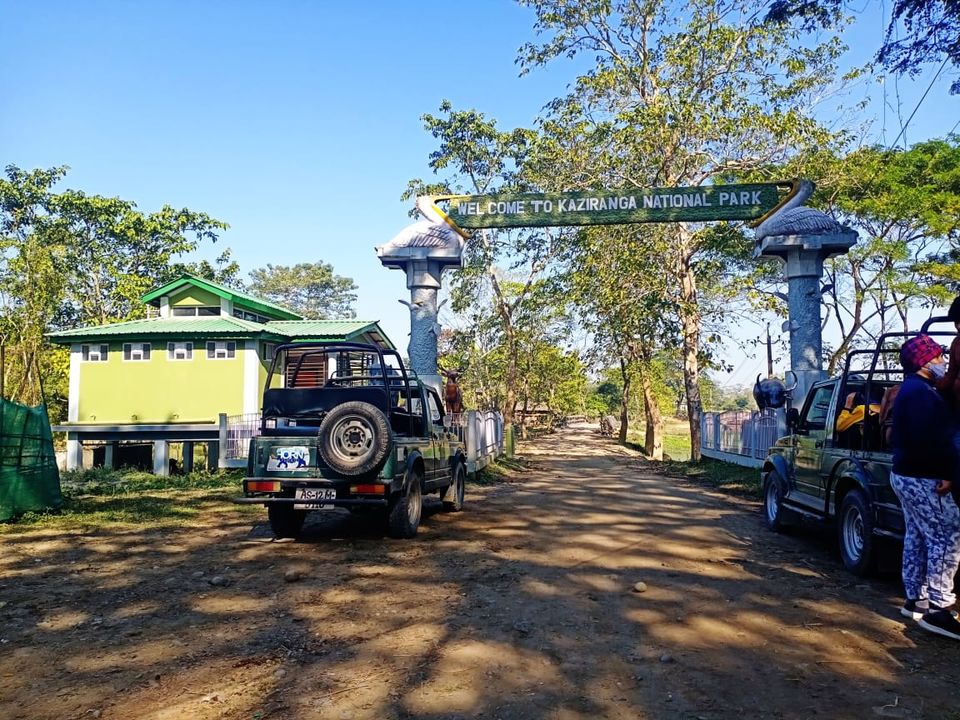 So we then started our way back towards Guwahati after having an amazing trip. Its a perfect weekend getaway from Guwahati. Well we made our last stop near Nogaon Bypass for lunch, There is a dhaba called " Sugandhi", the food there is amazing, I love it. My all time favorite is the Kashmiri Pulao and malai kofta/ Chicken butter masala. A must try place if you go through there.
Well we reached our respective home at around 6pm and ended our trip,
.
P.S Its better to book elephant safari and jeep safari the previous day at the official counter. for jeep safari cars can be observed and rented easily.
Below am gonna share an approx. expenses we made through our tour, as I took my own vehicle the expenses are-
We covered around 530 km (to and fro)
1) Fuel- Rs 3202 (Overall)
2) Accommodation - Rs 1700
3) Food- Approx 1500 per person ( had around 7 meals in two days)
4) Tickets/Entry fee- RS 2700 ( Including safari's) + 900 ( each in Elephant safari) + 200 each orchid garden
So overall per person cost was around 5134 for an amazing two day trip.
FOLLOW https://hopwithbiki.blogspot.com/