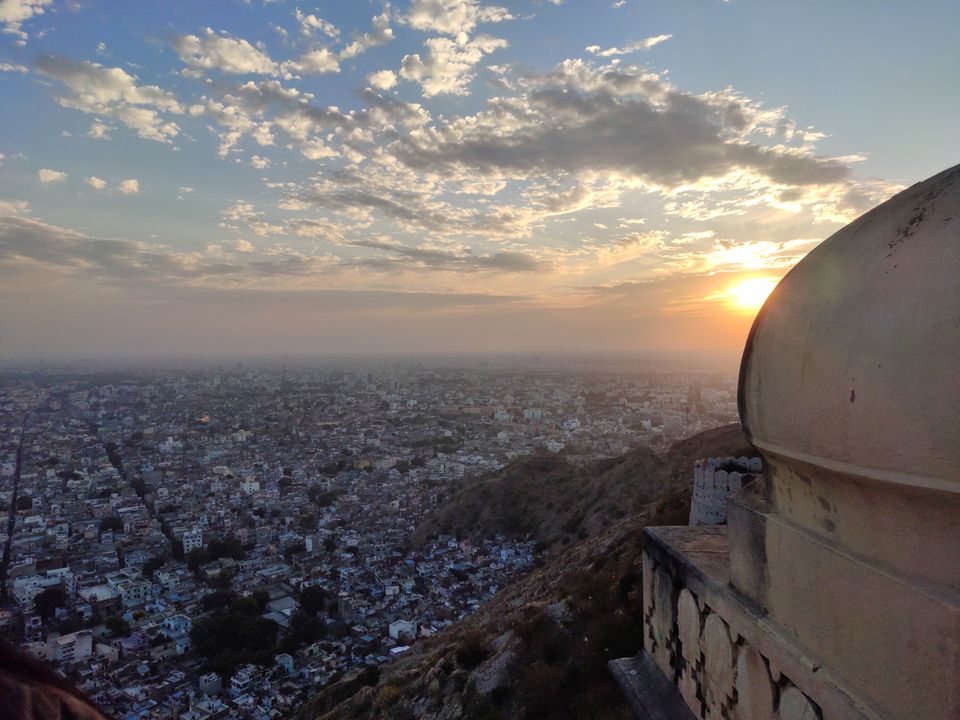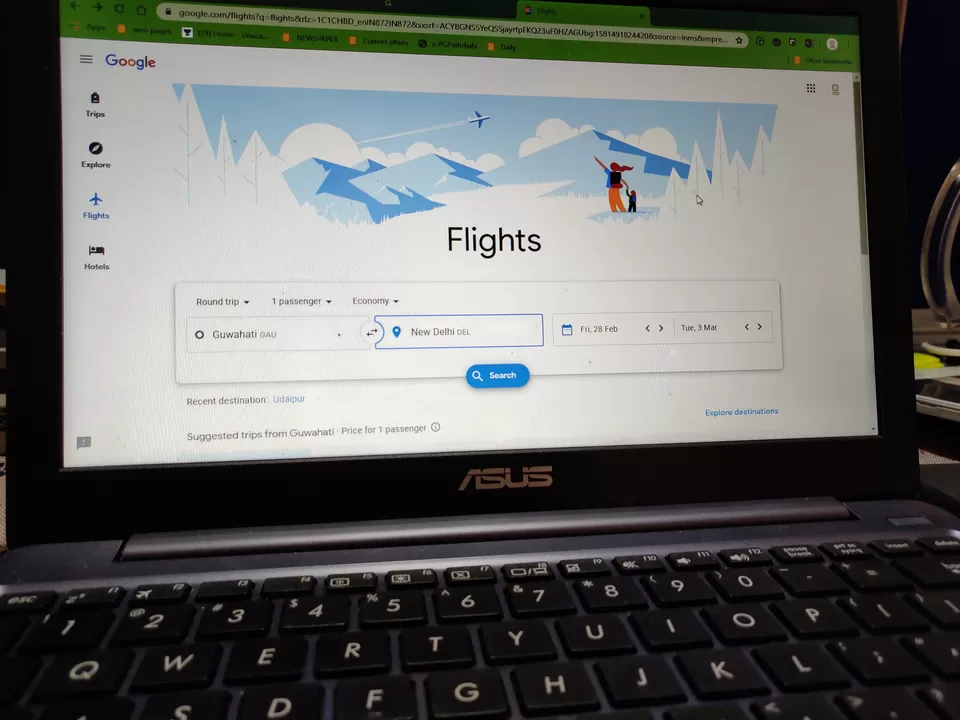 As i was in short of time,i was sure i can't travel by Train and i have never took a flight before. So i started the basic search of flights from Guwahati(my place here in Assam) to Delhi airport. As JAIPUR LITERATURE FESTIVAL,2020 was scheduled from 23rd January,which was to be held in Jaipur, i decided to travel Jaipur and Udaipur,two famous city of Rajasthan and on my way,Delhi too because why not.
As my friend advised,i searched for terminal 3 flights as airport metro station was inside terminal 3 of Delhi airport and it is very convenient to travel towards New Delhi from there and it's cheap too. As flights were 3 month later,i got a very good price and booked a round trip in Vistara airlines.
*THE SECOND STEP
The most important step if you are budget traveler is WHERE WILL YOU STAY. In all the stories i read above,there was enormous mention of this hostel brand called "Zostel" and how it was fun and safe way to stay for solo backpackers. I googled a lot and finally booked dorm beds in ZOSTEL UDAIPUR and ZOSTEL JAIPUR. I will mention all the cost later. Anyway, my staying was confirmed and flights were booked,so what now? I had to travel from Delhi to Rajasthan and as in winter,i thought bus journey will be the best and safest. Udaipur was farthest from Delhi so i planned to Eat the frog at first. I planned the way like Delhi-Udaipur,then Udaipur-Jaipur then Jaipur-Delhi as my return flight was from Delhi. Here,RED BUS app came to my rescue. I compared the prices,amentites,pick-up,drop-off places of the buses of the mentioned route and booked sleeper seats according to my planned dates. The major part of the planning was completed.
*AND FINALLY,THE LAST STEP
The last step of planning is to decide what to carry,where to carry and how much to carry?
As i was traveling in month of January,dead cold in Delhi,i had to be extra careful on my clothing. I bought warm thermal wear set and dry washed my jacket,washed my joggers and done. Also gathered two pair of shoes,a pair of gloves and a warm beanie. Clothing was done.
As i am prone to cold,i had to prepare for the worst too. I've collected tablets of FEVER(Paracetamol),ALLERGY(Cetrizine),pantoprazol and Saridon. I also bought lotions as Rajasthan is an extremely dry place.
All the essential items from the list were checked but in what to carry all these? As i am travelling solo,i cant carry trolley or two bags. It had to be EASY-TO-GO and hence,i bought an rucksack.
*HOW MUCH IT COSTED THIS FAR
FLIGHT TICKETS:

I booked from amazon as i was getting the convenient fee as cashback. So it costed me 8451 INR.
RUCKSACK: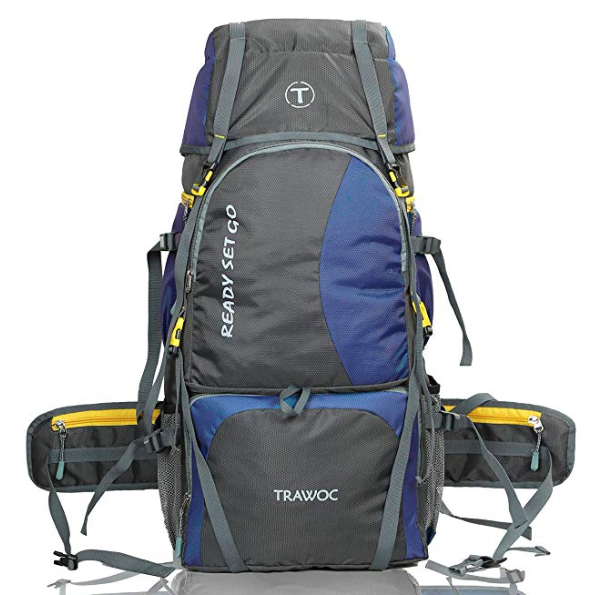 I bought this rucksack from Amazon,i was skeptical about the bag's quality but after i traveled,walked with it on my back and it was worth all the penny. It costed me 1272 INR.
ZOSTEL AND HOTELS:
As i were planning to roam Delhi too so i booked an oyo spot on hotel nearer to New Delhi Metro Station for travel convenience. It costed me 900 INR fro two days. Then i booked one bed in 6 Bed dormitory in Zostel Udaipur which costed me 500 INR and two night in Zostel Jaipur which costed me 1200 bucks. Finally,the last night i spent on Delhi in a lodge for 600 bucks. I booked and paid for all of the above for seamless travel experience.
BUSES:
DELHI to UDAIPUR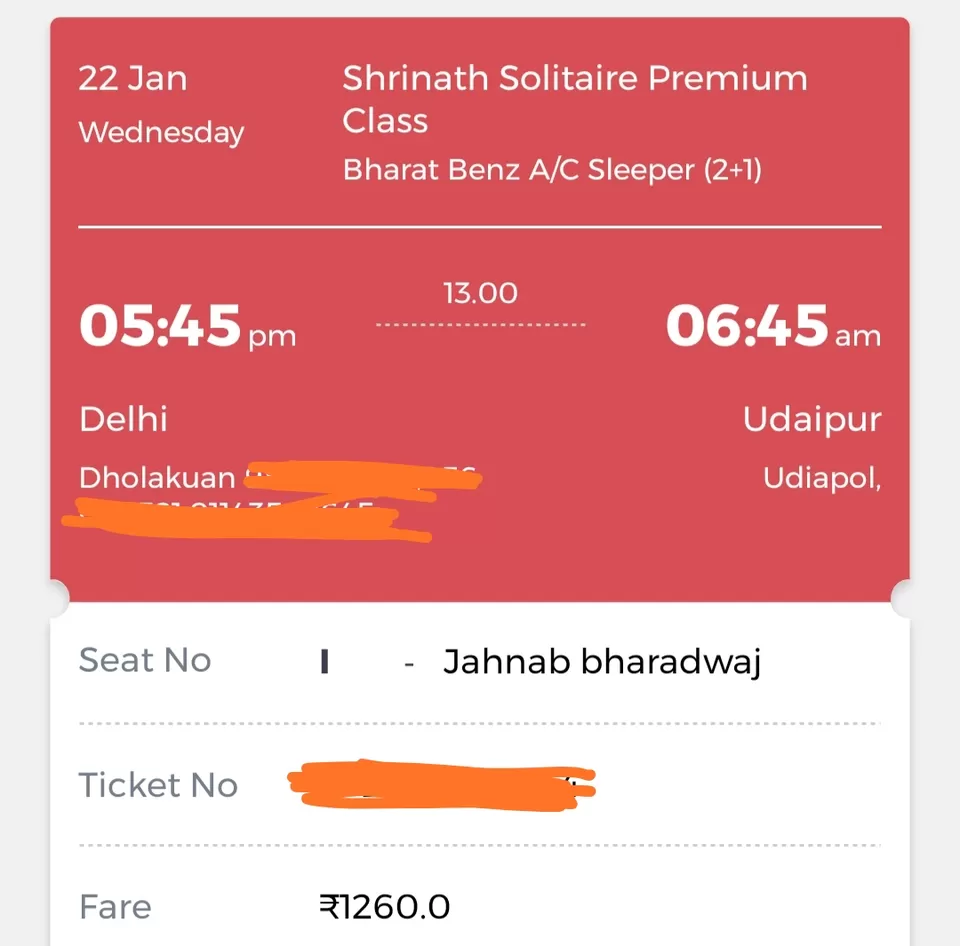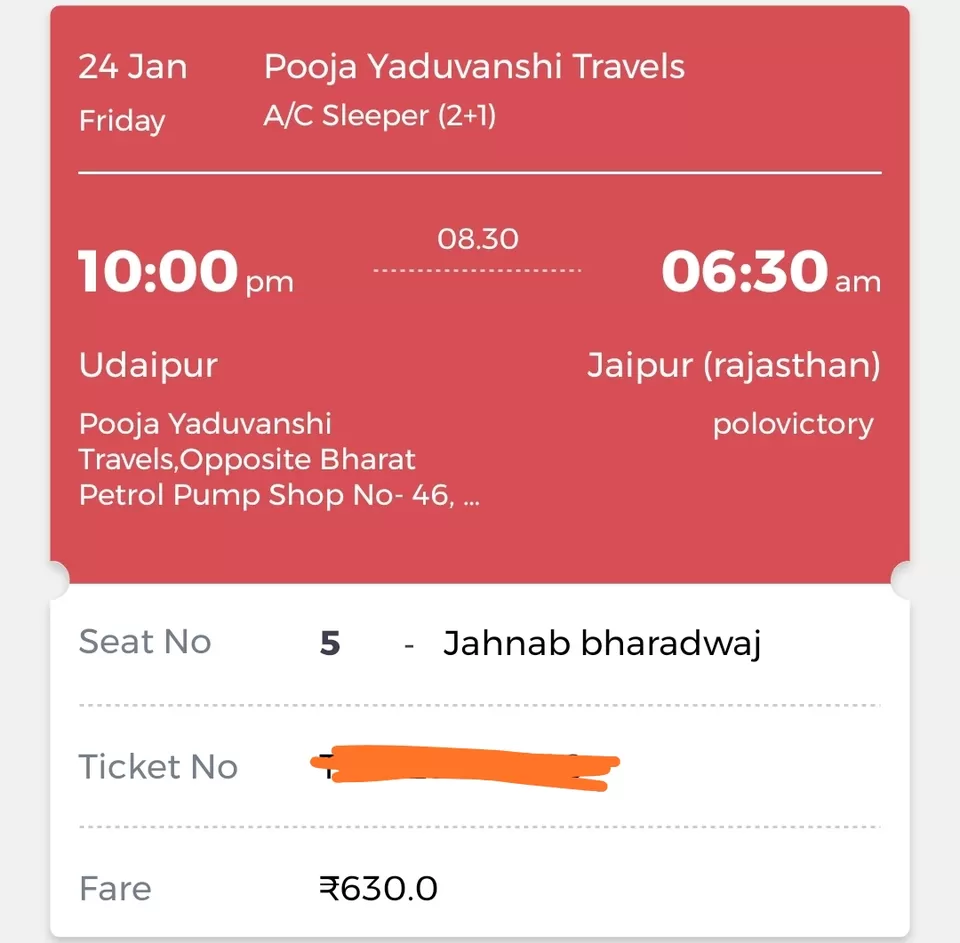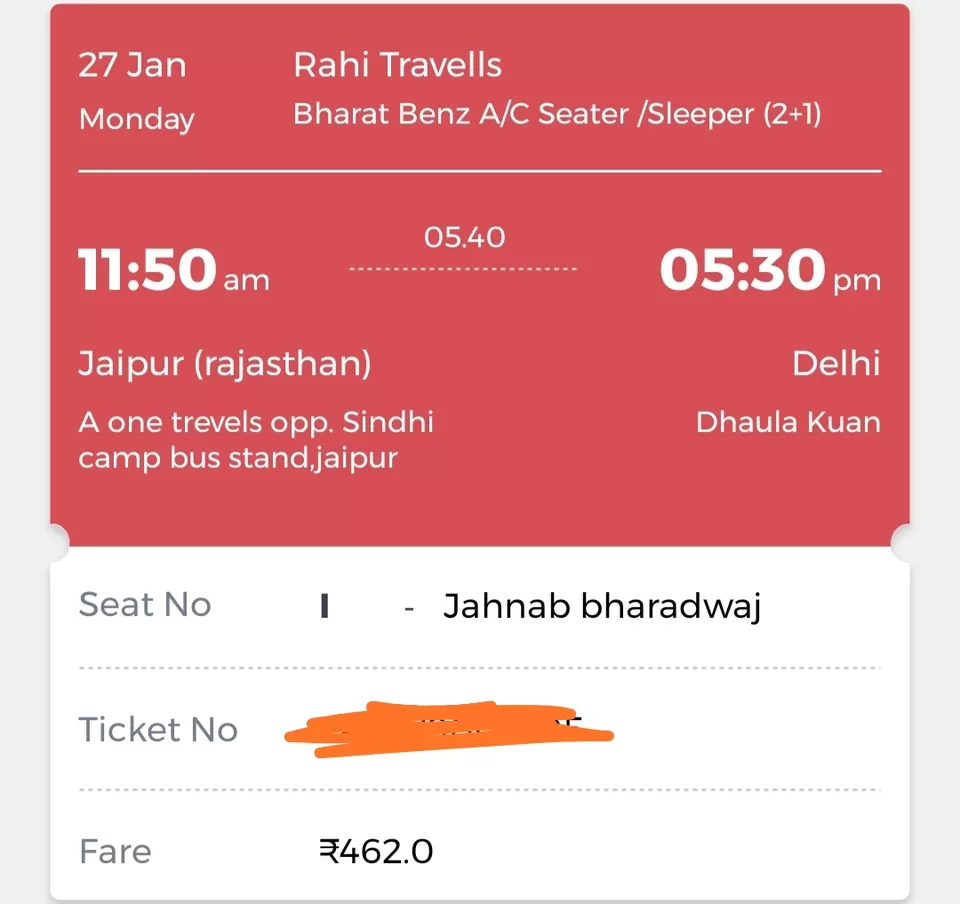 AND FEW MORE TICKETS:
*If you want to join JAIPUR LITERATURE FESTIVAL, then early register for it for free in months of november. On spot registration and online registration is very costly (800 INR in weekend).I registered it very early and printed my ticket.
*I have also booked COMPOSITE TICKET to 8 historical places in JAIPUR which costed me 300 bucks which is very convenient rather than buying individual tickets every time. I booked it online here -
http://www.bookrajmonuments.in/
*Also,i booked online tickets for RAJASTHANI FOLK DANCE program in Bagore ki haveli,Udaipur for 90 bucks. These tickets are very demanding as queues are very long before the program starts.
TOTAL COST OF ALL THE PRE-PLANNING:
6824 INR (excluding the flight fare 8451)
After all the pre planning, i waited for the day to come.......
In the next blog,i will write all the details of the trip.Till then,see ya.
[This blog post contains every minute details of how i pre planned everything for a solo trip to Rajasthan. This blog do not contain travelling details. Tour detail will be uploaded on a separate blog post here]
It was a lazy evening of November,i was laying on my bed scrolling endless Instagram stories of people travelling to a lot of places,many were luxurious trips with friends,families and their loved ones,and very few were solo. Then suddenly a vlogger caught my attention, he was travelling all solo with limited budget and been to places like European countries,Asian countries with just a backpack and a camera. I started scrolling his stories,watching videos and got to know that he is a regular employee from Delhi and that's it- a nobody just like me. But in social media,he is a talk-of-the-town by his stories of travelling,hitch hiking,an extra ordinarily humbled vlogger with informative yet fun vlogs. I started watching solo travel trips vlogs,few trip stories on Tripoto and that gave me a hope that - nobody like me keep planning things to do in certain way that the ONE DAY never comes, but what if i dare,dare to go solo to somewhere out of my comfort zone. That's it. That's how this trip got the first investment of inspiration and dare.
[Can you guess the vlogger above mentioned? He is Varun Vagish]
I asked my friend Priyam that i should go somewhere but i really donot know where?Should i go to Kerala? Rishikesh? Then she proposed something amazing- "Jahnab,have you ever heard of JAIPUR LITERATURE FESTIVAL ? I never have been to the festival but i know a lot of people from our university campus always make plan of JLF in Rajasthan which i guess organised in January-February." And i was like bingo,that's it and the best time to travel in Rajasthan is the very time JLF is scheduled. I dug and dug every solo trips ever planned to Rajasthan but this guy i found in Tripoto (https://www.tripoto.com/profile/hardeepsingh3683588) was very informative. I took notes of his journalof his solo trip to Rajasthan,how he travelled,how much it cost and everything. I was very excited because I've never been to any places this far,let alone solo trip. I started planning meticulously. As a small town home tutor,planning of budget and leaves were very tough for me.But i wasn't hopeless like earlier. Like,"HOW'S THE JOSH? HIGH SIR".