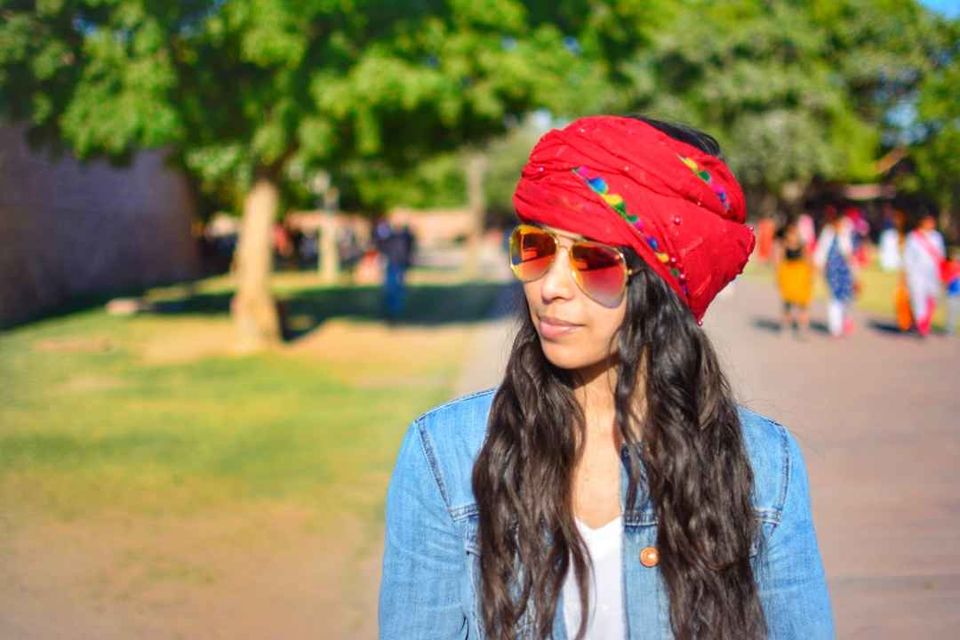 Imagine yourself in a situation where you have two options to choose from, one is spending your new year trekking around mountains, but shivering in frosty frigid cold, talking to the interesting people you have just met, stopping for Maggie and Chai and feeling overwhelmed after reaching the top. Sounds exciting? Very.
Now consider this.
Roaming around a colossal fort, taking pictures at beautiful gates of different palaces, thinking about the non-frugality of Indian kings which might have led to the poverty we have, feeling the sunshine after long and off course talking to the interesting people who you have just met.
The first option of mountains sounds way more interesting unless
"Dilli ki Thand" comes into the picture.
Being a devoted lover of mountains, I could never imagine myself opting for the second option. But, since it was extremely cold in Delhi itself, warmer places like Jodhpur-Jaipur won the game.
It was an abrupt plan with no actual plan and bookings. I had three days, so I decided to explore Jodhpur and Jaipur and skip Jaisalmer.
I had explored many famous food joints in both the cities. To read the food blog, click here.
Sounds very cliche? Did to me too, but keep on reading to know why this was an amazing trip!
It was Friday and I had office till 6 pm. So, I took a train which starts at 11:50 pm and reach Jodhpur by 10 am. This costed ~ ₹379 per person. It was a sleeper ticket. I would suggest to plan a little early and try other available trains which leave around 8-9 pm so that you can reach early. Also, avoid travelling in sleeper class during extreme winters, unless you want to carry 2-3 blankets! I had just one :(
Taking a bus is another option but it will cost you more than the train.
Jodhpur: Day 1
I reached Jodhpur around 9:50 am and the first thing I felt was the rare sunshine I was craving for. Jodhpur in December is very pleasant. I had booked my stay at Raahi Hostel. It costed around 699 per person as this is the peak season. You can book it directly by contacting at +91-8118806580 (Sachin) and save some more. We could have easily got a decent hotel in the total amount we paid, but staying in a hostel has its own charm. First, hostels are very picturesque; second you get to meet many interesting people from different parts of the world. The hostel is spacious and has a cafe at the top. See the picture: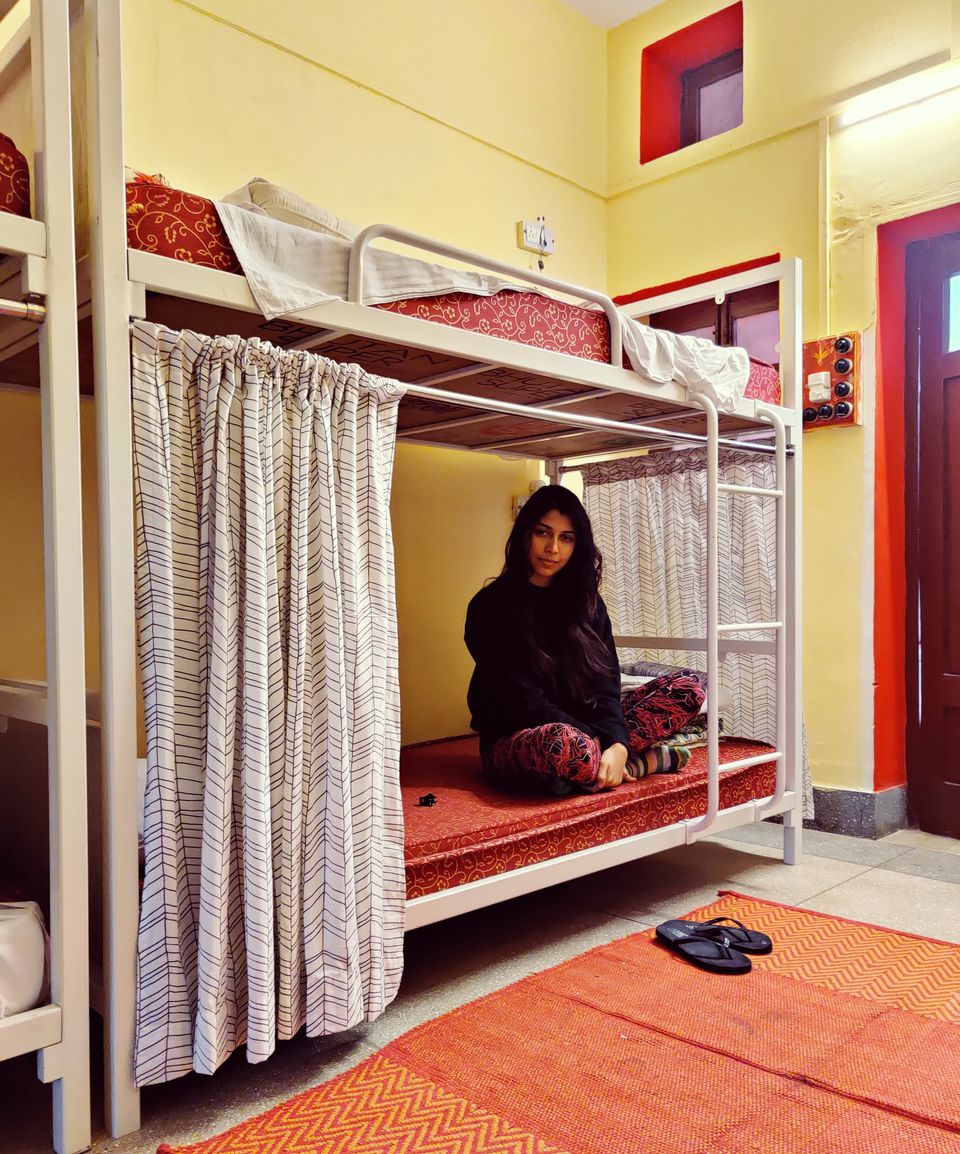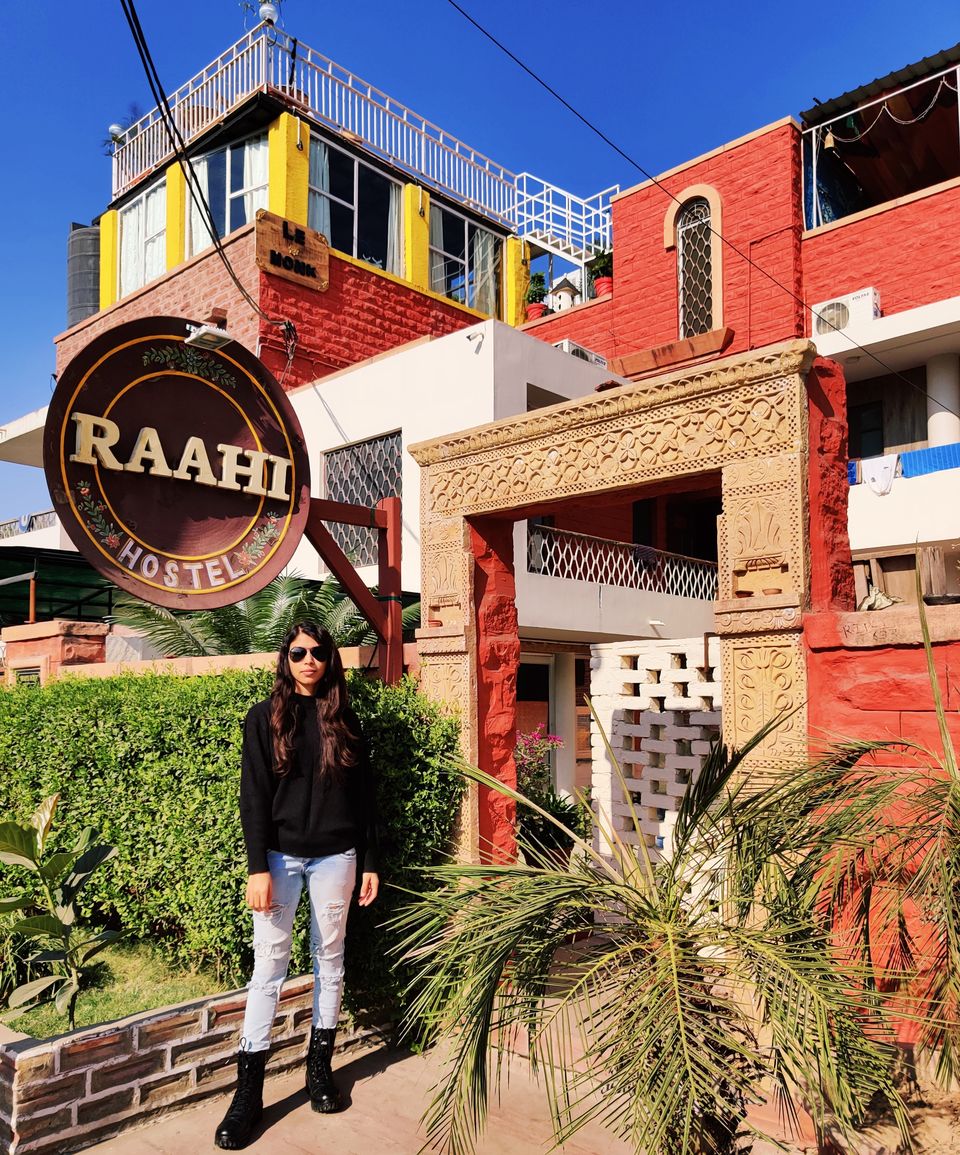 Jodhpur has a lot of hostels like Zostel, Moustache, Raahi, Traveller's etc. Try to book at Zostel first as it is located at a beautiful location near Step Well and the building itself is Blue like the famous blue houses of Jodhpur. Since, Zostel was fully booked, I had to book Raahi Hostel, which I don't regret at all. The picture below is taken at Zostel.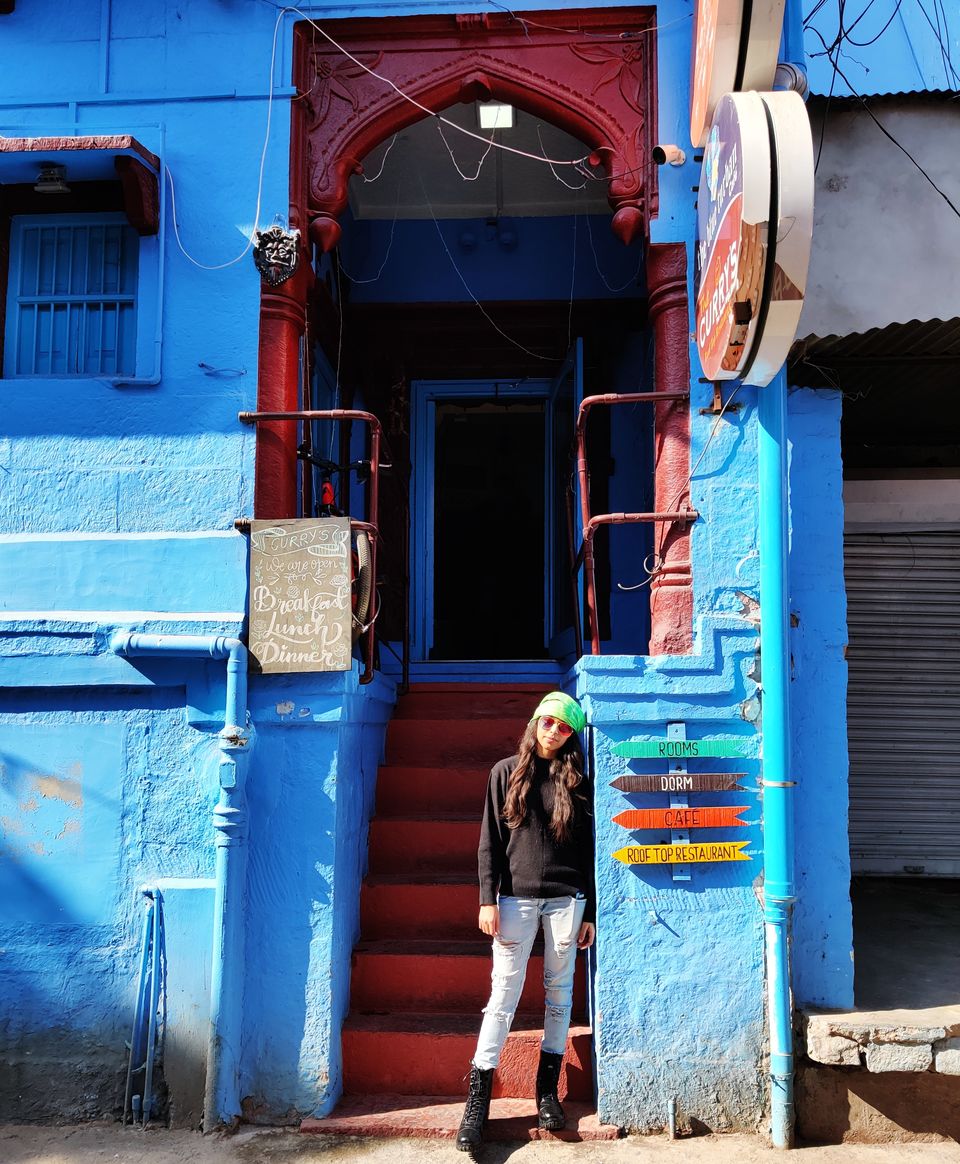 If you wish to try everything, 2 days are really less. I had few things in mind based on recommendations from friends. So, I'm writing what I did followed by other available options which you can opt for based on the time availability.
Places:
1. Mehrangarh Fort:
One cannot miss the grand Mehrangarh Fort while talking about Jodhpur. One can have a panoramic view of the city. When looked from the top, Jodhpur looks Blue because of its iconic Blue Houses.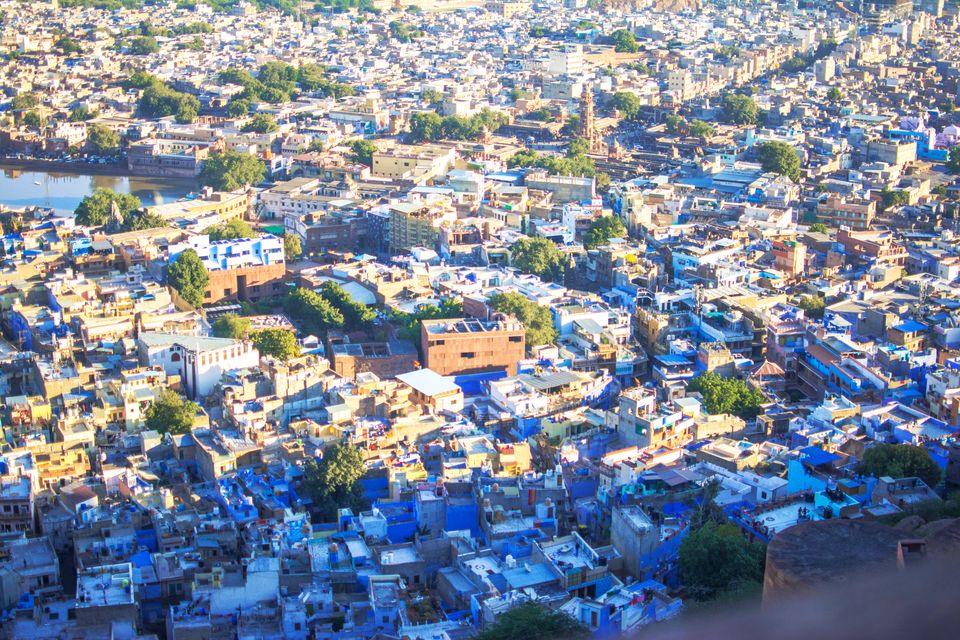 Jaswant Thada is another place which is nearby from the fort.
We took a Tanga (Horse-cart) to reach the fort and come back. This one costed us ₹ 400 (to the fort and back). If you are not short of time, give it a try. It's something not usual and also helps the Tanga Driver to earn. Ola/Uber/Auto are also relatively cheaper in Jodhpur.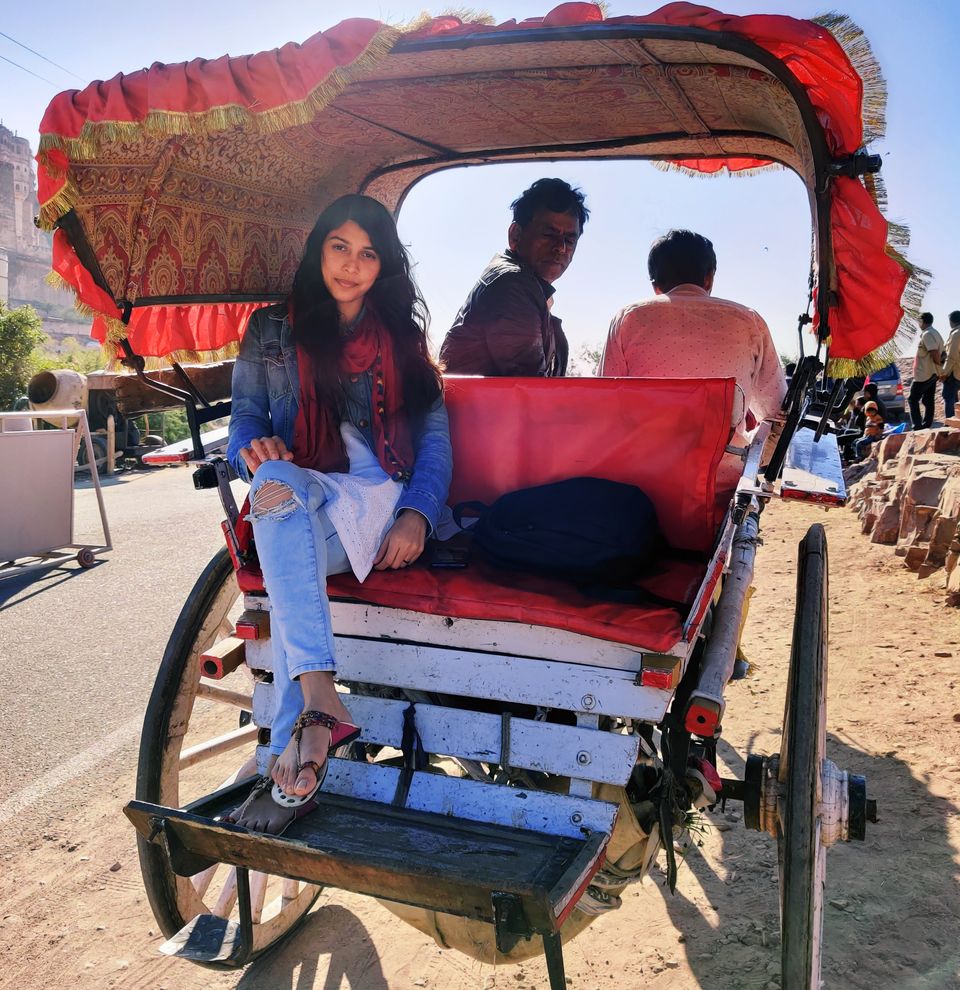 2. Zip Lining at Mehrangarh:
Zip lining here gives you a 360 degree view of the entire fort and around. One can locate the famous well of "Dark Knight Rises" as well. It will cost you around ₹2000 per person. Other options like Flying Fox are also available.
3. Step Well:
Also called Turji ka Jhalra or Toorji ki Baori. It ahs descending steps to reach the water level. It is considered as the Urban cliff jumping option and many adventures people even jump from the top. If you are taking steps, be careful as some of the steps are slippery. Zostel is hardly 200 m away from this place.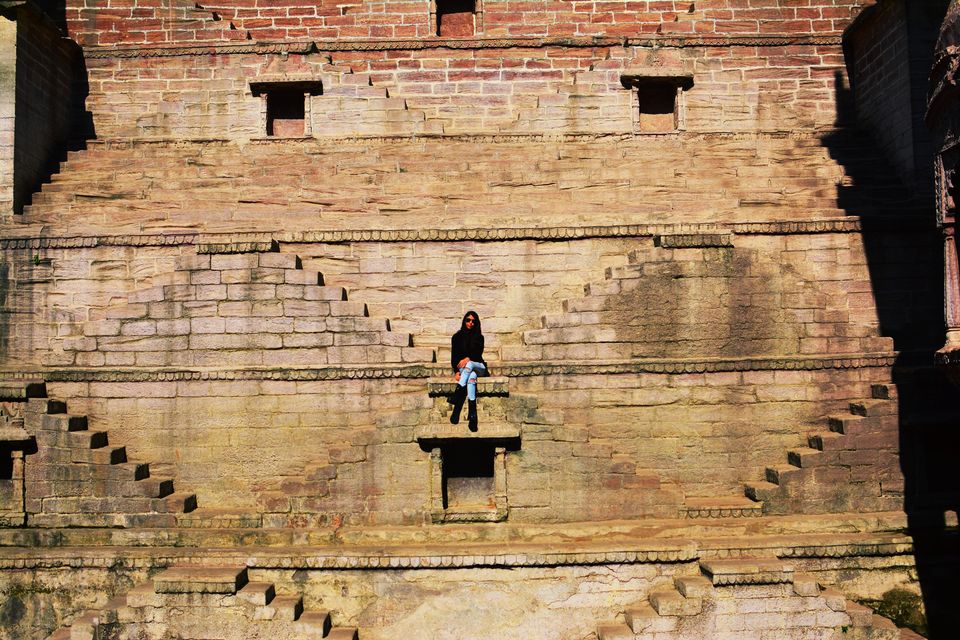 4. The famous Blue Houses:
A visit to Jodhpur is incomplete if you haven't hunted for Blue Houses. One can find these only in old city. One of the easiest way to find blue houses it take the steps downwards towards the old city while coming back from Mehrangarh Fort. Another options is ask your auto driver to take you towards old city. In our case, our auto driver was a localite and knew exactly where to go. Check out the pictures below and more at my Instagram.
5. Desert Safari:
Best option to experience this is in Jaisalmer as you will be able to see sand dunes as well. I do not recommend it doing here. But if you want to explore rural Rajasthan, this is the one, because it makes you stay and interact with people at rural hamlets near Jodhpur. Osian Village Safari is an appropriate option for it. We found packages for the same at Raahi Hostel.
6. Umaid Bhavan Palace:
This palace is a luxury hotel, a museum and a popular place for destination weddings. Exploring this palace will make you feel how rich our kings used to be. It is home to Maharaja Gaj Singh and the royal family of Jodhpur.
7. Amal Sabha, traditional Opium Ceremony:
This is a small gathering mostly of men which marks friendship. Opium is first offered to the Lord Shiva and then to everyone else. One has to take it from the palm of an elderly man.
8. Adventure Activities:
There are many options available like Rappeling at Soorsagar near Jodhpur, Paragliding , Bheem Bhadak near Jodhpur. All of these activities require plenty of time, if you have that, definitely go for these. Many sites offer customized packages for the same. However, I didn't do any of it as I was short of time.
9. Shopping:
The area near Clock tower, Sadar Bazar is a good place to shop traditional clothes, colorful dupatta and chunri, traditional silver jewelry. The Palazzo I'm wearing in my pictures of Jaipur, is the one I bought from here for ₹200. It's good quality wise as well.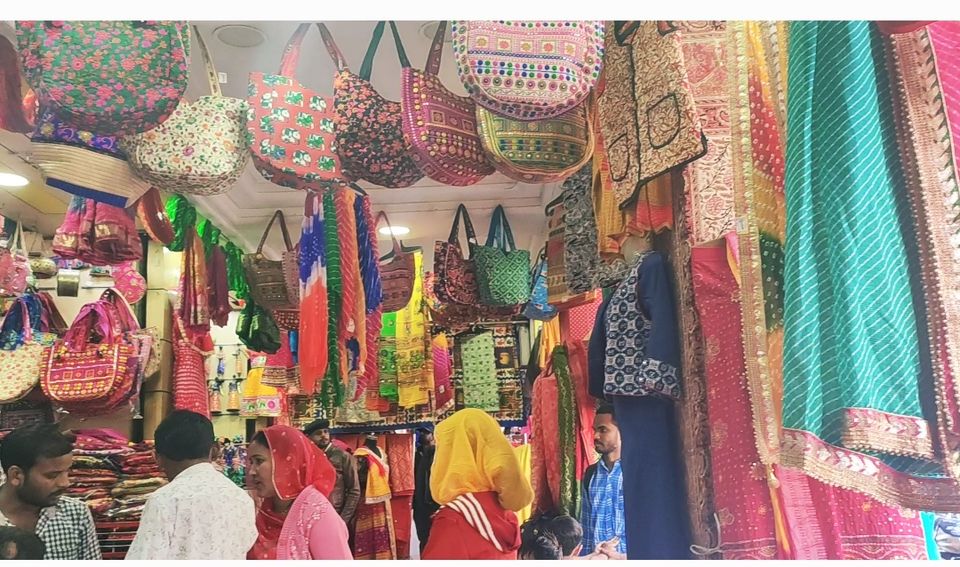 Day 3 Jaipur
By the time we reached Jaipur, it was 9 pm.
I had booked our stay at Housetel Hostel. This hostel has a very pretty café in the front part. The rooms are narrow and the bunk beds are too high to reach. Stay here costed us ₹ 440 per person.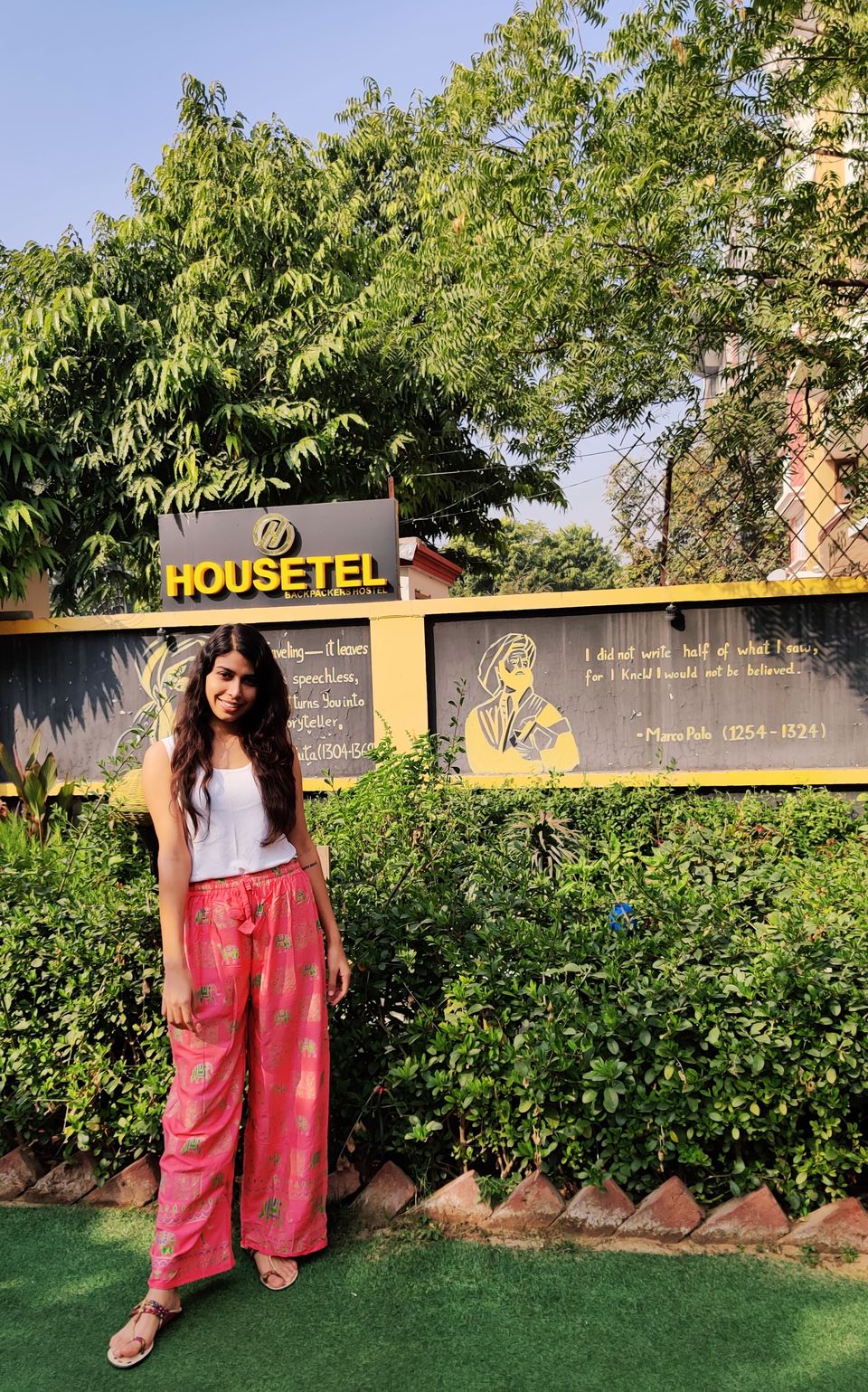 I spent almost 2 days at Jodhpur and left for Jaipur in the evening of the second day. We explored places like Step well, Jaswant thala and many food options on second day. We took Jodhpur Jaipur express at 4 pm which reaches Jaipur by 9:15 pm. It takes 5 hours and is quite punctual with time. We took a normal general class ticket which costed ₹120 per person. Met and interacted with locals. Ladies in our compartment started laughing at my ripped jeans, on interacting more they advised me to roam more and never getting married . :)
Haha!
I offered toffees to people sitting around me; few of them offered Groundnut Chikkis to us. They also smiled for the pictures we took. I have had similar experience prior too. It feels really great. Give it a try. But off course we have to compromise with the comfort which comes with a confirmed seat, relatively better washrooms and 'mind your business' kinda attitude we get when we do not travel in general class. Pictures from the train Journey: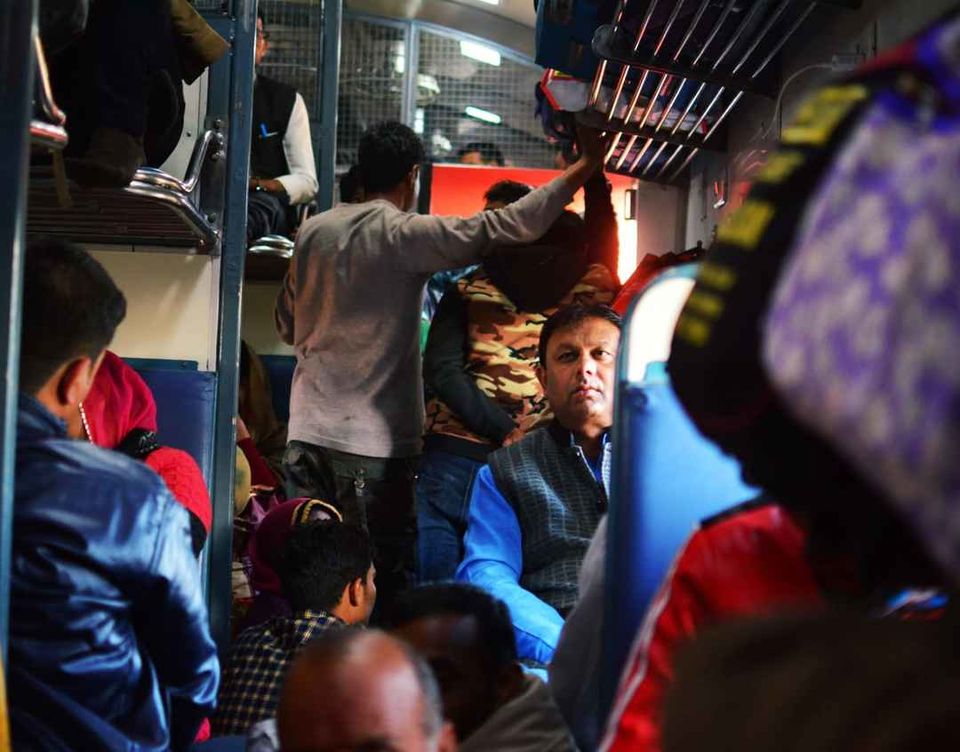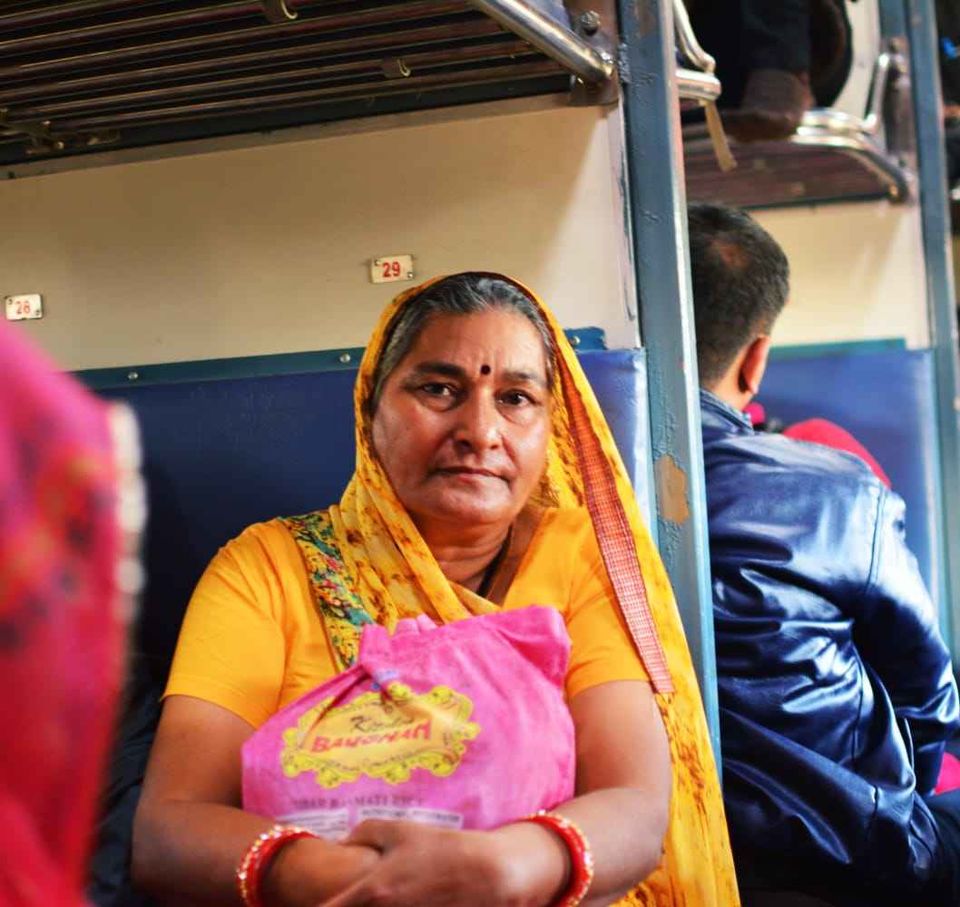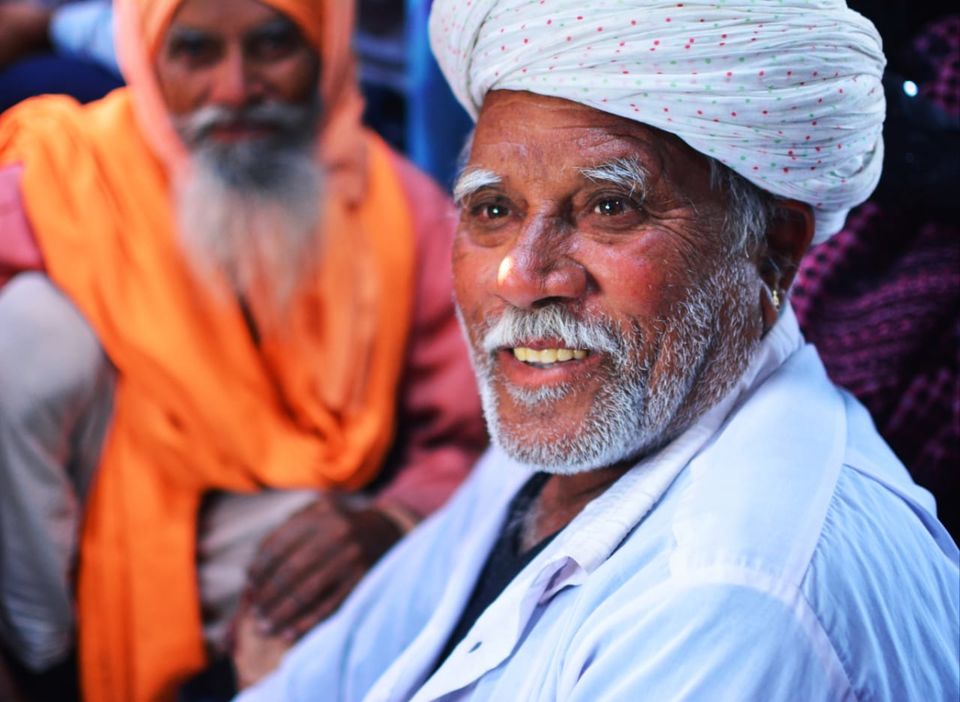 10. Interact with Locals: Whenever we explore a new place, talking to the locals is an essential thing to know the place well. That's where the soul of the place lies. Just roam around, talk to people with different professions and click pictures with them. It lights up their day and make them feel more proud about their place.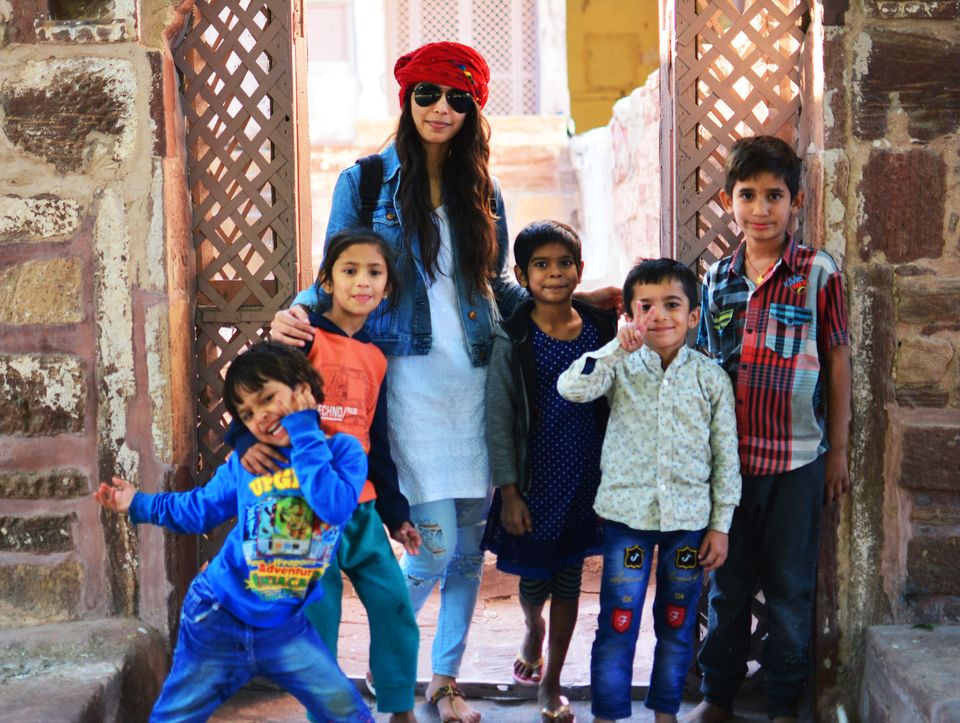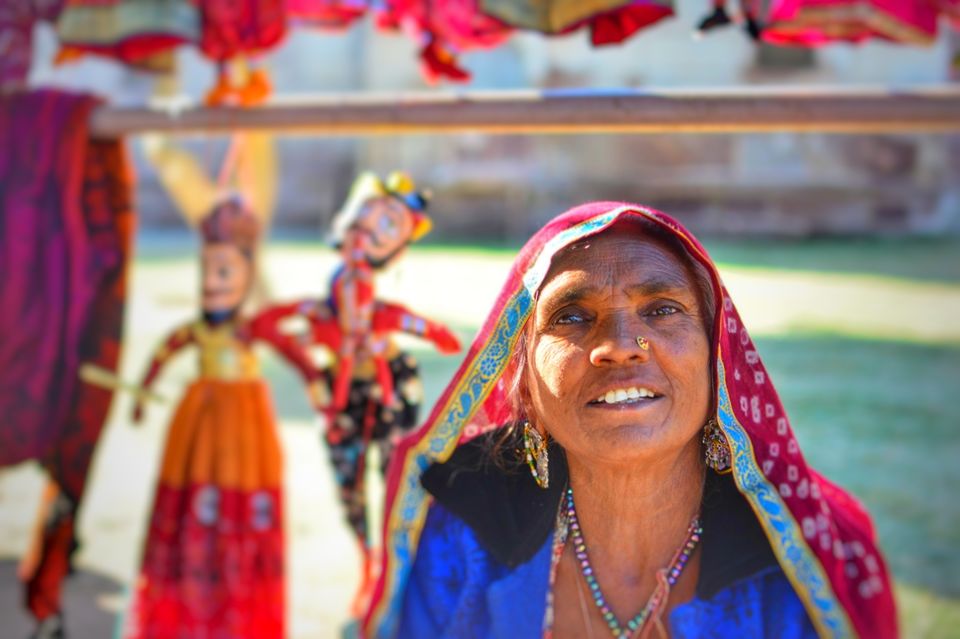 Facility wise I didn't like this place at all. But I had an amazing experience with people. We made amazing friends and spent a significant time talking about random topics ranging from cultures, CAA, marriage, illegal stuff, tattoos, food and what not!!
Exploring all places is not possible in one day. But you can visit few best ones. Here is a list of what all I had explored.
1. City Palace:
Okay. Read this section very carefully because I'm going to tell you very useful things which I strongly feel would have made me save a lot If I knew them.
First Thing City Palace: City palace has two parts, Museum and the Royal Palace. Entry tickets are different for the two. For Royal palace it's a lot high (like 1500-3000). The beautiful pictures we see on Instagram (like the one below) are from the parts of the palace which aren't accessible to public easily.
We took the ticket of Royal Grandeur which costed ₹ 3000 per person. This involved a guided tour to the palace and refreshment. We had a guide who told us the stories behind everything which was there. Refreshment involved tea/coffee/Juice and some cookies. So, we both paid ₹ 6000 in total for this which is totally not worth it. This part of my trip is what I call 'mistakes' and I wish I could have known this already.
Second thing: Pashmina shawls
Our guided tour ended with an introduction about Pashmina shawl. There are some shops available inside the Fort which sell variety of traditional Jaipuri things. The shopkeeper explained how to do some tests to figure out the real pashmina. After the introduction, he will ask what do you wish to buy! That is a trap! Save yourself.
My friend bought one for ₹ 3500 for his mother. When we came out of the fort, I literally interacted with almost 20 shopkeepers who were selling the same for ₹500-1000 and confirmed about quality as well.
Again, waste of money!
"इतने में तो एक कसोल की ट्रिप हो जाती।" :(
Otherwise city palace is a nice place.
2. Feed the Pigeons outside City Palace:
Huge flocks of pigeon can be seen feeding near city palace. There are small shops too which sell grains for them. It's quite a sight to experience.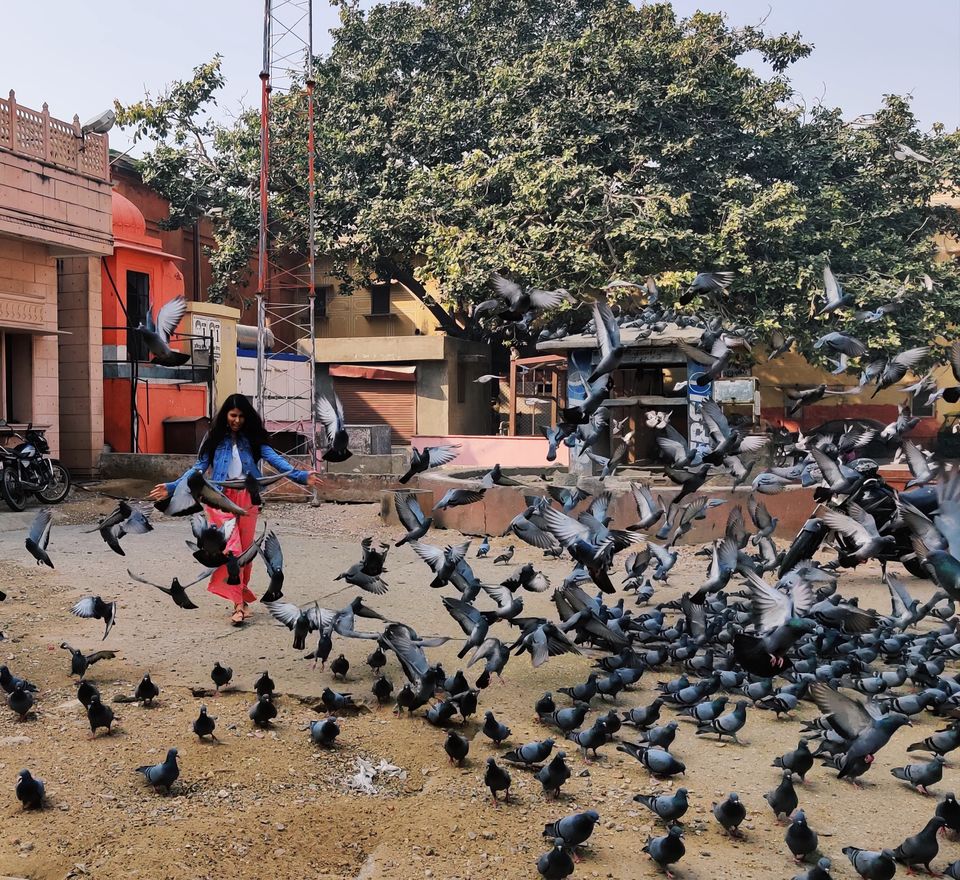 3.Hawa Mahal:
Hawa Mahal is located at a walking distance from city palace. One has to buy an entry ticket for Hawa Mahal. For having a view from the top, visit the cafes in front of Hawa mahal. Wind View café and Tattoo café are the famous one. These cafes allow better view where you can get amazing pictures clicked. Food at both the places is not great though.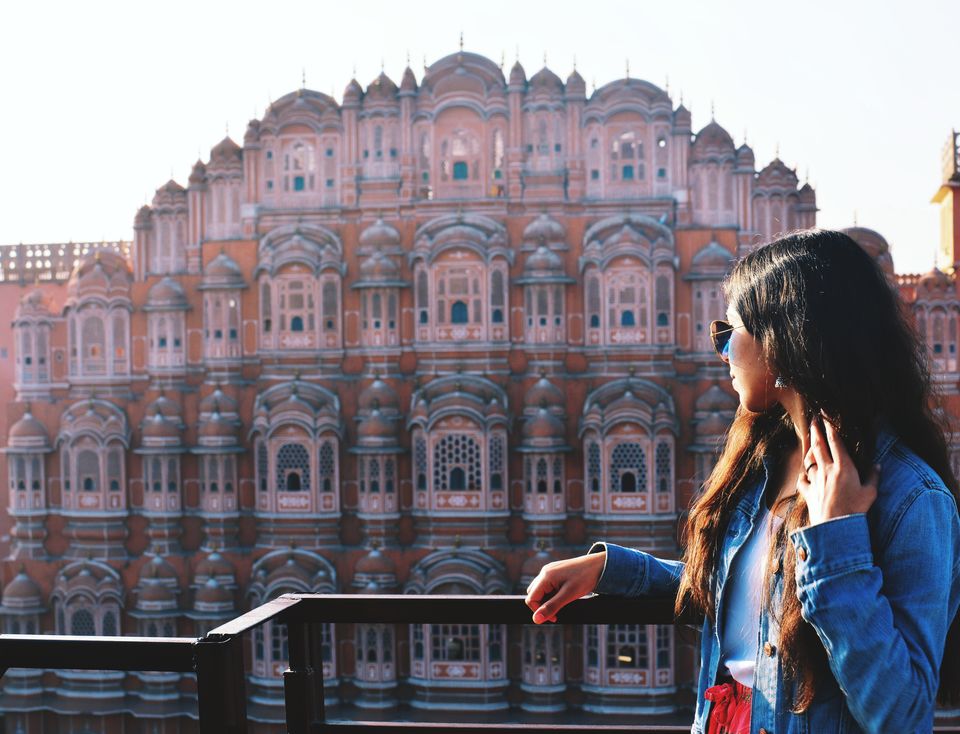 4. Amer Fort:
To explore this giant fort, one needs good 2-3 hours. Entry fee is ₹ 25 for Indians and ₹ 150 for non-Indian visitors. The fort has both Indian and Mughal style of architecture. One can also take elephant ride here, to give yourself a false royal treatment (brutally honest I am!)
5. Nahargarh Fort: This is another great fort one can explore. To add little excitement, take a bicycle tour.
6. Albert Hall: This is the oldest museum of Rajasthan. It looks astonishing during night because of the beautiful lighting. Have a look.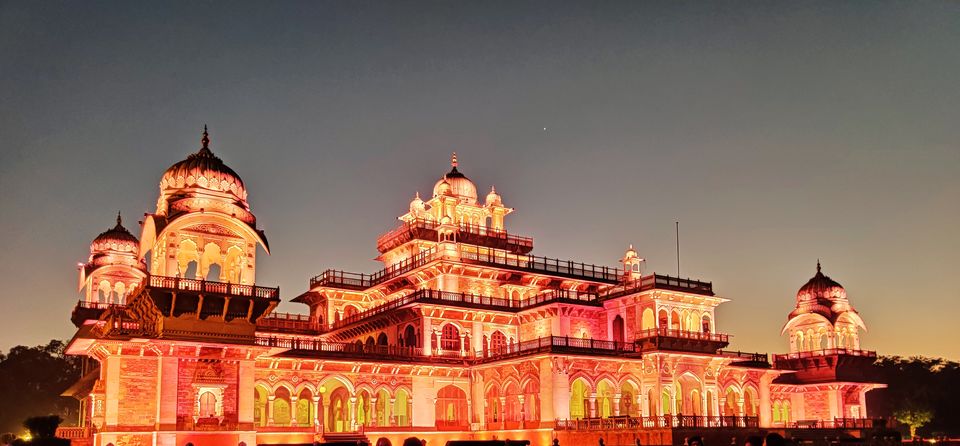 One can explore other places like Jantar Mantar, Jal Mahal, Birla Mandir if you have time.
The entire trip costed us around ₹ 8000 k. One can do it in ₹ 5000 if you exclude city palace's ticket of ₹ 3000. :(
Total Cost Break-up per person :
Trains: ~ ₹ 1650
Stay: ~ ₹ 1125
Local Transport in Jodhpur: ~₹ 700 [400(Tanga)+ 300 Auto and Ola]
Local Transport in Jaipur: ~₹ 250 Ola +100 Auto
Food: ~ ₹ 1000 (Including Jodhpur and Jaipur)
Some Tips:
1. For amazing pictures, wear bright clothes with vibrant colours. I used my regular dupatta as a pagdi and it not only gave a traditional twist but also did wonders in pictures. Check my pictures here.
2. Stay at hostels or homestays instead of hotels to make the best of your trip. This will help you save money as well. Don't hesitate to start the conversation; you will be surprised to see the reactions. Make memories and friends.
3. Always shop from the local market than the ones at the forts.
4. Most of the hostels allow you to keep your stuff there (even when you have checked out) while you explore the city. Yeah, hostels are cool that way!!
5. Always carry your student IDs if you are a student. You will get discounts on entry tickets.
6. Never travel in sleeper class during winters unless you have enough warm clothes and blanket with you.
This trip has made me develop a soft corner towards historical places. Travel responsibly and be kind to people around you!
If you liked this blog, check out my Instagram.
Or read more travel stories here.
Feel free to drop a comment in case you have any doubt/query.
Let's Wander!
Frequent Searches Leading To This Page:-
best tour packages in Jaipur, rajasthan family tour packages, rajasthan travel packages, rajasthan trip packages, rajasthan tour package for family, honeymoon packages in rajasthan