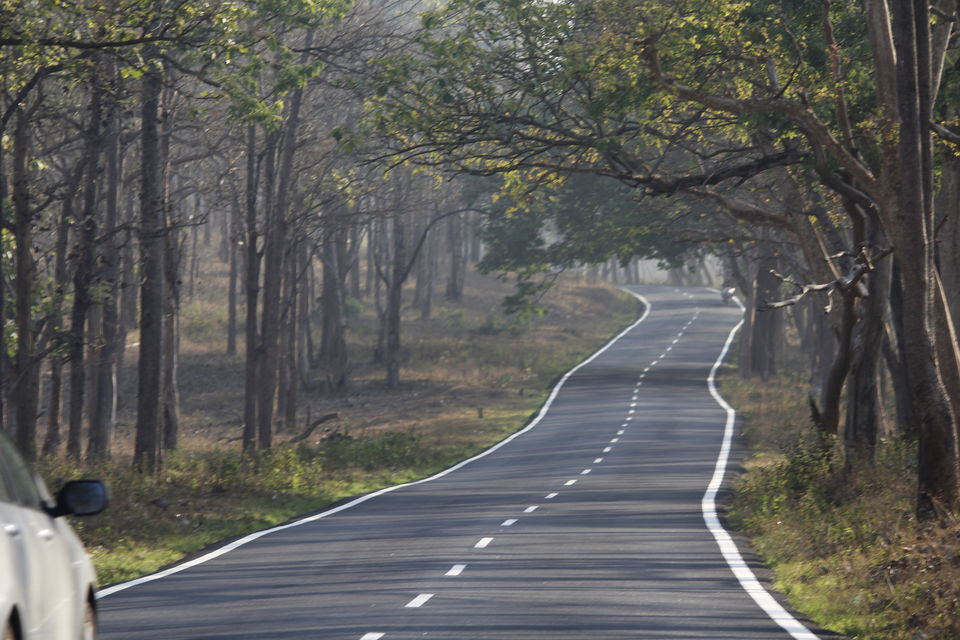 This trip or rather can be called as a drive was entirely planned to celebrate the happiness of buying a new car by my friend Manja. A long awaited dream of him owning car had come true a couple of months back and all he wanted was a good long drive with us. It was a month of August when we planned to go for our favorite route Bangalore to Sulthan Bathery via Bandipur. We had traversed in this route for three times already, twice on motorbike and were in love with the lush green canopy of trees on both the side of roads in the stretch of Bandipur to Sulthan Bathery and back to Karnataka.
So without much to worry about luggage (As all we needed was a pair of shorts and t shirts) and money (as it was Manja's party), me and Santu were set for a long drive. On a Saturday morning we left Bangalore by 10.30 a.m. and finished some work in Ramanagara by 3.00 p.m. and set ourselves into the complete trip mood. So the main aim being spending time in the gates of Bandipur National reserve entrance for the whole night we had to plan some other place which would fit in the time to be passed. The next thing we did was to buy beer for us as it was too hot on the road and we had to drink something which can be only drunk outside the home, no reasons all we were in need was a beer. Now we decided to head to our first destination of the drive, The Balmuri water falls which can be visited on the Bangalore – Mysore highway.
This is a man made waterfall as there is a check dam along the river Cauvery here to check the level of the river and when the water overflows, it creates a long and lovely cascade and a beautiful view to watch for. The waterfall derives its name from the right turn that the river takes near this site. In Kannada 'Bala' means right and 'Muri' means turn, hence the name Balamuri or Balmuri. The waterfall was packed with people as it was a weekend and also in August the water here flows calmly and is very apt for the people to get into water and swim or play. We could see so many tourists with their family from all the age groups playing here. By 4.30 we reached the waterfall and played in water for almost one and a half hour and came back to our car by 6.30 p.m. Had few Bhajjis and tea in a nearby shop and were waiting for the crowd to lessen as it was overcrowded with vehicles also.
From here our destination Bandipur was other 90 kms and we didn't wanted to reach in the early night as we didn't have any means of accommodation booked in Bandipur. By this time we decided to have a small time pass in Mysore and then head to Bandipur. It was already 7.30 p.m. by the time we took a lot of breaks and also due to weekend traffic to enter into Mysore. From here we straightly headed to Chamundi hills, the favorite past time for people from Mysore. Our plan to see Mysore city from the hills which we had in our mind for many days. This was not a bad choice as the place was heavenly and cool breeze and even here many people flocking round with their bikes and cars had come for the same purpose like us.
After an hour or so of enjoying the beautiful view of Mysore in the night we drove down to the nearby Hanumanthu hotel to taste the best biryani in Mysore. By the time we had filled our appetite it had already ticked 10.30 p.m. and the city was slowly shutting down. Now we started driving towards our main destination of this trip, Bandipur which is located 70 odd kms from Mysore. Being who love a lot to drink tea, we took a break for 3 times before we reached to Bandipur to sip tea in Nanjangud, Begur and Gundlupet. We reached the gates of Bandipur National Park by 1:00 a.m. post mid night and parked our car bit far from the gates, so that we can play music and also have our time to chat about almost everything till morning. The doors of car were opened and also the bottles of beer were opened with all snacks to eat and the music was on with lovely melodious songs of Kannada, we were there near the forest area till next morning. Discussions and talks on various topics happened at this time regarding our common friends and also many more things, and slowly one by one started to sleep inside the car.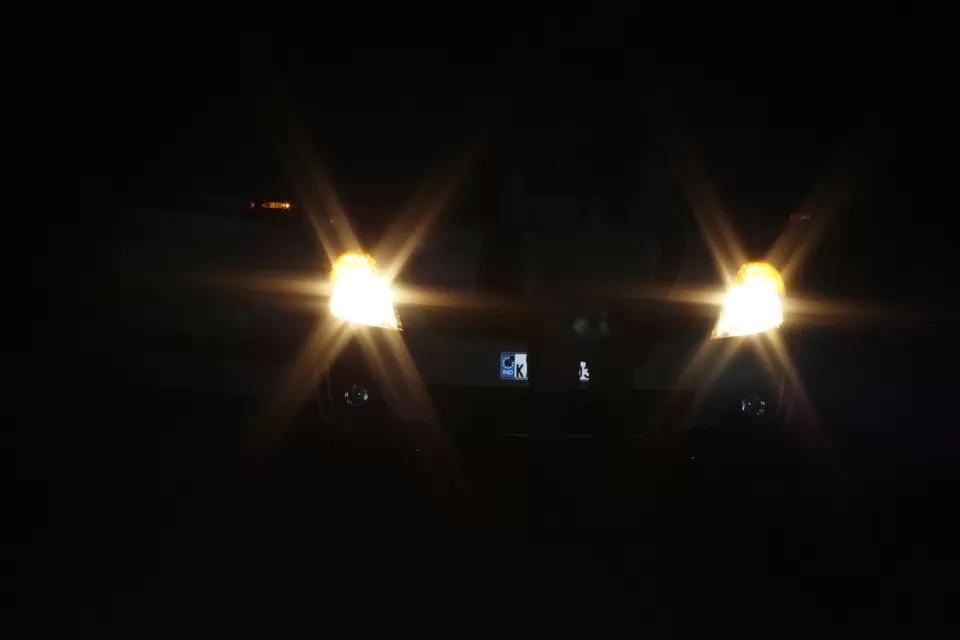 It was 6.45 a.m. when I woke up first to see that sun had already rose and the rays were directly hitting our eyes. By next 15 minutes we got up and got ready to drive along the lush green road of Bandipur National reserve. The early morning drive from 6.00 a.m. to 8.00 a.m. is the best time in Bandipur to spot the animals and birds slowly getting into their hideouts after an entire night of forest given to them to flock around. The very first animal we spotted was the spotted deer, and then elephant, a gray langur, and then peacock. The Bandipur covers all the three states in it, Karnataka, Tamil Nadu and Kerala. Bandipur – Mudumalai National Park leads to Gudallur in Tamil Nadu from Gundlupet in Karnataka. State border comes in between the forest and the forest in Tamil Nadu state is known as Mudumalai Tiger Reserve which is a part of Nilgiri (Gudallur District) and the area in Karnataka is known as Bandipur National Park (Chamrajnagar District). After driving for around 45 minutes crossing Masinagudi, we reached Gudallur by 9.00 a.m.
From here our next destination was to reach Sultan Bathery and from there we had a plan to again drive through Bandipur and then back to Gundlupet, making a circle of entire Bandipur roads which are the best to drive for in the month of August. We reached Devarshola by 9.30 a.m. on the way to Sultan Bathery and had breakfast there and later crossed Sultan Bathery and again drove inside Bandipur forest area from the Kerala side. It was 11.00 a.m. when we started from Kerala side, the first check post was of Muthunga forest reserve from Kerala forest department and the second check post after this was Bandipur forest reserve from Karnataka forest department. The distance between Sultan Bathery and Gundlupet is around 55 kms and we crossed Maddur and Koothanuru on the Karnataka side before reaching Gundlupet by 12.00 p.m. We couldn't spot as many animals as we found in the early morning apart from a wild boar in a faraway distance which also ran away due to the vehicular traffic on the road.
By 1.30 p.m. we were in Mysore and made a small plan to visit the KRS back waters before coming to Bangalore. Packing a lunch for 3 of us we reached the back waters by 2.00 p.m. and the scorching sun welcomed us. The place was totally free from visitors as it was too hot and humid there and we finished our food in the car itself. We also dared ourselves to swim a bit in the water and made our journey back to Bangalore by evening.
So all over this was a fantastic road trip and a delightful feel of crossing 3 states in a very less time spotting few animals on the way and to spend an entire night out near a forest.
Happy Travelling!!!
Frequent searches leading to this page:-
bangalore to bandipur, bandipur trip, bangalore to bandipur road trip, bangalore to bandipur national park, distance from bangalore to bandipur, mysore to bandipur national park distance, weekend getaways from bangalore