Saturday, 5:57 am, I sprint across the crowded New Delhi Railway Station that bustles with excited travellers and coolies donned in red, trying their best to convince everyone that their four-wheeled suitcases needed a stronger hand. Children slap their slippers lazily as eager parents rush them to their respective platforms. There's a wave of urgency that engulfs the station, and I feel that wave hitting me with full force because my train to Jhansi leaves in exactly three minutes, and I have to cross the entire length of the station, its sixteen platforms to reach my boarding platform.
I make it just in time, huffing and puffing, in complete contrast to my elegantly seated co-passengers who were there well before time. The executive coach of the Shatabdi welcomes me with its spacious seats and a well-dressed attendant who offers me fruits and a tetra pack of juice. The train whistles and we're on our way to Jhansi, right on time! I'm impressed, this is a side of Indian Railways that one rarely gets to see. Thanks to its efficient routes, in only 4.75 hours, I will reach Orccha, a heritage town that I have two days to explore. I had no idea that Madhya Pradesh was so easily accessible from New Delhi and I instantly take to Instagram to duly inform my travel community about the same.
Thanks to the several rounds of tea, coffee, snacks and breakfast, I scarcely notice the passage of time. Our train was already pulling into the Jhansi station.
Taking a step back in time in Orccha
Orccha, the word literally translates to 'the hidden one', a name that couldn't be more fitting for this quaint heritage town. As my car rolled into the town, it was as if all the clocks had wound themselves to circa 1501. Temple spires and domes of majestic forts adorned the skyline of Orccha, standing tall and proud as if boasting the rich heritage that they form an integral part of. I spent two glorious days exploring the town, here are six places you cannot miss if you're visiting.
This grand complex comprises of three magnificent forts that together form such a tremendous structure that they will command your attention no matter what corner of Orccha you are exploring.
Jahangir Mahal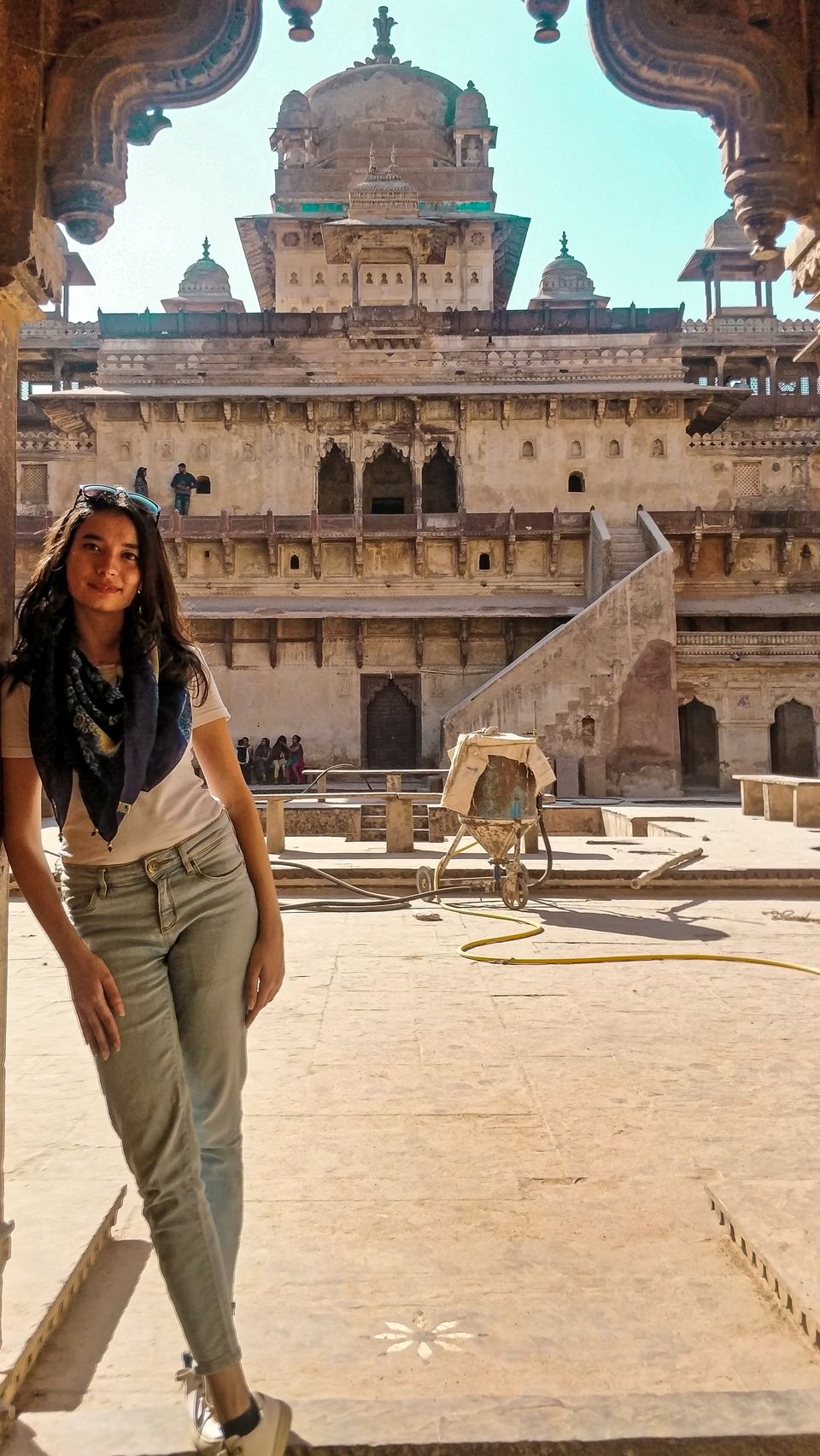 The citadel of Jahangir was constructed by King Vir Singh Deo as a gesture of welcome to Mughal Emperor Jahangir on his first visit to the town. Although the Empror stayed in the palace only for a day, the grand palace boasts of a massive courtyard, three storeys, over a 100 rooms, and delicately carved hanging balconies. The sandstone structure glistens like gold when the sun falls on it, making it a sight to behold. The palace's architecture, which is an exemplum of Indo-Islamic styles makes for photographer's delight.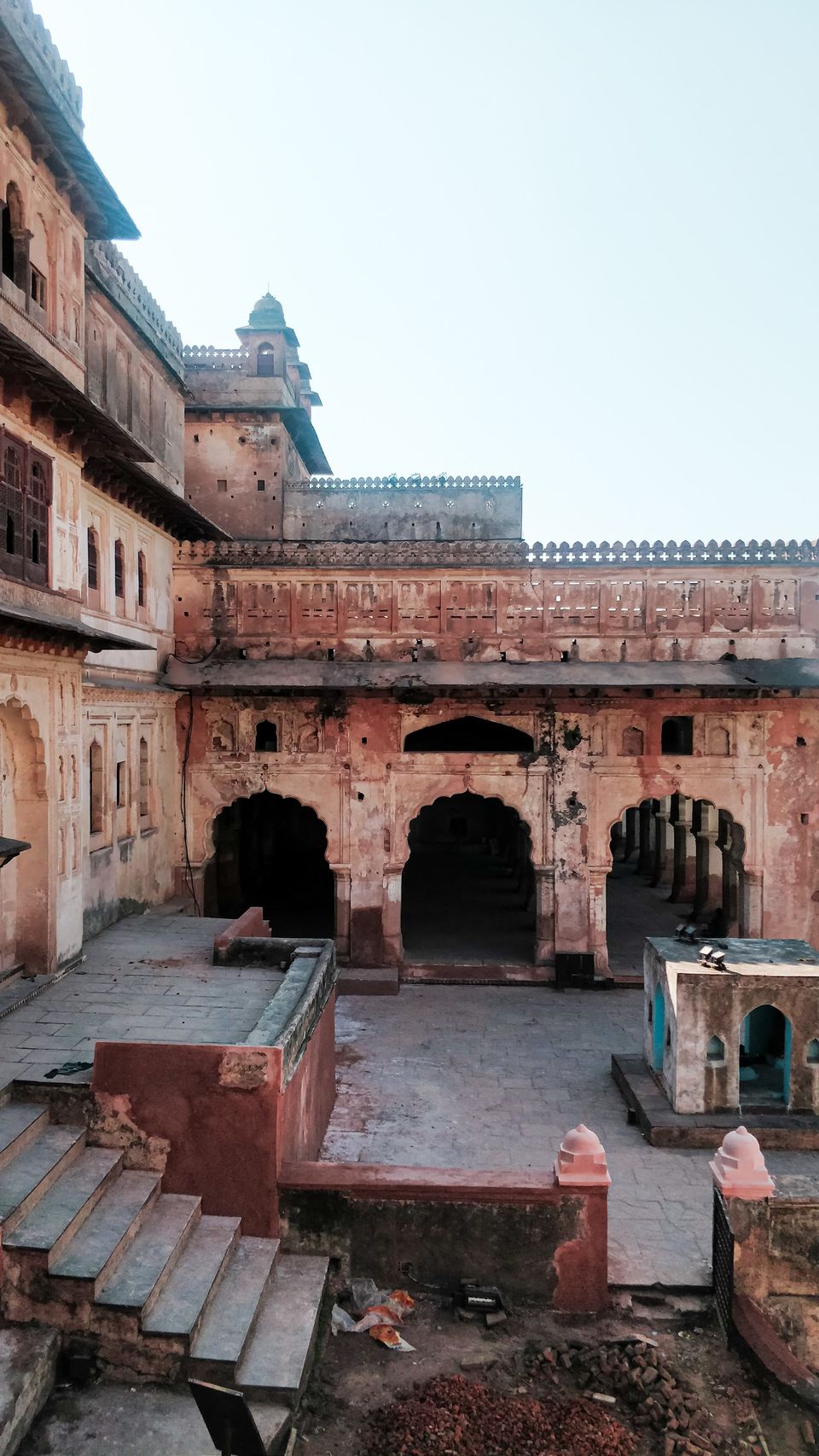 Built in 16th century, the Raja Mahal, as the name suggests, was the palace in which the King resided. The palace is a must visit for its gorgeous interiors that are adorned in murals of gods and mythical annimals.
Sheesh Mahal
The third jewel in the crown of Orcchha Fort Complex, Sheesh Mahal now serves as one of the premium hotels and restaurants of Orccha. The hotel's restaurant named Jharokha is ideal for a date night. If you're staying in the palace, enjoy a breathtaking view of the town by night.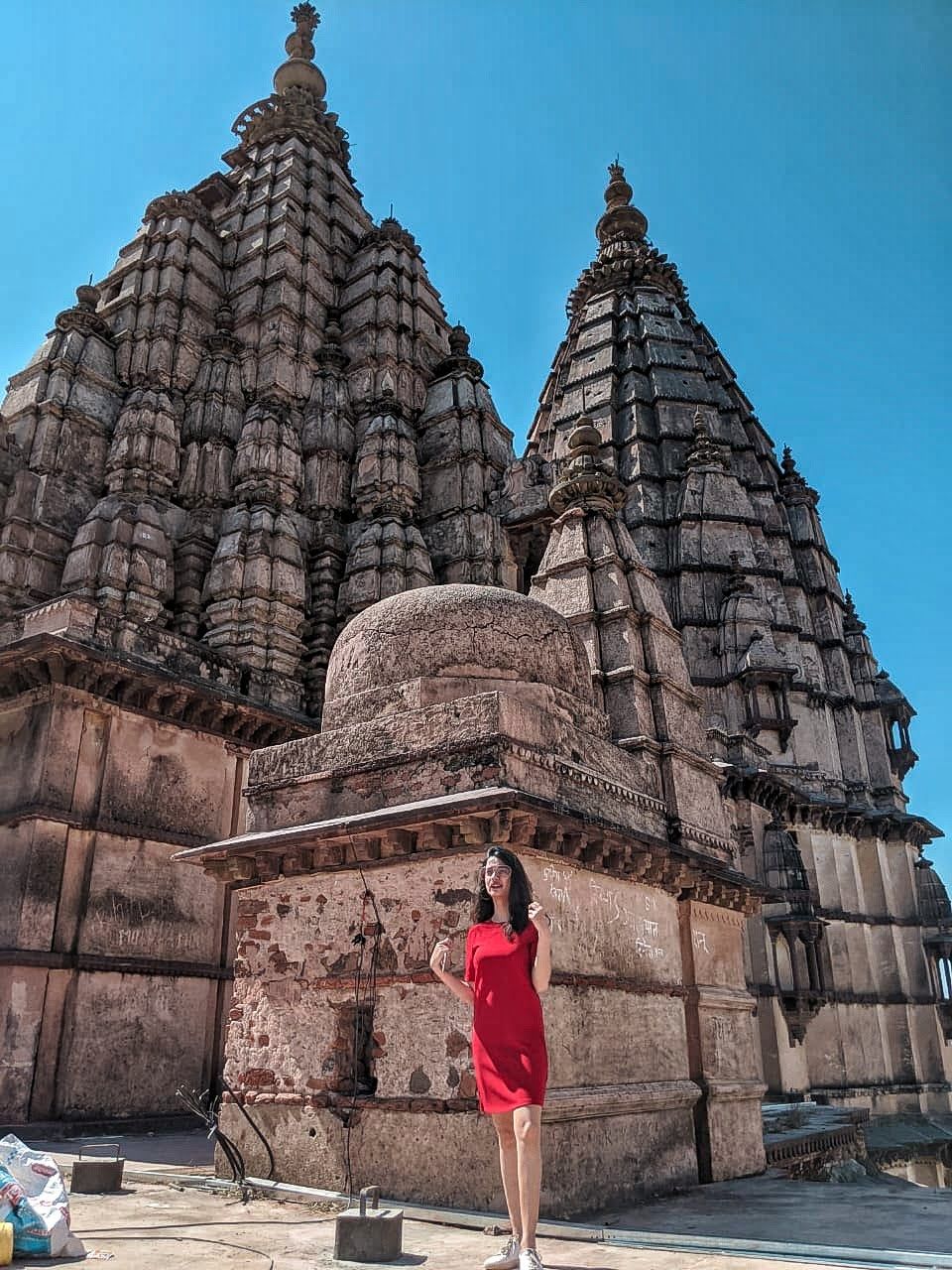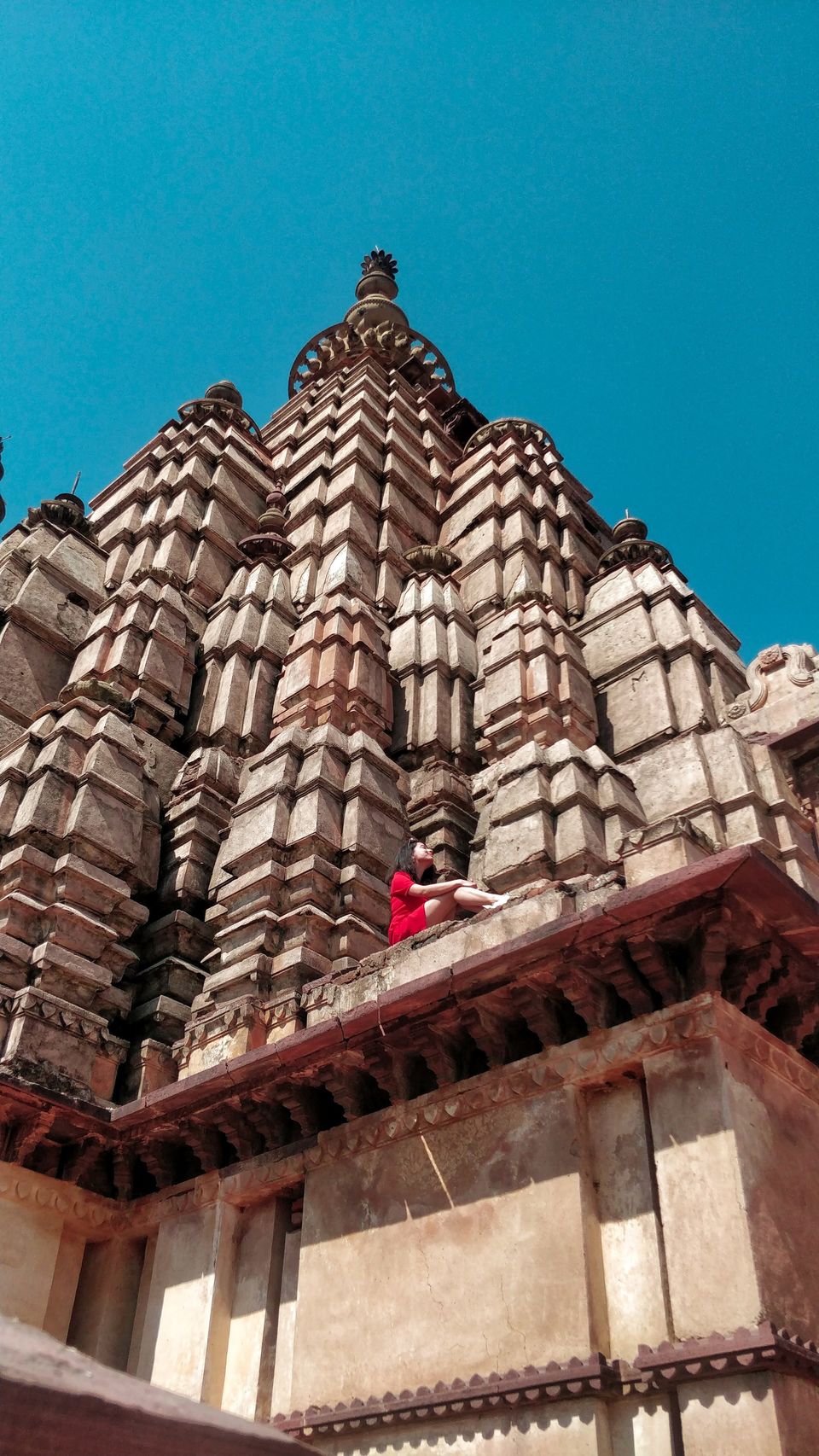 Dedicated to King Ram, I say king, not lord, because in Orccha, Lord Ram has been given the exalted position of a king. This is probably the only temple in India where fitting to a king, Lord Ram is given a gun salute three times everyday! Visit this temple if you want to make a wish and see a unique statue of Lord Ram.
The Chatrbhuj Temple was undoubtedly my favourite spot in all of Orccha. The temple was originally constructed to serve as the seat of Lord Ram, however, it now hosts a beautiful statue of Lord Krishna. Even if you don't believe in this particular god, or are an atheist, I would suggest that you do not give this temple a miss. This stunning architecture will blow you way with stairs as high as 1-2 feet, dark alleys and passages that will take you to the very top of the temple. Once you're on top of the temple, don't let enchanting views of the Orccha city distract you. If you explore diligently, you'll realise that a staircase will take you t0 the very top of the temple's main spire!
Dating back to the 17th century, Laxmi Narayan Temple beautifully amalgamates temple and fort architecture. The temple's wall paintings and murals depict the Rama Charitra Manas, while the carvings depict scenes from Lord Krishna's life. Don't look for the idol of the goddess, because there isn't one! A walk through the temple is a delight for art aficionados.
There's nothing more beautiful than a city with a river. The Betwa river meanders through the city of Orccha and the best place to experience it is at the riverside of Budelkhand Hotel. have lunch at the hotel's restaurant and then sit leisurely by the river for hours.
This is a stunning complex lined with 14 chhatris or memorials. Carefully manicured gardens surround these chhatris amid which the sandstone structures stand tall. These are 17th century cenotaphs of the rulers of Orccha and each one of them is unique in its style and architecture. The best place to observe these chhatris is from across the river while the sun sets and turns everything into gold. This is the most instagrammable spot of Orccha.
The Baobab Tree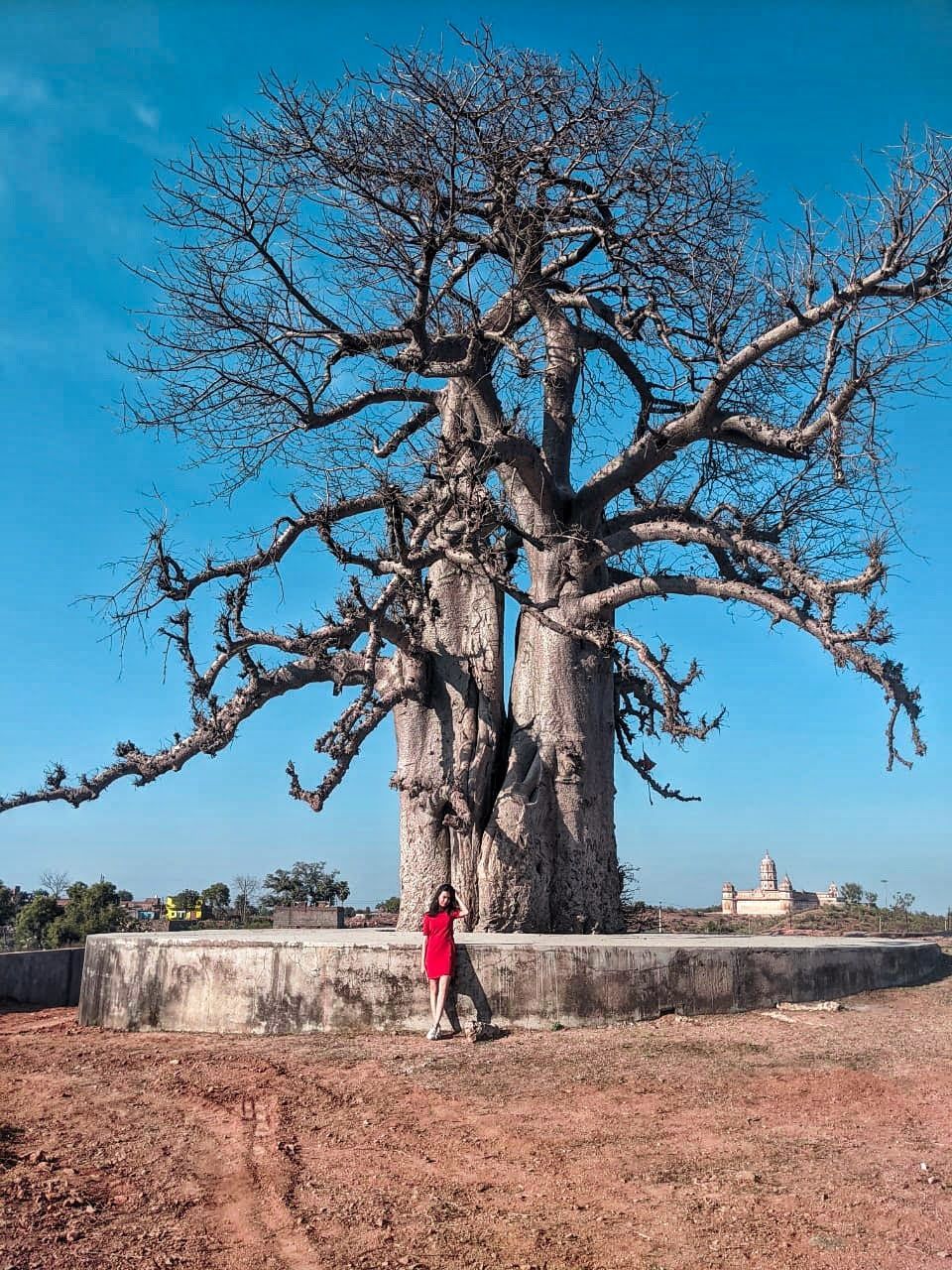 This Baobab Tree is another star attraction of Orccha. Typically found in Africa, it is rumoured that this is India's only Baobab tree. The sheer size and enormity of the tree is enough for it to be on your must-visit list in Orccha. It is truly a sight to behold!
Where to stay in Orccha:
You'd be surprised to know that there are a number of resorts and luxurious resorts in Orccha that you can stay at.
A good mid-range option is Orccha Palace and Convention Centre that is situated a few kilometers away from the main city but has beautiful, spacious rooms with excellent bathroom. A room here will cost you Rs 2500 per night onwards.
This is the place to stay if you want to experience the true splendour of Orccha. The Amar Mahal overlooks cenotaphs across the Betwa river and every corner of the hotel will help you immerse further into Orchha's old-world charm. A room here will cost you Rs 3500 per night onwards.
Getting to Orccha from Delhi:
By train: This is the most convenient way to reach Orccha. Take the 6am Shatbdi from New Delhi Railway Station that will take you till Jhansi. From Jhansi, you will find easily available cabs for Orccha which is situated only 30 minutes away.
By flight: The nearest airport to Orccha is Gwalior Airport in Gwalior. It is situated 121km away.
My visit to Orccha was full of delightful surprises. This little town blew me away with its ancient temples, forts and buildings. Travelling to Orccha was like taking a step back in time. Every time I entered a temple or palace, I couldn't help imagine how glorious the days would have been during the reign of kings.
Have you visited the ancient town of Orccha? Create a blog on Tripoto to share your experience and to inspire travellers!