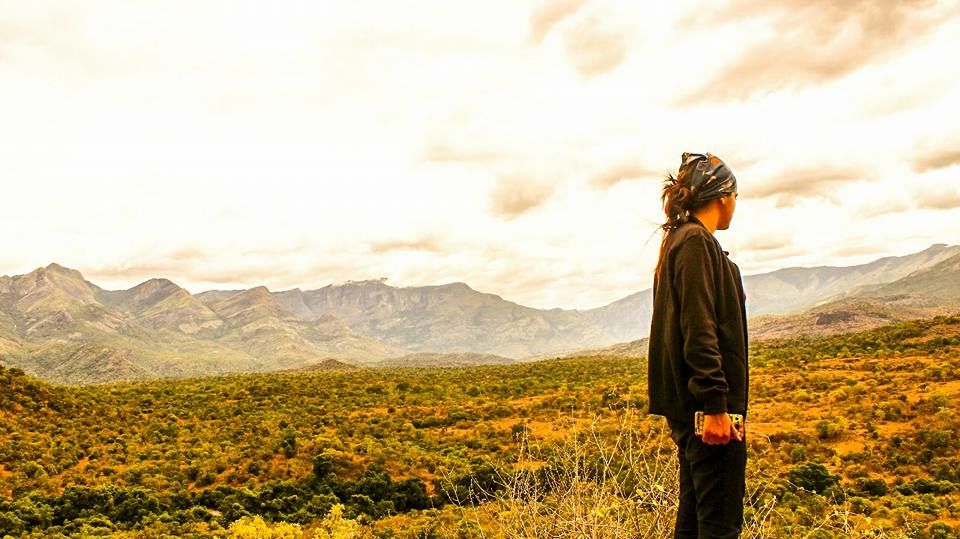 On a beautiful Sunday morning, 3 of us headed for Kanthalloor around 7 am. Kanthalloor is a village on the way to Munnar in Kerala. It's one of the villages in the group of 5 villages called "Anju Nadu" which means five lands.
It was a sunny afternoon this Sunday when we reached Chinnar Wildlife Sanctuary. We went to their desk and got the information that we can take a stroll of 3 to 4 hours into the forest along with a guard. We did not care about the sun. "Let the sun shine and we shine with it", was my attitude. So, only with a cup of coffee and 2-3 biscuits in the stomach since morning, we decided to go for it (Please don't do it, though). I had hardly walked for 100 meters and was already drinking water to keep myself moving. I was so sure I'm going to faint but I did not tell anyone because I wanted to give it a try for it felt really good.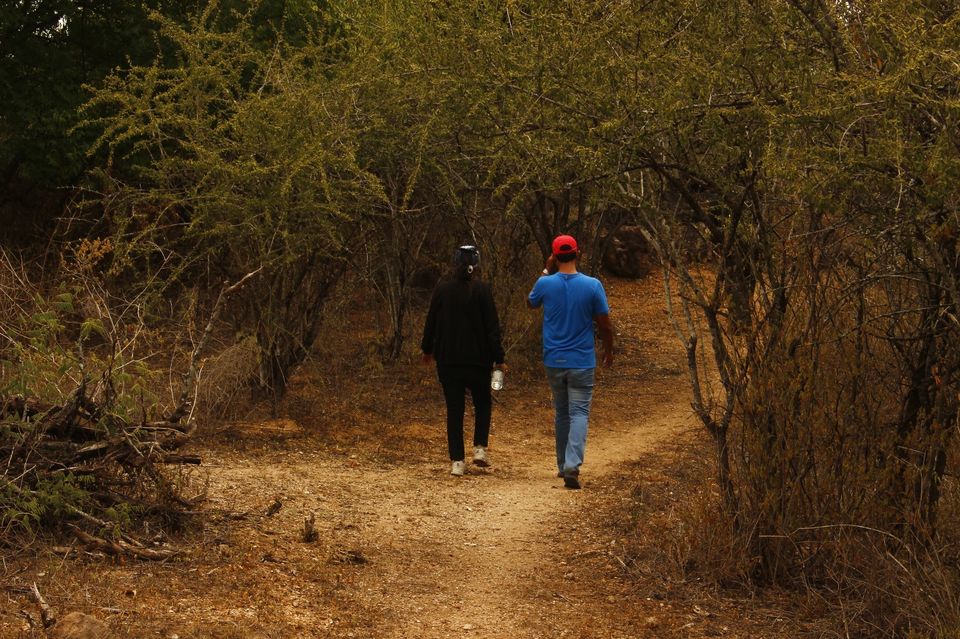 In this picture I'm probably telling my friend that my condition is exactly how Amir Khan felt while attending the first lecture in 3 idiots-"bachpan se socha tha jungle me chalungi aur aaj jab chal rhi hu to bada maza aa rha h"(it was my childhood dream to walk in the forest and now when it's actually happening, I am so loving it).
It was hard for me to make it up to here. It wasn't even 1 km distance from where we started but I was way too tired and the sun was shining hard on us. But I wanted to see more of it. We saw this watch tower in the middle of the forest and climbing its steep stairs was even a challenge. It wasn't hard but I was tired. But then this forest had a lot to offer. So, I tried and made it to the top after stopping to catch my breath on every floor.
And right then, when I reached the top, I sat down on it and OMG, the view was phenomenal. We were on the top. This jungle is surrounded by western ghats from all the sides. I didn't want to go down (definitely not because I was tired) but then I had to see animals and of course, forest department wouldn't have let me stay there. But one thing, if you are somewhere around Munnar or Udumalpet, you need to take this stroll for sure. No matter how hard the weather is. I clicked above picture on my phone when we climbed down back. I had to leave the place, so I took the picture for a memory.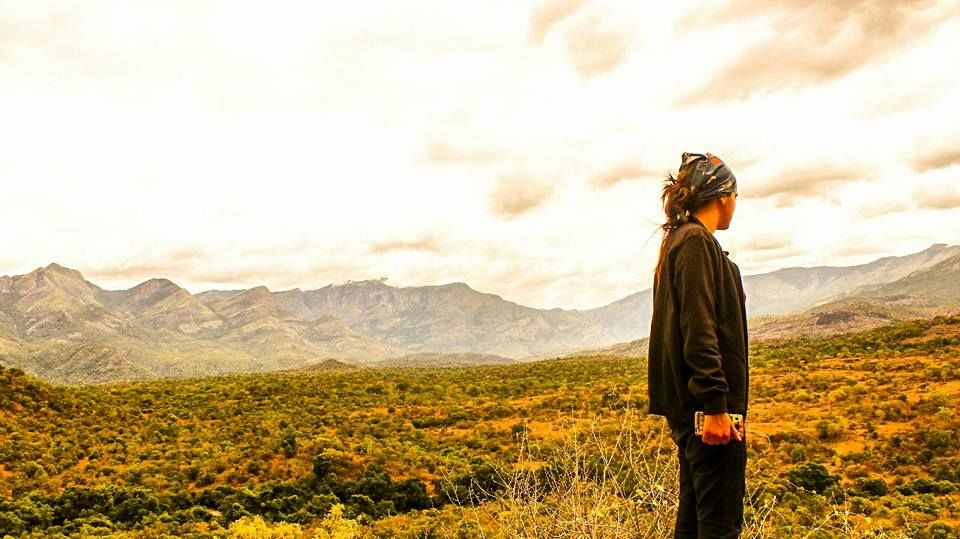 This one was a sign of hope.
We heard the sound of the river and felt the breeze flowing. At a distance, we saw two Sambhar deer playing around a tree, running behind one another. Ahhh, what a sight! Spotted first animal, the sound of the river, this view, the people, the drama, and everything, it couldn't have been more perfect. Throughout the journey, there was only one question on my mind, how good it would have been if I could spend rest of my life here? And right then, I could see everything crystal clear. The reason for being in this place, the failures, the success, the people I have lost, the people I have earned, heartbreaks, the path I need to take, how to take, it was all clear. Maybe things are destined to happen. And now I am glad that they happened. They have made me the person I am today. God has set everything for us.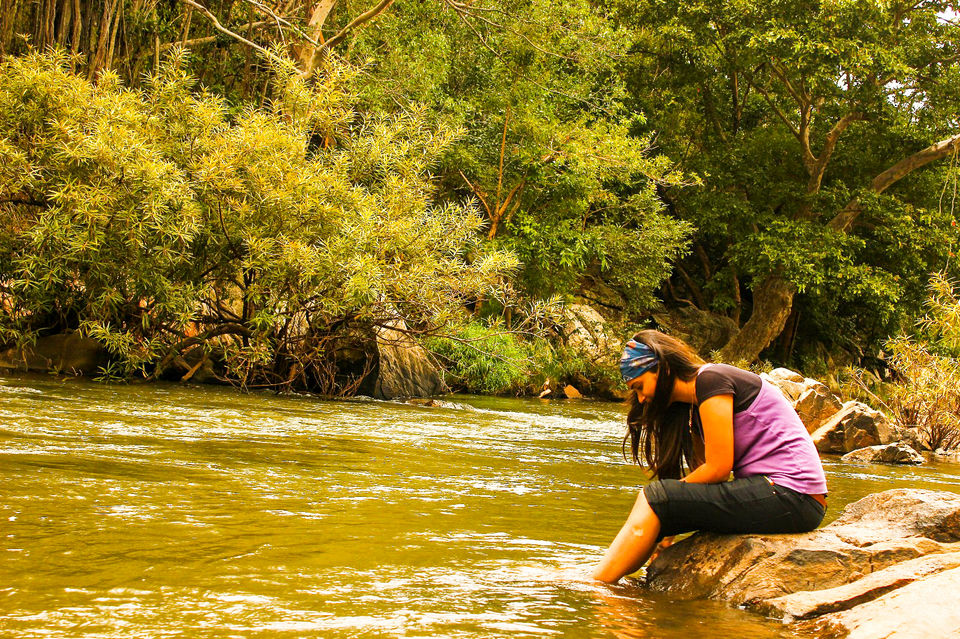 And I was telling my friend not to go into the water but right when I saw this river flowing, I took off my shoes and curled up the jeans. There I was, making my way through the river, jumping on the rocks, taking careful steps and then in the middle of the river, I occupied this place which another friend had discovered. He has this talent of finding the perfect places to sit and I just wait for the moment to steal it :p But then this place was special, for I found myself there. Because I think our lives are similar as of a river. We know the source but then the journey is unpredictable. No one, but only the river knows the exact story, the number of hurdles it has to overcome in order to meet the sea, the hardships, the tough times, the times when it almost lost itself but then it combined with other rivers and both of them supported each other in the journey. And that's how our journey is. We need to throw our ego away sometimes and meet new people, talk to them, learn about their stories and who know how beautiful the sea of our lives would be.
We had walked for less than a kilometer and my shoe sole was almost about to separate from its other half when I noticed it. I asked my friends, what would Bear Grylls do if he encounters such situation and they came up with lame answers like he would ask for a new one from his crew or he would look up for an elastic branch and tie it around. But I had laces, so I tied laces from below so that it can hold. Look at my shoes for further idea :p Now another question, I have seen a lot of people who trek for days in mountains, how do you do if you come across any such situations?
Walking in Chinnar was an experience in itself. You make your own way and walk. I had the exact feeling like I was doing some show for Discovery or Animals Planet. I am watching these channels since I was 13 or 14, I think. Maybe, these are the reasons which have inspired the traveler in me. I want to explore all the places I have only seen on the TV and much more which aren't explored yet.
After this trek, we reached Kanthaloor and our homestay called Dew Mount Cottages. I highly recommend this place. The owner is very friendly. He gave a tour of this tribal village. Just look at this picture with the owner in it.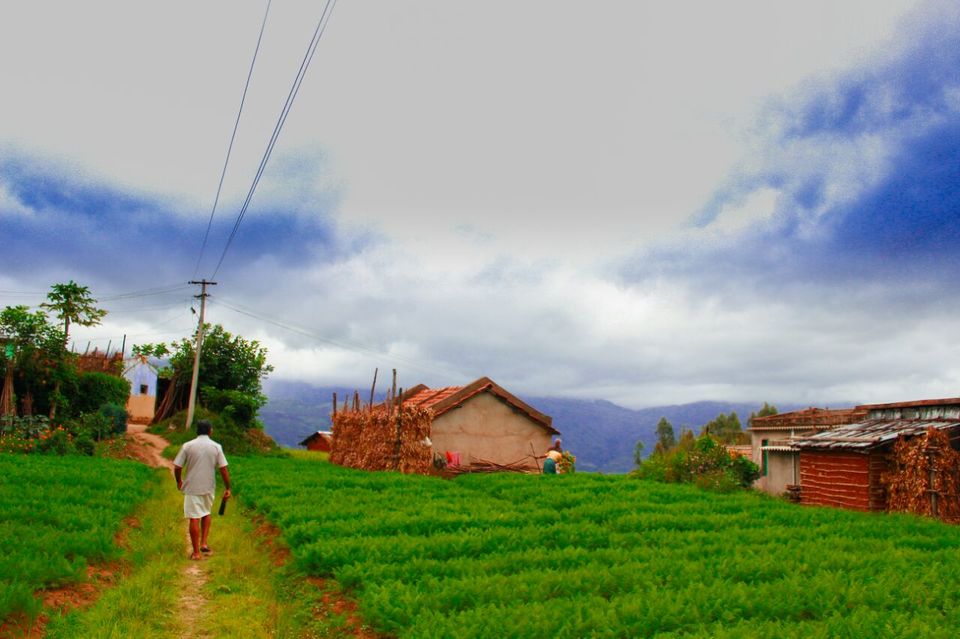 Another reason to stay there is these flowers in the homestay and a beautiful stream of water flowing close to it. I would also say that the warm hospitality here is the reason I am writing this blog.
The pictures and the write-up does no justice to the place like this. It must be experienced.
This place is very close to Munnar and still remains hidden. We saw literally no tourists in the area. With every trip I take, I move one step closer to my goal. Travel has become a drug to me and it has a pretty strong influence on me.
Some more mobile phone pictures from Kanthaloor.