Summer vacations were approaching and it's probably the worst time to travel to well known destinations as they are crowded with tourists and noise. So, it becomes a hard task to find a place that can give you that summer break that you are looking for, a family getaway that will be quality time and mentally relaxing and spiritually charging.
I started my homework and was surprised by an inbox email from the Sustainable living brand called Good Earth. They had launched a eco-tourism homestay in Uttrakhand called Kanasar Eco-lodge. I had never heard of Kanasar before. I clicked on the pictures and was sold ! Seemed like a remote cottage straight out of a dream.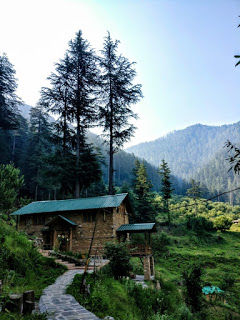 We discussed with a few friends and decided to take the trip together. All our kids go to the same school and are good hangout friends ranging from six years of age to fourteen. So within a few hours we booked our train tickets and sealed our trip.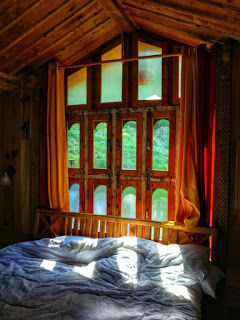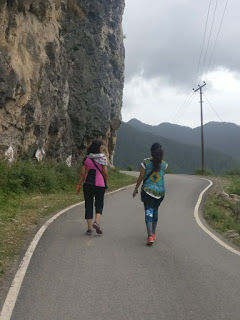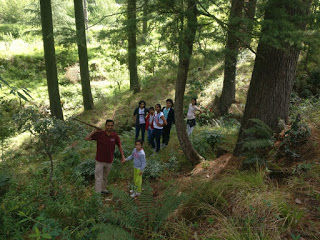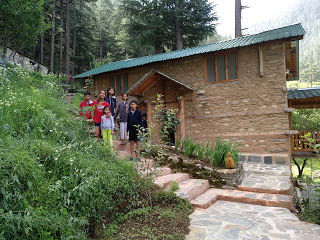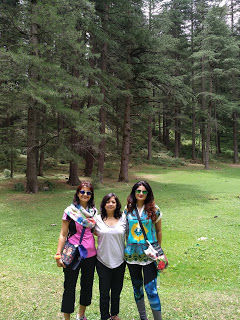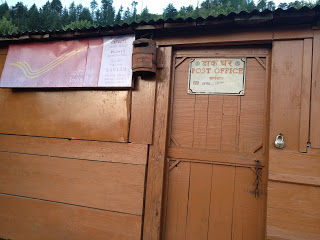 Our train took us to Haridwar. The journey was a marvel for the kids busy playing cards, jumping accross the top berths and listening to their favorite music. From Haridwar we booked a tempo traveller and headed to kanasar. Beautiful weather and greens that come right after the rains.... Perfectly planned by nature for us . The drive was long and took us about eight hours through the windy roads around the mountains and hills of Uttrakhand.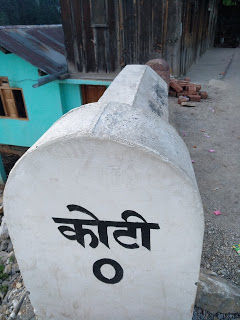 We reached at 11pm and we were enveloped by complete darkness except the natural shine from the stars filled clear sky. We moved into our cottages and slept like logs. Next morning we woke up to birds chirping, fresh mountain air and local mountain dogs outside our cottage. The cottages overlooked the dense deciduous forest with trees more than 100 years old.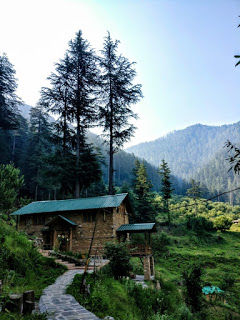 The two days that we spent here were one of the most relaxing and fulfilling holidays . Perfect weather, a relief from the Jaipur heat, we were the only outsiders in this village area which encompasses a 2km radius. Simple people, ten shops in total, a sweet little post office makes this quaint little village a blissful meditative space .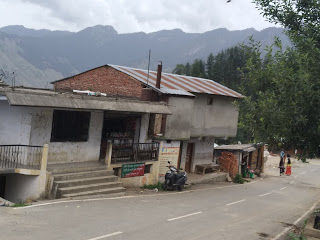 Our homestay consisted of two cottages made from cedar wood of fallen trees , loft style , super cute , warm and comfortable. The hosts are two brothers who hail from koti village, studied in Dehradun and Delhi and returned home to start this community based tourism. It took them five years to self-build two cottages. Water is heated through wood burning. No plastic trash is generated(you are asked to take back the plastic trash u have generated ). All green garbage is composted and bio degradable trash burnt.
They make simple home-cooked food which is so light and sumptuous that you don't feel the food sitting in your tummy. Water is fresh and no RO plant is used for filtration. Days were spent walking through the dense deciduous forest covered with tall pine, fir and deodar trees. We hiked 7-8 KM's each day and inhaled fresh air full of oxygen that it didn't feel tiring at all. Kids collected pine cones with so much excitement and joy (simple pleasures!).
I woke up at 5am and went for forest walks , bird watching, pine cone collecting , came back and did yoga and meditation facing the beautiful dense forest outside our cottage. Fresh milk coffee would start my mornings while I read my book and then for the entire day we'd just walk down through the forest areas in different directions. Felt one with the nature. Nights were bright stars lit skies and pitch darkness with no electric bulbs . The entire village came to a pin drop silence by 9pm....

This peace , calm and fresh environment is little known in today's world. When I saw the people in this village I thought to myself - we don't need much to live a happy healthy life. The people in this village are so happy and content and they live for the day. What they grow they eat, what they earn they probably save or consume for their daily survival. Life is simple . No complications. They don't accumulate or make big houses to fulfil a false sense of ego and aspiration.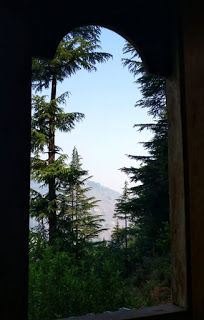 How we long for this peace and solitude in the urban life!
I'm back in the civilization now. Just 25 km of driving downhill and I can hear the cars honking impatiently , plastic packets and bottles strewn all over the roadsides , crowd galore of tourists and I'm starting to feel suffocated! Can I run back to Kanasar and escape once again! Oh how I wish!!!!!