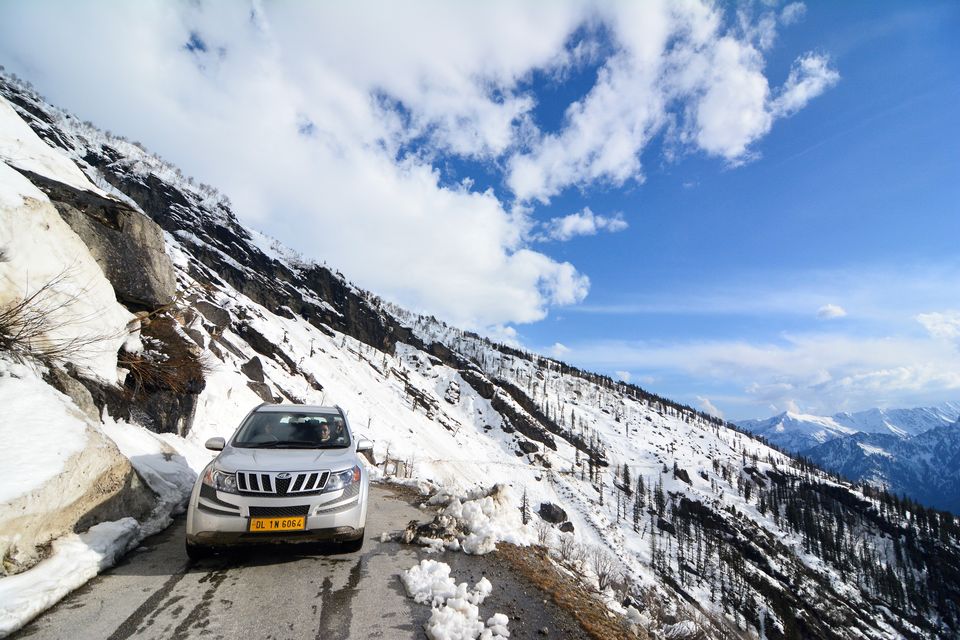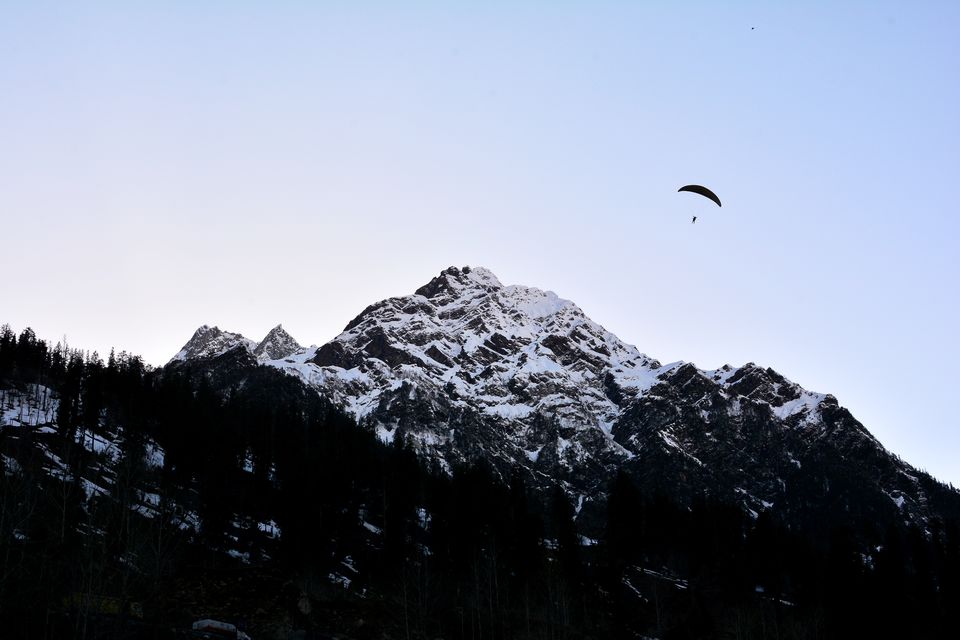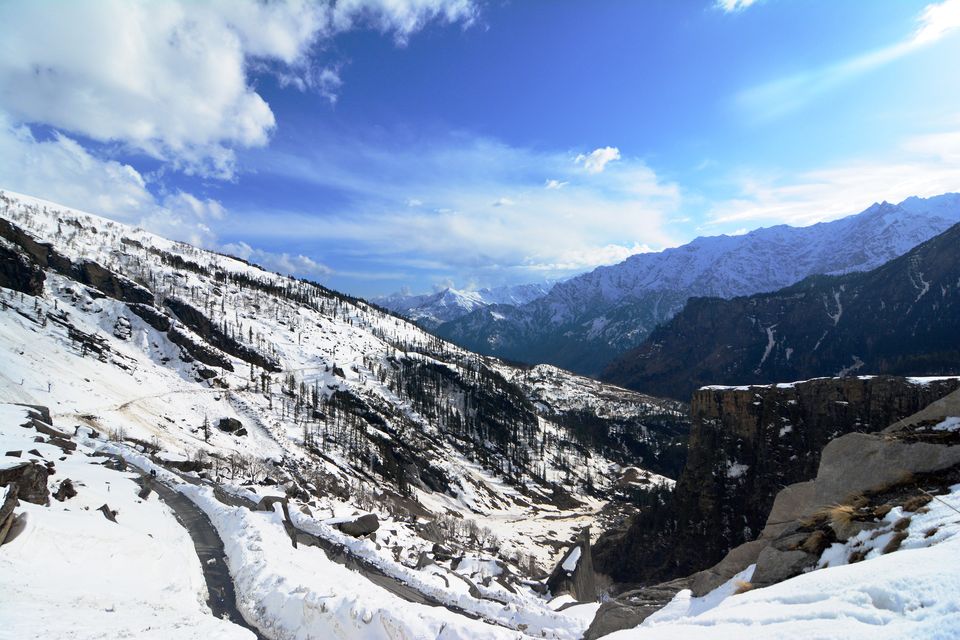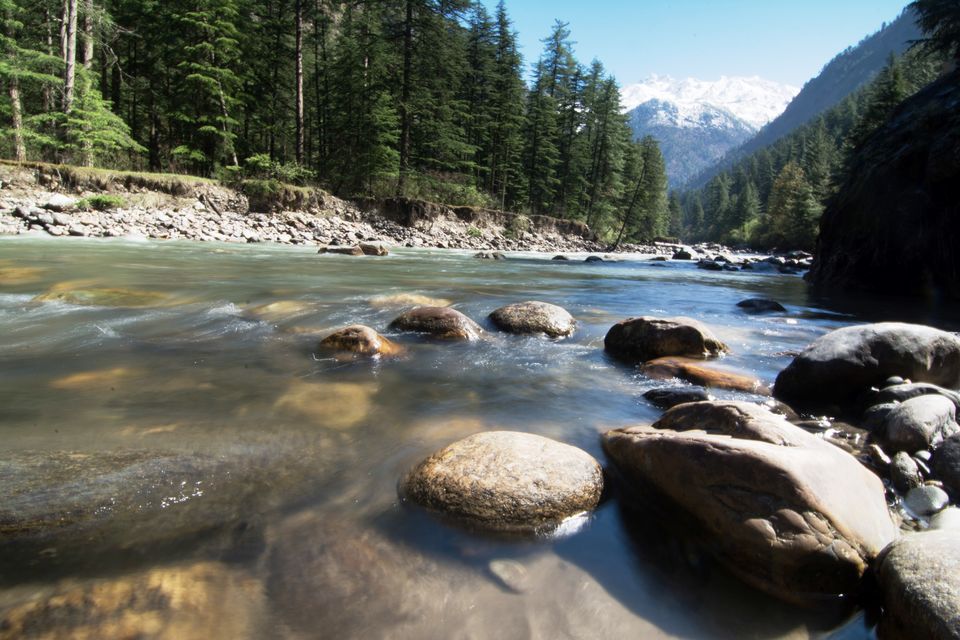 Seldom does an opportunity arise to undertake an unbridled adventure into the unknown. The joys of an unplanned trip are galore with unimaginable surprises and unexpected offerings.
Thus spawned a plan of a 7 day voyage wherein we had compiled a list of places we would like to visit, but had no plan of how or when to reach, or stay there.
All this taken care then, we started the tour with our companion and capable ride for the expedition: XUV500
[Midnight] Outside the Delhi railway station, stood gleaming in the street light, our ride for the tour which we had rented for self drive: Mahindra XUV 500 (W6):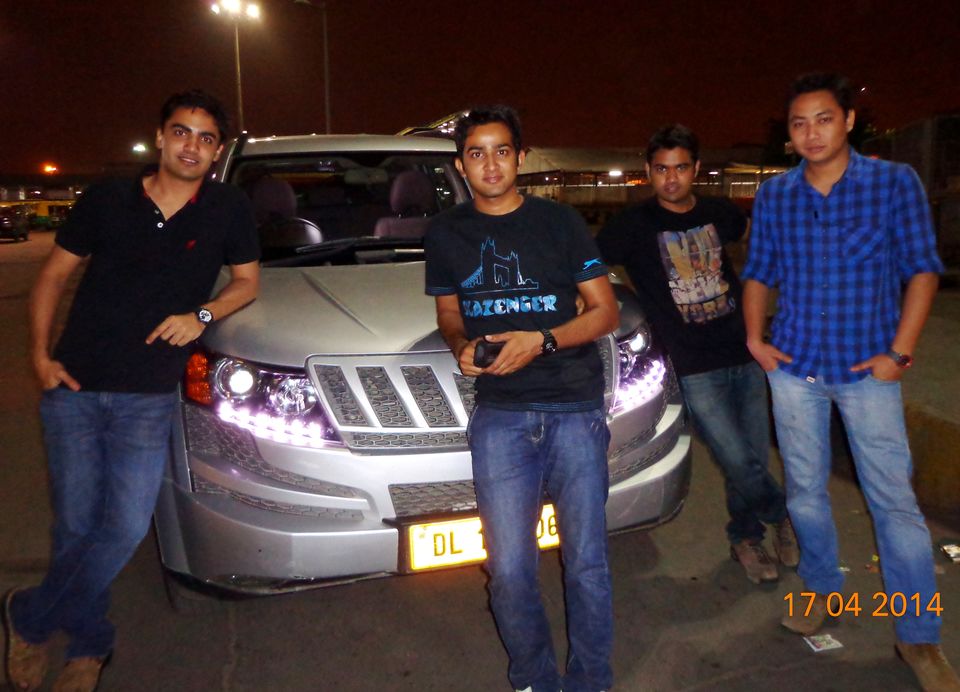 Legalities and payment done with, we grabbed the keys, and hit the highway to Manali at once.
As we had decided no one would be missing out on fun in any part of the trip, we all had to stay awake, and for that, tea was essential to keep our eyelids wide open all time, hence the trip commencement cheers: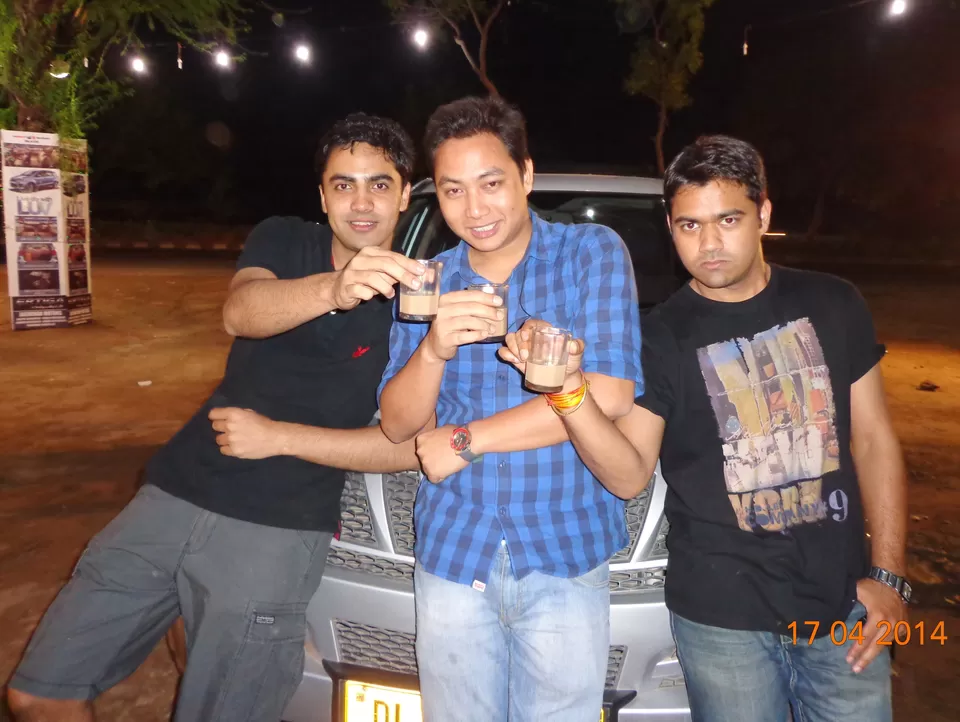 After that, the journey flew like a breeze and we covered a lot of ground. Directly we stopped in the morning before the ghat section for some breakfast: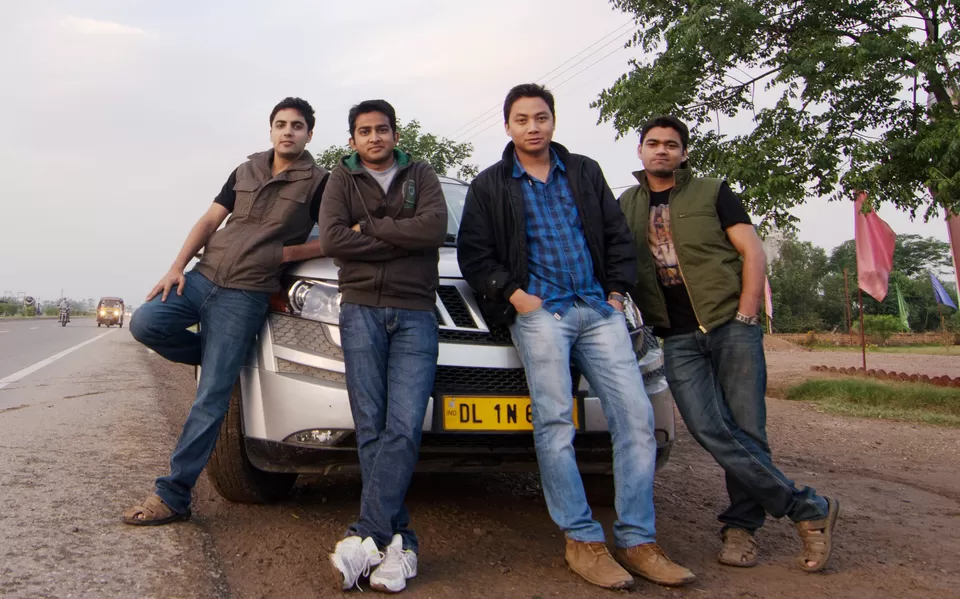 Tentative plan was to reach Kasol till afternoon. But the exquisite scenery and sexy weather made us stop every now and then to take in the awesome ambiance. Some clicks taken en route to Kasol: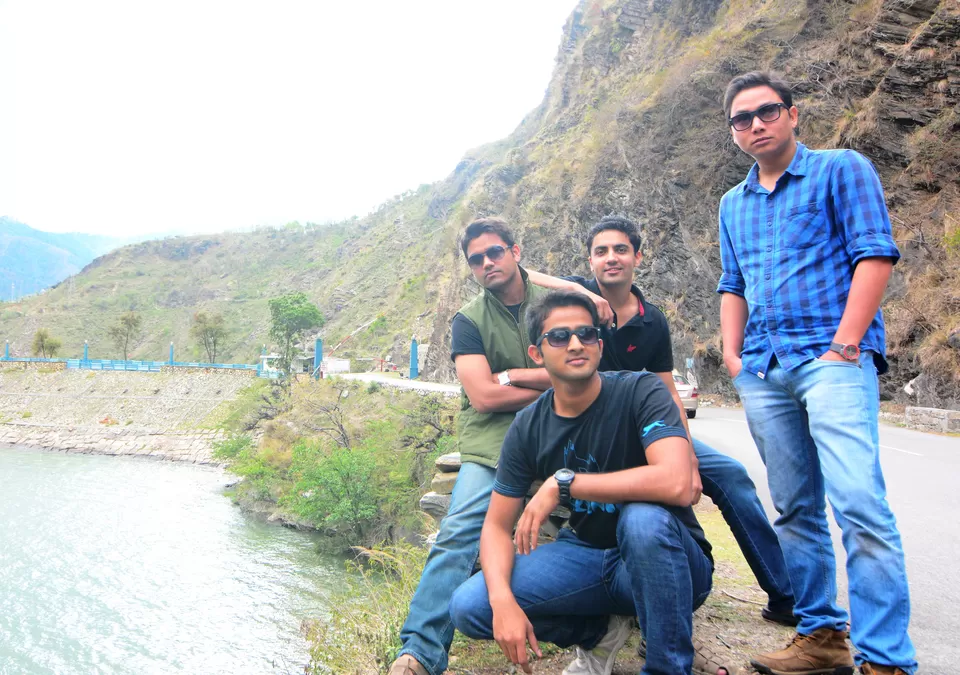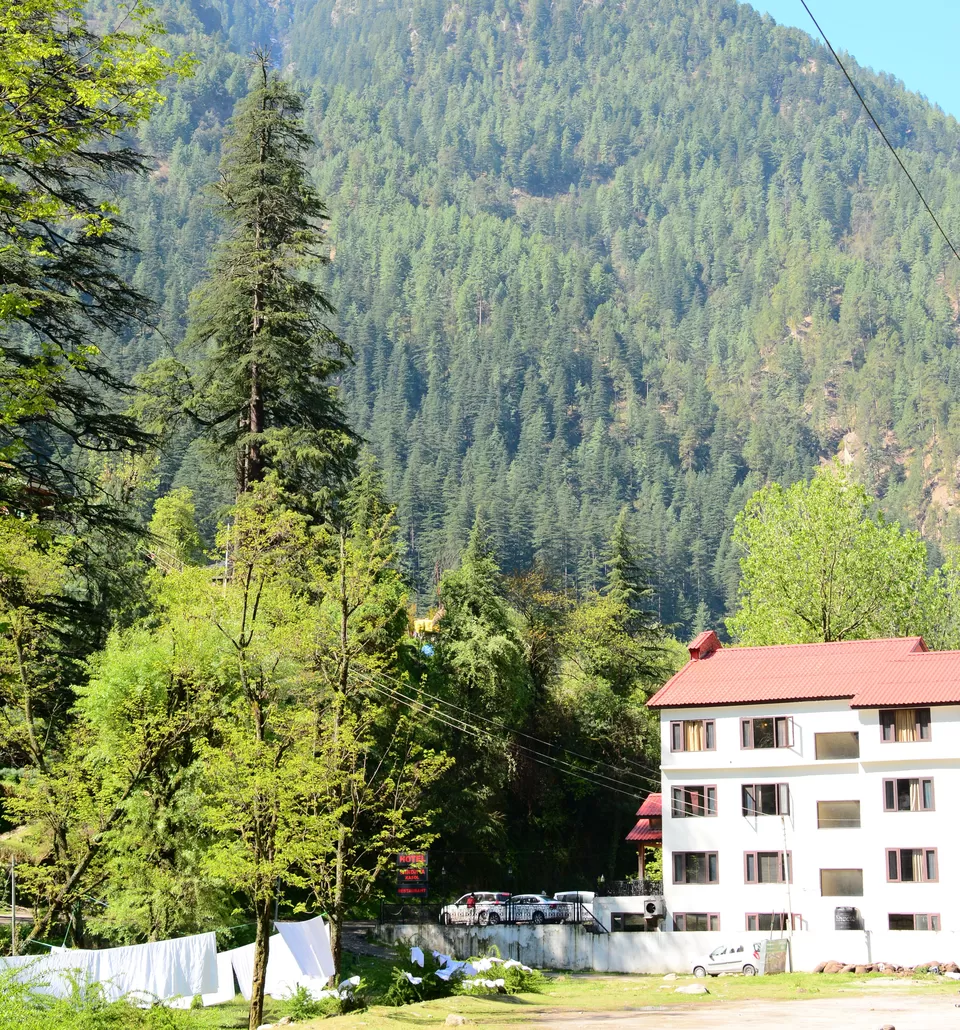 Midway, the fatigue had settled in after no night's sleep and the drive via Swargate (We had taken a longer off-road route, a much better way is through Bilaspur), but we continued on our path: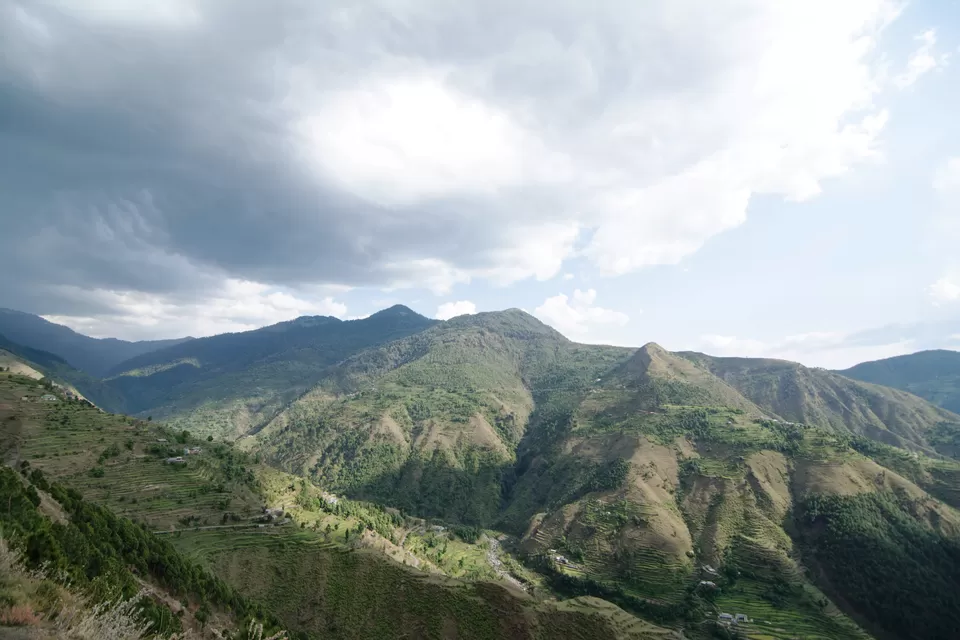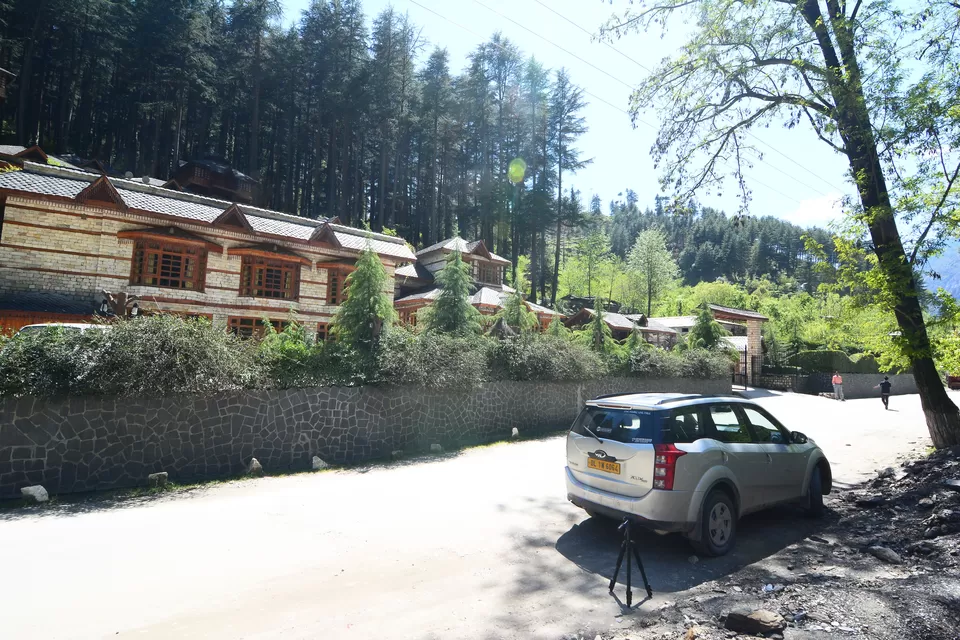 Finally we reached Kasol in evening. Our first though was that we have entered a mystical foreign country. The place is inhabited largely by the Israelis, who come and settle here. It was a beautiful setting with camps setup near river and the fragrance of local 'grass'.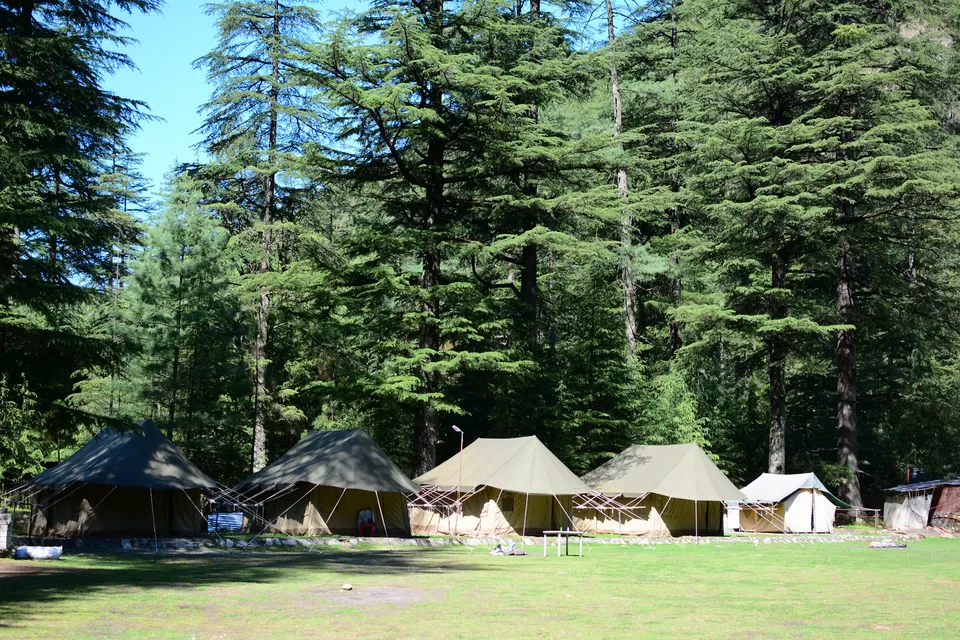 We were extremely tired after a long drive, hence decided to explore the place nest day, had some food and dozed off.
Invigorated with fresh enthusiasm the next day, we headed out to explore the village. We found a nice spot near the Parvati river and had breakfast there: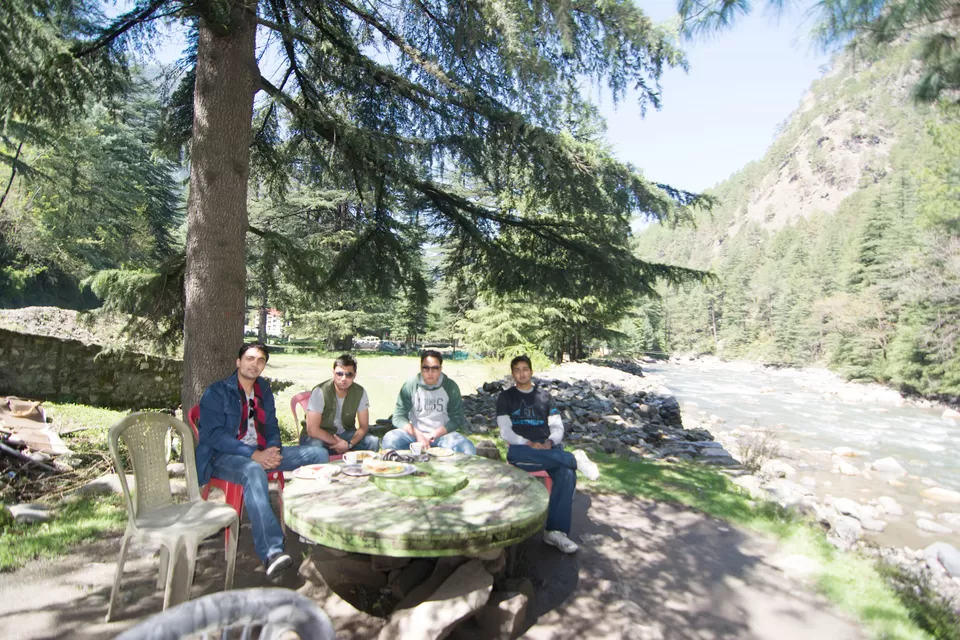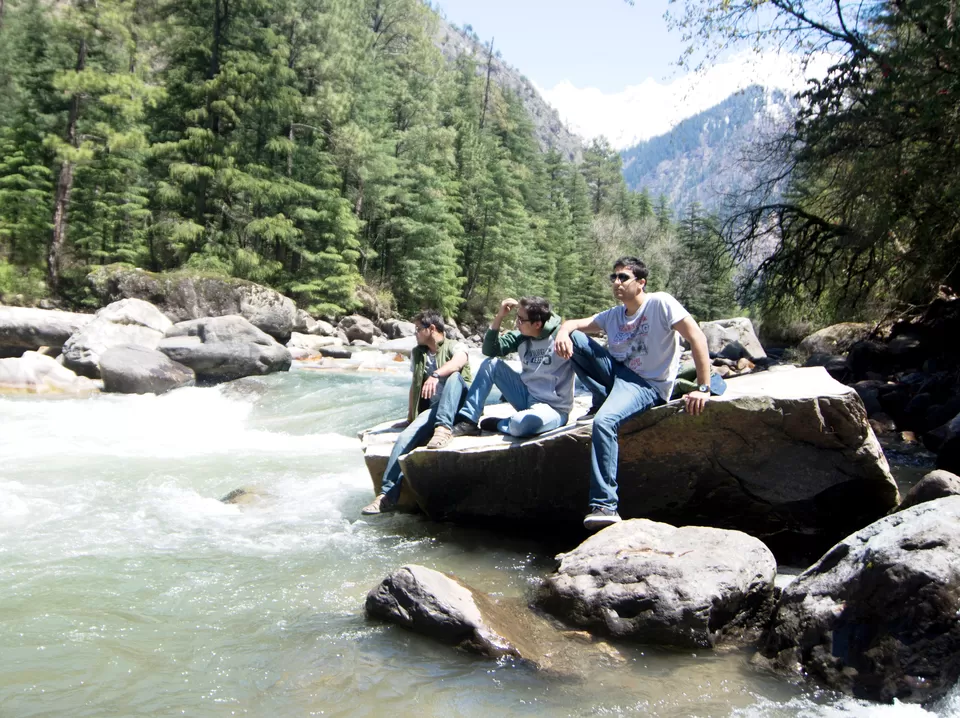 Thereafter, we moved forward to Manikaran. The road to Manikaran is lined lush greenery and picturesque landscape and we couldn't resist posing with our gorgeous SUV with such a fine backdrop:
Manikaran a religious place for Sikhs which has a magnificent Gurudwara built: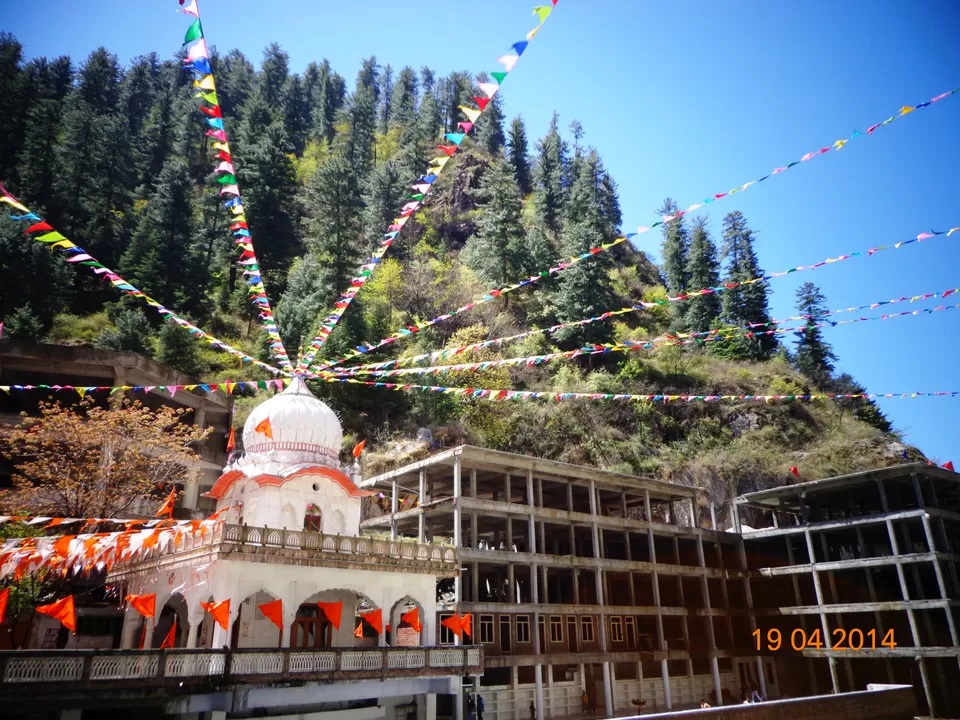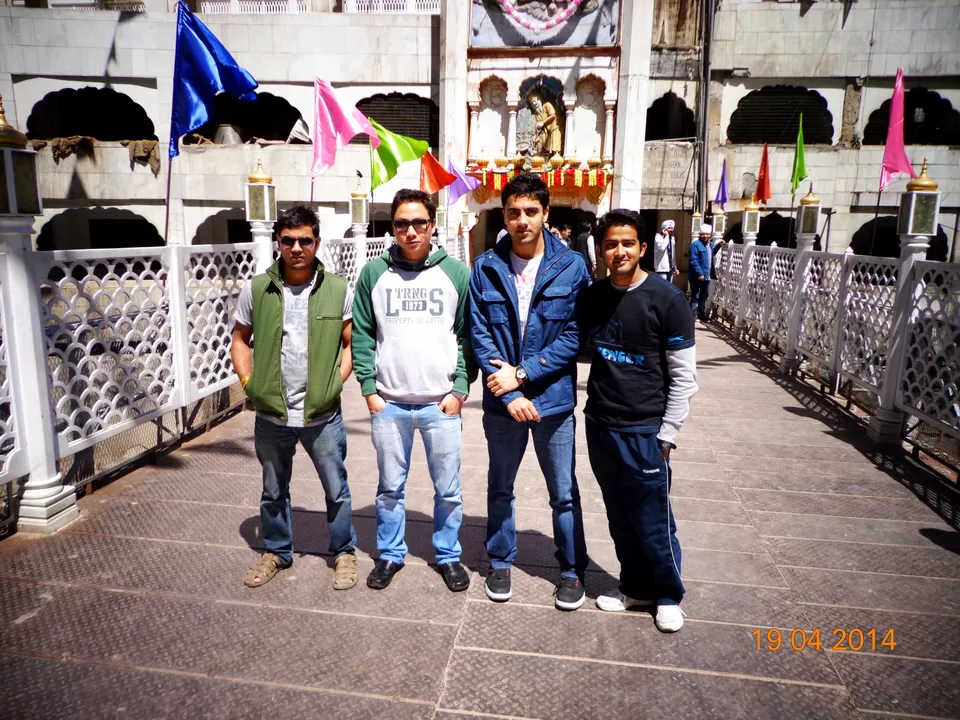 Prayers offered, we prepared to move to our next destination: Solang.
New day, new adventures! We were moving high in the hills towards snow capped mountains, vast fields and loopy roads. Some views en route to Solang: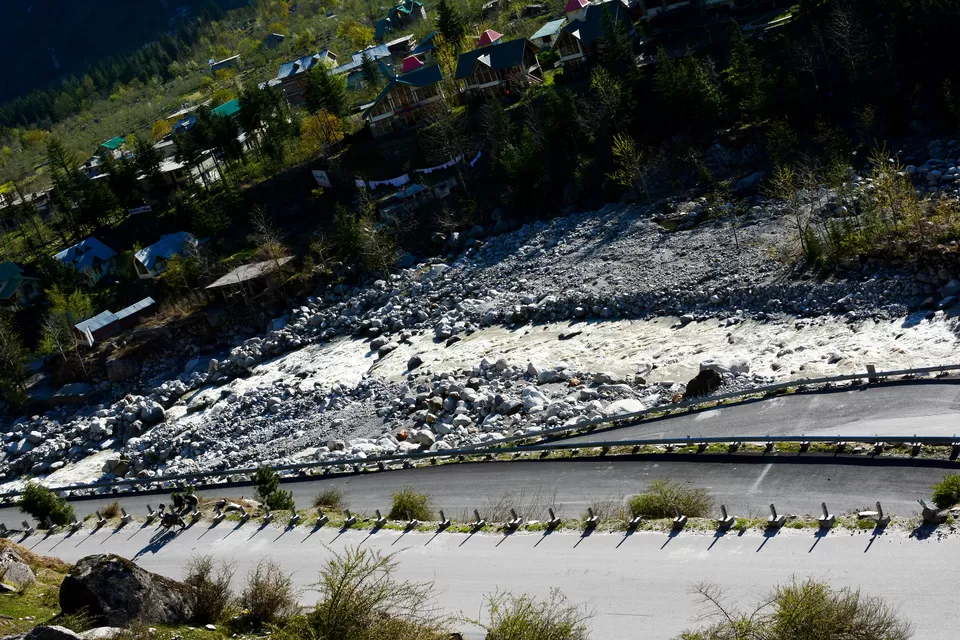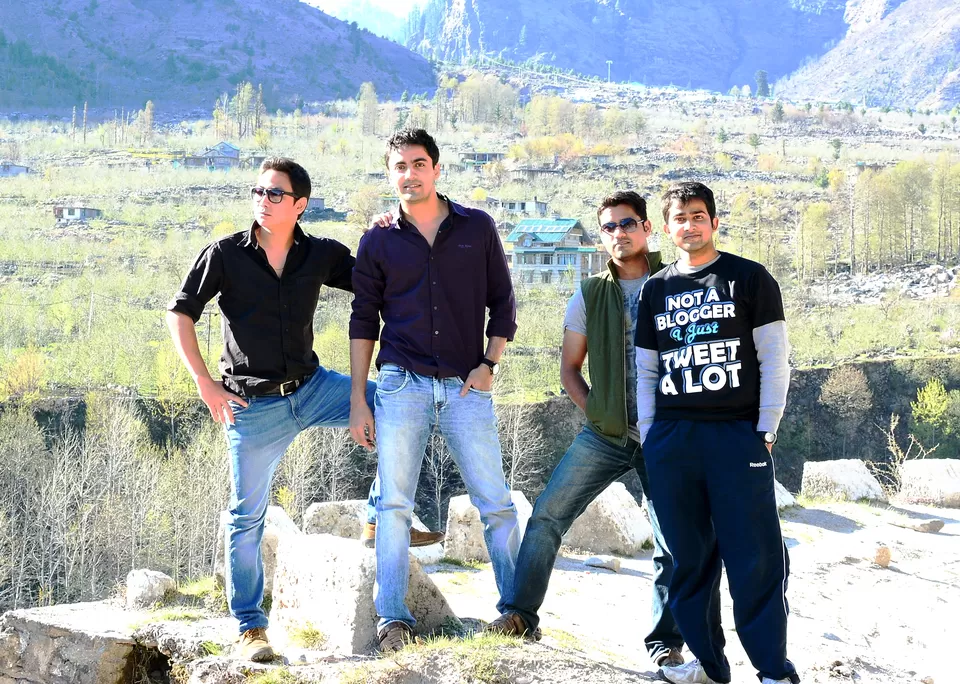 Solang is known for adventure activities such as paragliding, mountain trekking, ATVs offroading etc. However we had even wilder adrenaline-pumping ideas in our mind :D
We checked into a hotel, took out our tents and sleeping bags, and headed out into the jungle besides the river for camping!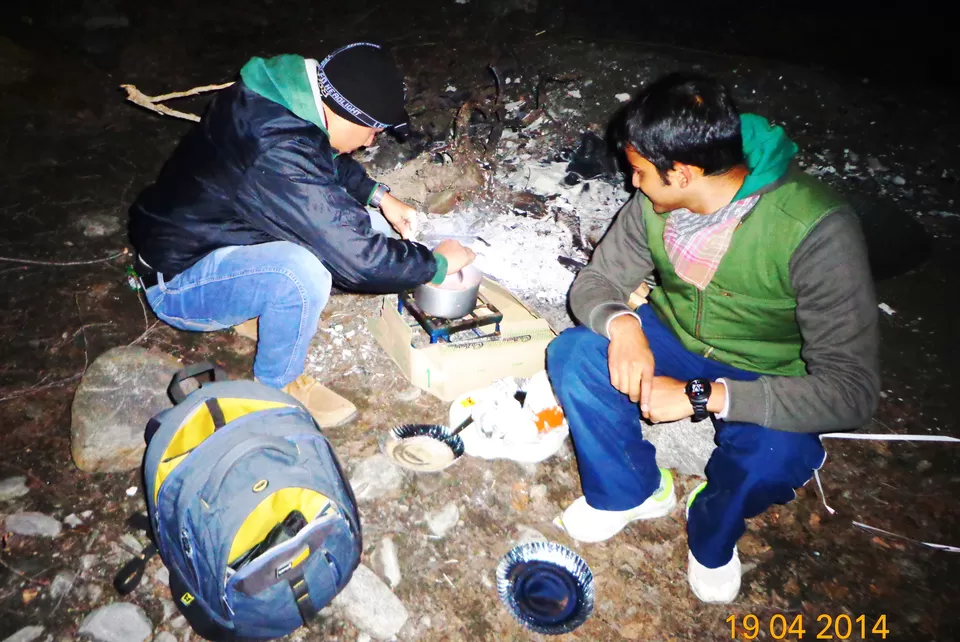 The tent was a huge relief from outside freezing cold and apparently distant-sounding noises from forest which we assumed as wild animals!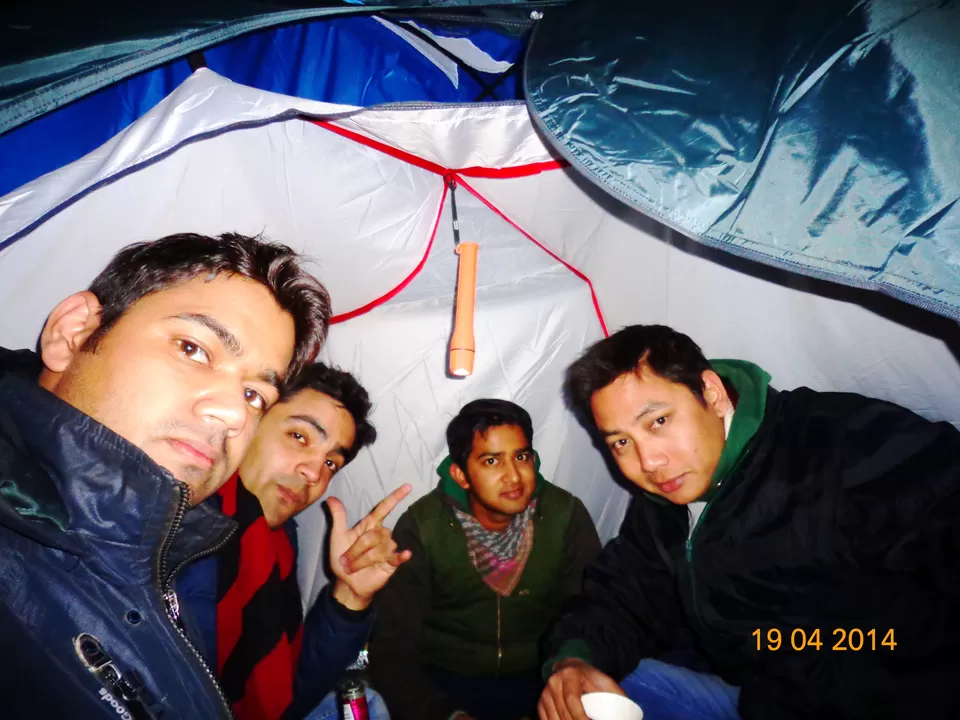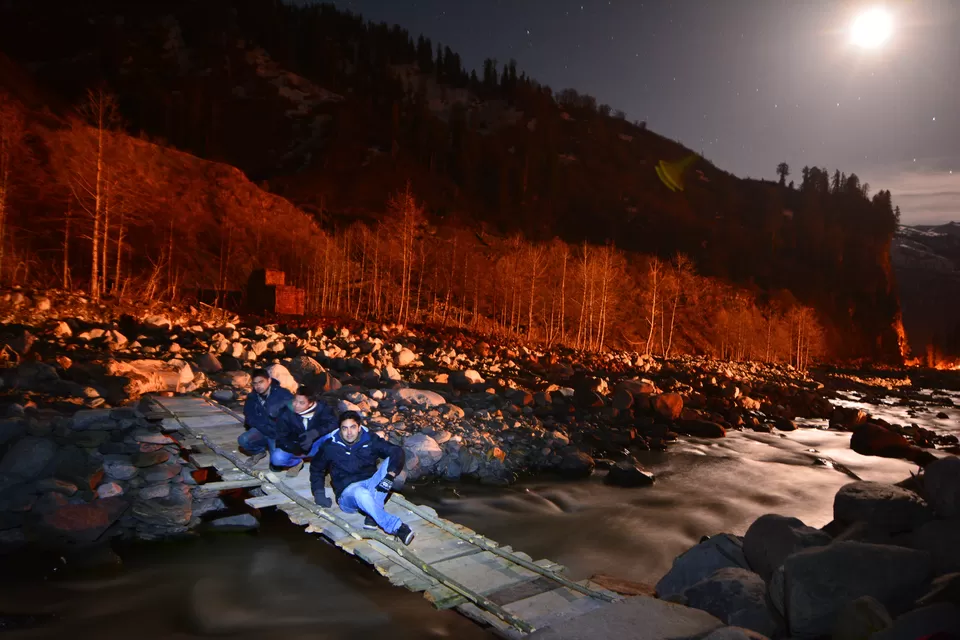 We slept on the bridge gazing at the starry sky feeling the cold breeze, listening to river water flowing beneath and the creaking wood of a very questionable-strength bridge.
We began the ascent towards Rohtang early morning next day.The beauty of nature that we had witnessed yesterday was overshadowed in an instant with the perfect landscapes and sheer awesomeness of this place.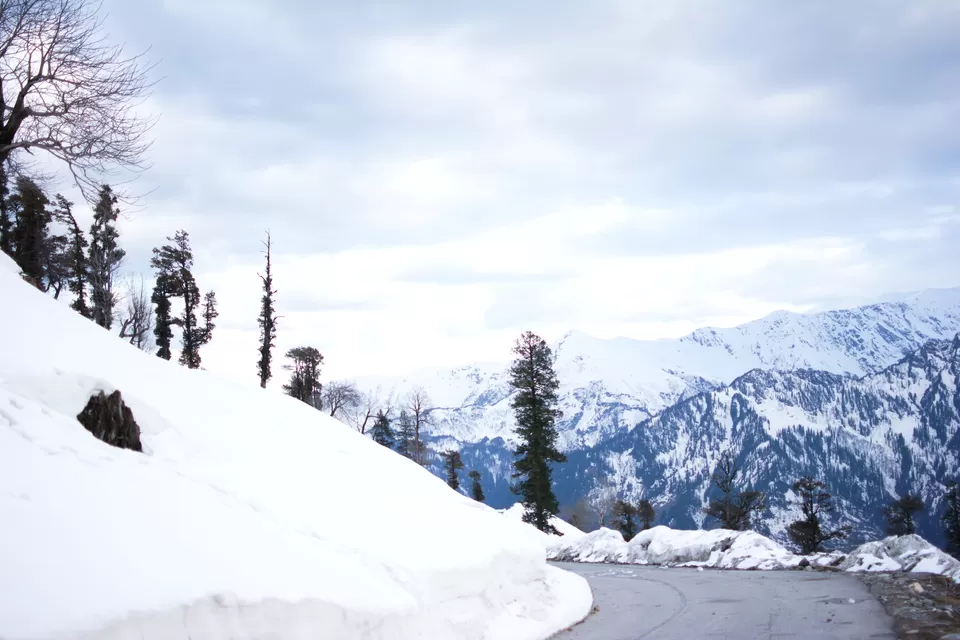 It's a surprise we didn't fall off any slopes when we had our eyes fixed to such hypnotic scenery!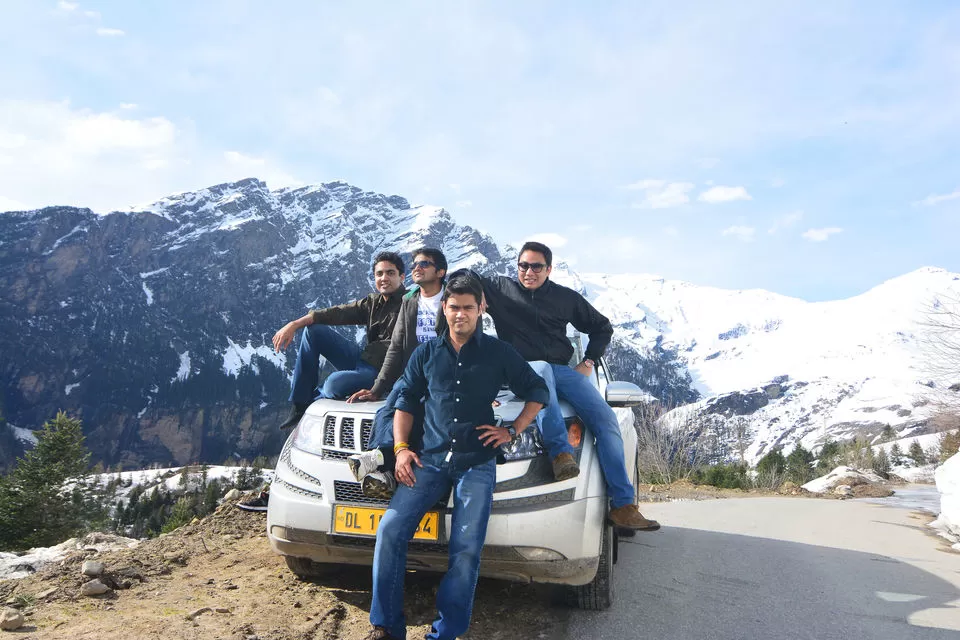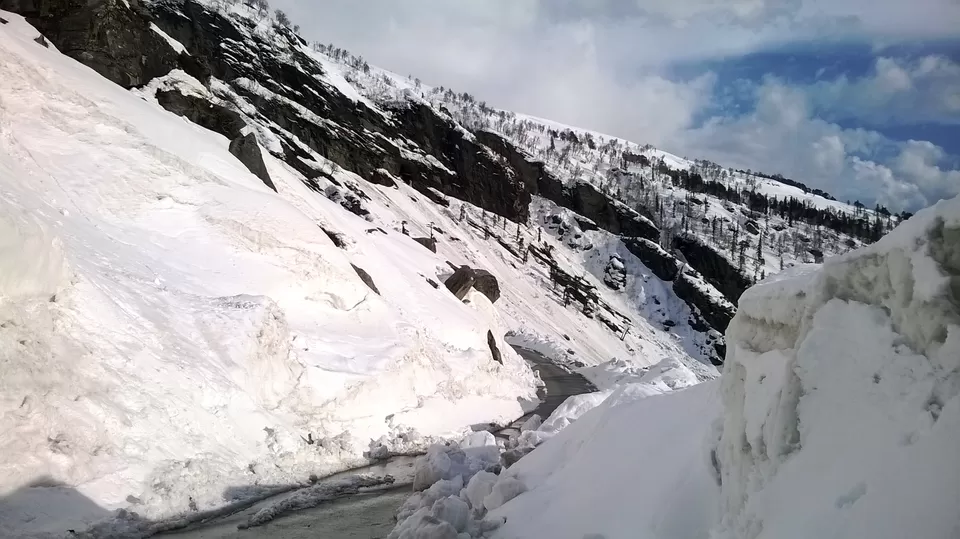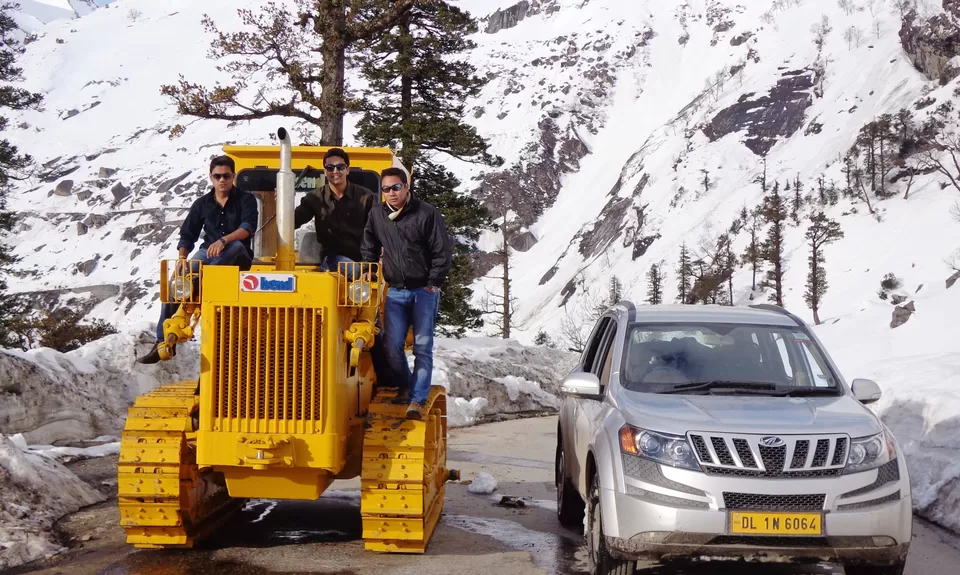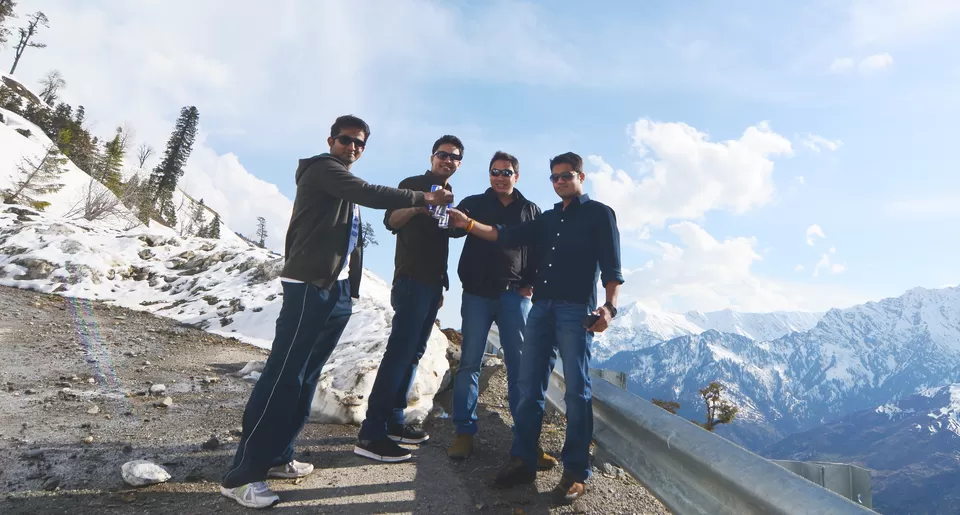 We continued as far as we could go till Rohtang, but unfortunately, the snow had not yet been cleared, so we couldn't go beyond Marhi: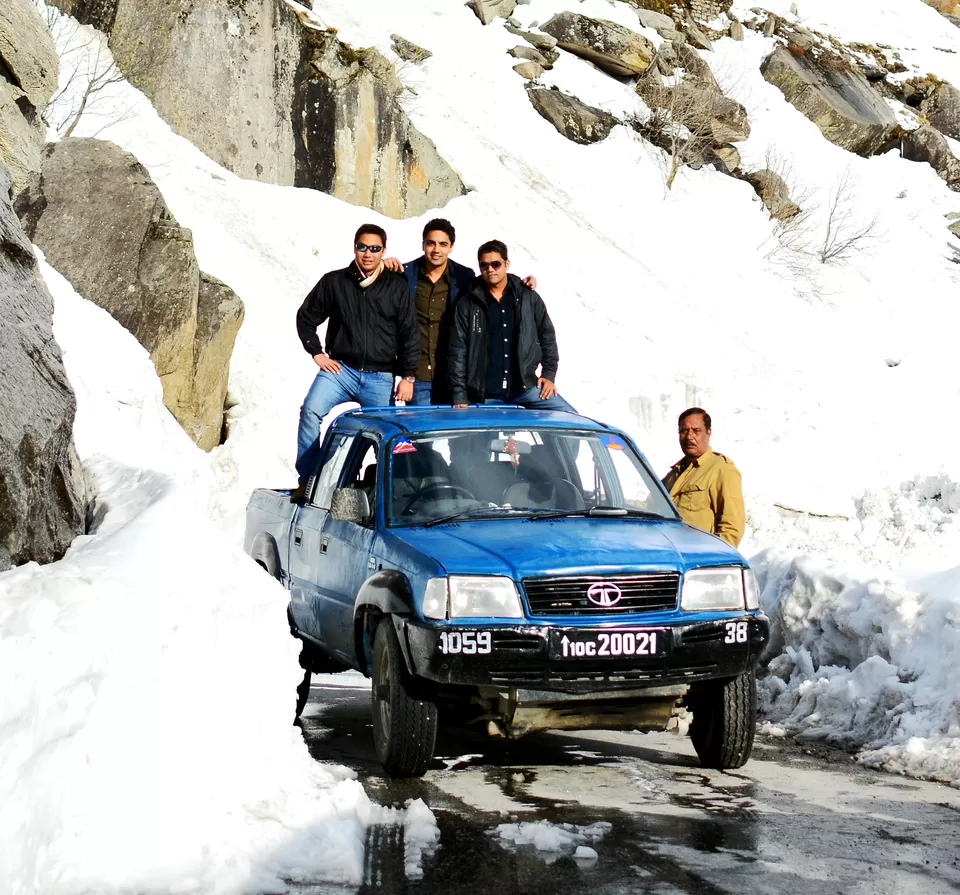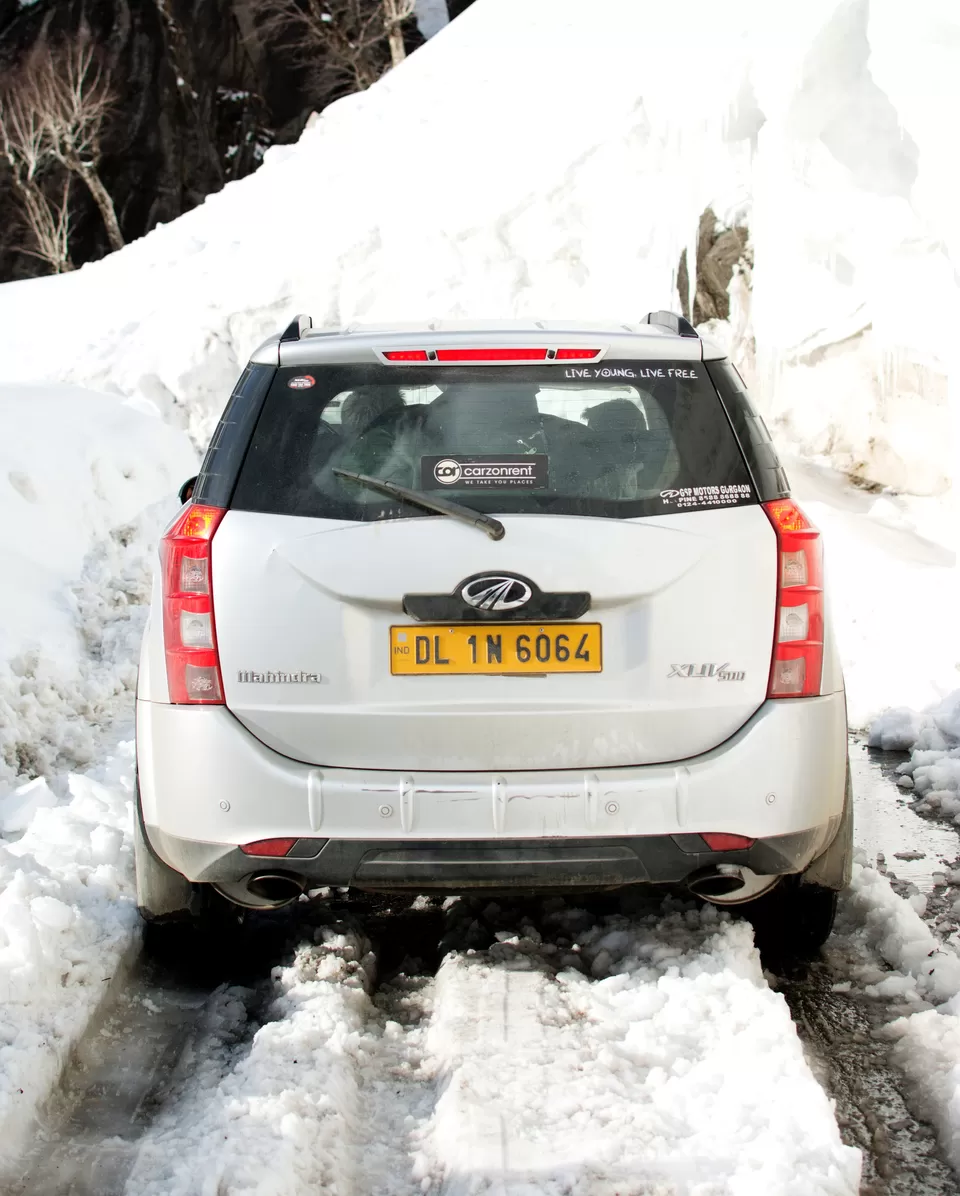 Though we did our best to try and clear the snow, we couldn't move ahead of Marhi: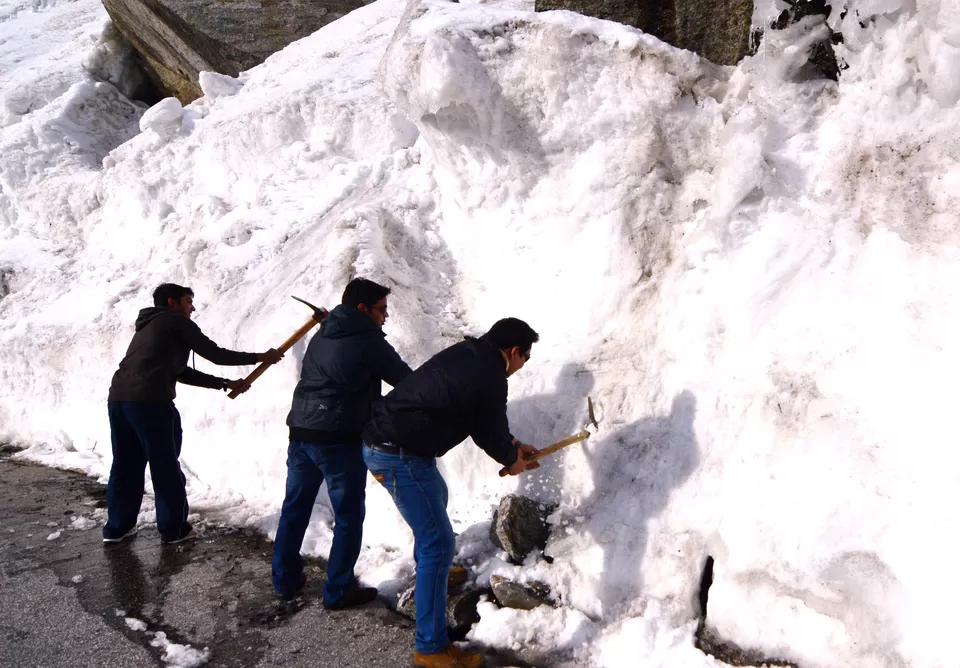 So instead, we climbed the hills: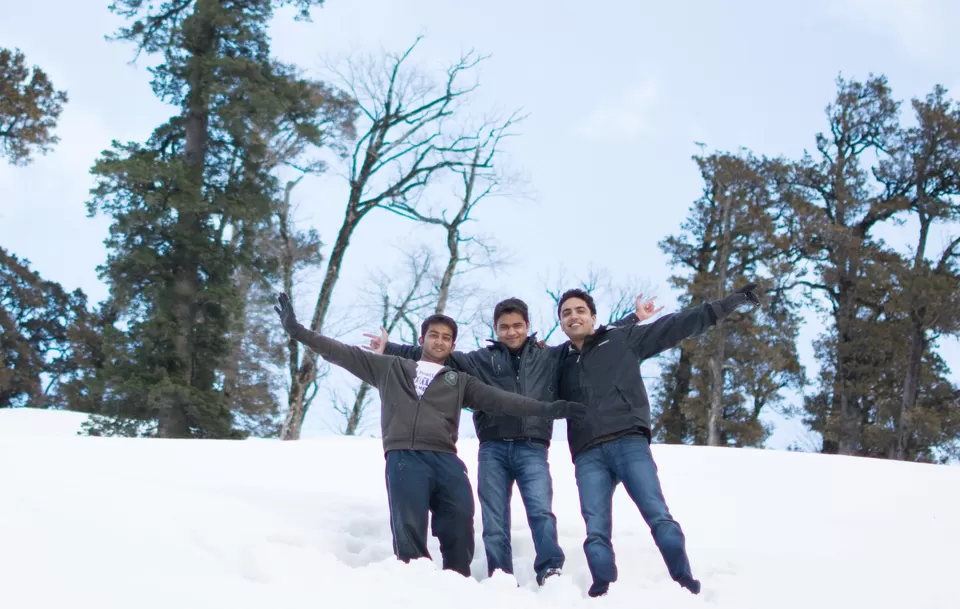 We had to have snow fights: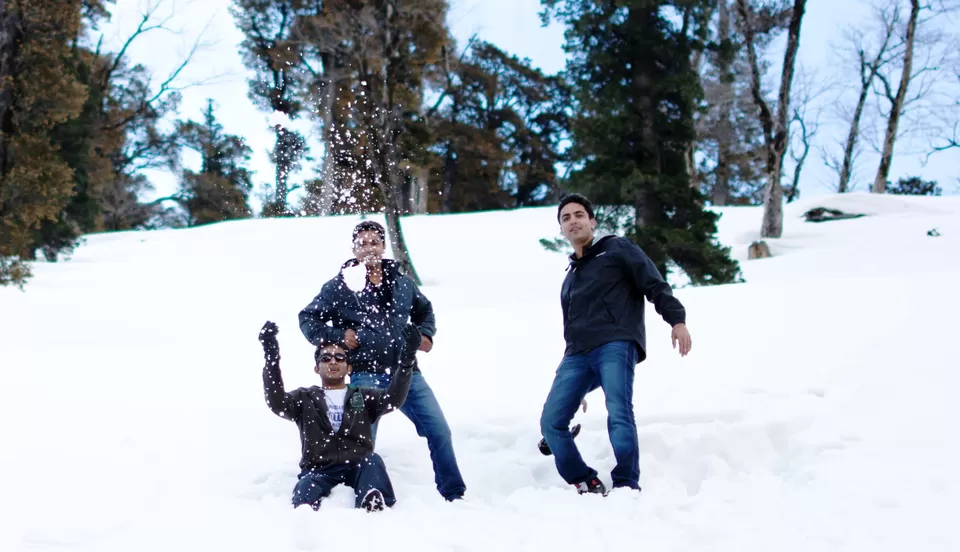 And couldn't resist racing down the icy slopes!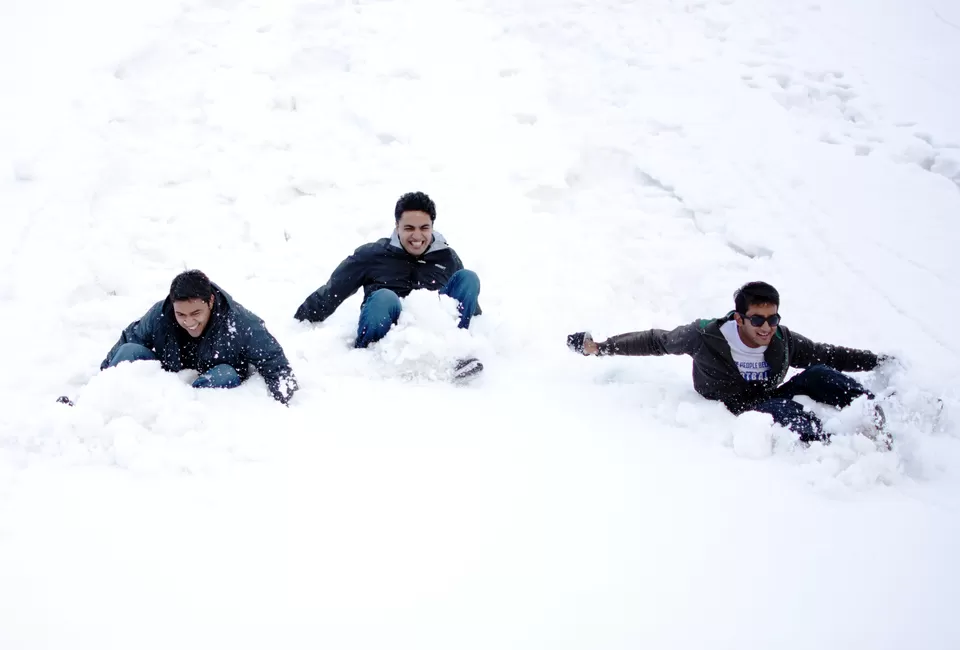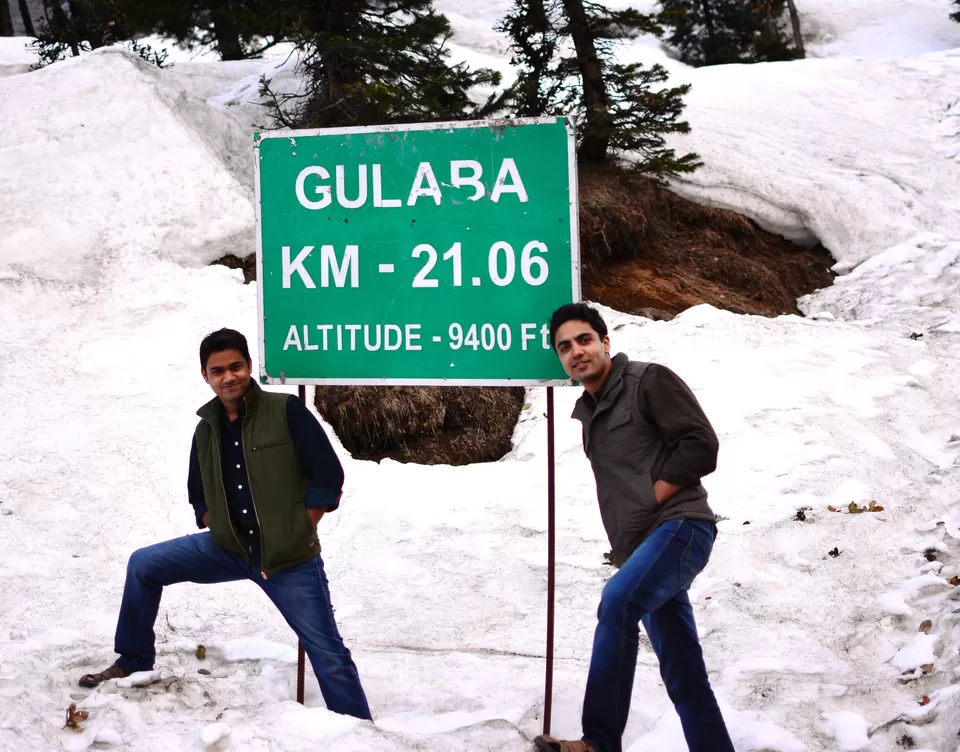 We stayed at Kothi, a place nearby Gulaba where we found accommodation for the night and decided to leave early next morning to Prashar and Shogi.
"We will reach the lake by 2 PM and then head to Shogi, its just 114 KM"
Little did we know how much time it would take to cover the 'mere' 114 Kms of roads that lay ahead of us.
Many obstructions on the already narrow roads slowed us down immensely: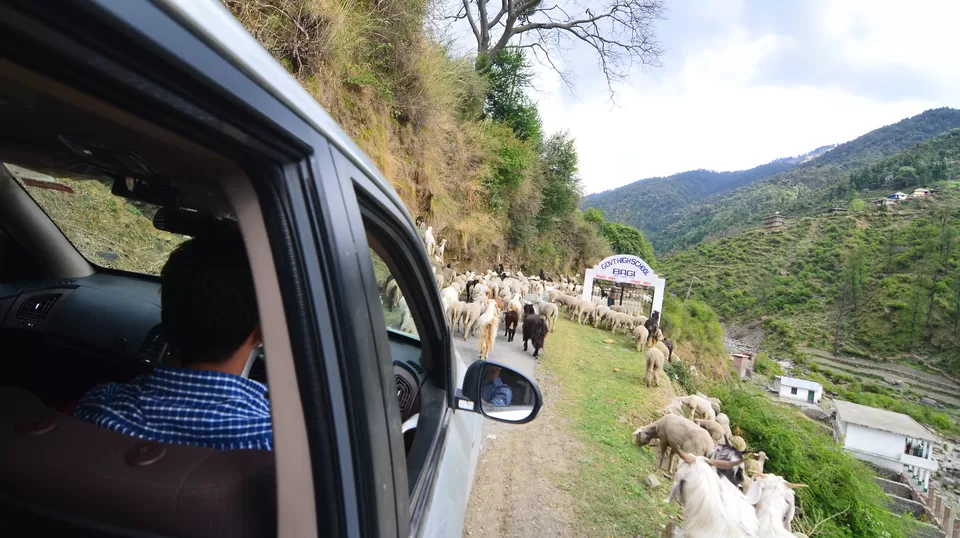 But we were happy to leisurely cuddle in the lap of nature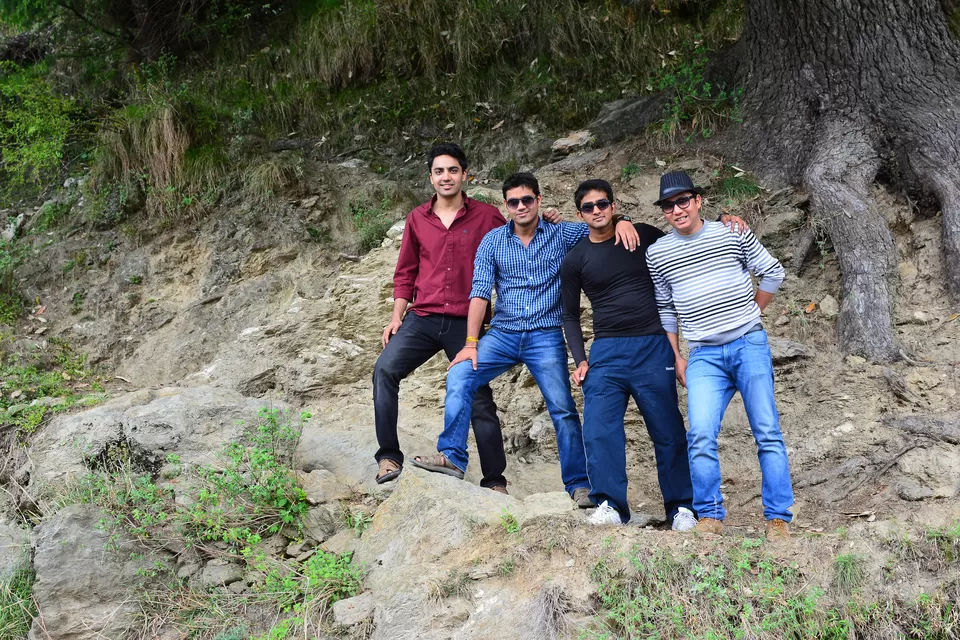 It was like we were on movie set, horses grazing, leaves falling and the calm breeze: simply magical!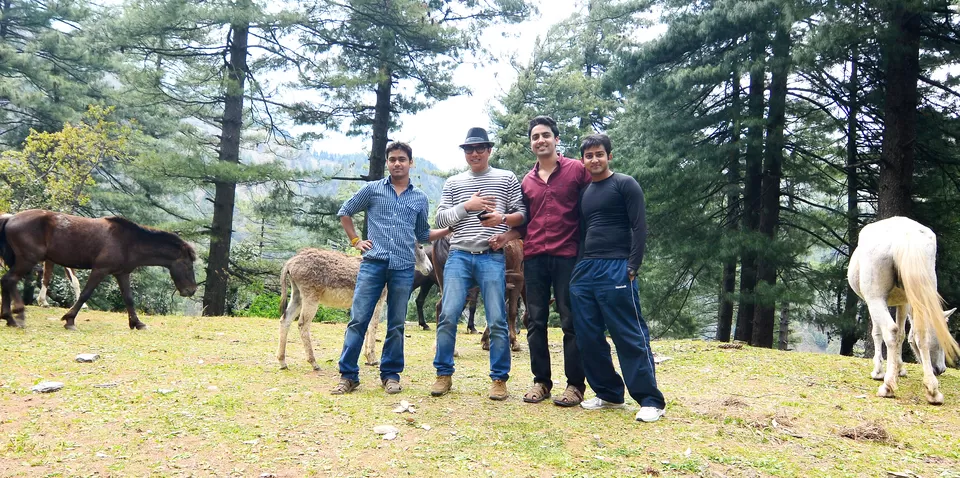 Accolades to XUV to have brought us to witness all this grandeur and exquisiteness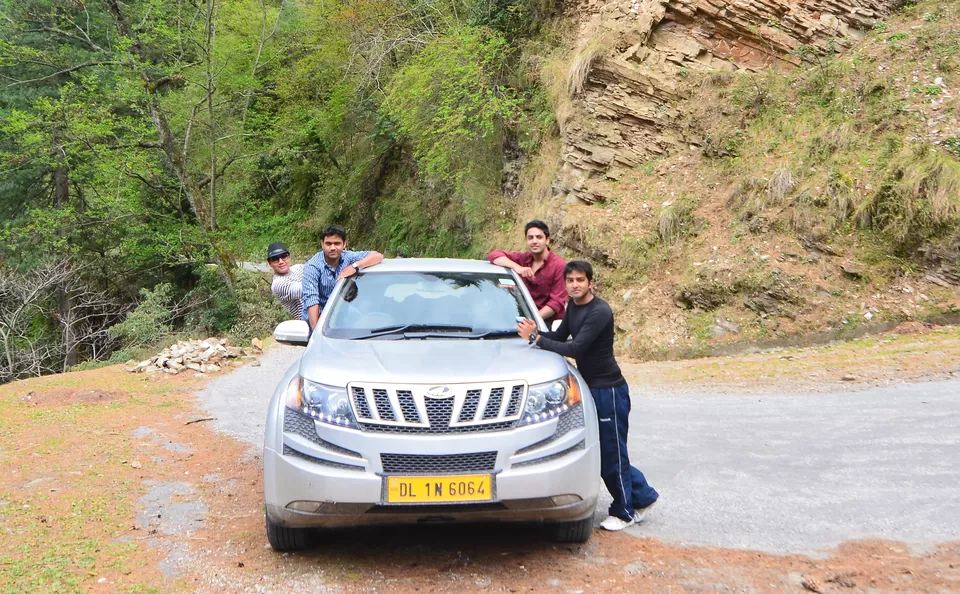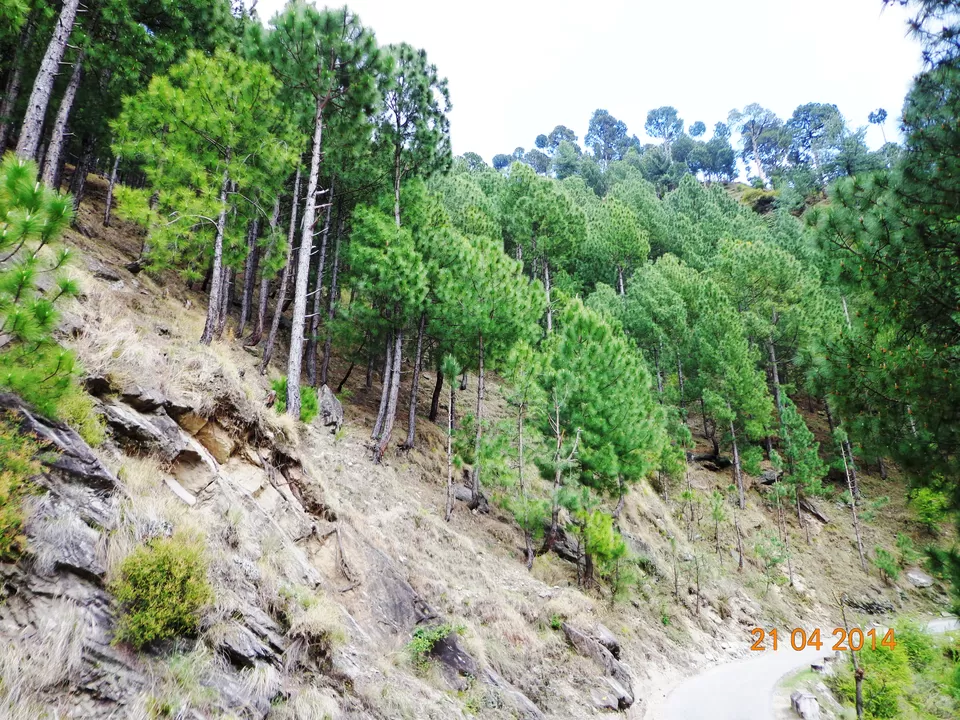 The SUV sailed across all kinds of terrains and abuses without a hiccup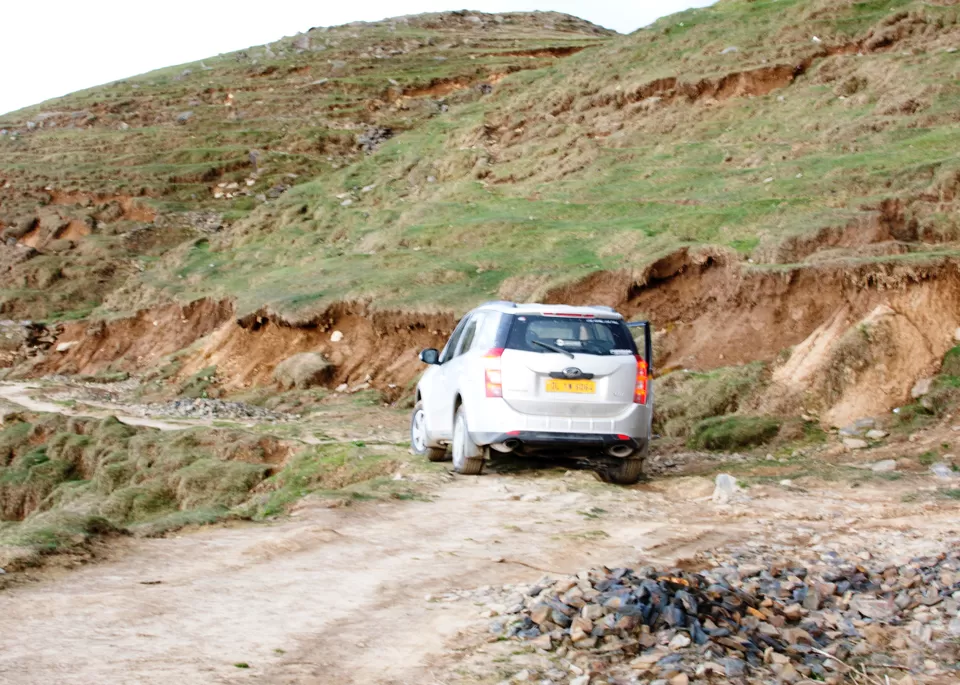 And sitting inside, cocooned in lavish and comfortable interiors, we were isolated from any beating the car was taking
We reached Prashar lake, where we got to live near the lake itself in a PWD guesthouse: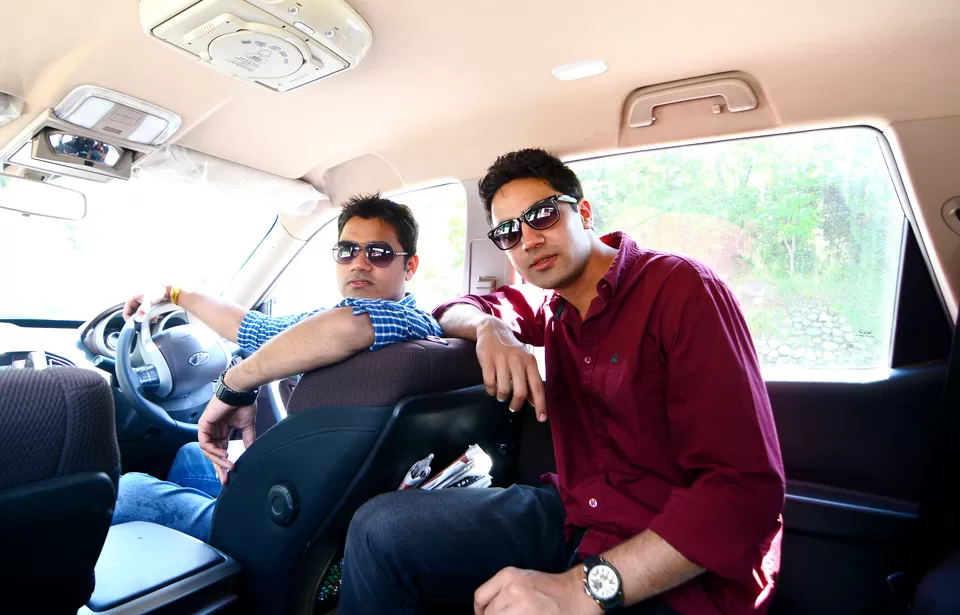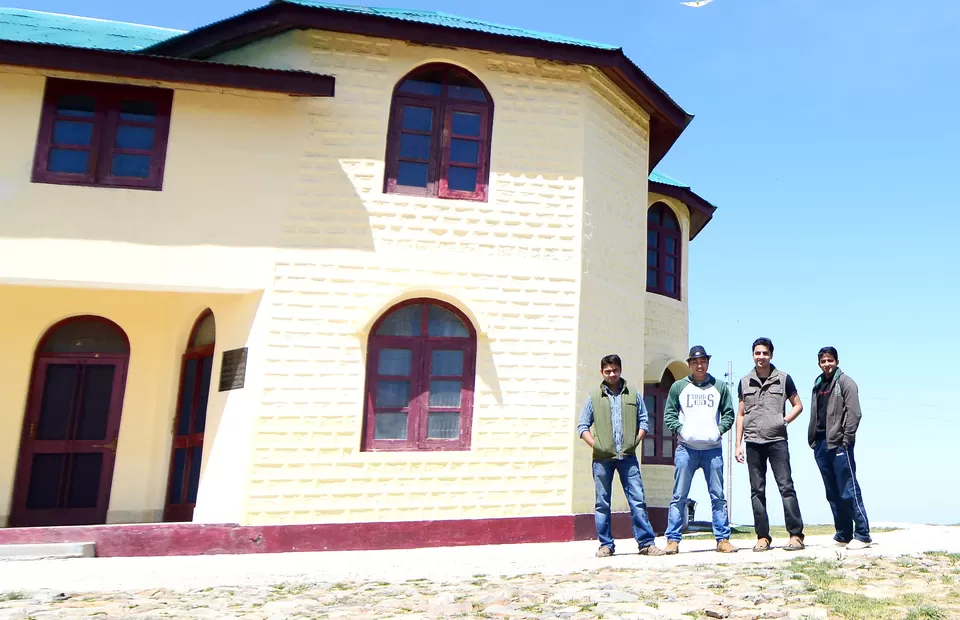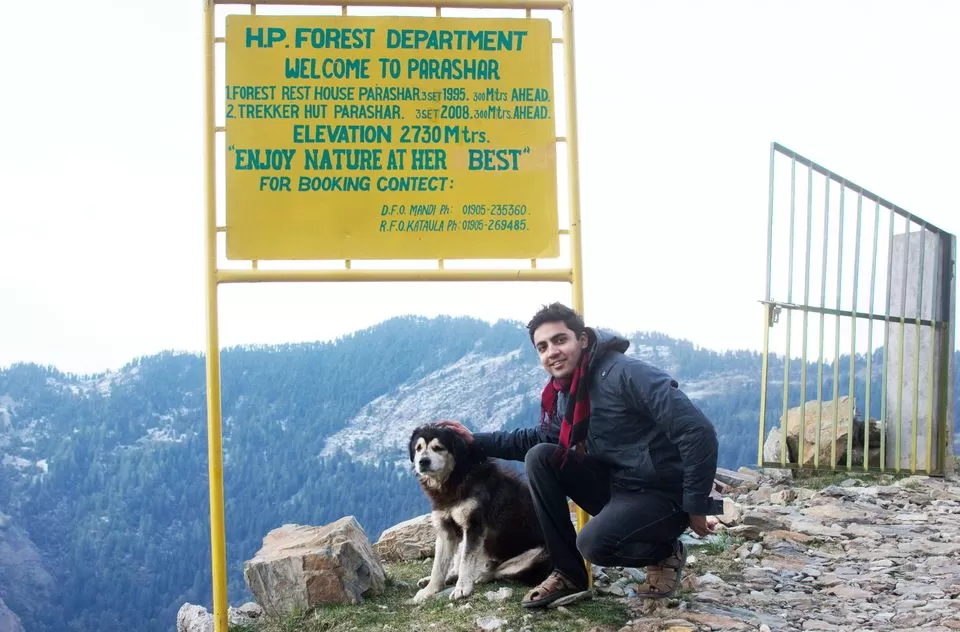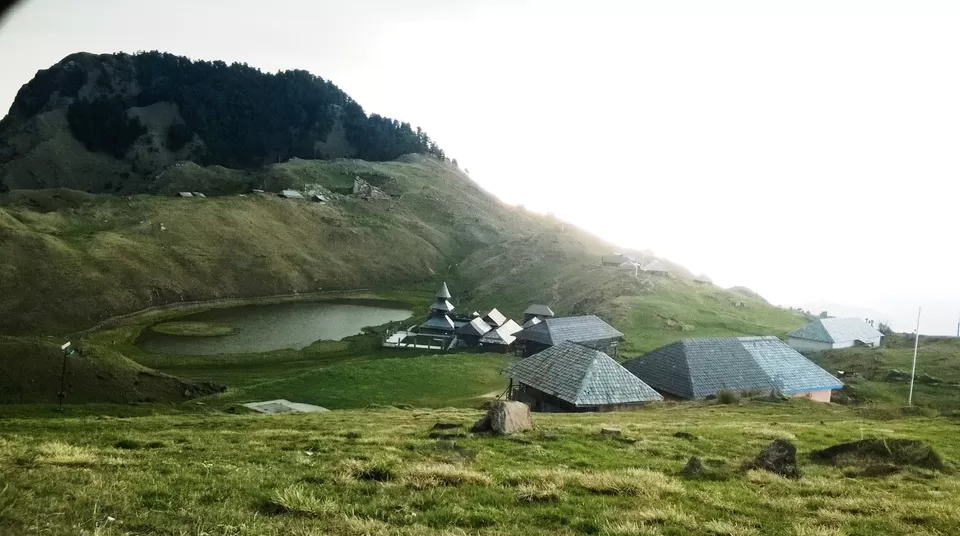 We spent the night laid-back on the field beneath the perfectly clear skies, besides the lake, gazing at the meteor shower: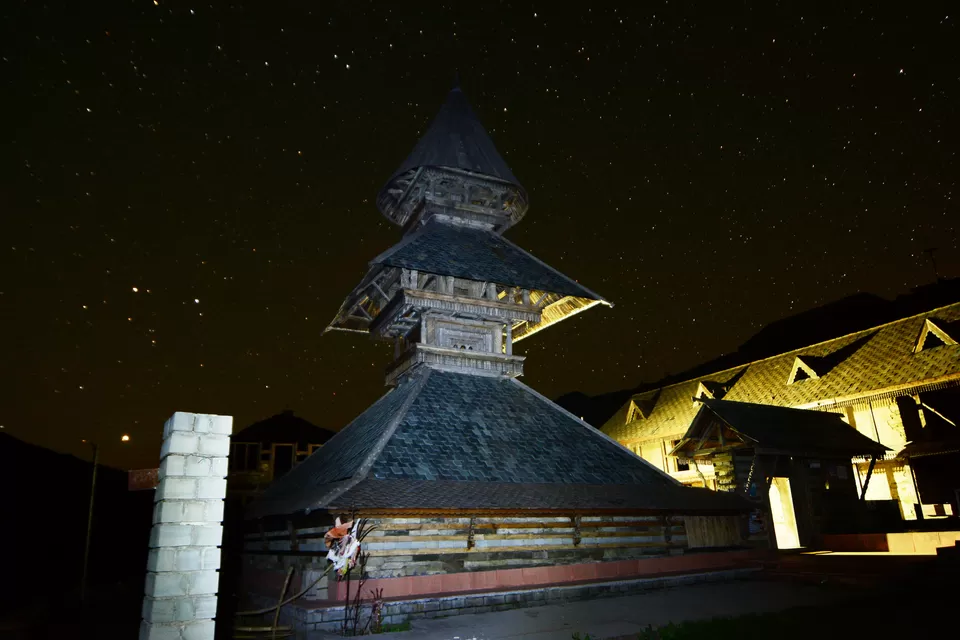 Now into the final phase of our tour, we were damn excited about what the adventure capital of India had to offer.
We left Prashar early morning and proceeded to a full day of drive to reach Rishikesh by nightfall.
On the way we encountered a waterfall stream pouring across the road. So many days of lunatic adventures had left the car splattered with dirt all throughout. So we thought to give it a wash - buff street style: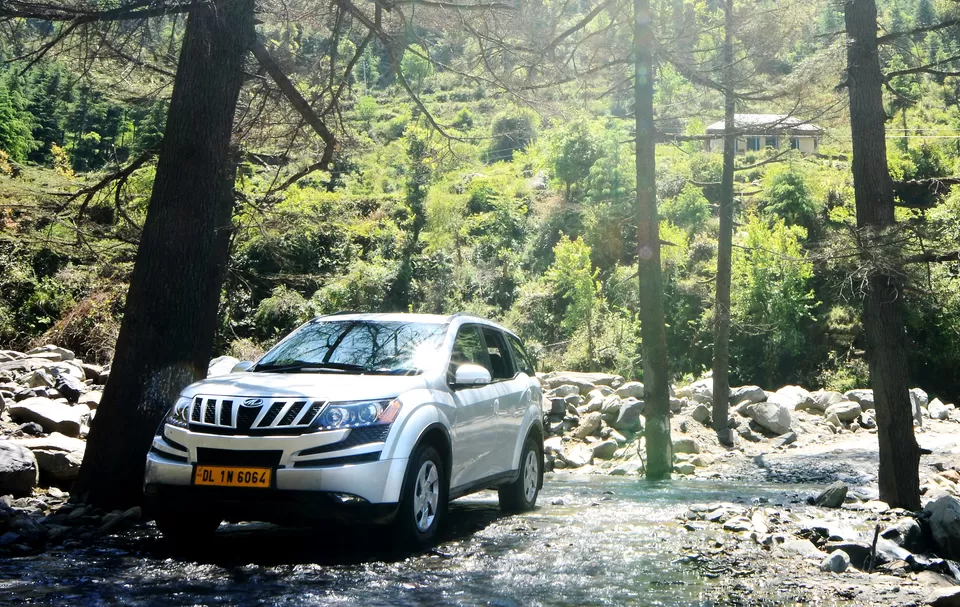 After navigating our way through mountainous terrain, we reached Rishikesh, where we settled into our magnificent riverside camps.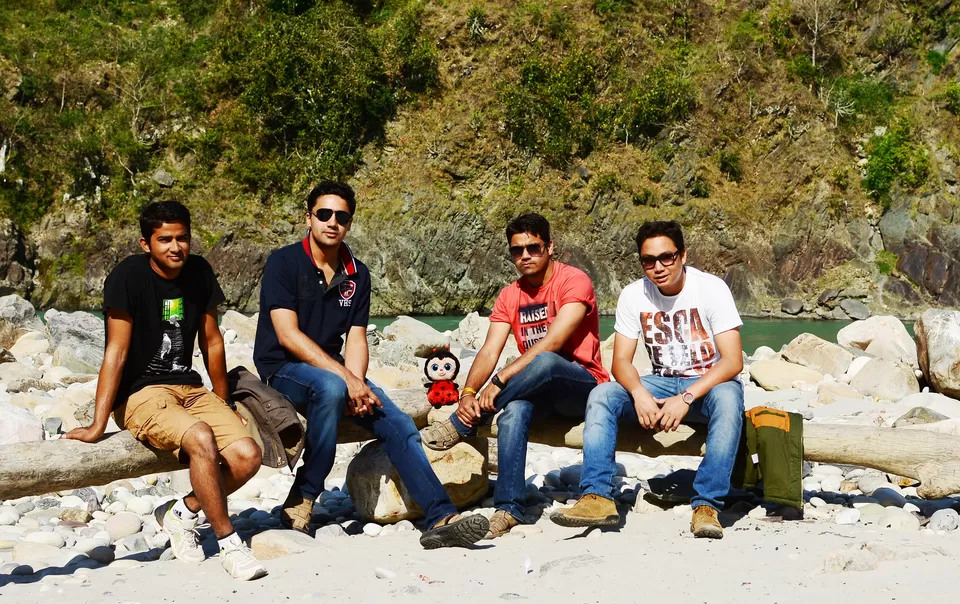 Next day we went for river rafting and bunjee jumping and also took part in some campsite activities: beach volley, canoeing and swimming.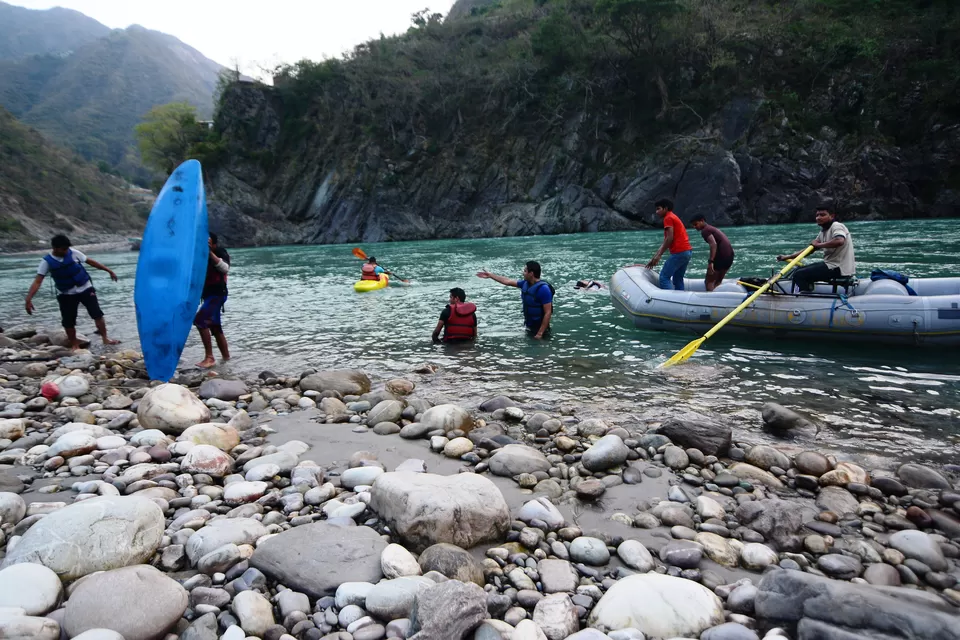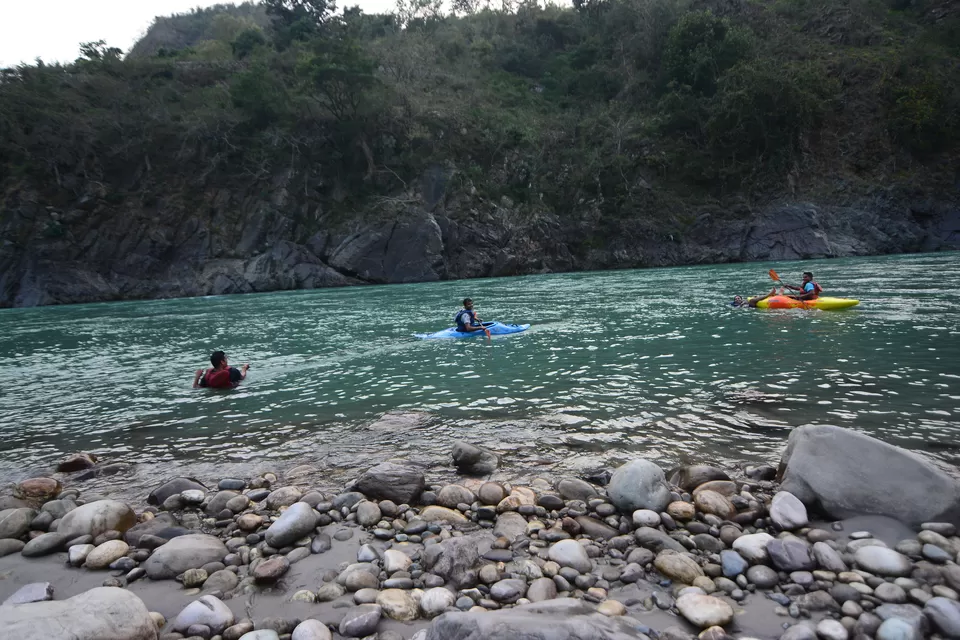 It was evident that no matter how much we wanted to explore more, we had to move back to our boring, normal lives. With a heavy heart and even heavier luggage (god knows how much and what we had dumped in our bags throughout the journey!!), we left for Delhi where we had to say goodbye to our beloved XUV and return back to Indore.

We departed with a promise to experience more thrills, next time with even greater magnitude and crazier fun.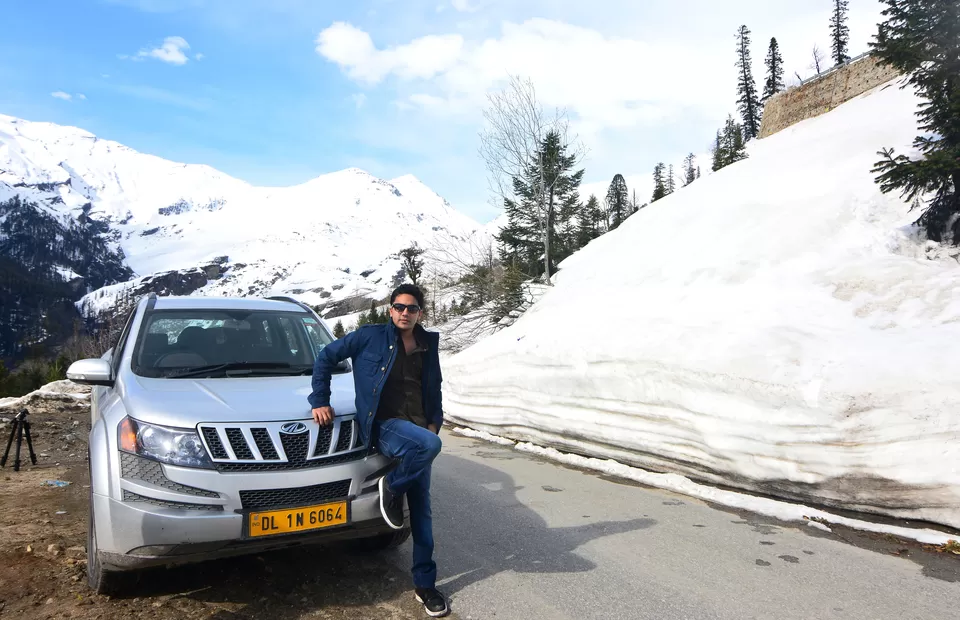 Frequent searches leading to this page:-
rishikesh road trip holiday, rishikesh tour package from delhi, rishikesh package for 2 nights from delhi, rishikesh package for 3 nights, rishikesh package for 1 night 2 days from delhi, rishikesh trip budget