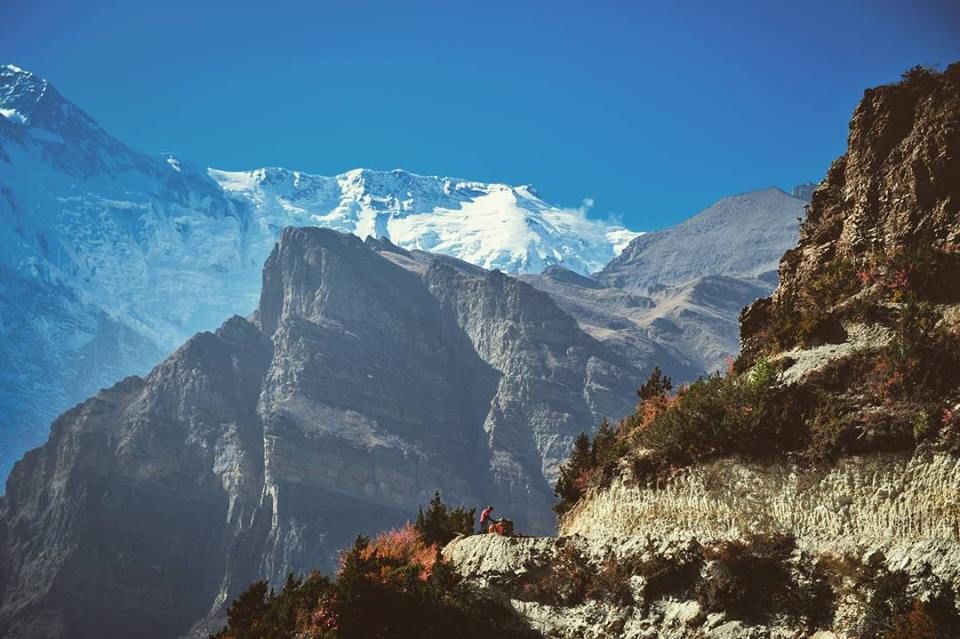 A moment of epiphany, as some call it, or if simply put the moment we ask ourselves what we are doing with our lives, came for Abhishek when he couldn't come up with an interesting bio for his Tinder profile. A common dilemma some of us have while we are trying to introduce ourselves to someone new, who are we if our jobs don't describe us?
Looking for such answers or as he says with ease, "Something to kill the monotony of routine", took this person on a 40 day journey across Nepal.
Lets get more insight into his epic journey.
What a rad capture of your journey! Please tell the Tripoto community more about yourself.
I am Abhishek, 29-years-old and grew up in Pune. I work aboard ships right now as a marine engineer and am currently at sea. I am here half a year and back home on vacation for the rest.
When was the first solo trip? How old were you? How was your experience?
My first solo trip biking was exactly a year ago. I cycled from my home in Pune to Kanyakumari, which took me 20 days to cover the 1,700km. A fascinating experience to say the least. I biked along the western coastline of India and stumbled upon some really lovely beaches, learning actually that I don't have a specific aversion to beaches, as I earlier thought I had.
How many places have you been to since then?
Hard to say. Work on the ship takes me places technically but there is barely any time to step out for a walk at these places, let alone do a bike tour there. Biking wise though I recently toured Nepal and I think that counts here!
How do you fund your travel?
Savings from work are usually enough, but I should mention that both my bike tours thus far haven't been anything exorbitant. It cost me roughly ₹30,000 for the Pune-Kanyakamuri tour and ₹60,000 for the Nepal tour. (This is excluding bike and gear cost. Both of which were anything but fancy.)
What was your longest time travelling and what inspired you to do it?
Not too long. I spent two months doing a cliché solo backpacking trip in Western Europe five years ago and I mention it here since I figure that was probably what started things off for me, in terms of travel. I was supposed to be tagging along with a close friend on this elaborate trip that he planned out and sadly he had to sit it out last minute due to visa issues. I almost didn't want to go for it by myself and I was being silly. Needless to say, I had the time of my life and I put travel on my priority list.
Did any particular event in your life inspire you to go on this epic journey and how supportive is your family?
Nope. Nothing dramatic there. I think I began feeling sick of myself after a binge in my hometown with my time off and then I looked for radical ways to switch things up. At least that's what got me going the last few times. My family has been super supportive. They perhaps didn't quite understand my motives at first (neither did I), but I can tell they are proud and happy for me.
Why did you choose Nepal? What were your expectations from it?
My premise while searching for tour options was anything that'd fit within a two-month time span and involving the mountains. I began looking up Arunachal Pradesh, Sikkim and Bhutan initially but all of them seemed to have their individual issues with permits, logistics and weather. Nepal finally seemed ideal after I stumbled upon a blog that mentioned a few people cycling through the Annapurna Circuit. That seemed fitting to me in terms of how stupid and challenging the idea might be and I pieced together the rest of the route to cover the length of Nepal, additionally.
I did have high expectations from the tour. And I am constantly reminded why it did exceed what I anticipated when I look through some of my footage and am mentally transported back to that time. It was a rollercoaster ride with just me and my thoughts for company.
Why did you choose to pedal? Which bike model are you using?
I chose to pedal because I was going for a unique way to travel and experience unfamiliar places. I also wanted to make biking my thing amongst my peers. I used a Merida Big 700 for the Nepal tour.
What routes have you already pedalled?
I've biked relatively shorter distances before. I biked from Dehradun to Mussoorie to reach a friend's wedding and to Rishikesh thereafter, biked from Pune to Mumbai and biked certain parts of South India from Chennai to Pondicherry and Ooty to Mysore, as part of a few triathlon events I participated in.
Did your bike ever break down or did you run into a difficult situation on your journey?
My bike did give me trouble the initial few days with my disc brakes creating a ton of drag. By the time I had that figured out I did lose a good amount of time, energy and patience. Besides this though, overall I didn't run into any kind of trouble. I should mention here that being in Nepal as an Indian is not a particularly foreign experience.
Is there any traveller who inspires you?
I don't know, no one in particular, comes to mind. But there is a good friend of mine who is a rock climber and an outdoors survival expert who does some hardcore stuff for a living. I think of that sometimes wondering if I'd ever been able to go on similar expeditions.
While travelling we have a lot of moments when we feel glad to be alive at that point. Can you tell us about one such moment?
The Annapurna Circuit was the meat of my last tour, it blew my mind and I still feel jitters when I think about it. One particular memory comes to mind of me biking a lonely downhill stretch on the Annapurna III (7,555 metres) staring down at me, me listening to the Foo Fighters on my earphones and I feel an odd teardrop. Took me by surprise at just how content and complete I felt at that moment and I high-fived myself.
People say travel changes you. Do you feel any change in yourself as a person?
Most DEFINITELY! These trips forced me to have conversations with myself I otherwise did not and it has been a cathartic experience. I feel more connected with myself, clear about how I want to spend my time and more at peace with myself.
What advice would you have for others who would like to undertake a taxing journey like yours?
Besides the usual stuff to do with specific physical training, I'd probably recommend one should be wholly committed. I think the rest of the stuff follows suit once you've figured how sincere you really are about it. If you've been mildly curious about something you want to accomplish, I'd recommend you take that first small step to committing to it and strategically put yourself in positions to succeed in meeting those goals. This hack works for me.
How long are you at sea? What are your upcoming travel plans?
I am here till July this time and I'm looking forward to upping the ante for myself with the next tour beginning in August. I haven't travelled with camping and food supplies before and I am looking up options for a two-month journey in another continent.
More power to you Abhishek! Keep riding!
Do you have a story that will inspire others? Share your story with the Tripoto community of 25 million travellers!
Also, don't forget to subscribe to Tripoto's YouTube channel for the daily dose of wanderlust!