So I had just completed my End Semester Exams and was in need of a much needed break. So after a lot of thinking and reading a few blogs I decided the destination to be Kasol, a little known tourist destination in the state of Himachal Pradesh.
So Why I choose too travel solo? Well I had read a few blogs, listened to a couple of TED Talks on how people need to move out of their comfort zone, explore the world and come back with life changing experience.I was a travel virgin before this trip and yet had decided a destination which was like 2000 Km's from Pune. So I had to begin from the very basics and I had only a couple of days left as I had already booked a railway ticket to Delhi.
So finally with a backpack, a pair of clothes ,thermals and my trekking shoes (some cliched rookie mistake) I was at Panvel railway station waiting for my train at 6pm. I was too damn excited for this trip. I was nervous too as how can i survive in the Himalayas for 7 fucking days and a very average budget. So I stepped in the train which again was my 1st solo rail journey and was all set to explore the Himalayas. The train took 20 hours to reach Delhi and I reached the very busy Nizamuddin Railway station at 2 pm.
I had 4 hours with me as I had booked a HRTC Volvo to Bhunter, which is a town 20 kms before Kasol. So I took a metro and went to Chandani Chowk to relish on Parathas in the very hyped Parathe Wali Galli. I had my tummy full and a couple of hours to go still. So again I took a metro till ISBT, the inter-state bus terminal in Delhi. The bus left at 7pm from Delhi and after a brief stop for dinner at Chandigarh I was in Bhunter at 9 am the next day. The journey offered some scenic views of the Himalayas and the fiercely flowing Parvati River but made me sick as I was not used to journey through meandering and dangerous roads.
I was finally at Bhunter, 20 kms away from my destination and took a local bus which was jam-packed with people. the ticket costed me 30 Rs. But the journey took another 2 hours, Yes you heard it right 20 kms in 2 hours , But this is what you can expect the Himalayan roads to be. I finally reached my destination at 11 am after a 40 hour travel journey. I had to hike for another 25 mins to reach my hostel which was located in village called Choj which is another 2 kms from the main Kasol Market. I was all drenched in sweat though the temperature was around 15 degree Celsius.
I had booked my stay for the first day at a place called 'The Backpacker's Nest'. I had to cross a moving bridge with Parvati river flowing fiercely below. The experience was bit scary but once I reached my hostel all my fatigue passed away eventually and I received a very warm welcome by the host who was from Delhi and had settled in the valley. The hostel proudly hosted Bob Marley Flag(Every Hostel in this village apparently does the same which i discovered later) along with Breaking Bad, Pulp Fiction and other Classical English Movie Poster's. So I quickly ordered Tea and Maggi which whoopingly costed me 150 bucks alone. But yes, the food is very costly everywhere here. I unloaded my luggage and made my way to the common room. Met a couple of Israelis who are among the many who flood this place a lot after completing their compulsory army service. The view from my hostel was beyond awesome with the sound of icy cold Parvati river nearby where I did take a dip to clench my weariness. I decided to take a stroll in the town where many cafes like The Evergreen Café, Jim Morrison Café and Moonlight Café boast of ambience and Bob Marley hoardings. So another descent of 30 mins took me there where I lost my way for 15 mins(Apparently This happens in Valley). So, I checked at the Jim Morrison Cafe which is on an isolated hillock which followed a 30 min trek again (huff! I was surely gonna lose my weight). I ordered some banana pancakes and FalaFela, which is an Israeli food which is what you should expect in the town. Entire Valley was dominated by guitarists and cafes playing Pink Floyd, ASAP Rocky, etc. The food was lip-smacking and after chilling for a while I descended my way from café and found this small shack in front of Hotel Sun n Sand which offered a picturesque view of the river and I literally sat with my legs in sipping hot coffee and reading Mark Manson's "The Subtle Art of not giving a Fuck". Probably, Mark Manson had been on an espionage mission to Parvati Valley to pen down this book. At that moment I realised "Mountains do change your life" and this statement was not any procrastination being high but a fact. I realised how little we need and still how much we do crave for. Finally, It was turning dark and I made my way back to the hostel where I got lost again and the Sameer(the host) literally had to act as a lighthouse displaying the direction from another end of hillock. So, I was lost two times on my 1st day. I would be having a hell of 7 days. So after another chilling session which included some riddles too I rested for the day.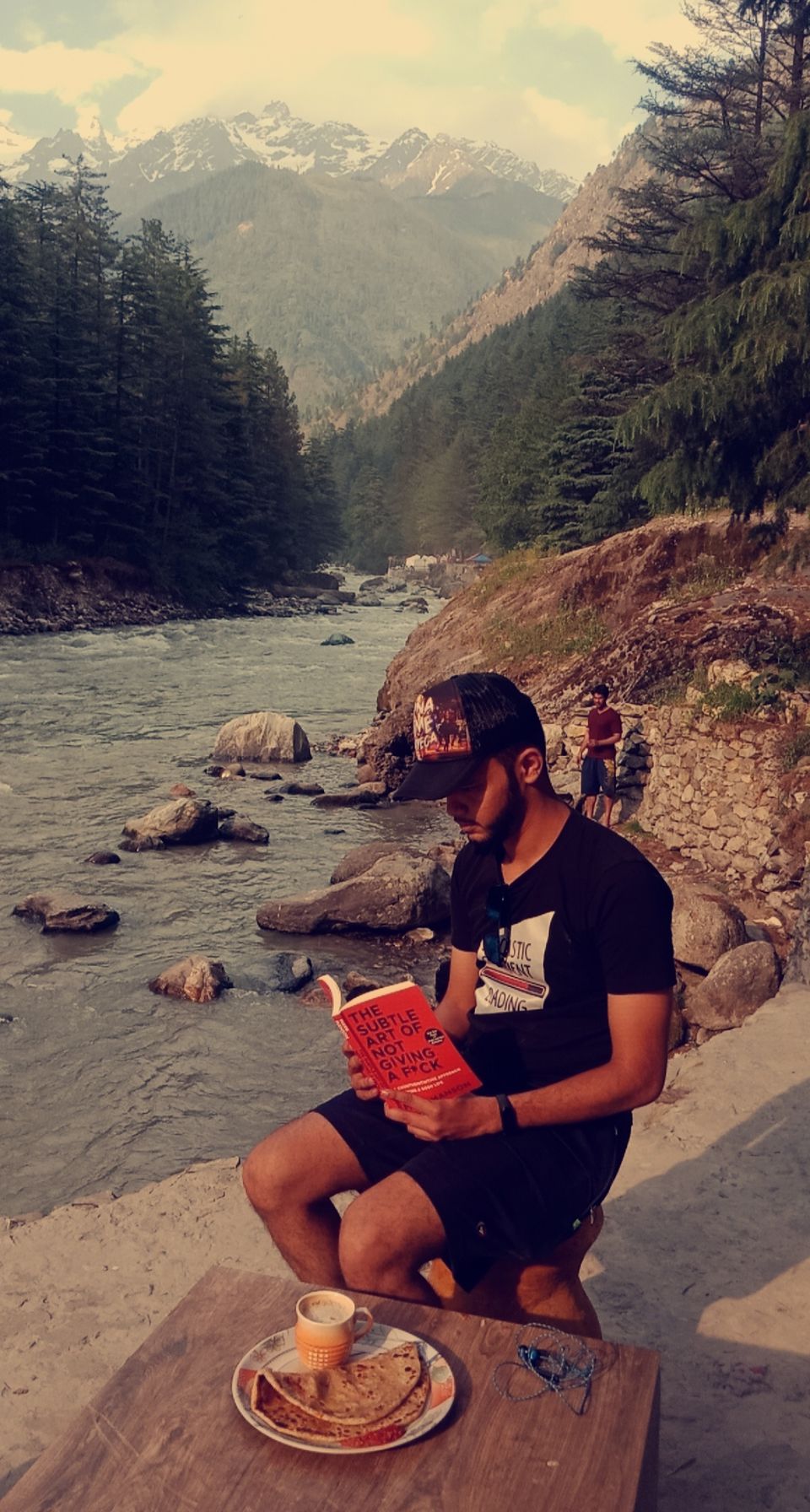 The next day I decided to head to Pulga, another village adjoining Kasol. I stopped at Manikaran's Gurudwara, had langar and a dip at the natural hot water spring which according to the folklore was formed by Guru Nanak's sermons. I took a bus which took me to Barshaini, the last motorable road in the valley. I met a guy called Dan, another Israeli who was heading towards the same destination. So, The trek though being tiring was accompanied by stories across borders which included Politics, Religion and obviously as my Indian instincts rose I had to ask ,"How do u feel in India?. The answer was obviously affirmative and then we checked in at Baba's Guest House not missing the Bob Marley hoarding. Trust me guys, the owner who is nicknamed "Baba"is one of his kind a person and probably Mark Manson in disguise". Again, Maggi was my best food option with some "candid photos". The temperature was 6 degrees and I had to use my thermals. We decided to try Magic Balls which the place is infamously known for. I don't remember anything except waking up next morning. Pulga had a literal "fairy forest". Where I decided to spend some "me" time. I kept on staring at the scenery drawing parallels and dwelling down on some important corners of inside, The time literally was running at 0.5x speed. Words literally fall short. In afternoon, we decided to visit Pulga village's counterpart Kalga. 3 of my new friends I made at Baba's accompanied me. We checked in at Holy Cows Café(Trust me that was my exact reaction when I first saw the café). Hours and hours were passed staring at the snow-clad peaks as the sunset is very late in Himalayas and munching Thimpsu and some Tibetian noodles.
View from Holy Cow Cafe
I headed to Tosh, the highest elevated village in Parvati Valley by taking a cab from Barsheini which costed 300 Rs(For 1.5 Kms). I checked into my 4th hostel and met a wonderful host from Hyderabad Shri. She cooked some really good Indian food for me which was the one thing I was missing into this trip. Routine Glances of Mountains were yet to bore me. Now I decided to cover the last lap of my trip which was KheerGanga Trek which was a 15 km hike from Tosh. It was a long time I had quit gym, yet I decided to go for it.
At 7 am in the morning I was at the base camp looking at the top where sky and snow adored alike. After renting a trekking pole, the hike started. One thing I had realised in the mountains that Humanity prevails in a quite different way among the locals with warm courteous greetings and also free rides in tricky terrains. The route is quite well marked and there are a very few chances that an amateur trekker can get lost. The network is completely dead after a tiny village called Nakhtan. Another village called RudraNag falls in the way which also has an icy cold waterfall. I followed my usual instincts to take a dip again. Finally, after 7 hours of trek I was on top of KheerGanga. And trust me, If there's any place which can proudly proclaim of peace is this place. The mesmerizing view took time for me to come back to my senses. I met another Israeli Lia. who was just 23 years old and told me this was her 2nd time in India after covering majority of SouthEast Asia travelling solo. So, I fast paced to the Hot water Spring and the experience there was worth those 15 kms. I had my own fucking jacuzzi at 15000 Feet. The night at KheerGanga was indeed very cold. The temperature was 1 degrees and so we sat in the Tandoor Room with a beautiful view of the stars and dozed of talking. KheerGanga literally means a pool of pudding as the water is plain milky. So the sun rose at 4 am and I had another dip in my jacuzzi and unwillingly made my way back with a lot of pictures in mind. Then I quickly descended back and took a bus back to Kasol.
Hot Water Spring at Kheerganga
The next day which was my last day sadly was spent as a food trip relishing on Shambhu Uncle's Momos, King Falafela, Banana Nutella Pancake and many more.
I made my way back to Delhi reluctantly but with a lot of memories and life lessons escaping the invisible white cloak of comfort zones, friends, fears that surrounds us always. We carry the same aura almost everywhere. We realise that we follow patterns:-For ex- Taking the 1st left in a diversion, the bylanes in the village, getting lost in the mountains,etc. That are nothing but our natural instincts. We can totally rely on these survival instincts. Trust me, the treks done on such adrenaline rushes can make you survive on any heights.
I limped and reached IGI airport after a detour to India Gate to make my way back to "Normal Life" with these memories