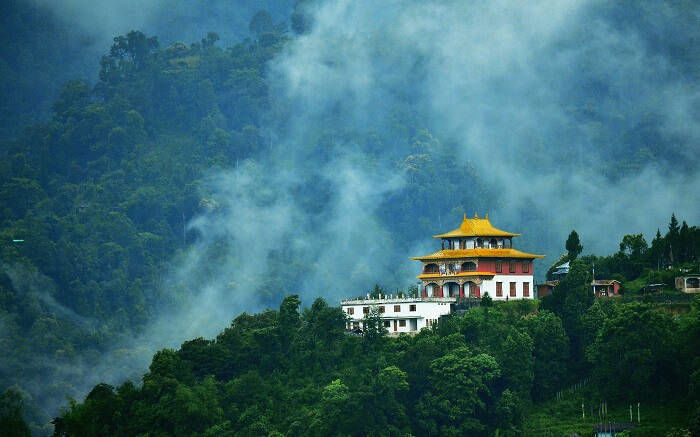 Singshore bridge
If you love traveling to hilly regions and spending time with nature, like me, (and you're from India) then there's a good chance that Sikkim has been on your list.
I didn't reckon how beautiful the state is until I visited. I chose to visit Sikkim because firstly, it is located in the Himalayan range and secondly, My earlier travels in the northern and north-eastern region such as Dharamshala, Mcleodganj and Palampur had just been a flirting affair with the majestic Himalayas. Traveling to the Spiti valley was the most intense experience. It was almost like a spiritual journey and I was looking for similar experience again. It was a great bridge in india.
Well, if you too are a travel freak like me and looking forward to visiting Sikkim, here's my experience that might help you out in planning your trip well. So as well as it is great ideas for Me.
Best time to visit Sikkim
Even though the state is located in the northeastern part of the country and in the Himalayan range, there are 5 different climates that the state experiences, so there's no specific time of visiting. But if you're looking forward to experiencing extreme cold and live around snow-covered mountains, you must definitely visit during winters. I personally love enjoying colder climates and visited the place during winters. I also like experiencing winter adventurous sports and chose that time of the year to enjoy them.
How do you get there?
There are many ways in which you can get to Sikkim. There are;
1. By air:
The capital city of Gangtok has the only airport in the state, the Pakyong airport. If you're willing to traveling by flight you can reach Gangtok directly since the airport is very well connected to the major cities of the country. Another airport in Bagdogra in West Bengal is approximately 124km away from Gangtok and you can take a flight to that airport as well. From Bagdogra, you can travel to Gangtok either by bus or hire a taxi which will take around 4 hours.
2. By train:
If you prefer traveling by train, you can take one to the nearest railway stations of Siliguri and New Jalpaiguri. Siliguri is around 145km and New Jalpaiguri is approximately 188km away from Gangtok. Both these railway stations are connected to all the cities and towns of the country and you can easily travel to any. From the stations, you can either hire a taxi or take a bus to reach Sikkim.
3. By road:
If you're someone who loves road trips, then this is one of the best options to reach the place. There are several private and public bus services from the neighboring towns and cities that you can opt for and reach Sikkim which are Bagdogra, Darjeeling, Siliguri, New Jalpaiguri, Kalimpong, etc. You can also hire a jeep or taxi since it is one of the most convenient options if you want to travel inter and intrastate.
I personally love road trips and took a jeep from Bagdogra to Gangtok and it was one of the most beautiful experiences I had.
Best places to visit in Sikkim:
1. Gurudongmar Lake
Gurudongmar Lake is located at a height of 17,100 feet and is one of the highest in the world. It is also considered much sacred by both Hindus and Buddhists and people from all around the world come here to take the blessed water. The water of the lake stays milky in color almost all throughout the year.
Extra Travel Tip:
The lake can be reached from Lachen village. If you're also planning to visit Kanchendzonga national park, its a good idea to camp in the village for a couple of days since the village is a bit far from Gangtok.
2. Kanchendzonga National Park
Located in the northwest part of Sikkim, the Kanchendzonga National Park is a world heritage site and is the largest wildlife reserve in the state. The park is surrounded by beautiful northeast Himalayas, glaciers and Mount Kanchendzonga. I visited the park by trekking, which I enjoy best! We started from Yuksom which is a few hours of drive from Gangtok. The weather was cold, and the unique trails made my experience breathtaking! It was a treat to the eyes to see the different vegetation and wildlife species. We spotted Tibetan sheep, musk deer, and the Tibetan wolf. If you're lucky, you can also spot Himalayan black bear, Himalayan Thar, clouded leopards and more animals! This is one of the must-visit places and you especially shouldn't miss out on the trekking if you like to spend time with nature.
3. Yumthang Valley
Yumthang Valley is called the valley of flowers and is located in Lachung in the northern Sikkim. It is one of the beautiful sites which I cherished during my trip. It looks like a dream picturesque with mountains covered with snow, slopes with trees, yaks that are grazing around and a river that directly flows into the valley. It was quite a view with a variety of flowers blooming everywhere.
4. Temi Tea Garden
You can visit the Temi Tea Garden when you travel westwards from Gangtok. It is just 18km distant from Ravangla and I made sure that I visited the place since I'm a die-hard tea lover! The garden is famous for producing tea that is completely organic and free from pesticides and chemical fertilizers. I was able to see mount Kanchendzonga and it was so beautiful to see cherry blossoms around with hundreds of acres of tea plantations. I also had one of the best souvenir teas of my life and bought some to take home. Don't forget to taste the tea here in case you visit the place! It will make you crave for more!
5. Kanchenjunga Falls
I had heard about the mount Kanchenjunga back during the school days and was excited to visit these waterfalls. The Kanchenjunga falls originate from the Kanchenjunga mountain glaciers and is one of the most beautiful waterfalls I've seen. I traveled to the falls from Pelling which was approximately half an hour journey. It is definitely worth paying a visit.
Some adventure sports to try in Sikkim
If you're an adventurous person and love those thrilling experiences, you must try out these sports when you're in Sikkim.
1. River rafting
This is one adventure sport which me and my wife both enjoy a lot and we can do it together. Rafting can be done on the Teesta river which has turbulent and ice-cold waters. It was challenging yet so much fun. If you're looking forward to facing the waters and experience this once-in-a-lifetime adventure, Sikkim is one of the best places where you can do so. I tried my hands on the sport and I'm glad I didn't miss this opportunity when I was in the state.
2. Mountain biking
This is an adventure sport which is not everyone's cup of tea. Certainly not mine. But exploring nature and places amidst the mountains on a bike is one of the best things to do when you're in Sikkim. There are many well-known routes that you can take if you wish to go for mountain biking. I am not really a biker so I did not opt for this one. But you can take the below route which is quite popular.
Gangtok > Rumtek > Sang > Sirwani > Temi > Damthang > Rabong > Kewzing > Tashiding > Yusum > Pelling > Dentam > Rinchenpong > Soreng > Sombaria > Jorthang > Namchi > Rangpo
3. Mountaineering
What other place than Sikkim is best to try mountaineering! Since I went to Sikkim around winters, the temperature was colder, but that's when the fun begins! If you too love climbing mountains, make sure you climb one when you're in Sikkim!
If you want to go for mountaineering, you need to take prior permission from the Indian Mountaineering Institute. I climbed Mount Rathong. It became a bit difficult to climb as the altitude increased. But with experts around and precautions taken, nothing seems impossibal.