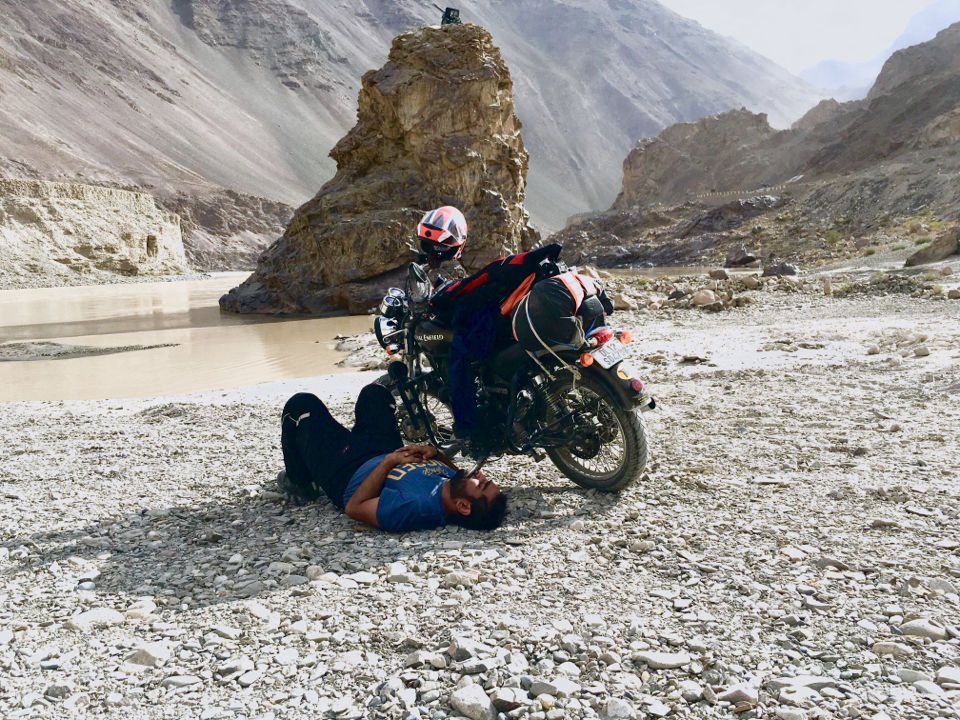 As Mumbaikars stop at Shri Sidhi Vinayak Temple for Lords blessings, we Delhites stops at Murthal, to have Chefs blessings, served as in stuffed paranthas and load of white butter on it. This is how we 30 bike riders from across the globe started our 14 days journey from Delhi to Upper Himalayas. Still unknown faces and still unknown driving pattern. First day and first 500 kms from Delhi to Pathankot was to recognise which bike to follow. Evening swimming session at the rooftop of the Pathankot hotel is like the perfect Spa session after riding in extremely hot conditions and wearing all the riding gears. Evening ended very fast so as the sleep.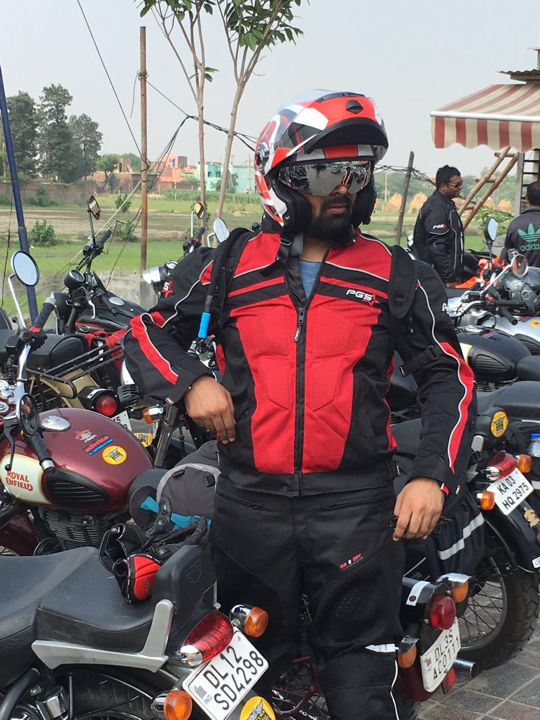 What a day to start. After filling my dehydration backpack with 2 ltr of Glucose water, whole convoy was ready to start. And as we started our bike, God showered his blessings on us via rains. After wearing our rain gears we started soon. A 400kms long drive from Pathankot to Srinagar in rains was not an easy task. For a folk like me who never rode a bullet earlier, its a kind of a challenge. Still we rode and rode well through water roads, mountains and traffic. We crossed Jammu, Udhampur, Patnitop, went into darkness of Jwahar Tunnel for almost 3kms and reached Srinagar by around 9pm.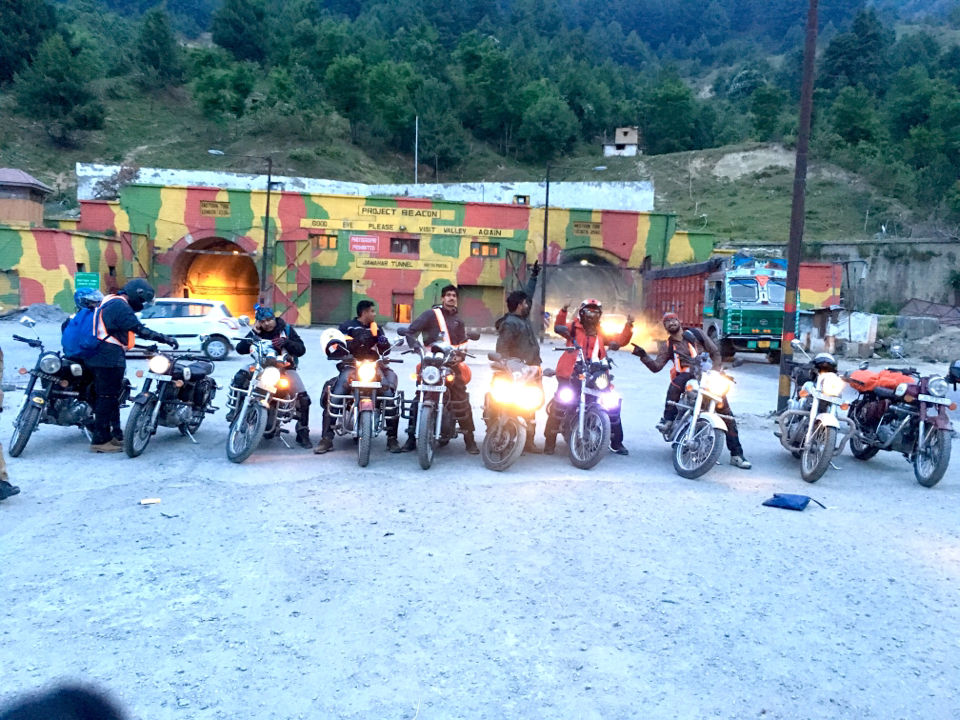 Beautiful Clear day. A small stopover by the Dal Lake for a group click and we carried on by the serene beauty of Kashmir. Driving through the Saffron fields, we crossed Sonamarg. And were ready to taste the road where the tourists ends. Zojila Pass is known as the one of the deadliest road across the world. Our driving and human skills are at test here. You need to calm yet concentrated yet highly aggressive to pull your bike ahead else it will skid away. Off-roads are too steep with either loose sand around or Ice around. Crossing Zojila takes us to Drass sector, 2nd coldest place om Earth. Here we saw War Memorial and Tiger Hill and our heart was full with Patriotism. And soon we checked into Kargil ending ours 200kms but heavy duty ride.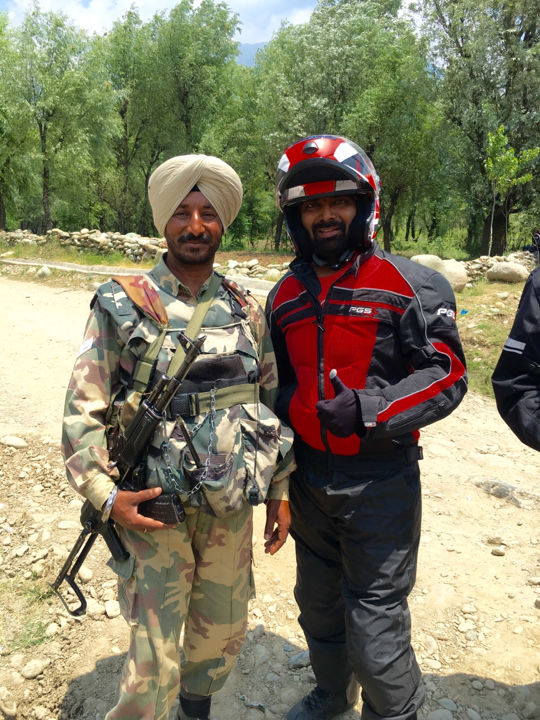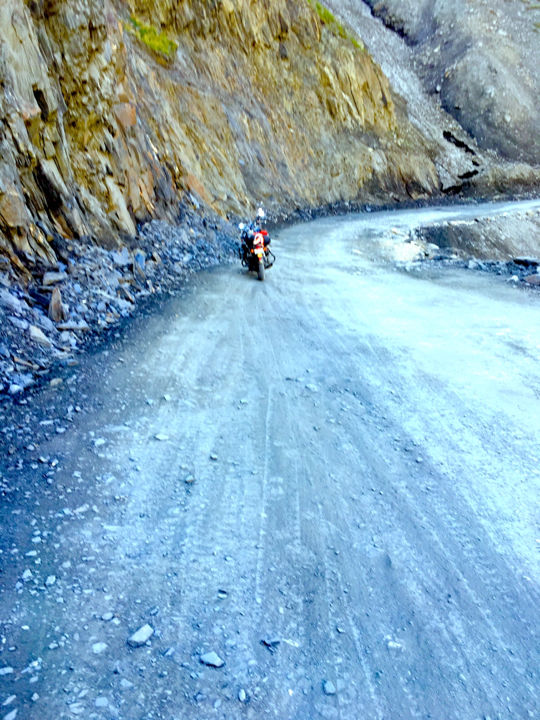 Kargil ironically was a very calm and relaxing small town. This 200kms ride is like a teaser to what we gonna see in couple of days. Deserted mountains, passes and Monasteries, these things welcomed us. And we were so glad to see these natural wonders. We crossed Fotula highest pass on this route, beautiful Lamayaru Monasty and amazingly clear skies and mountains with shades of brown, pink, magenta and purple on them. Due to highly sensitive area, Army movement and camps were very frequent. Weather was hot and riding was not easy. Here only I took rest while off-roading a bit and relaxing my self with the shadow of my bike and protection of Anti Aircraft Guns installed by the Indian Army. Soon after rest we head towards Magnetic Hill and Pather Saheb Gurudwara ji and then into the famous Leh.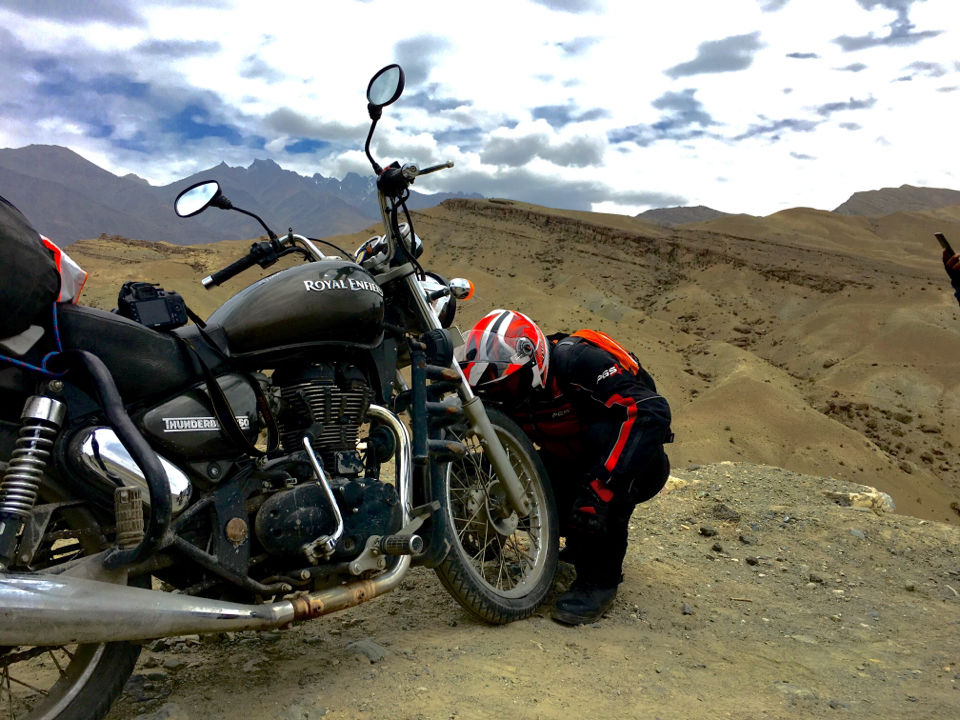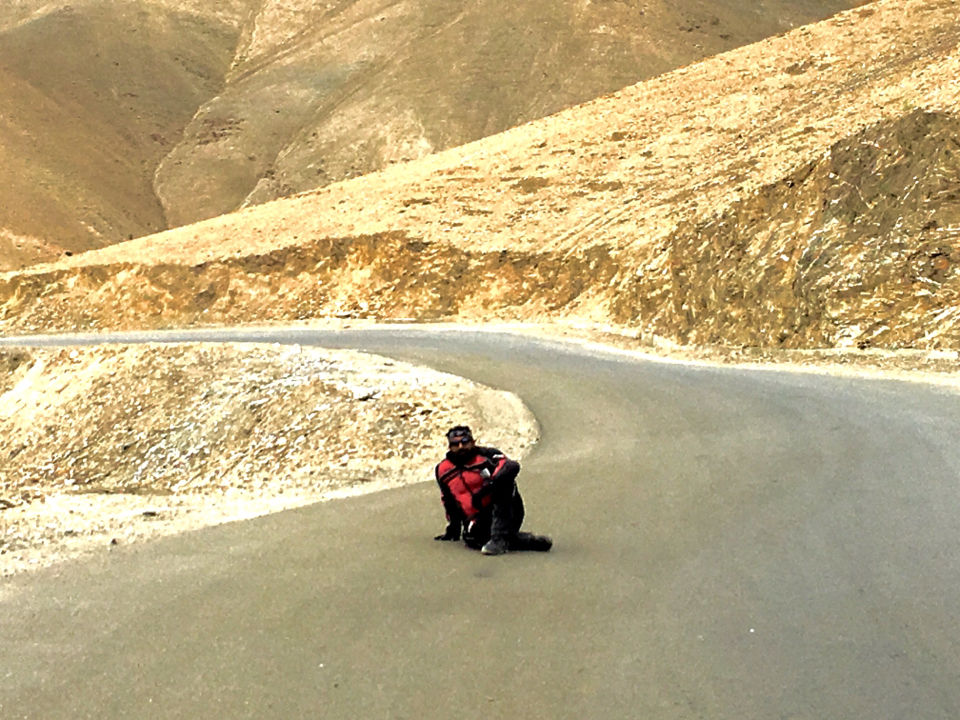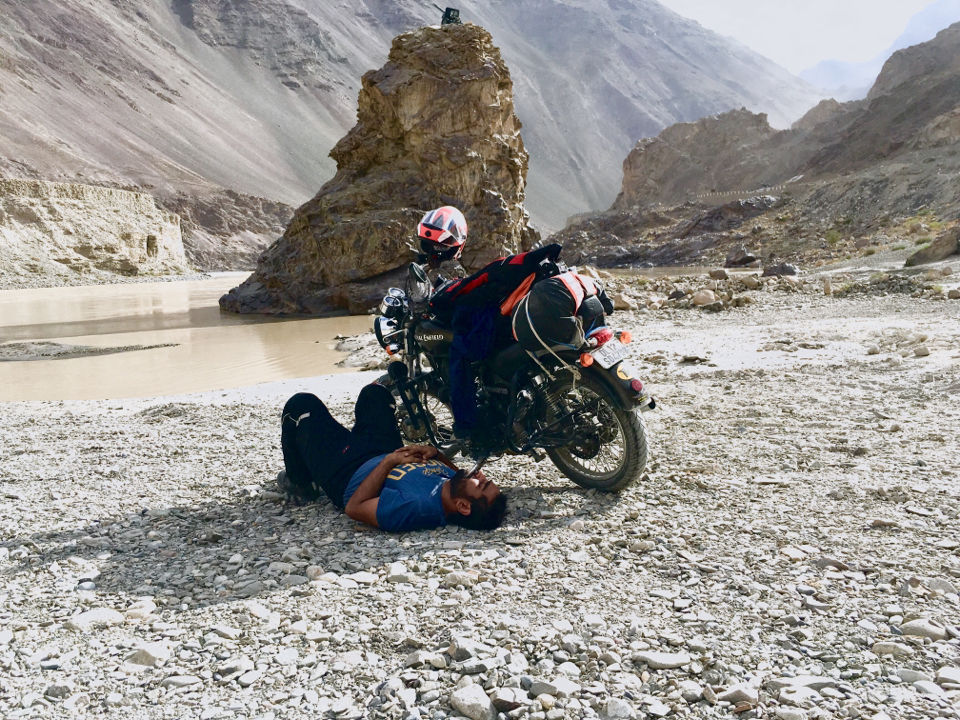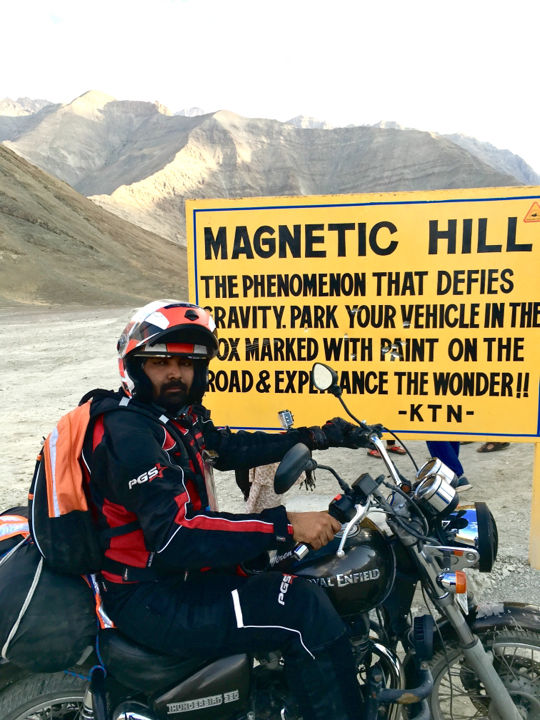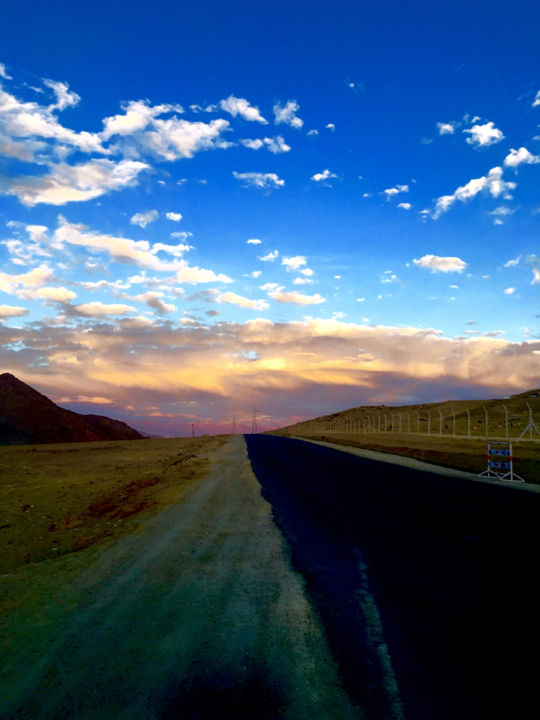 After a relaxed morning, comes a thrilling noon. Rafting in World's 2nd Coldest River. Zanskar River. Chilling experience. An intentional spare day, to avoid mountain sickness and to get acclimatise, went on seeing local palaces, stupas, monasteries and eating at German Bakery. Enjoyable evening with new friends.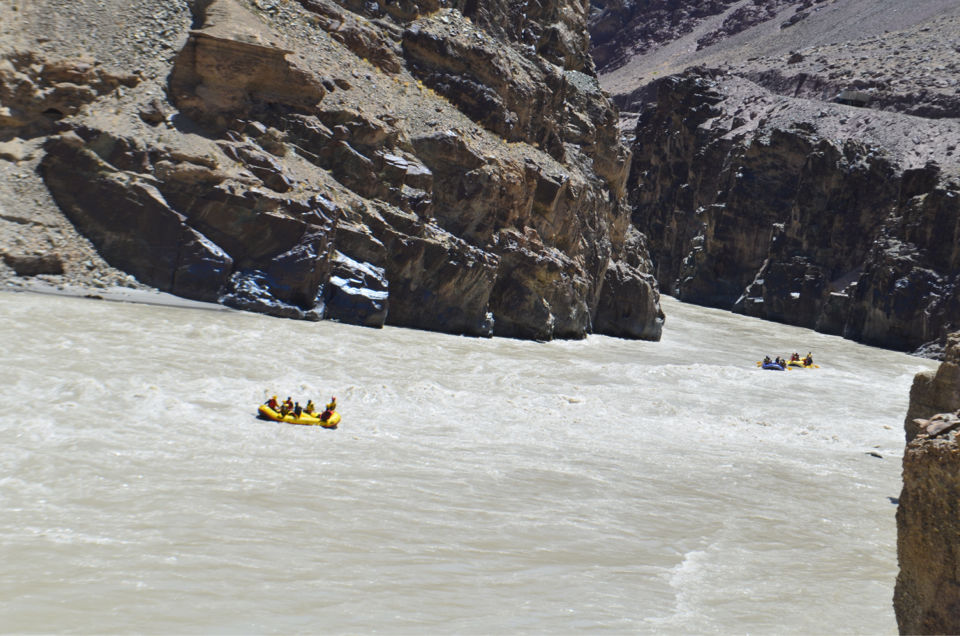 This day is very filmy in nature. Thanks to 3 Idiots fame. We saw that school and now heading towards the 135kms salt lake in Himalayas, the Pangong Tso. Tso is Tibetan means Lake. We crossed the Worlds 3rd highest pass ChangLa and some amazingly beautiful lakes, some are frozen. And soon everyone of us was stunned by the vast and beautiful Pangong lake. Its a wonder. You can sit next to lake for hours. So calm yet so vibrant. Changing shades of blue will take your breath away. Its a refresher for our souls. SunRise and Sunset by the lake must not be missed.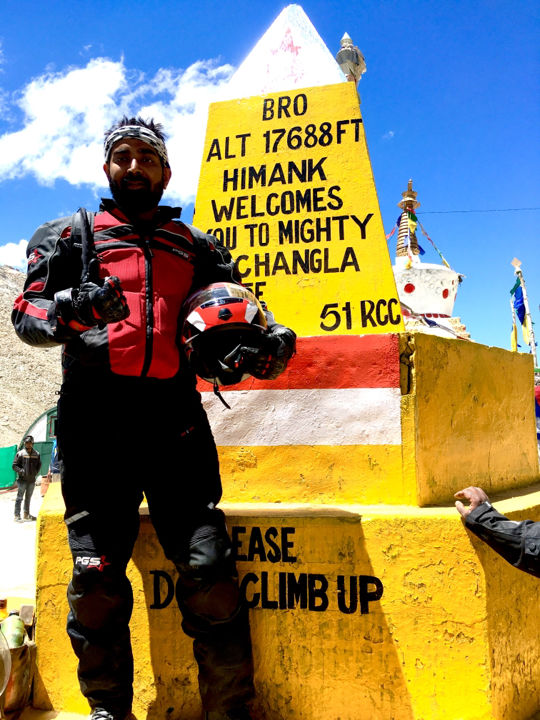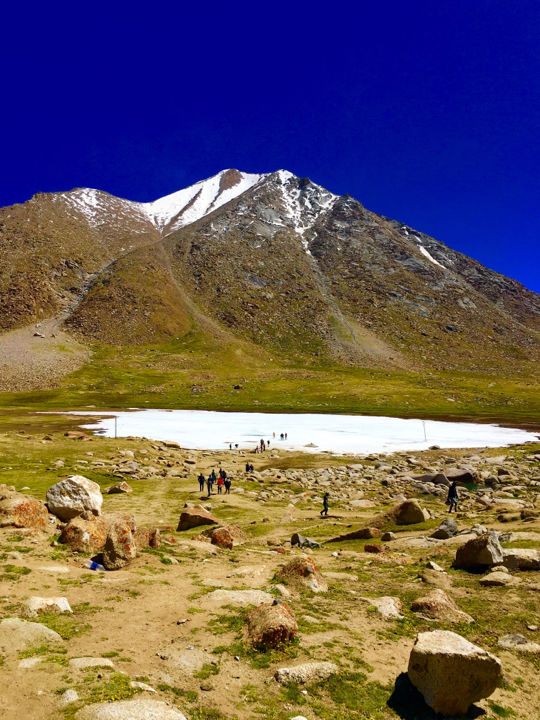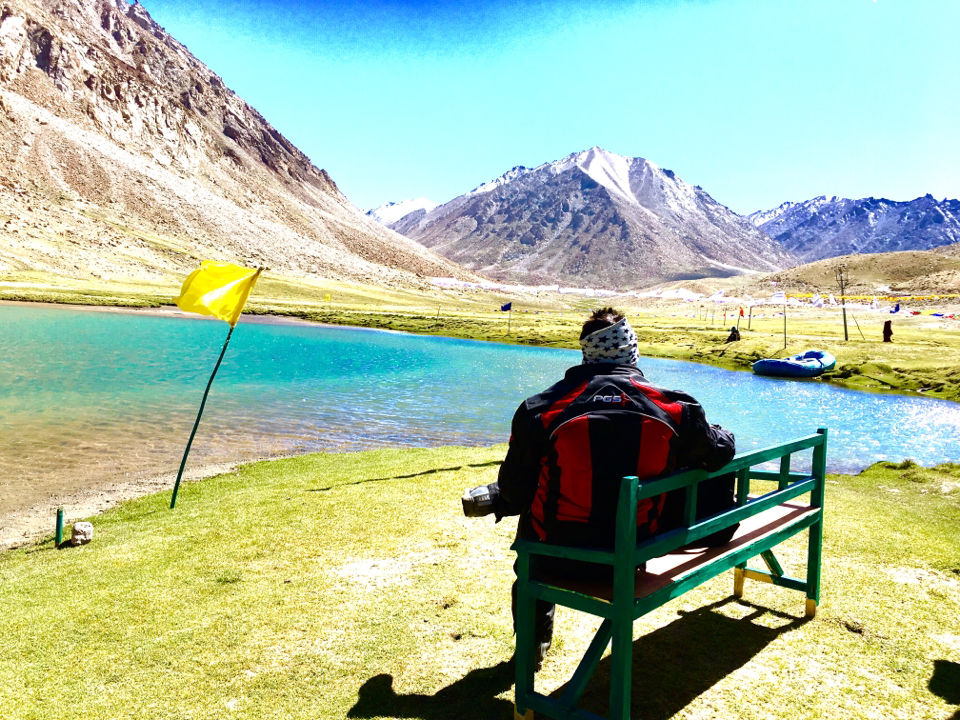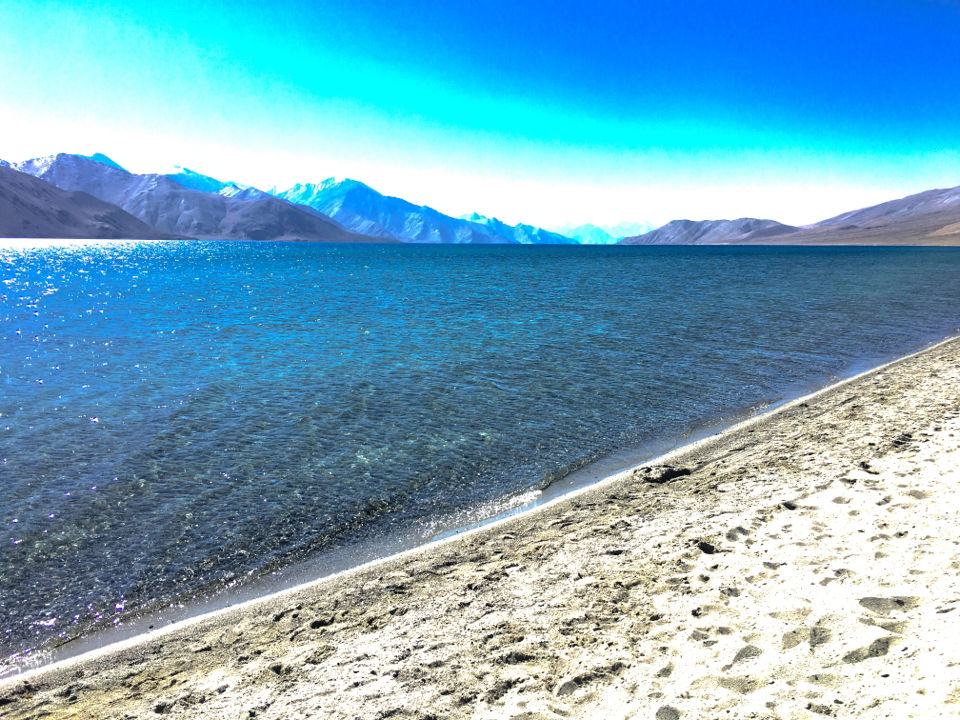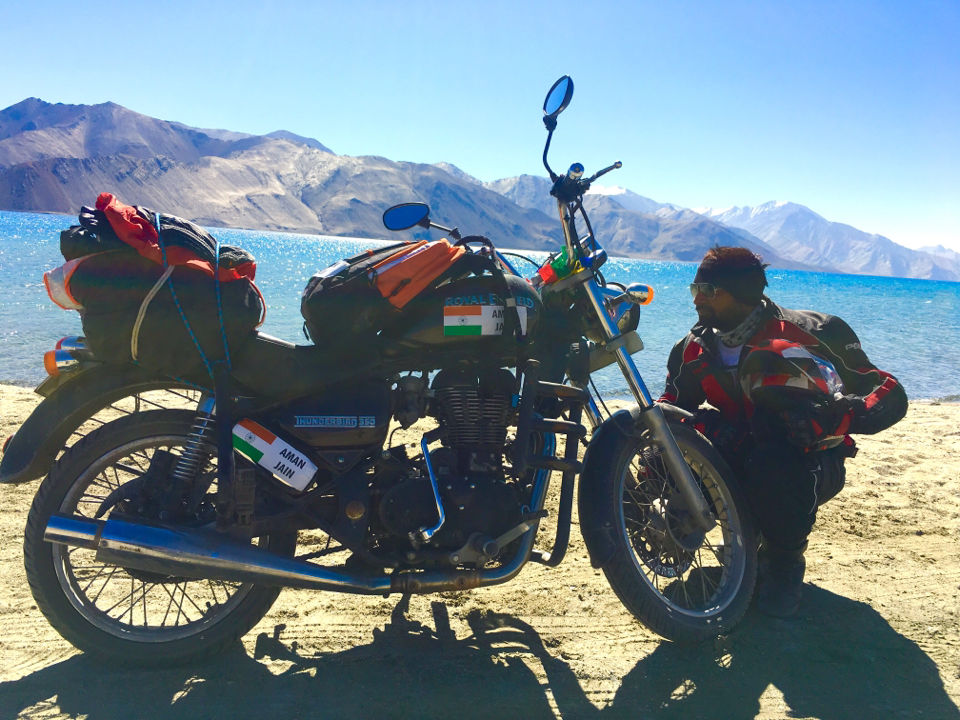 Less travelled route of 170kms. Normally people go back to Leh and then travel to Nubra. But as nothing is going normal in this expedition so we went with the flow. And I mean it, flow, water is flowing from all across. We crossed many water nallas on the roads. Knee deep ice melted water and our bikes with luggage on it. Really a new experience of sailing a bike on road. Road which is infamously called as the Bone Breaking road. Maximum stretch was either sand or stones or water or nothing. Though we reached Nubra on time. Checked into this isolated village where the sky was very clear.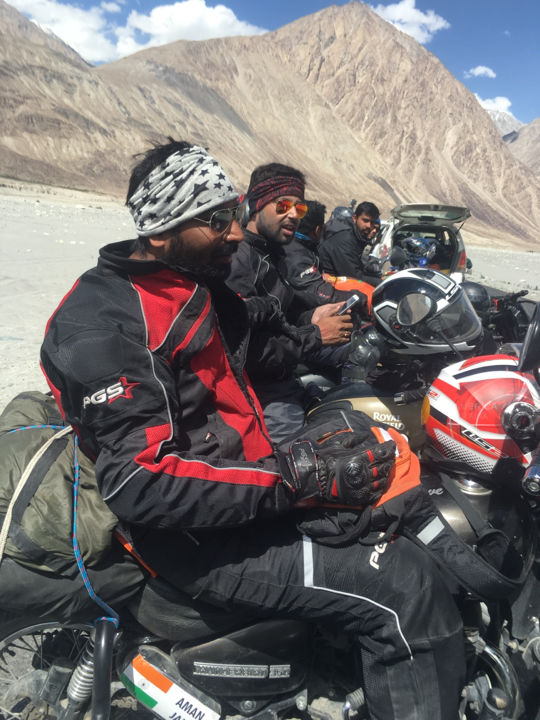 Here comes the best part of the trip. Road from Nubra to Hunder to Dikshit to Leh. From Nubra we went to Hunder desert, where we saw and rode Double Humped Camel. And then visited very spiritual Dikshit Monastery. After a cool tarmac ride we landed at South Pullu. And from here the adventure started. Ride uphill to the KhardungLa, worlds highest pass. No roads from south Pullu, only gravel, stone and water. Once u reach the point, all your fatigue vanishes in seconds. You feel so energetic, so fresh, so brave and so proud. You did it man. Standing at the worlds highest motorable road is no joke. Everything was against you apart from your will power. Still u made it. It was a very emotional moment for me. I loved this moment the most. Coming down is not easy even. Till North Pullu, also know as Siachen Base camp, roads conditions are pathetic. After that roads are quite good and we reached Leh without any delay and rested our night whilst thinking about the moment at Khardungla.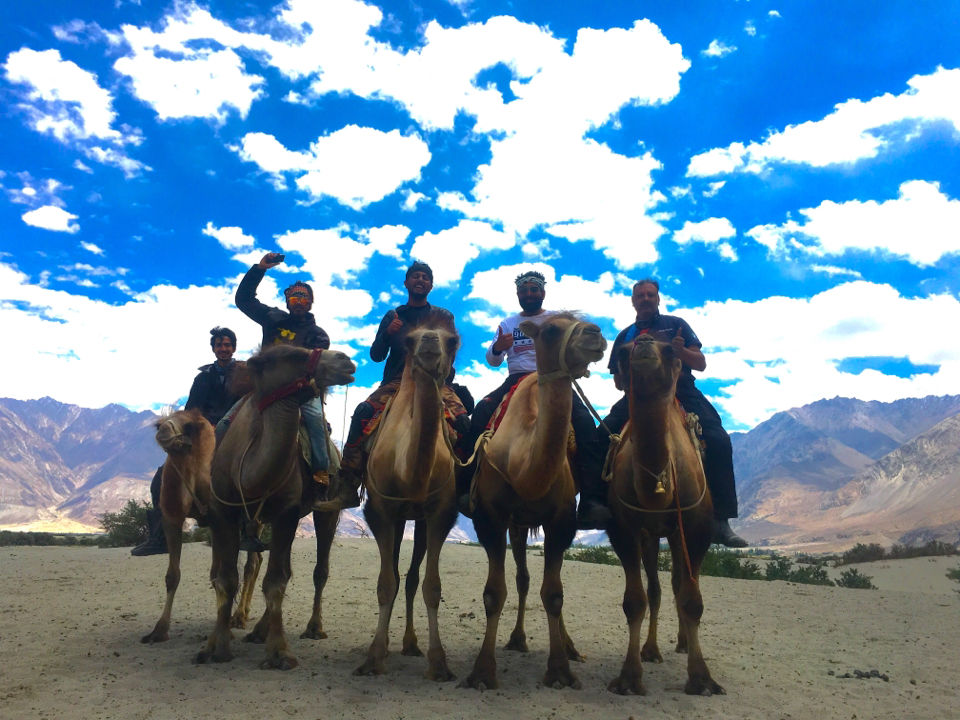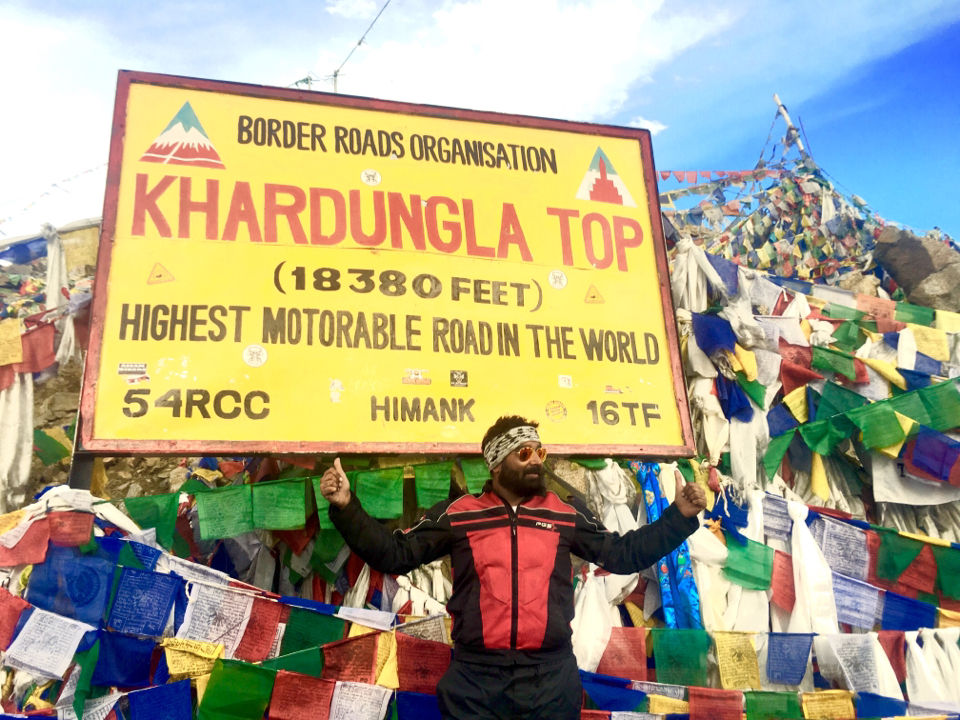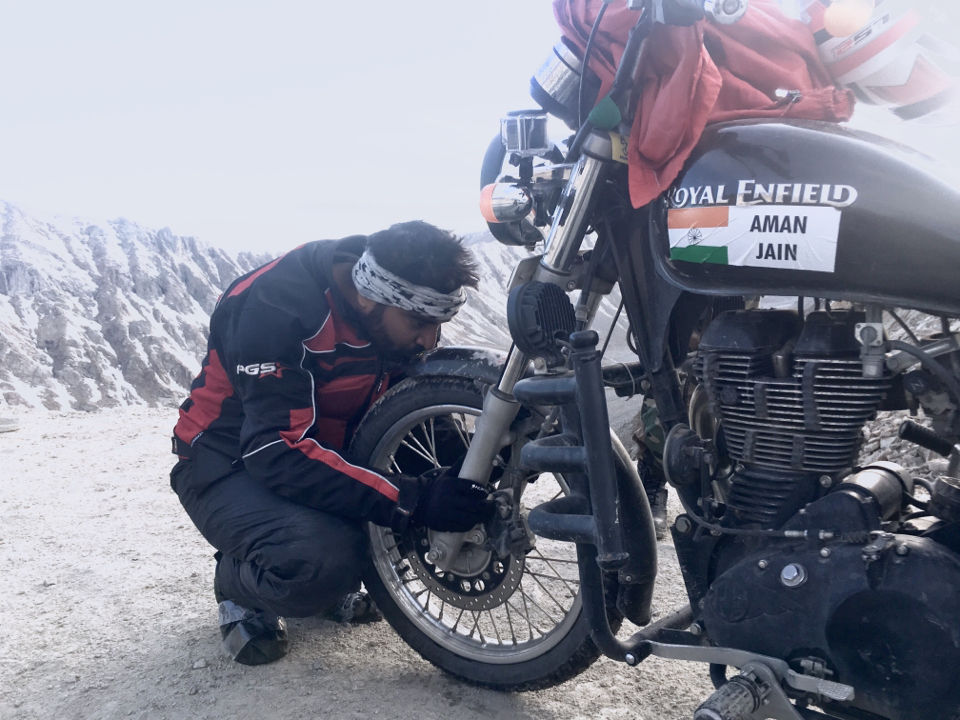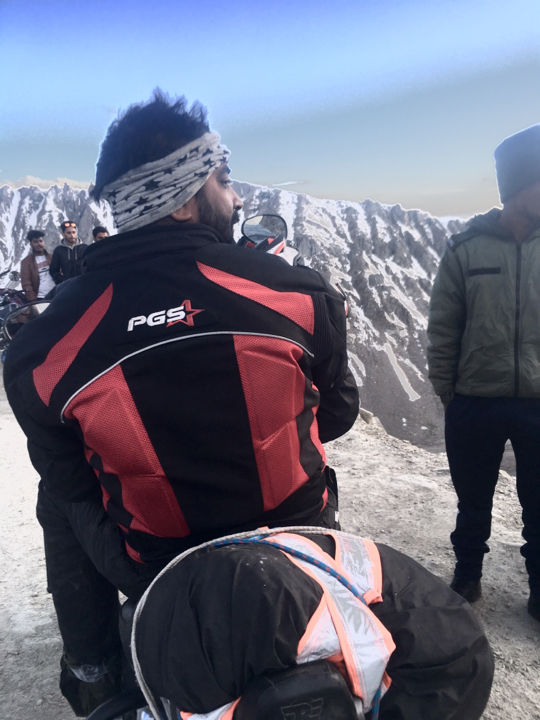 Today is the day when all of us are treated like a king and later we served like a slave on this 250kms odd stretch. Start was amazing. Roads were like F1 racing track. We felt so good, so amazing, so Kingly. We crossed worlds 2nd highest pass Taglang La at complete ease. But once we crossed Moorey Planes our luxury ended here. Road to Pang and further to Sarchu were real pain in arse. Black clothes were turned into white. Heavy traffic and no roads. Overtaking a bus or a truck takes atleast 5 mins each. At an altitude of more than 15000ft continuously from last few days makes not only you uncomfortable but also the machines. Even pumping the bike at 6500 rpm, still not getting the speed to overtake a bus or a truck. Highest level of patience and driving skills were required on this road. Sarchu is known for its very low level of oxygen and very low level of temperature. Though we got both. Minus temperature at night and winds at highest level. At times we felt that our camps will be blown away by these mighty winds. But luckily we slept safe.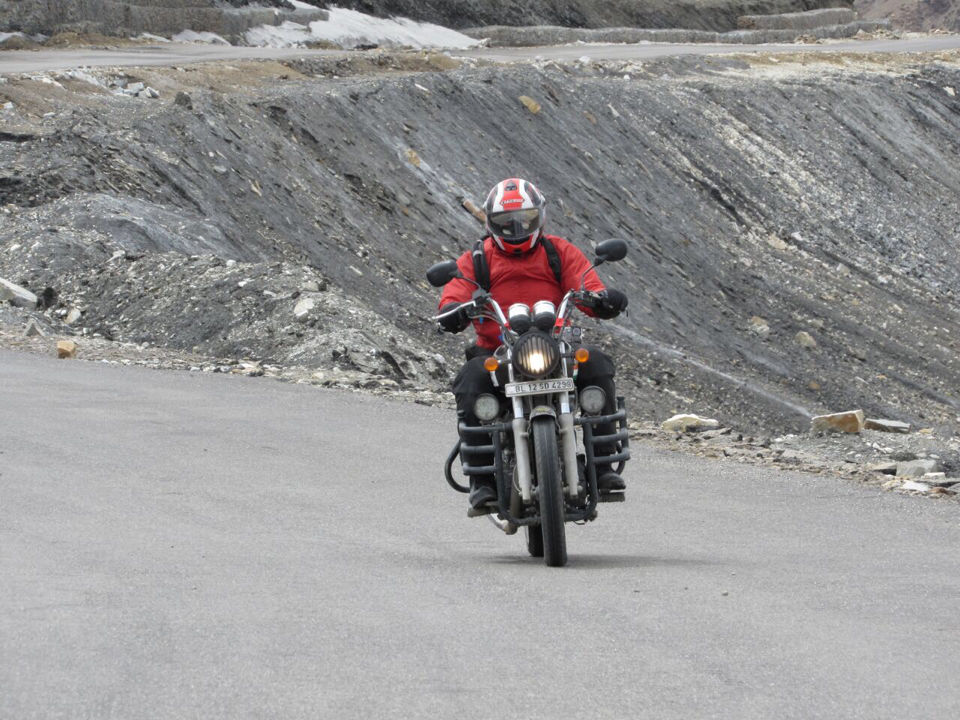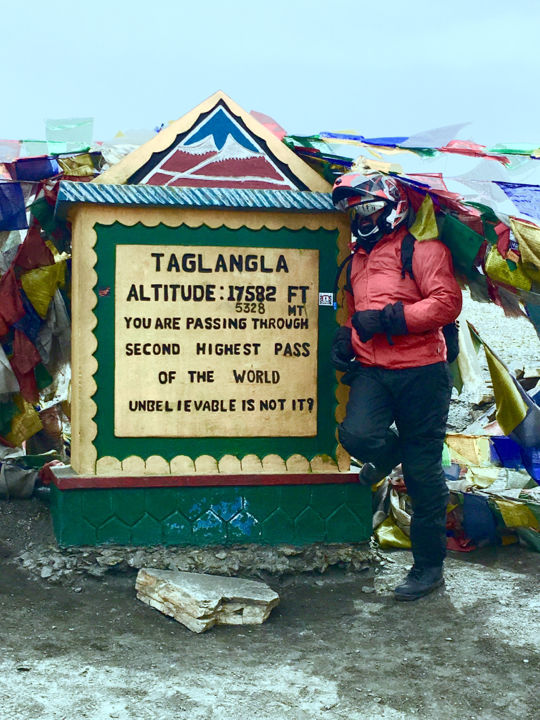 Today onwards we started inhabitants arounds, people around. Now we are entering tourists zone. Out of this 225kms stretch, first 100kms are amazing. Best roads and no traffic. We crossed Baralcha pass, jispa, keylong in no time. Weather was amazing. Drizzling at times. Soon we crossed Rohtang Pass and entered into Manali district with lush green mountains around. Solang valley and many other tourists places came on the way. We rode directly into the hotel. Pat ourselves for this commendable job we did.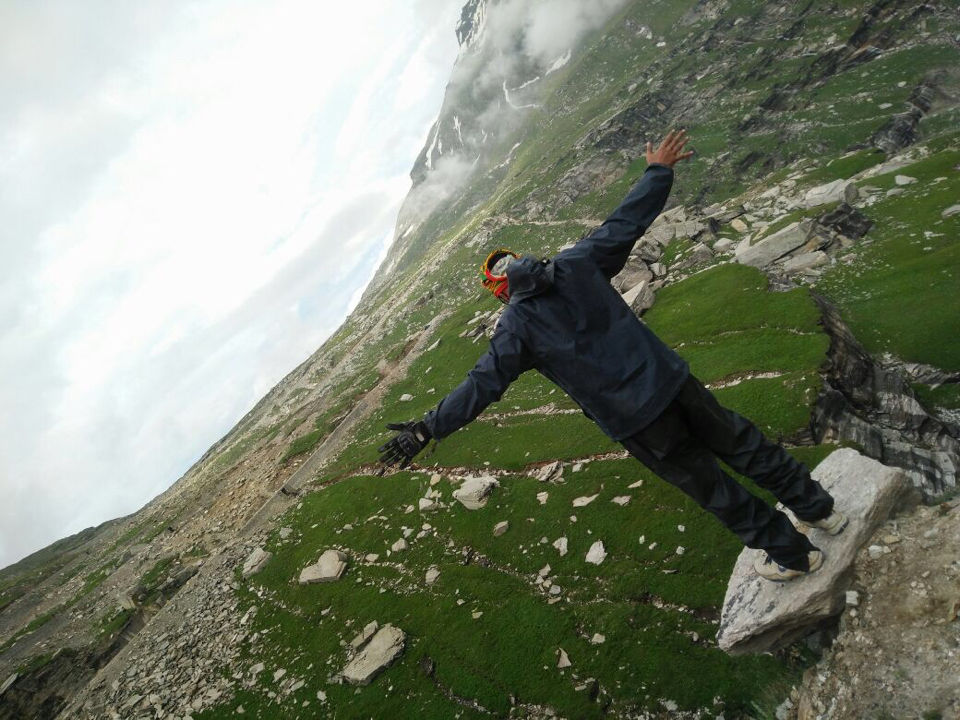 Today as a tourist we saw across Manali. Nothing much to do. Relaxation and enjoyment were the keywords.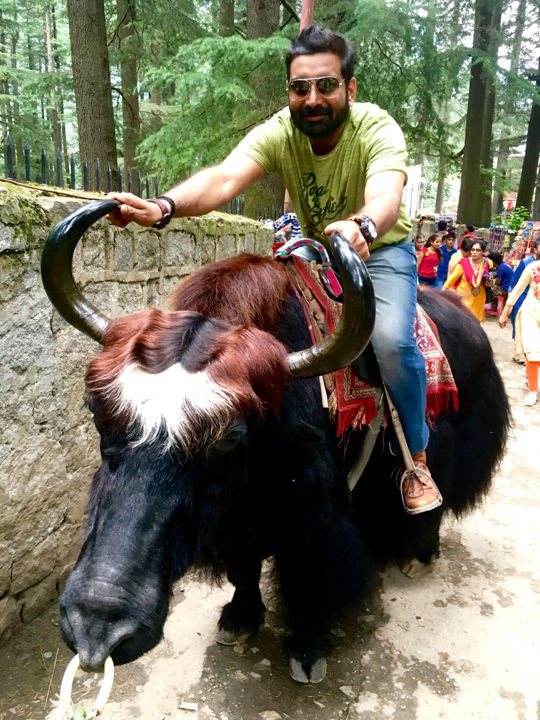 This is the day when we had least enthusiasm for riding. Riding back to Delhi is not all liked by anyone of us. So riding in low gears. We keep pushing ourselves in high temperatures and high humidity. We reached our night halt at Roopnagar and slept in relaxation.
Nothing much about this day. We started early on time to save ourselves from high temperatures. Took few stopovers. And our mind was full of snapshots of last few days. Every single day was reeled in our mind. As we living it again. It all ended up from where we started. The only thing changed was us. Every one of us, is now a better human. We tested our physical and emotional limits and all of us performed above our own expectations. Well done the team.