1.Delhi to Manali (September 3, 2015)
If travelling would be free, you would never see me again... :)
Ever since I remember, travelling, even to a small distance always gave me immense pleasure and rejuvenation. It's a wonderful experience to know more and more about people who share this interesting world with you.
I give entire credit to Bollywood for introducing me to "Ladakh". Earlier this was just a name in my geography book to which I seldom paid attention. To me the epitome of natural beauty was "Kashmir" which was at that time copiously suffering from insurgency. Desert for me always meant heat, sand, camels and "tie and dye" - in one word "Rajasthan". Existence of a cold desert was something, I had no knowledge of. When "Dil Se" released in 1998, like a devoted Shahrukh Khan fan I too went to theater to see the "badshah" gyrating to Rehman's "Chaiyan Chaiyan". But I came back fantasizing about the newly discovered "Ladakh". The serene, quaint and virgin landscapes of this expanse accentuated with Santosh Sivan's outstanding cinematography, soon became the talk of town.
Years passed and Ladakh took a back seat in our minds like many inane teenage fantasies.
Then came June 2005 filled with excitement for our much earned family holiday to Shimla and Manali. To the best of my knowledge and resources I had done enough spade work regarding Himachal and felt really good about me for being the most efficient traveller of the family. Shimla was a comfortable experience followed by a panoramic drive to Manali. Our brief visit to Manali included an uphill drive to "Rohtang Pass". The drive was a litmus test of our endurance and courage according to my beloved mother . In spite of all the panic and unrest experienced by our mom, My younger sister and I were somehow unaffected and our father, as usual unaware of the developments on the back seat. Our eagerness and excitement to experience snow for the first time was beyond description.
Rohtang Pass was a dream come true for both me and my sister. While enjoying the snow and scenery my vision was obstructed by a sign board which read "Leh-479 Kms". The same dream location, which topped my travel bucket list for quite some time, was the ultimate destination of this highway on which I was plying. For the first time Ladakh appeared as a possibility . And then an unsung desire came into being which was to ride from Manali to Leh on this extremely beautiful route "someday".
Some more years passed and this cherished dream also went into hibernation.
Thankfully, I am blessed to have a counterpart who shares with me the same zeal to travel and explore. Owing to my hubby 's hectic work schedule we were only able to grab quick weekend getaways in past few years. After our numerous hush hush weekend getaways to Jaipur, Ajmer, Amritsar, Shimla Binsar (and they always left us longing for more...) we decided to take up a long holiday next time and that too to a place new to both of us.

Meanwhile, a couple of my husband's close buddies had gone on Ladakh bike tours and had narrated many fascinating stories to him. For me this was a boon in disguise and sensing his interest, I suggested our next holiday "Manali-Leh Road trip". I was given the arduous task of planning the holiday and managing its expenses.
I began my spade work and discovered that Manali- Leh highway was yet to open for civilians. So I decided to block the dates for May last week or June first week thinking that by that time the road would definitely be functional. Innumerable inquiries were dropped at various travels agents regarding pricing and itinerary and within no time my inbox was overflowing with prices and quotes, each one promising the most economical package. But there was no news as to when the road would be opened for tourists. Alternatively, another itinerary was suggested where Leh only tour was considered but somehow even that also couldn't materialize. The mere thought of going to Leh by air killed our excitement and interest and it was decided that no compromise would be made on the itinerary.
It was first week of June and the road was still closed. So there was no other way, except to postpone the trip and patiently wait for the road to open and monsoons to end. Finally the road opened in last week of June 2015 and I began working on the holiday again.
First week of September appeared suitable from all point of views. It was decided to explore Manali-Leh-Srinagar route and complete the journey by flying back to Delhi from Srinagar. Unfortunately this initial plan demanded full 15 days from our side which my husband couldn't manage due to his job profile. Hence, we condensed our trip to Manali -Leh. The ticket from Leh to Delhi was booked first after comparing the fare and the entire trip was planned backwards. The toughest part was to make this trip cost effective. The onward journey was scheduled on 3rd September via Delhi-Manali Volvo (HPTDC). Similarly, best possible deals were considered for hotel bookings and finally Grand Dragon, Ladakh offered the price of our choice. The customized transportation too was taken care of by registered local travel agencies.
As the days approached the preparations started in full swing. This part was rather underestimated by both of us as we thought that we would at the most need a backpack with few essential woolens. We were perplexed to learn that in order to safely navigate along this road the most important part is to save ourselves from the monstrous syndrome called "High Altitude Sickness" (HAS) which is a common phenomenon for tourists visiting Ladakh and if not managed diligently, can lead to more serious effects like High Altitude Pulmonary Edema (HAPE) and High Altitude Cerebral Edema (HACE). For a moment I was quite taken aback and started giving a second thought to this trip.
In the end I gave in to my desire and started researching about management and prophylaxis of HAS. With the help of some medico friends of mine I made a list of all medicines and concoctions required for not only HAS, HACE or HAPE but also for fever, stomach infection, inflammation, allergies cough and cold and what not.... My first aid box looked perfect to qualify as a hand baggage. And to top it all, hubby dear had also arranged for disposable Oxygen canisters from a local chemist (as if we were heading for Everest Summit ;) ). A substantial amount of chocolates, nuts, chips, cookies were also stocked up for emergency as we were supposed to pass through some long uninhabited stretches of land having no sign of civilization. It was no more backpacking now, as I had to cut down on my fashionable woollens and incorporate basic necessities.
All through the preparation I kept on ignoring my left foot which was paining throughout. Until one fine morning it went highly sore and painful. To my horror, the sole of my foot was infected with small painful plantar warts which had swollen over the course of time making it impossible for me to stand even. I was again doubtful about us going on this trip with a limping left foot but all thanks to the dermatologist, who within a week, made me healthier enough to drag my stroller. Just that my first aid kit was slightly overweight with few additional ointments for my foot.
1. Delhi-Manali (September 3rd 2015)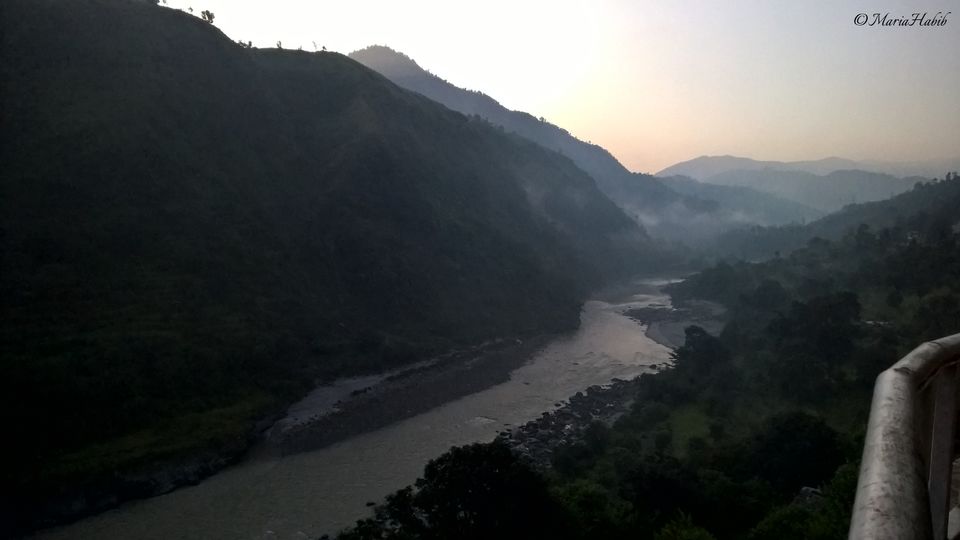 Once done with breakfast we continued the journey through the beautiful locales of Mandi, Bhuntar, Naggar. The amazing view outside the window was a feast for eyes. The first leg of our journey ended in Manali at 10:30 a.m. Our night halt was "The Holiday Cottages and Resorts". This cosy set up was though towards the outskirts of city but offered an outstanding sight from the room. Overlooking the expansive river Beas, the room also gave an enchanting view of the apple orchards which were in full bloom in this season.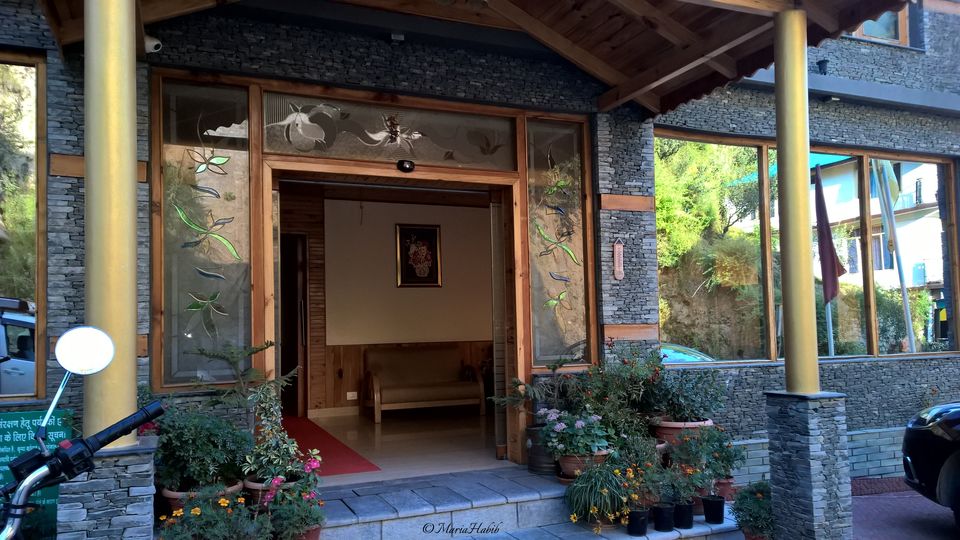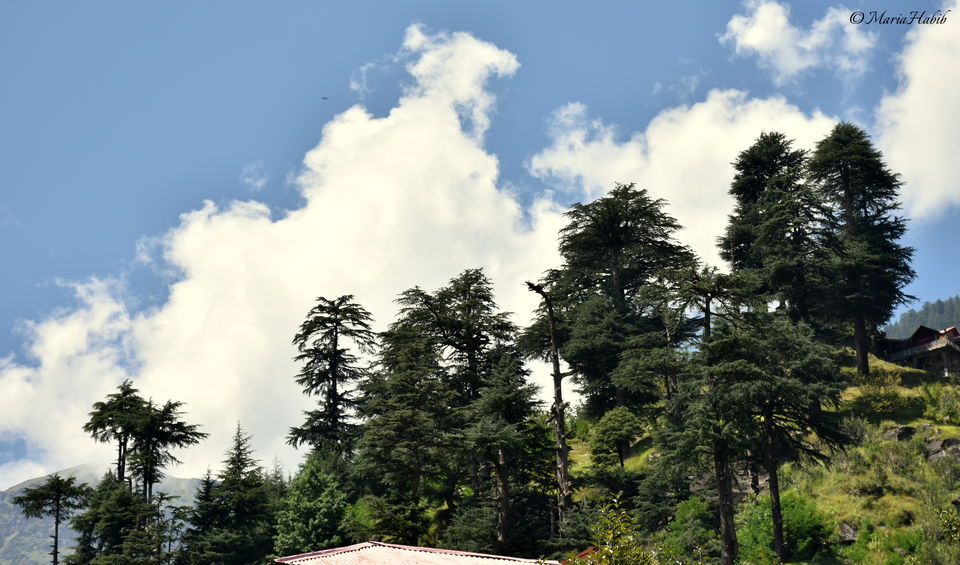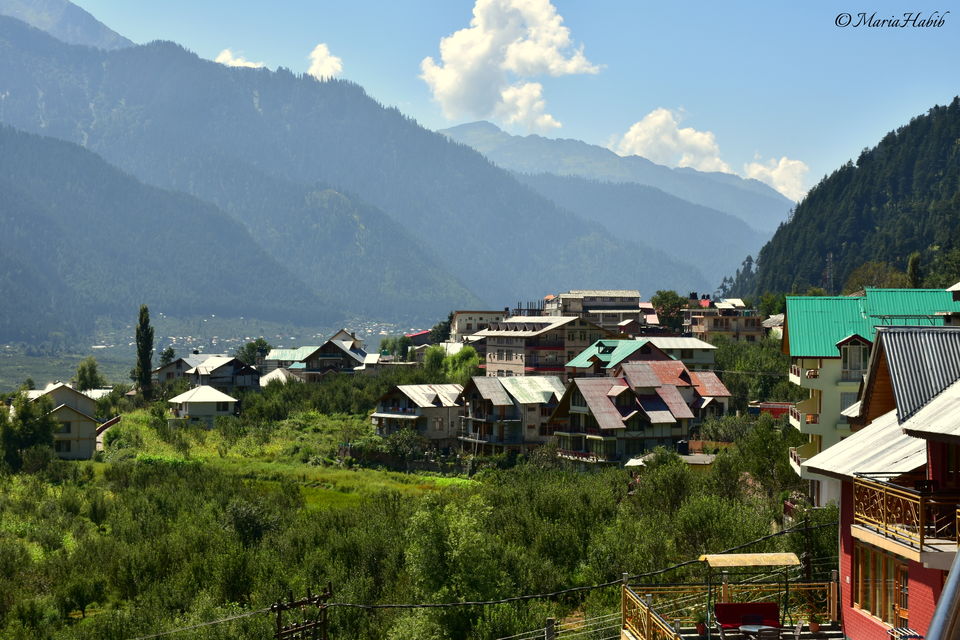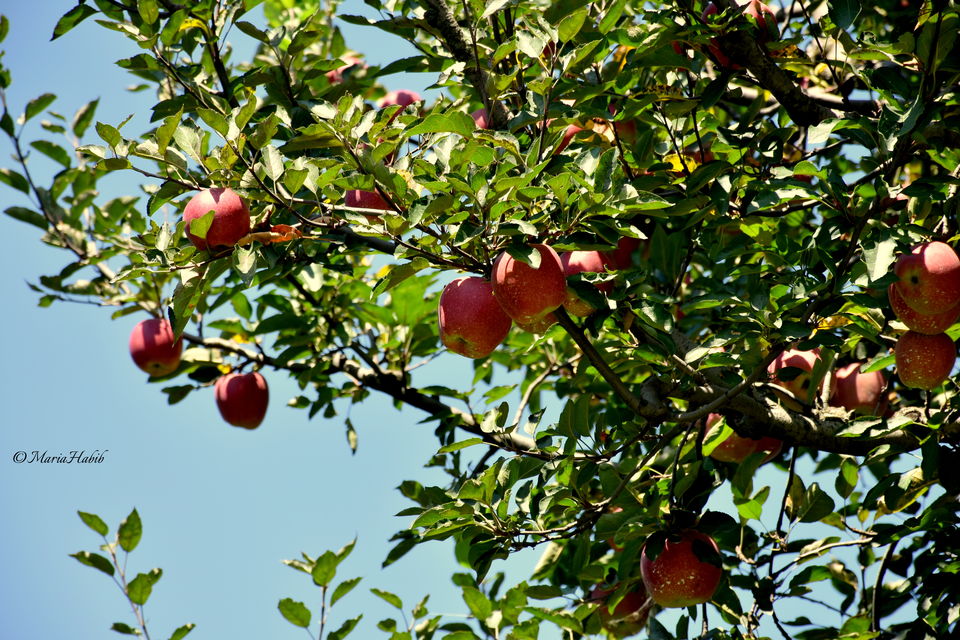 Once the bike was hired, we headed for Solang Valley, keeping in view the time and distance. The uphill ride was quite an experience and the surroundings were spectacular. Even though it is famous for winter sports, summers too are equally captivating in this small but attractive resort town.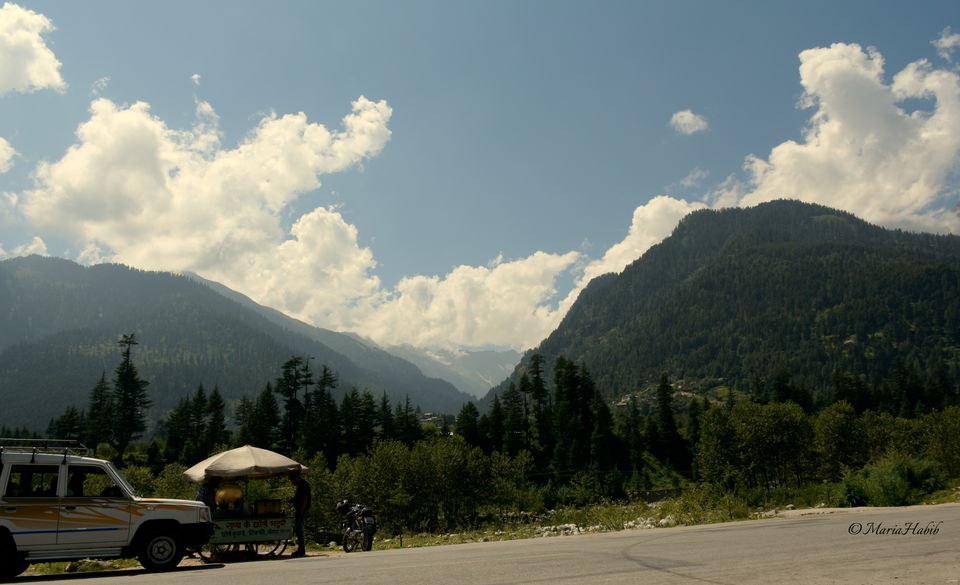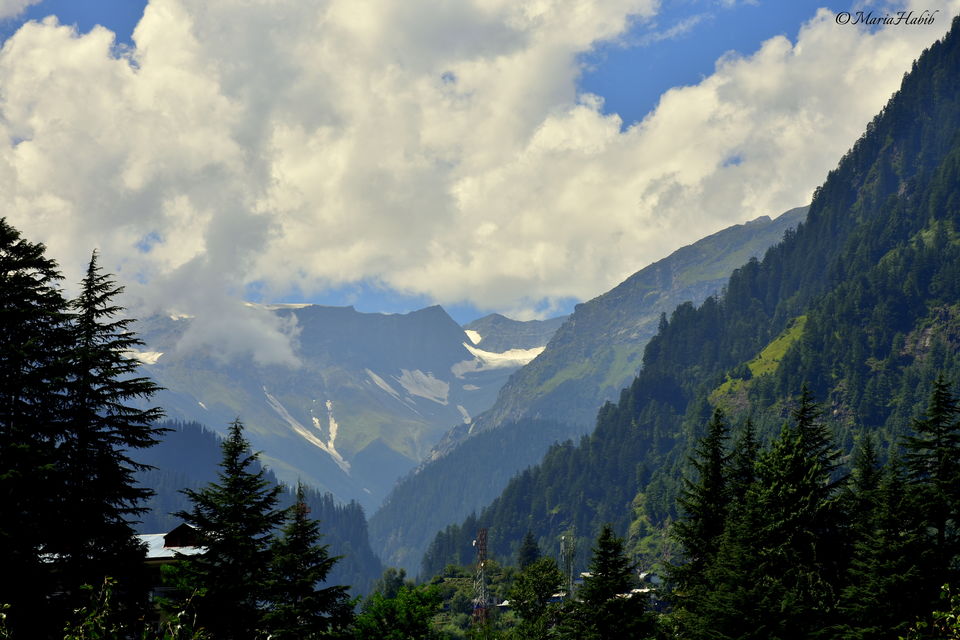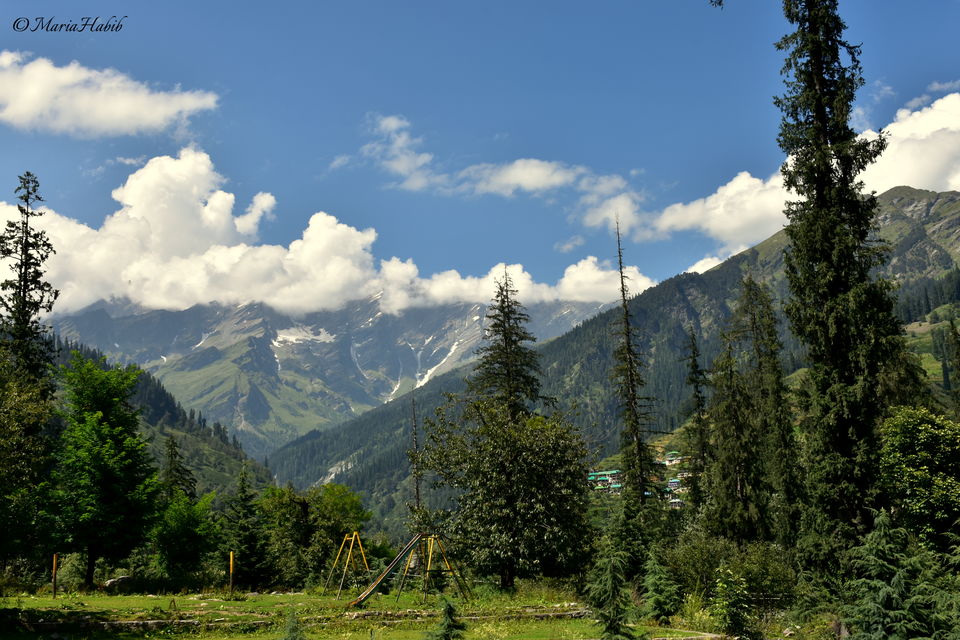 The view from the cafe's balcony was more refreshing than the meal. The famous Pandoh dam was at a stone's throw from the place and the beautiful River Beas was right down the hill. You know you are in Himachal when all you come across is green hills and blue waters…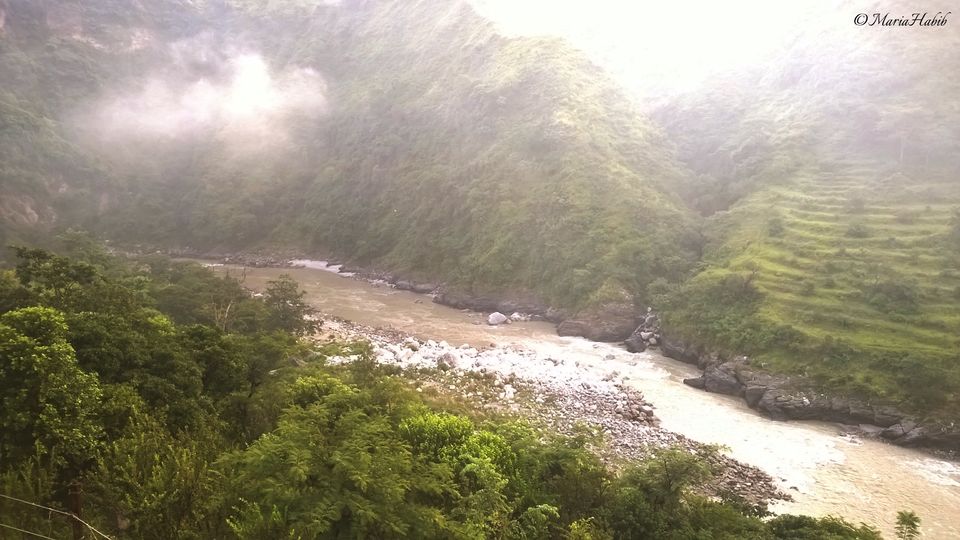 Earlier, we had thought of taking the rest entire day in order to prepare ourselves for the next day but the lovely weather and irresistible view outside our window compelled us to change our minds and explore the town. my other half took some quick suggestions from his long time buddy (who was lucky enough to have lived in Manali for a couple of years) about renting a bike. We walked down the hill, took an auto to Vashishth Chowk, and rented a Royal Enfield. Shockingly the auto fares in Manali are no way lesser than what we pay in Delhi and that to without any metering system.
The rest of the day was for relaxation. The next day we had to start early for the Ride of our Life (Manali-Leh). We cross checked the backpack to ascertain that we have all the necessary items accessible. However in spite of being so efficient both of us forgot to take a precautionary dose of the HAS medicine (Diamox) which was supposed to be taken 12 hrs before beginning the ascent.
We went to bed early with a feeling of nervousness coupled with some excitement hoping and praying for a fun filled safe journey ahead.
Frequent Searches Leading To This Page:-
delhi shimla manali dharamshala tour package, places to visit in old manali, shimla manali road trip, 1 night 2 days manali itinerary, top manali tour packages with prices from delhi
Then came the D-Day ( 3rd September 2015), it was for the first time in the history of my household that all the packing was completed well in advance. There were no last minute stuffing's in the luggage, all essentials in the list were ticked off. Had this trip not taken place I would have never known how efficient me and my husband can be as a team ;) (Touch wood…..).
Our HPTDC Delhi-Manali Volvo departed at 6:30 p.m from Himachal Bhawan, New Delhi. Although initially apprehensive about covering 570 Kms by bus I was very much at ease once the journey started. The semi sleeper recliners were pretty comfortable and before we took our dinner break at Ambala Cantt, hubby had already taken a couple of power naps. There were not many stoppages in the route except for a 10 min tea break at Murthal, 30 min dinner break at Ambala Cantt, another tea break at Swarghat and finally a breakfast break at Pandoh. I settled comfortably on my seat after dinner and dozed off hoping to wake up to lush green terrace farms next morning with a river running by the side of road. I don't remember when we started the ascent but all of a sudden I woke up to a terrible jerk which banged my already sore left foot to the side of my seat. A painful end to my sweet dreams. Although the pain didn't last long, but all my efforts to gain my sleep back were now a waste of time. Unable to sleep I started noticing the landmarks outside, which was no less than a task by itself owing to the absence of street lights on roads. At 3:00 am, while all the co passengers snored in sync, I struggled with the GPS in my phone to know how long we have come. The condition of road was deteriorating with every kilometer which left me wondering whether we are on the actual route or some shortcut. Trying hard to locate ourselves I saw some light at some distance and discovered that we have reached Swarghat. The road was being repaired due to which there were innumerable diversions and maybe that's why the ascent was a bit tiring. In between my cat naps I faintly remember coming across signboards of some remote places like Bilaspur, Barmana and Sundernagar.
By the time we touched Pandoh, it was 6:00 a.m and there was a fair expanse of sunlight outside and the lush green farms were welcoming me with a smile. We took our breakfast break here . There was quite a chaos as all of a sudden not 1 but 3 tourist buses stopped at the roadside cafe and the staff was having a hard time catering to its half hungry- half sleepy customers. There was a massive que waiting in front of the tiny loo. After freshening up we managed to push our way to the tea counter and quickly grabbed 2 cups of coffee (without even bothering to check whose order it actually was :P). Thankfully we had 2 sandwiches from dinner in spare with us which turned up into decent breakfast. We roamed around the cafe while rest of the passengers struggled for their beverage.