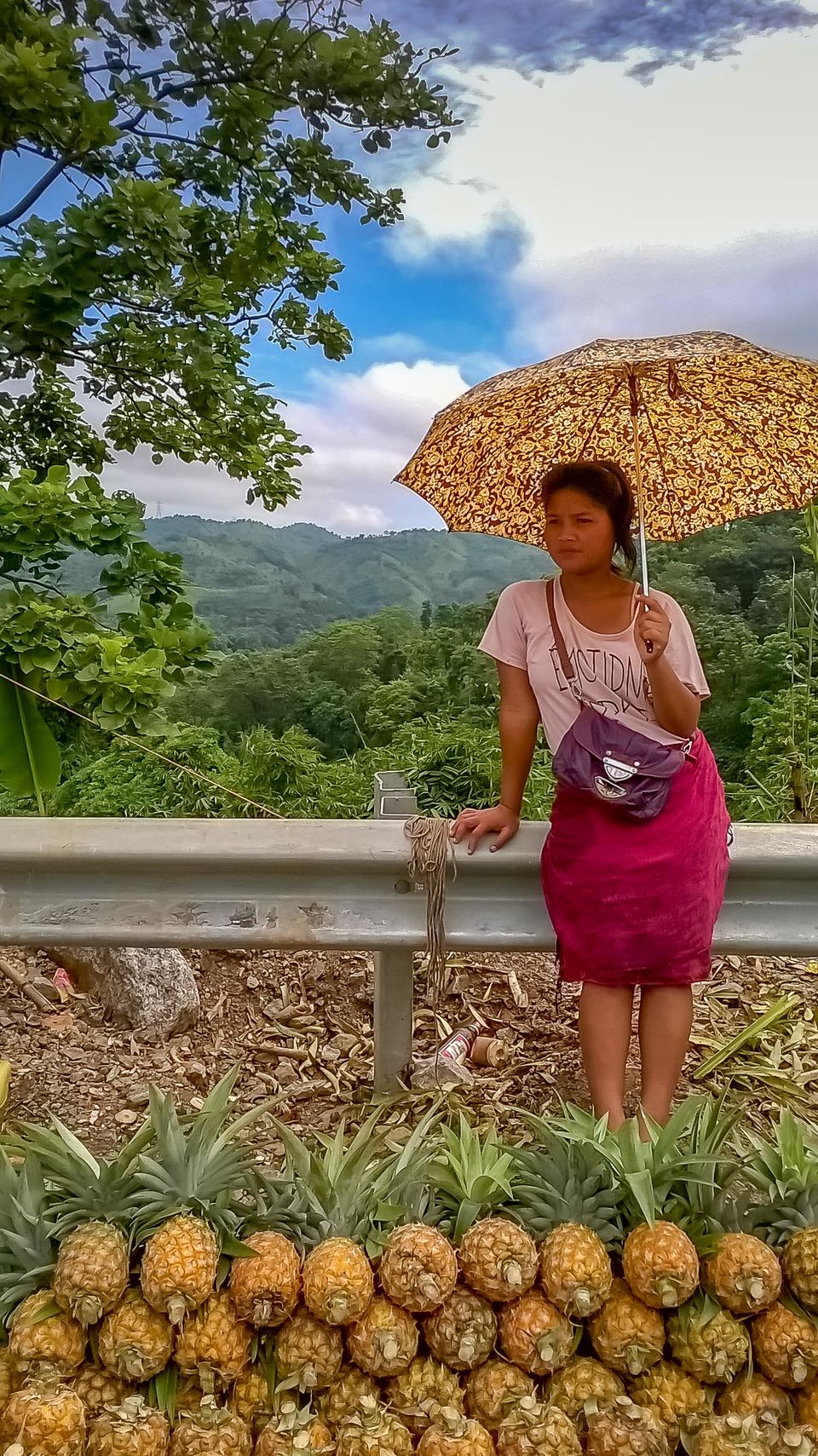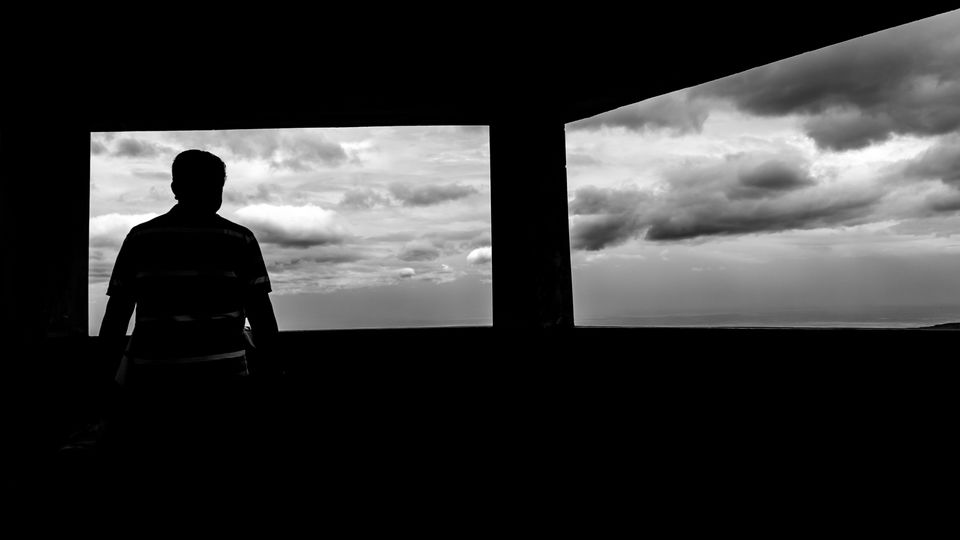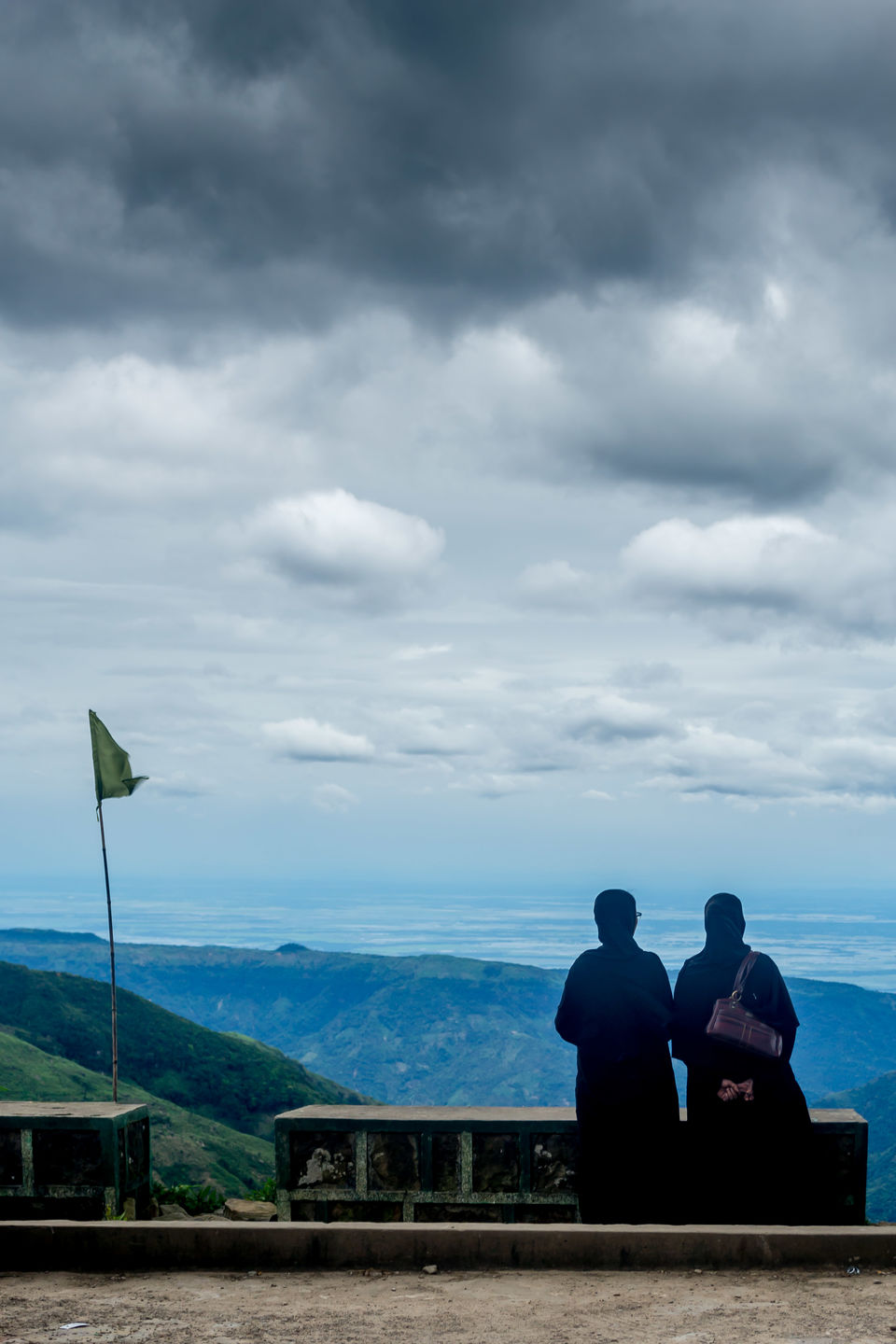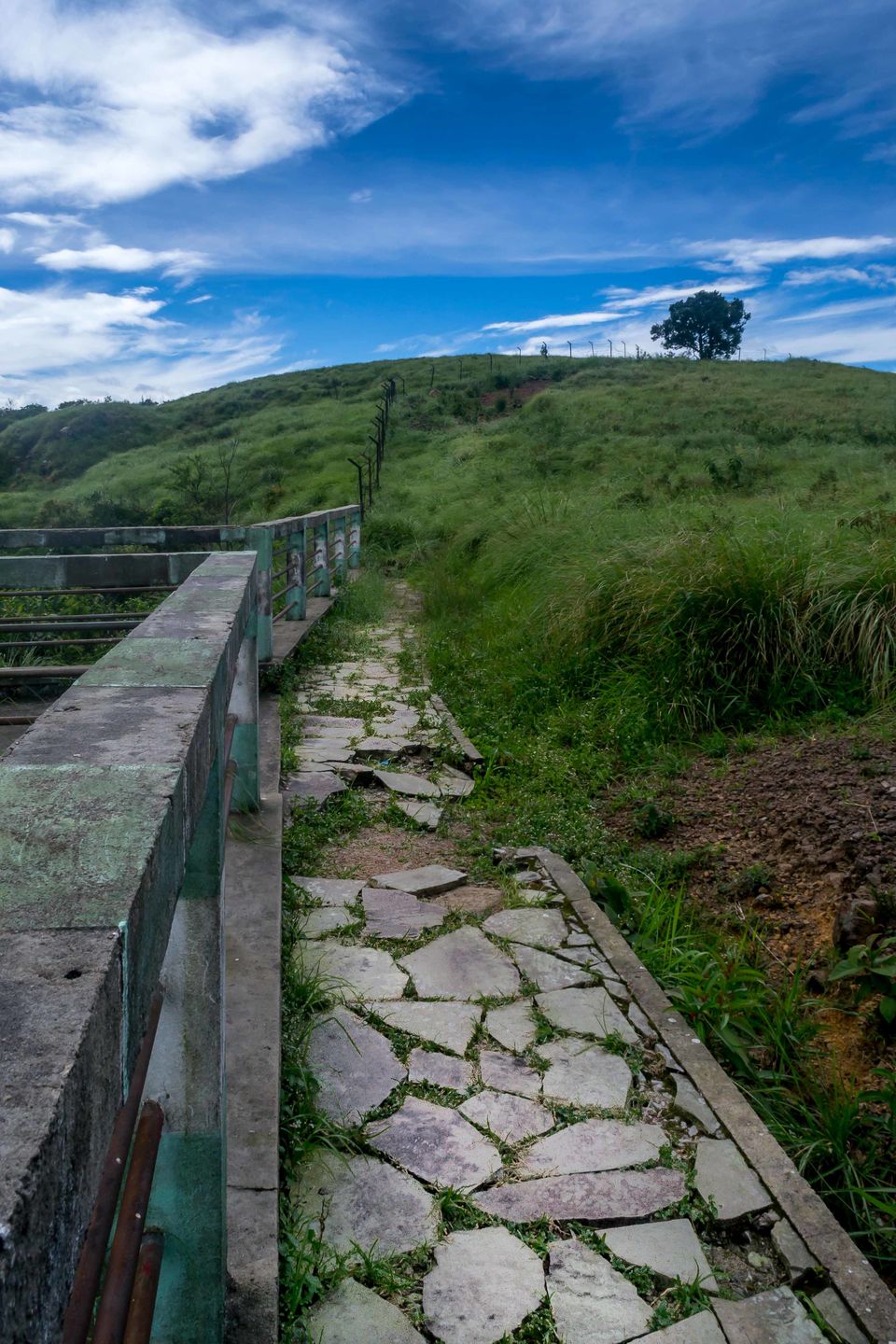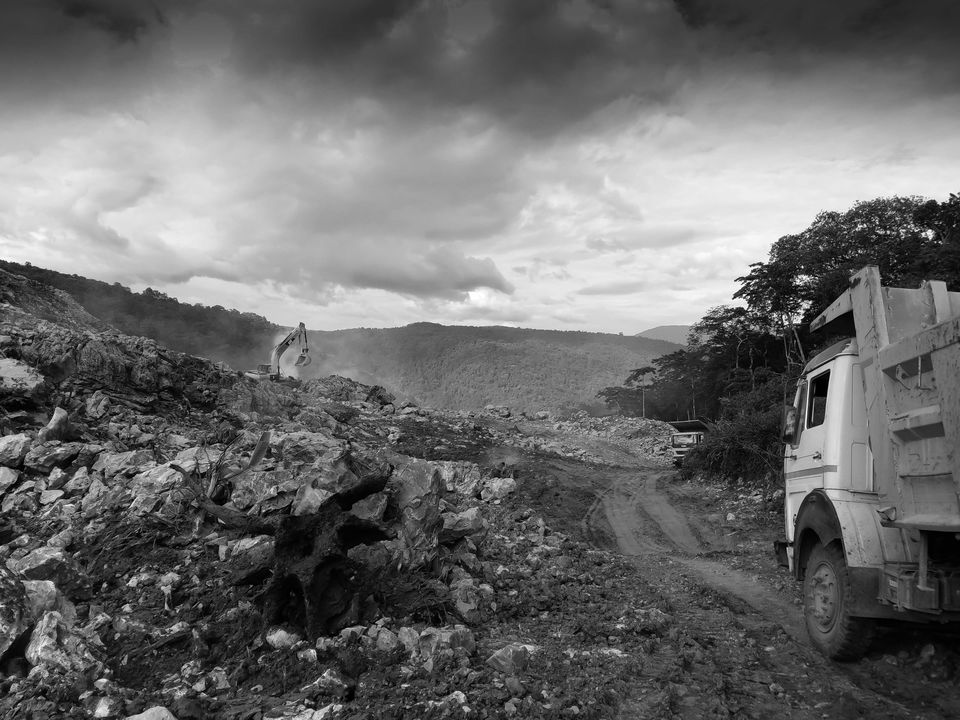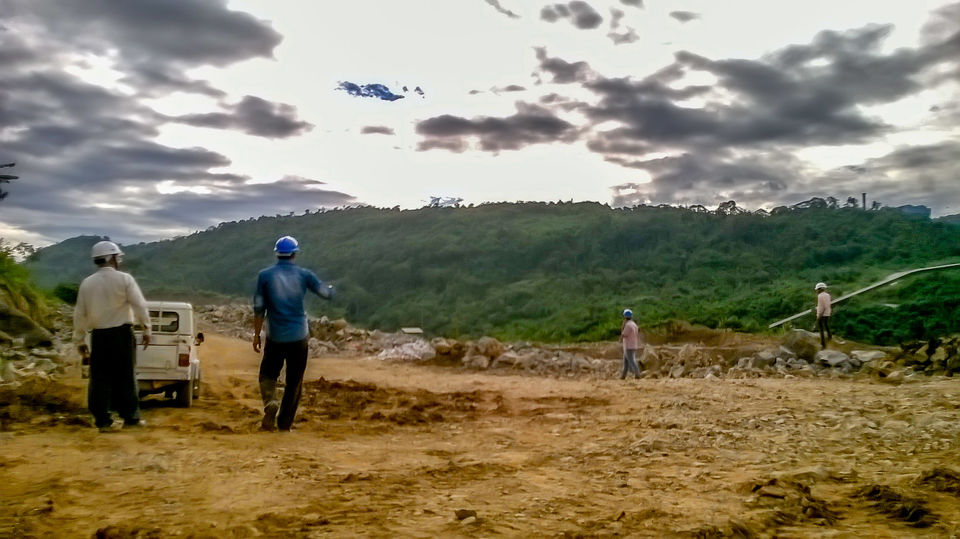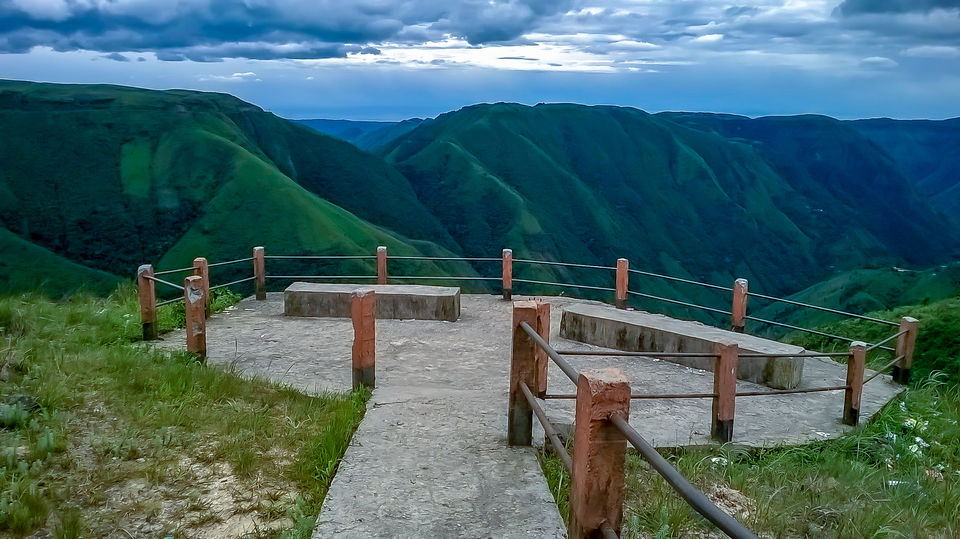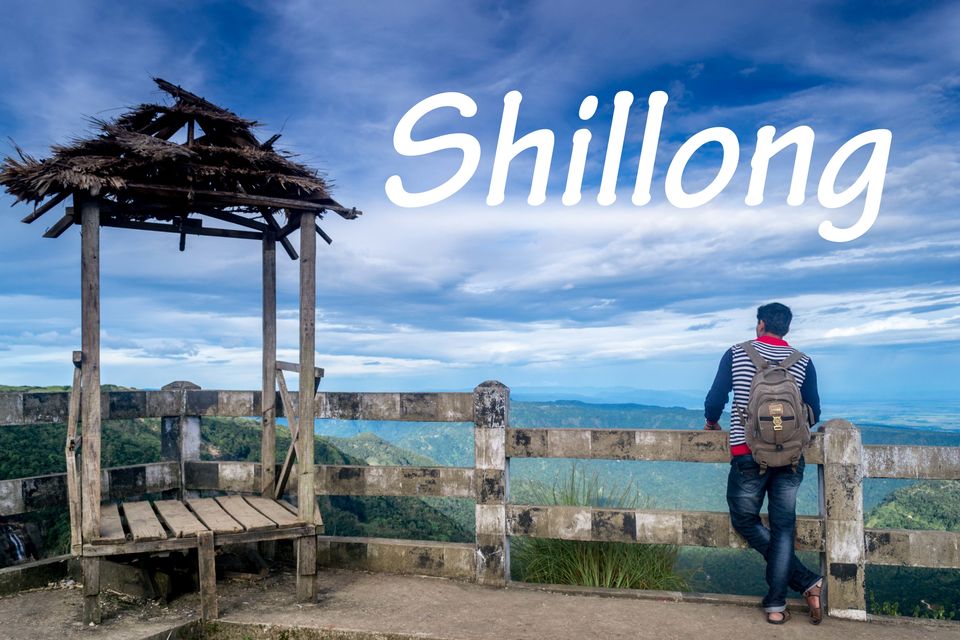 After working, for almost three years, with an Information Technology (IT) Multinational Corporation (MNC), I left my well paying job on July 10, in search of my passion. Coincidence you may call it, at the hour that I signed my resignation I received an email from a Social Service organisation—Gyan Setu—that I had applied with earlier, asking me to go to Shillong, Meghalaya. And so my travel began.
On the eve of July 22, 2015 I parcelled all my belongings to my parents house. On July 22, a Wednesday, I boarded my train. There were 5 other people with whom I were to go to Shillong, students of Ferguson College, Pune. I had briefly met them when I had gone to attend the workshop organised by the Social Service organisation, Gyan Setu, at Pune. They boarded the train from Kalyan station of Mumbai, while I boarded beforehand from Lokmanya Tilak Terminus, Kurla. We had booked tickets separately and hence were in different coaches. Though I barely knew them then, I wished to be with them, than to be with the absolute strangers in my coach.
This was my first time travelling in the Sleeper Class of the Indian Railways. Here and there two people slept on a berth for one. Some spoke of bribing the Ticket Checker as if it was a normal thing. I had a feeling that I might have been living in a 'rightful' India and was about to see a different India.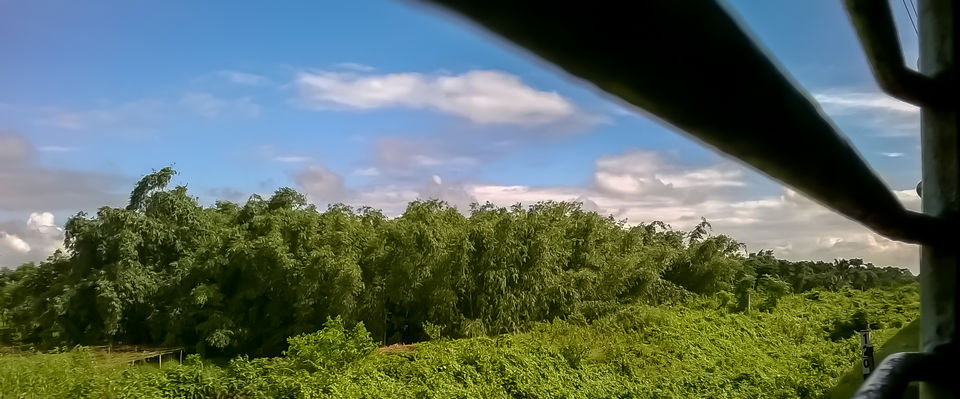 I walked to the coach where the five college students were seated. They had bought lunch for me too. I had to pass through A/C Sleeper coaches to reach them. Walking through that reminded me of the multitude of lavish journeys I had undertaken while going home from Mumbai to Kochi. I guess I am lucky to have grown up in a family that could afford to send me off in A/C coaches. I was missing my family already, and I am sure they were missing me too.
The students had not bought lunch from a shop, but was instead prepared at home, by the parent of one of the college students, Rahul. In fact they had brought food and snack items for all the three days of travel, which ended up lasting even more than that. The vitality and carefree attitude of the students reminded me of my college days. Though it had been only three years since I left college, the corporate life made me feel as if it were years in the past.
As the train neared Nashik, vineyards flew by our windows. Rain drizzled outside, appearing like fog roaming between the vineyards. I wished to have a cup of tea. My bags were still in the other coach, tied with a cycle's number lock. It was new and I yet had not learned the number combination. So the sticker containing the number combination was still attached to it. Hopefully no one would notice.
The students had taken up the upper berths and dozed off. A boy and girl slept together on a berth. I wondered how far into the rural areas of India would a boy and girl sharing a bed be acceptable. Or was it just my sexually oppressed Malalyali brain paying too much attention?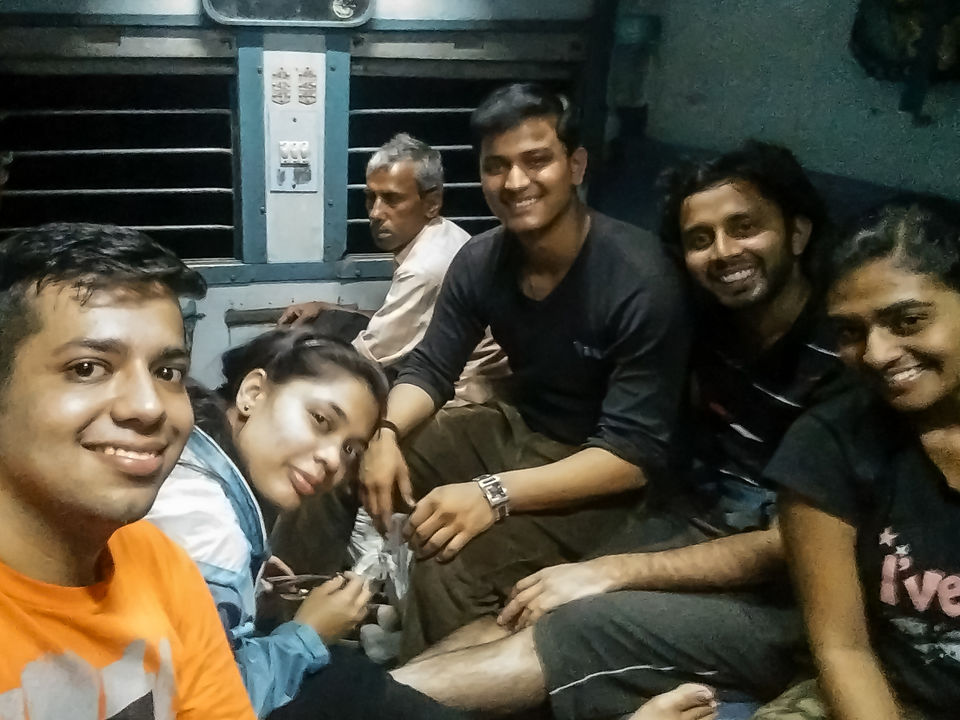 Having slept only in A/C Sleeper coaches, sleeping at night in the Sleeper coach was slightly difficult. Some bachelors were talking loudly late into the night. The heat was not helping either. One of the fans besides me started making noise due to a stuck banana peel left on top of it by a fellow passenger. Thankfully it stopped as soon as I changed my concentration from that noise, to my breath.
Interestingly the same happened the next day morning also. Some of the people in my box started shouting early in the morning for a reason that I could not understand; they spoke in a different language. The entire compartment woke up because of them. As I started concentrating on my breath, instead of them, their fight soon dwindled. "As is inside as is outside", is it true? Were their fighting just a reflection of the inner turmoil I was going through? One that ceased as soon as I became peaceful?
Beautiful mountains covered with clouds, looking like vanilla cone ice cream, passed us by in Raigad. We had breakfast of Sindi special Theplas, again made by Rahul's mother, and Laddus made by Ashwin's mother, another of the college student. He wore spectacles and always seemed be able to maintain a messy hairstyle, no matter the day or time.
Ashwin seemed to like Shruti. He always tried to seek her attention. I do not know how much others know, or they themselves know about it, but it was interesting to watch. It reminded me my love affairs in college.
The second day of train travel went by in eating, talking, listening to songs and playing dumsharats. The five of the college students laughed a lot at my expense, watching me try to act Hindi movie names. It was maybe my acting, maybe it was my poor knowledge of Hindi, maybe it was the name of the movie, which I still do not know completely. There was a 'ghost', there was a 'dance'. Man it was a difficult one! But fun.
The sleep that night was slightly better than the previous day's. When I woke up to the third day of travel, we had entered Bihar and half of the coach was empty. I shifted my bags along with the 5. I freshened up. Using the Indian toilet in the Sleeper class was an experience I had never had before. Without any mug or a hand shower I had to cup my fingers and use that to collect water and pour. My hair looked completely messed up, and was giving me thoughts of having a hair cut.
I was scared where my life was heading, leaving a stable job, in search for something that I myself was not sure of. I wondered what it was that was calling me to the place. What was there for me? What was it that I am there to do? Maybe there was nothing, maybe there was. As the train passed parallel to the foot of the beautiful Himalayan range, the fear could not hold on to me. So beautiful were the moments that I knew that the risks were worth taking.
Assam, though a strange land, looked so much like my home land, Kerala, with greenery everywhere, covered by beautiful skies. People waved at me as the train passed by and I waved back. It made me think of the basic human liking for humans. We wish to be cared for. Even a stranger's wave seemed so warm a greeting to their place that the strangeness of the land disappeared immediately. Thanks to those who waved as my train passed by! I stood at the door, enjoying the wind lash my hair all over my face. Time ceased to exist.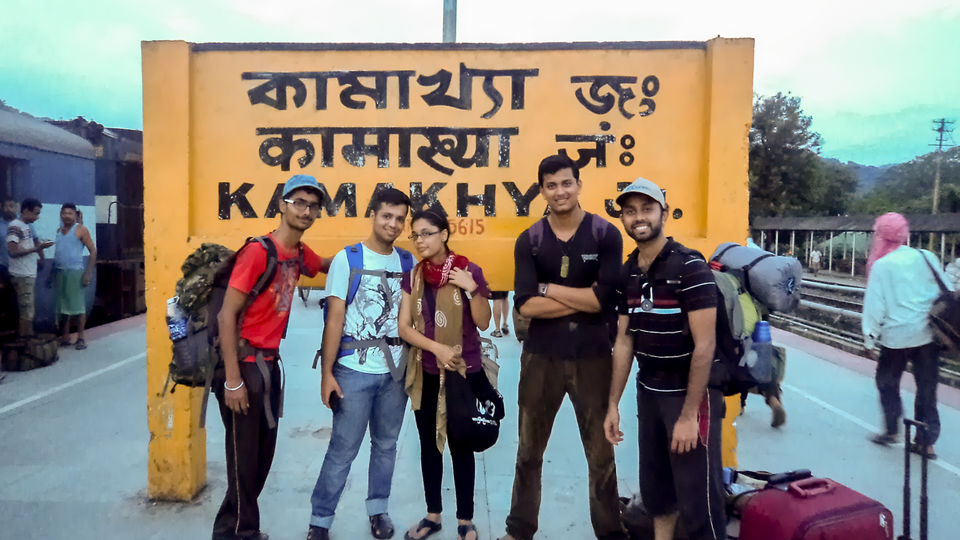 By the evening of the that day we reached Kamakhya, Guwahati (Assam), the last stop of that train. Three days of continuous travel made me stink so much that even I could smell the stink. I just wished to take a shower more than anything at that moment.
As it was already late, we were to halt at Guwahati that day and to start for Shillong the next day. Our stay was arranged, by the Gyan Setu team, at the Seva Bharathi office in Athgaon. After a difficult time moving from one bus to another, with so many of our bags, we found the place. We boys, four of us, were offered a hall and mattresses to sleep in, while the two girls had a separate room to themselves. I took a shower, had the dinner they offered—simple rice, dal, mixed vegetable, nuts, and jack fruit—and slept like a baby.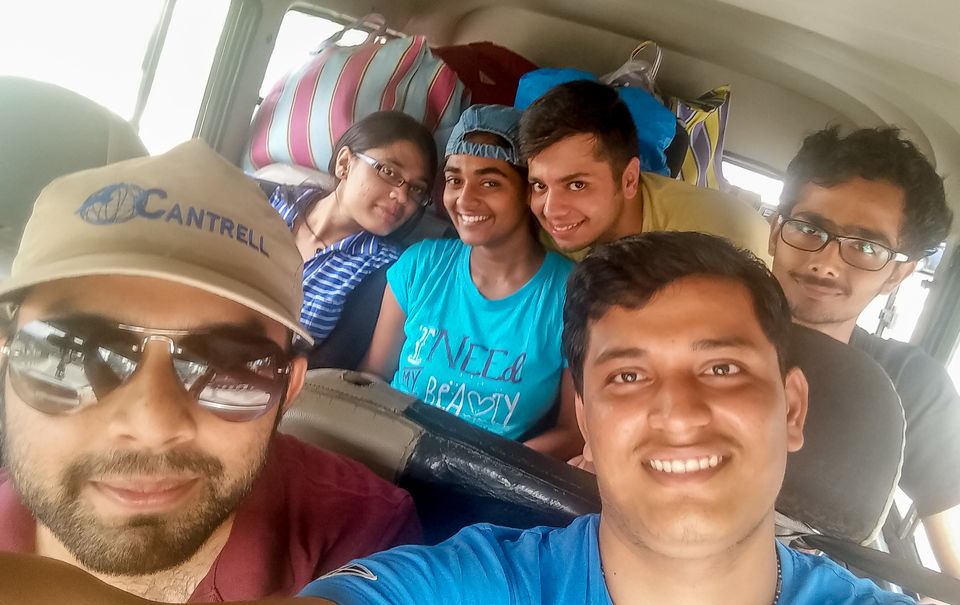 On the morning of July 25, after a shower and cup of tea, we started on our journey to Shillong from Guwahati. We hired a Tata Sumo for ourselves.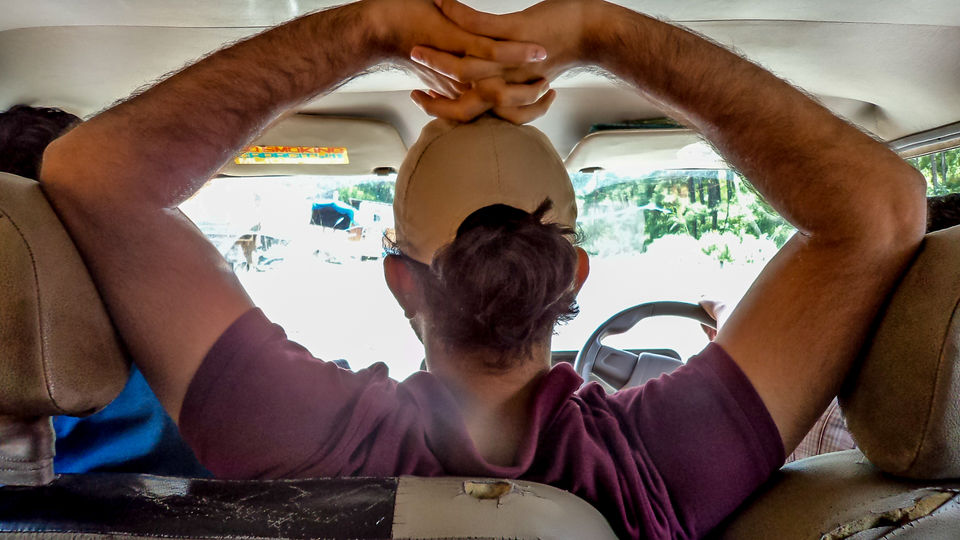 Me sitting tired in the Sumo.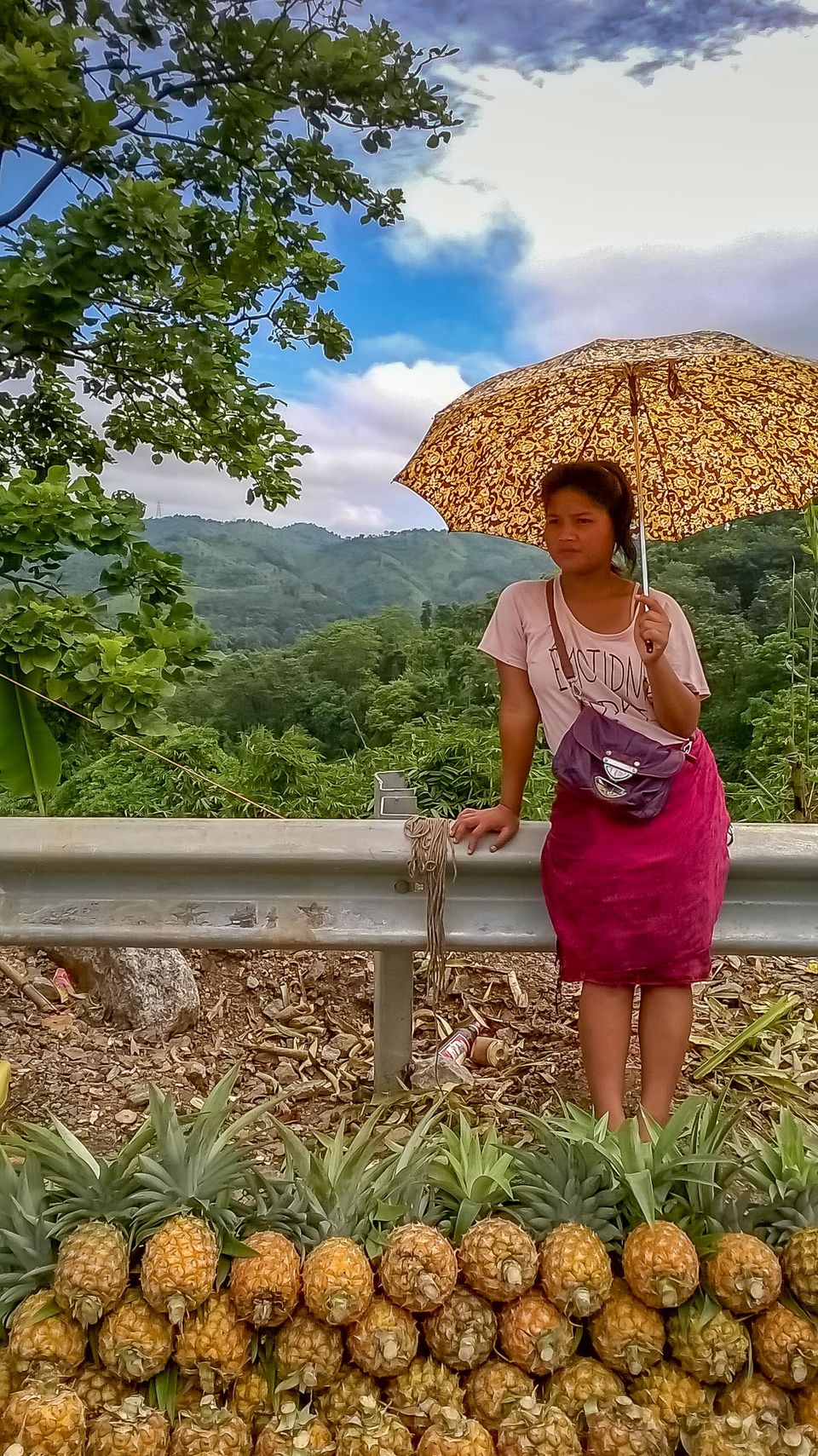 A pineapple seller on the way.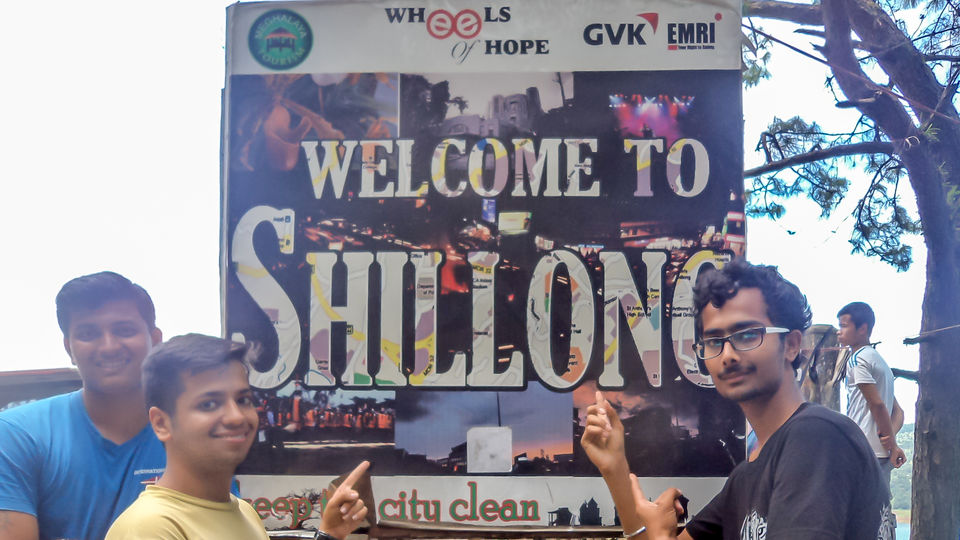 By 11:15 we were at the Shillong entrance, the Bora View Point. While I typed the events in my diary, the others went to take selfies, along with the other tourists. The clouds moved fast there, maybe due to the elevation.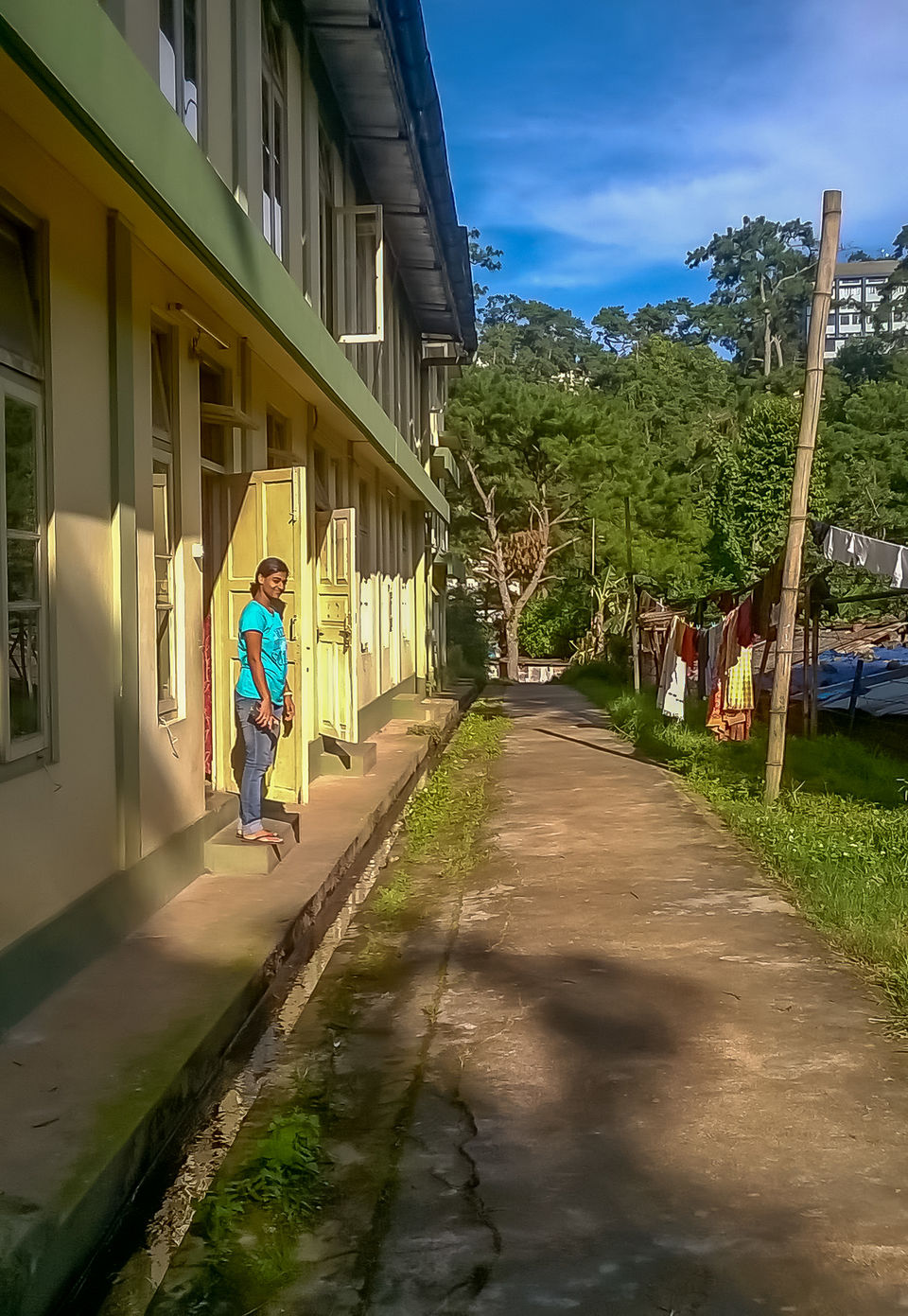 In Shillong our stay was arranged at the calm and peaceful Aurobindo Ashram. We reached there by one in the noon. As we had not informed them earlier they had not made lunch for us. So we ate the laddus, chakli and potato chips that the students had bought from home. The weather was pleasant, a cool breeze flowed continuously.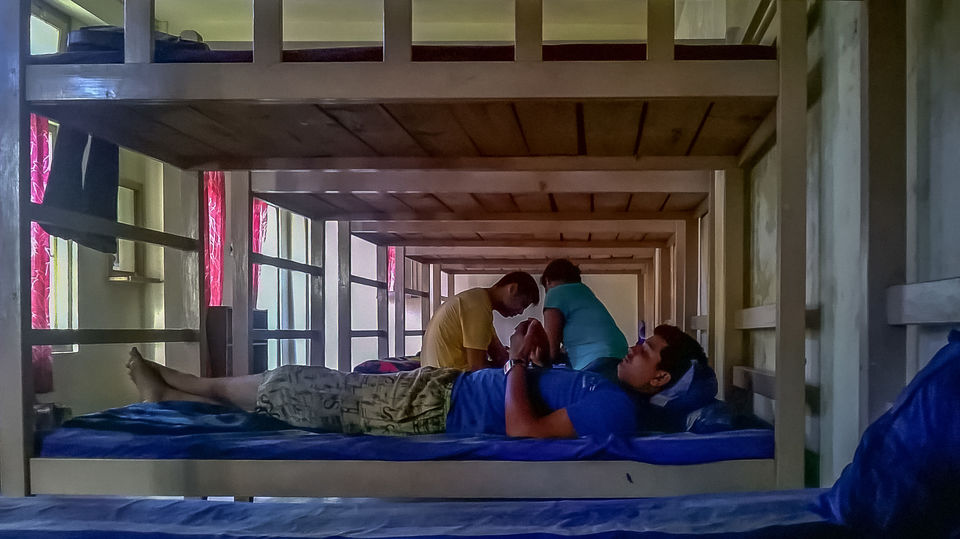 We were provided with a dormitory that had eight double decker beds, and three washrooms. Sadly there are only two plug points. The girls had a similar, but separate dormitory. Though it was informed to us, by the Gyan Setu team, that the food and accommodation would be free, after reaching we came to know that we had to pay for it. Rs 170 per day for the bed and food extra.
Just outside our dormitories, behind a barricade, were six small huts made of wood and metal sheets. Tarpaulin sheets were laid on top of some of them to hold out the rains. As it was not raining, they had laid bed sheets and dresses on top of them to dry. We were told that till the day previous to our arrival it was raining continuously. Children were playing behind the barricade.
We slowly settled down with little chats. The boys asked me about my love affairs, that if I had made love to a girl and other questions that I too would have asked while I was in college. Their questions reminded me of my own naiveness at their age, how far off an idea it had seemed then, to share a bed with a girl, and how simple a thing it seemed now.
In the evening we had snacks at the Ashram's canteen, which turned out to be too sweet for my colleagues. We decided to go out to eat.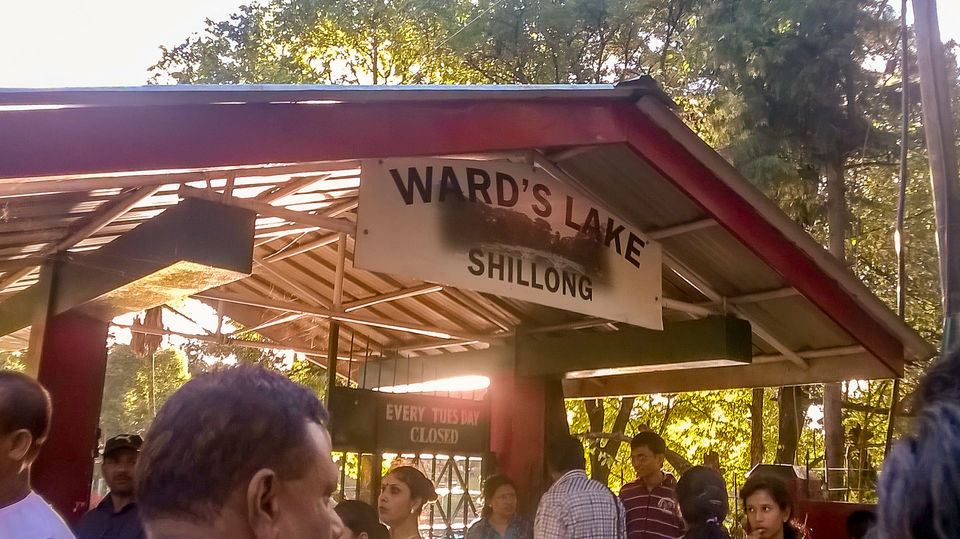 On our way we came across a lake, called Ward's Lake, which was barely 5 minutes of walk from the Ashram. We paid the entry fee and went for a little walk. It was full of people. We later came to know that it was one of the famous tourist spots in Shillong. The place was so beautiful that we started rapidly clicking photos. I sadly had not taken my camera.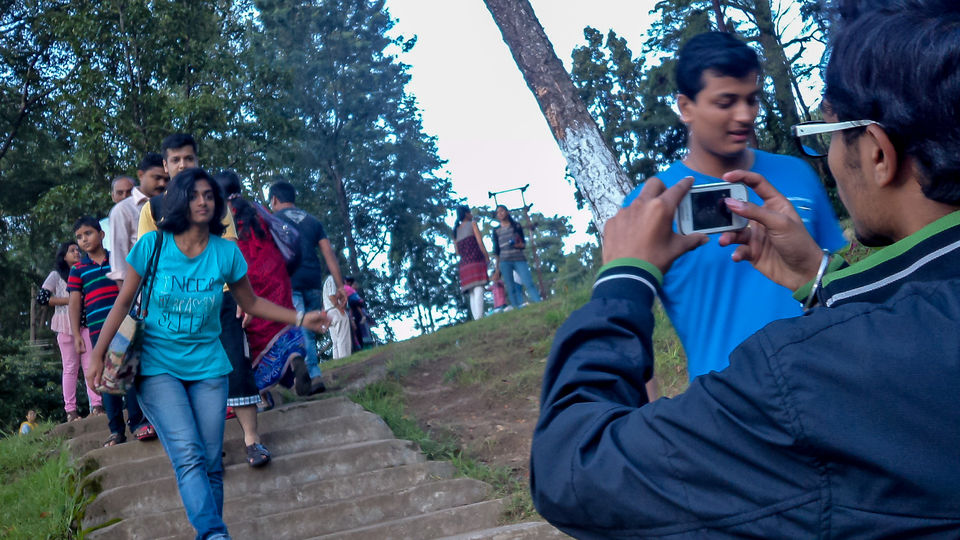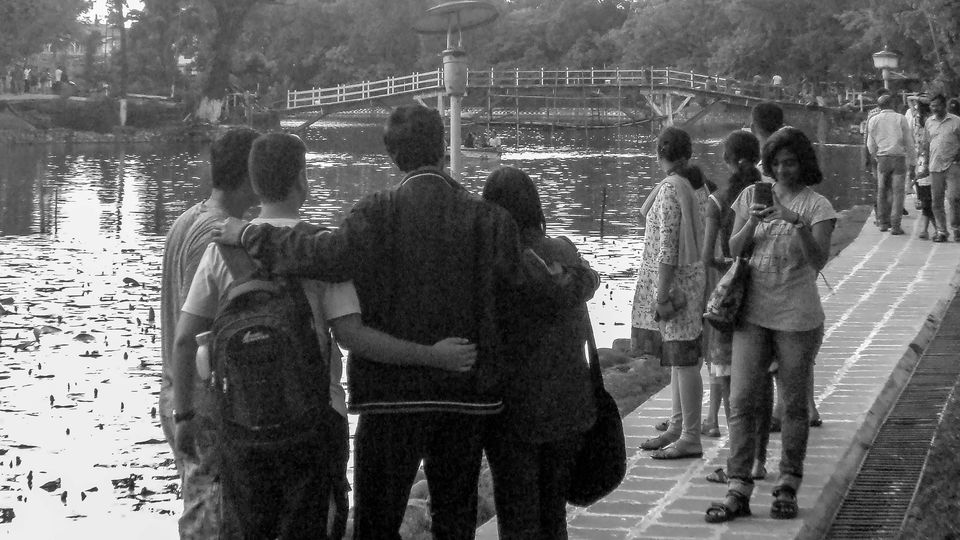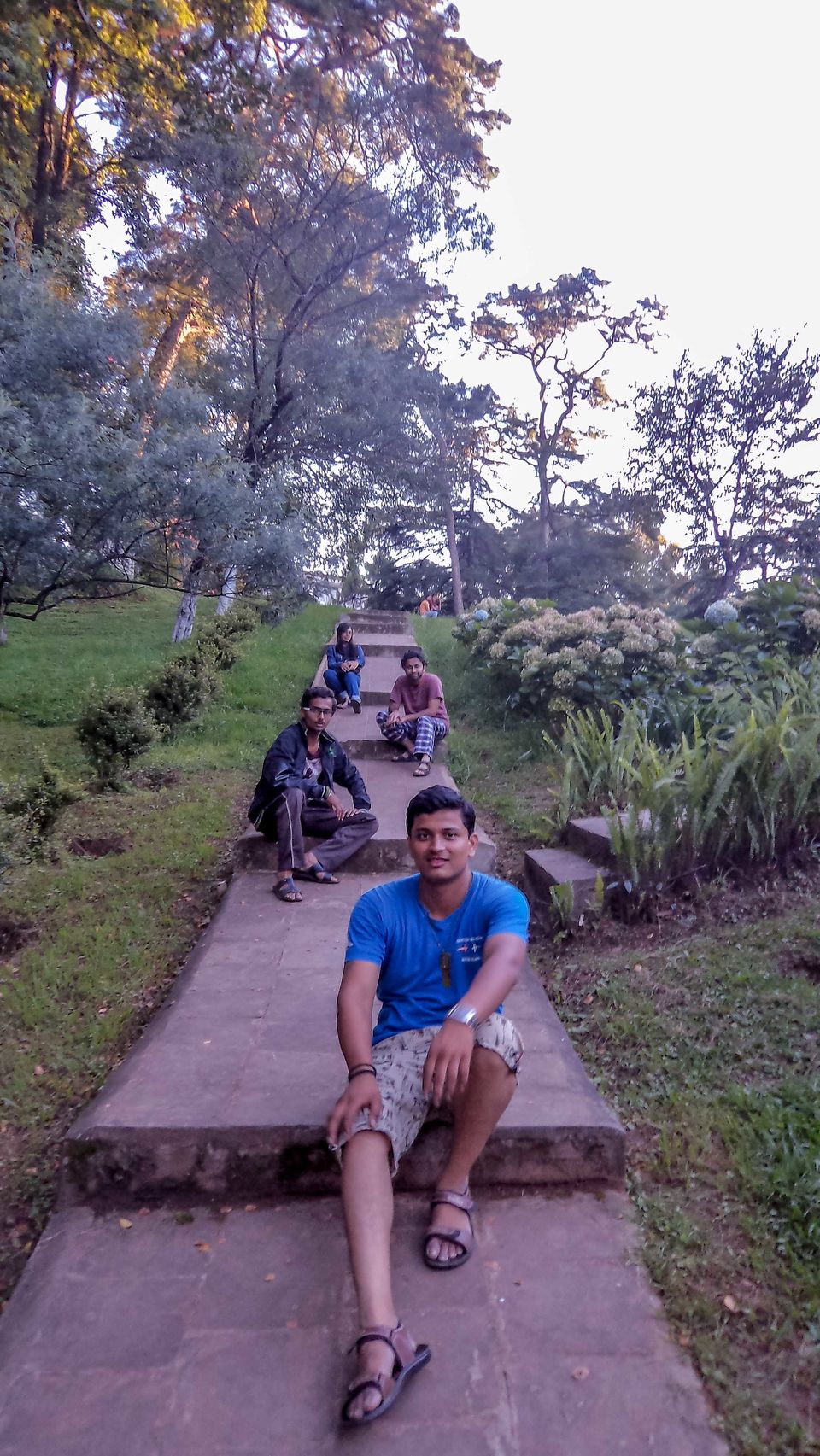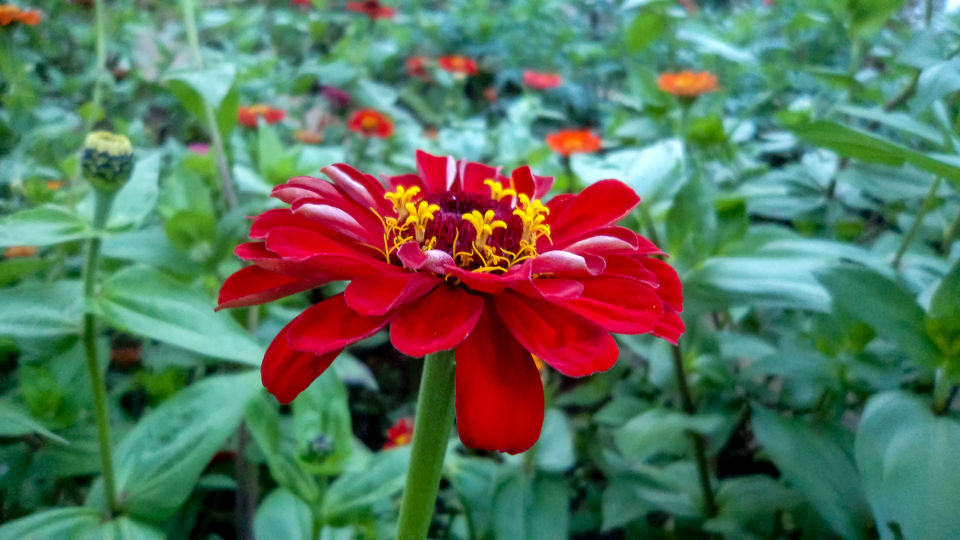 Our enjoyment was not to last long. We received a call from our Local Coordinator, Swapnil Ji, who was assisting us with all the booking and travel information. He was waiting at the Ashram and we had to return.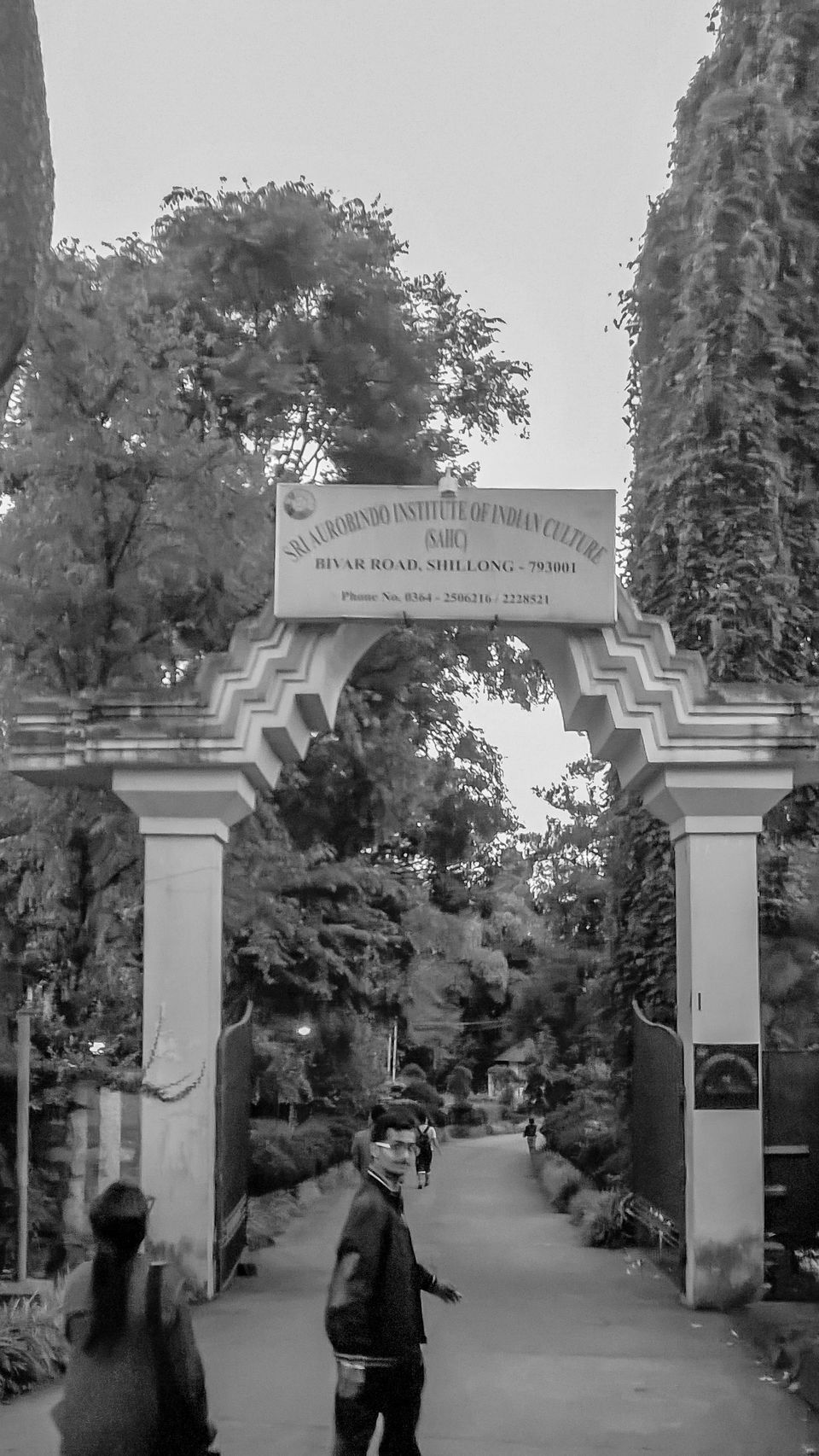 We discussed the plan for the next few days. The six of us were to be split into two groups, of three each. We would be conducting science workshops at two different locations. The one in which I was, three boys, along with Shubham and Rahul, were to go to a place that was 5 hours away from Shillong, towards Bangladesh, while the other group which had two girls were to go to a place that was nearer. The thought of travelling again after four days of continuous travel did not appeal to me.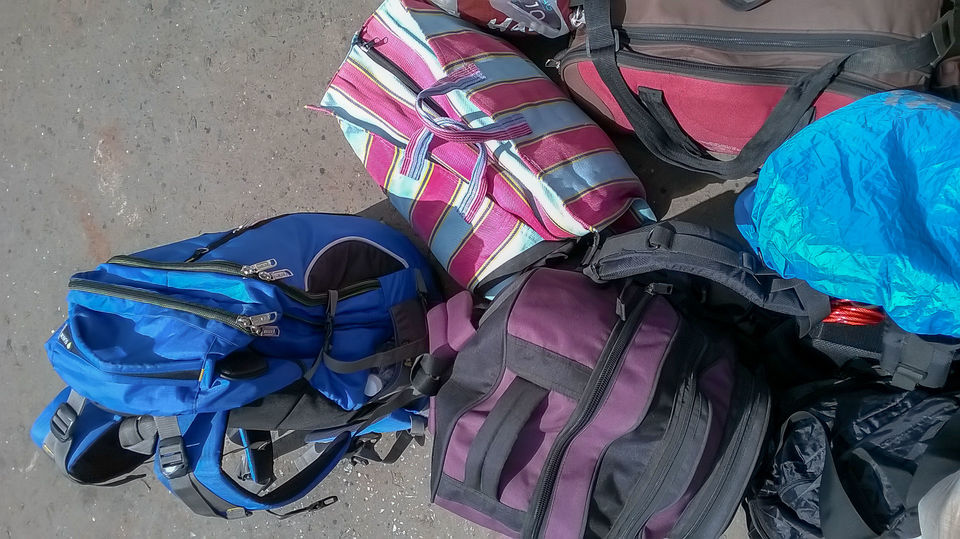 On July 26 morning at 9 AM I was standing at Police Bazar along with Shubham and Rahul, and seven of our bags. A direct cab to Lumshnong, where we three were to conduct workshop, would cost us Rs 3000, which he brought down to Rs 2200. Swapnil Ji came soon and told us not to take a direct cab, but instead to take a shared cab to a point called Khliehriat, and from there to take another. He assisted us get the first cab to Khliehriat.
We reached Khliehriat around 1 in the noon. At Khliehriat our food was arranged at a Mon Maya Guest House.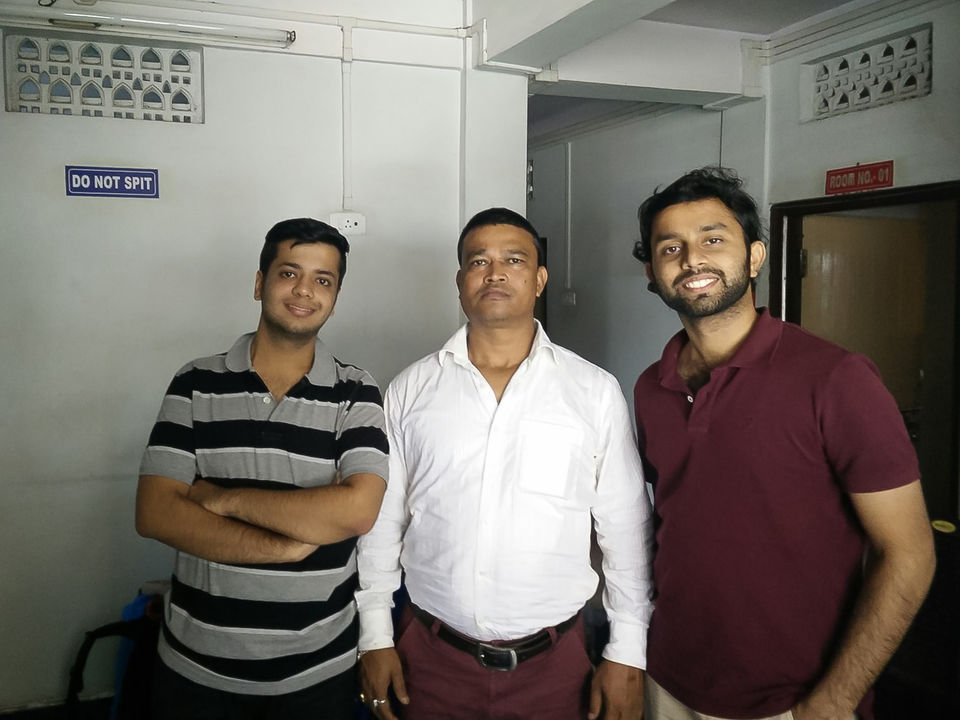 We had a chat with the owner, who was a friend of Swapnil Ji. He talked about his nine kids. He was on a mission to increase the population of Hindus in that region, he said. He said that having more kids forces him to work more, but is also concerned it could lead to fights regarding property later. He gave us a room to freshen up, fed us rice and dal, and then put us in a taxi till Lumshnong.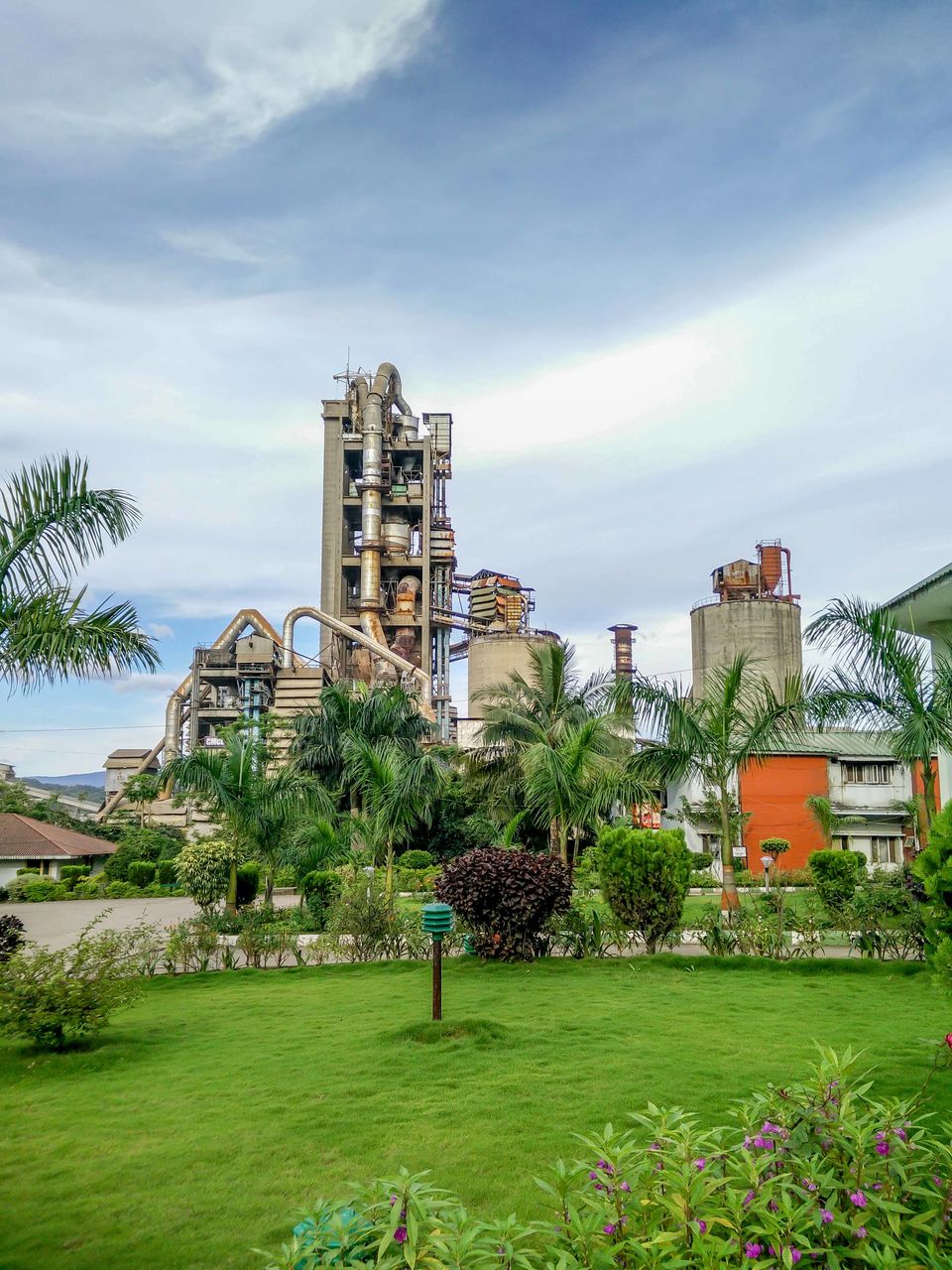 We reached the Star Cement Lumshnong factory by 4 PM. The entire trip, for which the taxi driver at Police Bazar was quoting Rs 1000 per head, cost us only Rs 1000. The area is a community in itself, based around the Star Cement factory, with its own school—where we were to conduct our workshop—hospital, guest house, shops, flats for associates, small huts for the workers, temple and so on. It reminded me of the community that I wanted for build myself.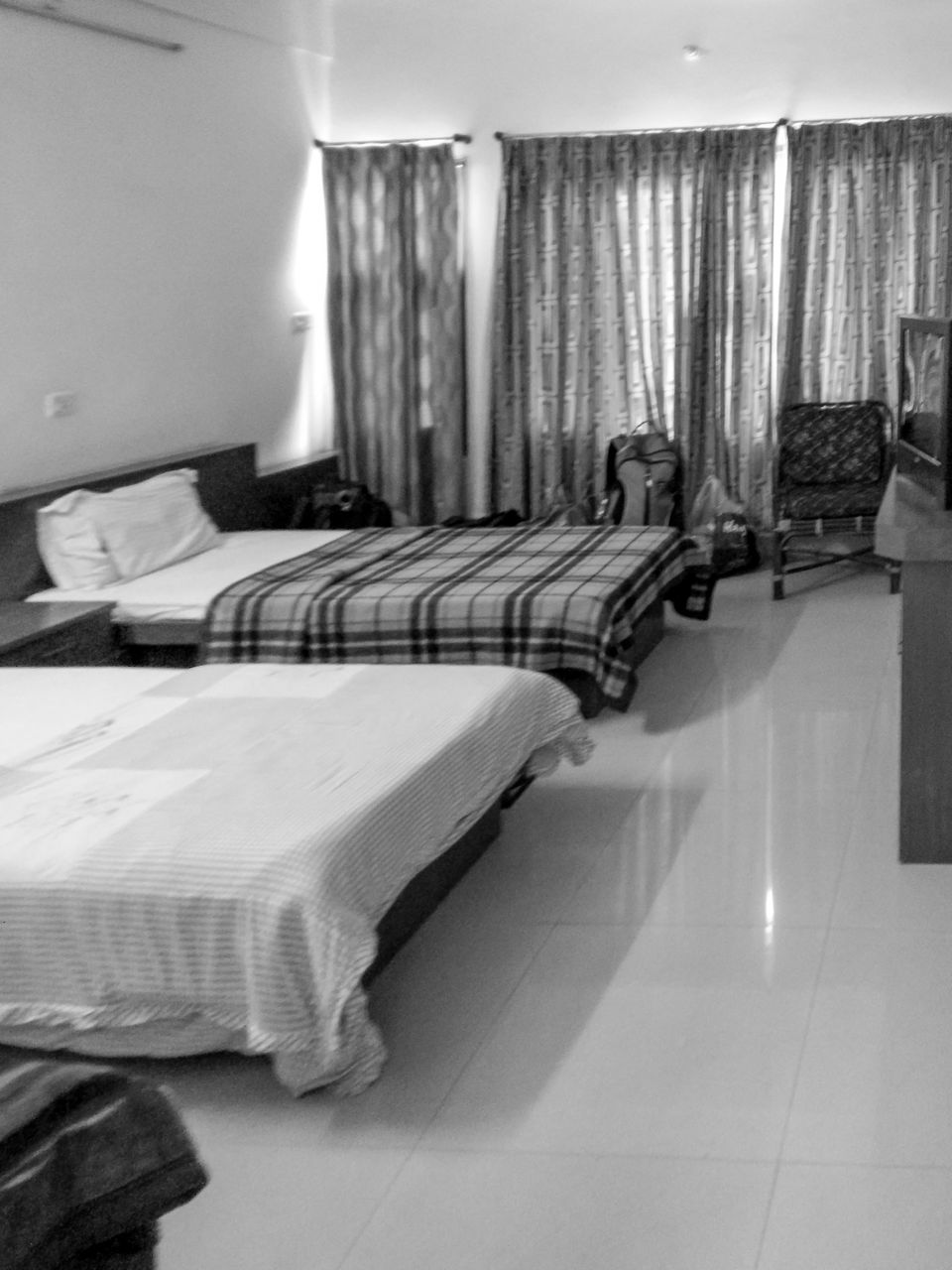 We were allotted a lavish room with three beds and a bathroom attached.
We had an hour long chat with the Human Resource General Manager (HR GM), the School Principal, the Vice Principal, and some other teachers there, over tea and biscuits. The HR GM painted a rosy picture of the school. Later while we chatted with the teachers, we got the actual picture of how the school is. The school had to accept any student whose parent worked for the company, without any screening. Many of the students, come from schools that did not teach in English and hence, understand only half of what the teacher teaches. It was arranged for some of the kids to bring their science textbooks to us, so that we could be accustomed to their syllabus and plan our workshops accordingly.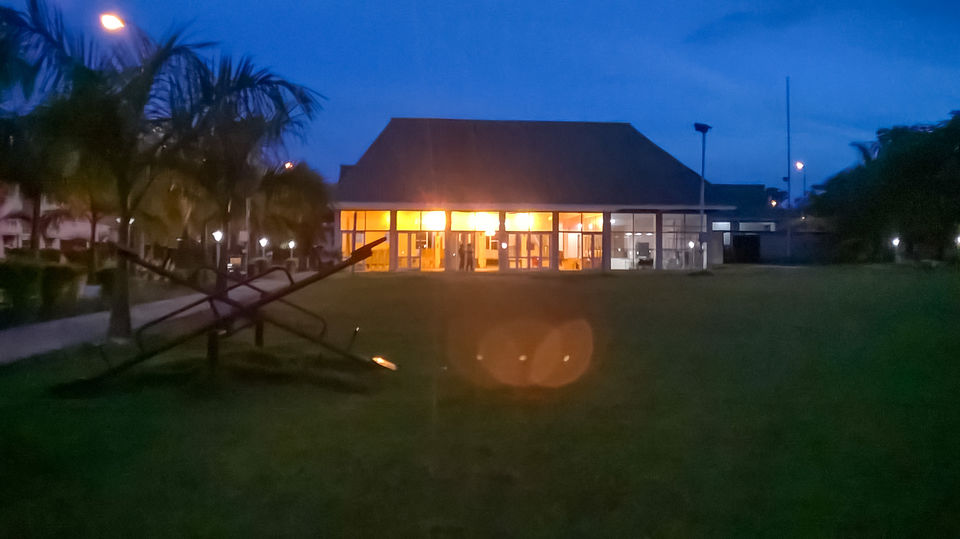 We kept the books back in our room and went for a walk around the company premises. It was beautifully designed. As we stood outside the guest house, the beautiful sunset sky gave a beautiful background to the artificial yellow lights of the factory.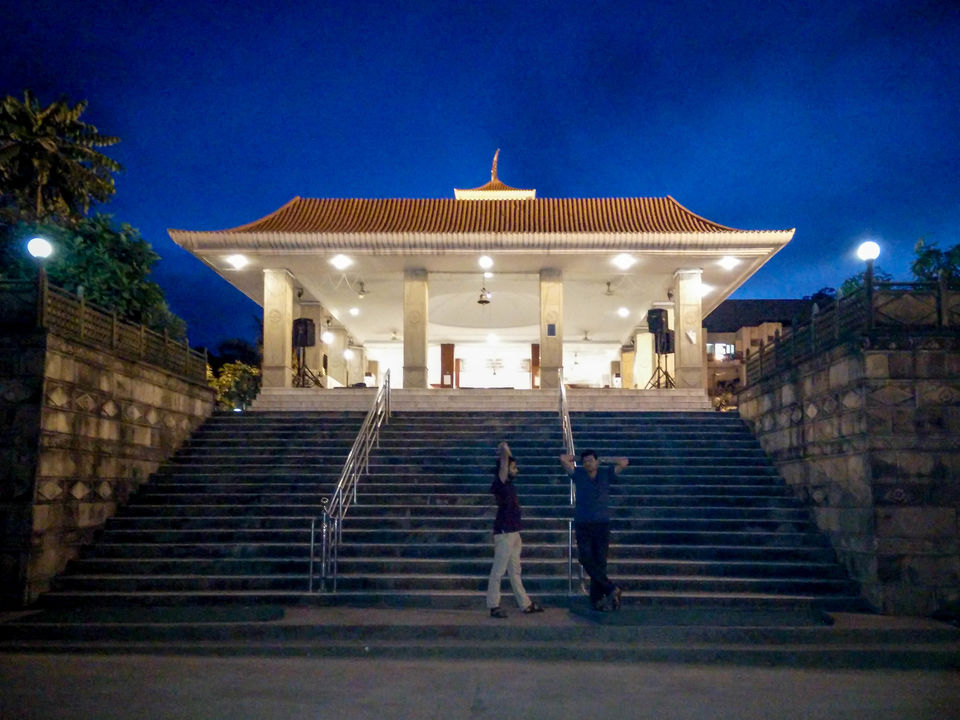 I had a small philosophical discussion with Shubham outside the temple that is within the premise. We talked about what is good and bad, and about god. It started with Shubham's comment that more educated a person become the less helpful he/she becomes. We came back to our room, talked about the portion covered in the school textbooks, and went for dinner in the dining hall within the guest house.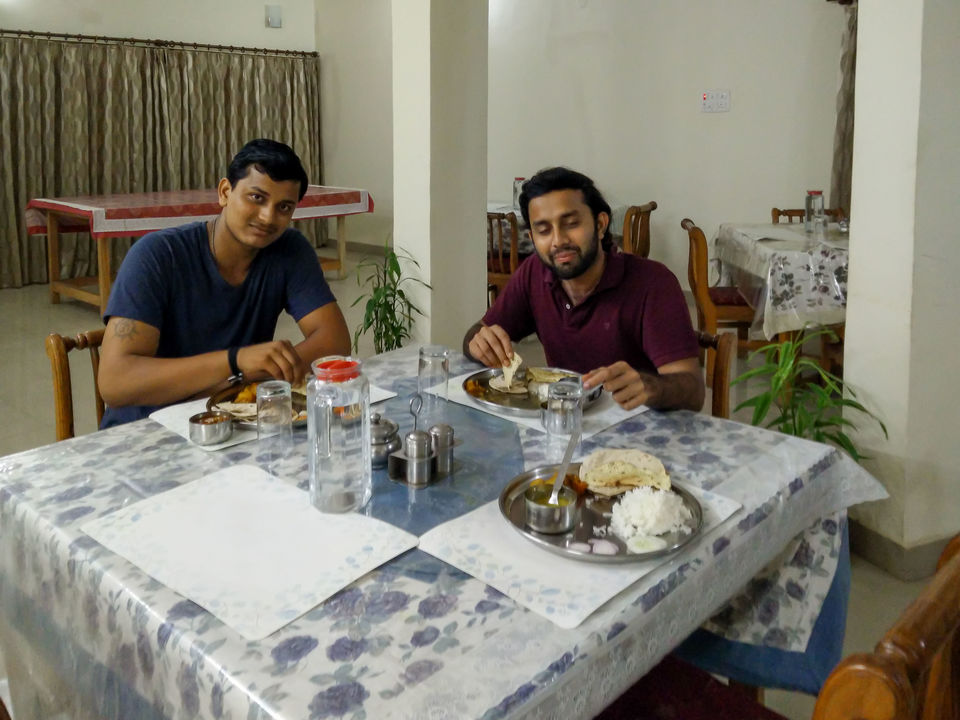 How much of an influence food can have on you, I understood only with that dinner. For the last 4 days I had been having rice and dal most of the time. I was ecstatic when I saw roti, black pepper chicken curry, tasty vegetable curry, rice and vegetable salad on my plate. I was happy like anything, after all, food is a minor sex.
We were so happy that we went out again and joined a group of musicians practicing in a room nearby. We sang with them. I would never have done this if I were in Kerala, but something gave me the courage to sing, once, and then a second time. Energised by the good food and great singing, we came back to our room and resumed our preparation for the next day.
I had a breakfast of triangle paratha, black chana curry and a cup of tea. I ate alone as Shubham and Rahul were getting ready. An elderly man had sat down besides me. To be courteous, I started taking to him. I told him our purpose of visit. He was very interested. Shumbham joined in later and displayed one of our science experiments, the diver, and he was impressed. He introduced himself as Ramkrishna from CGM Project. He offered us to show the factory once he was free.
Before we performed the workshop in front of the kids, the GM HR wanted us to demonstrate the experiments in front of the teachers there. We were tensed. If they did not approve, though less likely so, we would have to return unsuccessful. I revised the experiments that I would have to explain. My stomach was tumbling.
The demonstration went well. The teachers were all pleased and encouraged us in our efforts. So we started for our first class, the sixth standard students.
We started off with a small introduction of ourselves and a song. They were pumped and excited. They do not usually get to meet people from outside, that too from far off places like Pune and Kerala. We started off with our first experiment, which we called Changu Mangu. The aim of the experiment is to separate two balls that are inside two sealed glasses. The students immediately got playing around with it. Within sometime one of the students cracked the secret. They were also excited to see the balls be separated so easily. We added on to the science explained by the students and moved on to our next experiment.
In this experiment the kids had to blow up a balloon, keep the mouth open, and still have the balloon retain its shape. They immediately started experimenting. One of them inflated and kept the mouth balloon on top of the bottle. One of the kept the balloon inside the bottle and tried. We let them play around. After sometime we brought out the magic hat from Pune. We told that only those who had the the magic hat on their heads could inflate the balloon.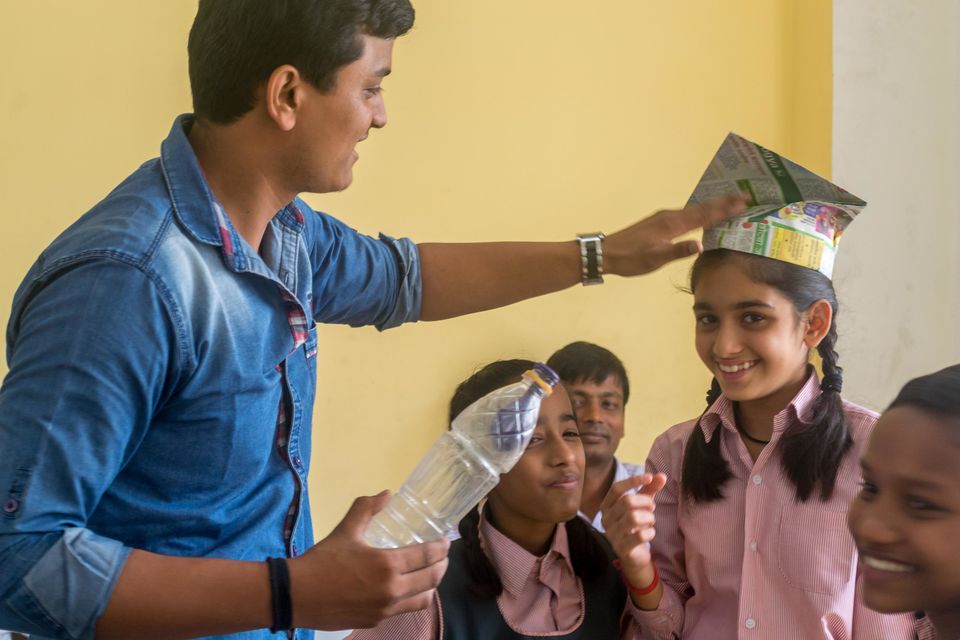 The curiosity of the kids could not be contained. Everyone wanted to try it. So we went on from one kid to another keeping the hat on their heads. They were startled seeing the balloon inflate when they had the hat on, but could not do so without the hat. They were blown out of their minds. They wanted to find out the reason and we could not have been happier. We passed the bottle and balloon around. They all started experimenting till one of them found out the reason, which I shall not disclose here. Try and find out for yourself, or better, join Gyan Setu.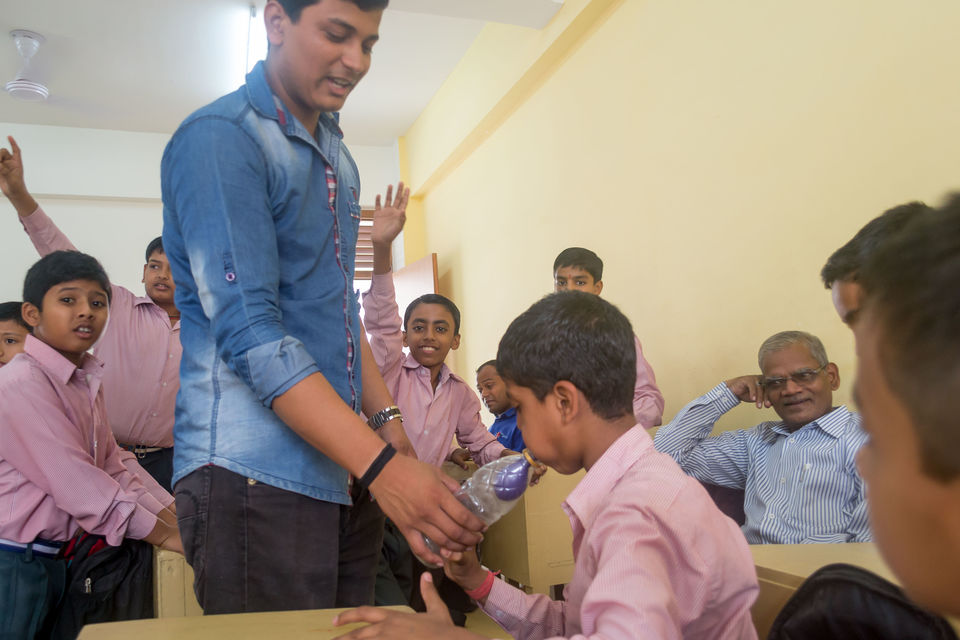 We then went on to our other experiments and demonstrations, such as building eight different hats from a single paper, without even using scissors, and so on. Afterwards we took photos with the students. We then went on to the seventh standard students. We received the same enthusiasm there again. The workshops were the icing of our travel.
The school closes by 2 PM everyday. We completed our workshops accordingly. I stood outside the principals office, with Shumbham, as the kids left for their homes. Suddenly they came and touched Shumbham's feet! I moved back immediately. It was a strange feeling. We had taught them for only two hours. We did not deserve to be kneeled before. We were just like them, 10 years older maybe. I did not feel any different from them. Few years ago I was sitting in their place.
While we had lunch we narrated this interesting experience to the principal. He said that the child is submitting himself/herself to you, and that unless one submits oneself in complete faith one cannot learn.
I took these lines to my heart. I too am a child, of a different school, the World. I am out in the world to learn. I questioned myself, have I surrendered myself in complete faith? I did not think so.
After lunch we returned to our room. I received a call from Ramkrishna Sir, whom we had met during breakfast. He turned out to be an important personnel in the factory. He had set up one of the factory sites and was then in charge of maintaining it. He called to check if we had completed our workshops and were free to be taken to the factory.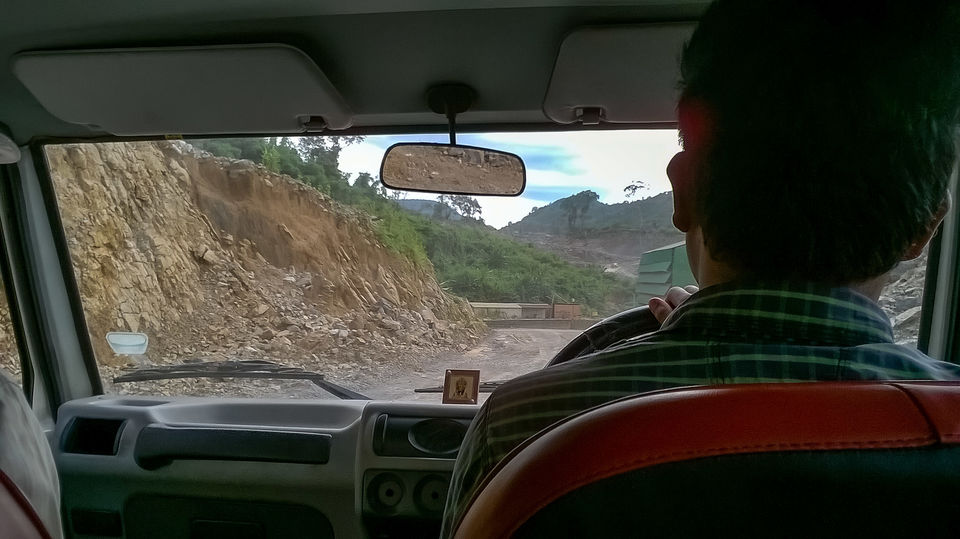 We gladly got ready and went along with him, wearing the company helmet as was required due to safety reasons.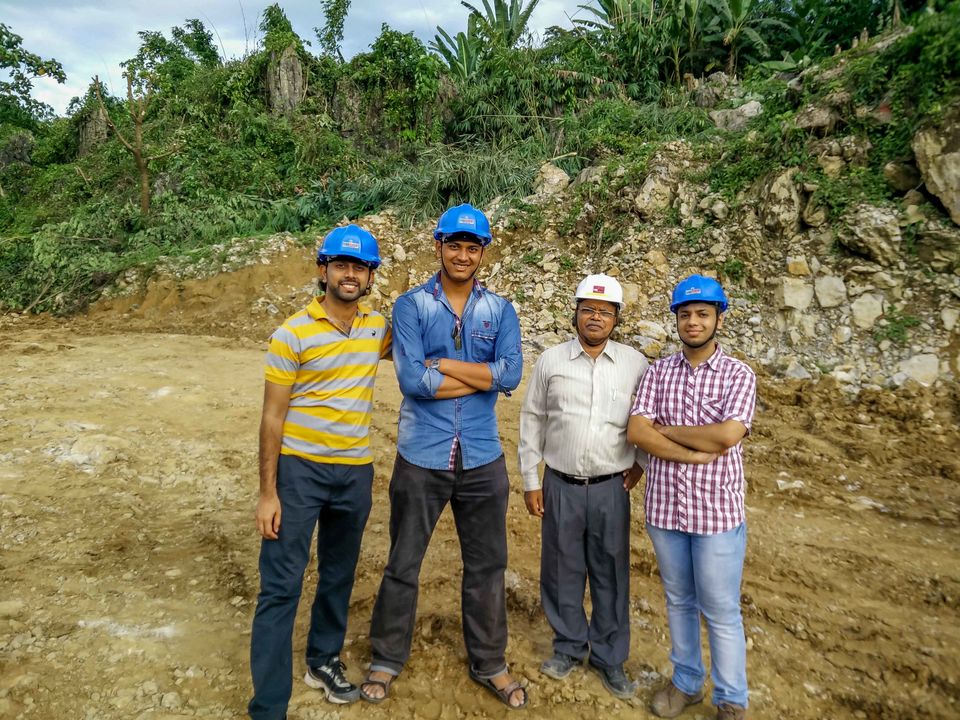 He explained to us the different processes and procedures in making cement. He took us up, from the place where limestone was mined.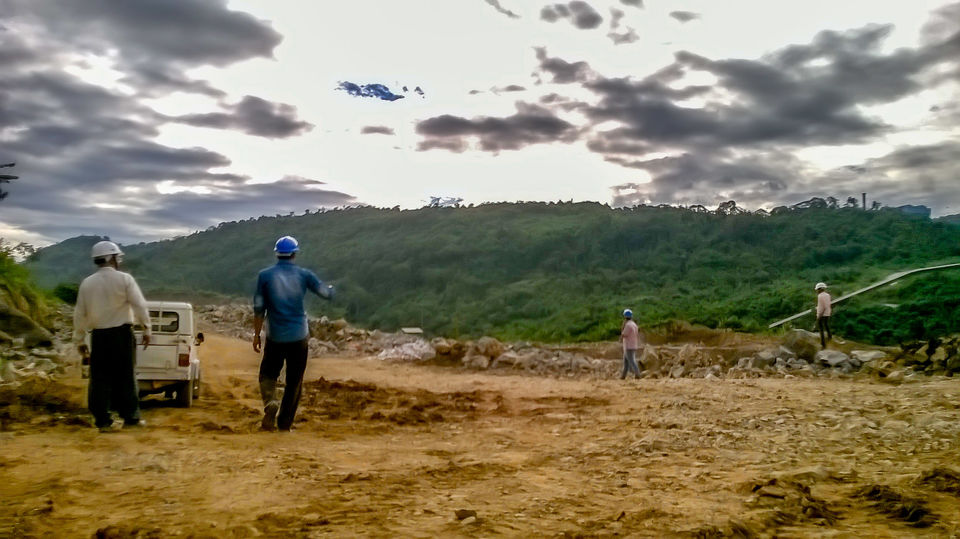 From there he showed us the various building were it was processed at various stages till the final cement was produced.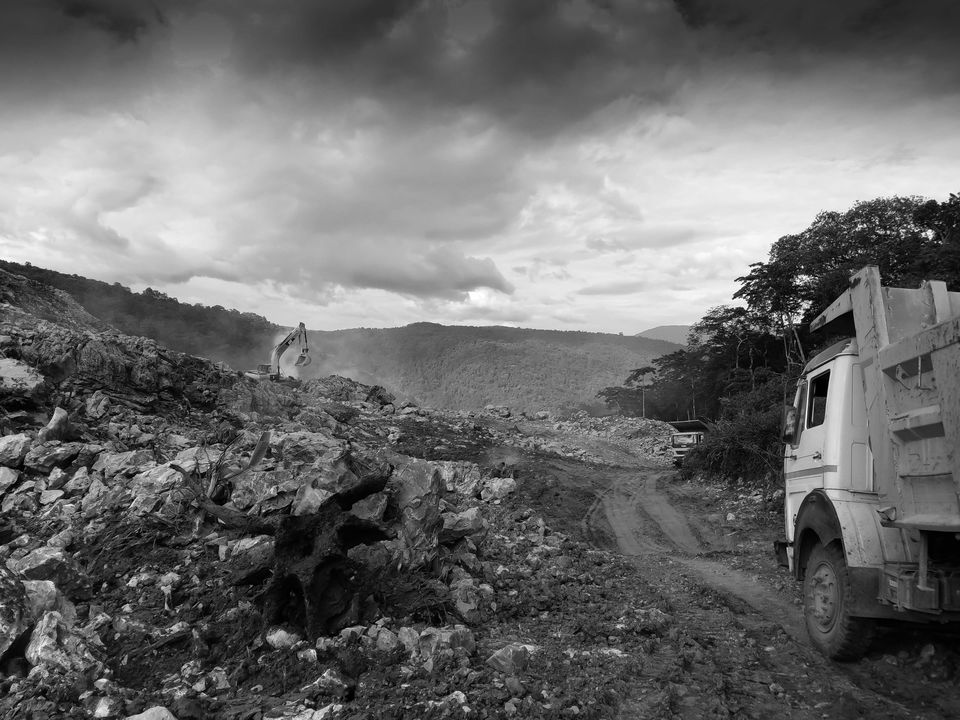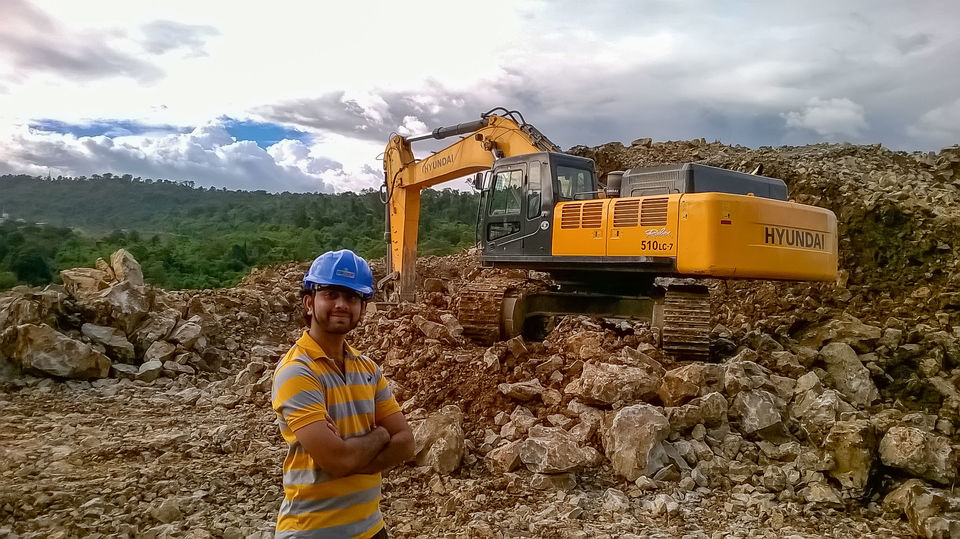 It was a great experience seeing the various systems used.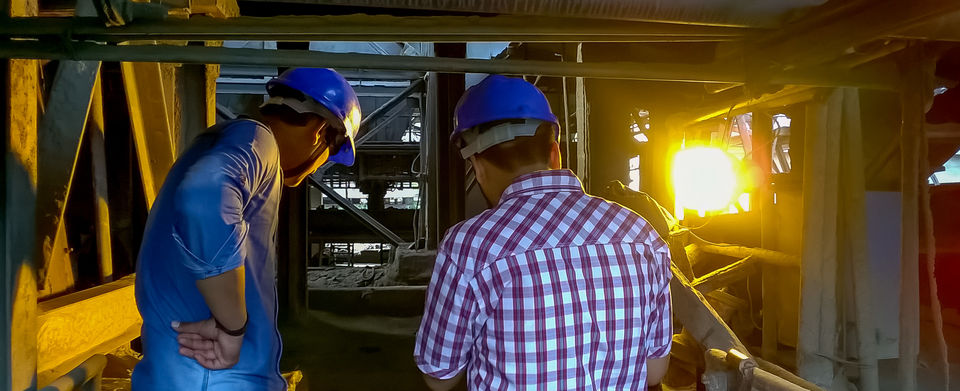 He even offered to arrange the company transport for our return journey.
I was surprised. Out of courtesy I happened to talk to a man who had come to my table during breakfast, who later turned up to be an important person who could arrange free transportation for us, and who could show us the entire factory. I do not believe anybody else would have had the access or time to do the same. What a coincidence! Or was it? I guess that was surrendering myself to the world, to myself, to my teacher.
The next day's workshops too went as well as the previous day. I had differences in opinion with Rahul regarding the way of teaching, and on the topics. Rahul is a person who would go by the book. He followed things exactly as it was written in the guide book from Gyan Setu. I tend to take things more lightly, trying to experiment things outside the book.
While in school and college, I was angry at people like Rahul, who could not see things the way I saw. I was angry at them for not being courageous enough to experiment. Looking back now, I think I was jealousy at their systematic approach too. To them I would seem aloof; looking from a certain perspective, I am. I do not know why I am so, I do not know what I am like, and so I was angry. I found myself actually fighting my inability to get what I wanted.
The incident was of particular importance because I found myself seeing all the people like Rahul in Rahul's face. He reminded me of all whom I had hated for going by the book. I realised then that as long as I did not do something about it, every other person who goes by the book, would only add to that list and invoke the same anger in me. I forgave Rahul for not being like me, for not being able to see the way I saw, I forgave myself for my childishness that wished everyone to see through my eyes. I forgave, and it felt good. After that I did not have a strain whenever I had a difference in opinion, and I think that is going to help me in my future too.
In spite of our differences, the workshops were really good. We took one workshop for the eighth standard students in the morning, and another one for the ninth and tenth standard students together in the second half.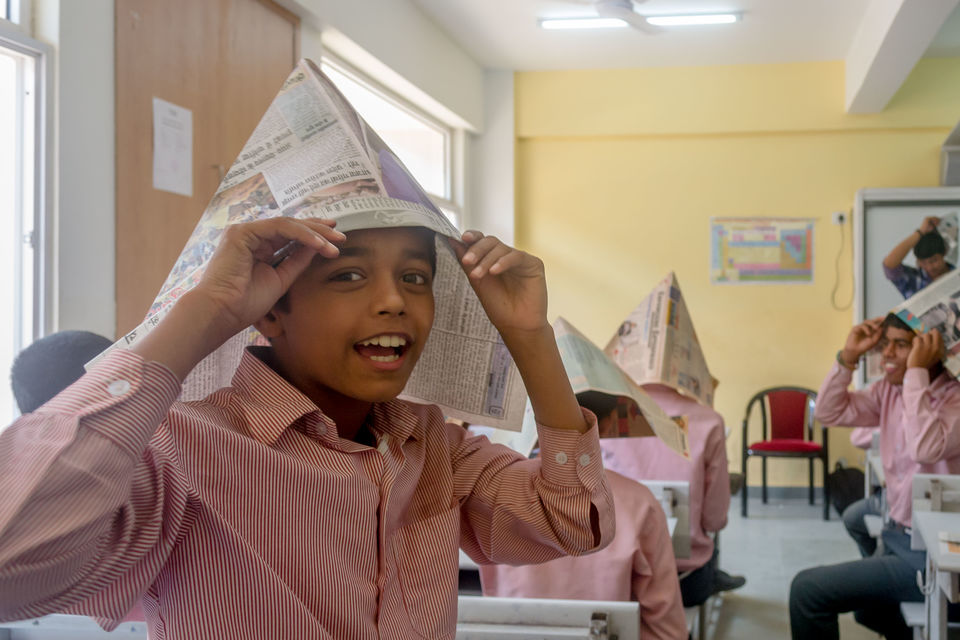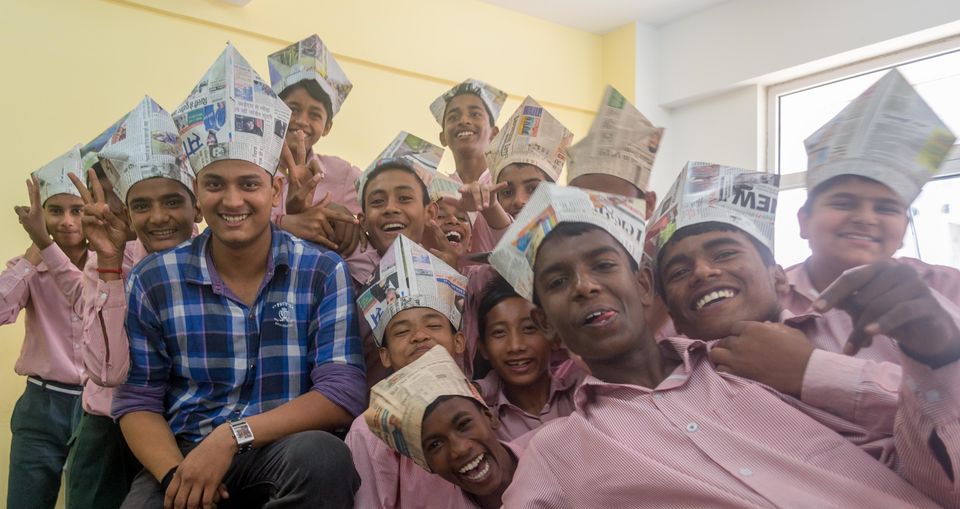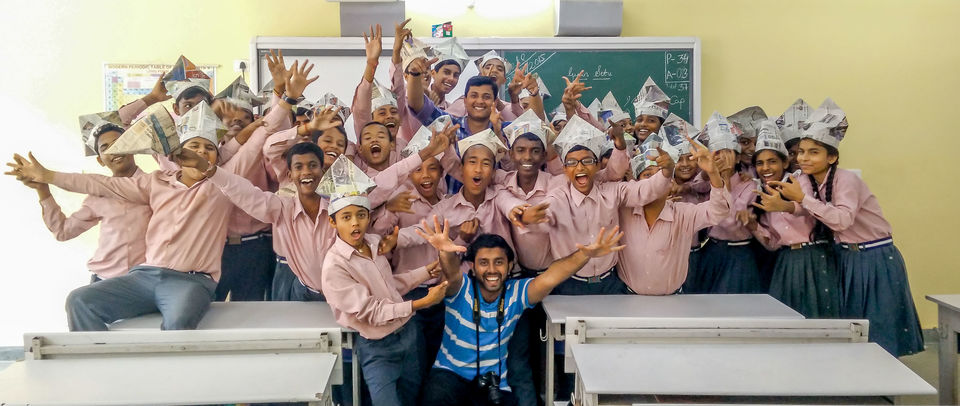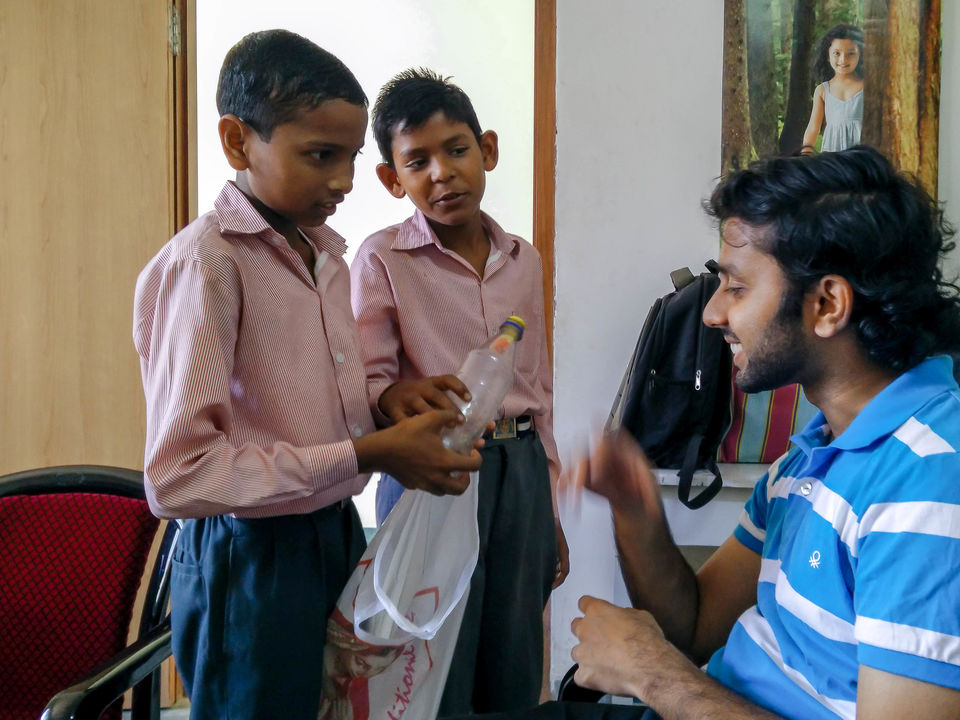 An interesting thing happened during the break between the two workshops. As we sat in the principal's office having tea and biscuits, two of the students whom we had interacted with yesterday came to meet us. They had recreated the experiments and had brought it to show us. They did not have balls to make the Changu Mangu experiment, so instead they wrapped two stones in paper instead. It felt good. It felt really really good. I felt the pride of a teacher. I understood the smile that I had seen on teachers' faces. No, I was not understanding, I was living. I was living pride of a teacher.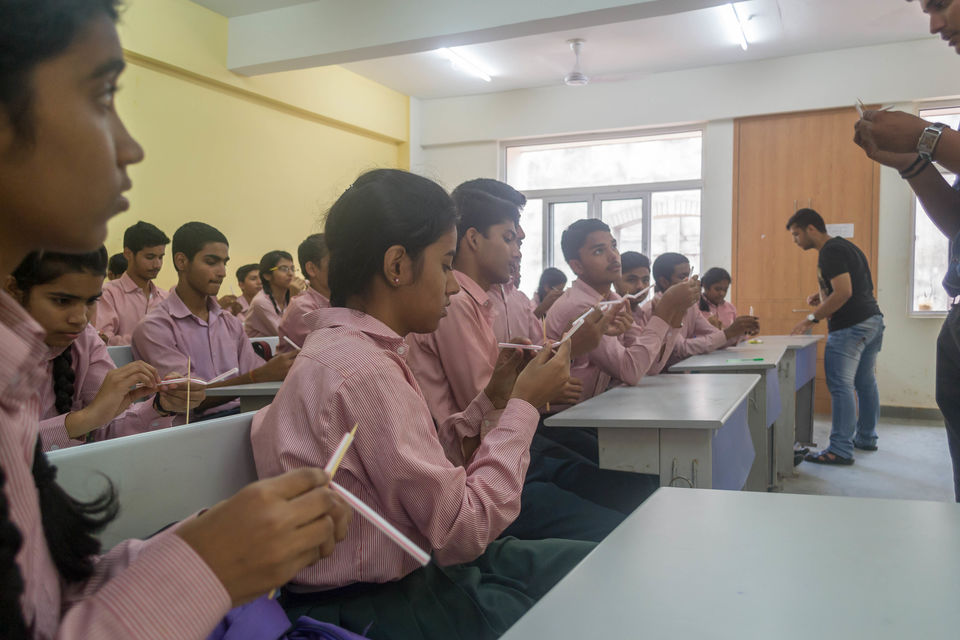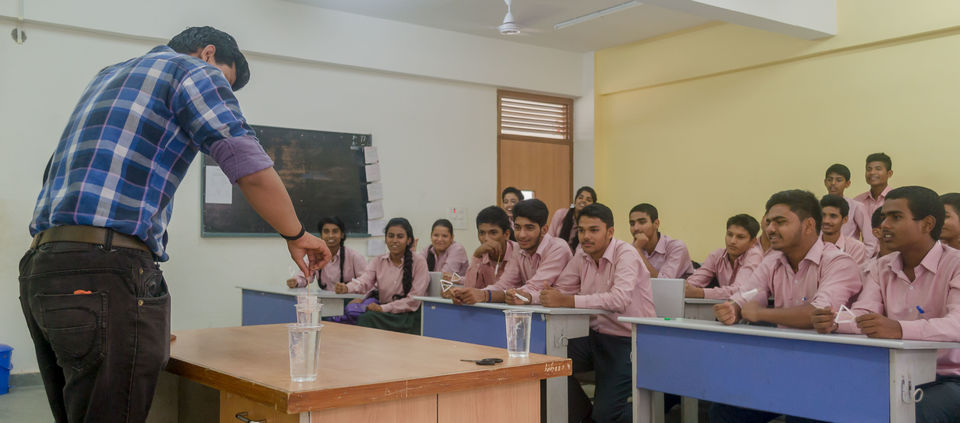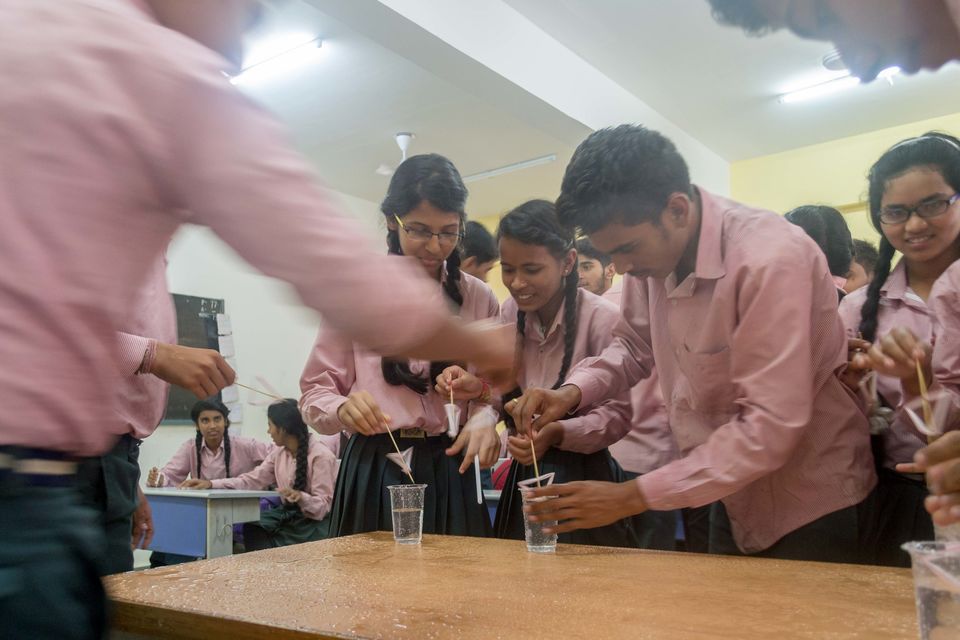 In the evening we went around the campus again. We met many of the students. We sat near the temple late into the night and left for the room only around midnight. It was a beautiful starry night, with a good chat, with good friends.
We started from Lumshnong at 9 AM the next day, in the company transport, a Tata Winger. We had lunch from Start Cement Dhaba near Bada Pani on the highway. From Bada Pani we took a yellow Mahindra Maxx taxi and got off at Shillong for Rs 20 per head. From there we took a taxi to Aurobindo Ashram for Rs 100. We reached the Ashram around 3 PM.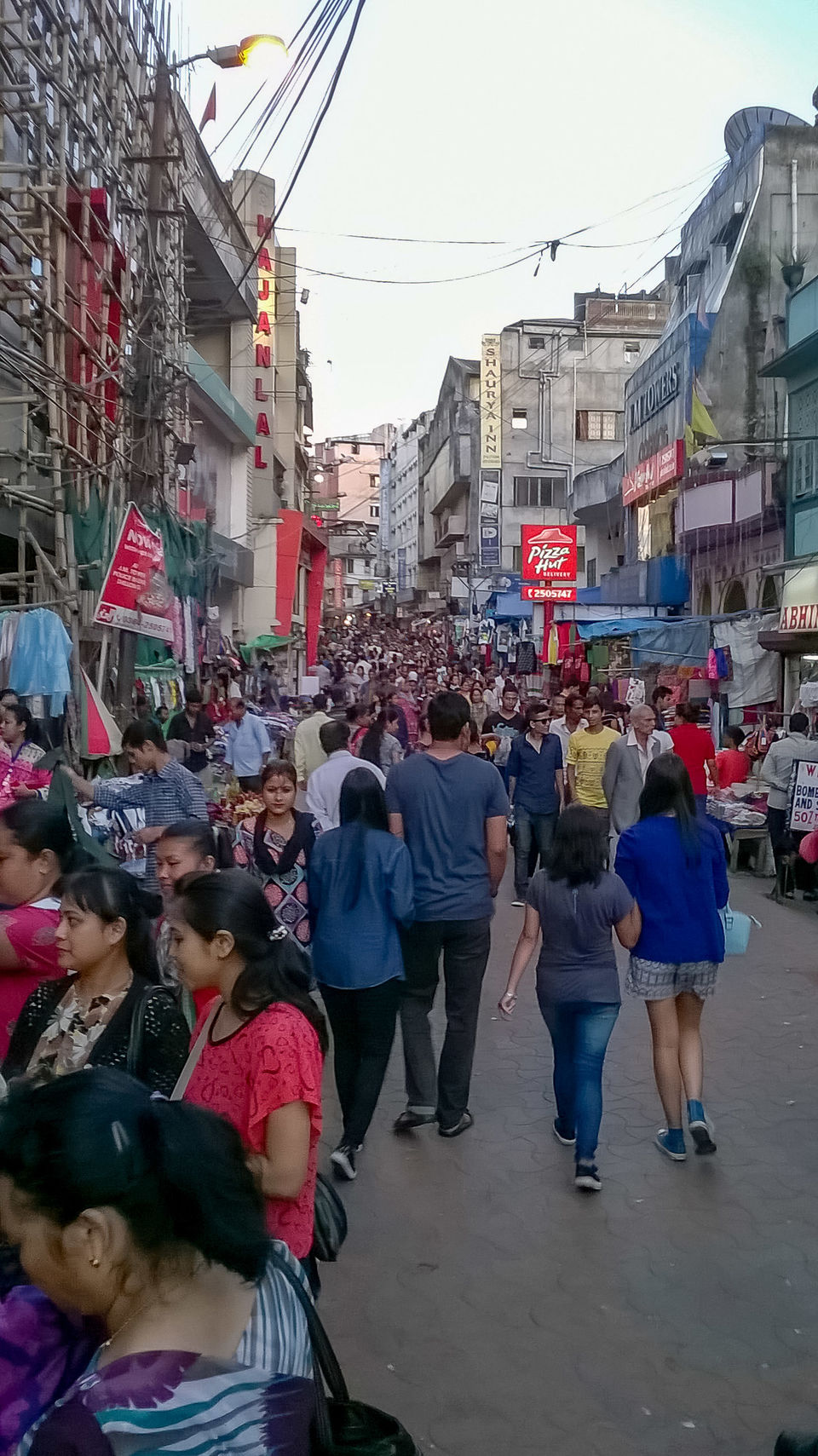 The other three—Shruti, Ashwin and Sakshi—had reached the previous day itself after completing their workshops. They had spent the day roaming around Police Bazar. We planned to roam do some shopping after tea. I felt tired after the six hours journey and wondered how I would travel throughout India in this condition.
We went around the main town and markets there. We had dinner at a restaurant called City Hut Family Dhaba.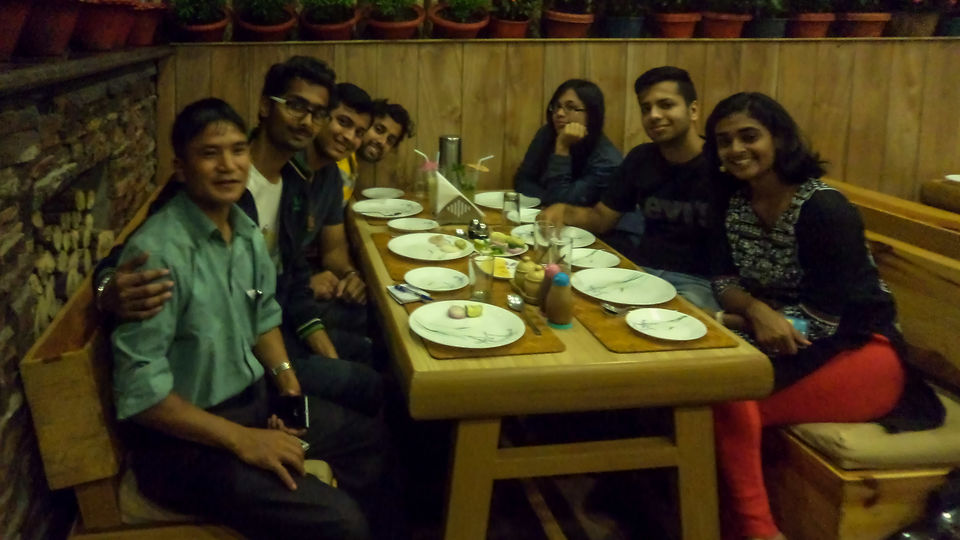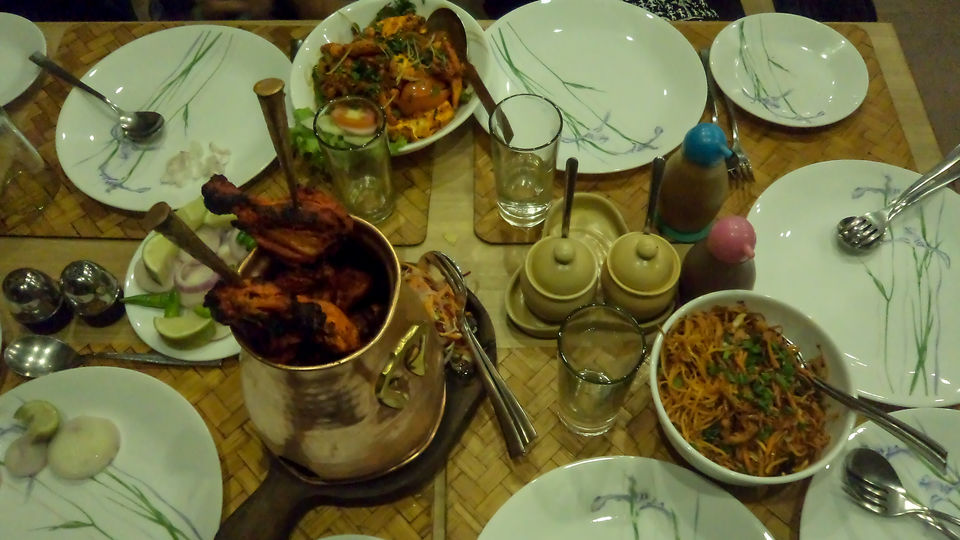 The other three narrated their experience conducting the workshops. Our experiences were worlds apart. The kids they had were very shy and took a lot of time to open up, while our kids were eating our brains. We stayed in lavish rooms while they stayed in the small huts of the teachers. We ordered food from the canteen, while they had home made food. But at the end of the day, we were happy, so were they.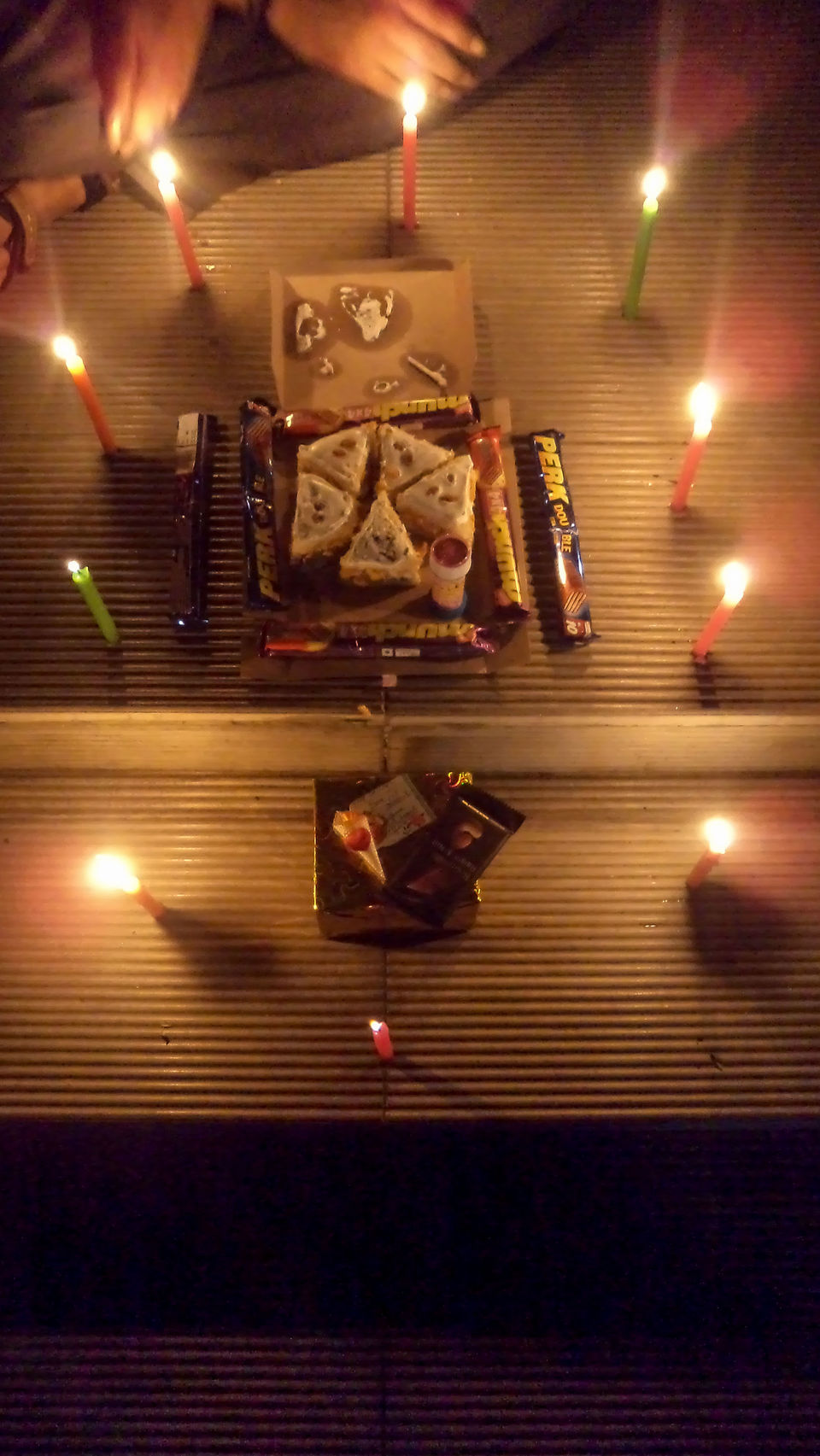 The next day was Rahul's birthday. The five of them had bought a cake and some candles and surprised him in the middle of the night. Happy birthday Rahul! In the morning we started for Cherrapunji, in a taxi arranged locally.
The first of the spots was called Green Valley.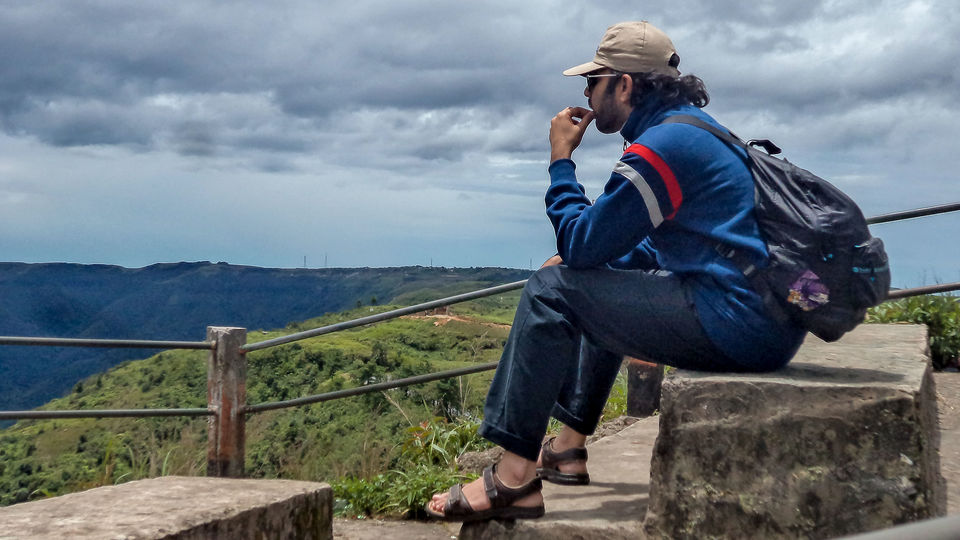 What a feeling it was to just sit there and enjoy the view!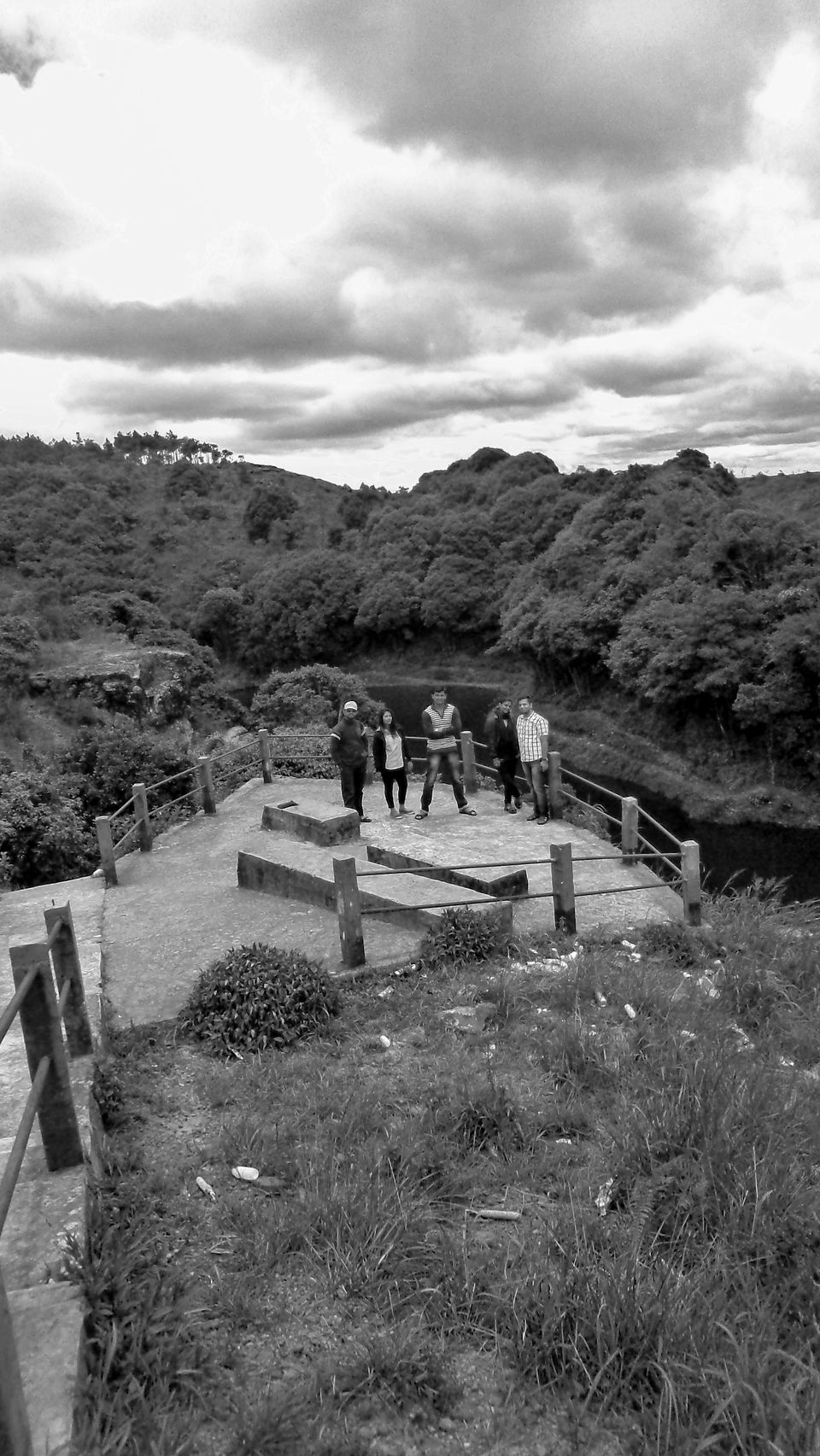 The next spot was called Duwan Sing Syiem View Point. It offered a beautiful view of the valley. I waited for some sunlight to light the valley.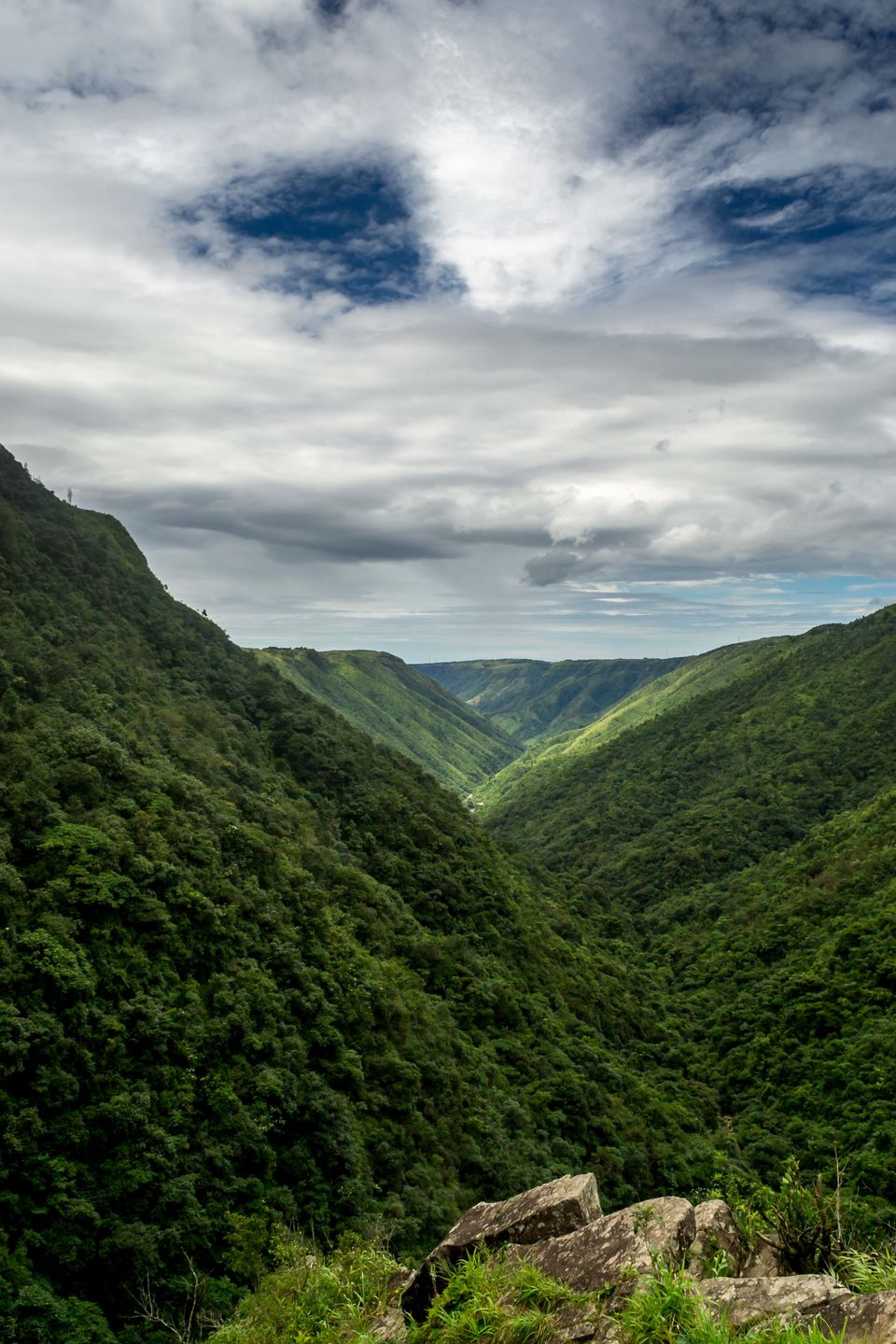 While I was busy waiting for the sunlight, behind me this was happening.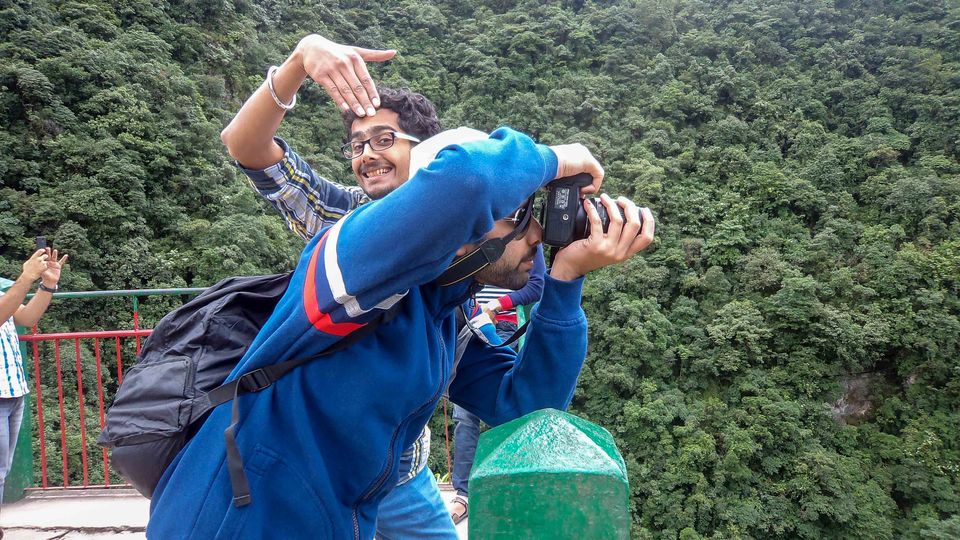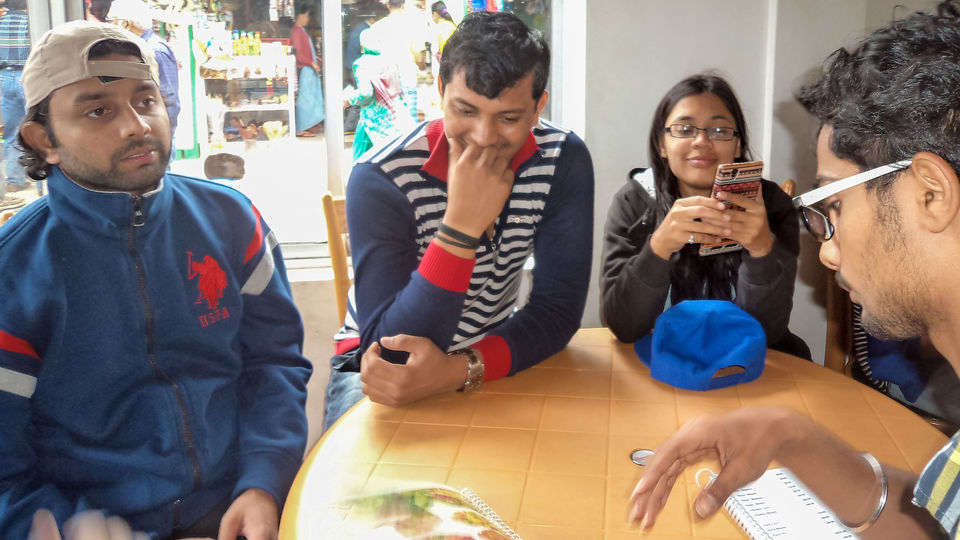 We had a light breakfast outside the viewpoint. Though it was not that cold, the cool breeze was too much for my heat accustomed body from Kerala. The short T-shirt I wore was letting too much of the breeze hit me. Thankfully Shubham had a sweatshirt.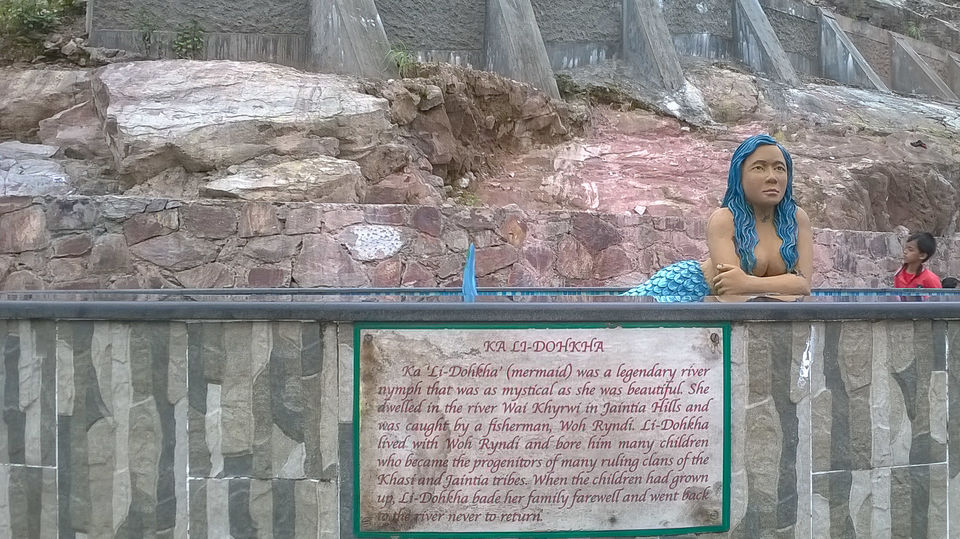 Outside the cafeteria, where we had our breakfast, was this amorous status. I stood and watched its beauty and read its story.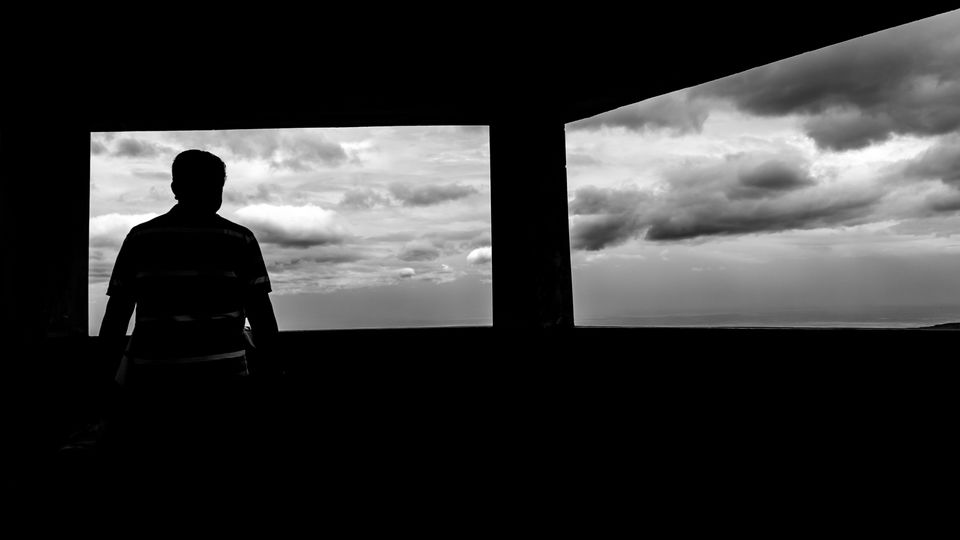 The next spot was called Wahkaba Tourist Spot. I saw this shelter and moved in to get capture a good frame. I was adjusting my exposure and framing the view of the clouds, when this man walked into the shelter. Click!
The valley, at the far end, in this photo is Bangladesh! The small houses in between is the village of Cherrapunji.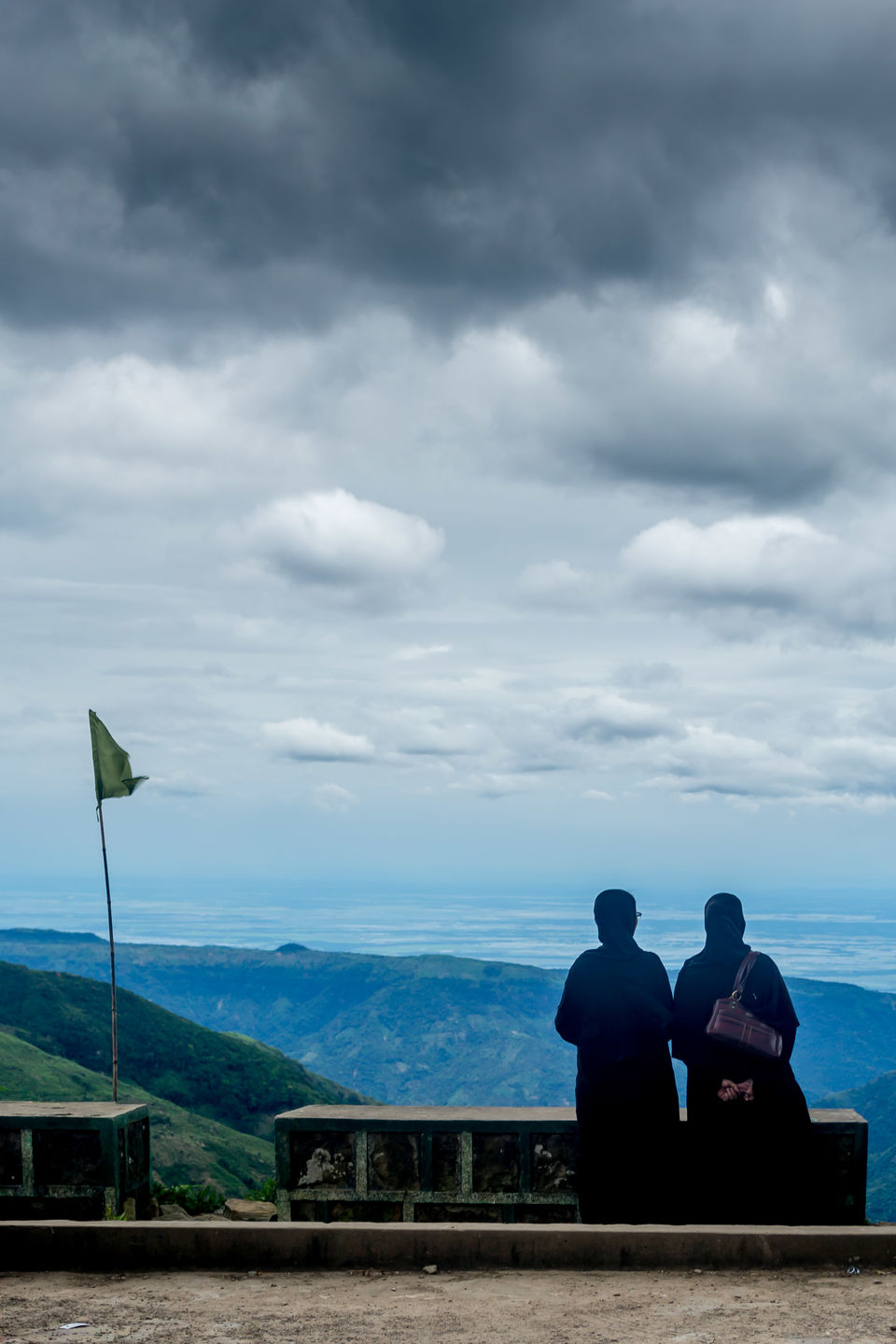 I saw these two ladies in burkha stand and enjoy the scenery. I instantly captured it.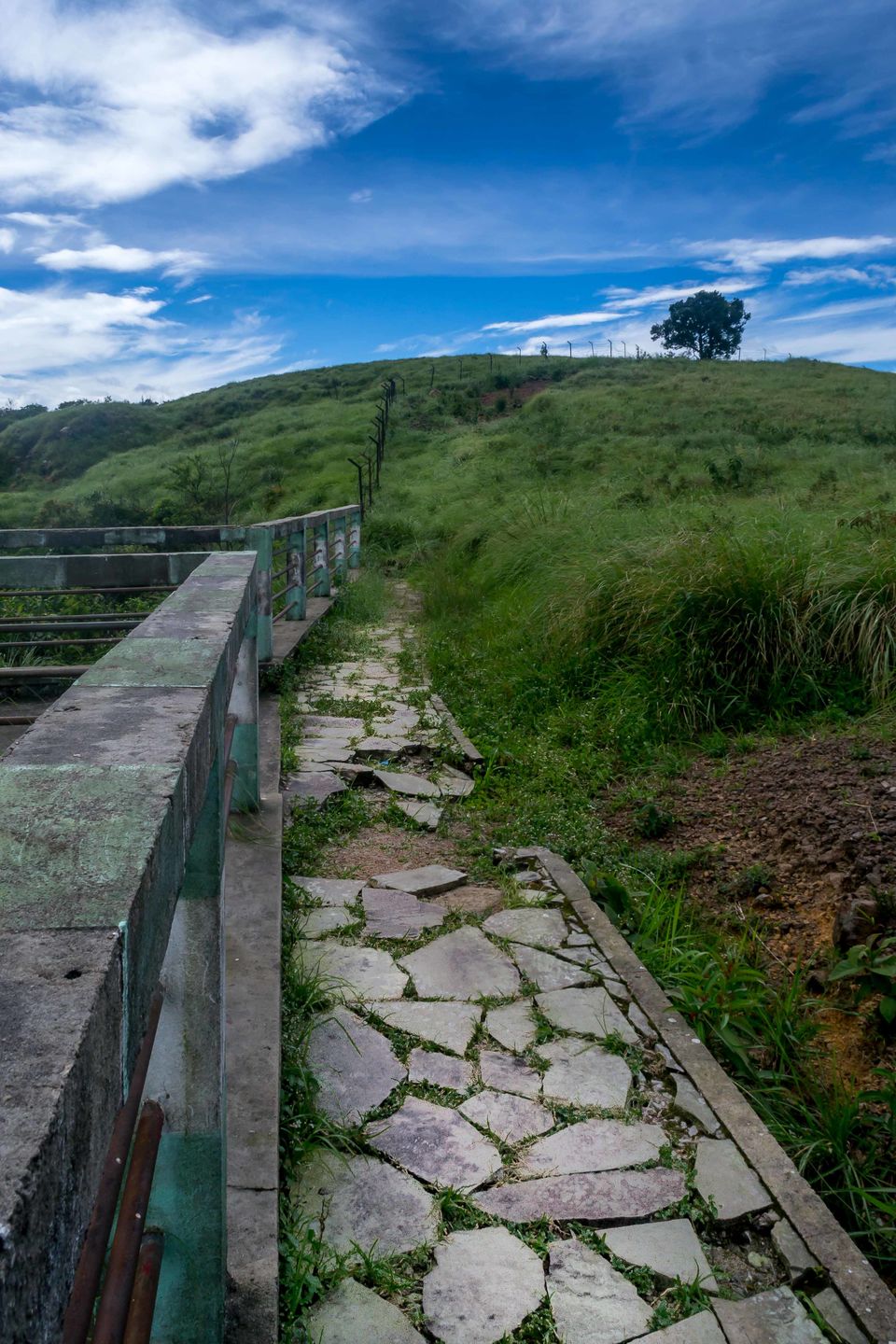 The next was the Eco Park at Mawsmai. It too offered a great view of the Bangladesh plains.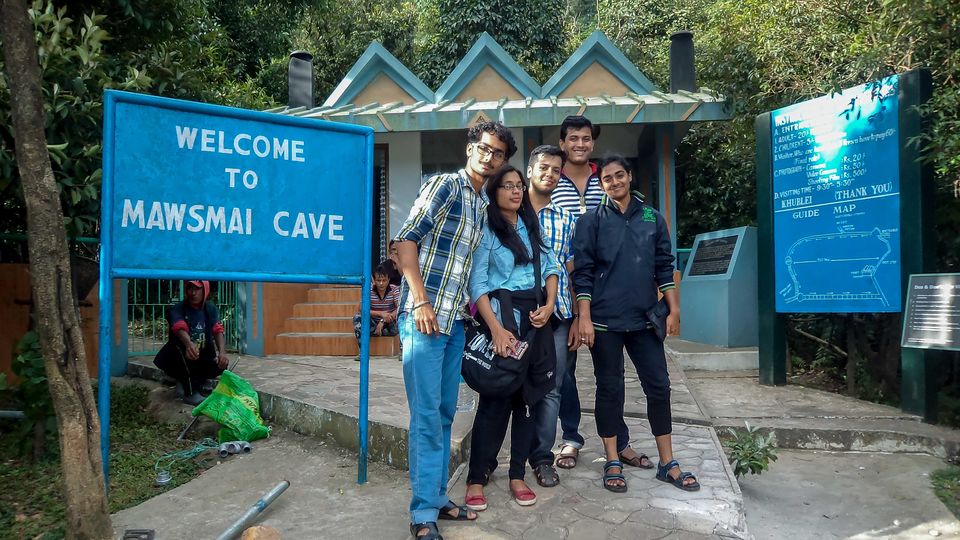 After Eco Park came a place that scared me. It was called the Mawsmai Caves. Initially I thought it was just something you go in, see and come out.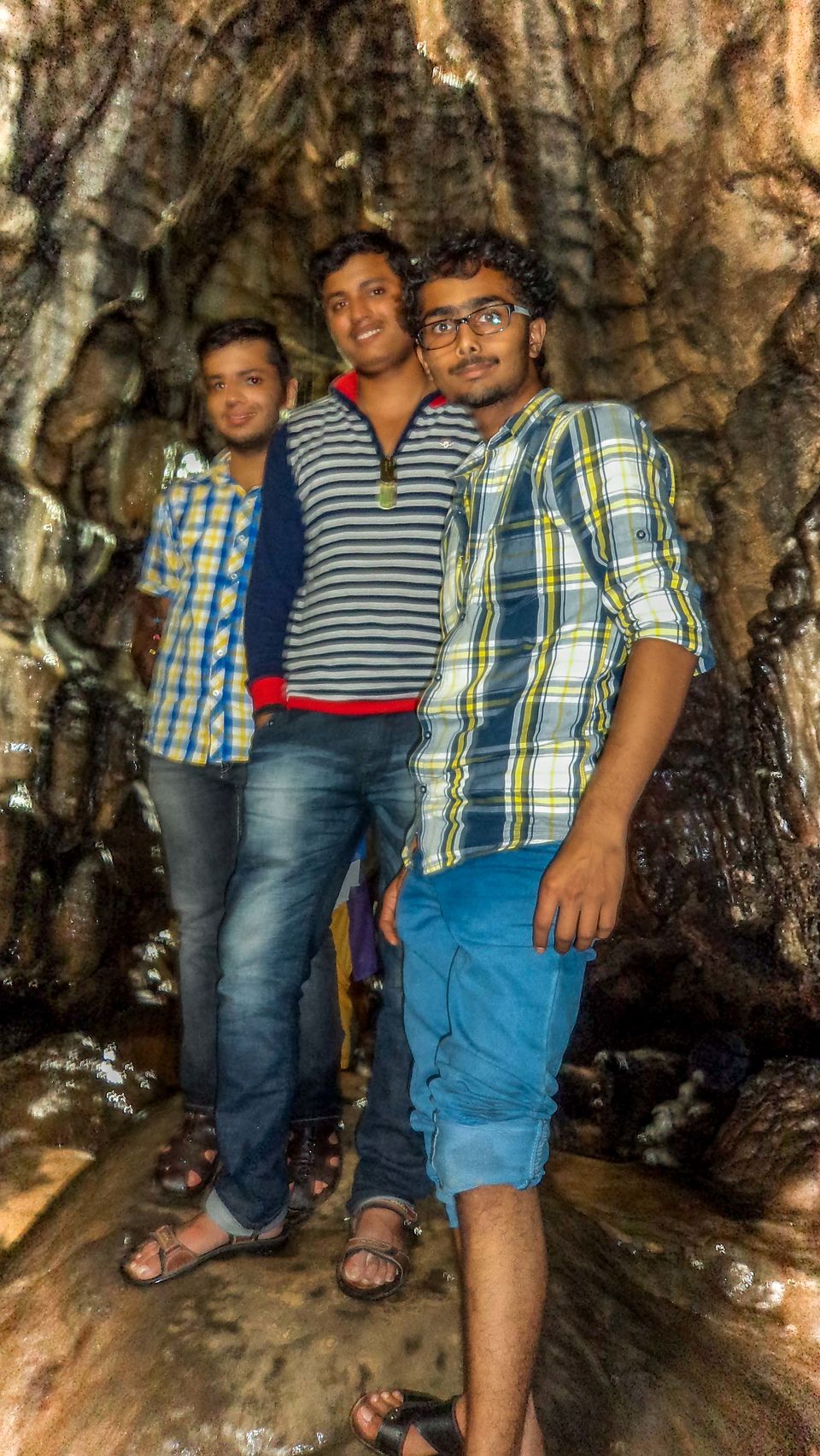 Then I realised that it was a cave system where you had to walk in from one entrance and walk out from another! Standing in a closed lift gives me shivers at times. Walking into a cave with huge rocks on all four sides, with just space enough for one to walk, even crawl at times, was not an encouraging thought. Seeing the five of the others go ahead, I thought, what the hell. I went in.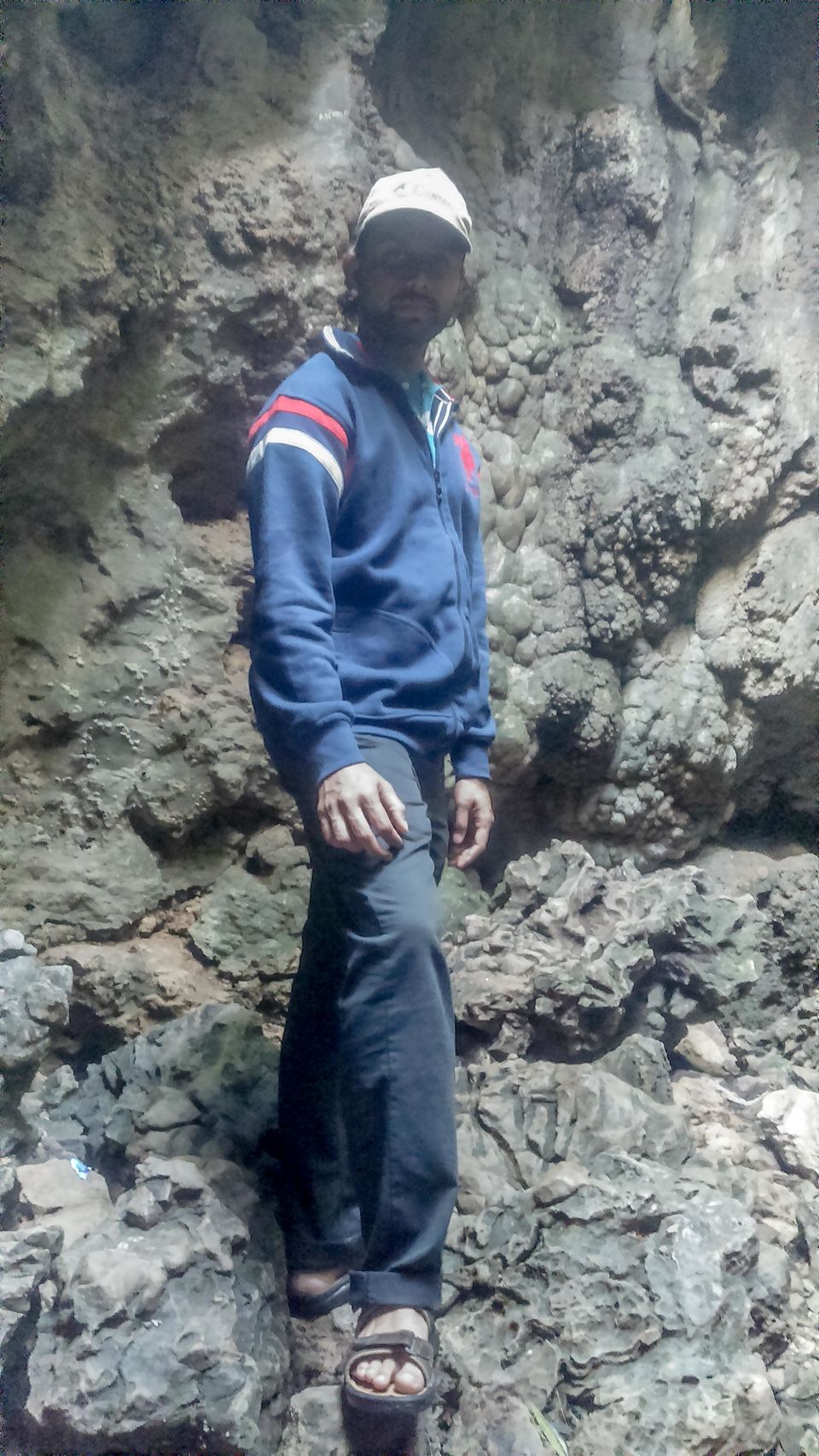 The rocks were slimy, the floor was slippery, and the entire place stunk like any other water logged area.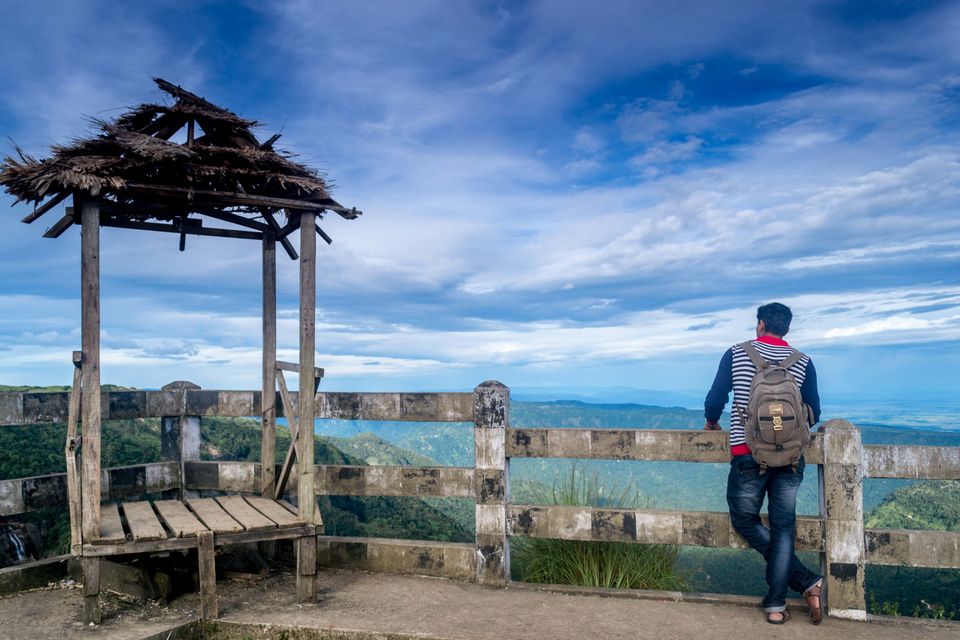 Looking at the Seven Sister Falls.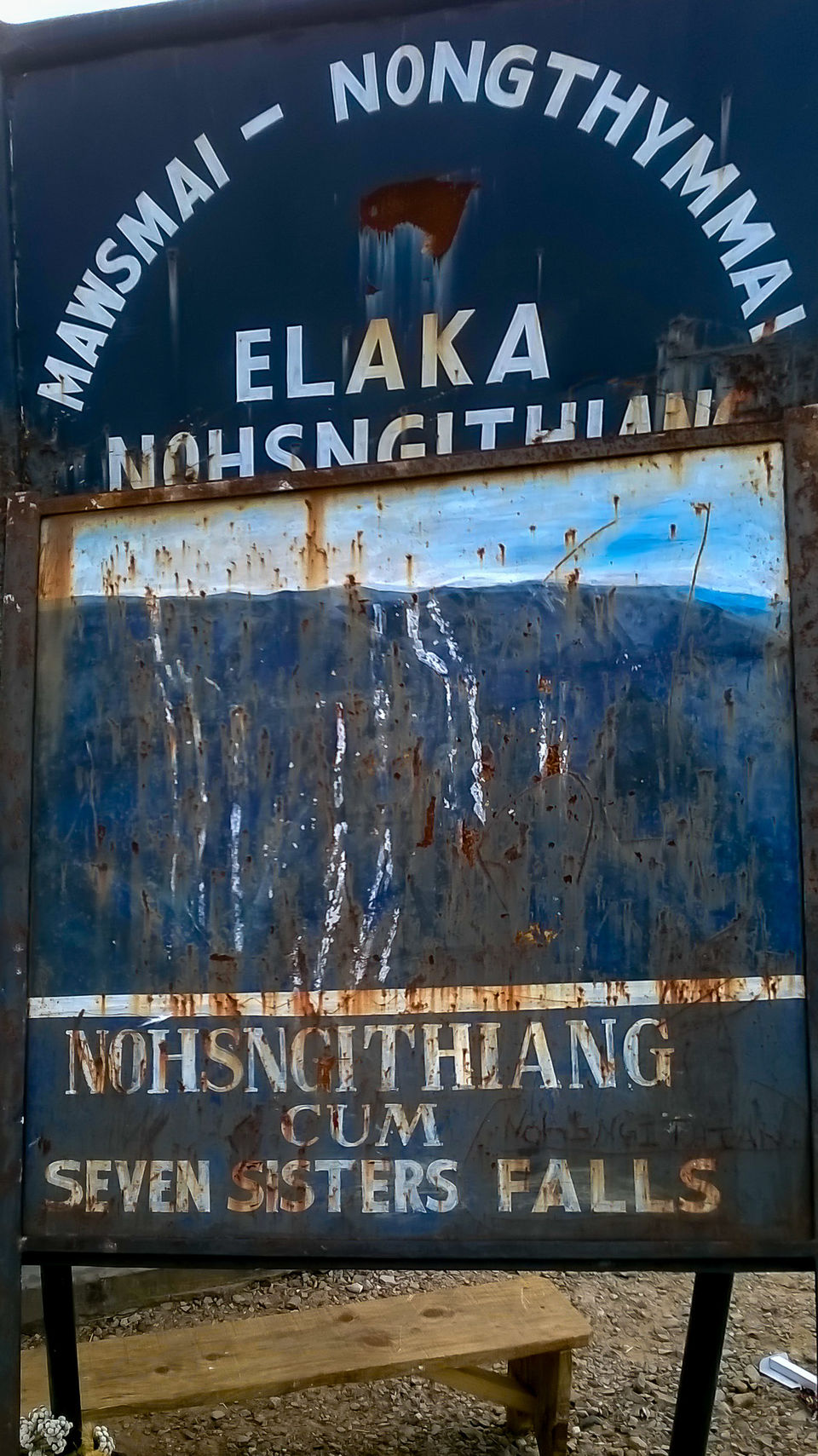 We saw only two or three falls of the seven. We could only find trails where the others would flow.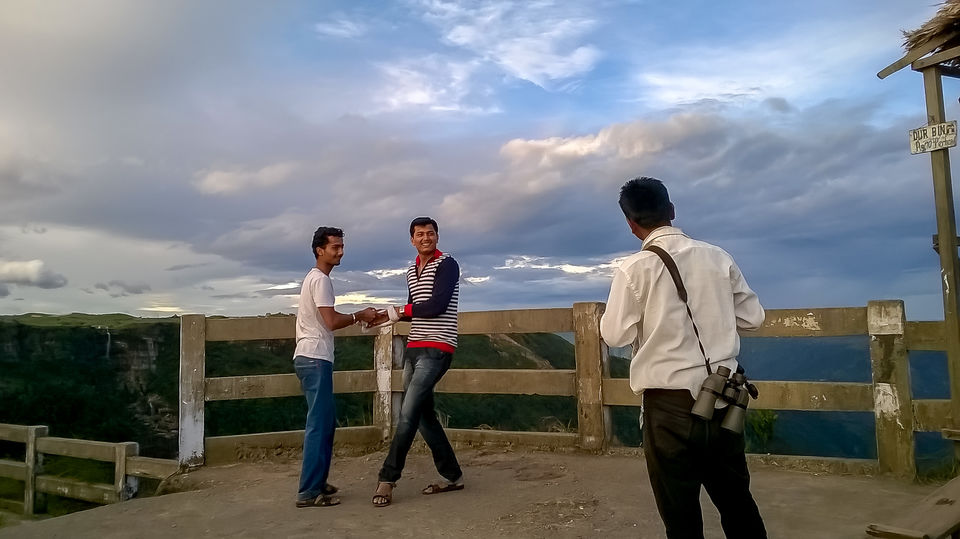 We had a lot of fun there. About the time we were leaving, a beautiful rainbow came to bid us farewell.
It was a tiring day but the sites were really beautiful. I wondered if the journey was beautiful because of the destination or due to the company I was having. Was it they who were opening me up or was it the nature? Would I enjoy as much if I were visiting alone? At times the fear of failing my trip, an all India tour for a year, haunted me. I do not know where I'm going or how I'm going to.
On our way to Cherrapunji we had stopped at Ramakrishna Mission museum. They had beautiful photos of Tawang, Arunachal Pradesh. I decided there that my next destination would be Tawang.
Till that time it had not even rained once. It did not even rain in Cherrapunji, where it rains everyday of the year! Rahul said it was our bad luck. Good luck or bad luck, it started raining that day, on his birthday. We had a tour planned to the local destinations the next day, and all of that were in waters.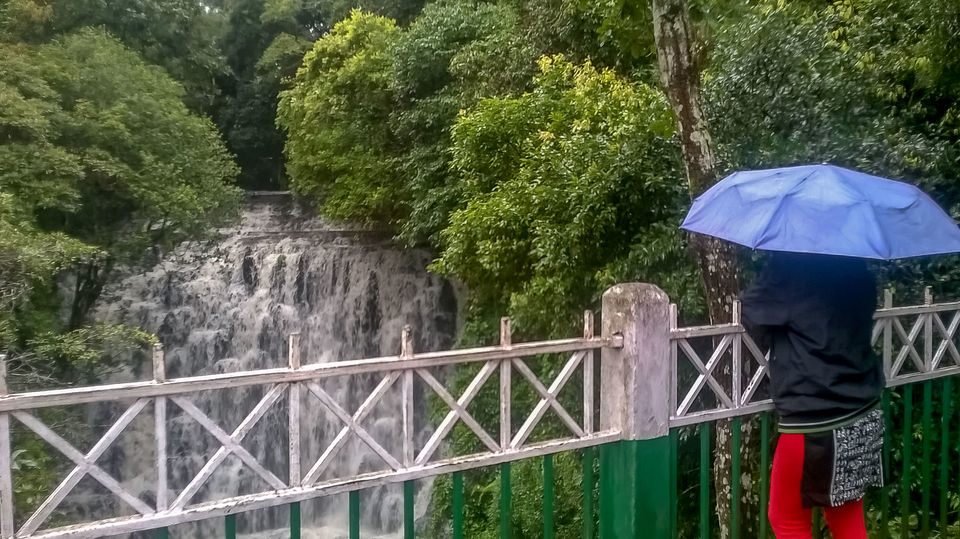 One of spots was the beautiful Elephant Falls, named so due to a rock that once existed and resembled an elephant. The beauty and power of nature comes straight at you with a waterfall. The sound of water crashing over rocks, the flowing feminine flirting with the strong rocks. It is one of the finest examples of nature making love. Maybe that is why we just stand in awe at a waterfall.
Looking at the steps that we humans have built along the waterfall, I started thinking of the power of human imagination. Standing in awe at the foot of the waterfall, someone, one day had imagined of building steps to enable more people to experience what he was experiencing. That desire, over the years, turned into the steps and bridges that I saw, which was helping even older people enjoy the waterfall.
Every time I see a road in the woods, or a flight of steps like those, I think of the man who first undertook the journey, the man who went through unknown territories, facing fears and challenges, to reach a destination he knows not of. I think of the one, whose small steps were traced again and again over centuries, whose steps have become safe roads through which others can ride through. I think of him for I feel him in my veins. I chart a route, not through unknown territories of land, but through unknown territories of another kind, to a destination that I too am not aware of. But at the core we are the same, a desire to go beyond, a desire to find something new, a desire to stretch the human boundaries.
We started back to Guwahati the next day morning.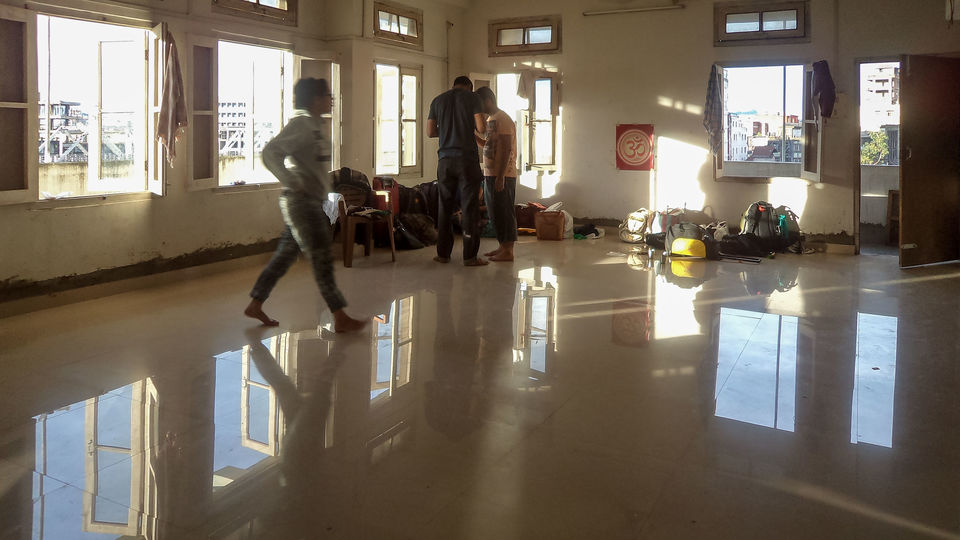 We reached the Seva Bharati office by 3 PM. We watched all the photos on my laptop and laughed. We had plain rice, dal and vegetable for dinner. The climate was warmer than that in Shillong. I had to take off my sweater, which I bought the day before for ₹ 599, as we entered into the city. I had also bought a muffler for ₹ 100 (from an old man's shop at Police Bazar), and a white shawl for my mother ₹ 130 (from Shillong Point).
I woke up the next day, had tea, took bath, washed the remaining clothes and hung for drying. The breakfast was yesterday's rice, fried, with some potato and chana curry. Before I knew it, it was time for my five new friends to leave.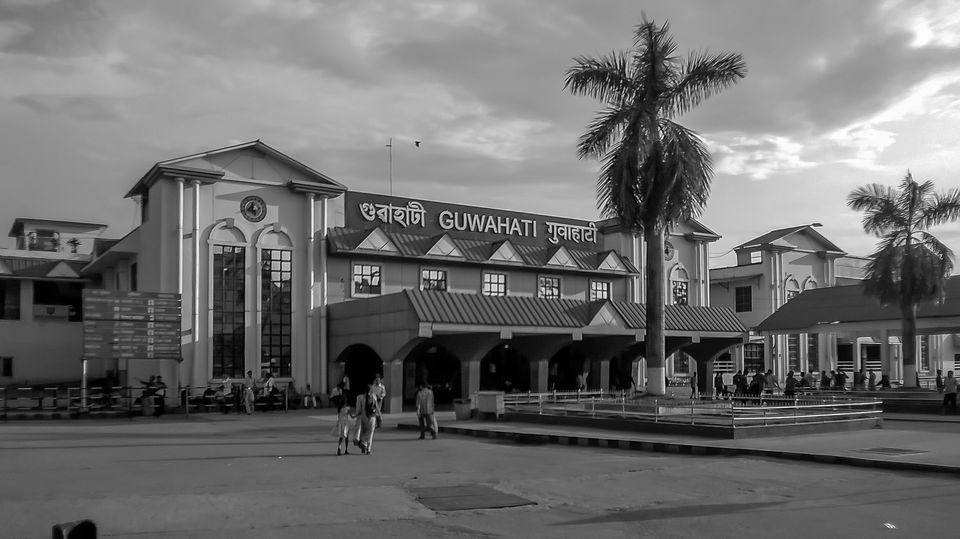 I dropped the five Gyan Setu volunteers, Shruti, Ashwin, Shumbham, Sakshi, and Rahul, with whom I had been traveling for the past 12 days, at Guwahati Station. As their train departed, I felt lonely. I felt the pain of being lonely in a strange place. I felt what my father would have felt while dropping us at the airport in Dubai. I felt what every man would feel being lonely, in a strange land.
I started seeing familiar faces in stranger's crowd. Anybody who barely resembled someone I knew, kick started my feelings. But that barely lasted seconds, and I was be pushed back into my loneliness. I walked back to the Seva Bharati office to calm my scared heart. A liquor shop on the way tempted me. But I did not see the point. I could get drunk and forget the loneliness for sometime, but I would still be lonely.
I reached back in the hall, were hours before we all sat together. With every step outside, my heart jumped up hoping to see a familiar face open the door of my loneliness. Why do we desire to see those familiar faces, why do we desire the warmth of the familiar face, when we know that the stranger out there is someone whose story we are yet to know, a friend yet to be me made. Loneliness is a strange feeling. I have run away from it far too many times. It was time to face it.
Life is an experience to be experienced. It is a strange experience. When you are home, you desire to be away and when you are away you desire to be home.
Life goes on.
Extra information for Photographers
Cameras used:
Nikon D3100, with 18-55mm kit lens, and Hoya 52mm Circular Polarizing Filter for sceneries
Sony DSC-W520
Nokia Lumia 630
Oneplus One
Post processed the images in Adobe Lightroom.
Extra information for Social Workers
'Gyan-Setu' is a volunteering program working towards capacity building of children in the remote areas of developmentally challenged states in India. For more information check gyansetu-earc.in.