In continuation of Around the North-East India in 30 days... Part-1/6

Manipur was a great non-touristy place but the next destination had been waiting, so had to leave from a beautiful location for another. I had not made any plans for the whole trip, so I just packed my bags and left for Meghalaya.
Things that annoy people who travel by public transport are the non-availability of (frequent) public transportation and no direct transportation. I had to go to Nagaland and then Assam in order to reach Meghalaya from Manipur. Phew!!
I boarded a shared van for Dimapur from Dimapur Parking, Imphal at ~6:30am. We stopped for lunch at ~11:30am and had rice and chicken. After reaching Dimapur at ~2:30pm, a few fellow passengers from the van boarded a shared auto-rickshaw for railway station and I joined them.
Boarded the train from Dimapur, Nagaland at ~4pm and reached Guwahati, Assam by ~9:30pm. There are no night buses or vans from Guwahati to Shillong, Meghalaya, so I had to wait for ~9 hours at the station. I was waiting in the normal waiting room, and a man approached and suggested me to go and wait in the air conditioned waiting room. Thanks to him or else I would have spent my night killing innocent mosquitoes.
I reached the bus stop at ~6am and the shared car started at ~6:30am for Shillong. The actual cost is INR 150 per head, but we all paid INR 200 because of unavailability of transportation caused by a strike. We got a flat tyre but the driver was skilled enough to change it quickly. We reached Shillong at ~9am. I walked down to Police Bazaar for ~15 mins to find the hotel. I checked-in and took a bath. It was so relaxing after being on the move for >24 hrs.
I used the remaining part of the day to explore local areas so I went to Ward's Lake, a park, and Police Bazaar, a local market.
There is a government organized tours agency in Police Bazaar near bus station. These tours are pretty cheap ranging from INR300 to INR500 per person and cover a lot of tourist attractions. There are many tours to choose from such as for Sohra (INR 350), Shillong (Barapani) (INR 300), Mawsynram (INR 450), Mawlynnong (INR 500), and Nartiang (INR350). I booked 2 tours - Sohra and Mawlynnong.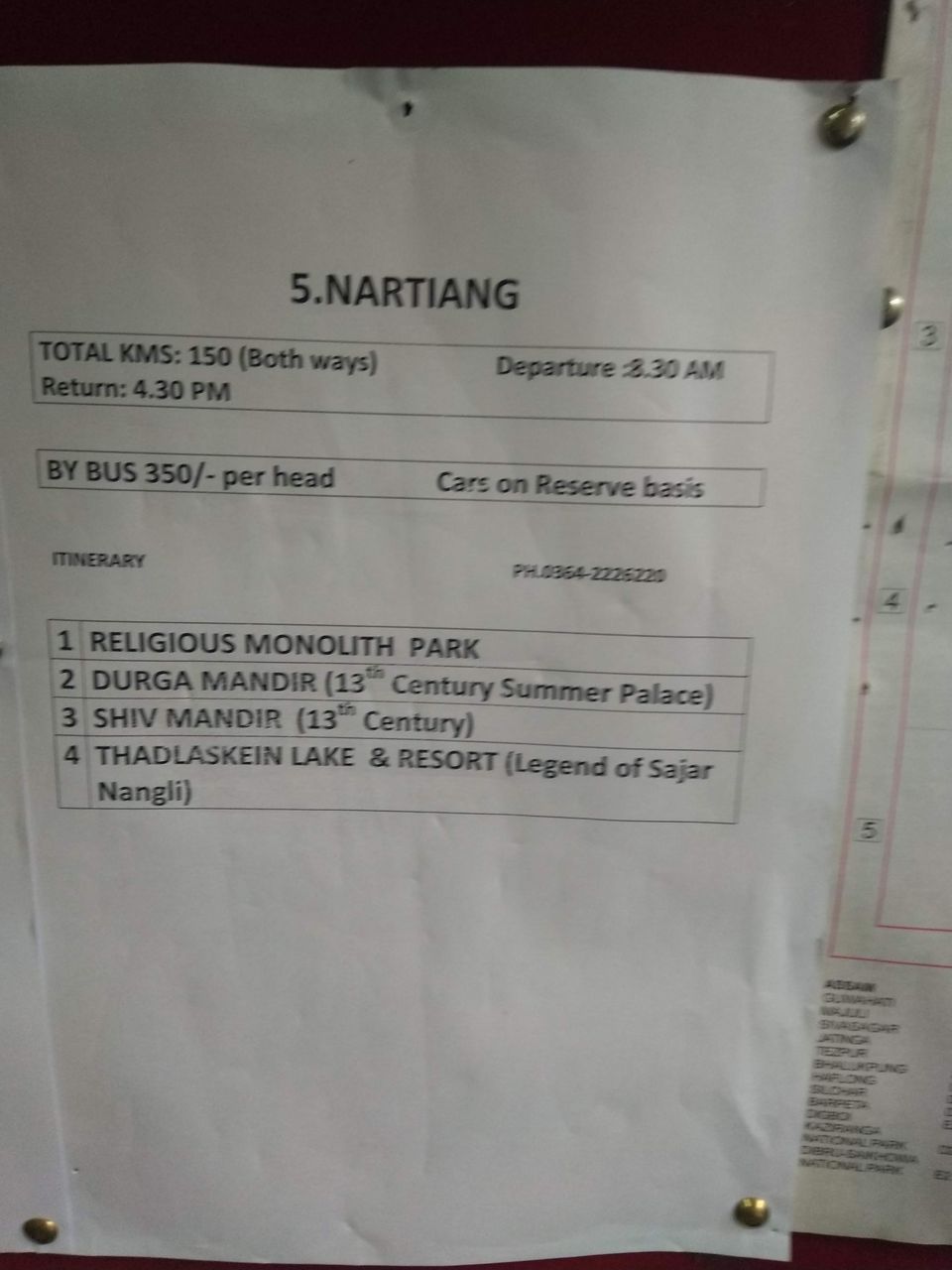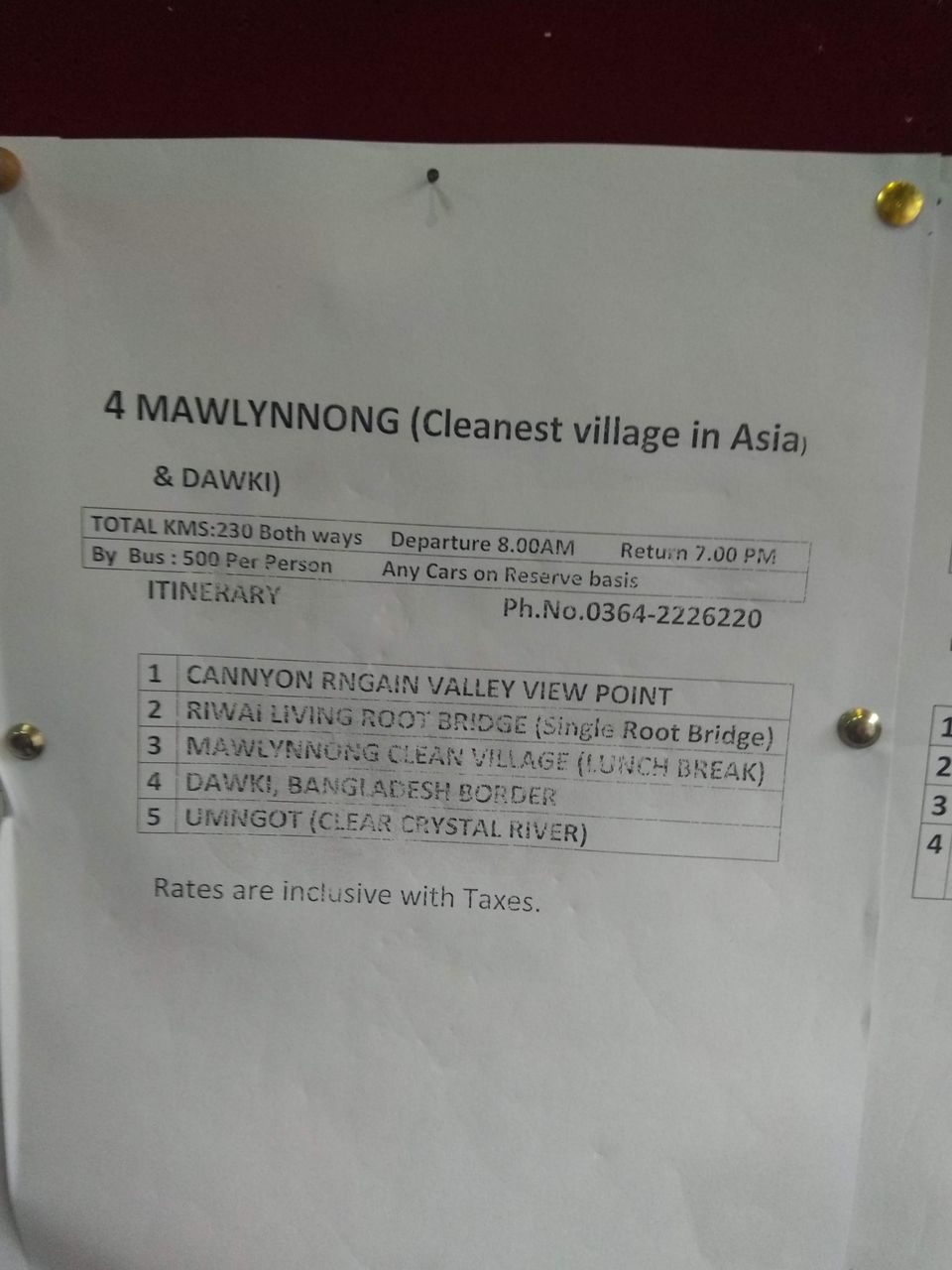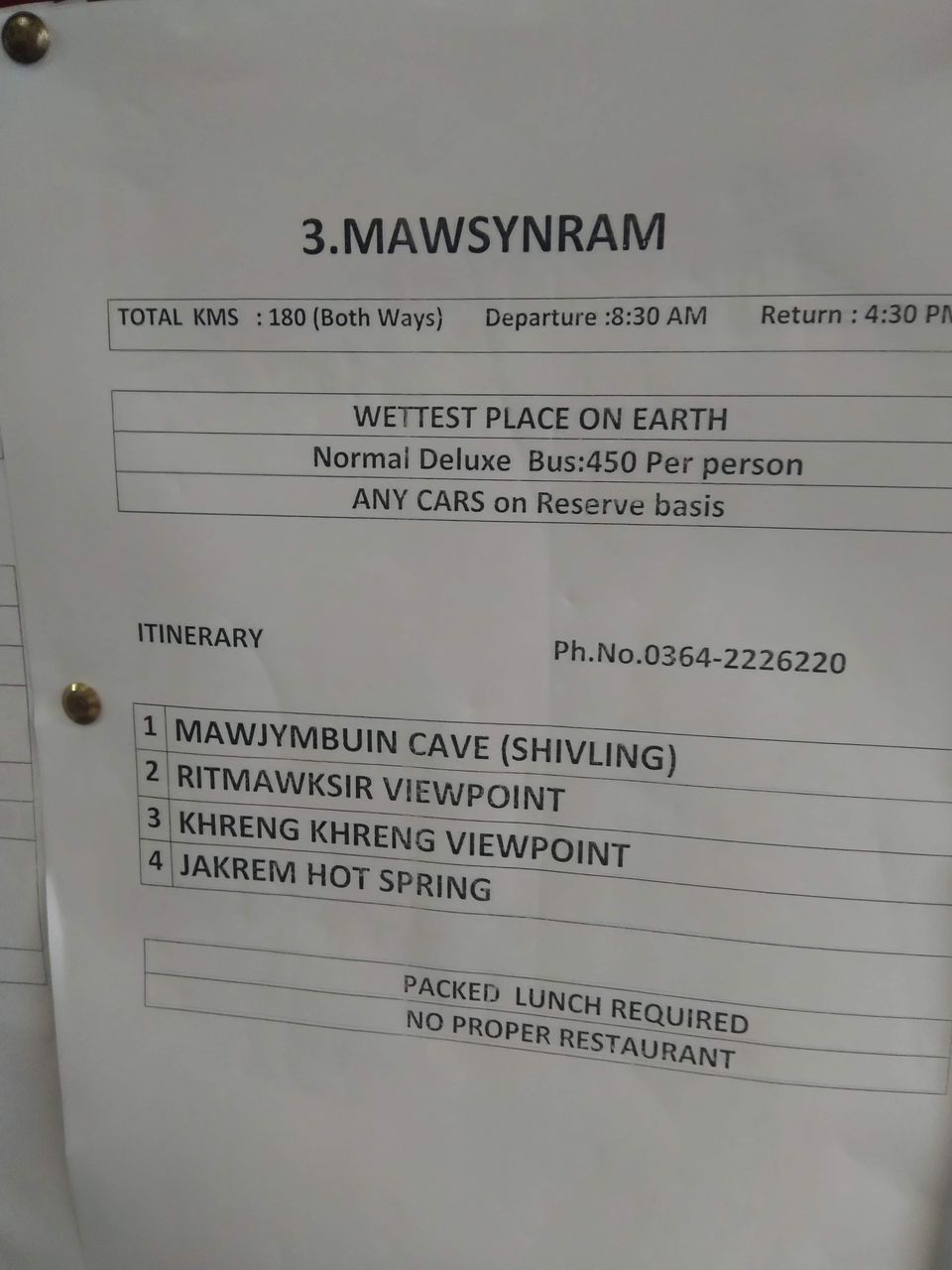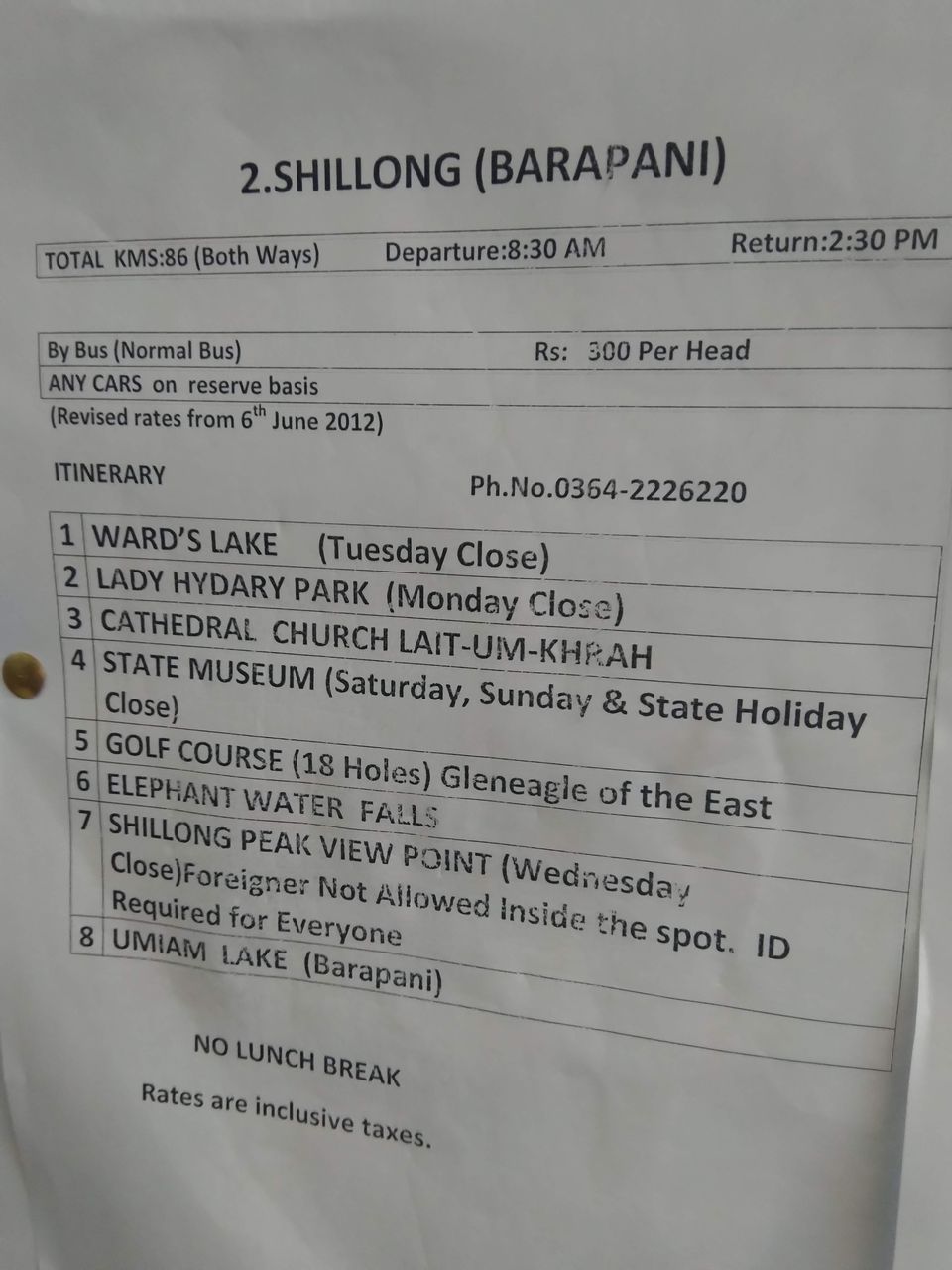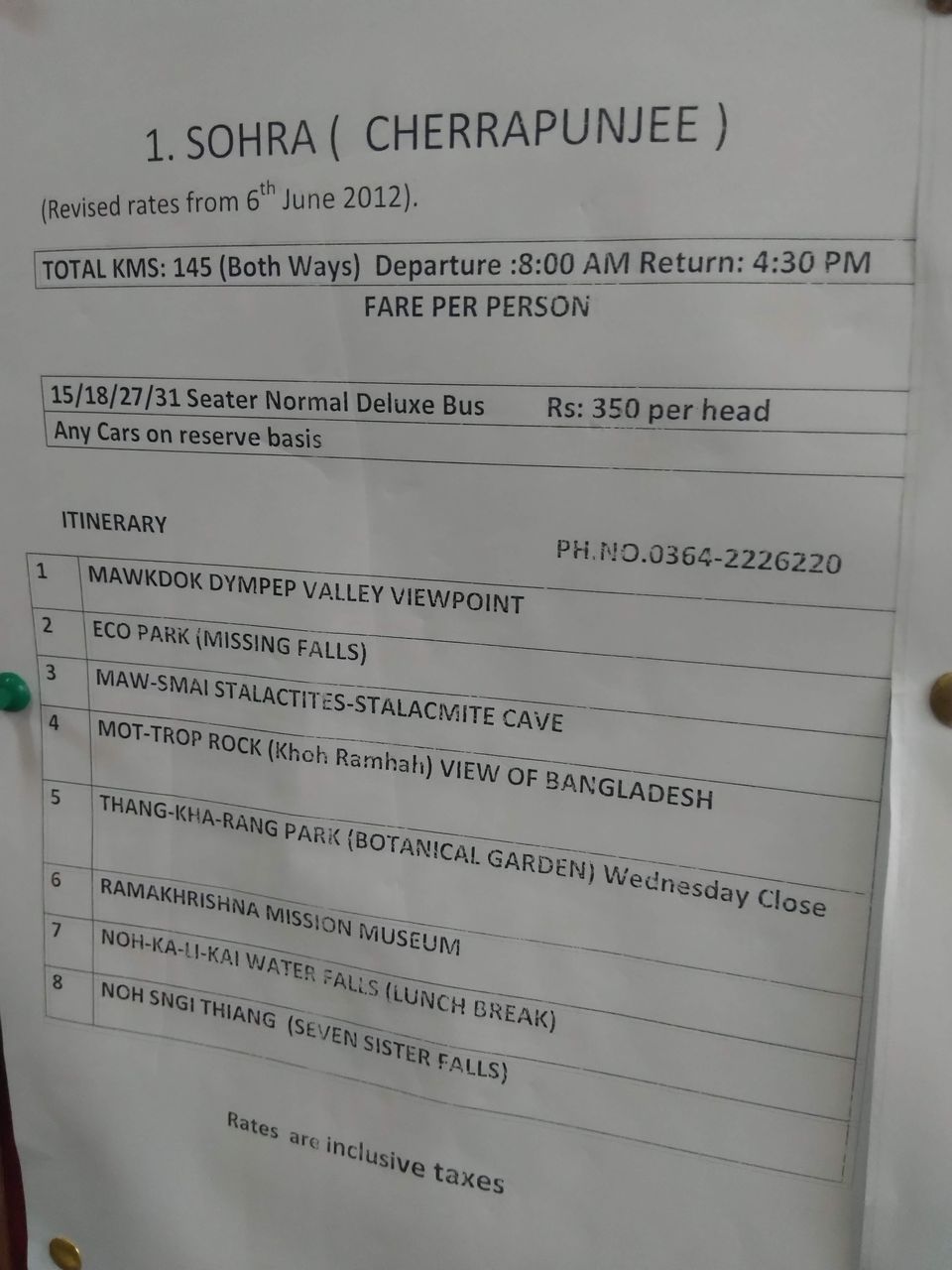 Next day, I reached the pre-defined spot, i.e. in front of the agency and the bus started right on time. The first stop was Cannyon Valley Viewpoint. The entry ticket was for INR 20/25 and there is a small restaurant for snacks and tea/coffee at the entrance. After that, we headed towards Indo-Bangladesh Border and were allowed 10-15 mins to take photos, etc. I tried to reach the gate at the border passing by those cops, but one of them stopped me and said "Madam, wahin bhej de kya?" (Should we send you there permanently?). So, I couldn't cross this border on foot. Hopefully, some other one on some other day.
The next stop was Dawki river or Wah Umngot, a river that is shared by India and Bangladesh. We waited in queues for the boat ride. Only 3-5 people were allowed in a boat at once. I waited for 10-15 mins for someone to allow me to join them and, then luckily, a Gujarati family of 30+ people came and I got the chance to finally get the ride. Had I not gotten anyone to share the ride with in next 10 mins, I would have to skip this boat ride in order to respect other people's time. (Such situations make me question my choice of going solo - couples don't want any intrusion and families always want to sit together with no space for outsiders.) We were 5 people in that boat including the staff. The paddler-cum-guide told us that although this river is shared with Bangaldesh, neither Bangladeshis nor Indians try to cross it illegally as we all respect our borders. It is said that the Dawki river is so clean and transparent that you can see across, but sadly it was not the case during that time. The water was murky.
The next stop was Mawlynnong Clean Village and it was indeed very clean. There is a restaurant in that village and we were given ~30 mins for lunch. I skipped the lunch and used the time to wander around the area.
After ~30 mins, we left for the next stop - Living Root Bridge. It is a weak bridge, so you are not allowed to stop on that bridge to take photos and only 1-2 people are allowed to cross it at once. Once you cross it, you can sit and take photos around a river body.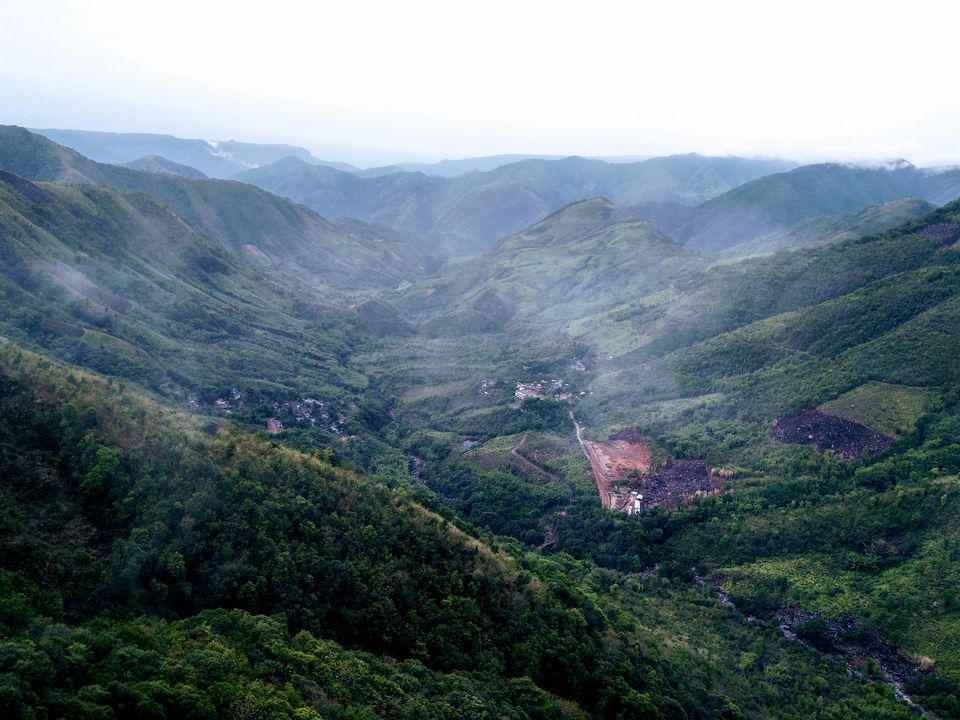 Another tour was booked for the next day. So, the boarding point was same and I reached there on time. On that day, the bus was a bit late and we started 15 mins later than the scheduled time. The weather was not clear, thus we were told by the staff that a few of the points would not be worth visiting.
The first stop was Mawkdok - the View Point. The bus will drop you at a point and you would have to walk up to the view point. There are few food joints to enjoy snacks and beverages. We were given 15 mins to enjoy the view. I used those 15 mins to go down till the last step of the staircase. It was not at all mesmerizing, so use those 15 mins for a photoshoot.
From there, we started for Ramakrishna Mission Museum. It's a very quiet place where you will find students learning in the classroom, antiques kept in the museum area, etc. You will be able to cover the entire place in 10-15 mins, but the stay there is for ~30mins. There are a few snacks places outside the museum.
The next stop was Nohkalikai waterfalls. It is supposed to be lush green with a heavy waterfall. We couldn't get the impressive view, nevertheless, we all enjoyed it and took a lot of pictures.
There was a viewpoint, Mot-trop Rock, where you need to climb up a very narrow staircase and see Bangladesh from a distance. The entry was for INR 10 but it was not worth the time. You will be able to see only the vast expanse in the neighbouring country. So, feel free to skip it.
We went to Mawsmai Caves after that. You will be given 45-60 mins there to explore the caves. It's quite an easy and short one. After exploring the caves, I had delicious food outside.
We also covered Botanical Garden and Eco Park. They both are picnic spots, so take photos and enjoy the time with families and friends.
We were given 5 mins at Seven Sister Falls but we couldn't get the view because of bad weather. Normally, you would be given 10-15 mins at the spot to enjoy the view.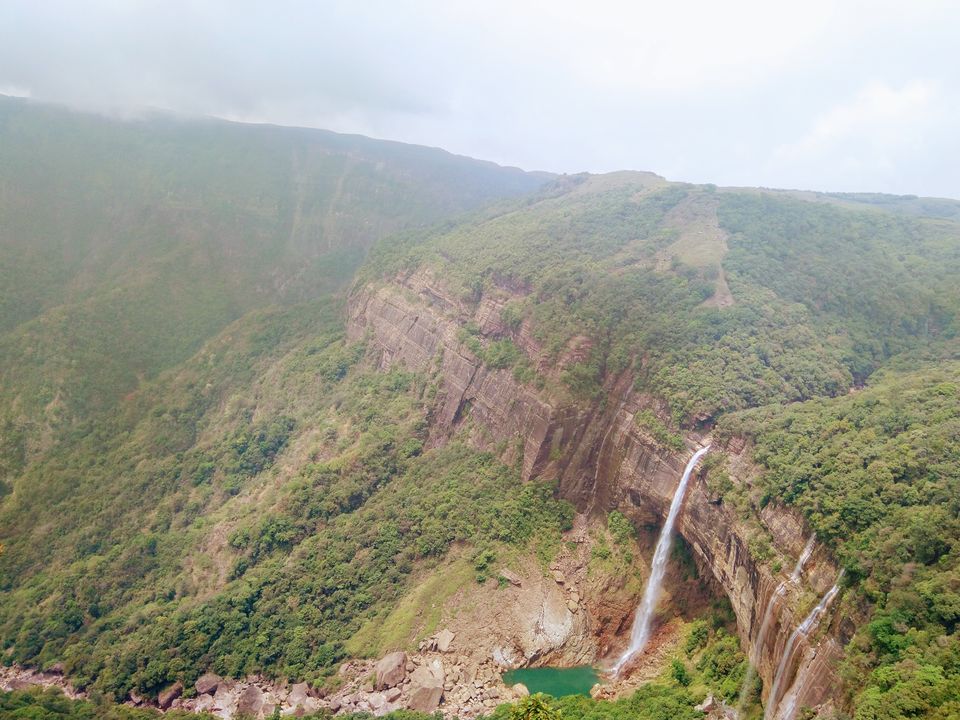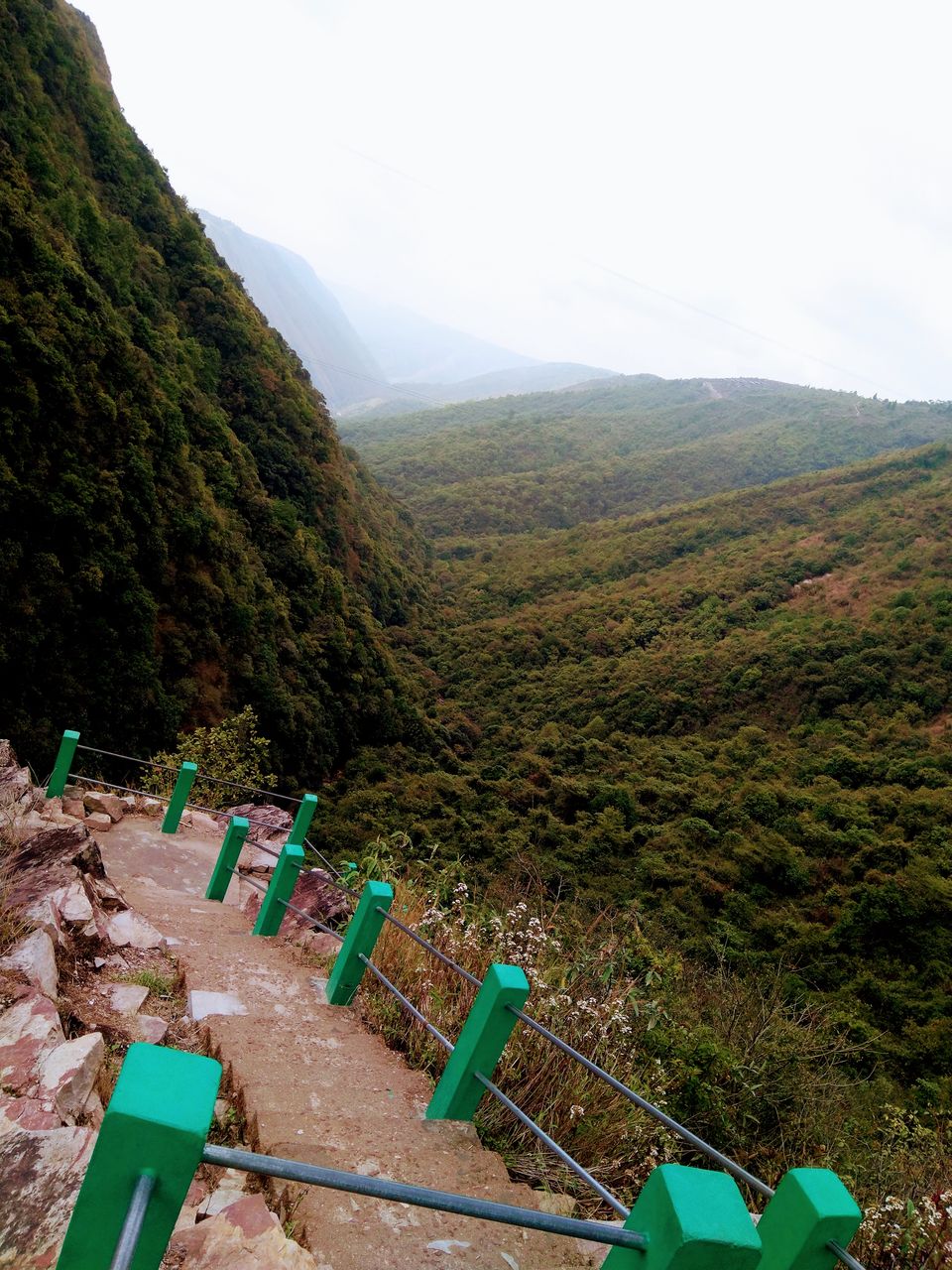 The next day was booked for Double Decker Living Root Bridge hike. There are buses which go to Nongriat from Shillong but I was told that the bus would take a lot of time and I might not find any bus for my return journey on the same day. Thus, I booked a cab and reached there by ~9am. I hoped to find a group to join, but wasted 30 mins in vain.
Hiking to the bridge didn't take time as it is mostly descent. You will be able to cover that in 1.5-2 hours. We stopped there for a while but started for Rainbow Waterfalls after a few minutes. The next part of the hike is fully ascent but is completely worth it. You will be awed by the majestic waterfalls. I sat there, had maggi and juice, dipped feet in water and inhaled the fresh air. We started for the back journey and reached the roots bridge in no time. Then, we relaxed there for an hour or so. Had maggi and coffee, enjoyed the view, and observed people and their poses for photographs. Met a couple, exploring Meghalaya and Assam on their grad trip, trying to find a hotel that allows unmarried couple. They couldn't find any initially, but they found one after reaching Shillong. We started the back journey which was full ascent and took a little time, but we finished it happily. The hike in total took ~6.5hrs and I reached the starting point by ~4pm. I reached Police Bazaar by ~6:15pm, had little junk food, and walked down to my room.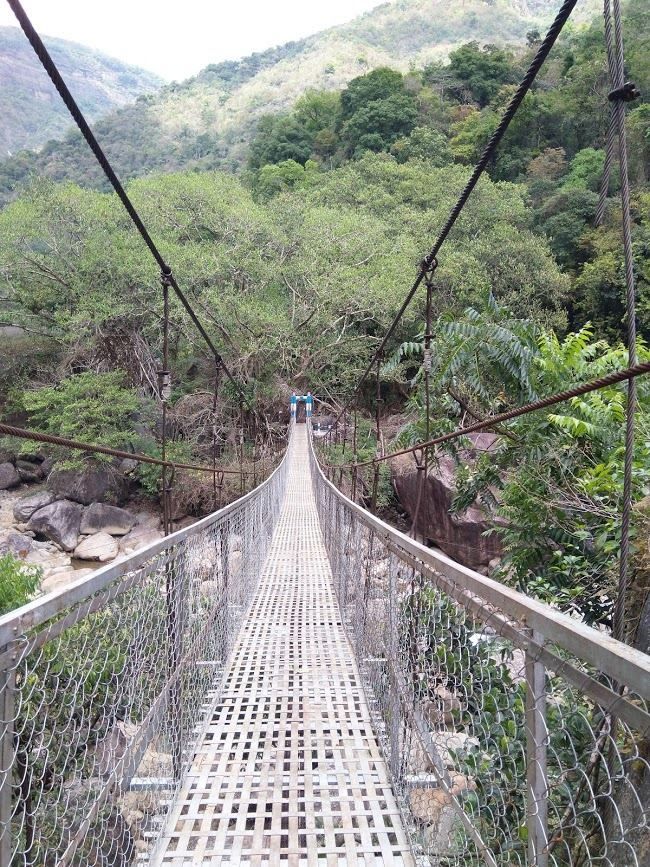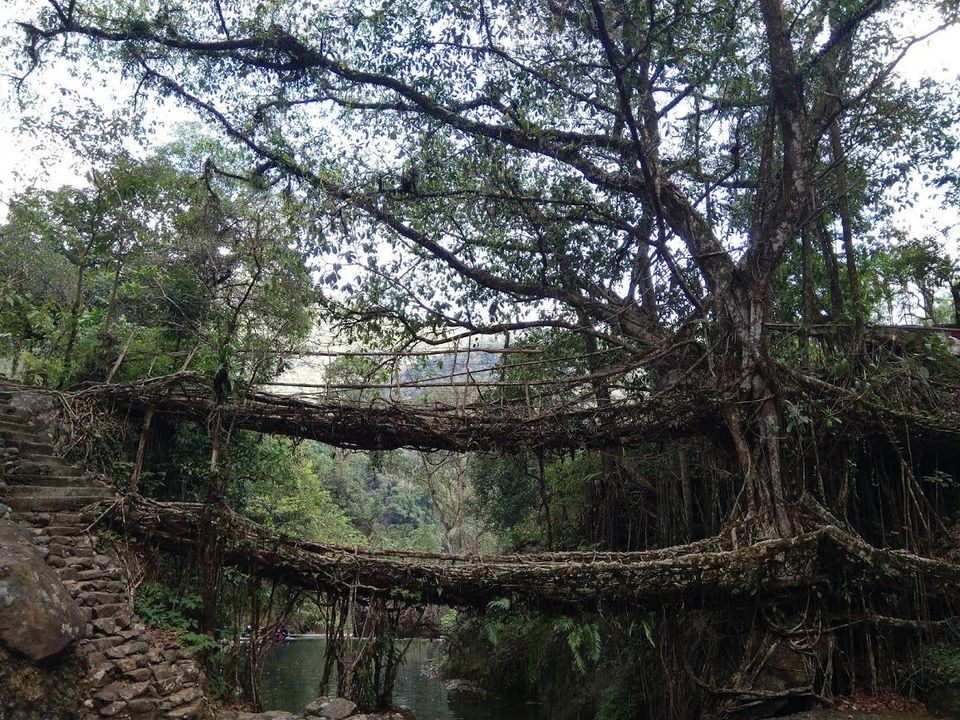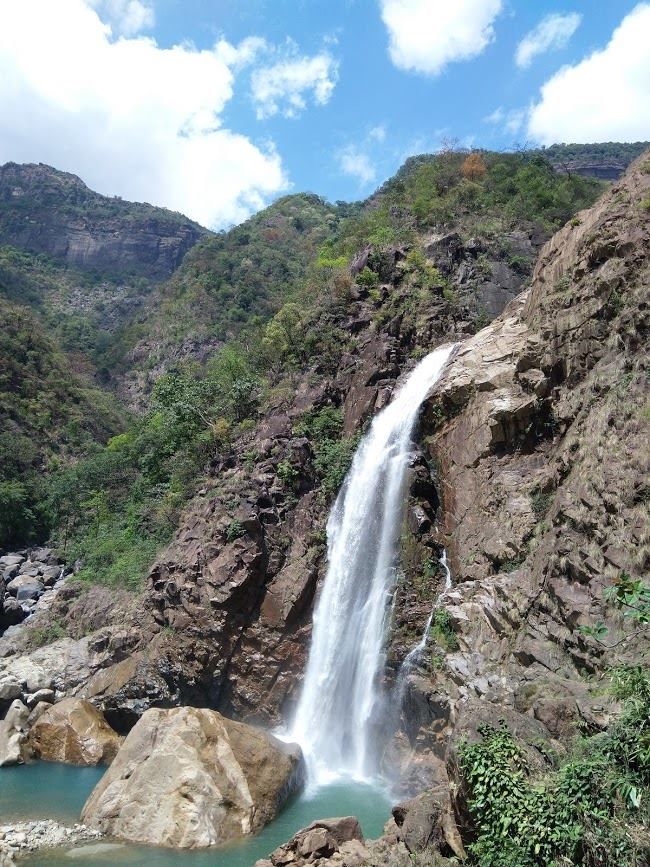 Next day was meant for Sacred Forest, et al. Weather had been deteriorating since midnight. There were light rain showers in the morning which converted into heavy rainfall on reaching the destination. We waited for an hour to rain to die down but in vain. Sadly, it rained all day. I couldn't cover even a single place, so I came back to my room, had hot food, and continued reading the novel.
I had a few more places to cover so thought to spend one more day in Meghalaya. I didn't want to leave out Sacred Forest and Khasi Heritage Village, so I started very early in the morning.
There are different hiking options available at Sacred Forest such as Sacred Forest trail and David Scott trail. I selected the Sacred Forest (half) trail because of lack of time. It is an extremely easy hike or I would rather call it a regular walk. I didn't enjoy the Sacred Forest at all. Khasi Village, on the other hand, was a quiet place and it doesn't require a lot of time to explore. You may skip these places if you are short on time.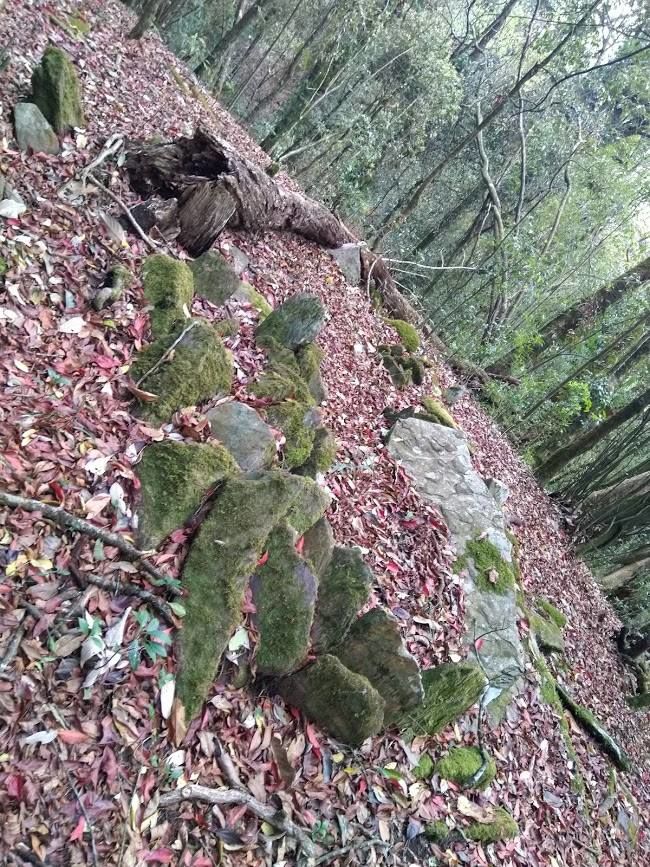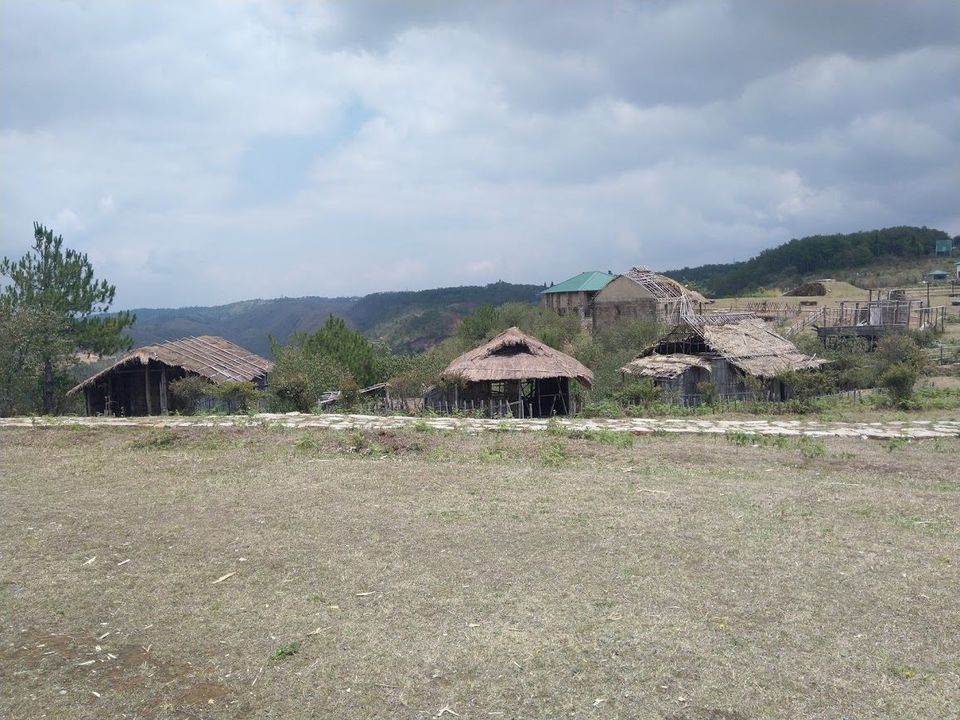 The next destination was Elephant Falls. It will take atmost 30 mins of your time. From there, I left for Umiam lake. I had to wait for ~45 mins to share the boat ride, but it was worth it. The lake is beautiful and the boat ride was pleasant.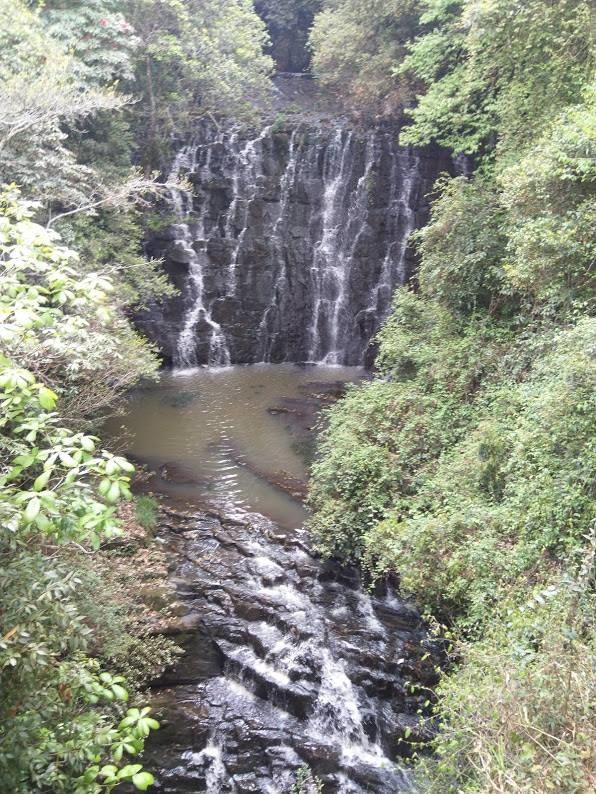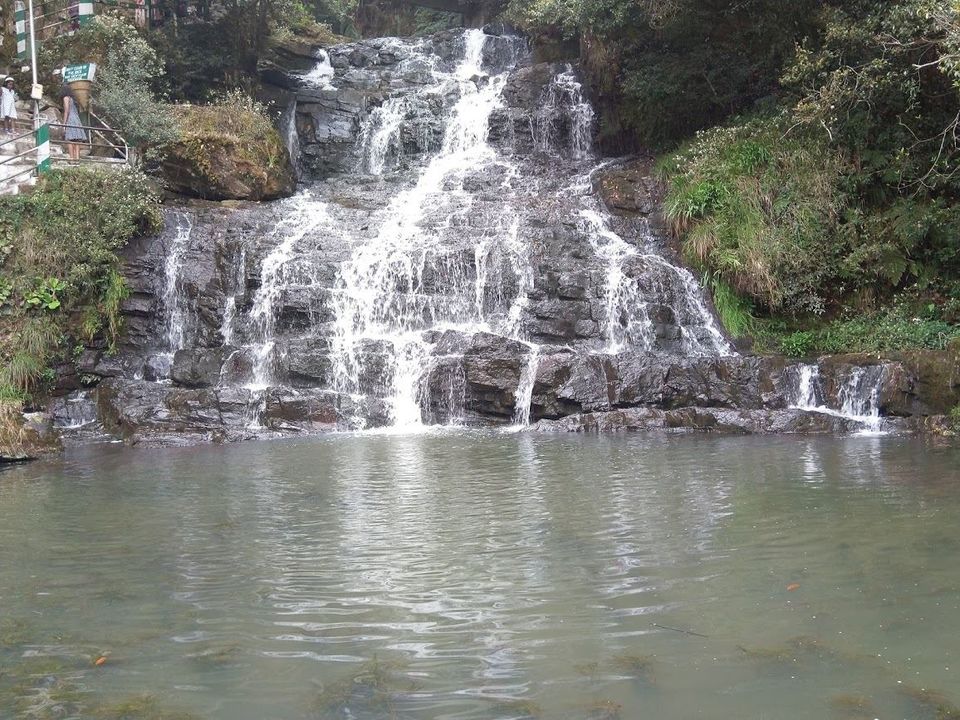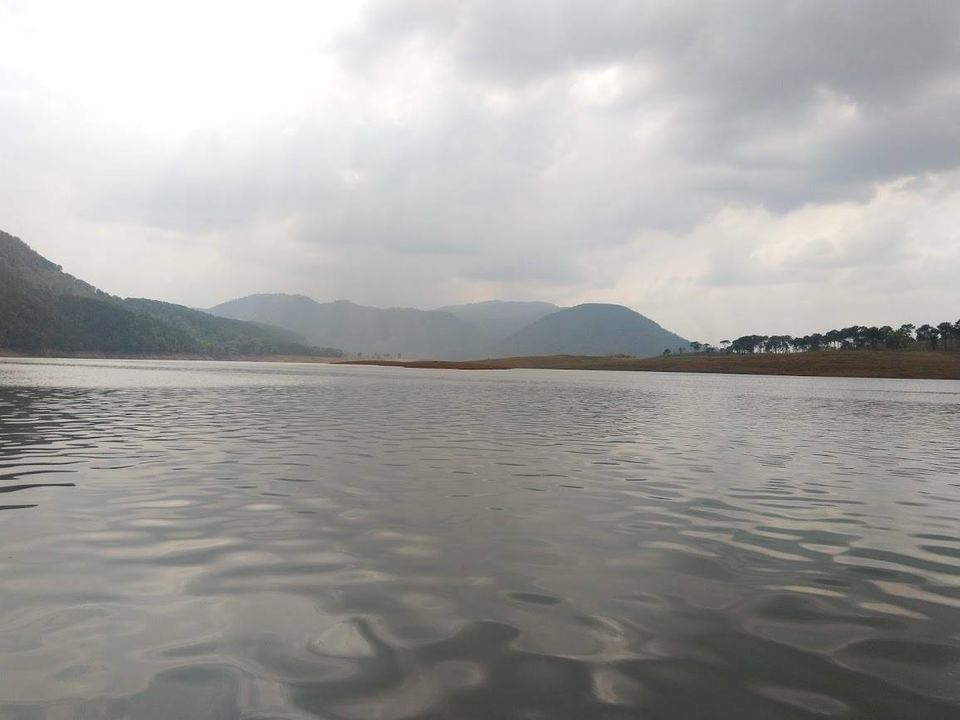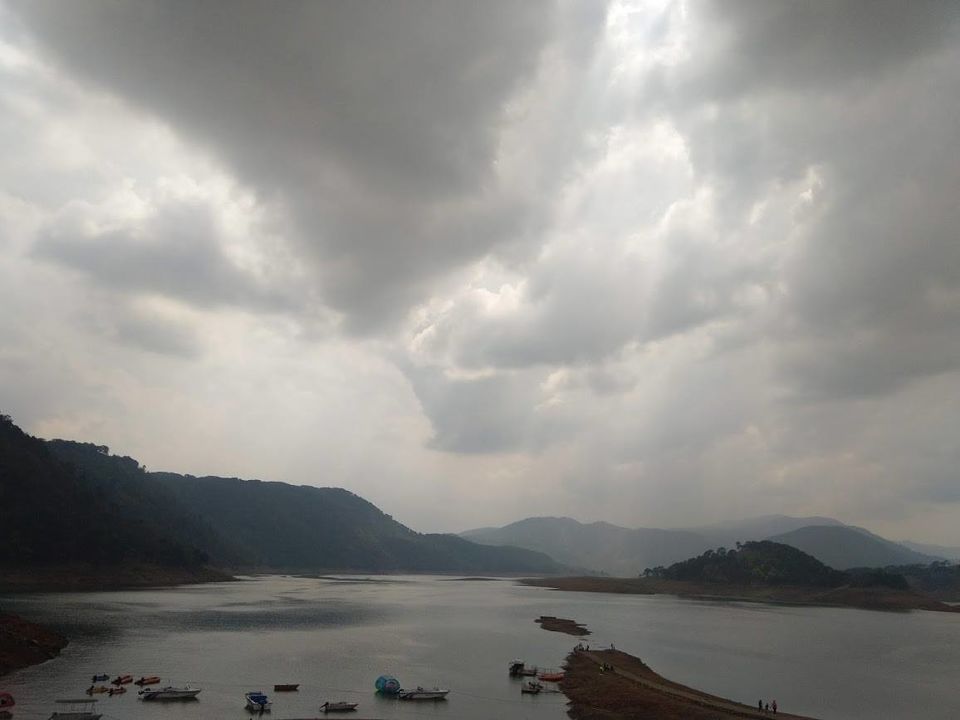 I ended my day by having a vanilla ice cream at Baskin Robbins in Police Bazaar. After enquiring about bus timings for Assam for the next day, I came back to my room to pack and sleep.
Few points to note:
1. Meghalaya is a higly commercialized tourist spot. So, there will be no issues in finding food, cabs, etc.
2. Solo travelling is not difficult, but finding local transportation to match your timings is.
3. Police Bazaar is connected to all major places and offers plenty of great accommodation options. I stayed in a budget hotel whose location was appropriate to take local buses, taxis or even walk down to Police Bazaar.
4. Do consider those day tours run by government tourism. They are pretty cheap and cover a lot of places.
5. If you love rains, Shillong is the place to be. You can even stay in Sohra rather than in Shillong. There are many options available in Sohra for accommodation.
To be continued: Around the North-East India in 30 days... Part-3/6