A healthy diet. Meditation. Peace of mind. You know all these are essential for you, even if you don't inculcate them into your daily life. But another thing that can exponentially benefit your well-being is a staycation.

Travelling to a new place can make your pulse race. It can give you a fluttering feeling in the deepest part of your soul and offer a new perspective.
If you've ever fantasised about a luxury vacation, then I have found the perfect experience for you in Jaisalmer at The Serai.
• Visit Patwon Ki Haveli, a cluster of five small havelis and one of the largest havelis in Rajasthan. Famous for its wall paintings, a walk through the haveli will not take more than an hour.
Location: Near Patwa Complex, Jaisalmer
• Indulge in some retail therapy at Pansari Bazaar, Jaisalmer's oldest market.
What to buy: Rajasthani jootis, puppets, decorative items and local handicrafts.
• Visit Bada Bagh (literally meaning big garden) is a garden complex, which lies about 6km north of Jaisalmer on the way to Ramgarh. Commissioned by Maharawal Jait Singh in the early 16th century and completed by his son Lunakaran, Bada Bagh was built as a valedictory memorial dedicated to the members of the royal family.
→ Getting there
By air
The airport nearest to the Serai is the Jodhpur Airport served by regular flights from all major airports. While making your booking, you can request the hotel staff to arrange a pick up for you.
By rail
The railway station nearest to Jaisalmer is about 4km away, the Chandan Railway Station. Again, the Serai can provide transfers from the station.
By road
There are several buses operating regularly between Jaipur and Jaisalmer. Be sure to book your tickets in advance as seats are limited.
Have you been to The Serai? Share your experience with the Tripoto community and become a part of India's largest community of travellers.
→ Ideal for
The Serai is a tranquil safari heaven of tented suites, ideal for people who want to enjoy luxury in the desert with every comfort possible.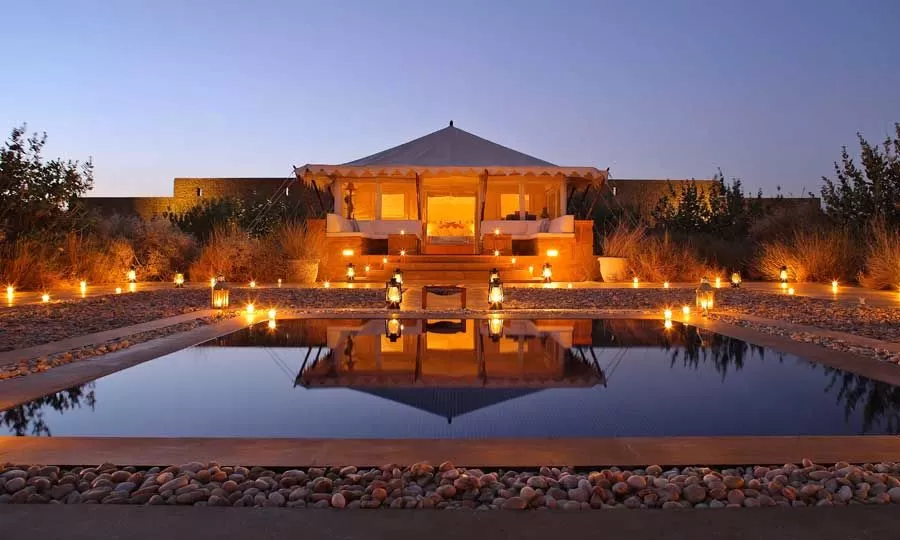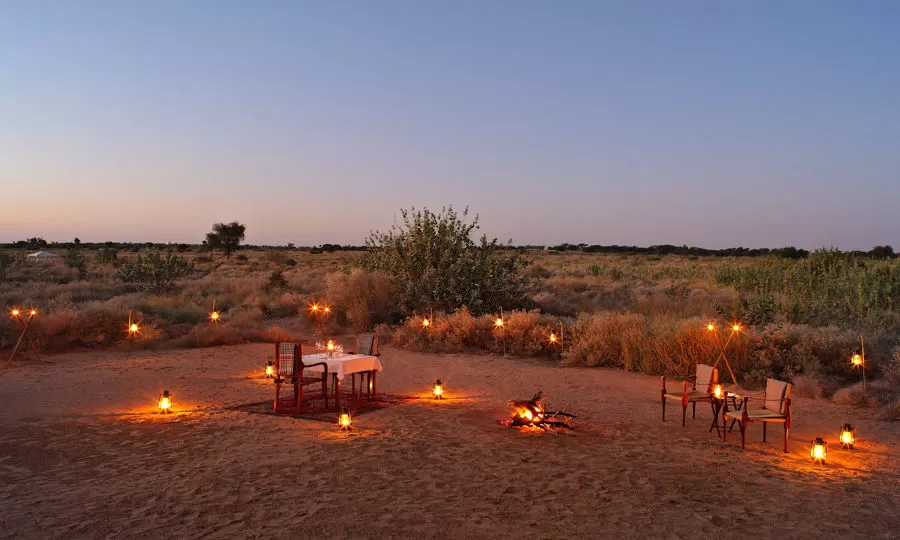 → About The Serai
Designed with extreme attention to detail, the Serai is an oasis built on a hundred-acre private estate. There are 21 guest suites, each perfect for rest and rejuvenation in the desert.
Luxury Tents
Out of the 21 guest suites, 14 are pitched on a base of local Jaisalmer stone and each has an a veranda, living room and a spacious bedroom with attached bathroom.
The Luxury-Tented Suite
Six luxury tented suites have their own private heated pool with jacuzzi jets, which are lit by candlelight at night.
The Royal Tented Suite
The exclusive royal tented suite comes with its own pool, lounge, spa and dining tents, set in a walled-off compound.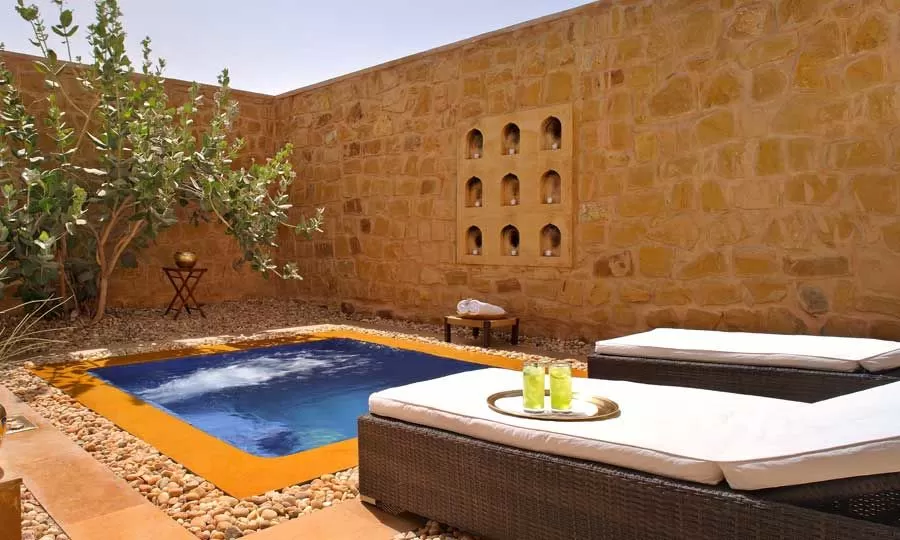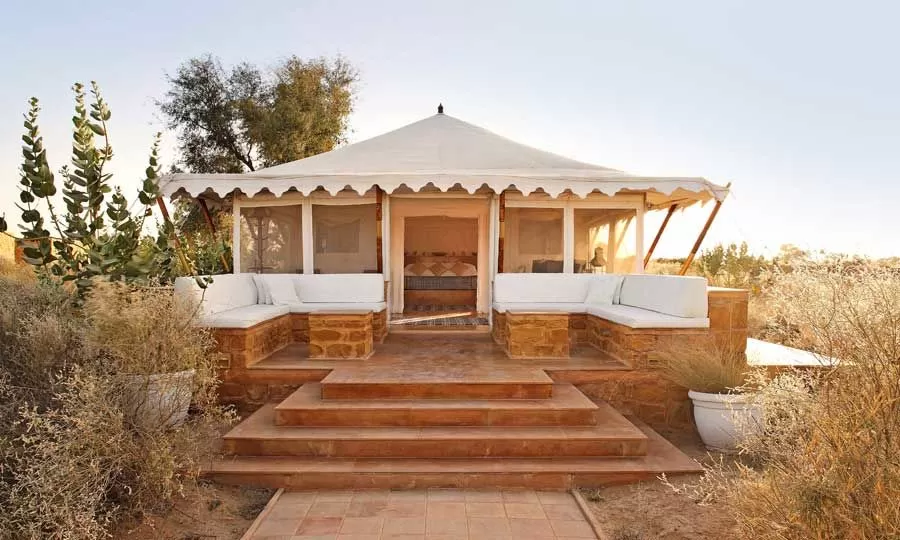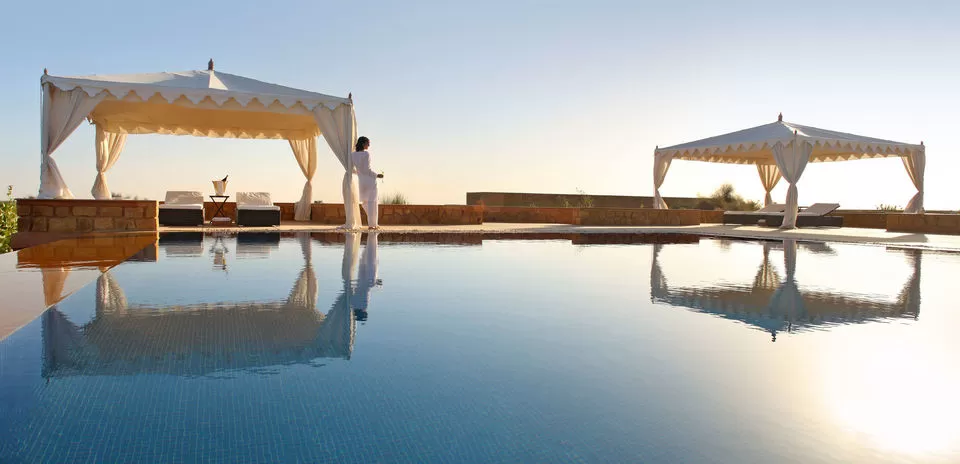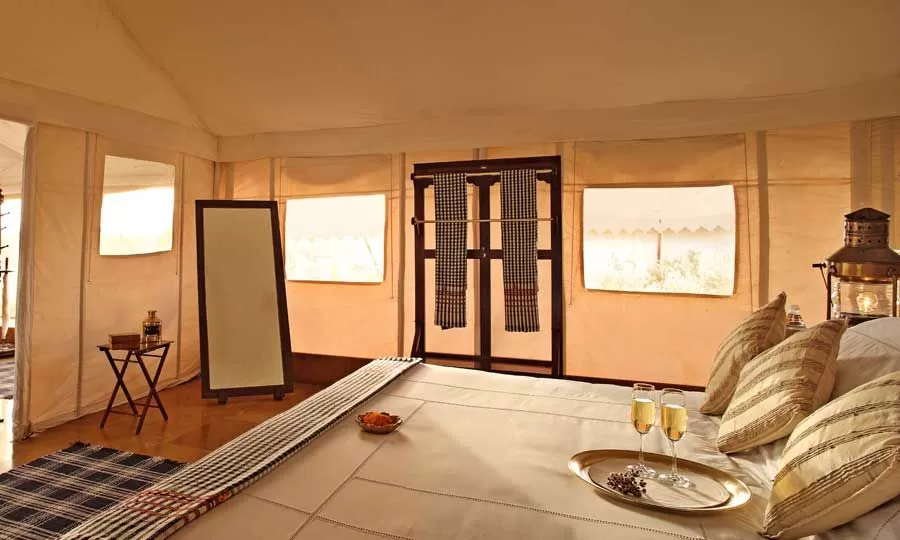 → Food
The Serai serves sumptuous local as well as delicious western delicacies in its meticulously planned menu, using home-grown organic produce.
At the Serai, guests may choose to dine in the dining tent or anywhere on site and the staff will happily create a tailor-made experience for them. Guests can also choose from a wide range of wine, spirits and cocktails at the bar.
→ Cost (excluding taxes)
Luxury Tents
• With breakfast – ₹42,500
• With breakfast, lunch & dinner – ₹48,500
The Luxury-Tented Suite
• With breakfast – ₹52,500
• With breakfast, lunch & dinner – ₹ 58,500
The Royal Tented Suite
• With breakfast – ₹ 82,500
• With breakfast, lunch & dinner – ₹88,500
→ Best time to go
You can enjoy the luxurious life at the Serai between September and March. And if you wish to avoid the crowd, late November is a great time! The rest of the year is too hot to be in Rajasthan.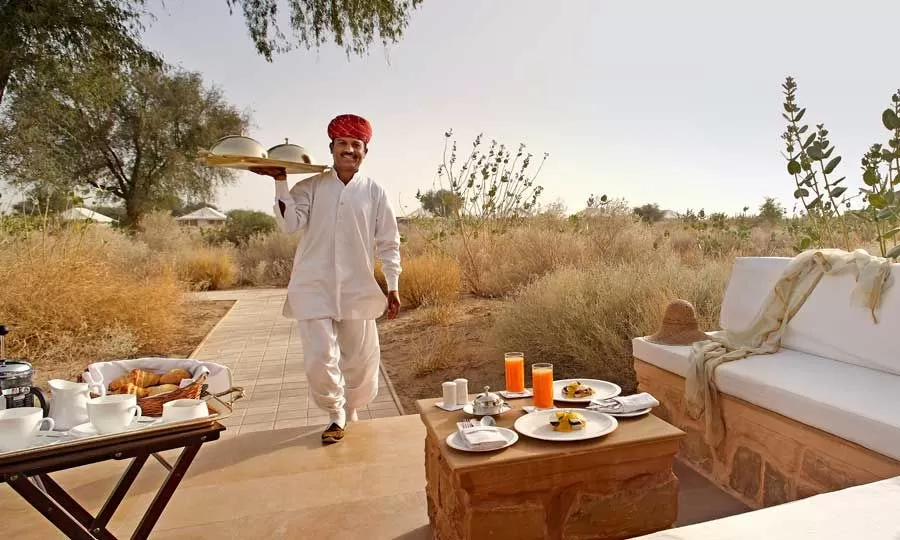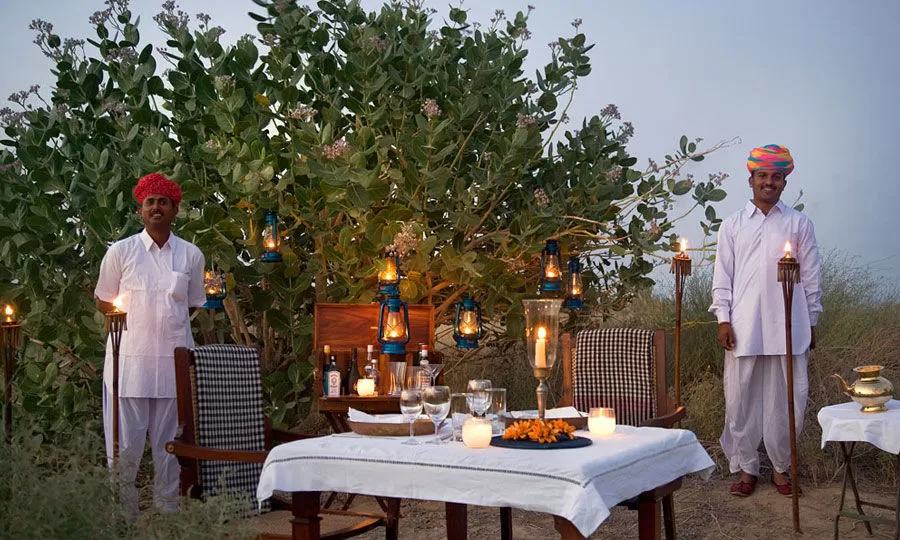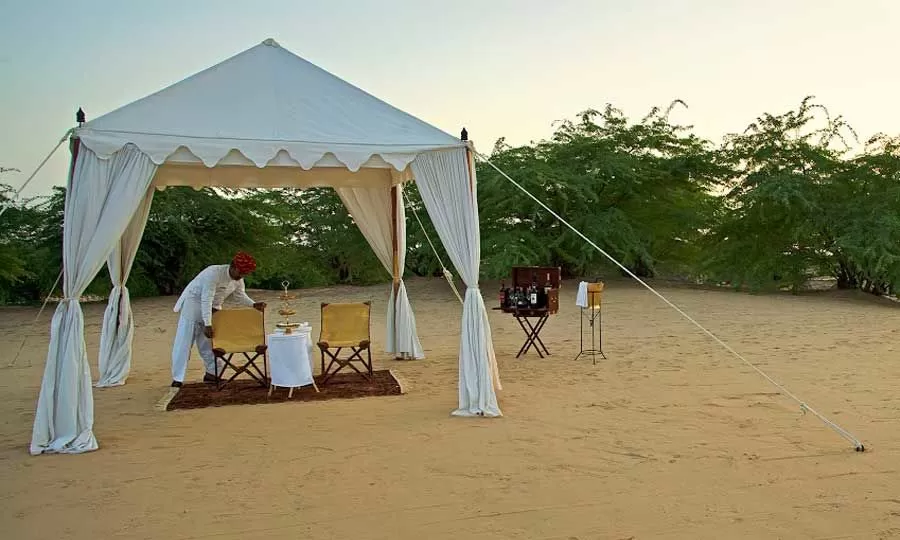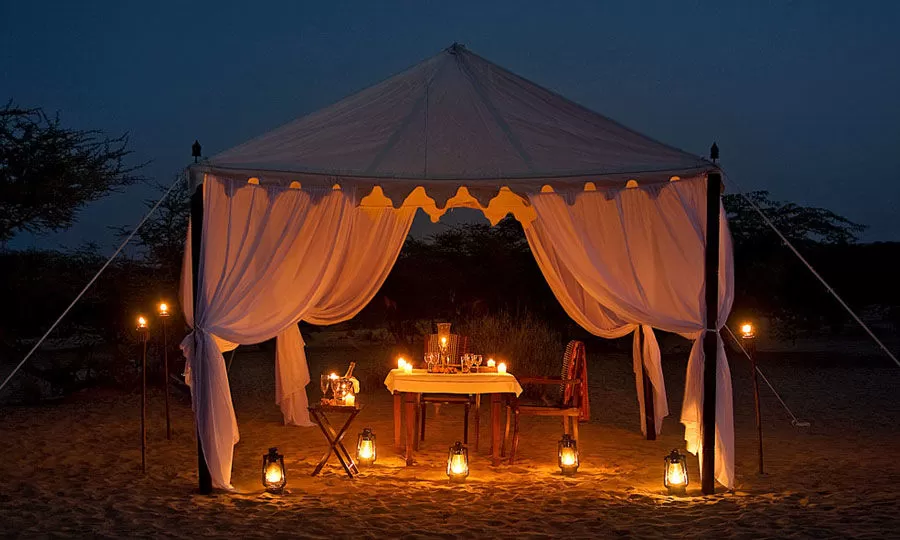 → Experiences at The Serai:
• The Serai offers some memorable excursions such as a guided tour of the Jaisalmer Fort, camel safaris and heartfelt concerts by local folk musicians. Make sure you check out at least one of these.
• Go for a spa at the highly acclaimed SUJÁN Spa that offers various therapies to ensure your body is rested and rejuvenated.
• Go for meal under the under canvas of stars at the stunning infinity pool.
• Experience the Thar Sundowner and witness the soft, golden hued and warm dunes of Jaisalmer.
• Participate in the cooking sessions at The Serai, headed by a talented team of chefs. You can either learn few new recipes or just watch the preparations that go into making The Serai's legendary dining experience.
• You can also go for the The Serai Temple Trail to witness varied glimpses of regional beliefs. Every place of devotion has an interesting story behind its existence that will help you attain a distinctive spiritual perspective.