Mussoorie, a wonderful hill station also known as "The queen of hills" located in the state of Uttarakhand at about 2000 mts above sea level. Mussoorie is located at a distance of about 52 kms from the capital city of Dehradun. The place is surrounded by the beautiful mountains of Garhwal Himalayan range which attracts tourists from different places to experience the cool soothing weather. The best time to visit during summer is between June to March and if you wish to experience snow then November to February. We decided to take our trip during the month of August which began from Dehradun.
DAY 1: We decided to start early off around 6 o'clock by taking scooty on rent from Dehradun. There are many numbers of rental firms but to be specific I would recommend GIMMEBYK firm (www.gimmebyk.in) that costs around Rs.500/day (varies with model of scooty). We decided to take the route via clocktower, Bhatta falls that has wide and well maintained road. Points to be noted while taking this route:
• Be very cautious as the route has sharp turns.
• A tax of about Rs.10 for two wheelers and Rs.30 for four wheelers has to be paid.
• Route has many restaurants and shops on the way.
It took us around 2 hours drive as took some stops for capturing pictures. After reaching Mussoorie we booked our room at Hotel Sun n Star which costs us around Rs.1200/night, there are many hotels from which you can decided as per your budget. These hotels have limited rooms available during peak season so we booked our room in advance of one week. After taking a break we decided to start off to kempty falls at about 11 o`clock which is just 15 kms away and took us 1 hour to reach. To reach the falls there are two different ways:
• Trek of about 1.5 kms
• Ropeway which costs Rs.120 for both sides.
We decided to trek down which was a very good experience as the way passes down through various shops on both sides. As we reached, only we can hear is a loud gushing sound of water flowing down the mountains. You can find there bathing suit and locker on rent basis. After spending around 2 hours we trek back towards the top. We had lunch at nearby dhaba which are good overall and serves homely food. We head back towards our stay at Mussoorie. Around evening at 6 o`clock we decided to head towards the mall road which is the golden shine of the hill station. Mall road is a way long about 3 km stretch comprising of shops of all varieties from clothing, eateries, fancy items, toys etc. The must to have spots at mall road are:
• Lovely omelette centre
• Chick chocolate cafe (Pancakes, milkshakes, fish fillets)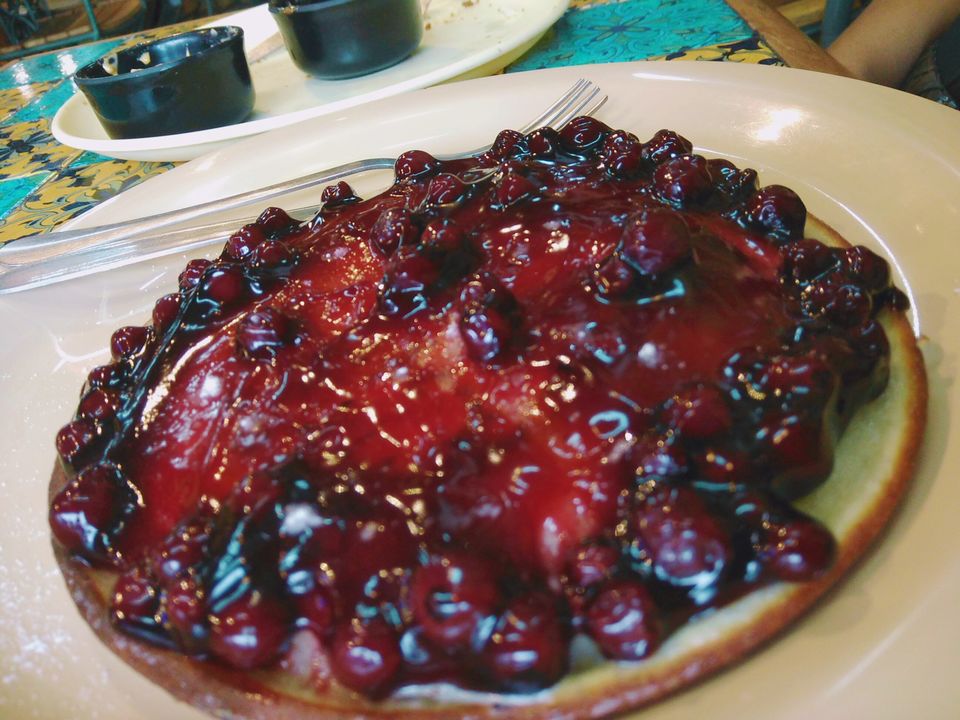 Entry for vehicles at mall road is chargeable of about Rs.100 for two wheelers and Rs.200 for four wheelers. Anyways other transport facilities such as rickshaw and cycles are available.
DAY 2: Next day we planned to visit George Everest which is another beautiful place on a hill top. George Everest is located at a distance of 6 km from Mussoorie and the best time to visit is early morning/evening to have the beautiful view of sunrise/sunset. To reach the hill top or George Everest house we need to trek for about 2 kms but bike or scooty can also be taken if you have good grip on the roads as the way is quite steep, tuff with pebbles on the way. So we started at early morning at 4:30am and reached the hill top at around 5:30am. On the way to trek there are a few dhaba where breakfast is available. On the hill top there are few camps where travellers can opt for camping.