Whenever someone asks me which is my favorite travel destination till now, the first answer that pops up in my mind is Alleppey. Why? Because this place is quite laid-back and made me instantly feel at home.
I have always been a firm believer of cities, towns, etc. having a vibe just like people. So, you tend to connect with some places on a deeper level while the others make you feel lonely and unwanted. But Alleppey is one of the few places where you can actually lose track of time and feel like you are staying in paradise.
The amazing maze of water canals, orange sky, and palm trees lining the roads. Alleppey is indeed a dreamy place but what sets it apart from all the other equally amazing places in India is the overnight stay on the backwaters.
Yes, you heard me right! You can actually enjoy a boat ride on the Alleppey backwaters AND stay while relaxing and enjoying a peaceful environment. And no, you don't need a huge group of people or family to actually stay here, you can easily manage it on a solo trip as well.
Want to stay a night in a houseboat in Alleppey? Then, read on and find out to how you can do that too!
How to Reach Alleppey
Alleppey is a major city in Kerala and since Kerala has a good transportation network, it is quite easy to reach here.
Air
The nearest airport to Alleppey is the Cochin International Airport which is situated at a distance of approximately 85 km from the city. So, you can take a flight to Kochi and then take a cab/bus/train to Alleppey. It will take around 2 -3 hours to reach Alleppey from Kochi.
Rail
Alleppey is quite well-connected to major cities in South like Mumbai, Chennai, Kochi, Bangalore, etc. So, you can easily take a train to reach Alleppey and get down at this beautiful city.
Road
You will also find several public and private buses going to Alleppey if you don't have your own vehicle. But if you know how to drive and have your own vehicle then planning a road trip to Alleppey could also turn out to be a lot of fun.
Best Time to Visit Alleppey
Although the best time to visit Alleppey is the winter season, i.e. from November to February. But it is also quite a popular time so you will find a lot of tourists around here which can make houseboats quite expensive and difficult to get.
If you want to avoid the tourists and crowds then the best time to visit is the Summer season. During the months of March to May, it will be hot in Alleppey but the houseboat prices will be less and you will also be able to enjoy clear skies while lazing around on the houseboat.
Avoid planning a trip to Alleppey during the monsoon season as the houseboat rides are usually shut down during this period. So, you won't be able to enjoy a stay on the houseboat and will have to make do with just exploring Alleppey.
How to Find a Houseboat in Alleppey
Now, let's discuss one of the most important things about planning a trip to Alleppey. You will need to find a houseboat for your stay which suits your budget and is perfect for number of people who are traveling with you.
If you are traveling solo like me then don't even bother going to the jetty area or contacting the houseboat owners in person. They will quote an exorbitant amount and will only offer you the option of hiring the entire houseboat. In such case, it would be better to book a room in the houseboat via an online website like booking.com. I was able to find another solo traveler with whom I shared a room and paid just 1,300 INR for the entire houseboat stay.
However, if you are traveling with a group of people then you can go to the shore where the houseboats are anchored and take your pick. Most houseboats will cost about 5,000 - 10,000 for a night and will include all your meals and ammenities.
Houseboat Experience in Alleppey
Ideally, your houseboat experience will last for 24 hours (if you have chosen to stay just for one night) and will include your meals as well.
Depending on the starting point of your houseboat, you will need to reach before the check-in time which is around 10 a.m. - 12 p.m. Once everyone is on-board, the driver starts the houseboat and your relaxed experience on the Alleppey backwater begins. The houseboat keeps on moving around the backwaters till 5 p.m. and you are served lunch and snacks during this time.
The lunch usually consists of authentic kerala meal including fish, rice, veggies, etc. As for the snacks, you could be served pakoras, french fries, tea, and so on.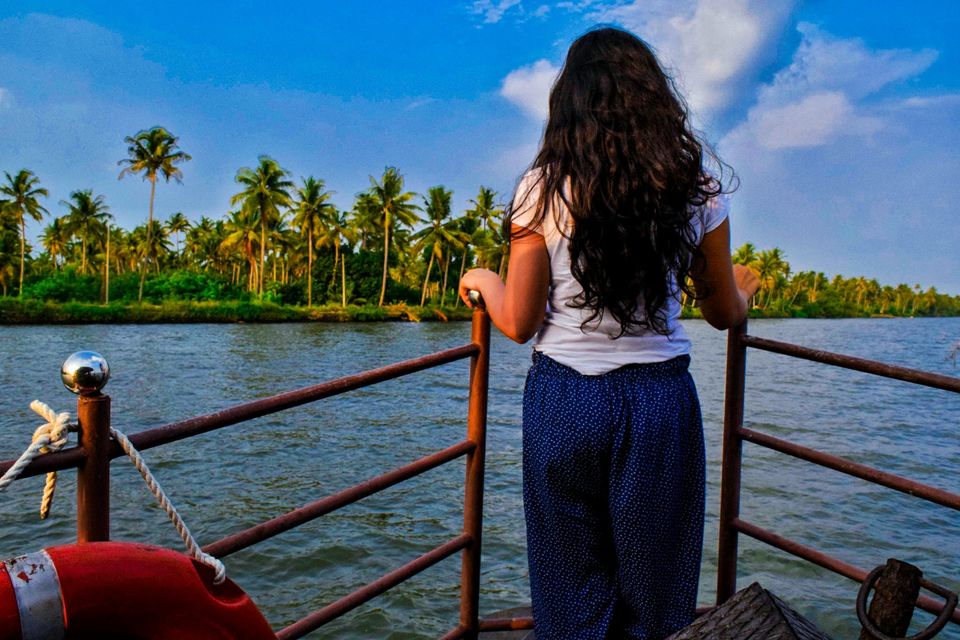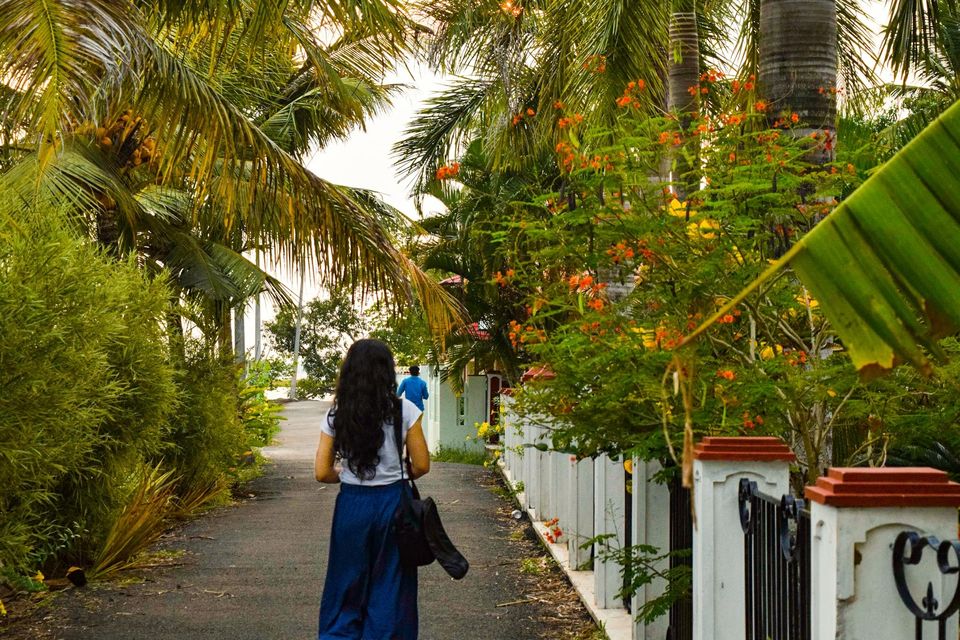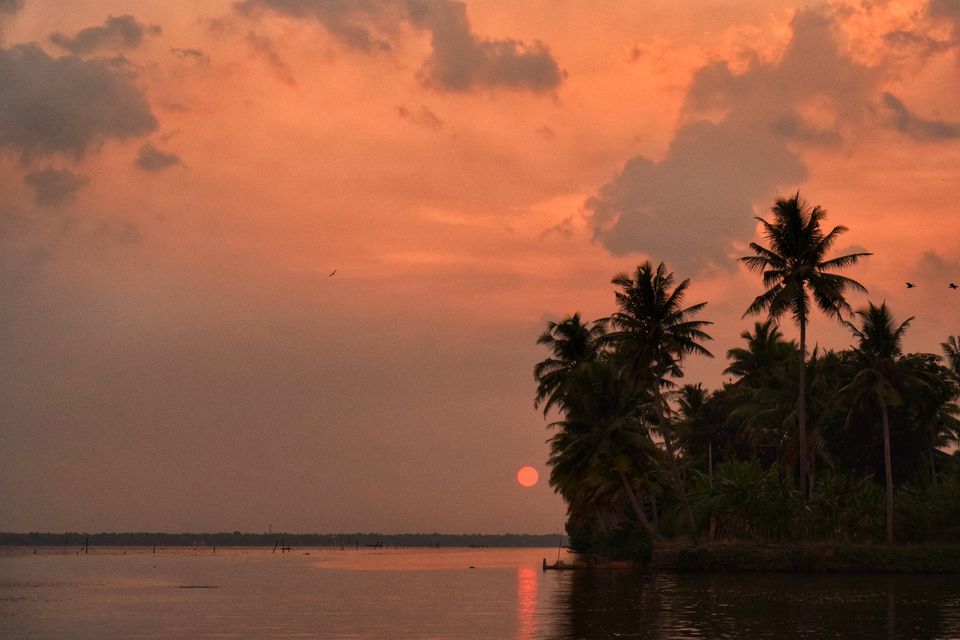 Around 5-6 p.m., the houseboat is anchored at the other side of the backwater and you are allowed to leave the boat and roam around a little. You can also watch the sun setting down and can enjoy a few local snacks during this time.
Finally, you need to head back to your houseboat for the dinner around 8-9 p.m. and then you are free to get down and explore a bit or just sleep in your room. In the morning, around 5-6 a.m., the houseboat is started again to head back to the pickup point.
You are served breakfast which consists of local delicacies like Puttu, Appam, chana, etc. And then finally, around 10 a.m., you are dropped at the shore so that you can head back to your hotel/homestay.
Things to Do in and Around Alleppey
Honestly, there is a lot to do in Alleppey and one can easily spend a week here just lazing around and enjoying some time-off from the rest of the world.
Here are a few things that you cannot miss out on when planning a trip to Alleppey.
Spend a Night in a Houseboat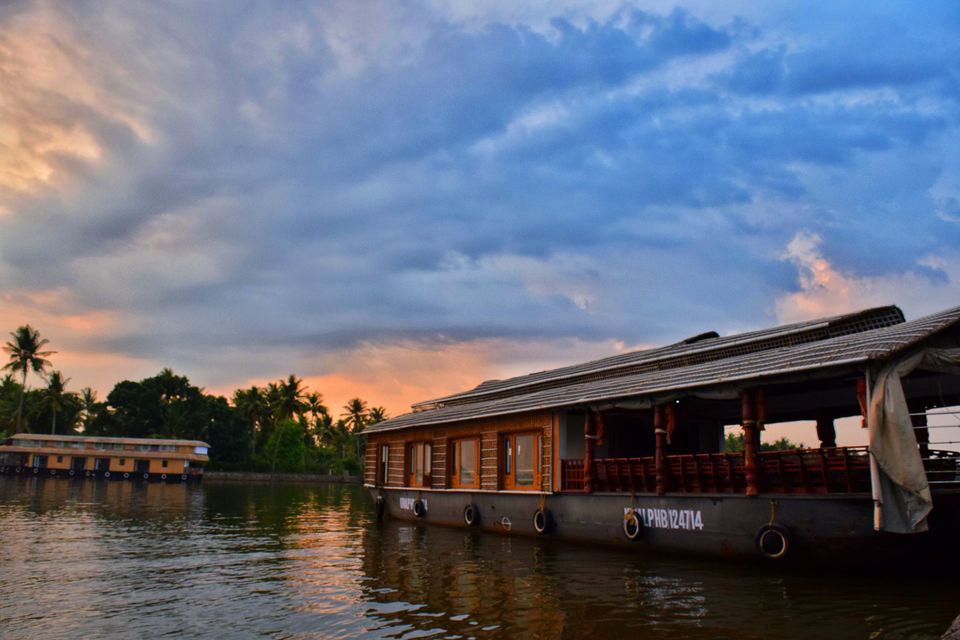 Well, it goes without saying that if you are traveling to Alleppey then you absolutely need to spend a night on the houseboat. Staying on a houseboat is a completely different experience and you can truly relax and enjoy your surroundings.
Plus, they offer the most delicious local meals on the houseboat which makes it an even more appealing experience. And let's not forget the gorgeous sunset that you get to witness from the backwaters here.
Enjoy and Relax on the Alleppey Beach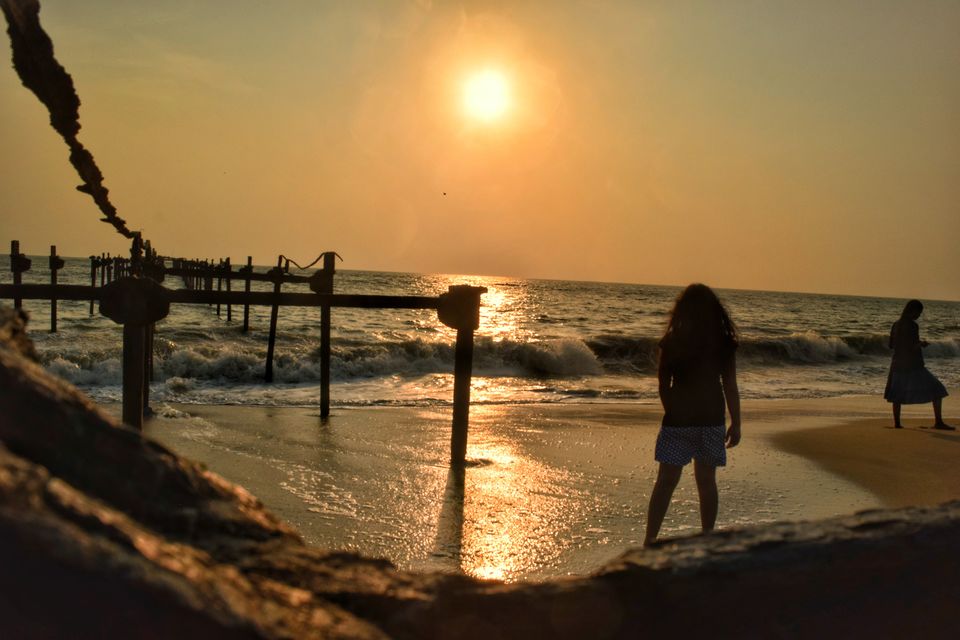 Another thing that you can do is head to the Alleppey beach where you will find more locals than tourists. This beach is slightly tilted and has a beautiful pier which makes for a perfect backdrop during the sunset.
So, you can head to the beach and enjoy the ocean waves while drinking coconut juice and snacking on local delicacies here.
Watch a Sunset from the Jetty Bridge
One of my favorite activities to do in Alleppey was to watch the sunset from the top of the Jetty Boat bridge while all the shikharas and canoes headed back to the area. It felt like I had been transported to Venice and made it really hard for me to leave the bridge to head back to my hostel.
So, if you are a huge fan of sunsets too then make sure that you check out the sunset here on the backwaters or in the Jetty area. And trust me, you will find it hard to leave Alleppey behind.
Explore the Backwaters of Alleppey in a Canoe/Shikhara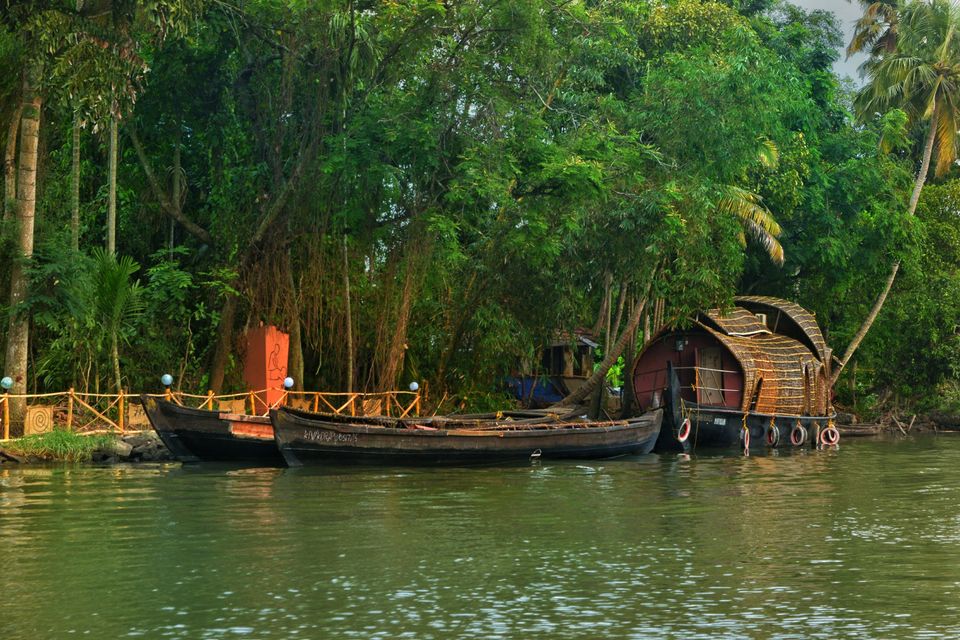 Apart from staying in a houseboat, you should also explore the backwater canals and routes on a shikhara/canoe. A shikhara ride will cost you somewhere around 150-250 INR for an hour and is a great way to explore the backwaters of Alleppey.
You can also simply lay down on the deck of the Shikhara and watch the sky and the birds flying above your head.
Conclusion
In all honestly, my trip to Alleppey is my best experience and staying in a houseboat has a lot to do with it. This was a unique experience for me and it was the first time I fell in love with Kerala and its people.
So, if you are looking for a unique and memorable experience in Kerala then make sure that you stay in a houseboat for a night in Alleppey.