I am in Bhopal! Yes, Bhopal! On a solo. And I have no idea what I am doing here! When my flight was two hour late, I felt like going back and dropping the plan altogether, but being who I am, I land here on a two day trip- and reluctantly so. The plans of white water river rafting in Rishikesh and Ziplining in Jodhpur took a temporary setback and I somehow landed in Bhopal, crazy things happen to impulsive solo travellers like me!. :) :)
Day 1: It's around 8 at night. The first thing which I observe about the city is its cleanliness and greenery, Man, I am in one of the greenest cities of India! What else was I expecting! :D It strikes me as something very pleasing though. I am already excited to be here :) My cab wallah seems like a happy man, he's happily showing me around! I guess it's my lucky day! Hey, wait right there I think I just I got my first glimpse of the city! That one glimpse which describe the soul of any place for me. "The Glimpse" as I call it! It's right there, a big beautiful lake along the road!! Dotted with city lights on the other side, proclaiming grandly that you have arrived- "Welcome to the City of Lakes"! Beautiful, beautiful it is to say the least!
I can see a lot of happy people around clicking pictures and enjoying themselves ! I am happy I arrived here at night!
Can't wait to see more of the city in the morning lights!!
I took a very blurred pic from the moving car! Damn me!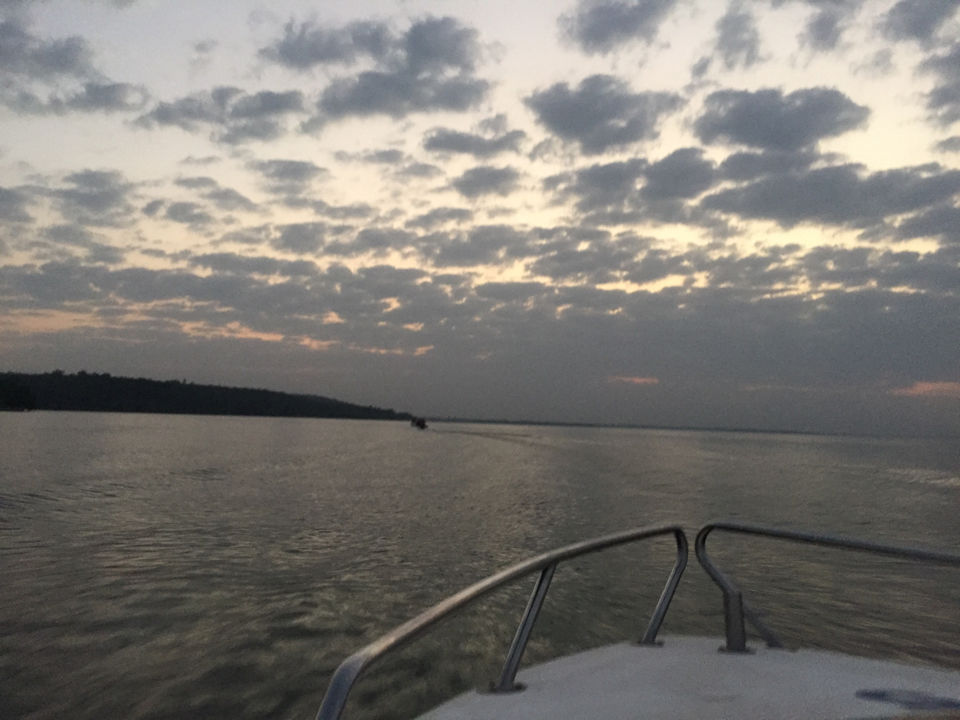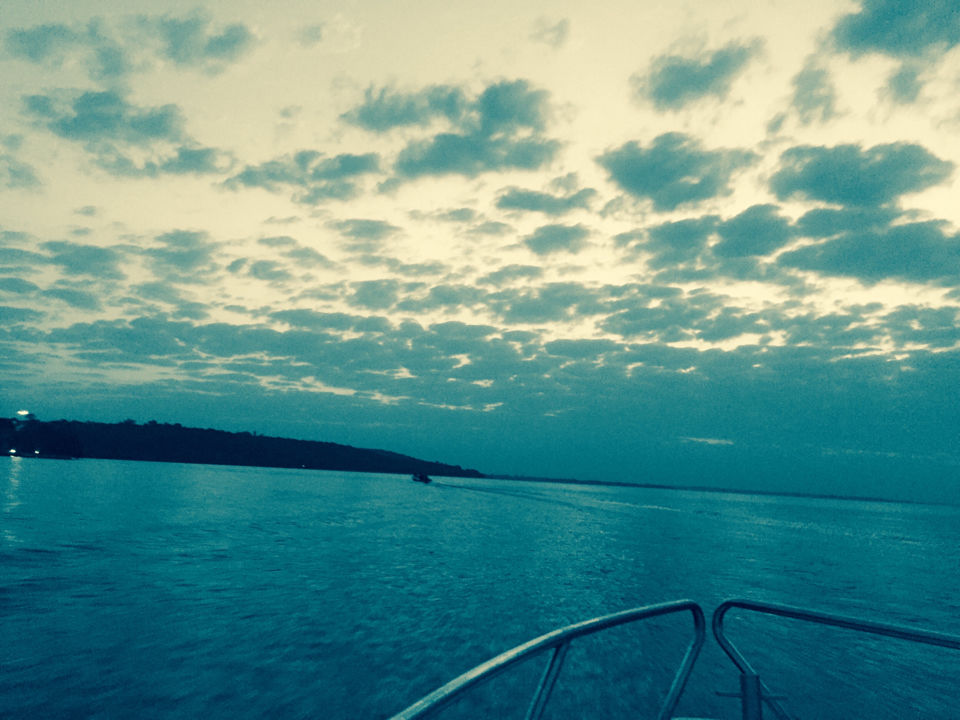 Slept late and Woke up late :( I have been advised to visit the Kerwa Dam by a friend of mine, so I am on my way. Wish I had started earlier! The sun is already overhead, but the roads are beautiful! I thought I would be traversing the plains but it cuts through the mountains and jungles. "Jungle me Bagh hain, satark rahe" Man, it's cool! There are many Boarding Schools and hotels on the way. I'm glad I came here without a background study, I'm getting surprises at every turn!! :) :D So I arrive at the Boat Club- the famed picnic spot. Fish, Ziplining! :) :)
Yay!! I dint know they had Ziplining here!! Skyfall Ziplines. Skyfall? Not a really good name to have I'd say :P Now the question is whether I should go for this Zipline? The sun is up in the sky, it's 12pm, and it's called the Skyfall Adventures :)
Doesn't seem like a too good idea to me for now!!
I'll just sit around the beautiful dam and brood for a while! Reflections happen best at such relaxed environs! Birds chirping away to happiness, people twisting their Nikon lenses, clicking excitedly! The poet inside me is feeling alive today after a long time.. Ghazals of Jagjit Singh and a dash of Sia! It's my day! And I'm falling in love with this city! There's a strange quietness about Bhopal, a sense of calm that engulfs me and bathes my soul as I sit here...
It's 5pm and I leave for the place where I got The Glimpse! Super excited! I wish I had a bike! Would ditch this car for it anytime now! The skyline is so amazing!! Omg! I haven't seen such a beautiful sky in a long long time! So I am here at The Upper Lake, which along with the Chhota Lake constitute the Bhoj Wetland, a Ramsar Site. Damn, I have never come out on a trip this clueless! I almost missed recognising a ducking Ramsar Site! Phew! Boating on this lake would be so beautiful. There's also a Cafe Coffee Day nearby, which offers a perfect view of the lake, I am glad I found it! :)
It's a nice day and I don't feel like going back to my room yet.. But there's almost no night life scene in Bhopal so I must retire for the night. Tommorow is my last day here, hoping to make the best of it!! Good night !
Manav Sangrahalya, the tribal museum and the DB Mall are on my agenda today! Had planned to go see the bhimbhetka rocks but damn my packing skills! I forgot to keep my shoes! Have been trotting around in my 4 inch HNM heels since I came here! A moment of silence for my foot!
The sangrahalya is a world unto itself, I wish I had more time to explore it! The Dainik Bhaskar Mall, which my copassenger on the flight had suggested was an overall average mall by Delhi standards like your Pacific Mall of Subash Nagar. It was a day of careless roaming around in the city... The part which I love the most.
As I pack and leave for the airport, here is a quick analysis of the trip and tips for other travellers.
Fit destination for a solo- 8/10
Safe for girls- 7/10 (You would come across people passing comments and lewd remarks)
Overall- 9/10. Beautiful place. Just looking at the lakes and staring at the skies will make you feel thoughtful. If there's a poet inside you somewhere, be prepared to feel the beat. And hear the sound of the music of soul. :)
To I the uninitiated like me, Bhopal may not fit the bill as the "Land of Lakes and the Beautiful Skies"! To those who have seen it, probably nothing else will describe it better!
I have a strange feeling as I leave- a feeling I'll come back here soon. Like I'm leaving a part of me behind- which I must come back to reclaim someday!
All well? Yes :)