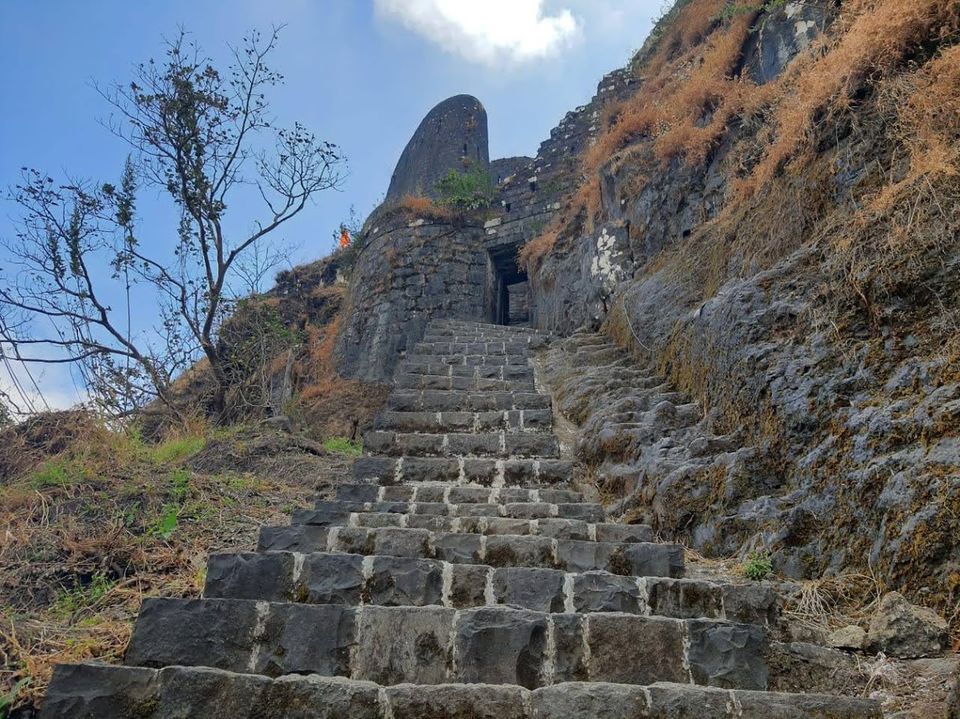 As it is rightly said, all unplanned plan becomes successful more than planned plans. Trek to Tikona was one of them. The plan was for Pawna lake camping, en route we thought of trekking Tikona Fort.
Tikona Fort is a huge pyramid shaped fort hence the name Tikona as it looks like a triangle. It comes in the range of 'hard' when it comes to climbing the fort. Also known as Vitandgad it is situated in the Maval region of Western India. To talk about history this fort has a rich history ranging from 7th century AD.
Way to Tikona was adventurous and road condition was little bumpy. The fort has an attitude of 3633feet from the sea level. The road till base of the fort is one way so when there is a turn don't forget to honk. There is parking space available at base of the fort for cars and bikes.
After parking I started the climb to reach at top of the fort. The climb at the start is at moderate level. After reaching a certain height a traveller can enjoy the beautiful view of Maval region, Tung, Lohagad, Pawna dam. En route there are small shops by local people selling lemon juice and Taak(buttermilk). Continuing the trek traveller can spot reservoir, a Shiva temple inside the fort. The way inside the fort is different. There are ways which we feel as if we are passing through forest ways. Traveller can spot monkeys en-route.
The last leg of the fort is very much scary. There are steps which is like 90° standing straight. One should use both legs as well as hands while climbing as that would make easy to climb. It would be looking scary but as it is rightly said
'The best view comes after the hardest climbs' the view from top was just amazing. One would get the feel like he/she has conquered the world. Travellers can rest at the top, have some photo session.
While getting down remember to get down by using hands as well as legs as used while climbing. Just remember be cautious while trekking and enjoy trek responsibly by keeping the sanctity of the place. The trek made me realised nothing is difficult if we have a strong determination to climb the ladder to success. I am sure every traveller visiting this fort would feel the same and we should feel proud that we have these masterpieces in our country. Incredible India
Tips-
Get hiking pole /stick which will be of great support for trekking.
Can club Tikona Fort with Pawna lake camping as one day trip from Mumbai.
Travelling Time- Approximate 4 hrs from Mumbai via Mumbai- Bengaluru highway.