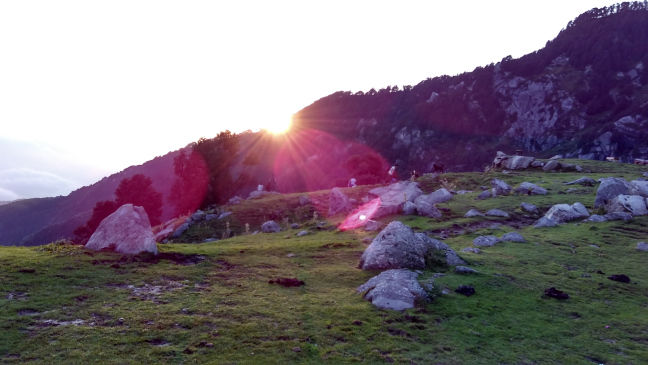 Triund is a known place now a days, quite easy and adventurous; all you need is a weekend(no need of an additional Friday or Monday!) and hardly 3k INR budget (May sound surprising but yes its true). Well I would be describing how you can plan at cheapest for triund with my own experience.
We a group of 4 people started thinking about planning to trek to triund and made it 11-12-13 september'15 weekend. The journey starts from ISBT kashmiri gate, a number of buses are available from HPTC to Mcleodganj. Buses are available almost every hour from ISBT to dharamsala. Prebooking the bus tickets using redbus or any plat form is recommended. The charges of a semi sleeper/adjustable sitting is approx INR 500 till Mcleodganj. You may apply certain redbus offers or Paytm offers and can get the prices reduced by 100 or 200 INR. We started Friday night and our bus was having mcleodanj as final destination. You may board a bus till dharamsala if you don't get any directly to Mcleodganj. Buses are available frequently from Dharamsala to Mcleodganj at Dharamsala bus stand.
Saturday morning around 7AM we reached Mcleodganj. All you is greenry, fresh air and a sunny day about to start.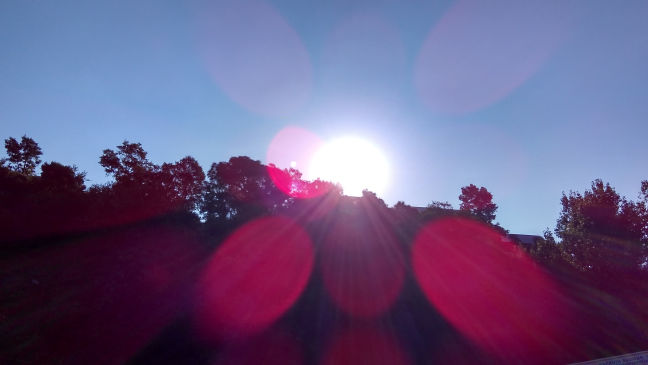 Mcleodganj have a large tibetan market with number of options to sit and enjoy breakfast,below pics of market around bus stand.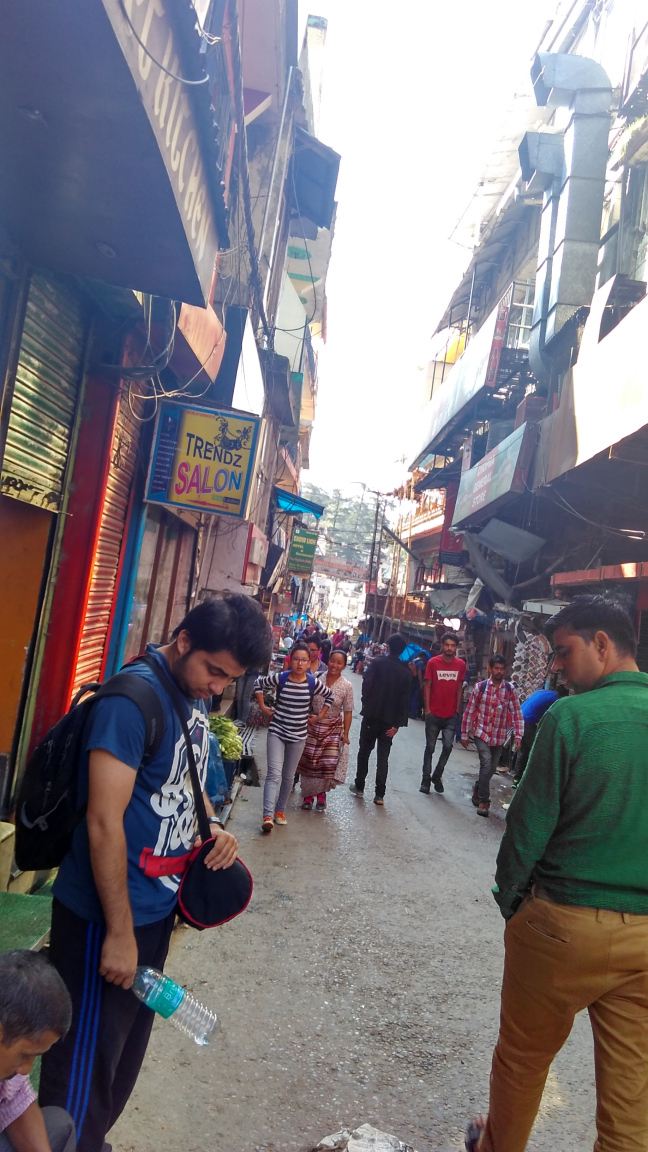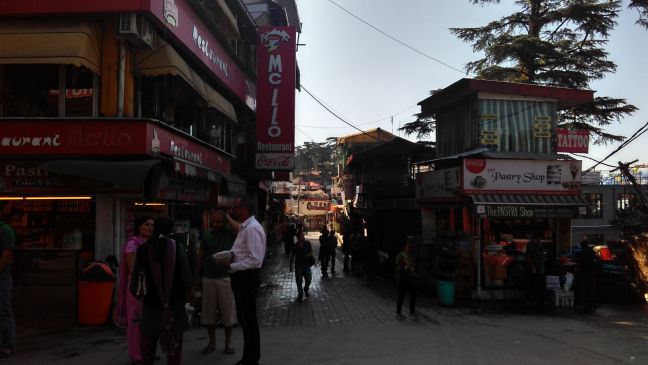 I will suggest to have breakfast at Dharamkot, hardly 2 km above Mcleodganj. Auto rickshaws are easily available from mcleodganj bus stand to dharamkot charging 40INR for 2 people at a time. Dharamkot is very famous among foreign tourists and you fill find the place occupied with foreign tourists staying for long and relaxing holidays. We had breakfast at zula cafe and I'm sharing pics of our experience :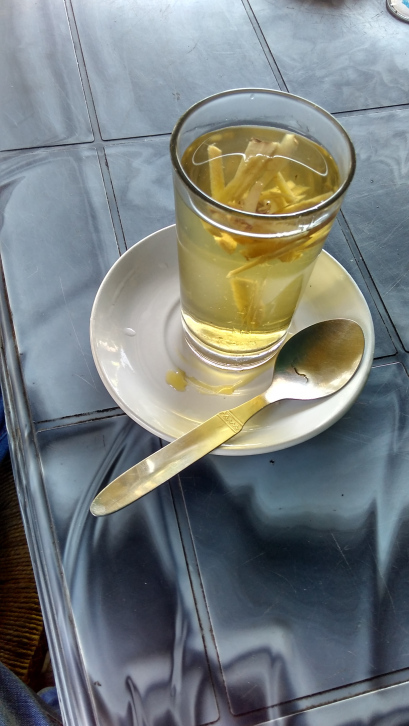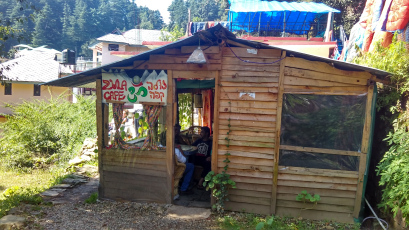 We started trekking around 1PM after relaxing for few hours at Dharamkot. The trek till triund is an easy to moderate trek, so if you are planning to trek till triund there is no need to hire a guide. You will lot of people joining you in between dharamkot to triund.
The trek is just a hill way among exciting scenic beauty of nature and dense forests of pine trees. Looks like below at start: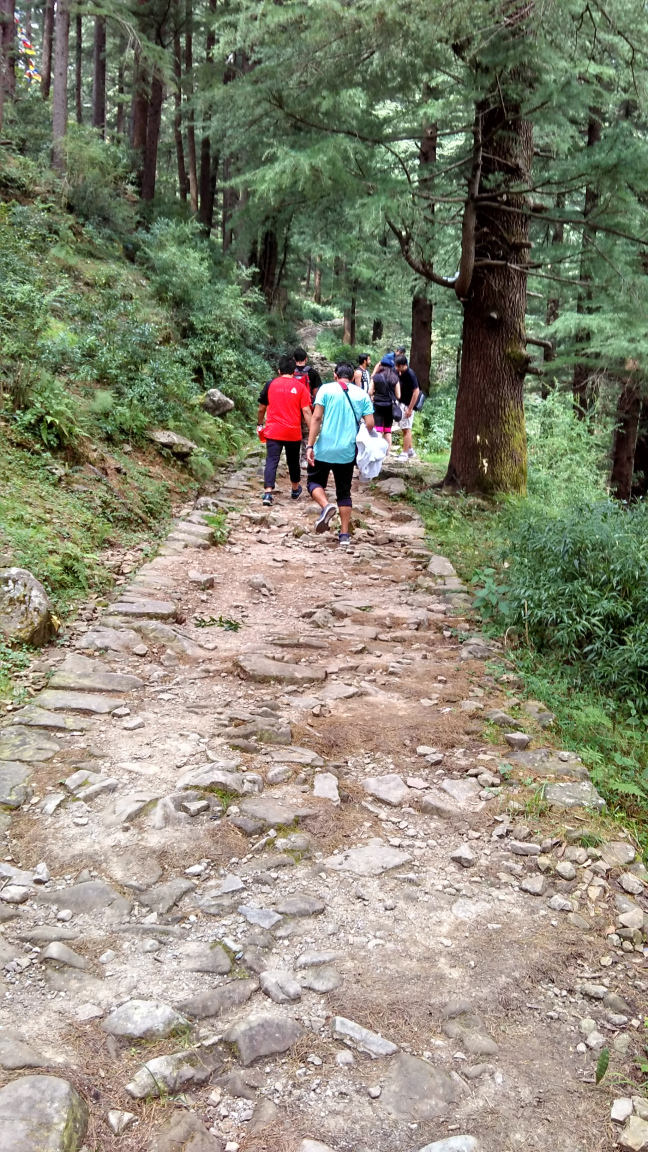 The entire trek takes around 4-5 hours for an average person. There are 3-4 cafes in between the trek and you may sit there and enjoy Maggie or omelet when you are exhausted. It rains heavily in Mcleodganj(I think second highest in India after Cherapunji) so its must to keep your rain coat ready when you trek, because you may need it unless you are too lucky(we had no rain coat, our bad luck). Below are few of the pics of the hill way and on trail to triund.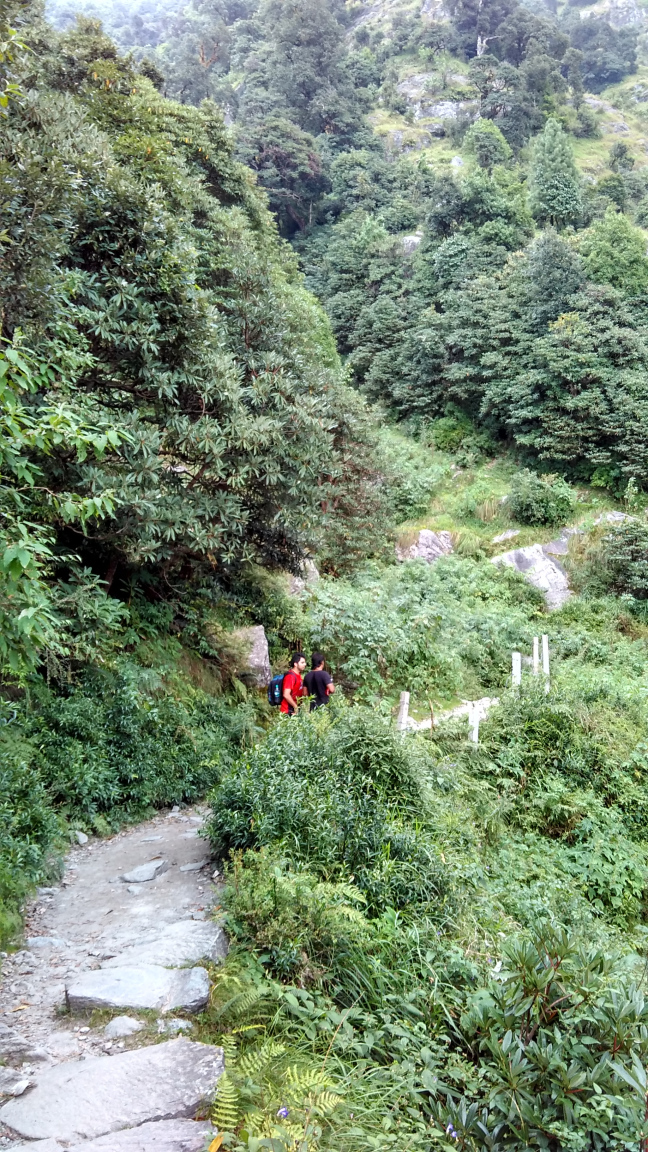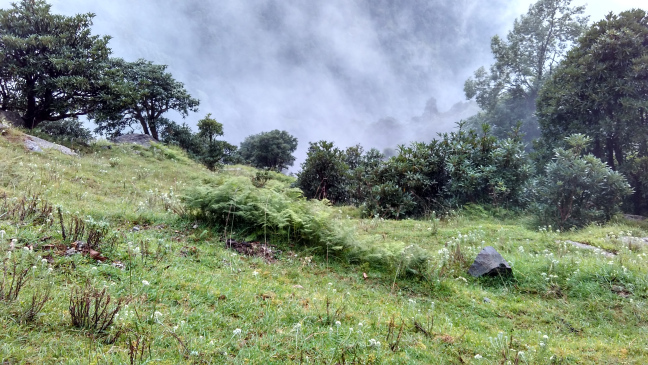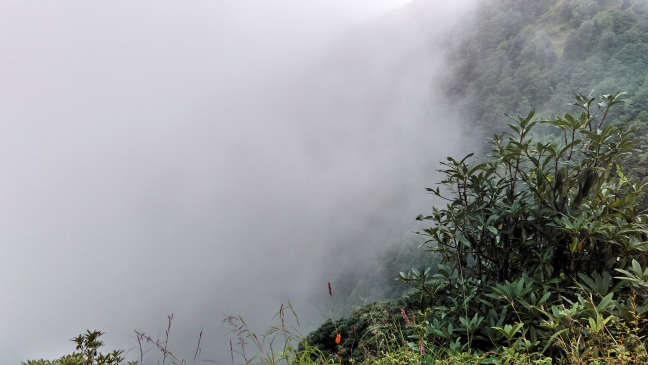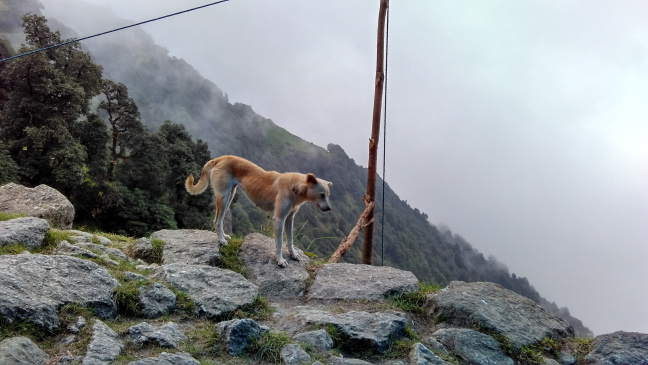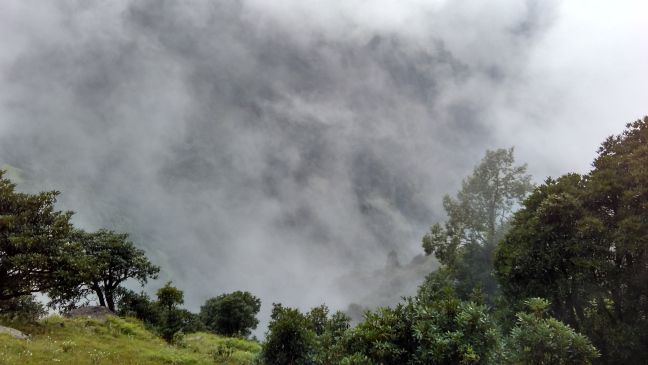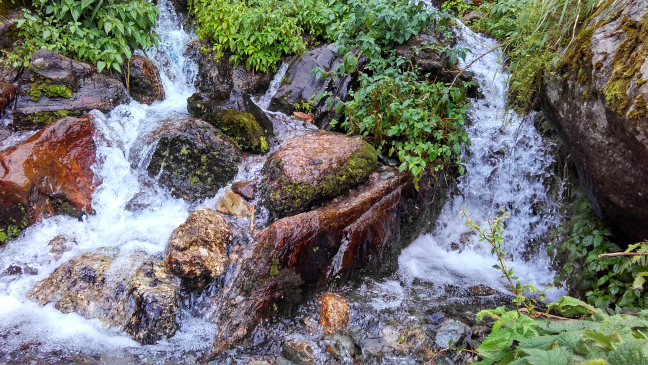 Once you reach there all of your tiredness, exhaustiveness,sweat will be gone. You wont be able to believe your eyes. I don't have words to admire the beauty of the place and I'm not a good writer as well to write???? But I'm sure once you reach the pain of last 4-5 hours will be gone.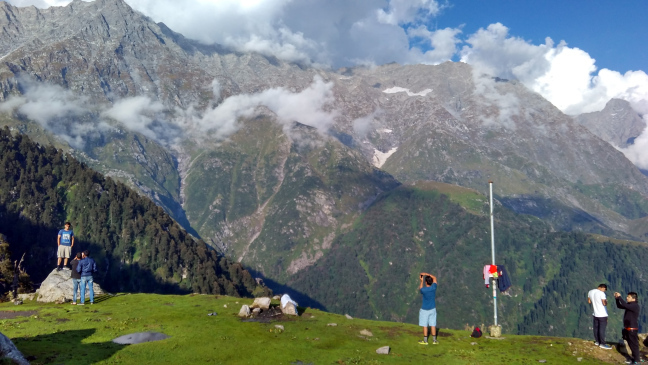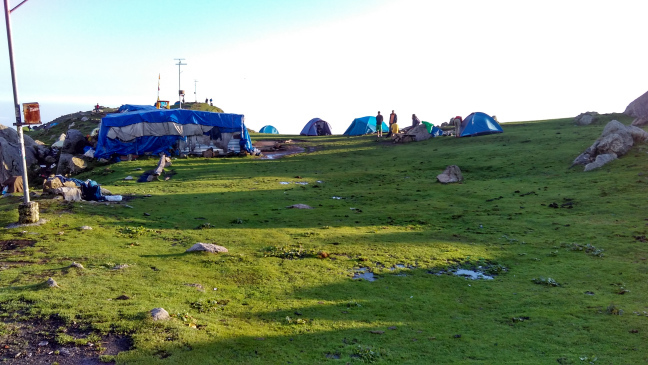 Its a campground covered with all the dhouadhar range of himalyas and snow covered hills. You can enjoy camping here at just 400INR per person. The dinner will cost you approximate 200 INR per person. You can carry your drinks and food items for enjoyment. Below are the pics: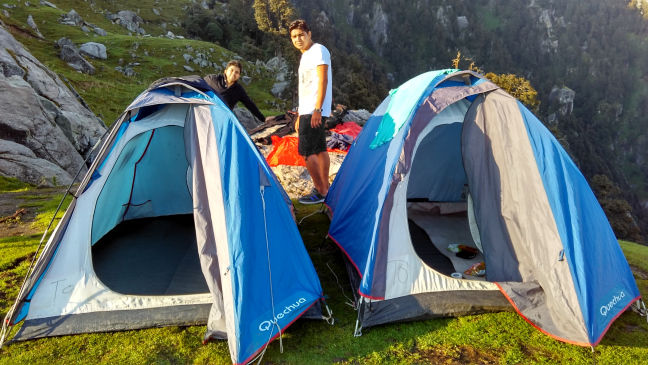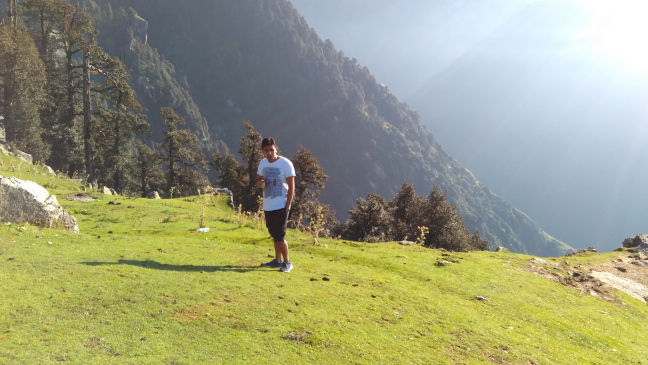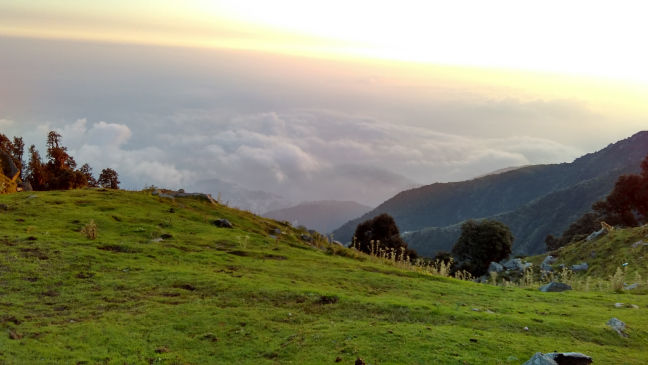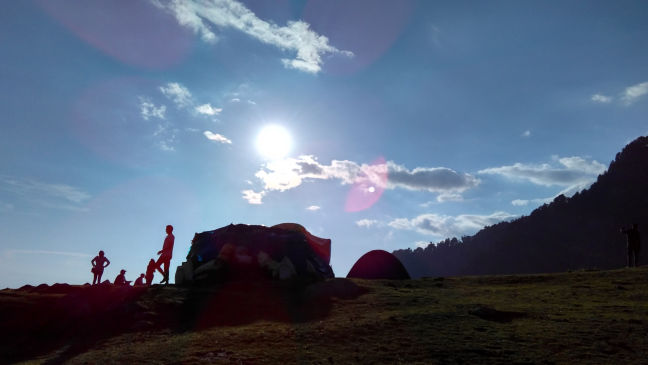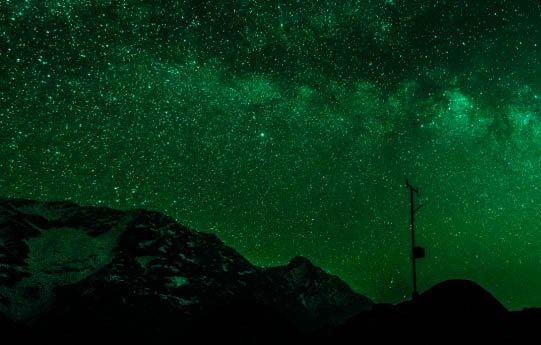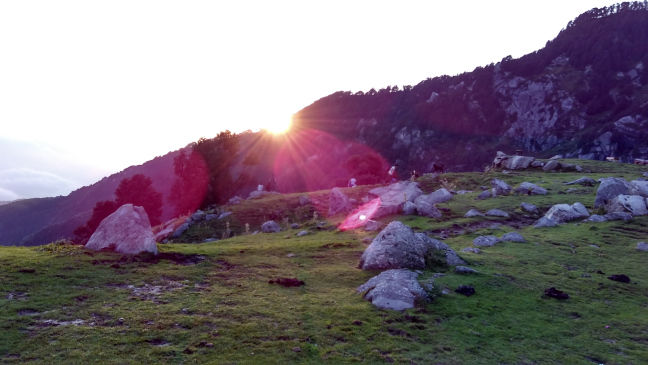 We enjoyed our breakfast and came back. Reached Mcleodganj back by evening. Our bus to delhi from Mcleodganj was at 8 PM and reached delhi back around 5-6AM Monday morning, same charges. So here's an overview of the entire trip spending:
Delhi to Mcleodganj (Approx 500INR)
Mcleodganj to DharamKot ( Approx 20INR)
Camping at Triund (400INR)
Back from Dharamkot to Mcleodganj (20INR)
Mcleodganj to Delhi(Approx 500INR)
Meals (rest 1500INR- 6 times)
Thanks for checking out. Please post suggestions in comments:)
This blog was originally published on 'triptotriund'