I was sitting next to him,resting by a big rock tightly holding his hand. No, it was not a romantic gesture,I was feeling too cold, temperature dropping to around 12-15 degrees. I was adamant on staying in a camp while we were planning trek but we didn't get it due to weekend rush. They say everything happens for a reason. We instead stayed in a small room. He was quite happy about it.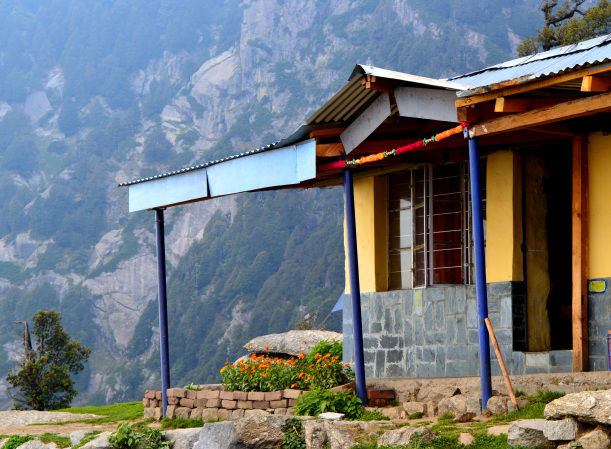 I kept telling him to go to room and wear cap , but he didn't listen. He didn't want to miss the moon rise and then I also let it go. I also didn't want to see moon rise without him. How often do you get to witness such beauty? Ironically it's a regular thing for nature,sunrise and moon rise,nothing miraculous! But we get lost in the hustle bustle of the city life. All we see when we look up are either tall buildings or some banners or even worse-smog. It was one of those beautiful moments you would want to hold on to. It was our anniversary trip. I mean 'trek' and I could not have imagined a better way to celebrate it. We were holding each other , twinkling in the moon light ,far away from all the noise of the city and society planning about next destinations to visit in upcoming year. Perfecto!!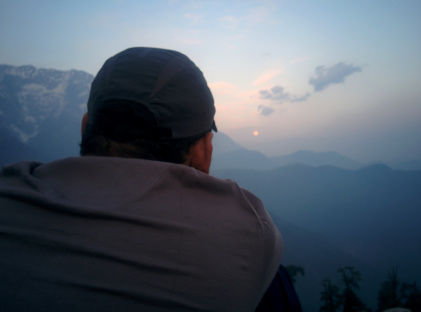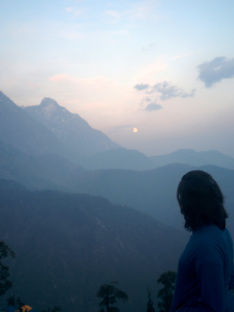 The stomach started growling, we were waiting for pressure cooker whistles. The menu was simple- Dal chawal. Still in such cold and 2875 meters above sea level, it felt like the best meal one could ask for. Plus the pickle with dal chawal was a treat
We decided to stay outside for a while. I was thinking about the how the day passed and how I finally made it to the top. We had started hike from Dharamkot instead of Guna devi temple, 14 km from Triund hill. In first few minutes , I realized that it's not going to be an easy task. The trail was neither too easy nor too difficult. I would call it as moderate trek. For the first few kms the towns were visible and it didn't feel we are away in the woods but slowly the sight gets distant. We enjoyed being in mountains together for the first time.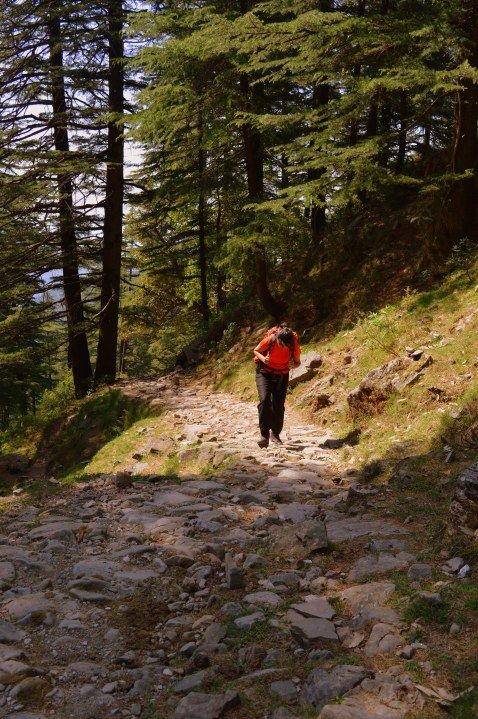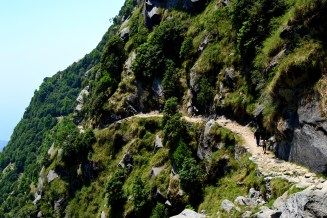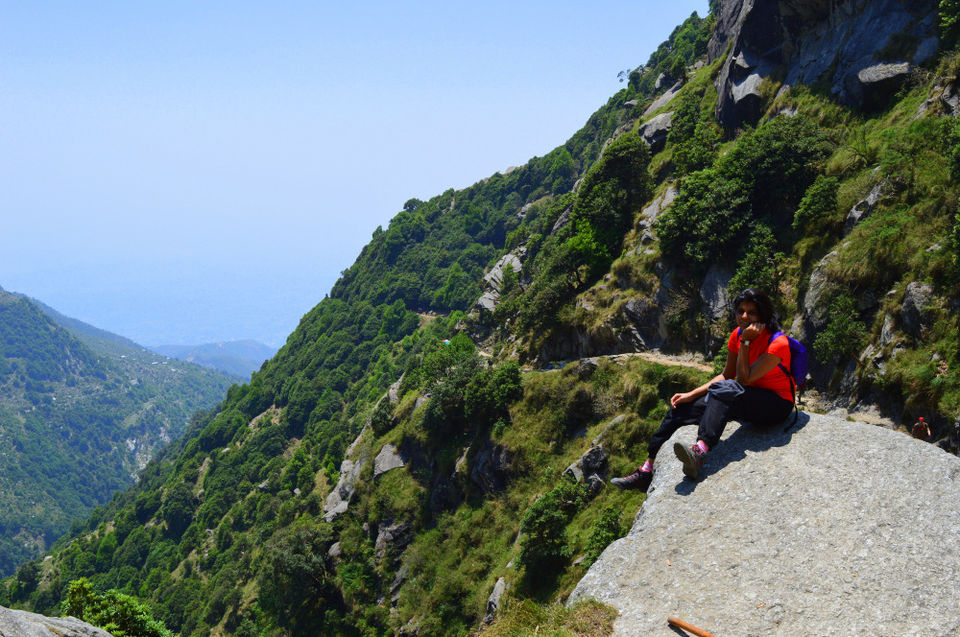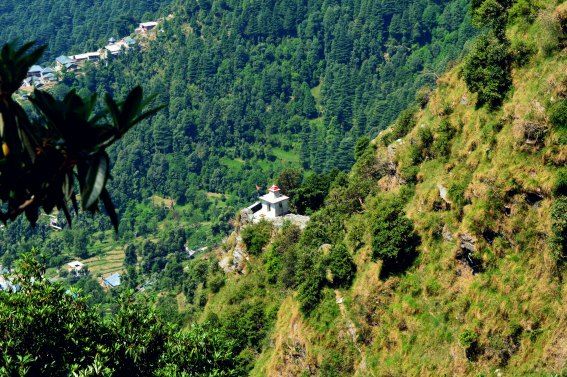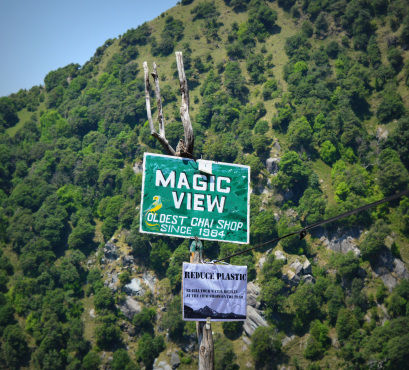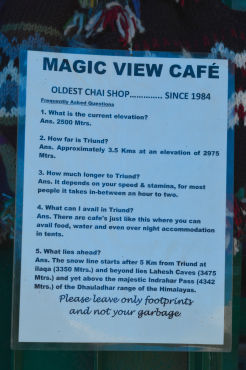 I was in northern part of the country after 8 years and in mountains after almost 4 years and it was evident by the pace at which I was walking. He kept pushing me, motivating me, waiting for me at times and helped me keep moving. I always wanted to trek with a person with whom I would be deciding to spend my life. I am not a solo trekker type of person. I have mostly trekked with 1-2 of my friends or in a group of complete strangers.Yet, it is during such trips I have met friends to cherish for lifetime. I recently read somewhere that , if you trek together, you live a lifetime together'. I strongly believe this is the best you could get to know a person's character, the comfort zone of the person, the common topics to chat on, the way he treats other people and so many more things. Unfortunately, it didn't happen beforehand in our case. This was the first trek together and I thoroughly enjoyed it with him. He passed all my checks and it reinstated the fact that I made a right choice????
Anyway!
Fellow trekkers who were descending suggested us to go slow. It was quite sunny atop so better to reach late afternoon so one reaches at right time to spend pleasant evening and see sunset. We didn't have to take any special efforts to do so , I just had to go by my speed :)
Interesting living beings we met on the way!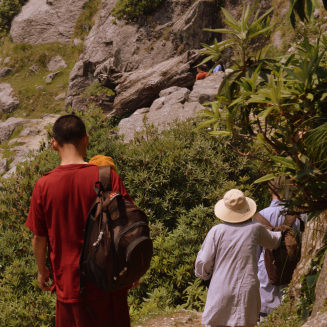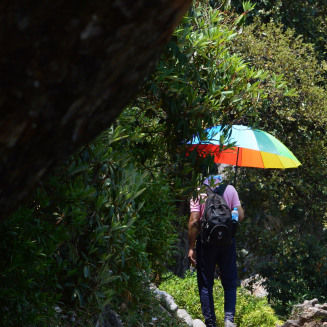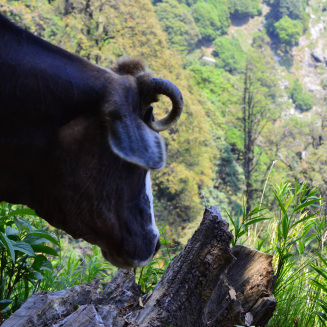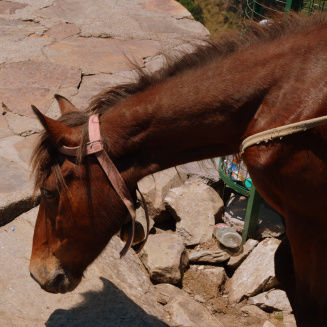 I was tired when we reached on top. But the view took away all our pain . There was so much to explore even on the single stretch of land. There are two slopes once you reach, on right and left hand side. Our room was on the left slope , just ahead of the forest guest house. Tents are pitched once the sun sets so till that time people prefer taking long walks, just lie back on lush green patches otherwise pose or click pictures.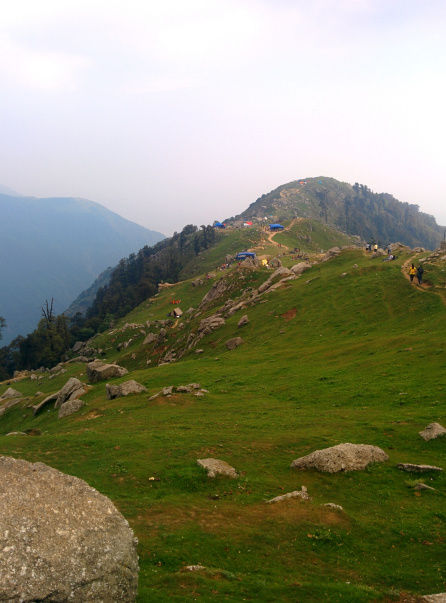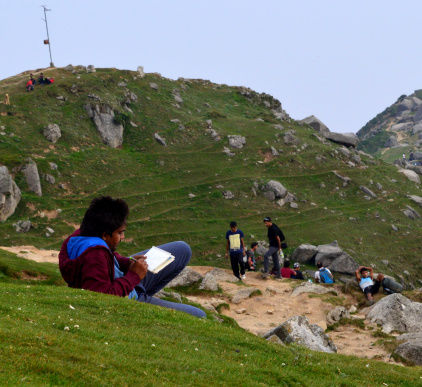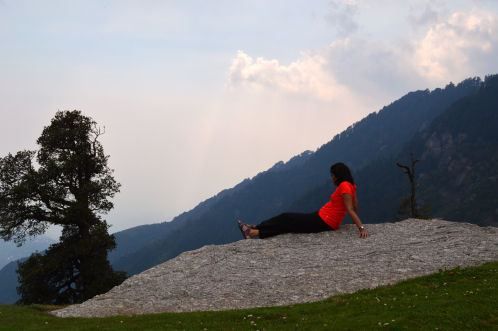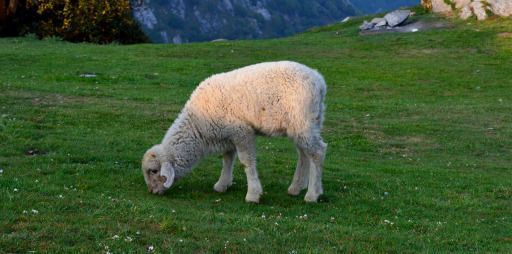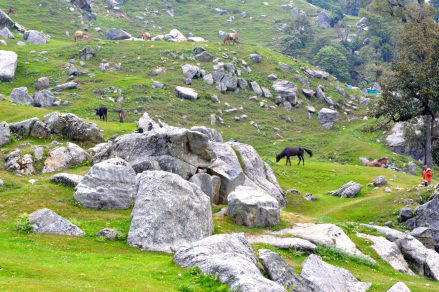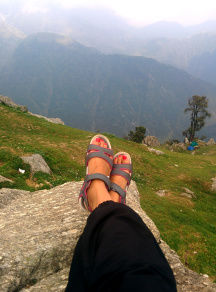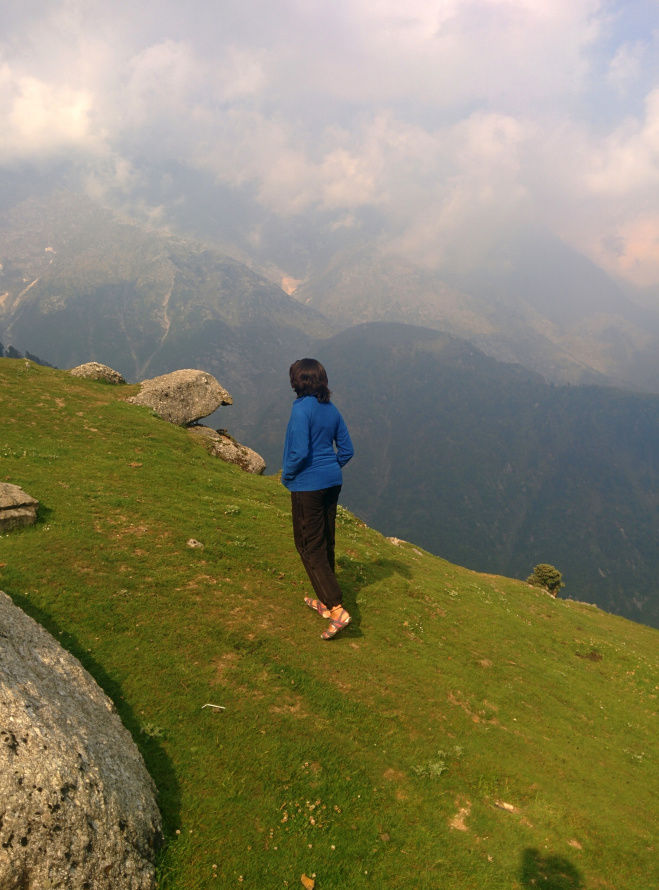 This is my favorite part of any hike. The time when you reach destination, the relaxed , lazy mode. This is the time when you hang out with fellow trekkers , sometimes strangers. I love meeting new people. Sometime you end up making friendships which go beyond Facebook and sometimes they end up as soon as you go out of sight. Still I enjoy the friendly vibe and random talks.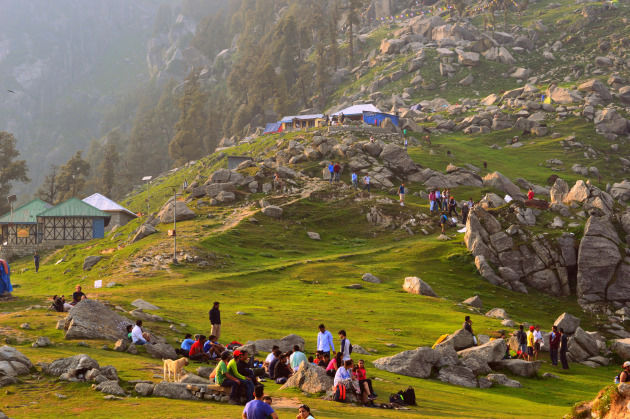 We slept around 10pm that day and without any alarms woke up at 6. It was pleasantly cold. People were still coming out of the tents. We again queued up to the shack to have the first cup of the masala chay. Looked like, it was going to take time so better to answer the nature's call first.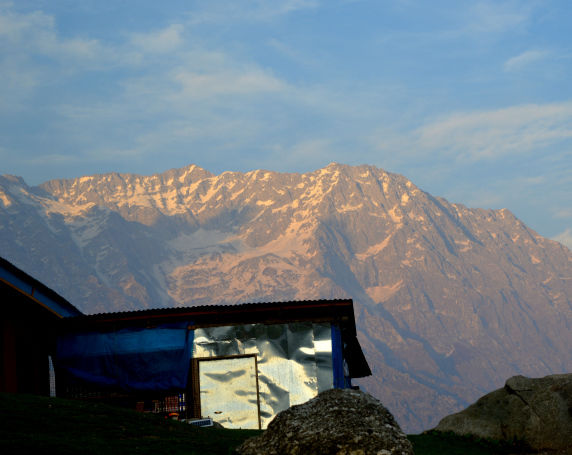 We were prepared with a separate water bottle for the early morning rituals. Yeah, don't expect a closed loo above 2875 meters of sea level. These are the rare experiences of life and one should not miss. Golden rule is not to be shy while going in the remote corner behind huge rock with bottle in hand.Forget going through news in TOI app sitting on the toilet seat. Here you have to spot a safe place and enjoy the view. Dhauladhar range at one side and Kangra valley on other!????
Masala chay was ready. I had it with a girl from Austria. We kept chatting about the profession, the trek, our cultures and ended up having the best conversation of the trip. The sun was rising behind Dhauldhar mountains and slowly reached our hill. Time for another cup of tea. Now by this time, it was four of us. My friend, her friend and us. We chatted for a long time till we decide to make a move.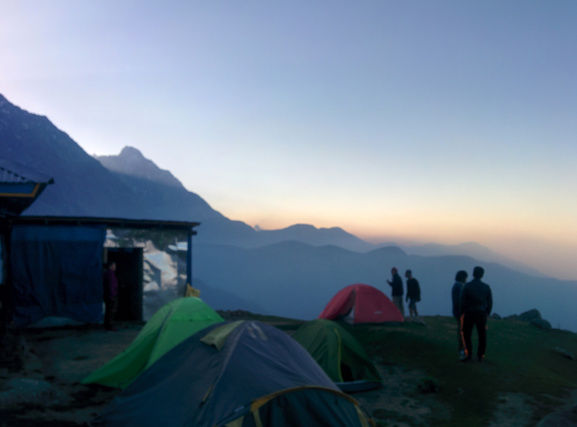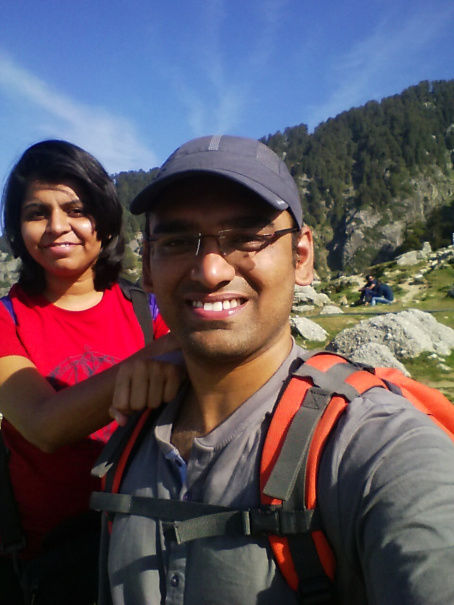 I met this girl hardly for an hour but had the most amazing time with her. She ended up convincing me to do what I really love and how I am just wasting time by not doing what really interests me. She was doing the same. She was not afraid of failures, success or money but was truly bothered only about doing something she feels like doing. See, I told you, I have met interesting people on such trips who have influenced me in some or the other way.
Travelling to me is what going to temple is for believers in God. The more I get close to nature the more sacred the pilgrimage is for me. Nature is MY God. Every time I trek, I go beyond my limits. I get out of the comfort zone and some new reality strikes me. The mountains , deep valleys, tall trees, dense forests teach me how tiny I am in front of the nature. It makes me humble. People staying in remote areas teach me how materialistic we are about things. We usually buy trekking gears and what not to climb for once a six month or may be less than that. The Pahadi people walk barefoot or with the slippers. You don't need fancy stuff to reach where you want to go but a heart and will to reach the destination.
It's my way of rediscovering myself. I shut everybody I know off and be open to new people, new experiences. I learn something new about myself, sometime about my fellow friend and always about the world around.
So my dear readers, go out, take out time from routine! It might not be a town far away , might not be a popular destination ,a visit to nearby unknown place could do wonders to you. Trust me nature is the best mate you can have in happiness and sorrows
Cheers!!