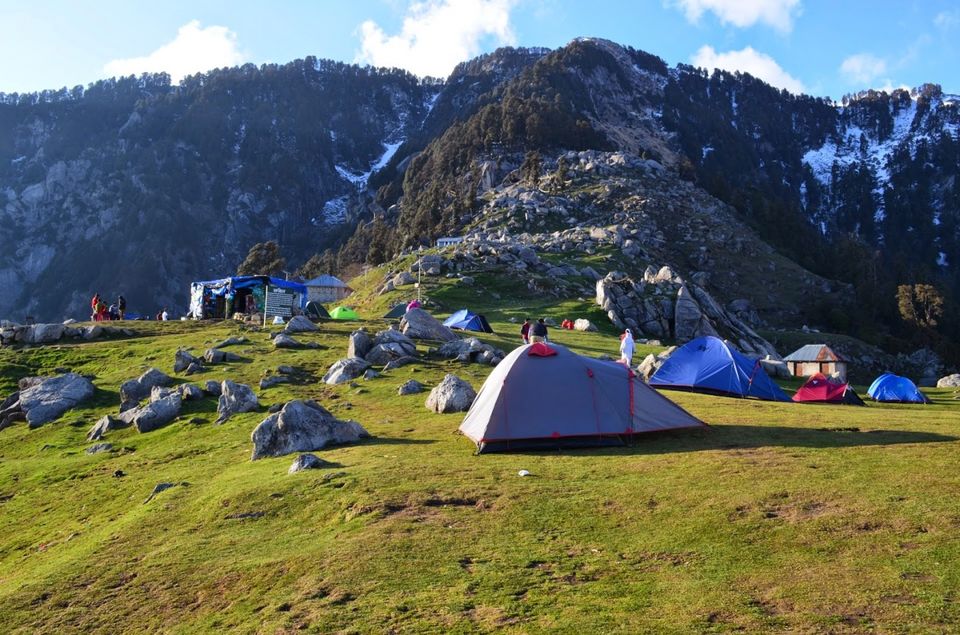 Introduction:
Are you looking for a place, where you can just get lost in peace, far away from the city? Do you love nature & admire the beauty of Hill Stations? And most importantly, do you have no problem to challenge yourself a bit & can do some easy to moderate trekking? If your answer is Yes, then Triund is the answer for you. I had heard about this place from many people & when finally got a chance to visit the place, it was worth all the efforts I made.
Location Overview:
Triund is situated in the laps of Dhauladhar Mountains & it is a very popular trekking site. The trek is fairly easy with a length of 7 KM & can be completed by all the age groups quite easily, however the last 1 KM might challenge you a bit as it has steep ascends & many tiring curves. "A Pleasant Surprise", however is something that you get after that 1 KM stretch & trust me, you will forget everything for some time because of that Hypnotic Panorama. Trekking at Triund is pretty much feasible throughout the year, but it sometimes gets closed due to heavy snowfall during the months of December to February.
How to Reach:
There are regular buses to Dharmshala from different cities & the roads are fairly smooth in Himachal Pradesh.
The nearest Toy Train Railway Station is Kangra which is 17 KM from Dharmshala & Broad Gauge Railway Station is 85 KM at Pathankot.
The nearest Airport is Gaggal 13 KM away from Dharmshala.
From Dharmshala, you can hire a cab till McleodGanj, which is 9 KM from there, or buses are also available at specific local timings.
You can go by yourself till McleodGanj itself & park your vehicle at the paid parkings, which are quite safe as well.
7 KM trek start from McleodGanj till Triund.
Places to see in McleodGanj City:
We left Delhi early in the morning as usual, in our own car. The drive is fairly smooth till McleodGanj and condition of roads is also great. We reached McleodGanj next day in the afternoon & decided to do the trek in the morning next day, so we booked rooms in a hotel in McleodGanj & went out to explore the city.
We spent our evening in McleodGanj city, which I must say is very beautiful. Many people come here to study Tibetan Buddhism, culture, crafts, etc. The town is also known for Tibetan handicrafts, thangkas, Tibetan carpets, garments and other souvenirs. The most important Buddhist site in the town is Tsuglagkhang or Tsuglag Khang, the Dalai Lama's temple. It has statues of Shakyamuni, Avalokiteśvara, and a statue of Padmasambhava (Guru Rinpoche). You can also visit the Bhagsunag Waterfall in the evening, which is another nice place to see. We had our dinner at "Black Magic" which is an amazing place for food. If you ever visit McleodGanj, then you should surely try this place, if you love great food & awesome ambiance.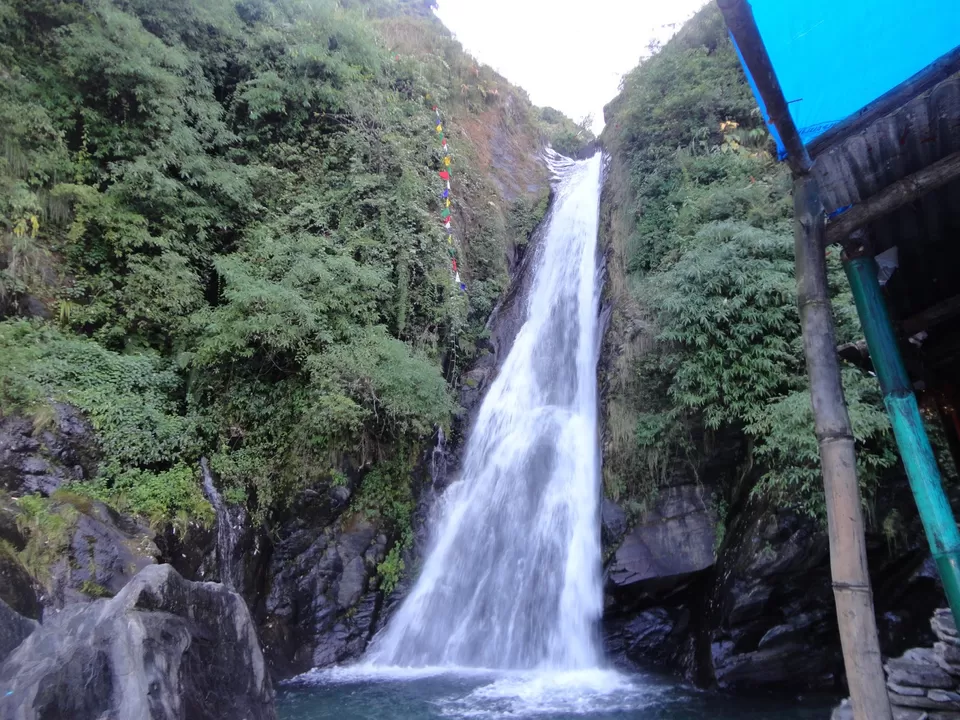 The Trek:
Next day in the morning, we had a meeting with the trek organizer for the plan, as we had already booked the package from Delhi, which cost us 1,500 person. Although we had taken a package for the trek, but if you already have your trekking gear with you (i.e. Tent, Sleeping Bags, Sleeping Matts etc.), then you can do it by yourself too, however you do need to have bit of trekking experience. The starting point for the trek is 4 KM at a place called Galu & you can take cab till there, but we started our trek from McleodGanj city itself and our guide took us through a short cut till Galu, which passes through the dense forests & few houses on the way.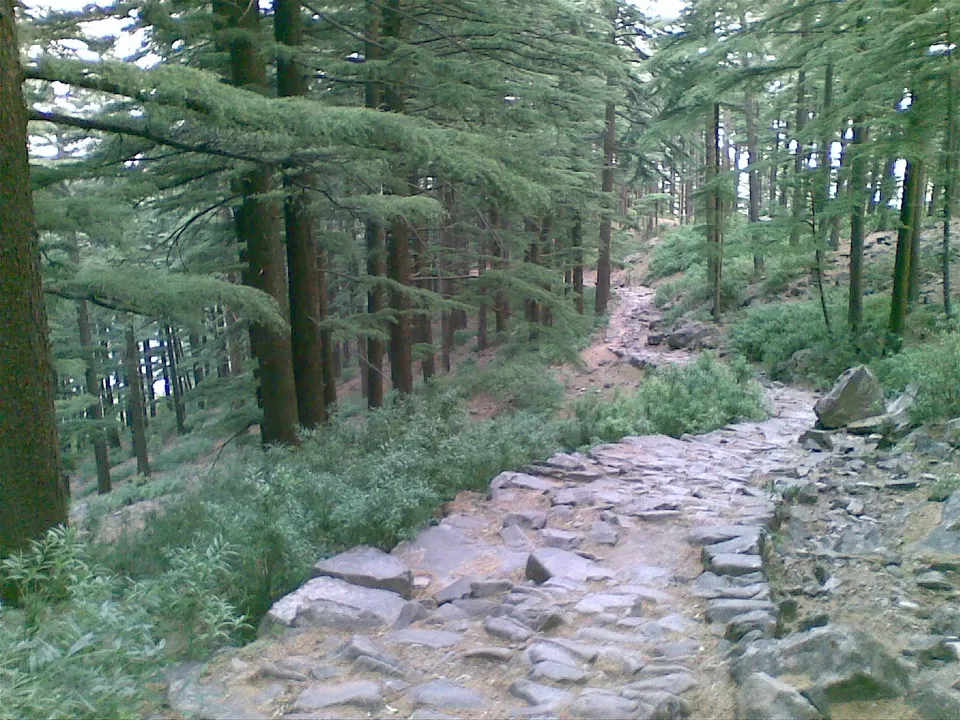 There is a small shop at Galu, where you can buy snacks, beverages & water etc. Make sure to carry enough water with you, as you won't find any drinking water at the top, although there are few shops on the way and there is one shop on the top as well, but they obviously charge extra for the items they sell. However, luckily you will find some very good stuff in these shops, e.g. Gatorade, Lays, Cold Drinks & Snacks of good original brands. The isolation has not prevented them from selling the good quality snacks & you can at least be content that you are not getting some cheap stuff on premium.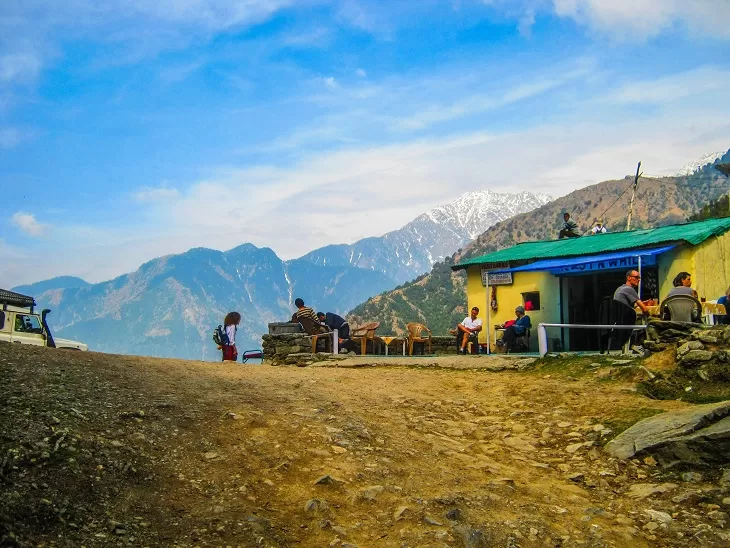 The actual trek starts from Galu and from there, there is a clear path way through the dense Oak, Deodar & Rhododendron forests. Although the view is quite mesmerizing, but you also need to be careful while walking, as there are few areas which are infamous for being really dangerous & there had also been few accidents at those places due to carelessness.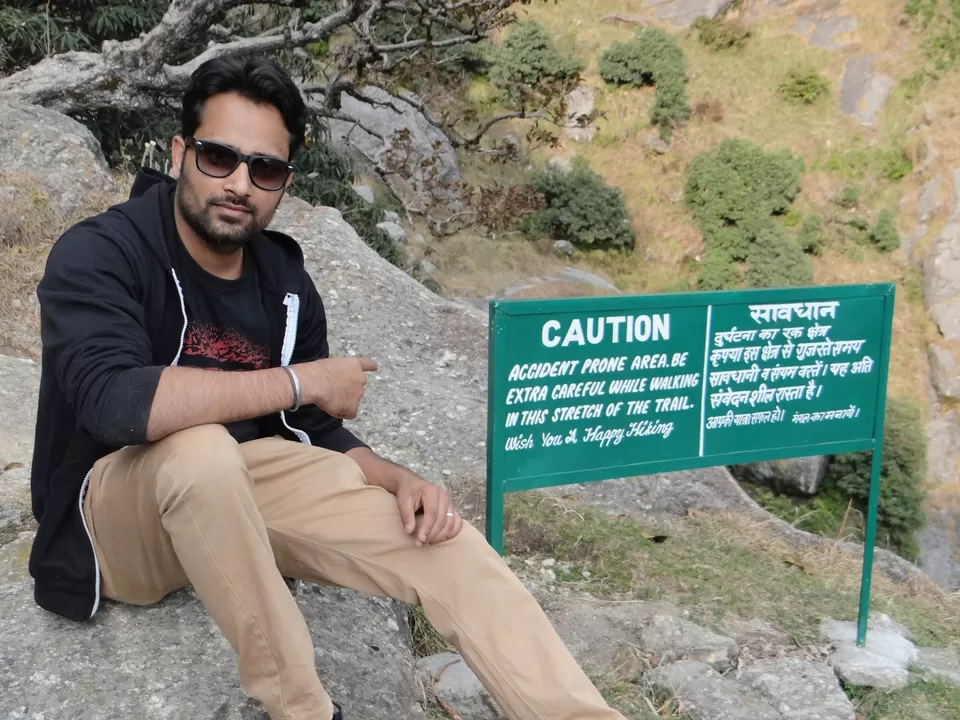 The initial few kilometers of the trek are really amazing and we had a lot of fun on the way and we took few halts as well, to take some photographs combined with some snacks on the shops. However, here comes the most challenging part of this trek, the last 1 KM. the last 1 KM stretch really challenges you with its steep ascends & numerous curves (22 to be exact). We walked the stretch with heavy breath and there we were, on the top & catching our breath.
The Pleasant Surprise:
Believe me, you won't come to know about what's going to hit you, until you take your last step on the top. All you see is mountains covered with snow and glowing during the sunset (if you reach there by sunset), suddenly appear as the climax of the story, which was nowhere expected until you took your last step. Everything that you have gone through, tiring walks, heavy breaths & challenges, seem like worth doing for this. We reached on the top, just before the sunset & I just went to the open place admired the panorama for a good few minutes, until our Camps & Bonfire were prepared by the organizers.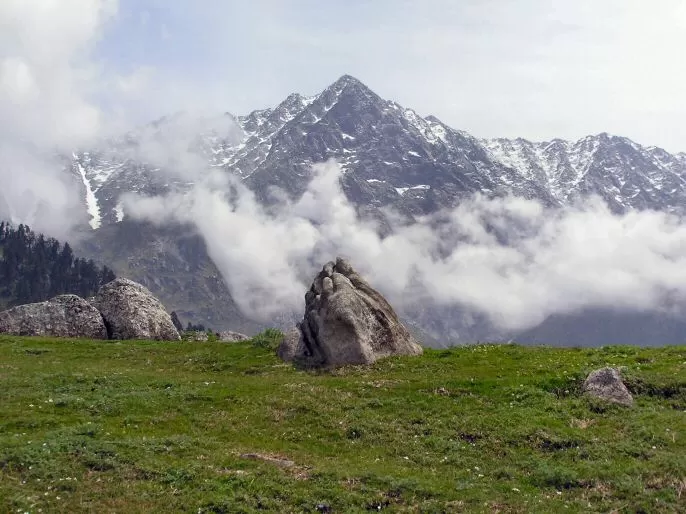 Camping & Bonfire:
Few more minutes after the sunset, our trek organizers prepared the bonfire for us and we gathered around the fire in that cold night. And did I mention the 3 extremely friendly mountain dogs, who came from nowhere in the night to share the bonfire. It was really funny to see us struggling with dogs to get a space to enjoy the bonfire, as they sat right in front of us with their first right of enjoying the bonfire. And let me tell you, they were not just ordinary dogs, but they were quite healthy & huge. Whenever they rushed to the jungle because of any sudden sound, we were taking their place, but they were immediately claiming their places back, just after returning. Anyways, it was on the lighter side, but we enjoyed sharing our bonfire with them and making this amazing memory. No idea, for how long we sat around the bonfire & had talks on numerous topics before we went to sleep in our tents, but it was hell a lot of fun.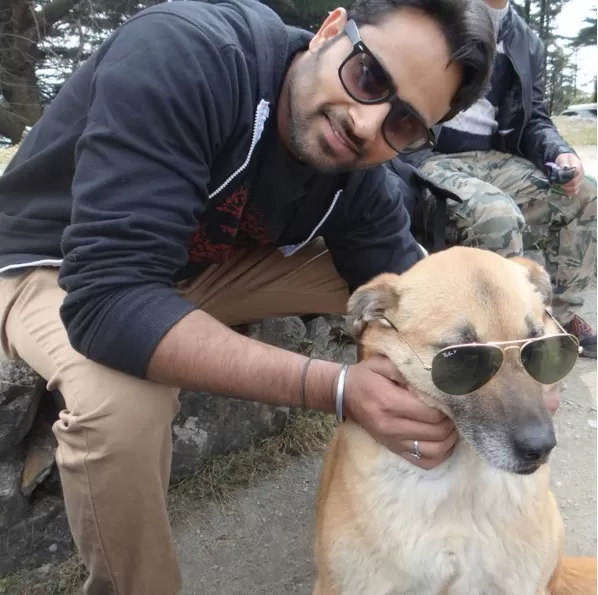 Return to the Base:
Next morning we woke up early in the morning at 6:00 & thought of taking a quick peak around the summit. Had a 2 hours long walk, exploring the place and taking pictures, before we started to wrap up for returning to base.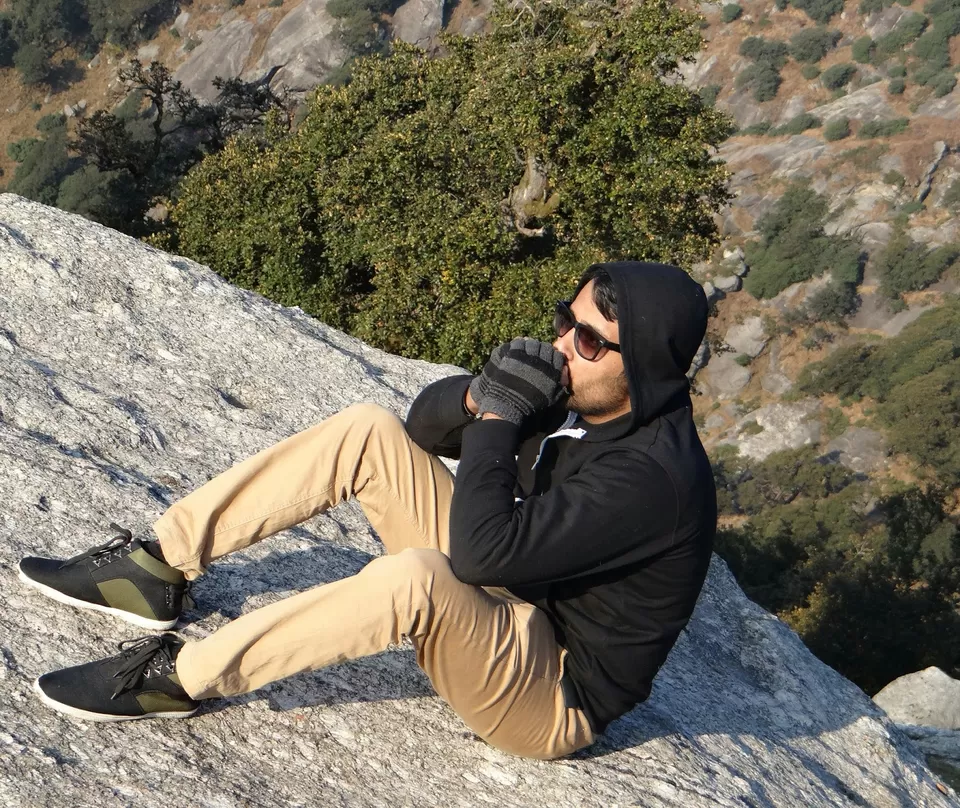 Finally we bid farewell to this amazing place at 10:00 in the morning and started our walk down. It did not take much of time for returning to the base and we reached back in just less than 2 hours. From Galu, we took a cab till McleodGanj, where our car was parked and drove back to Delhi & here ends our trek to Triund.
Conclusion:
Triund is for sure a nice trek for all age groups & specially beginners. It has nice locations, great landscapes & panorama. Either take a trek package or do it by yourself, your choice. Above all, you will have a real great time at Triund. But you will just have to share your bonfire with those sweet dogs (hopefully).
Hope the information provided helps you in planning your trekking trip to Triund & I would really like to know if you have any inputs for me. It will certainly help me in improving my posts.
And before you leave, please click here to FOLLOW me for more updates on my upcoming trips.
Keep Exploring, Cheers!
My Other Articles:
- Prashar Lake: A Hidden Paradise On Earth
- Bir-Billing: Ultimate Destination for Paragliding in India