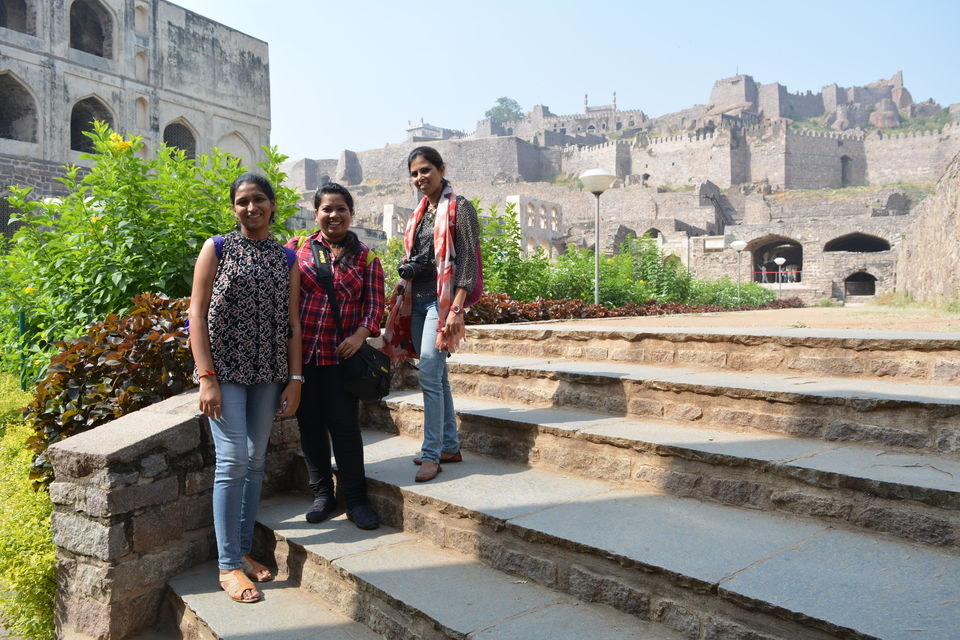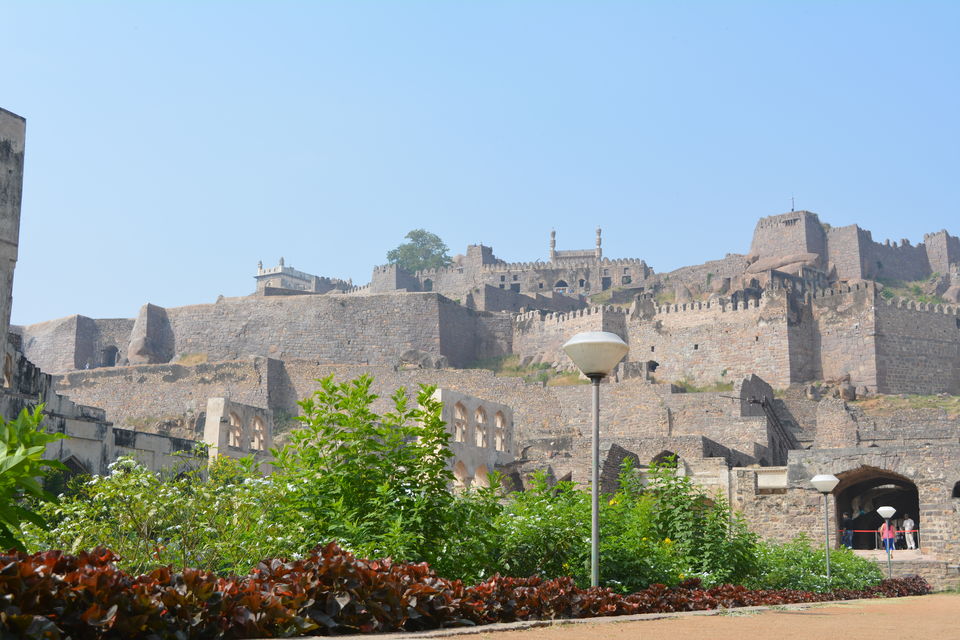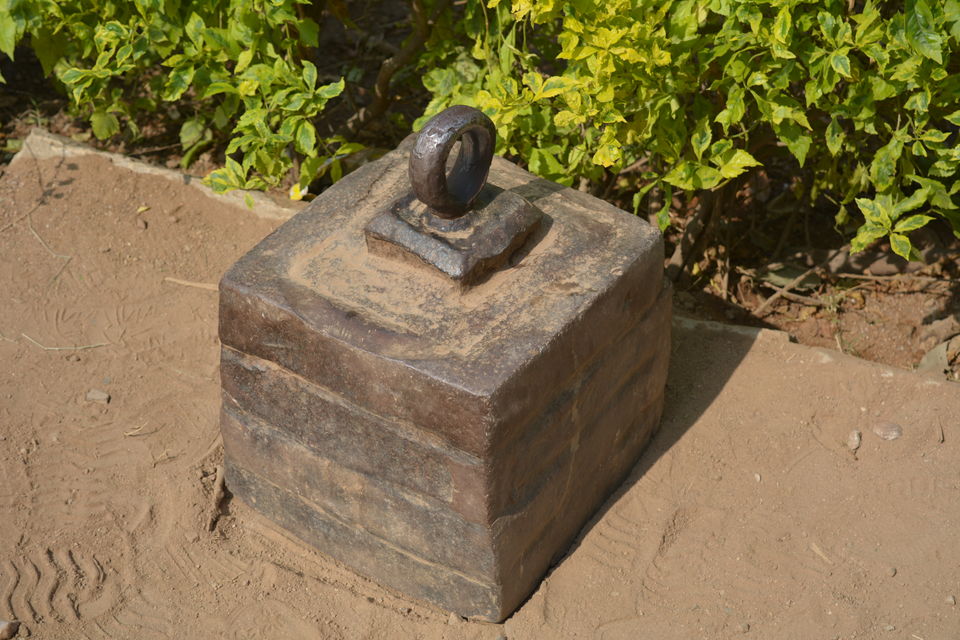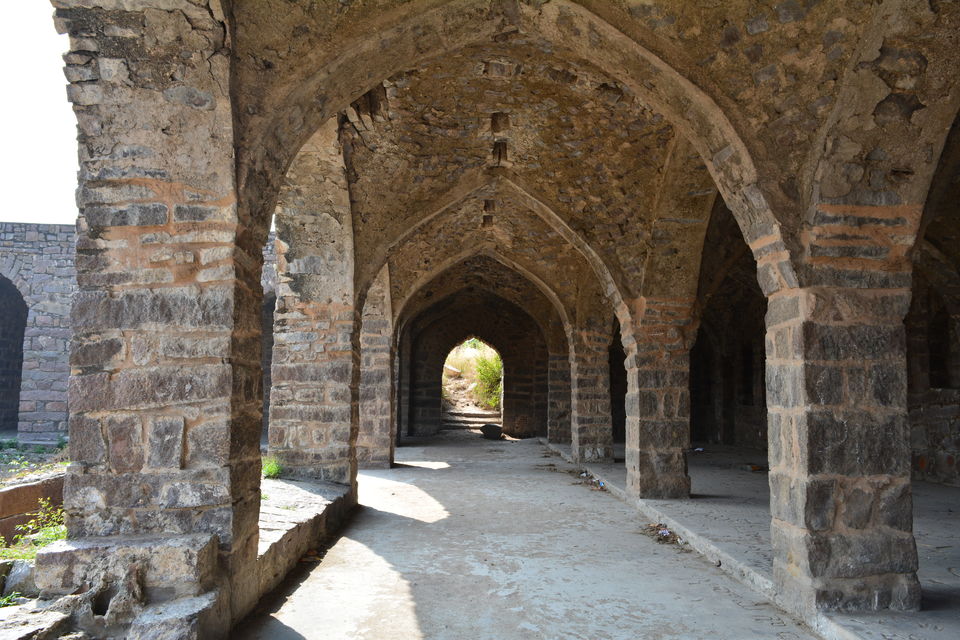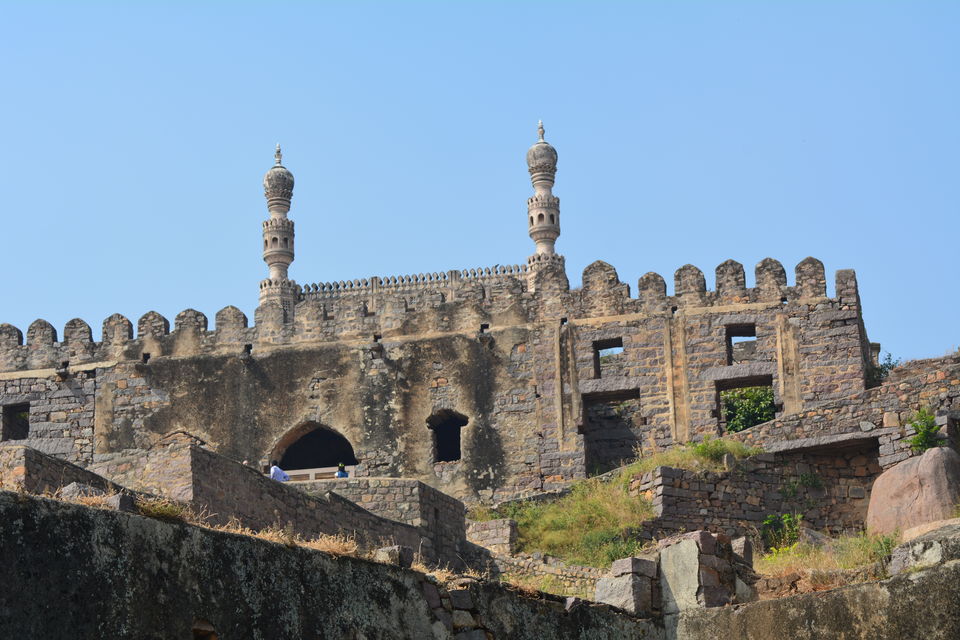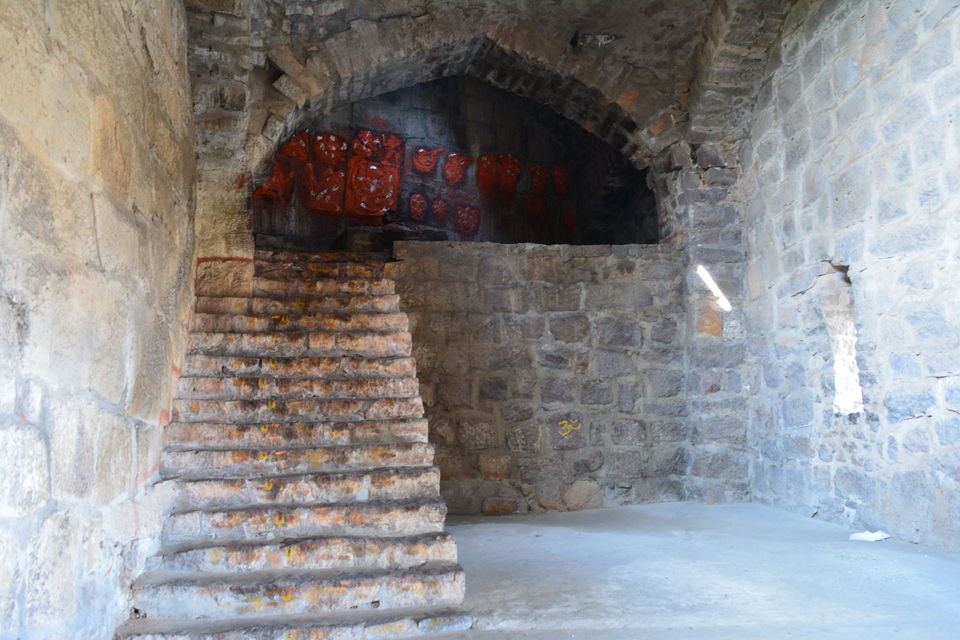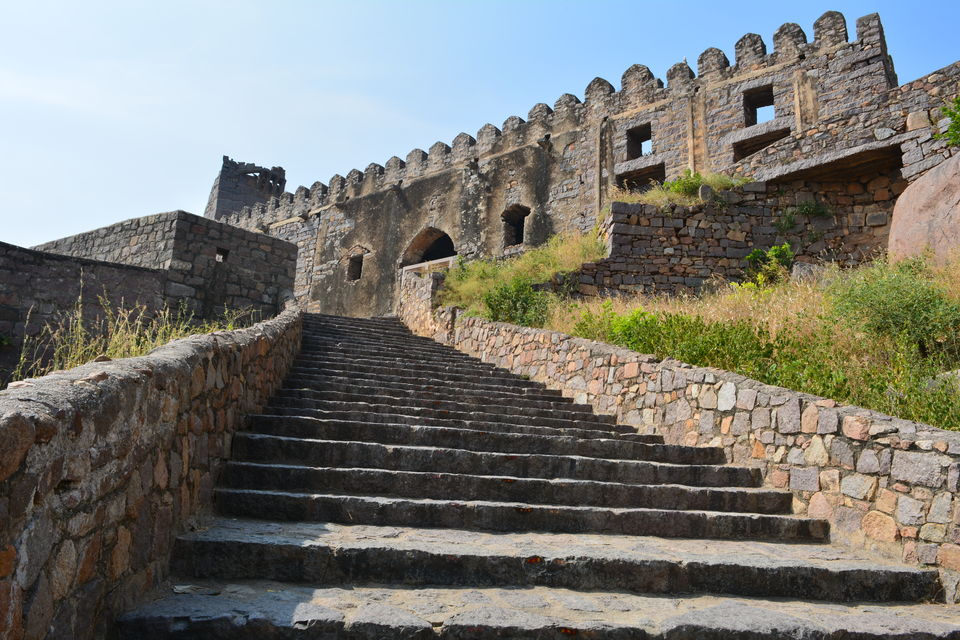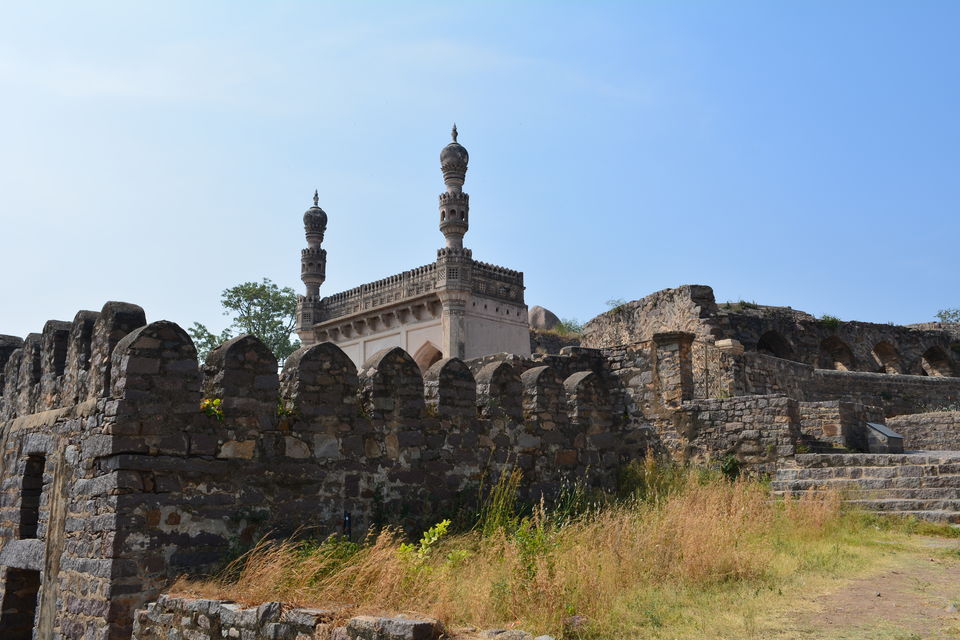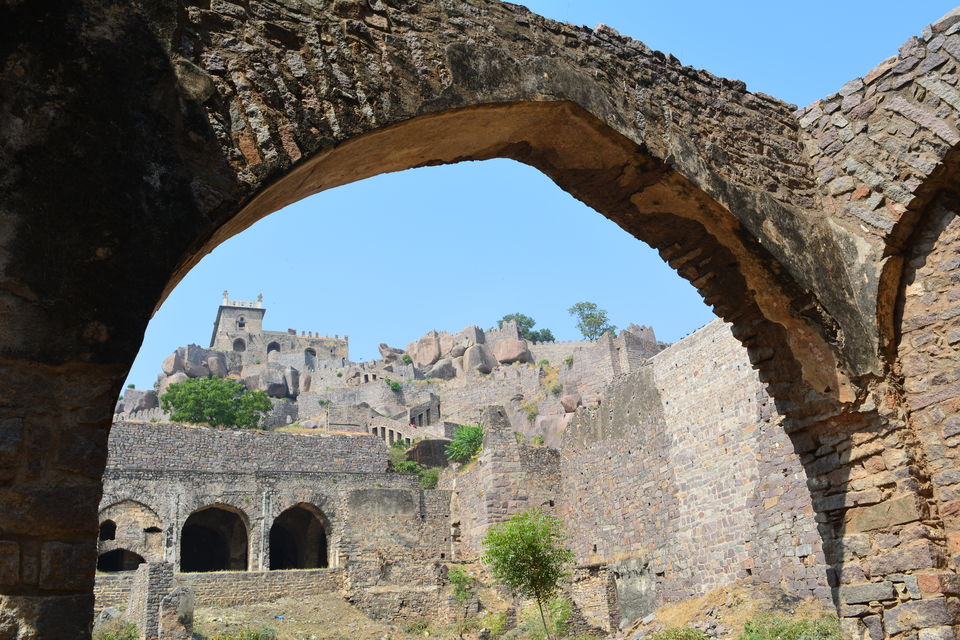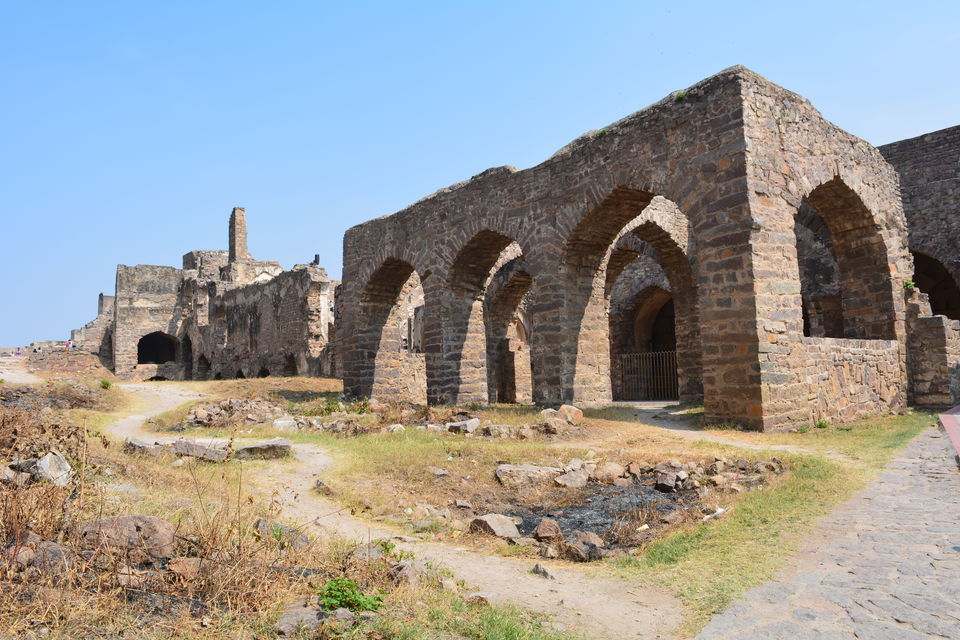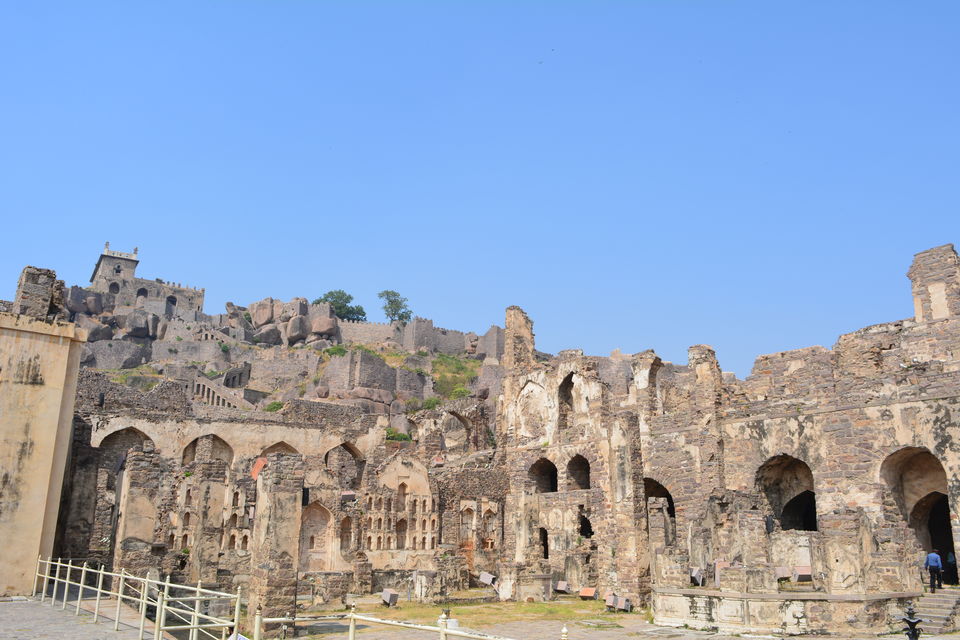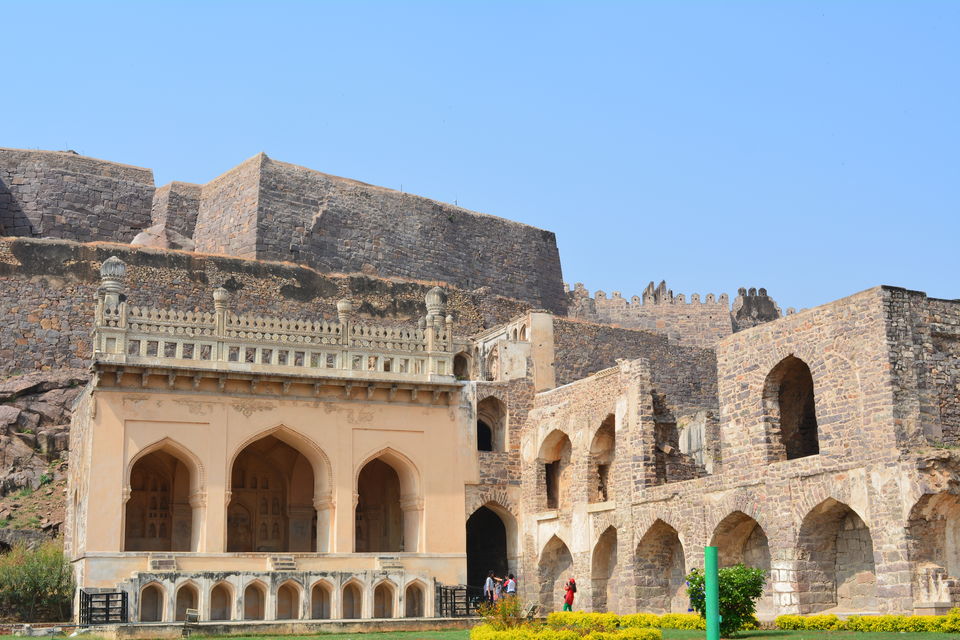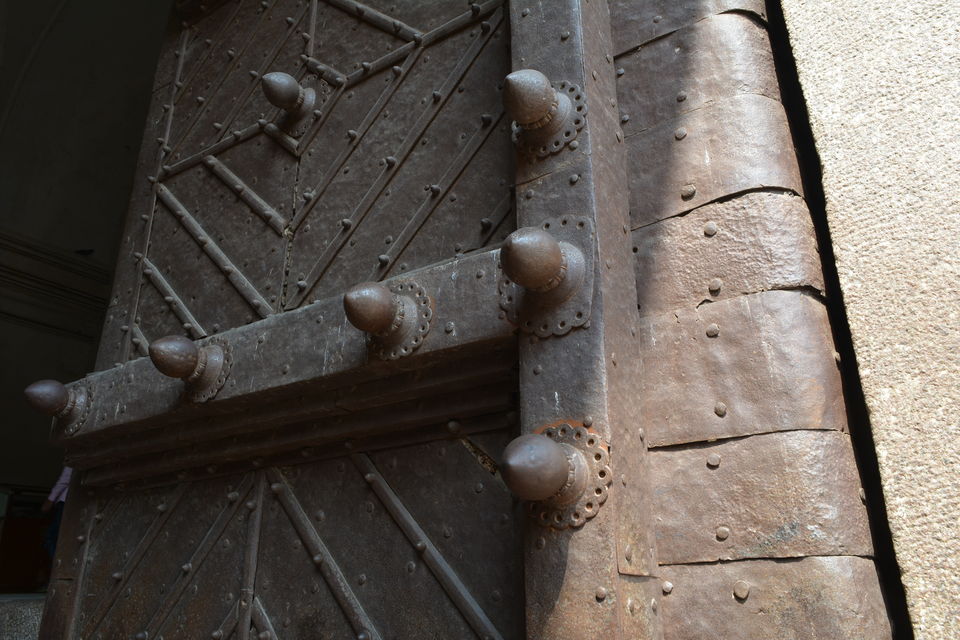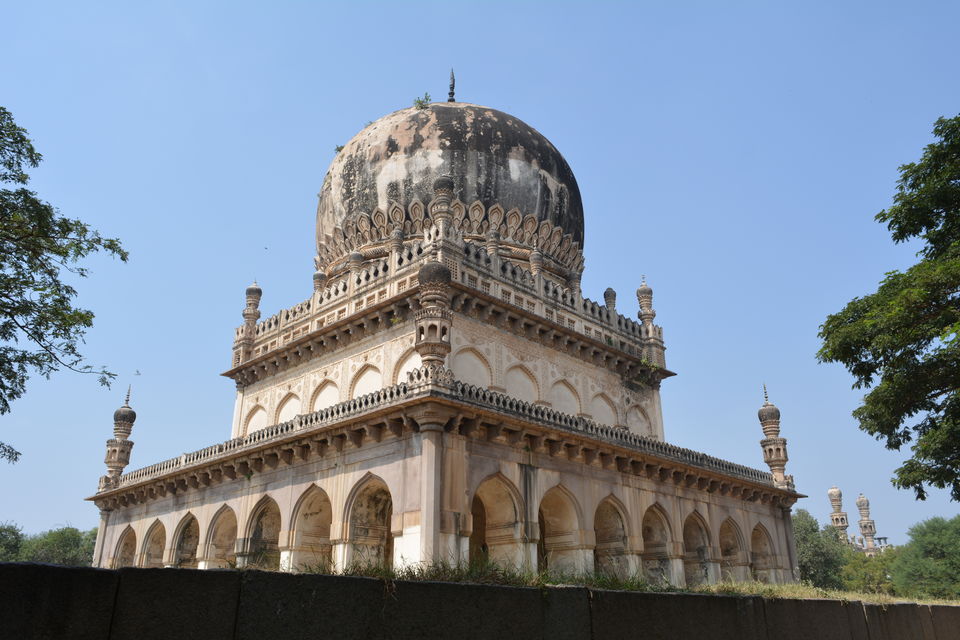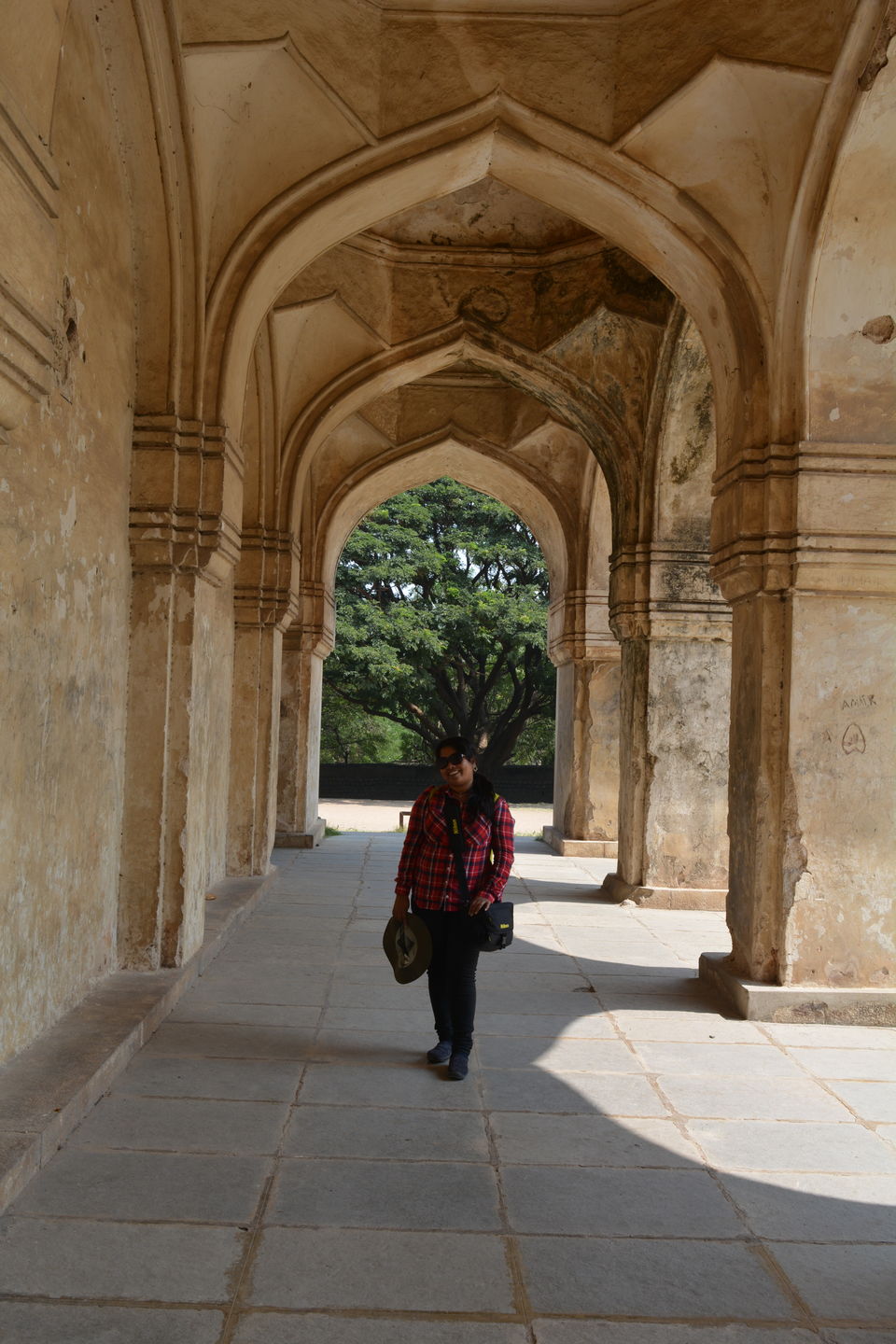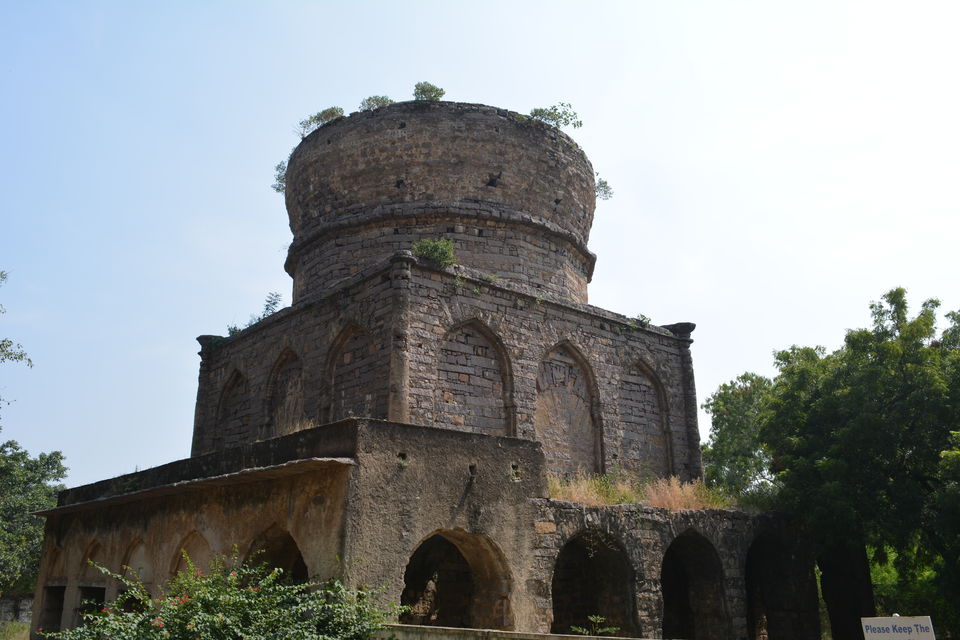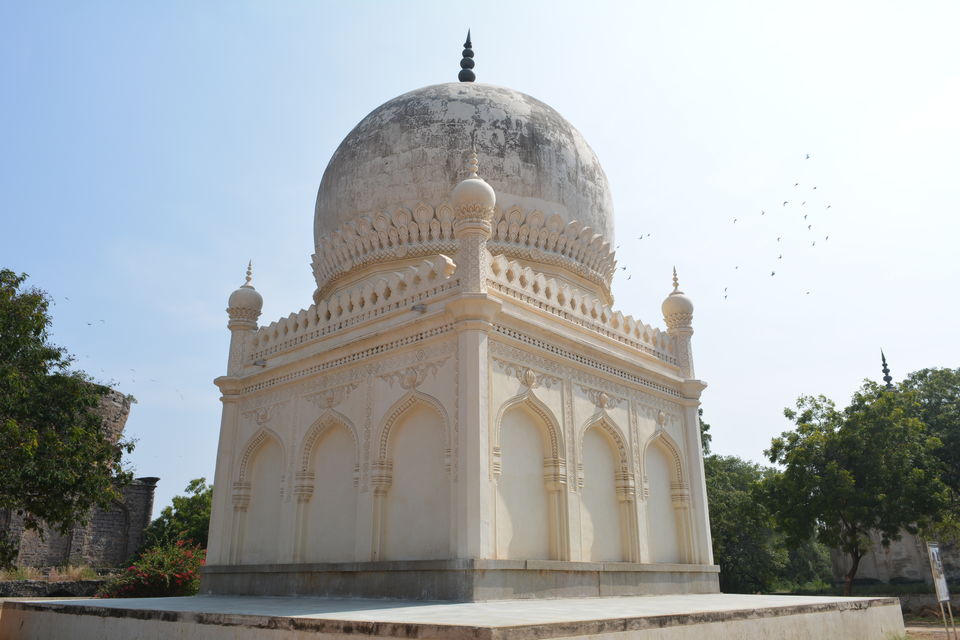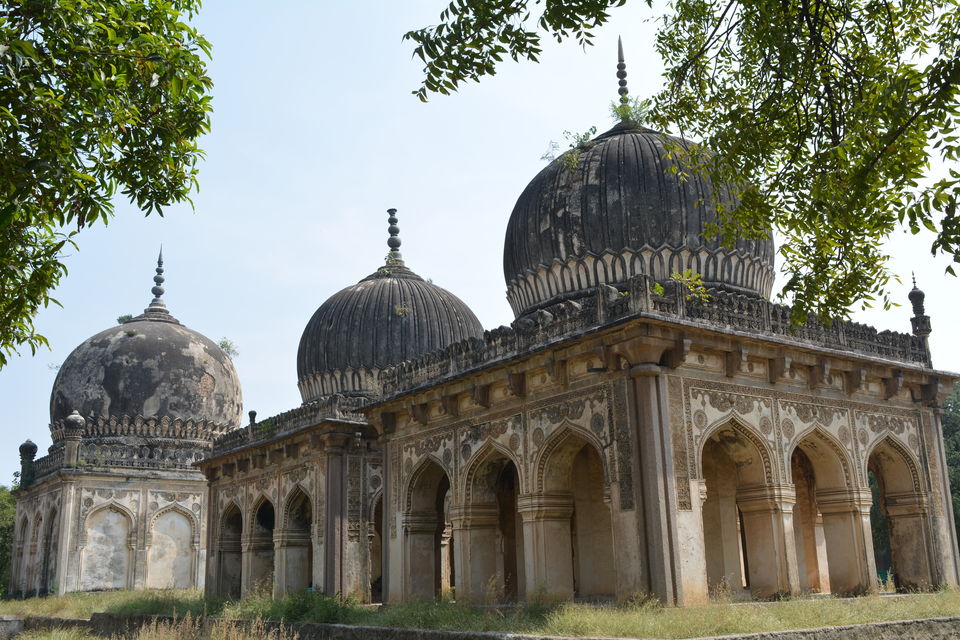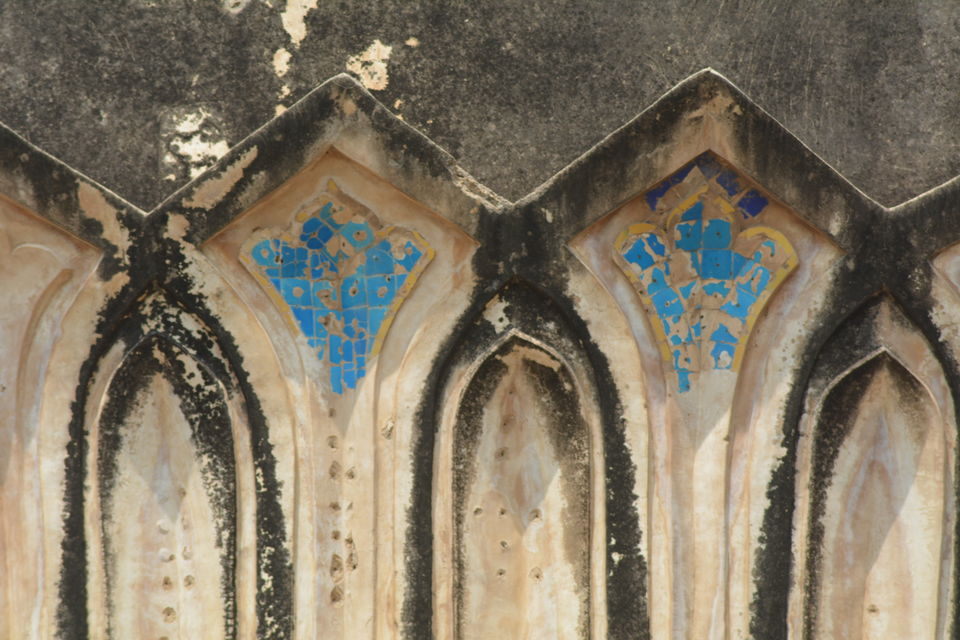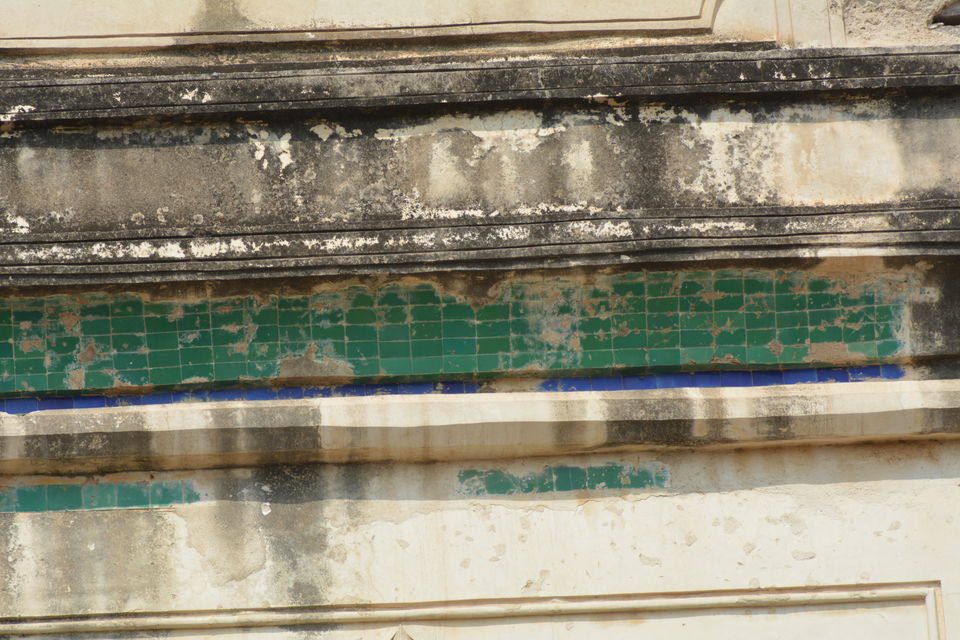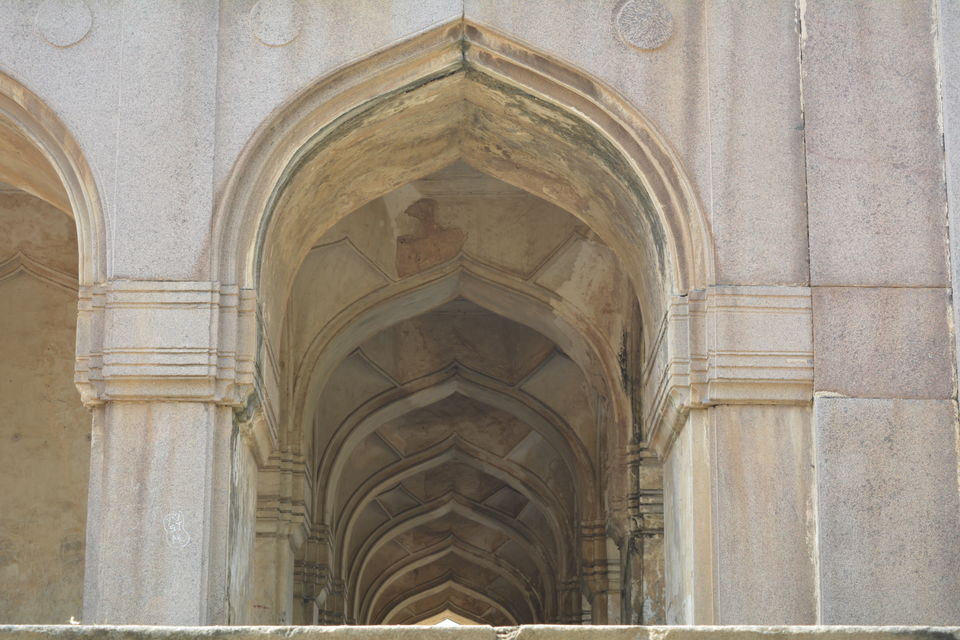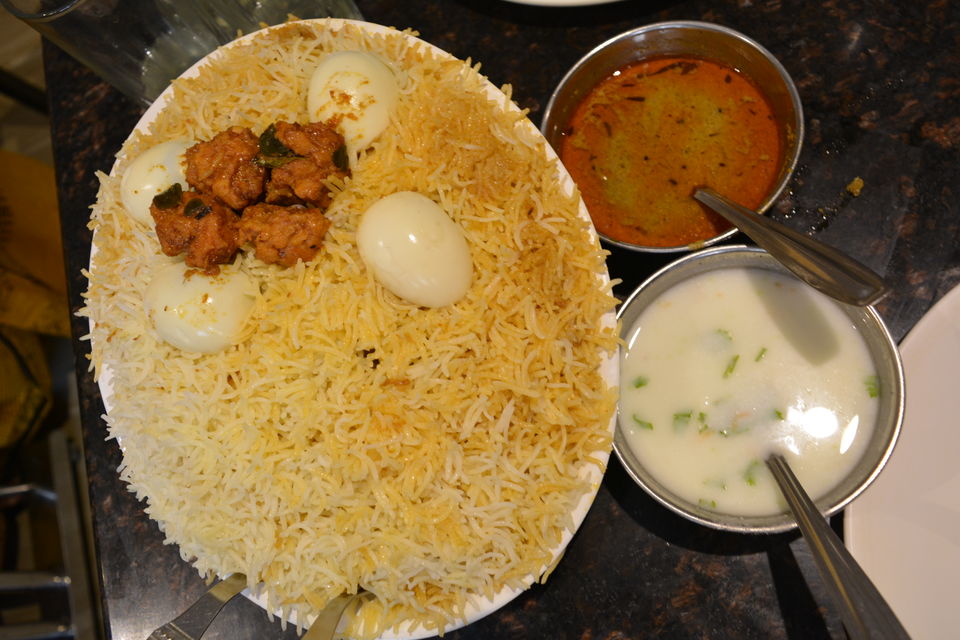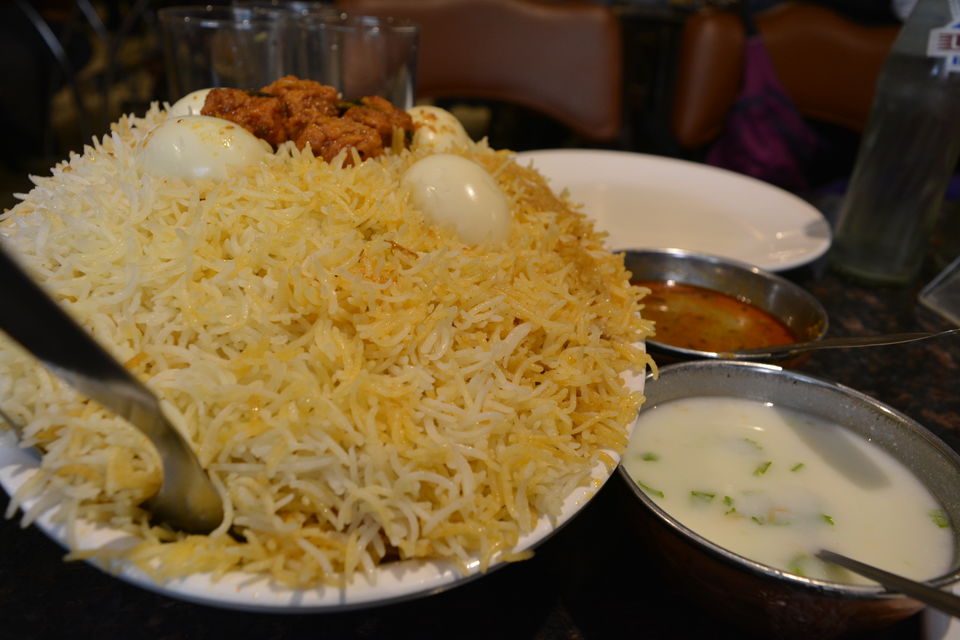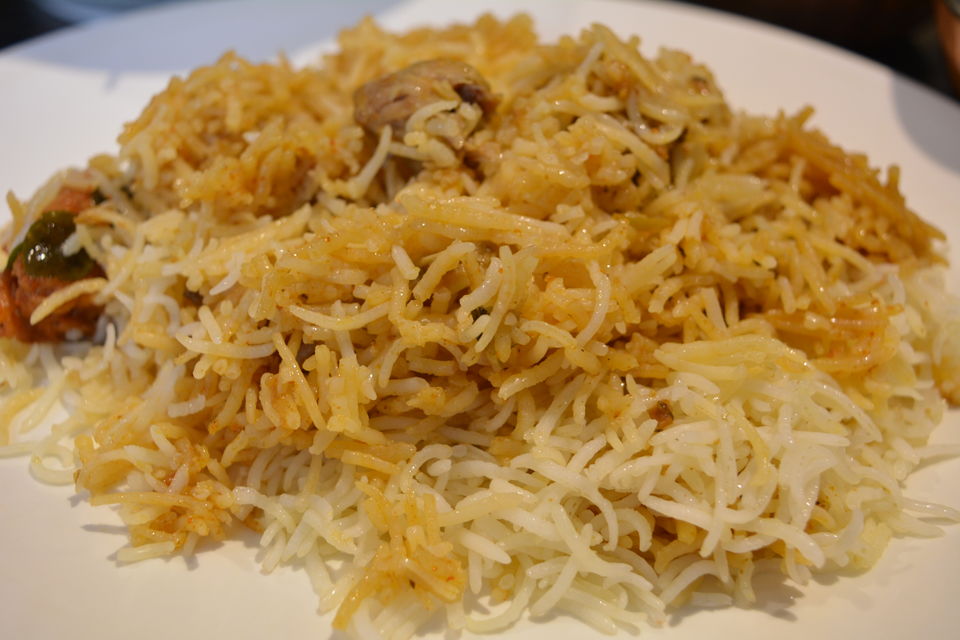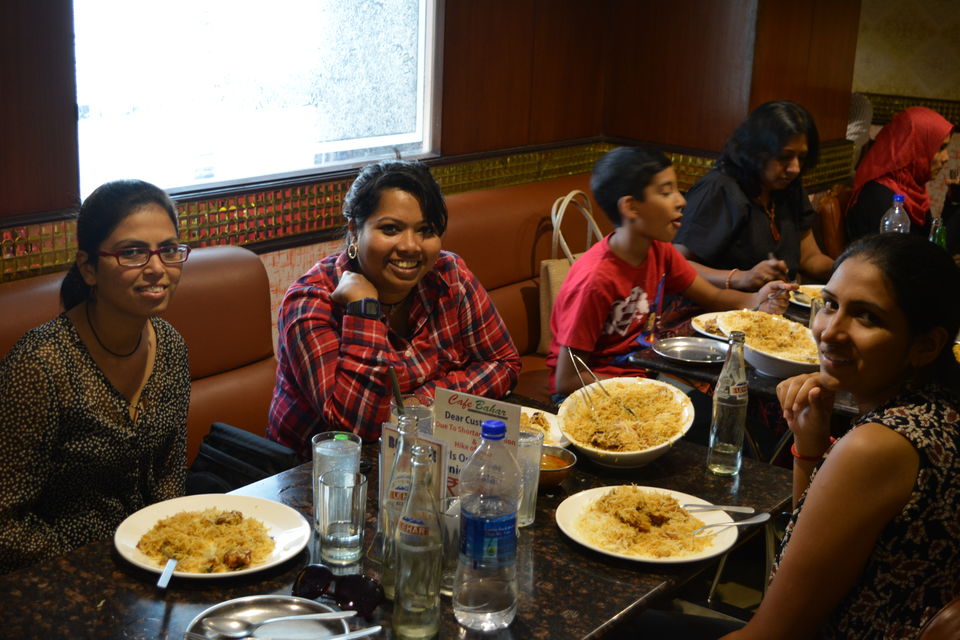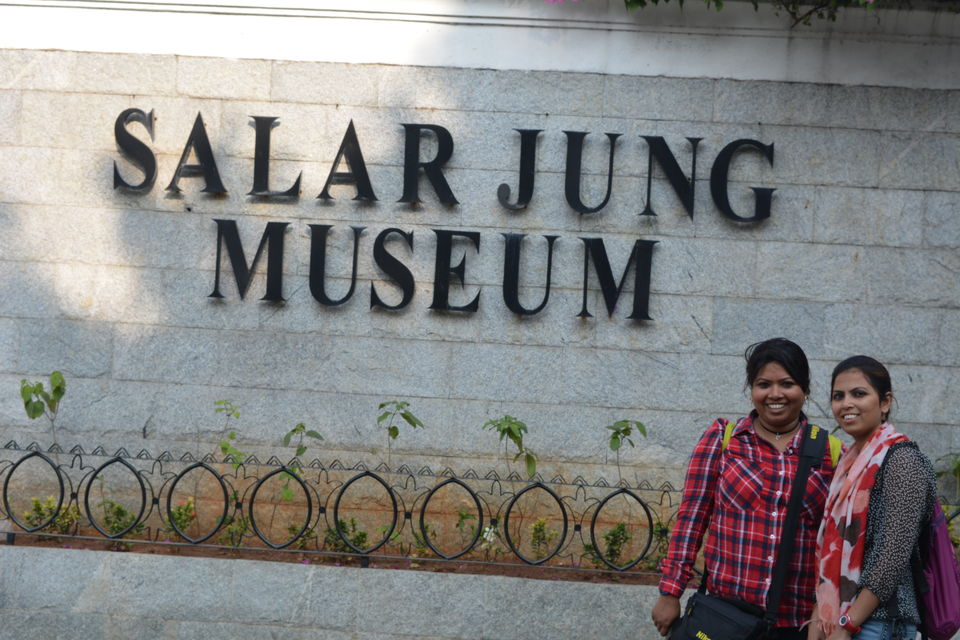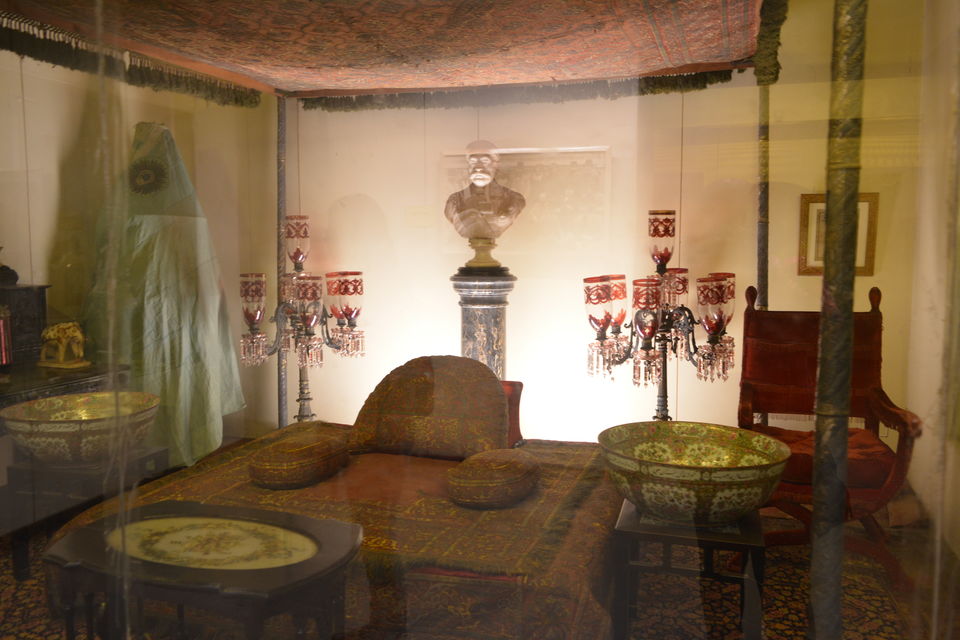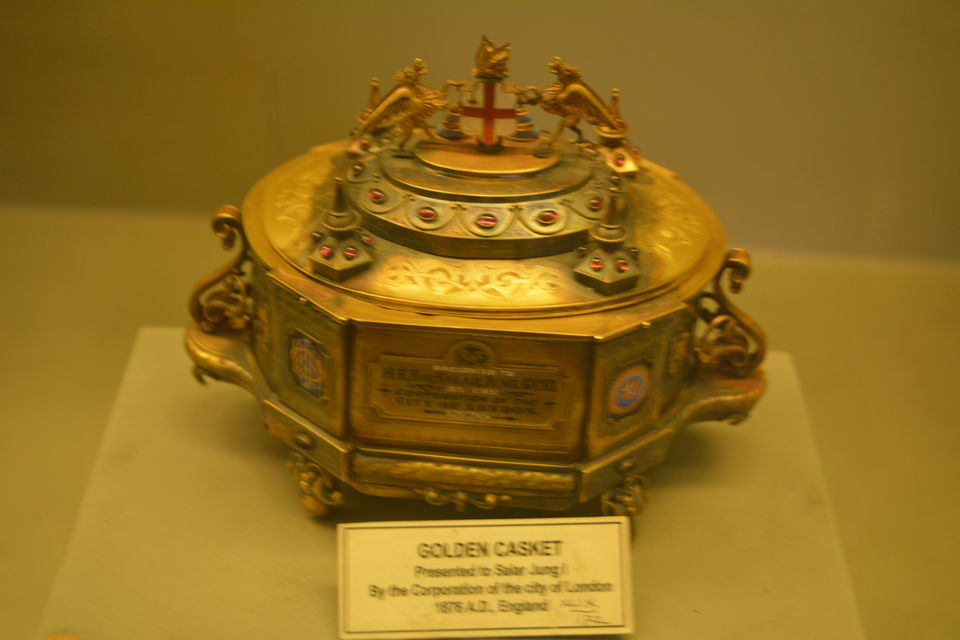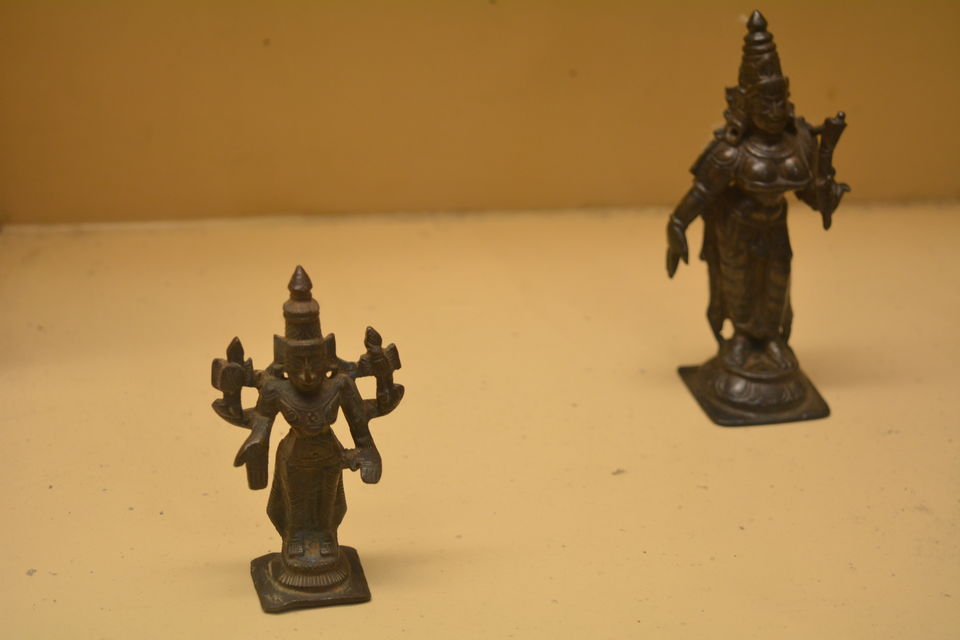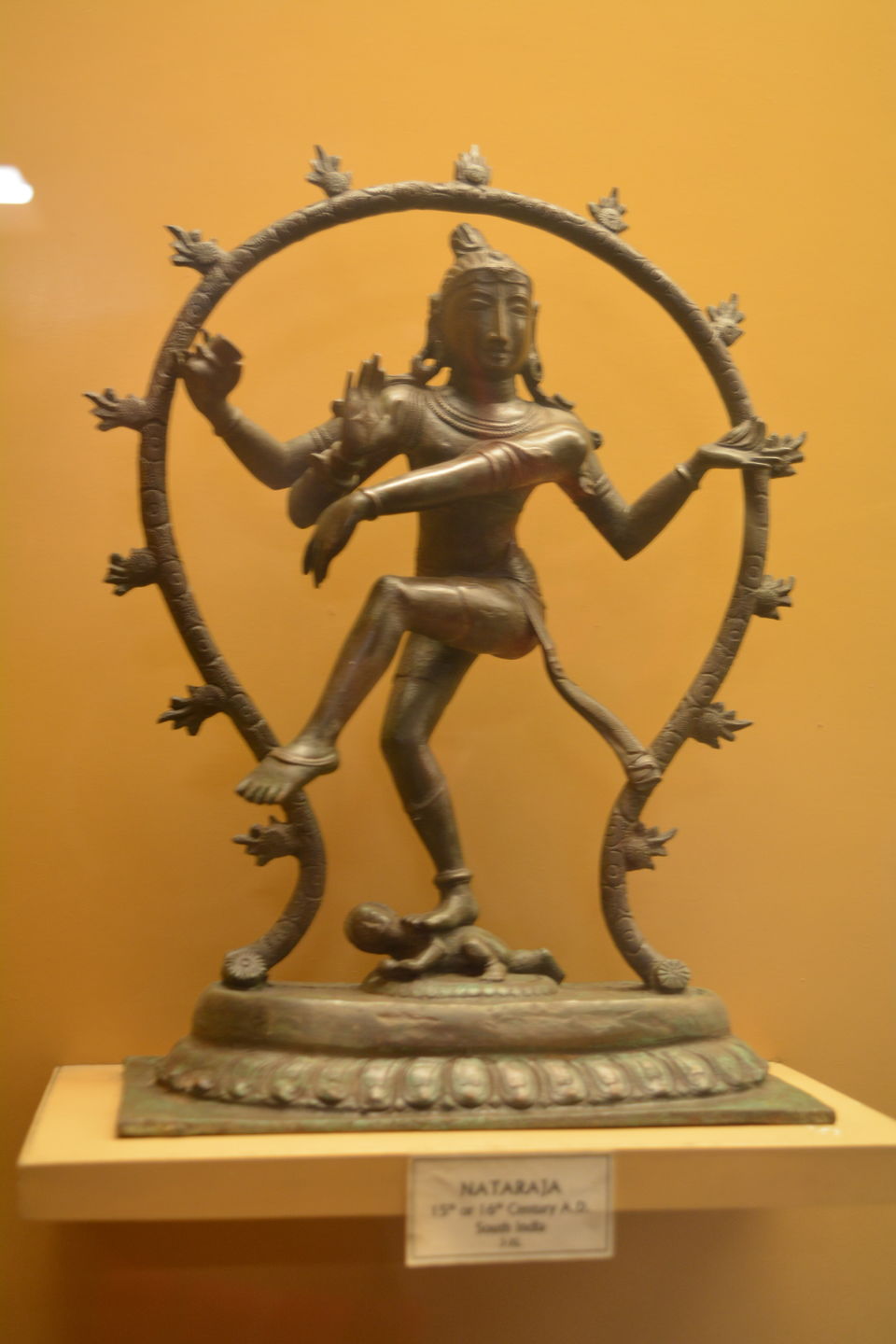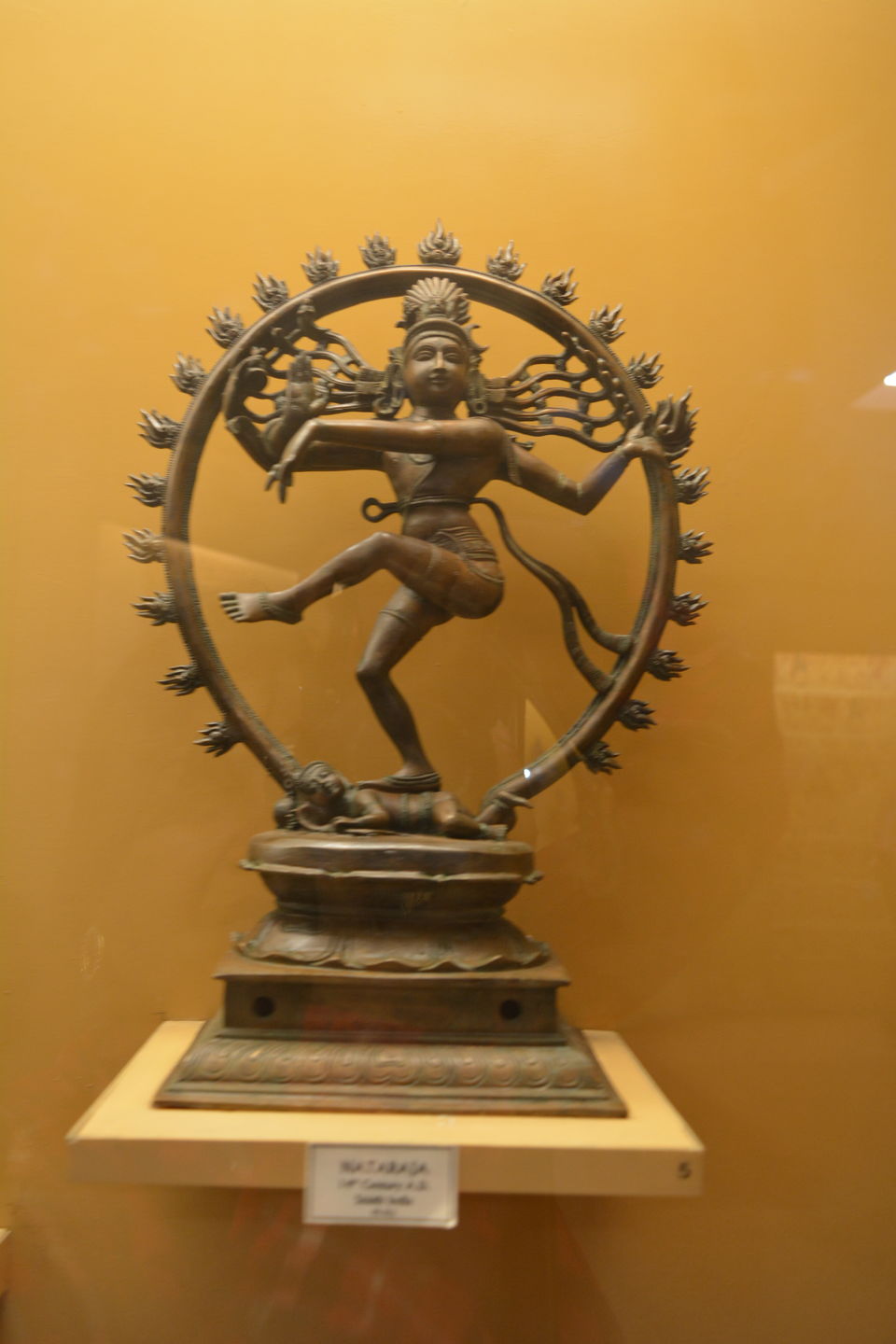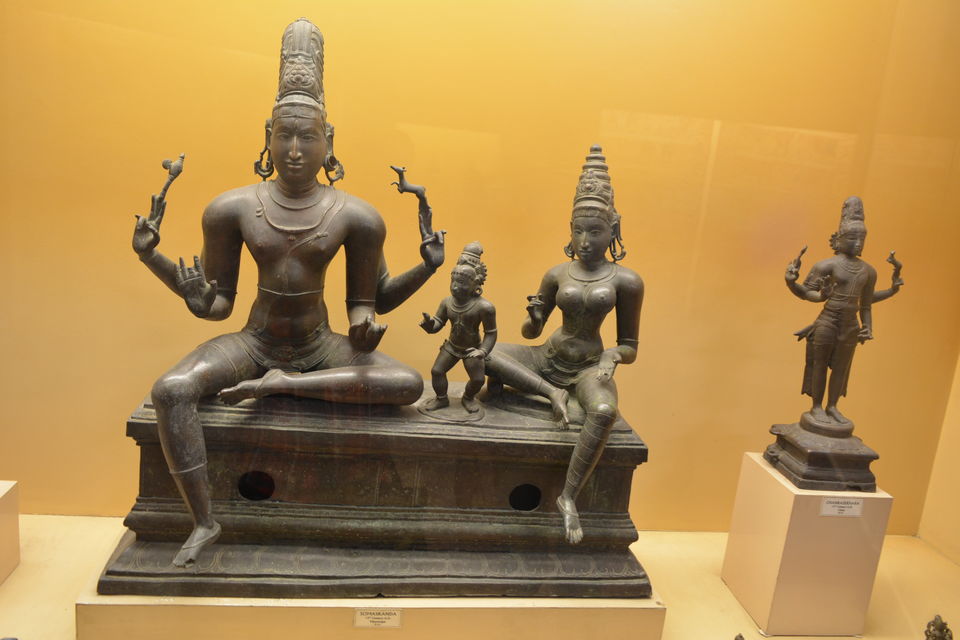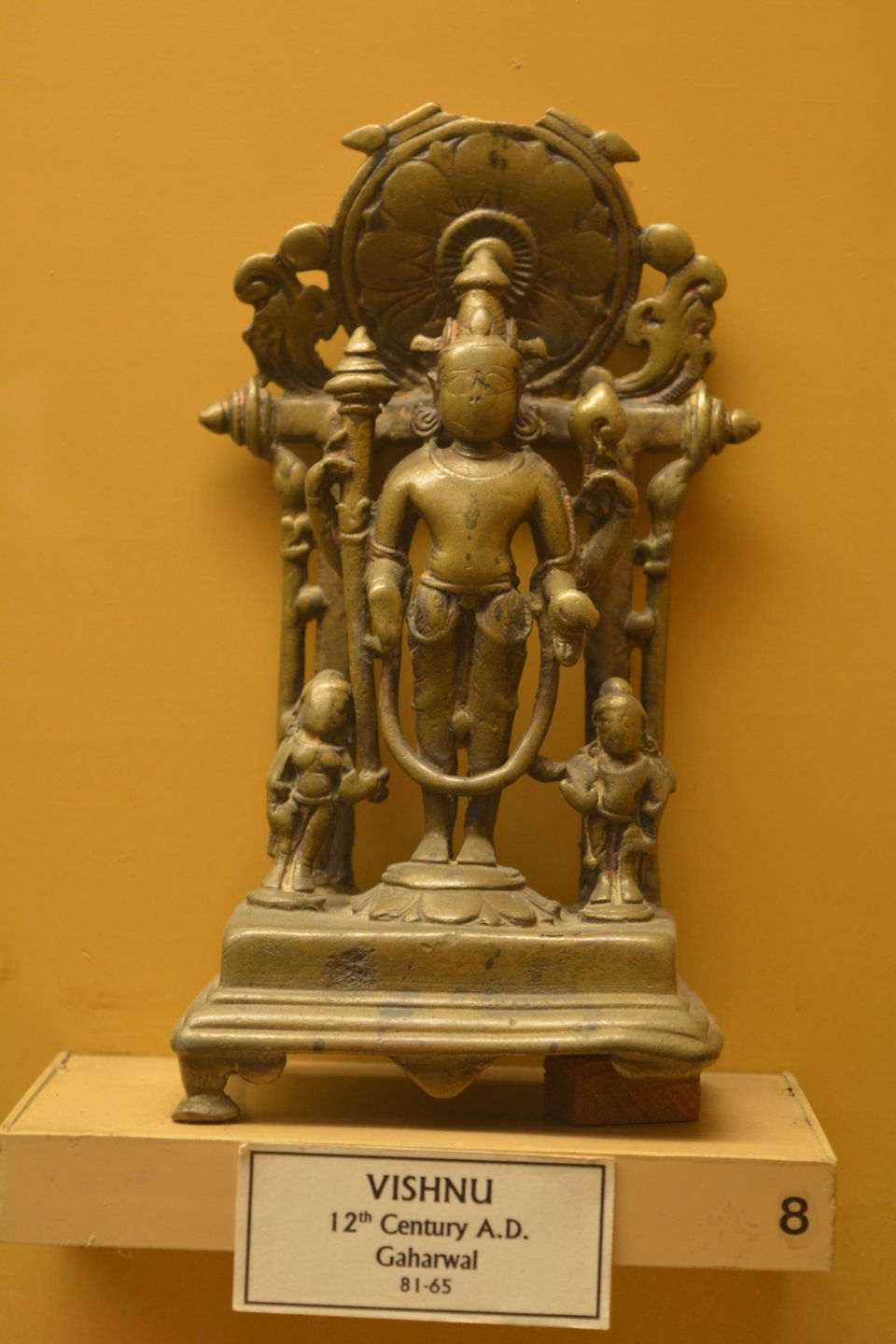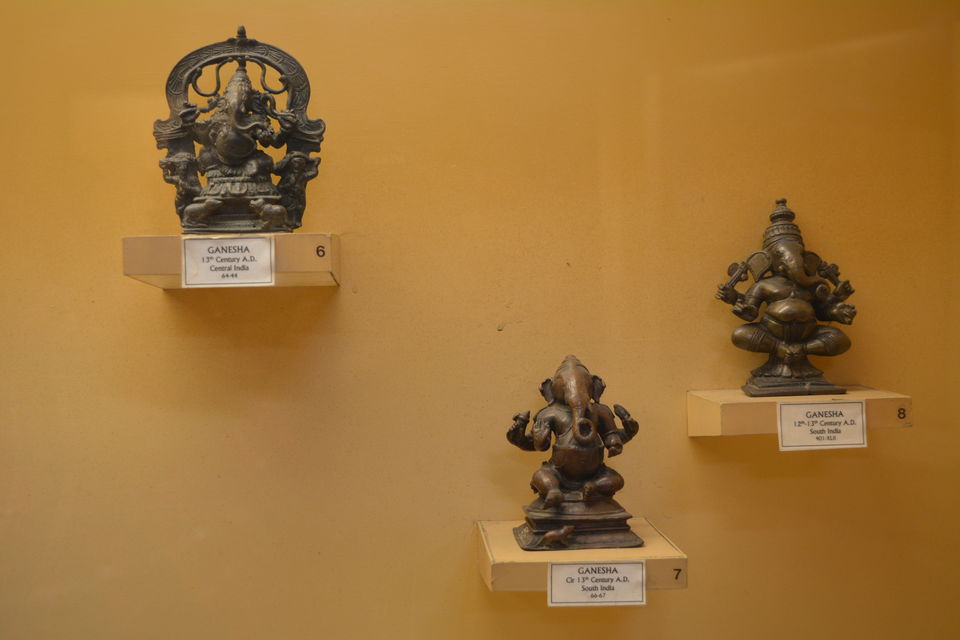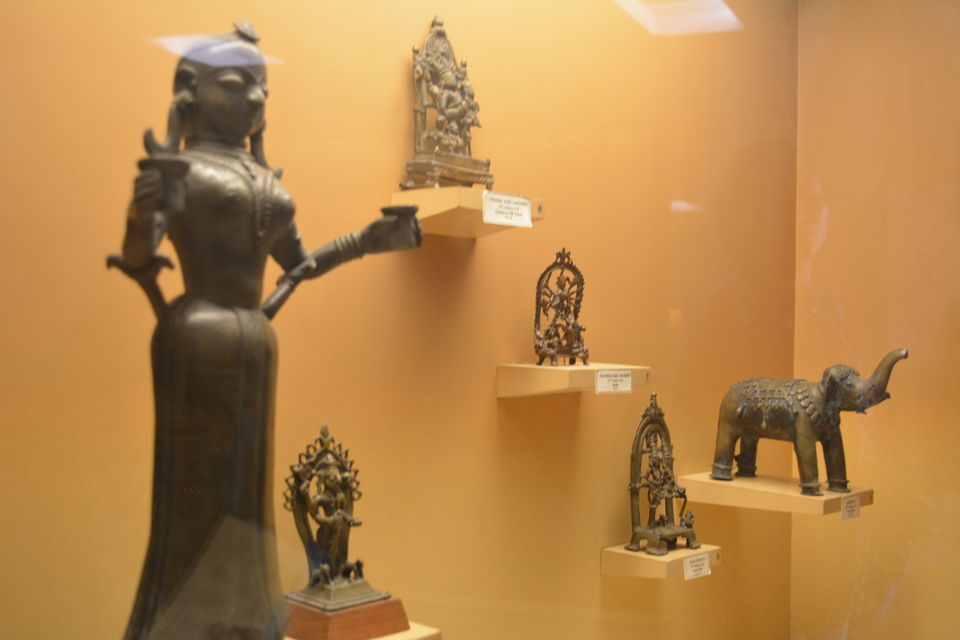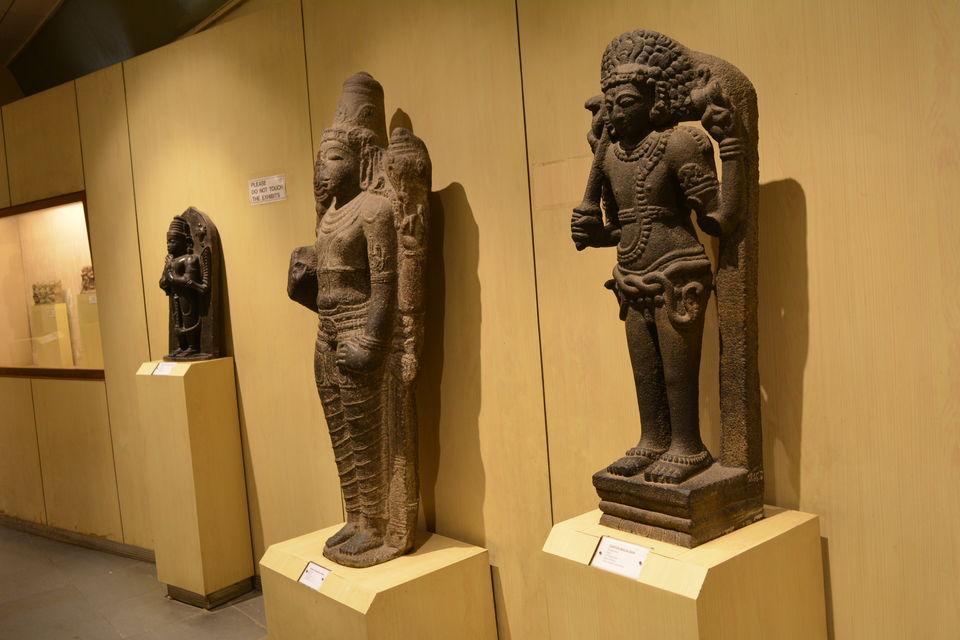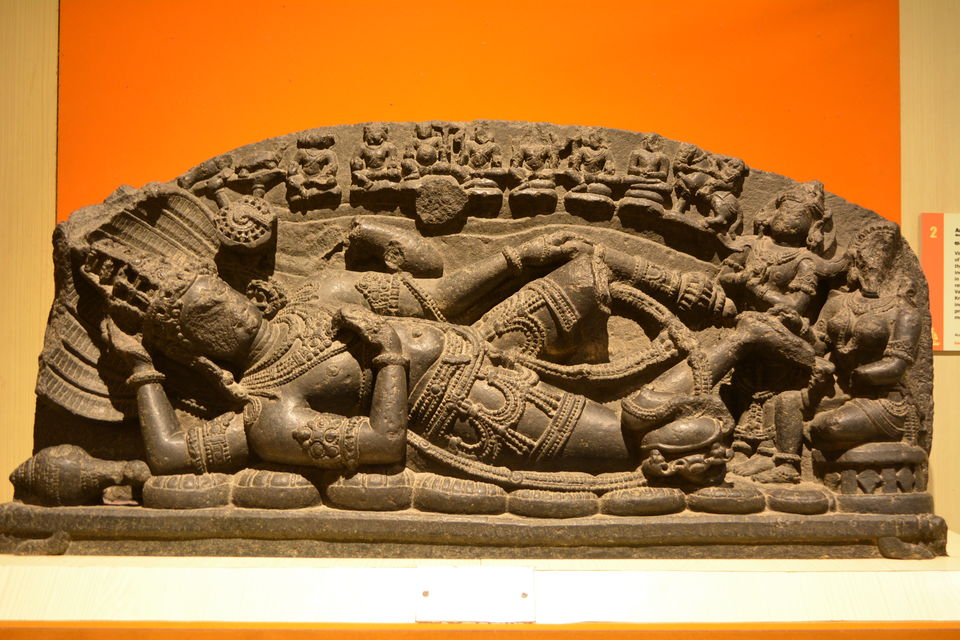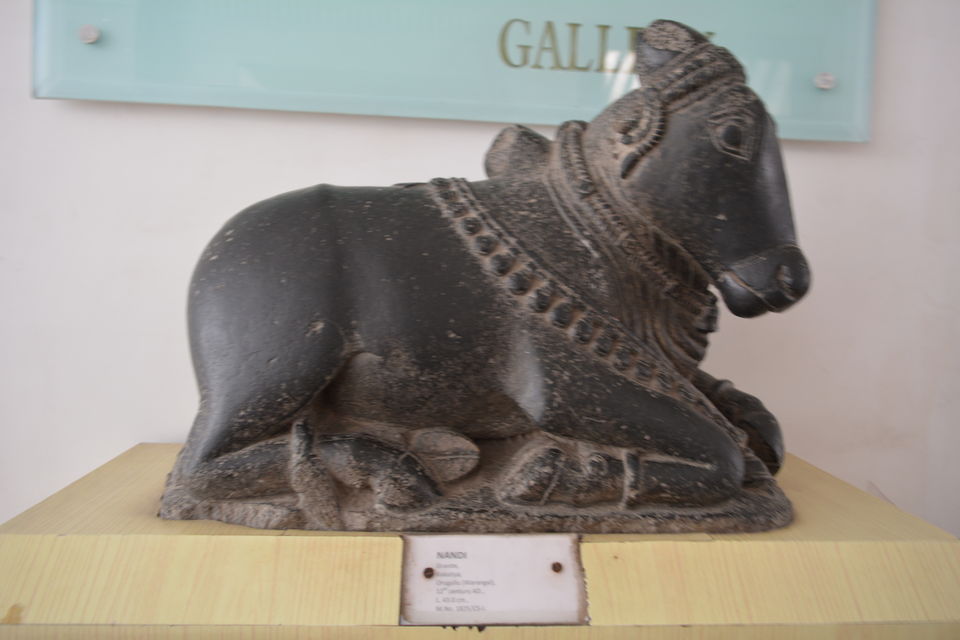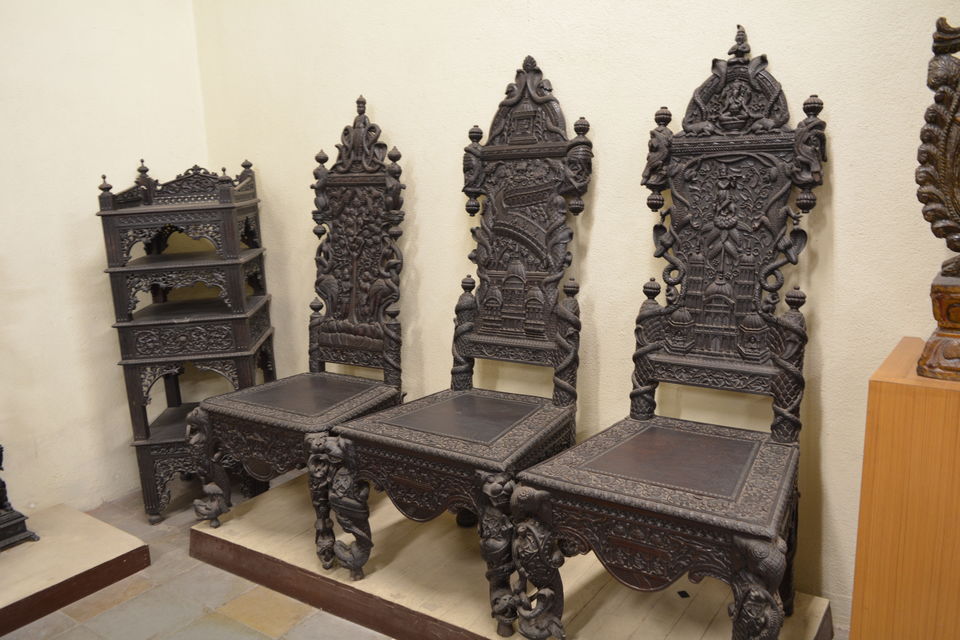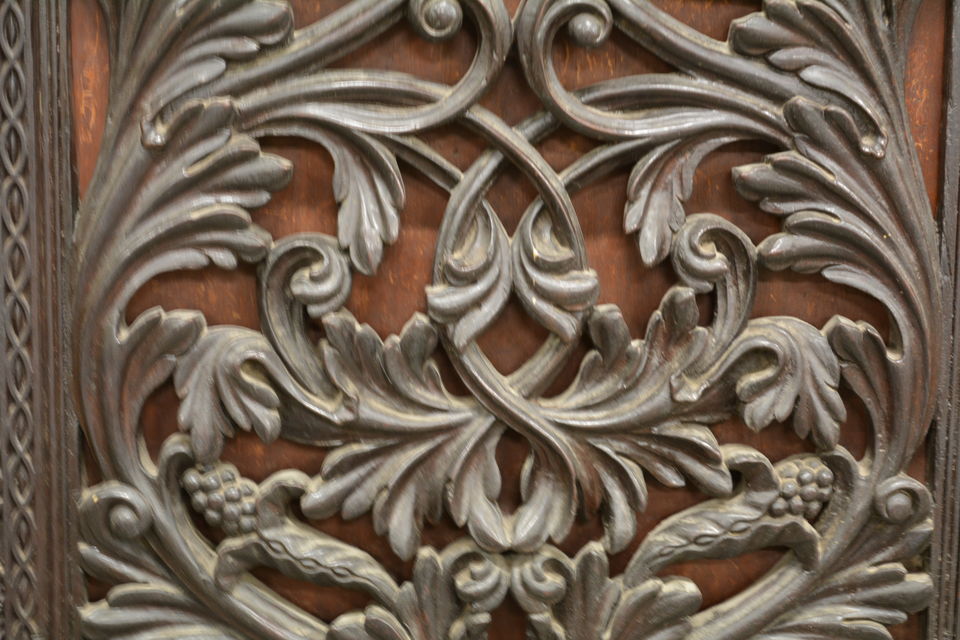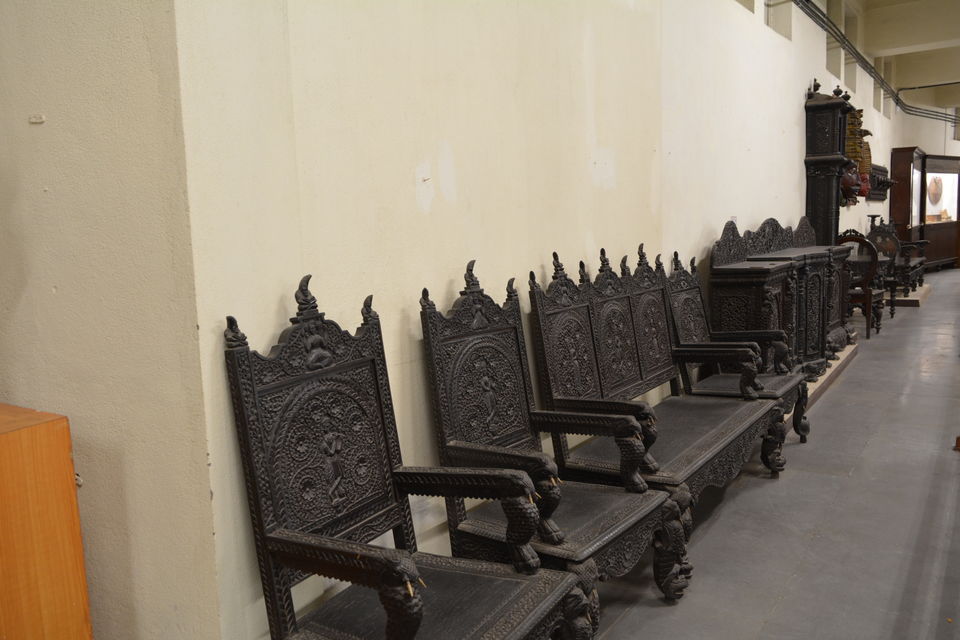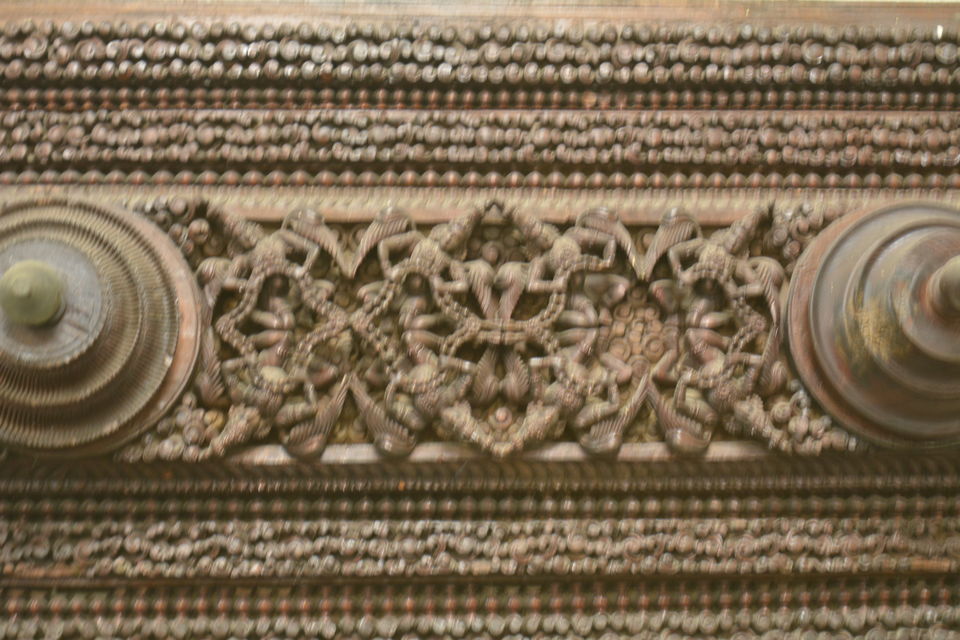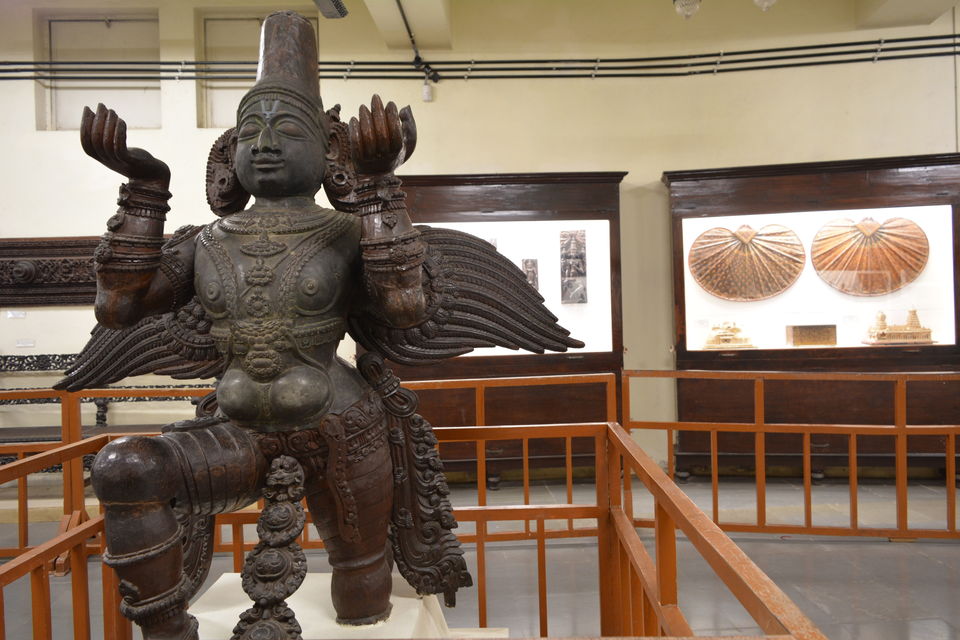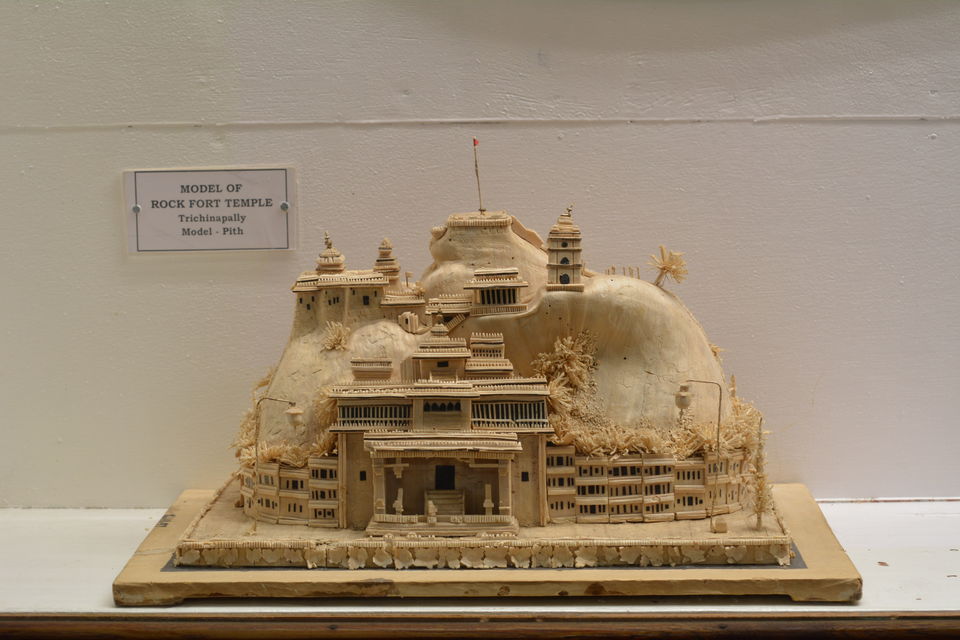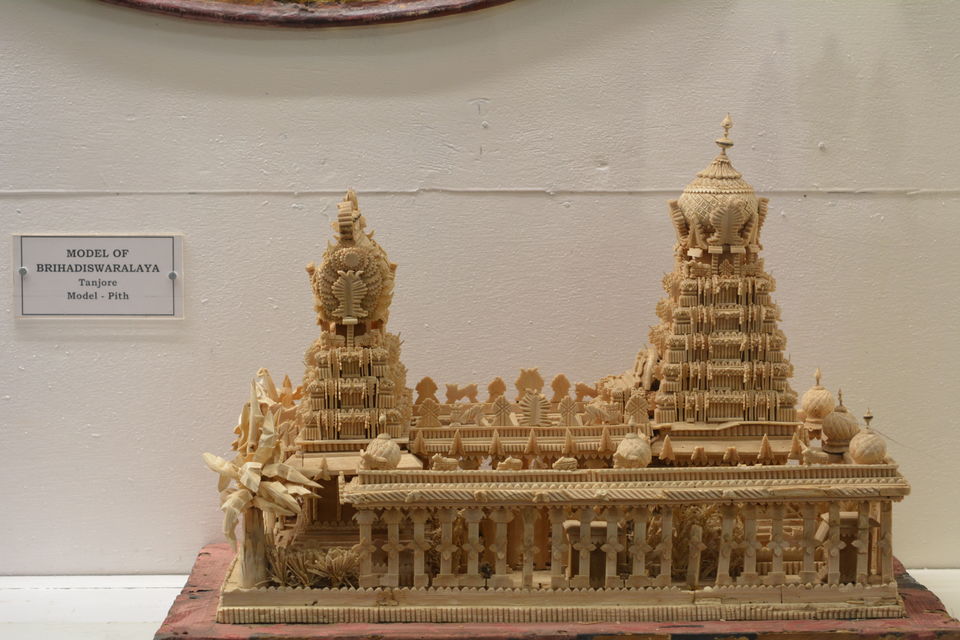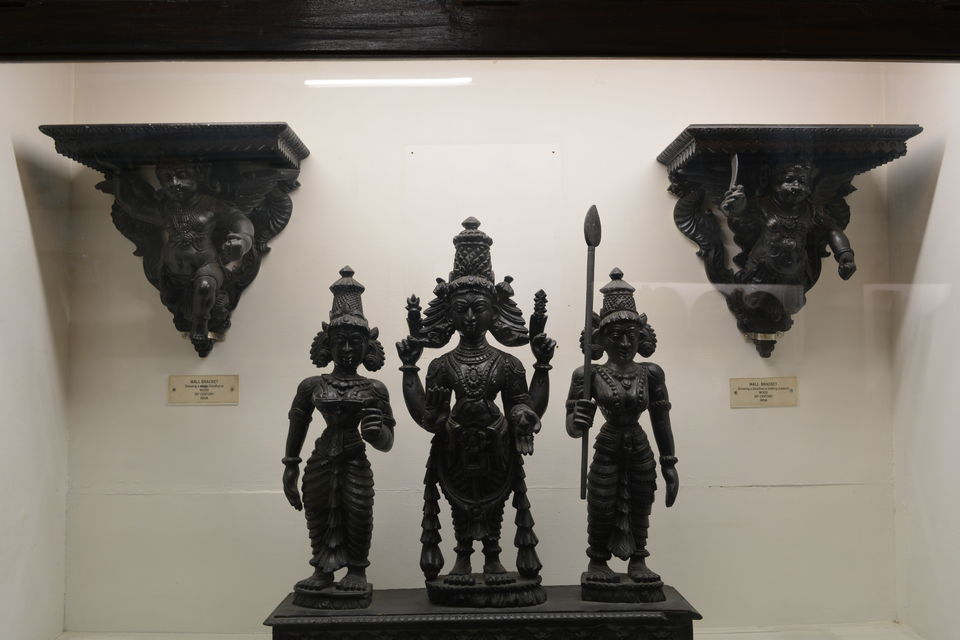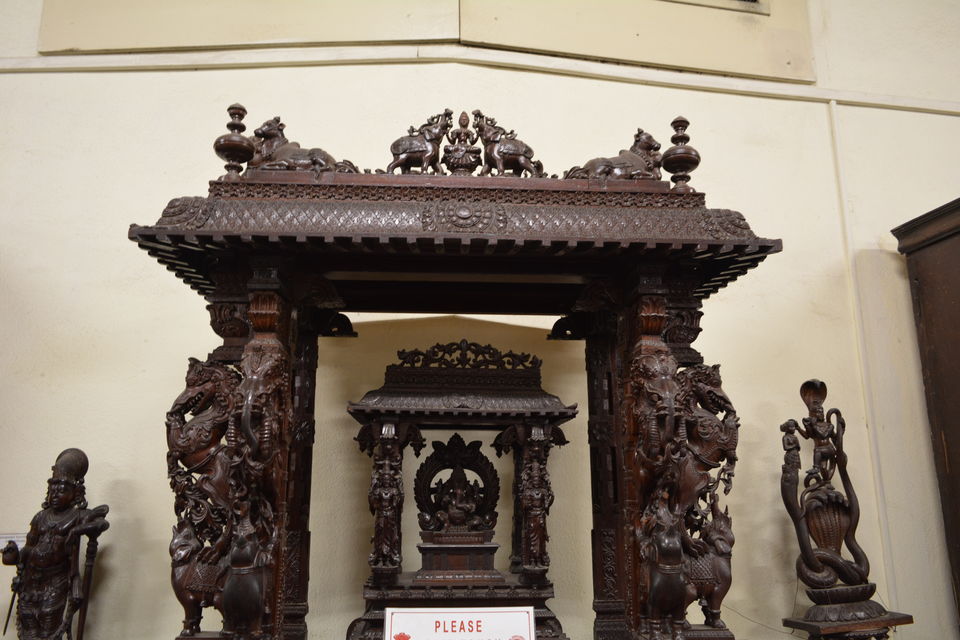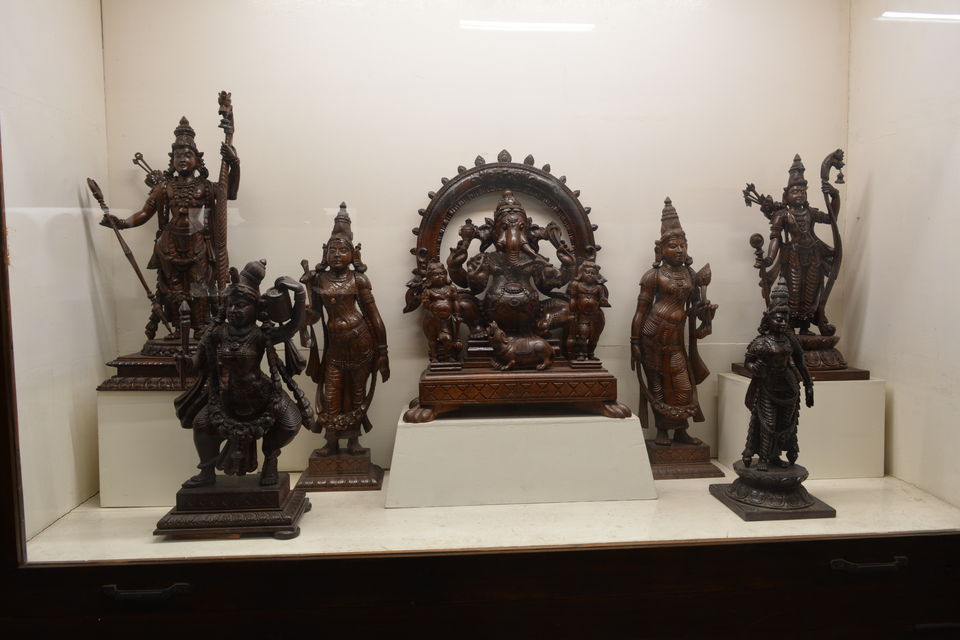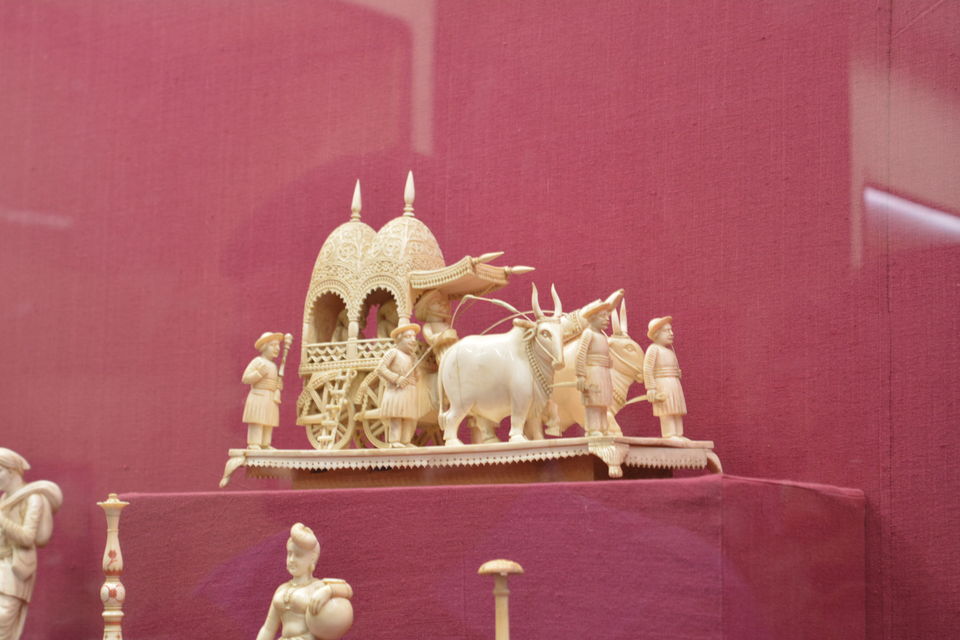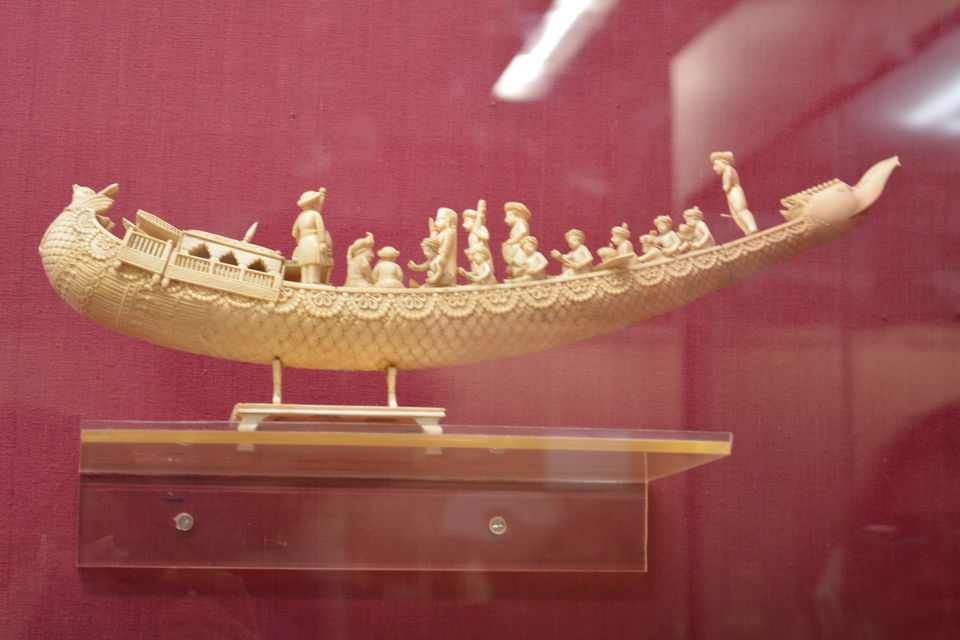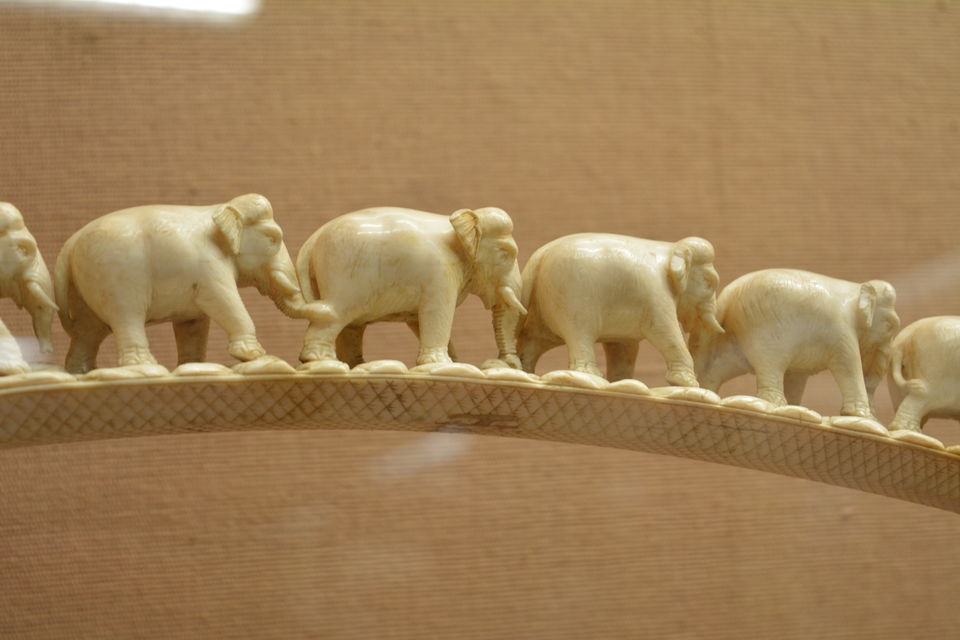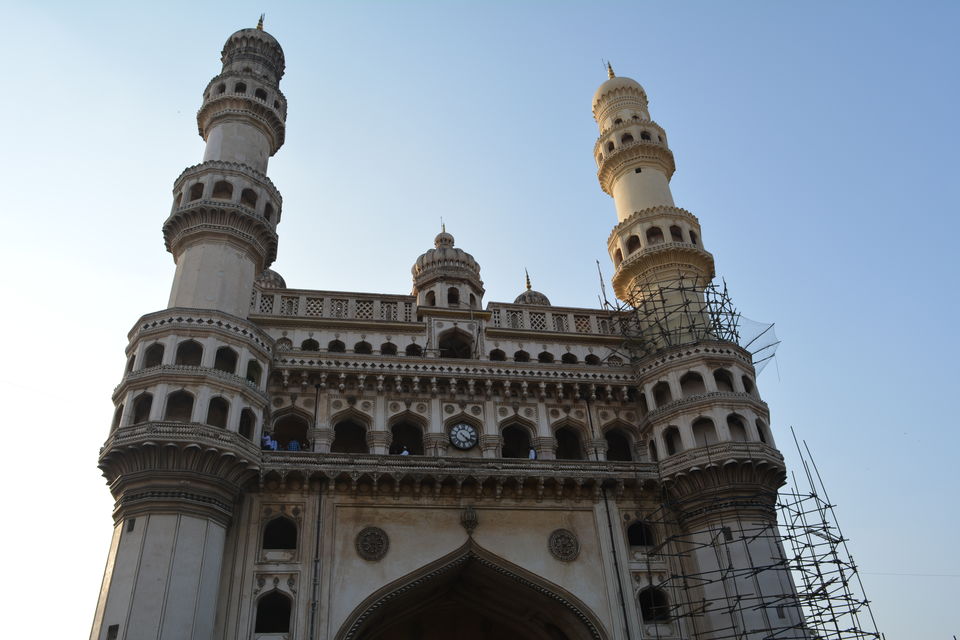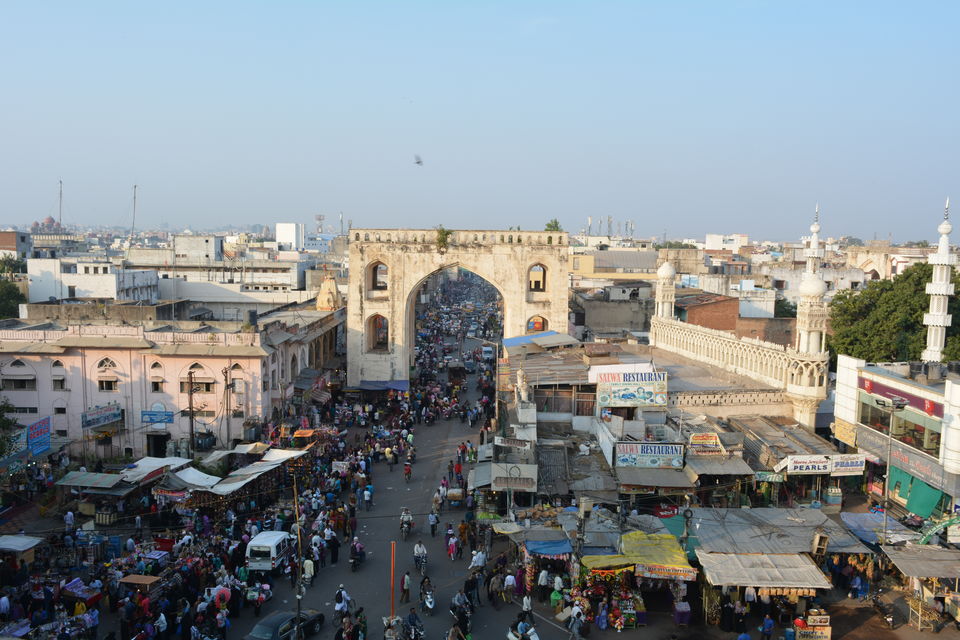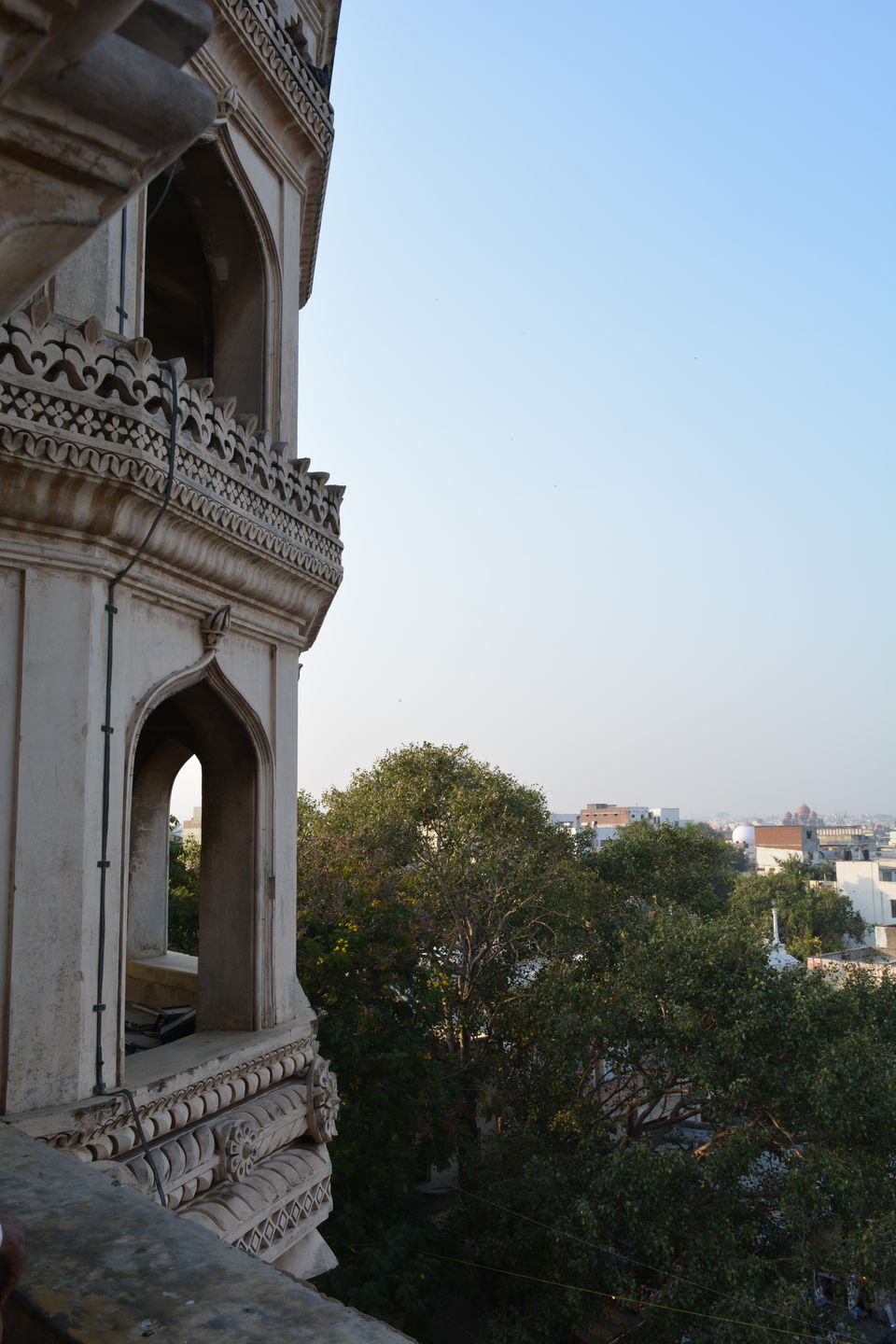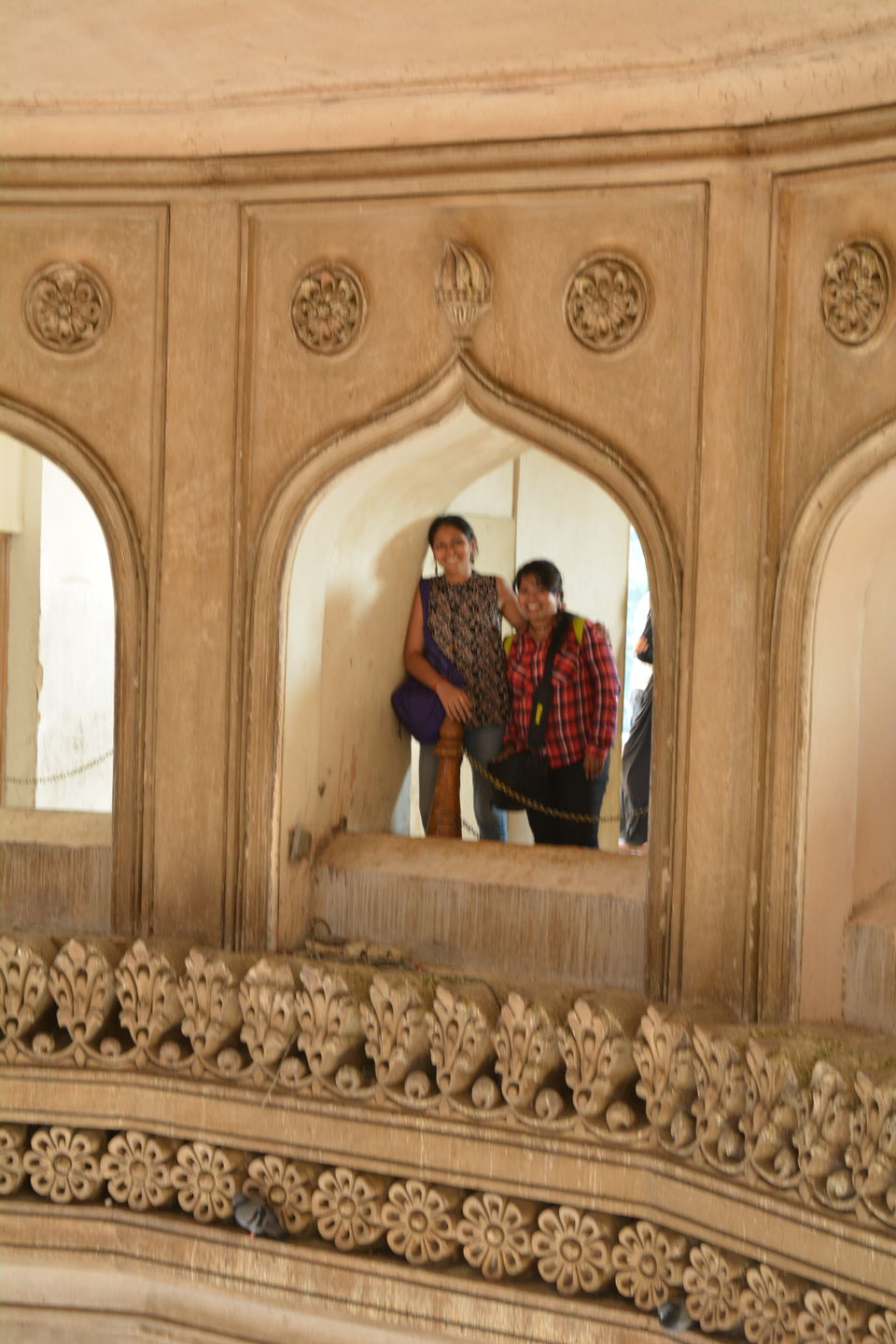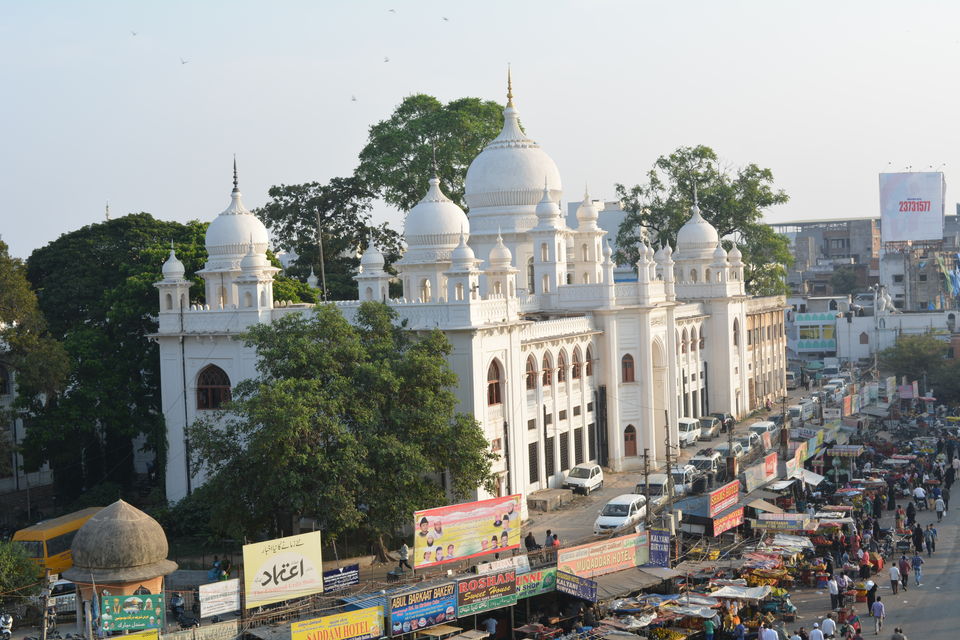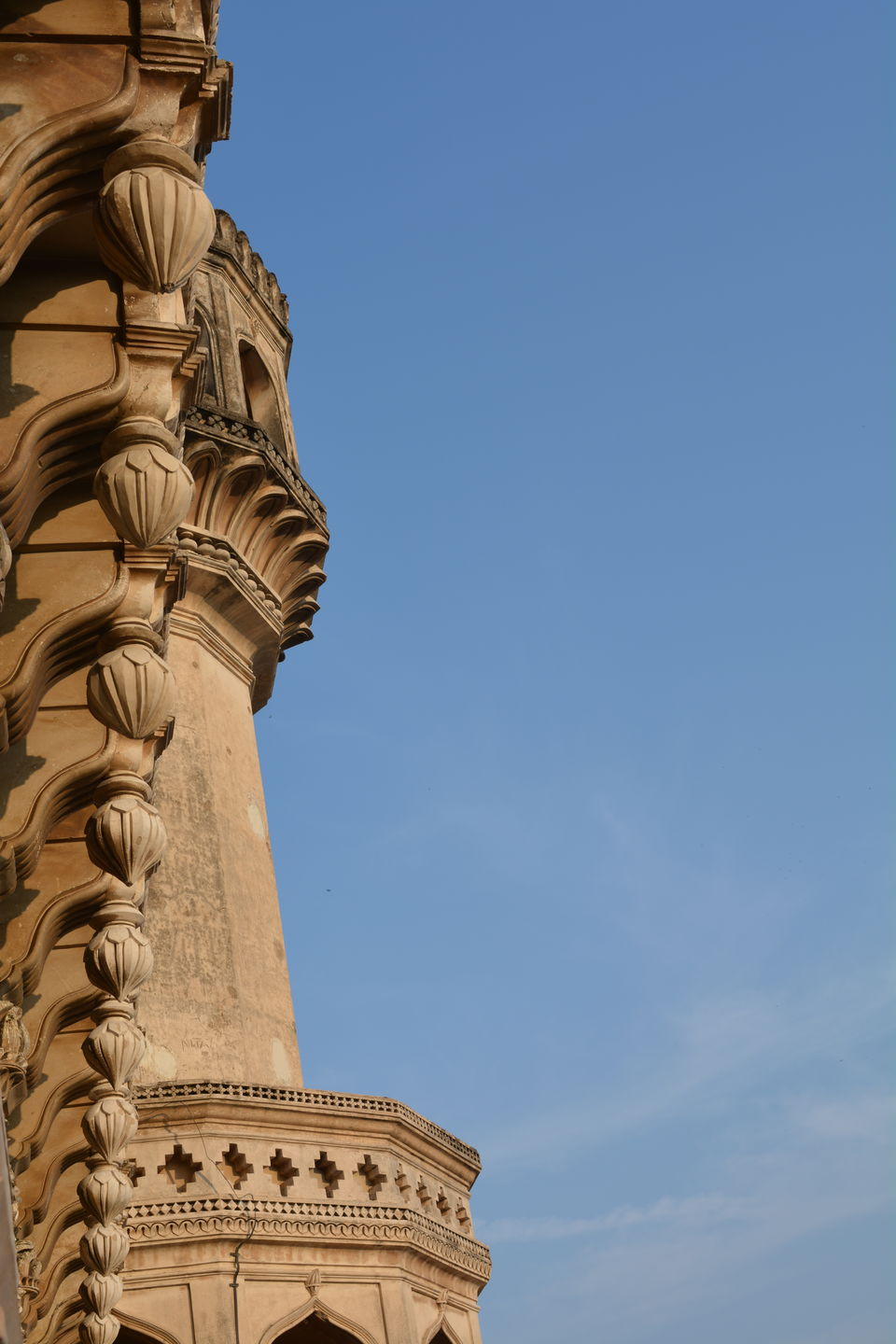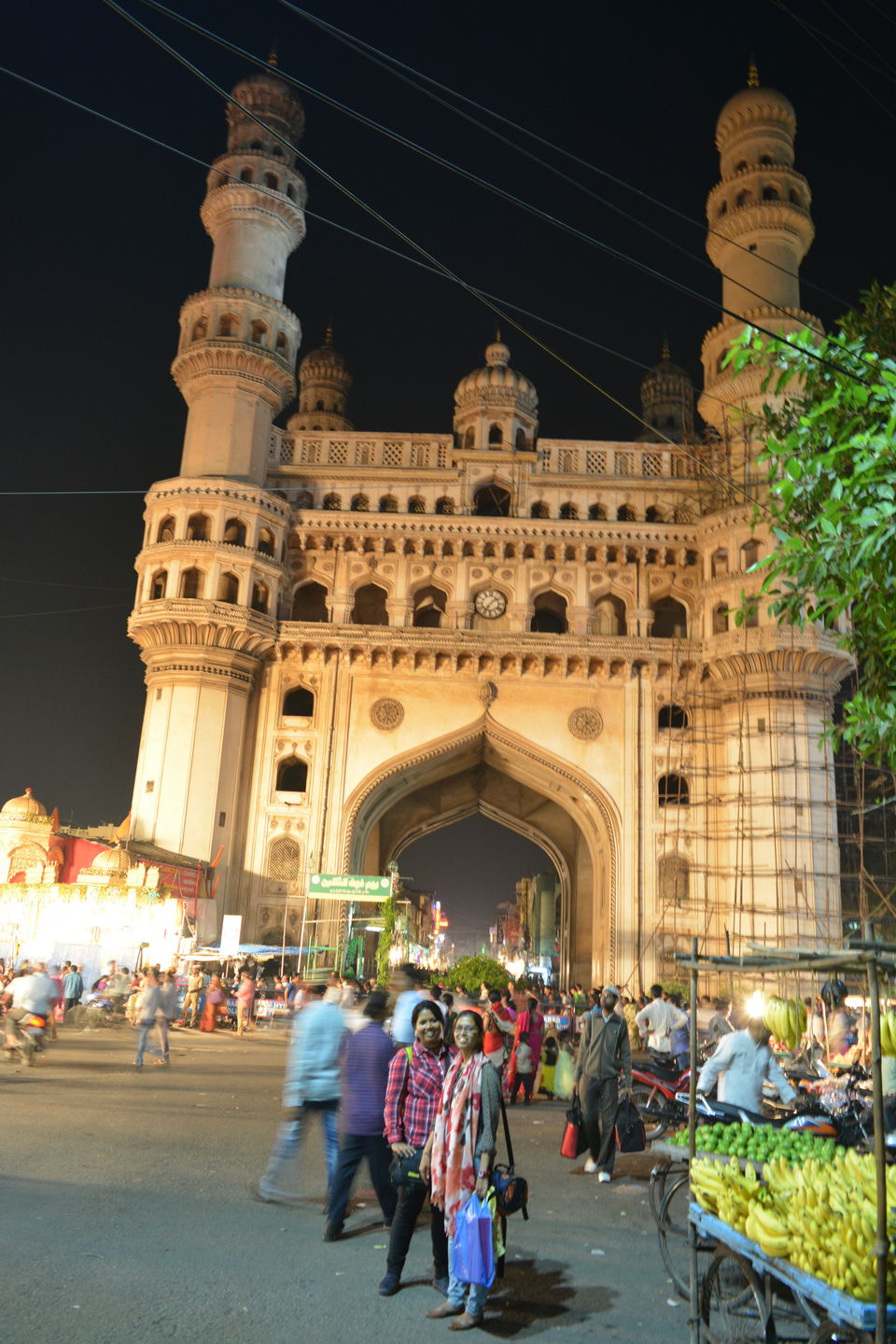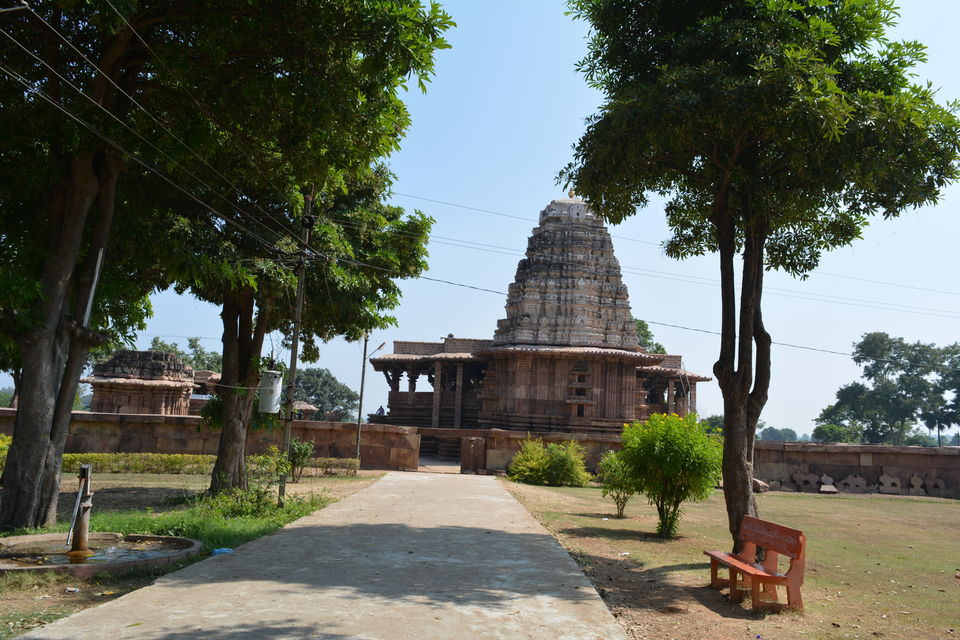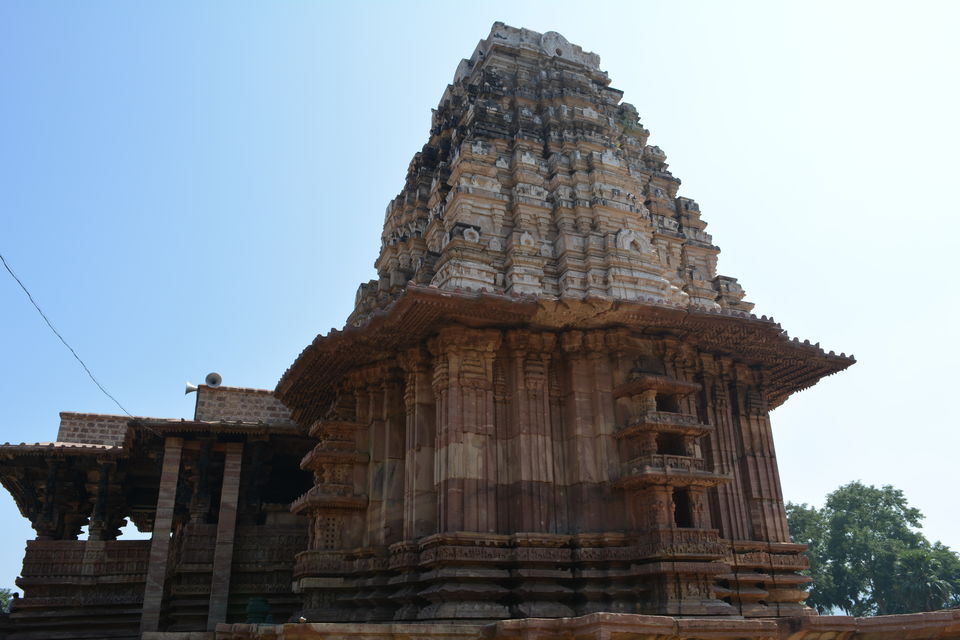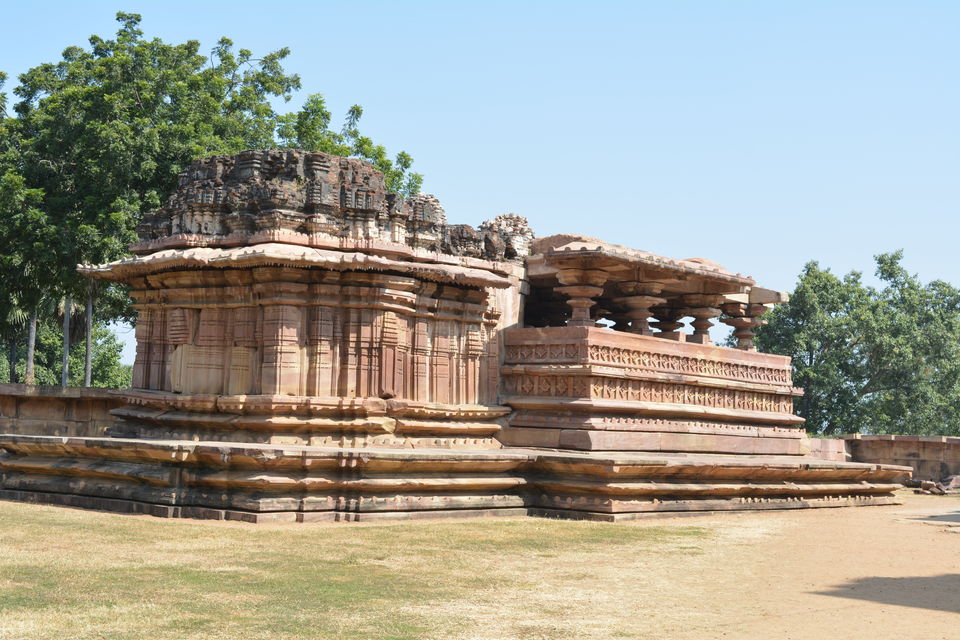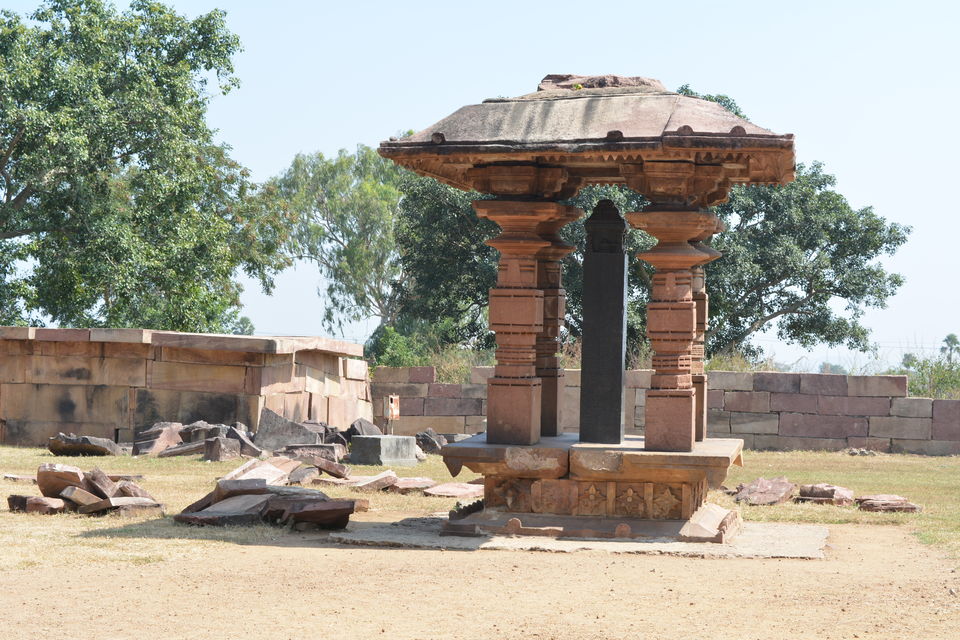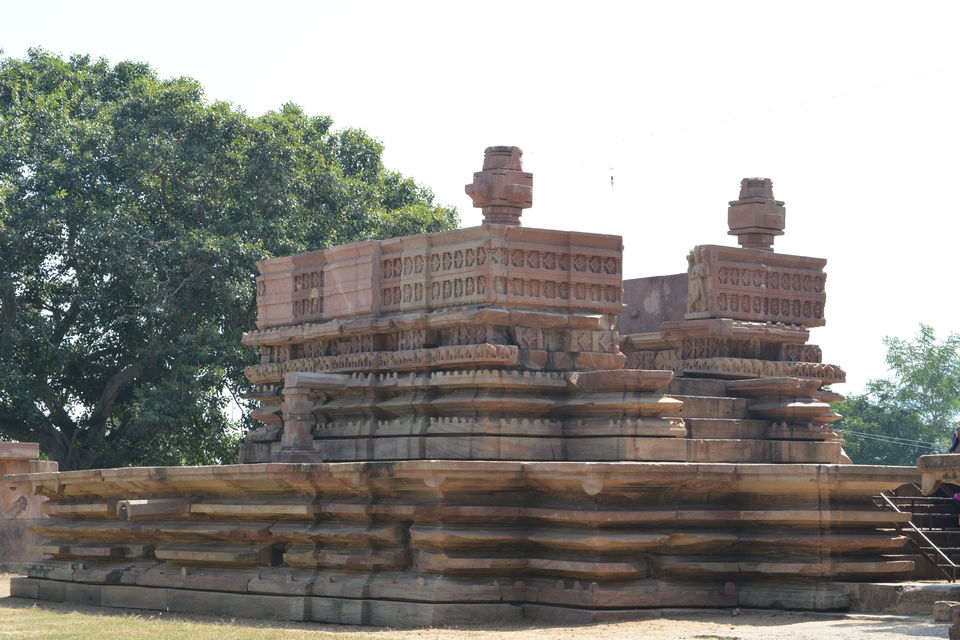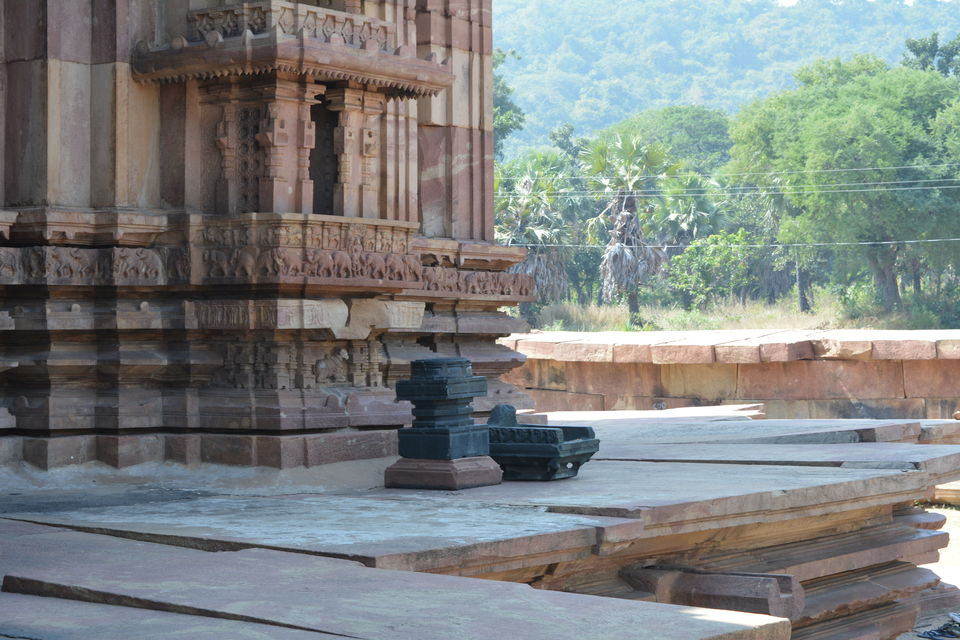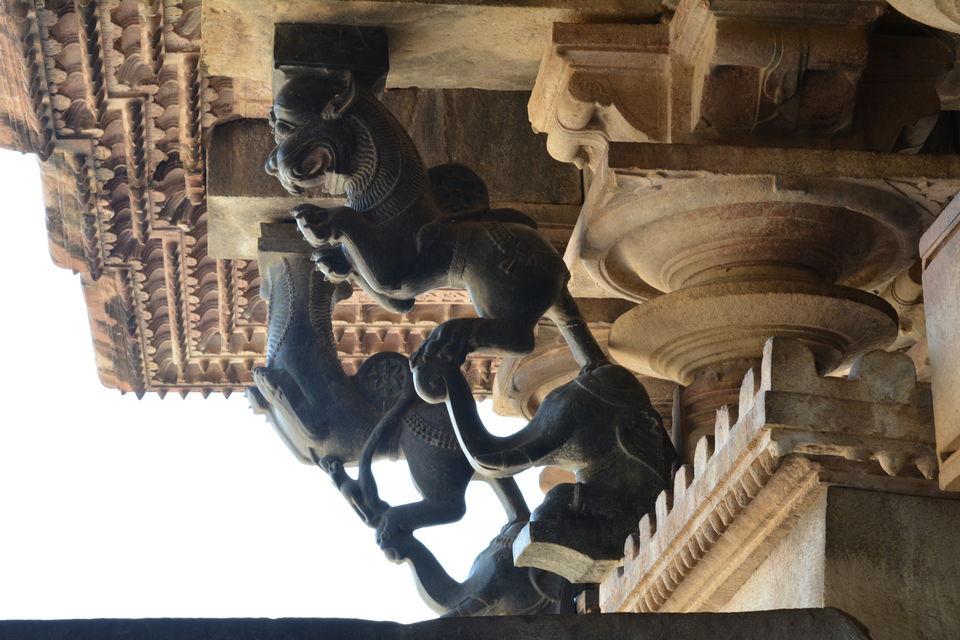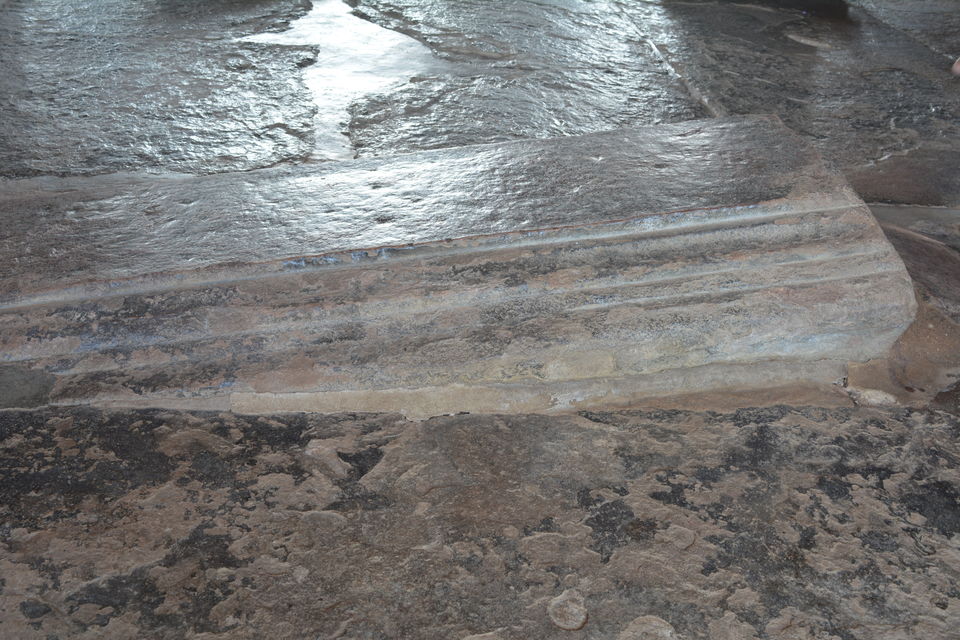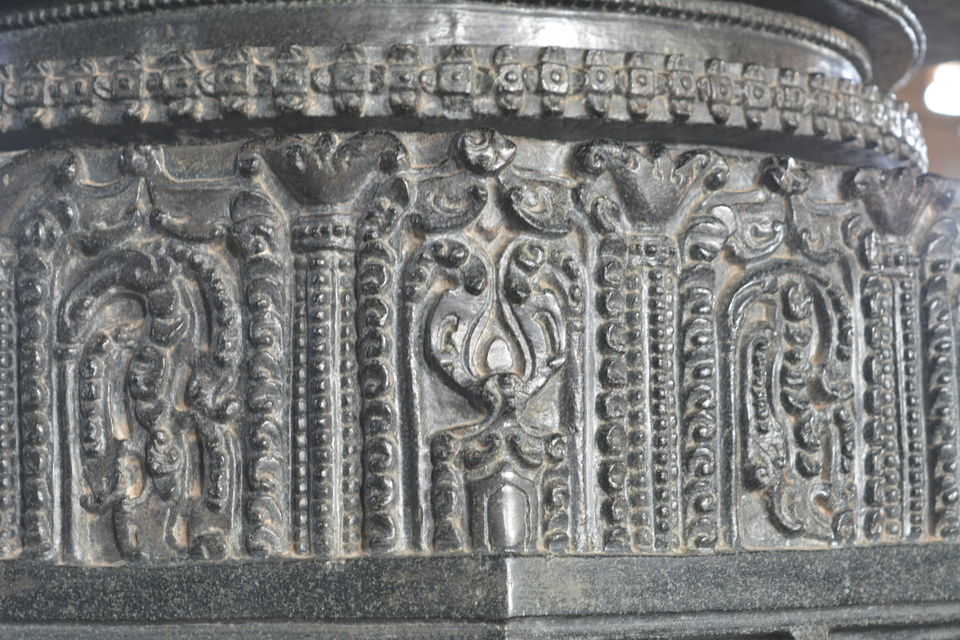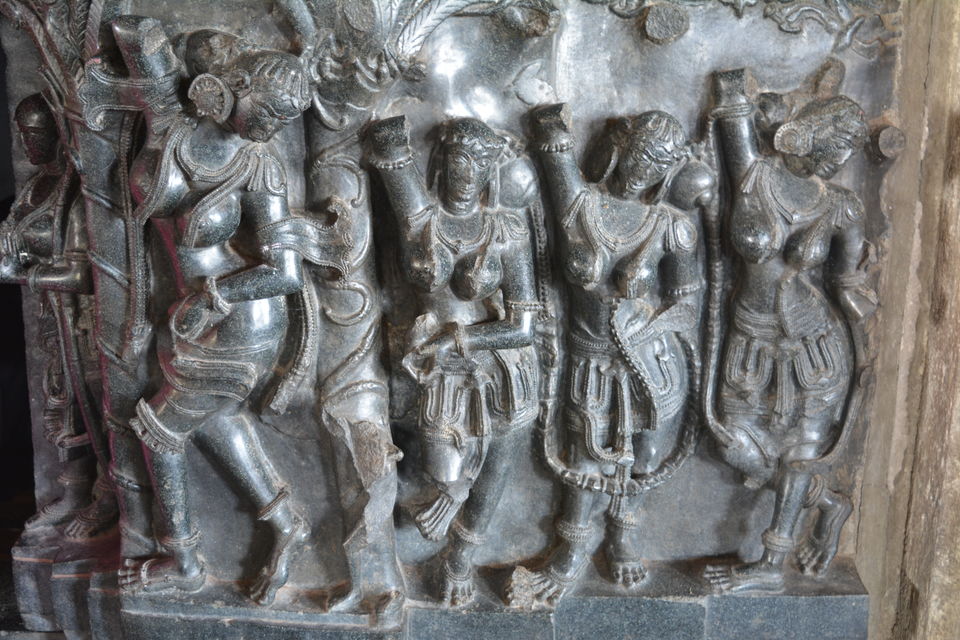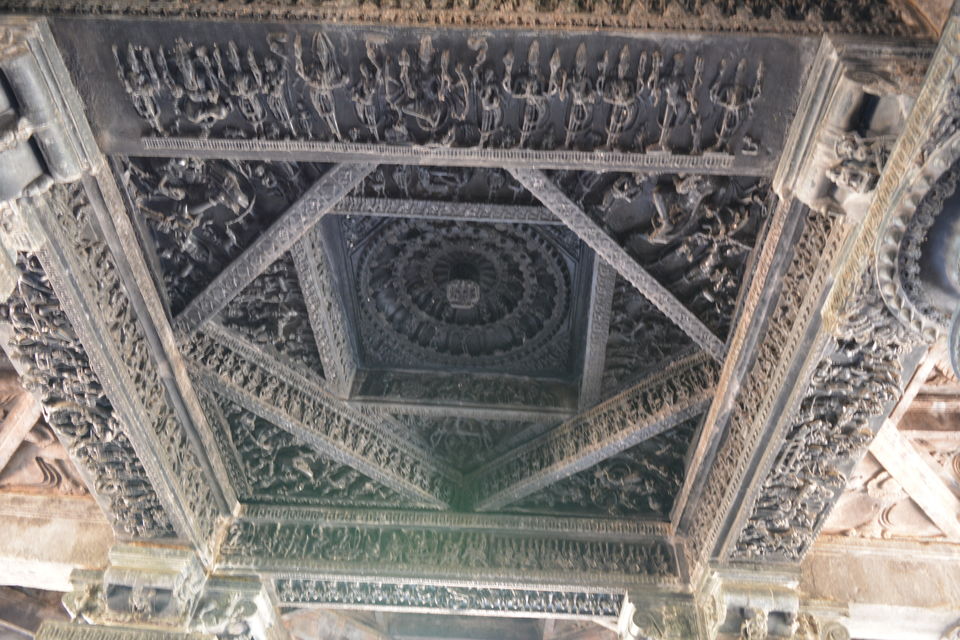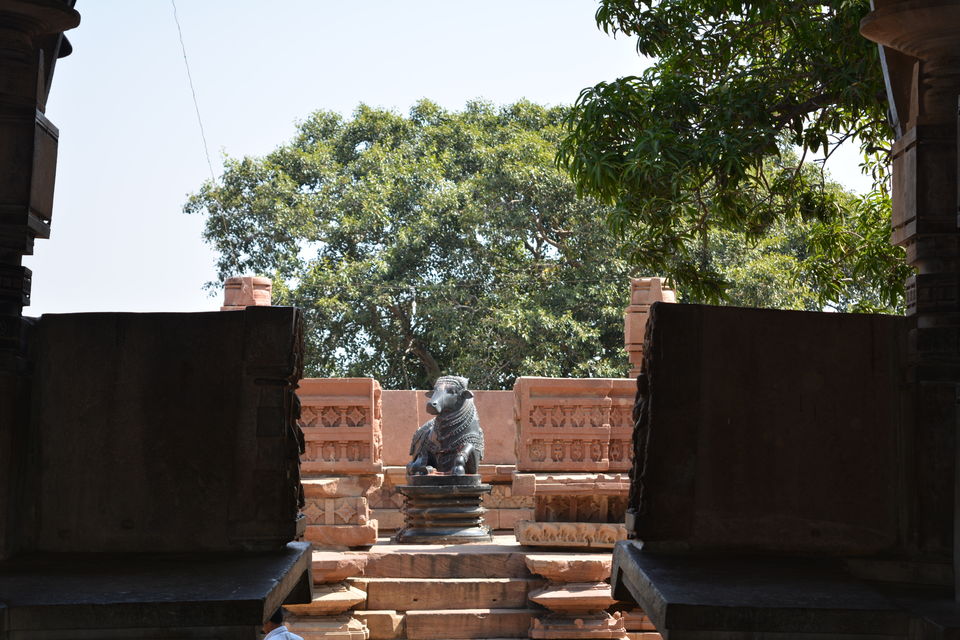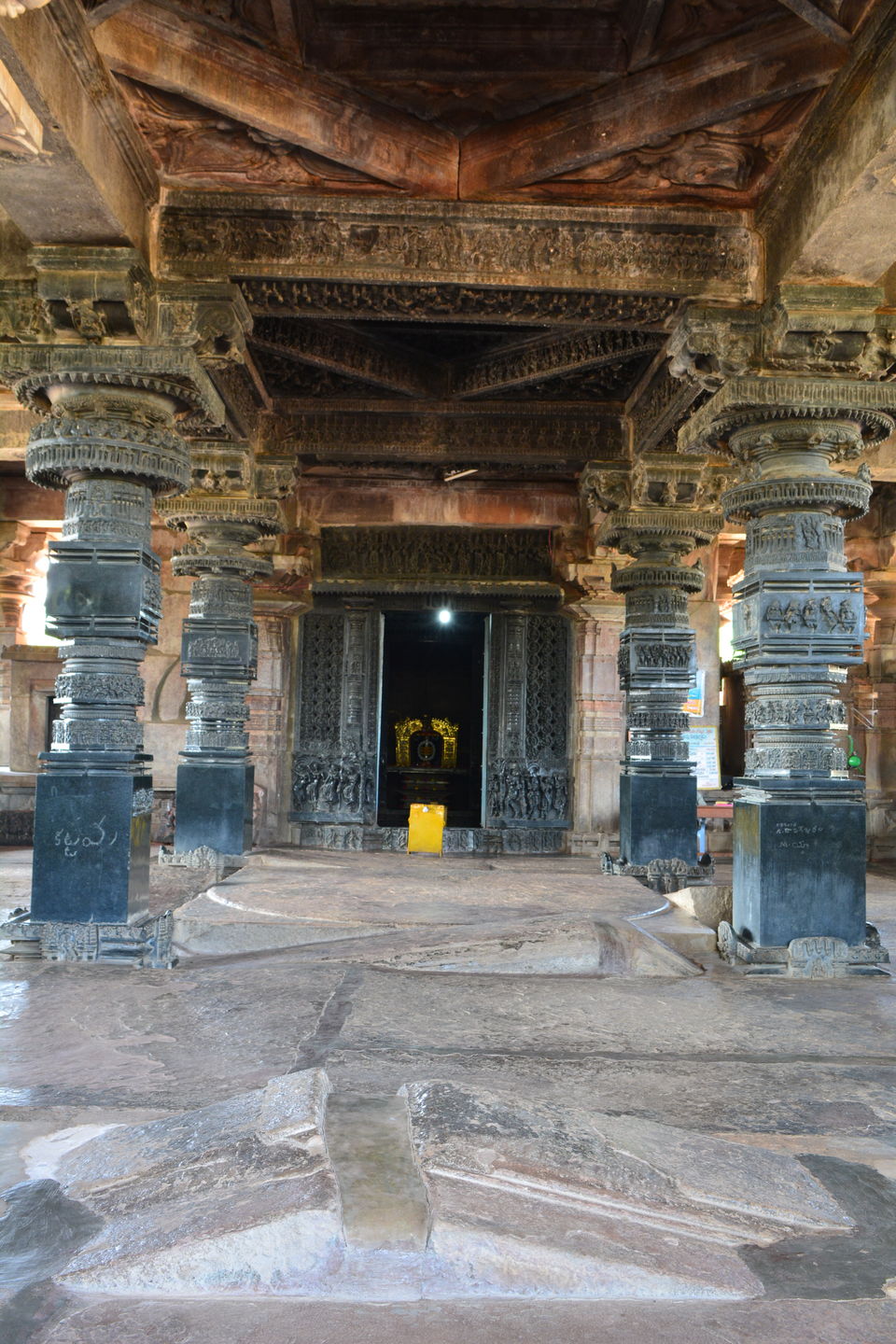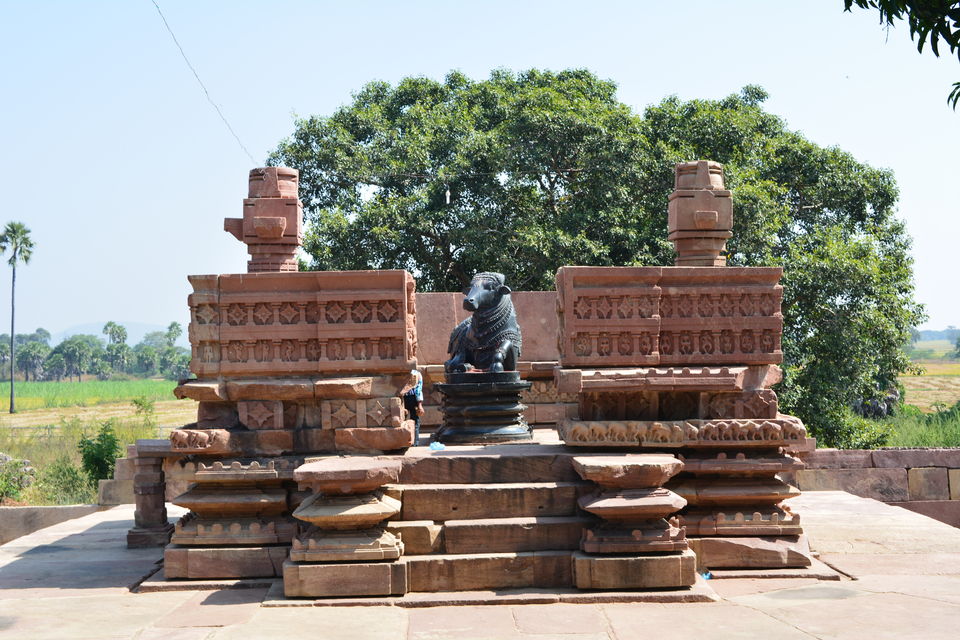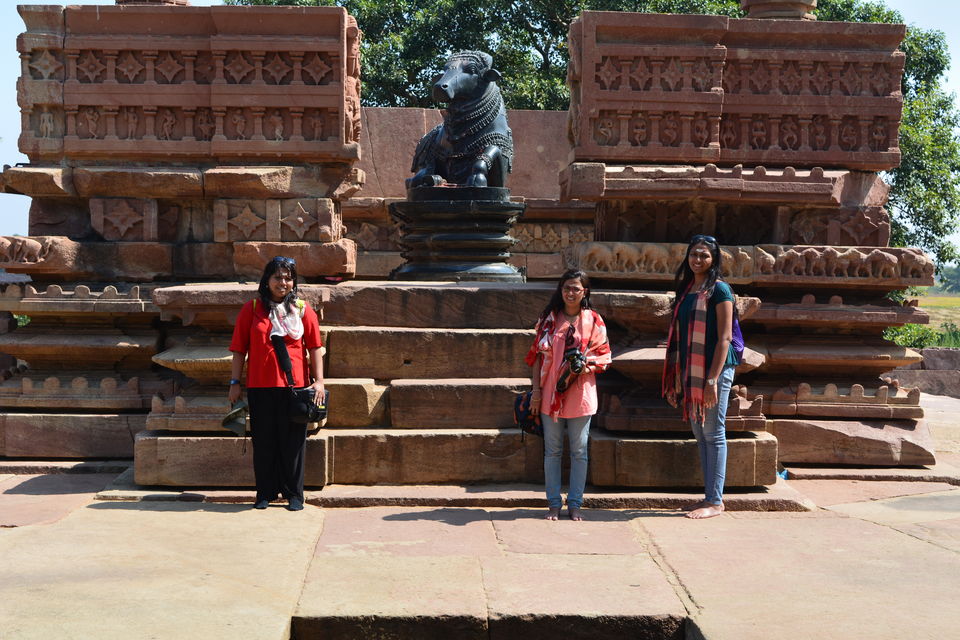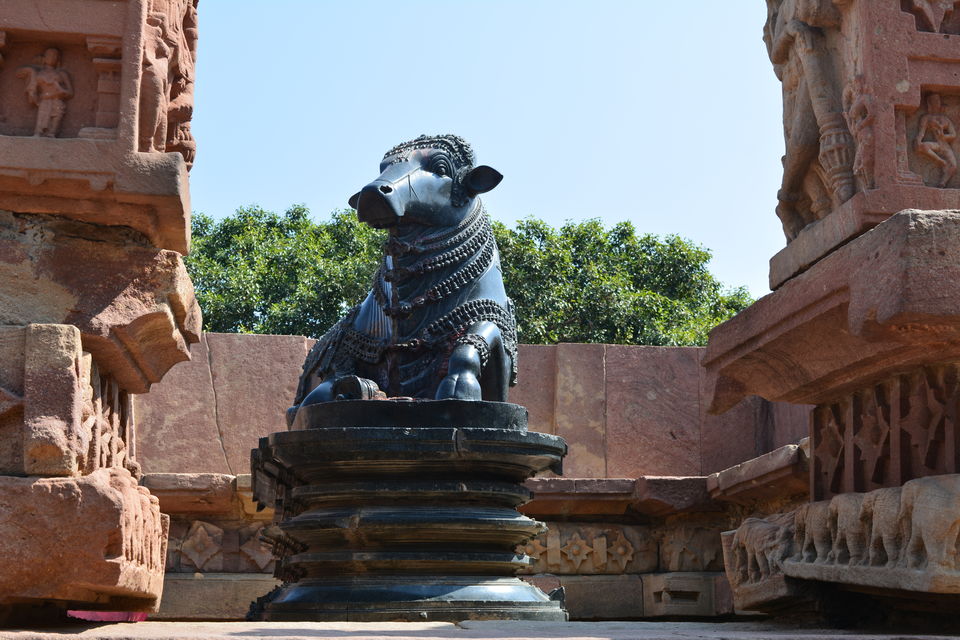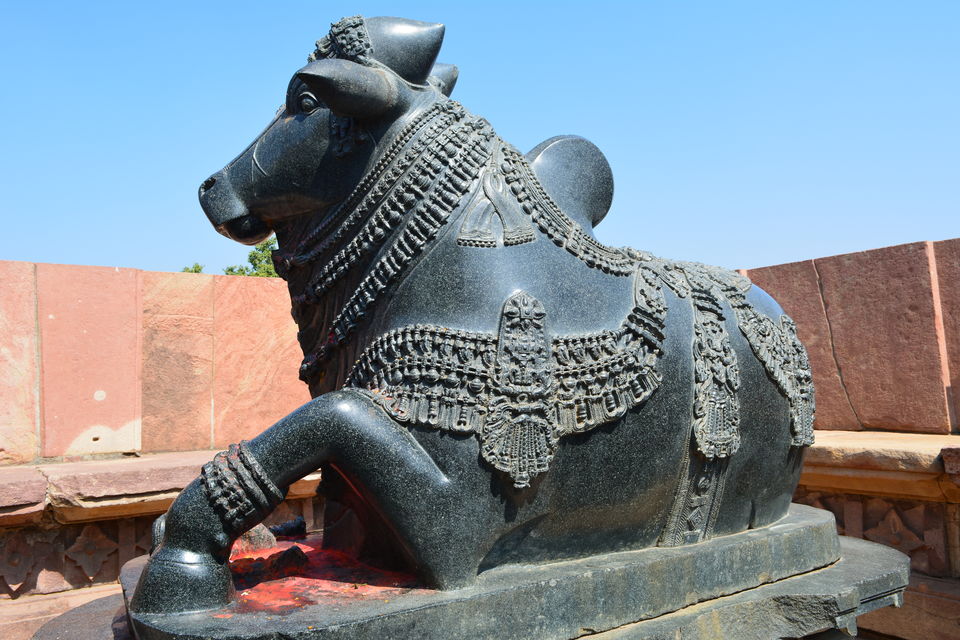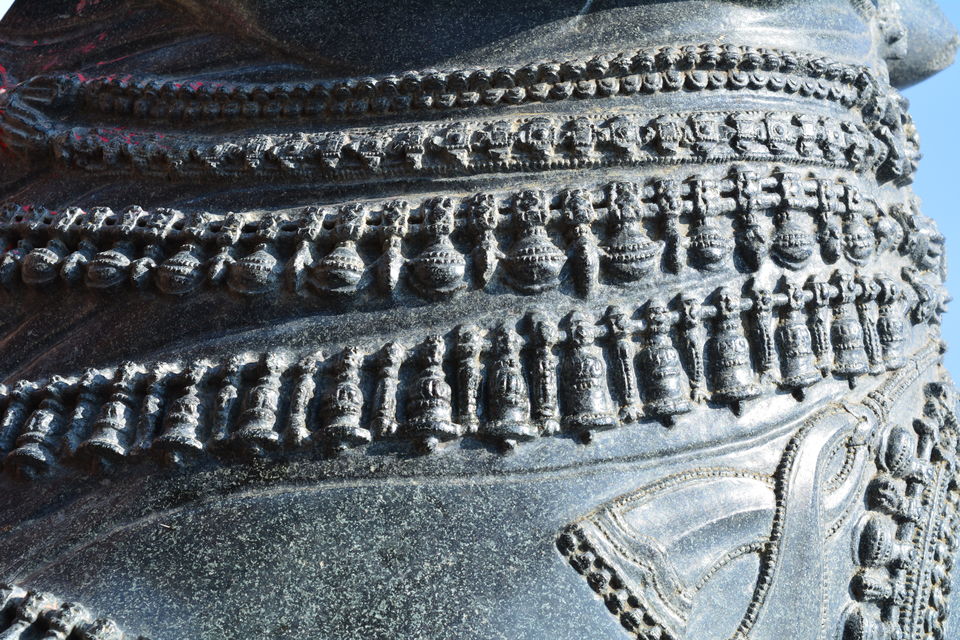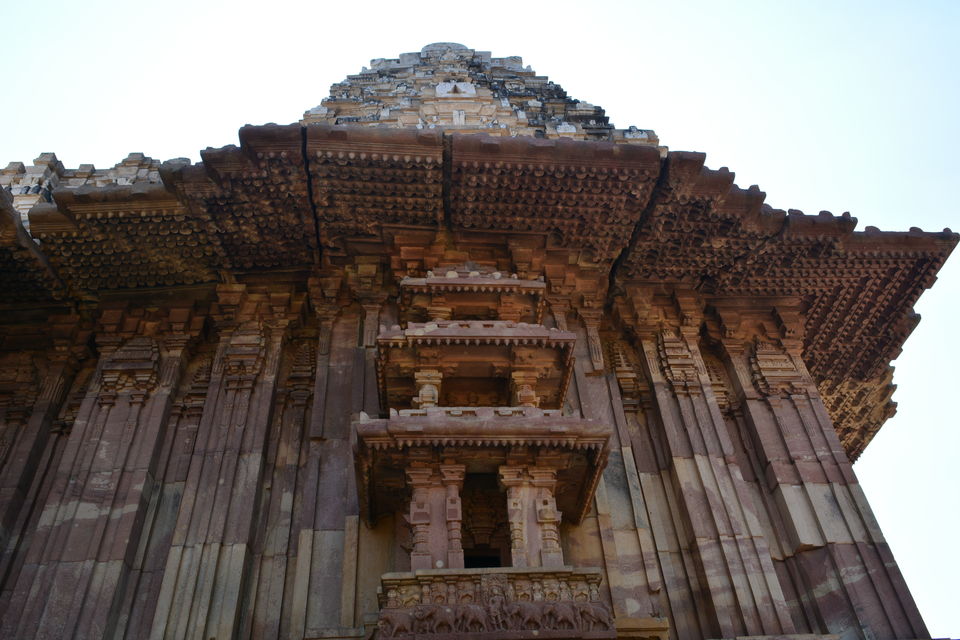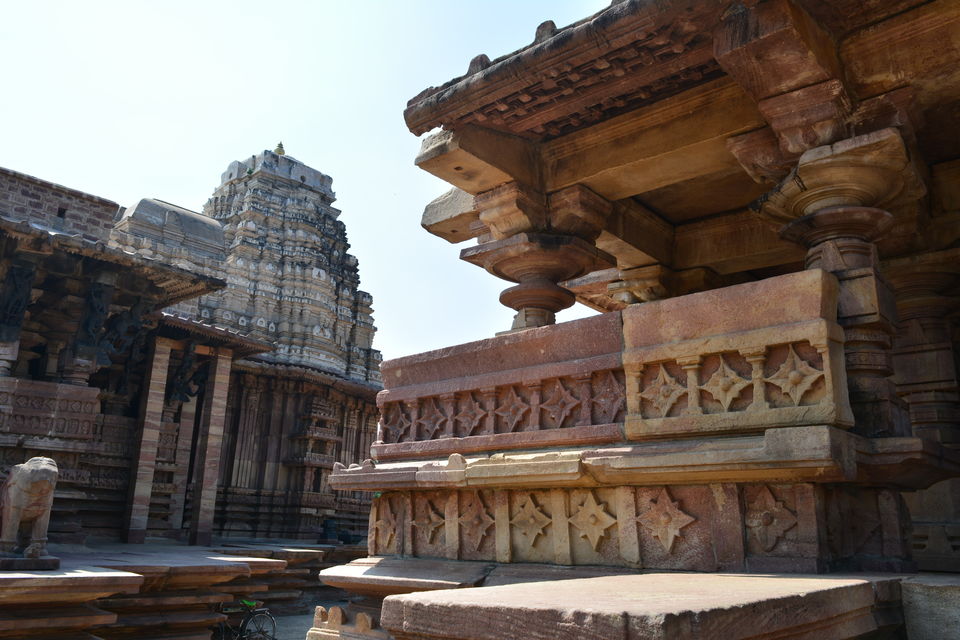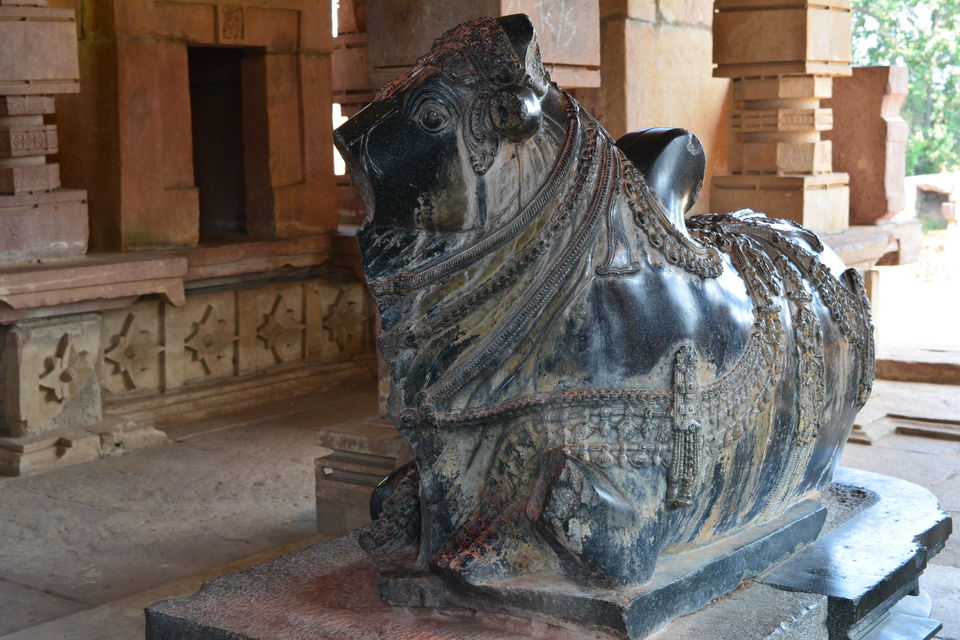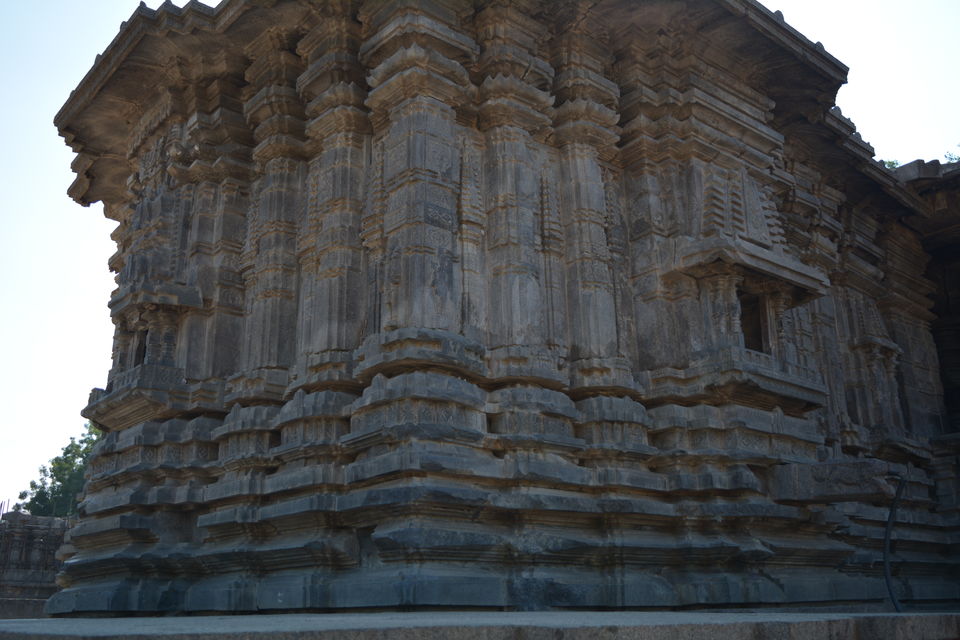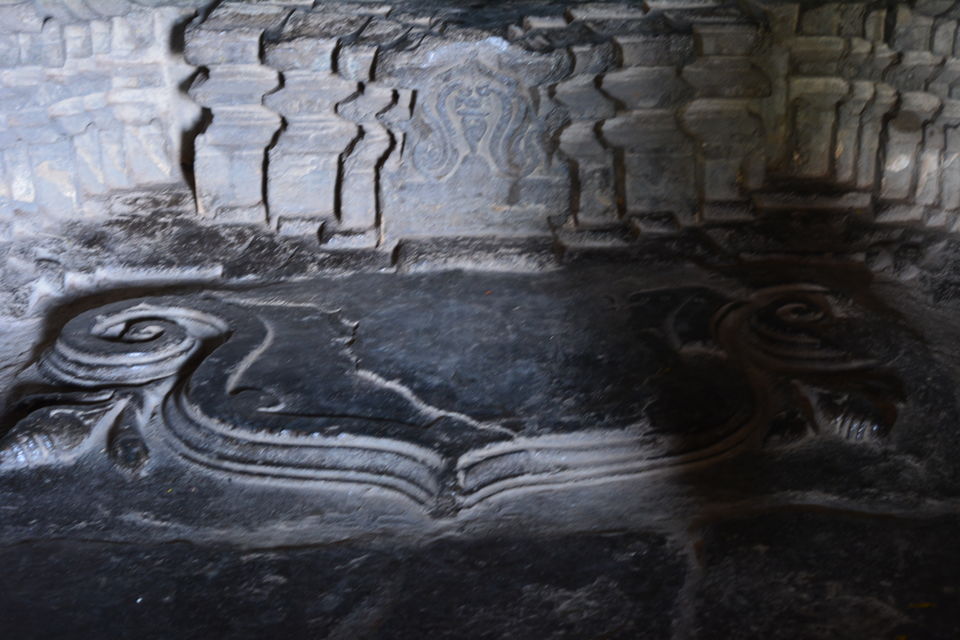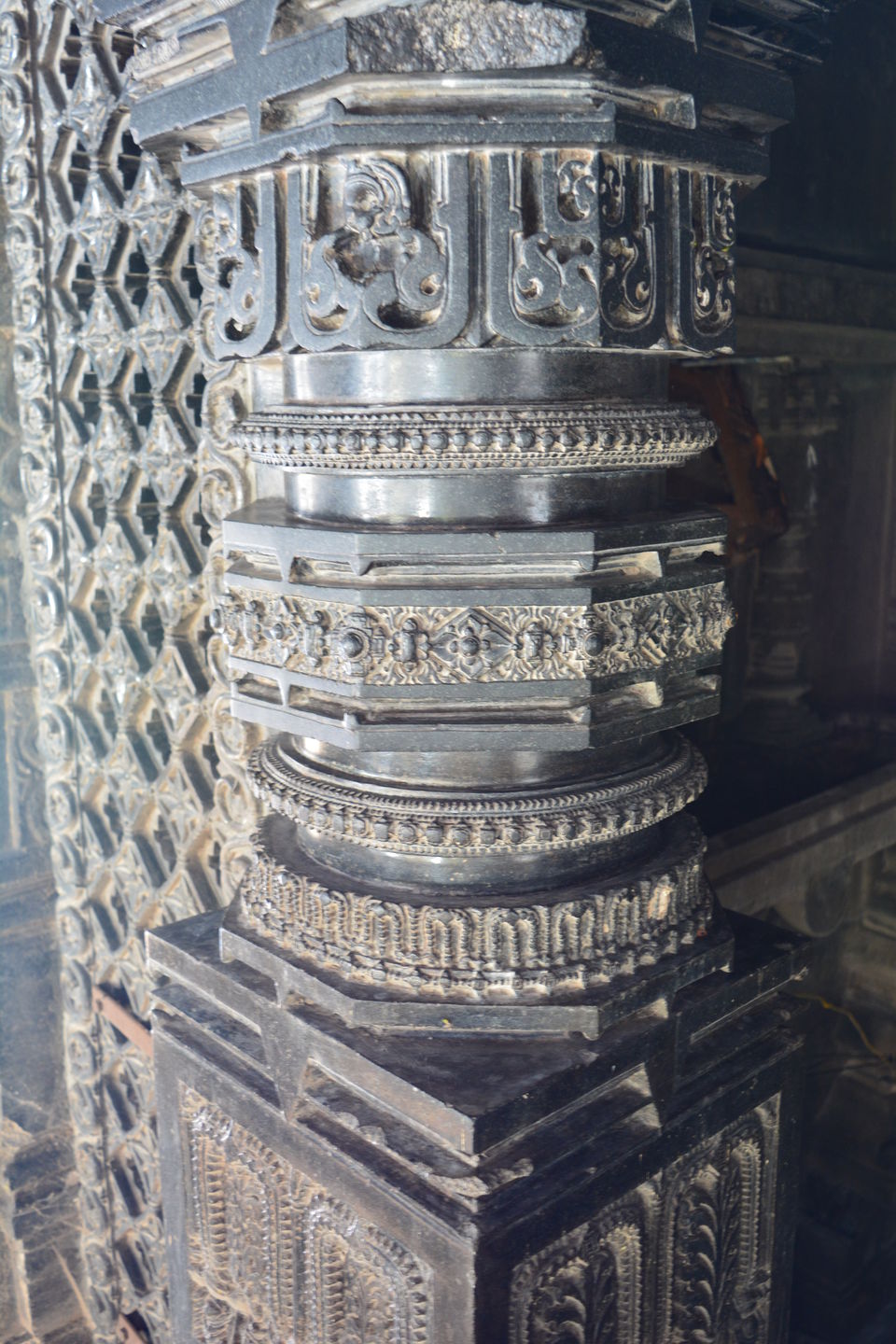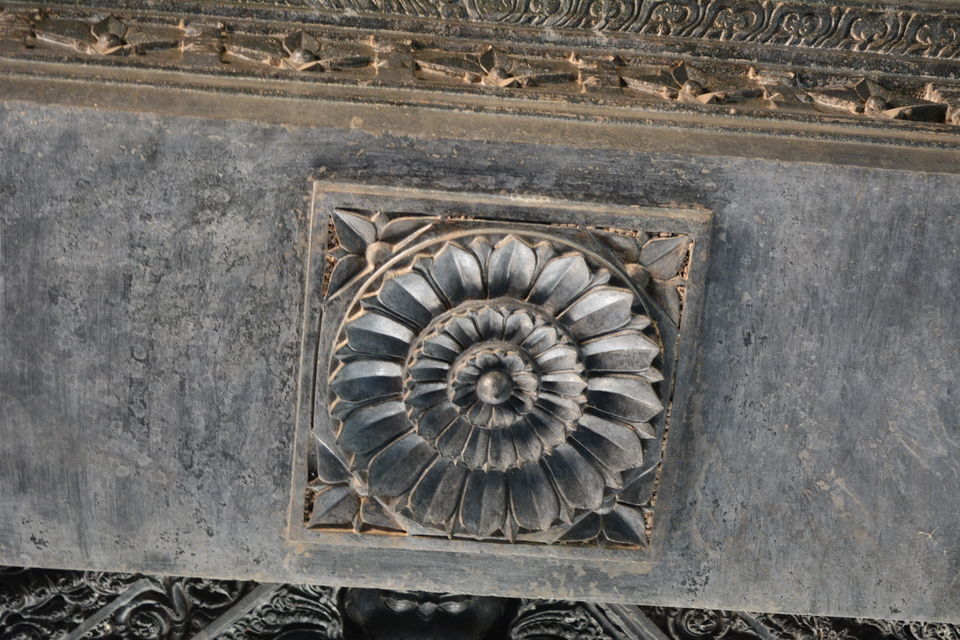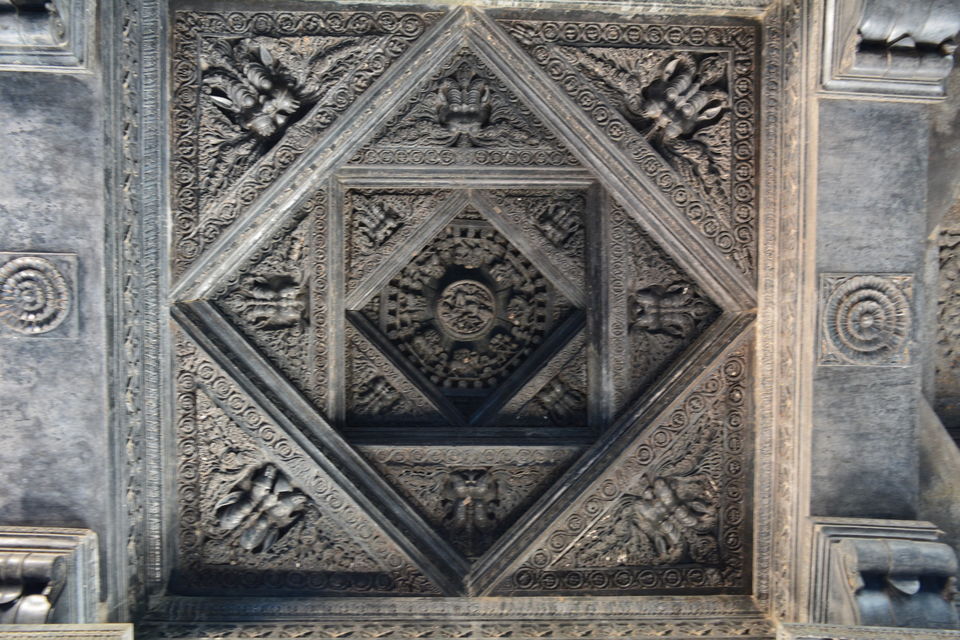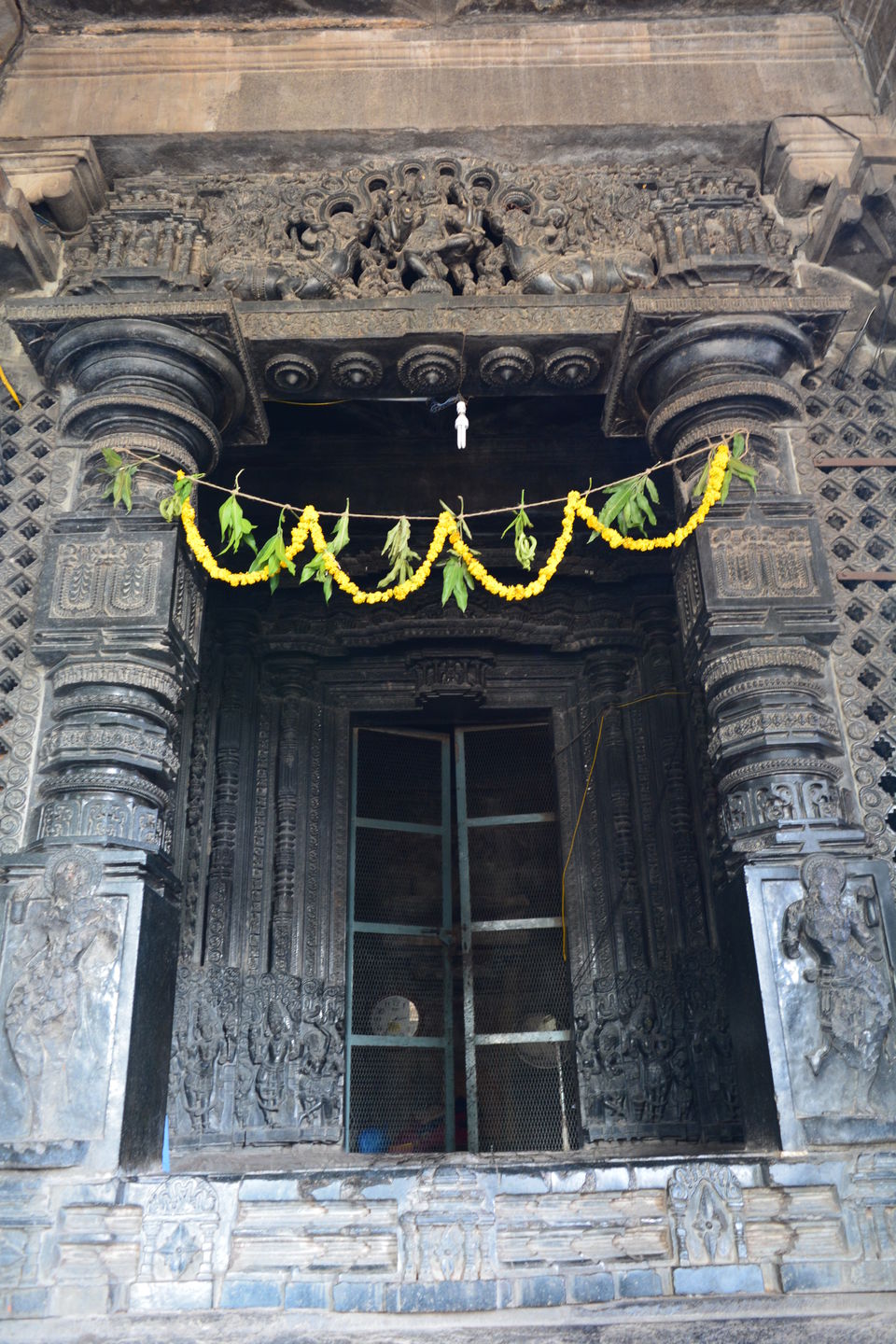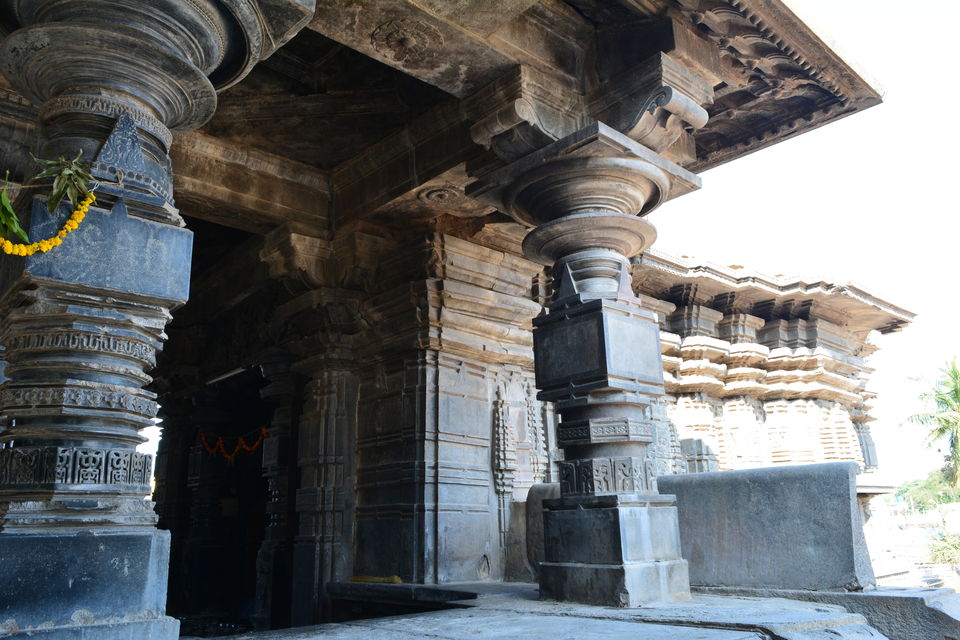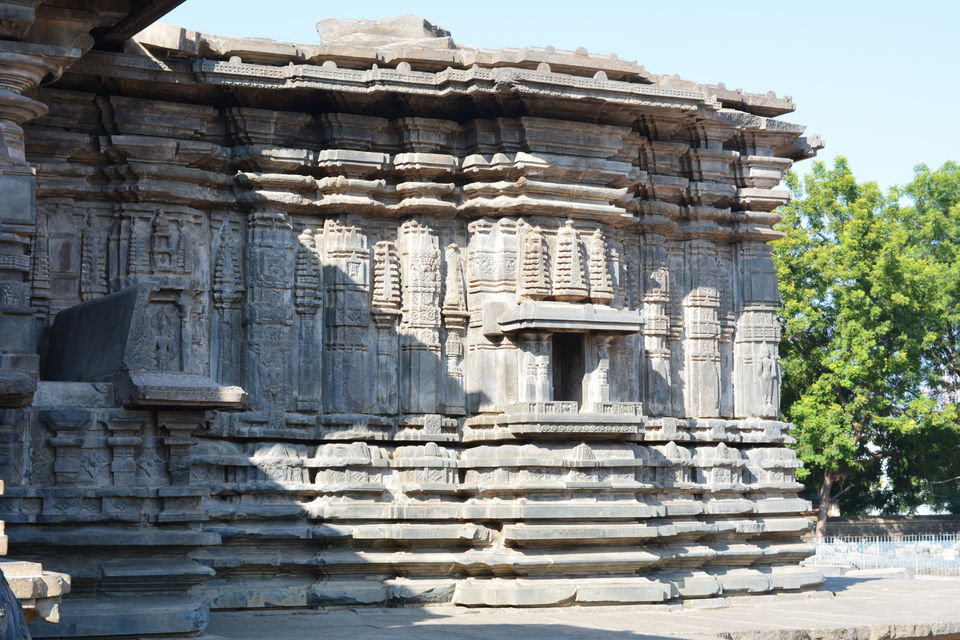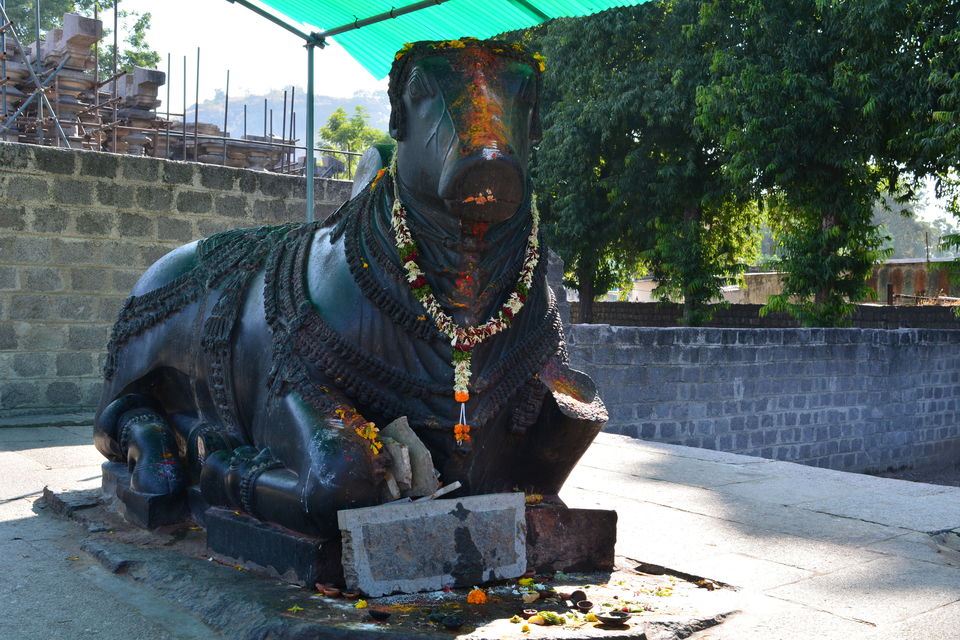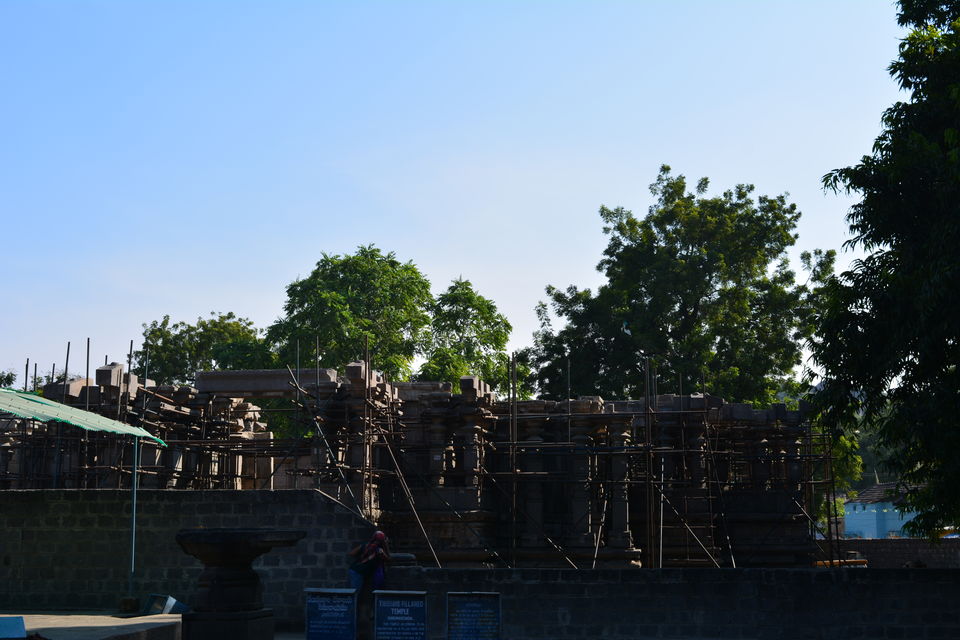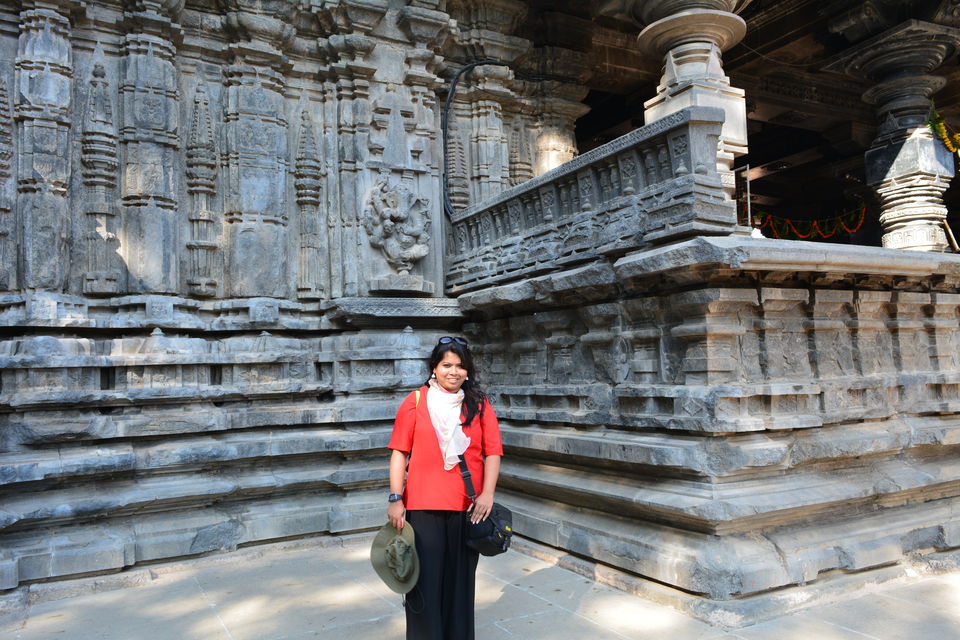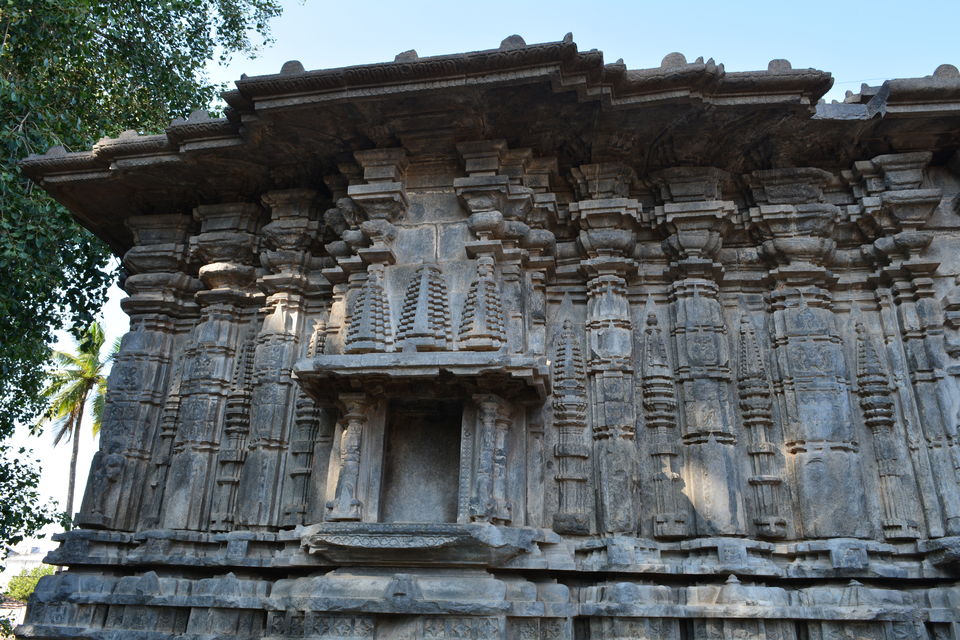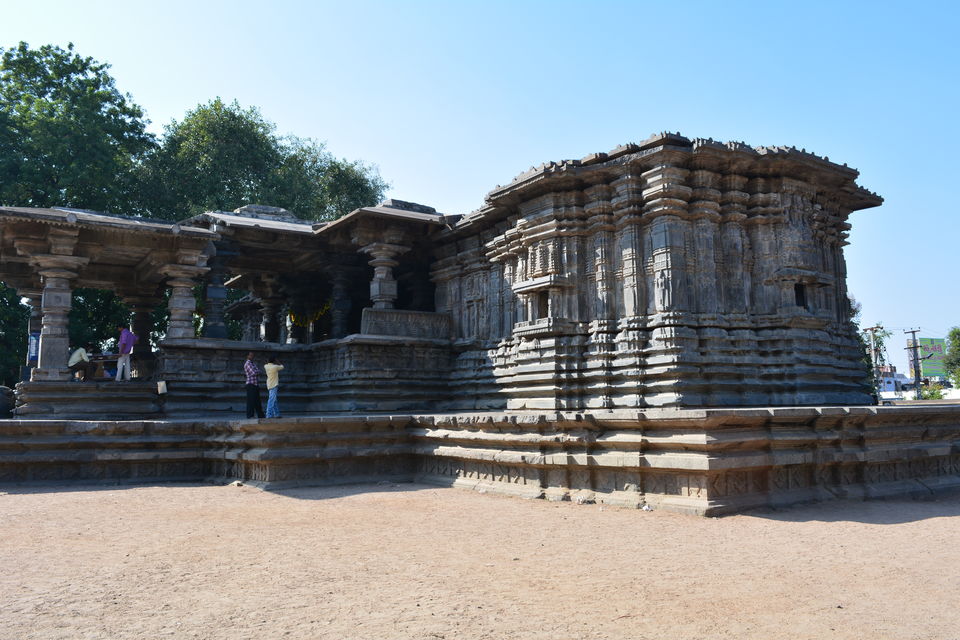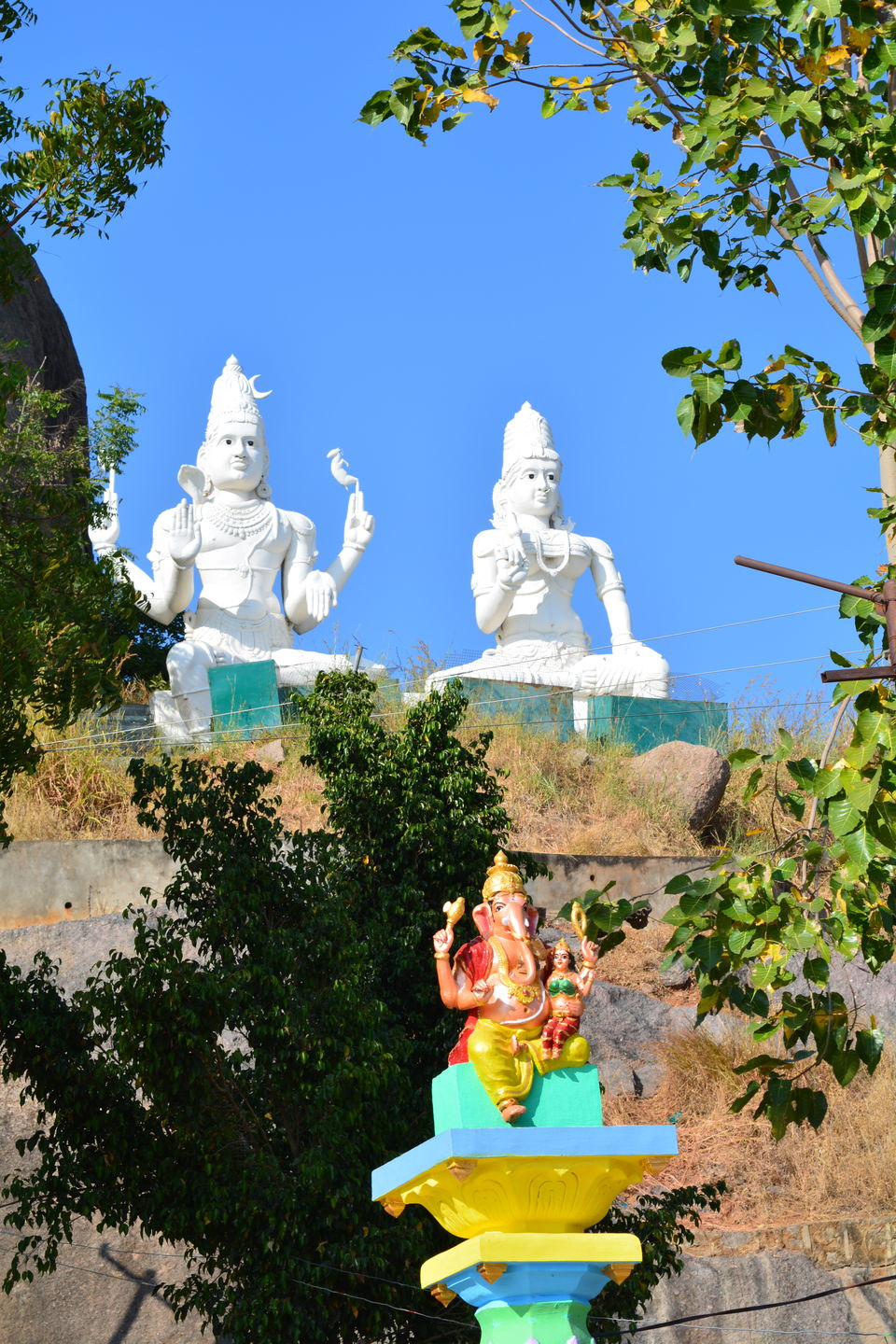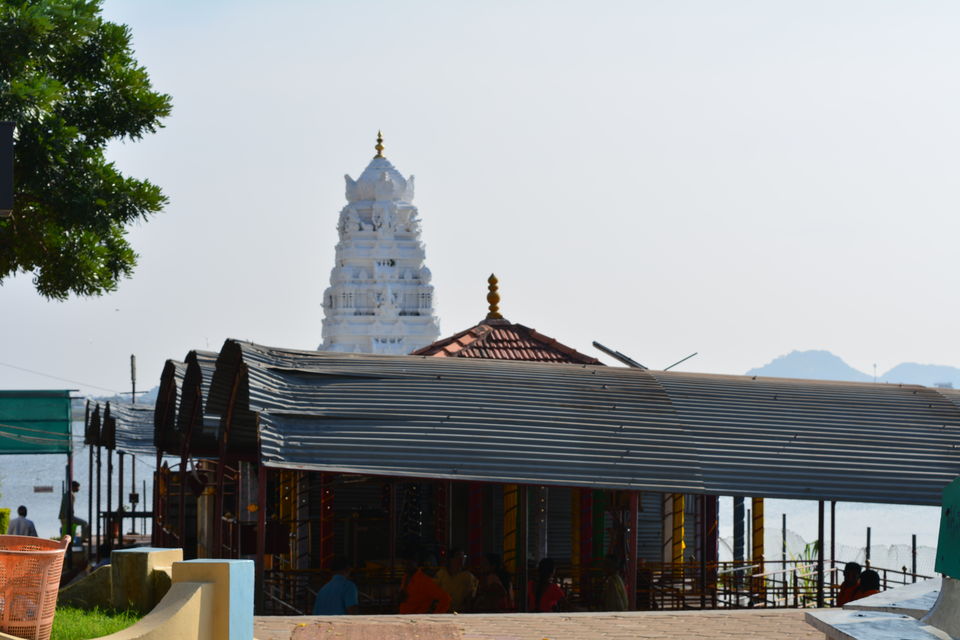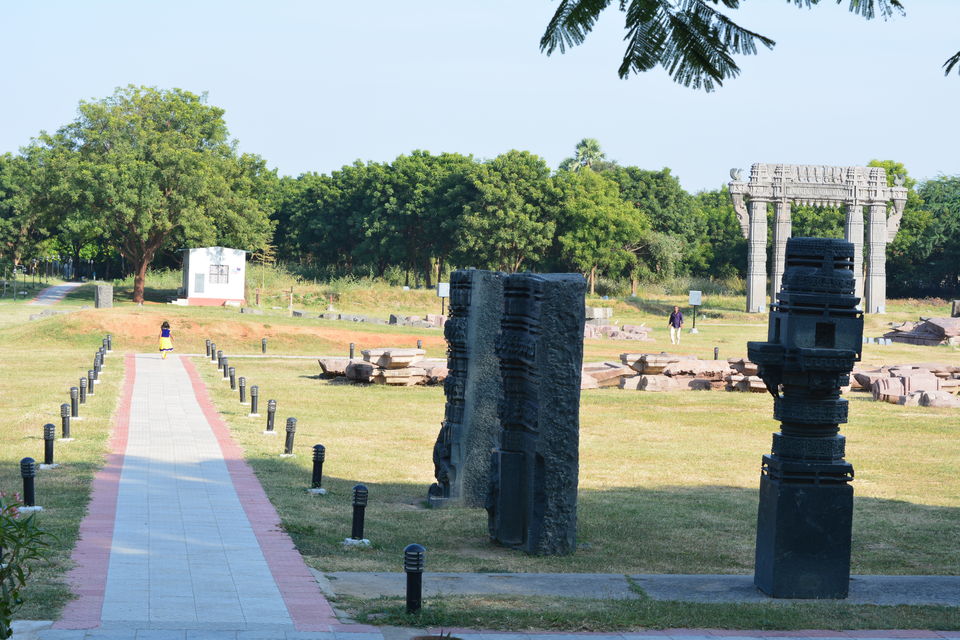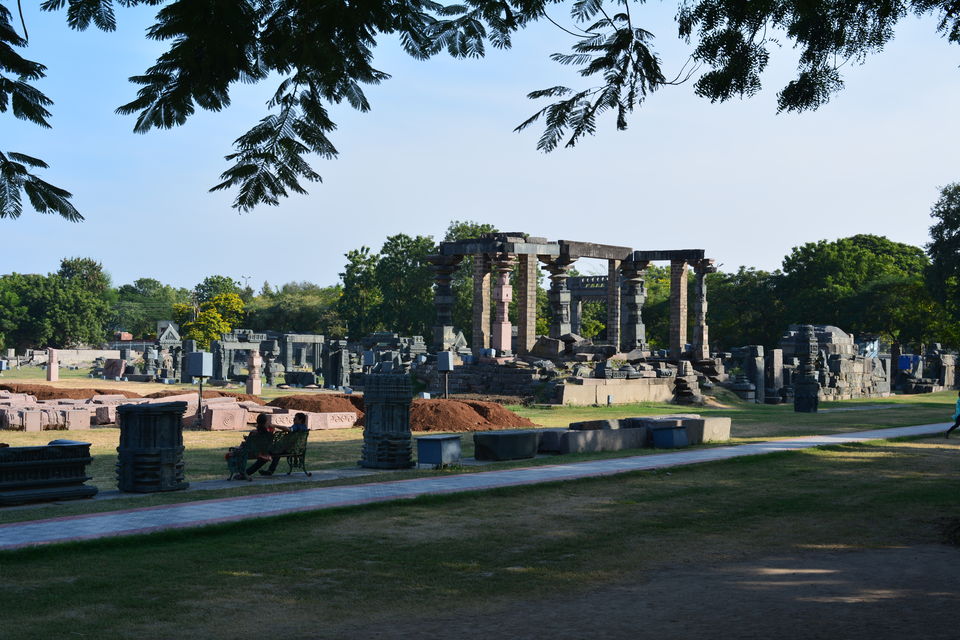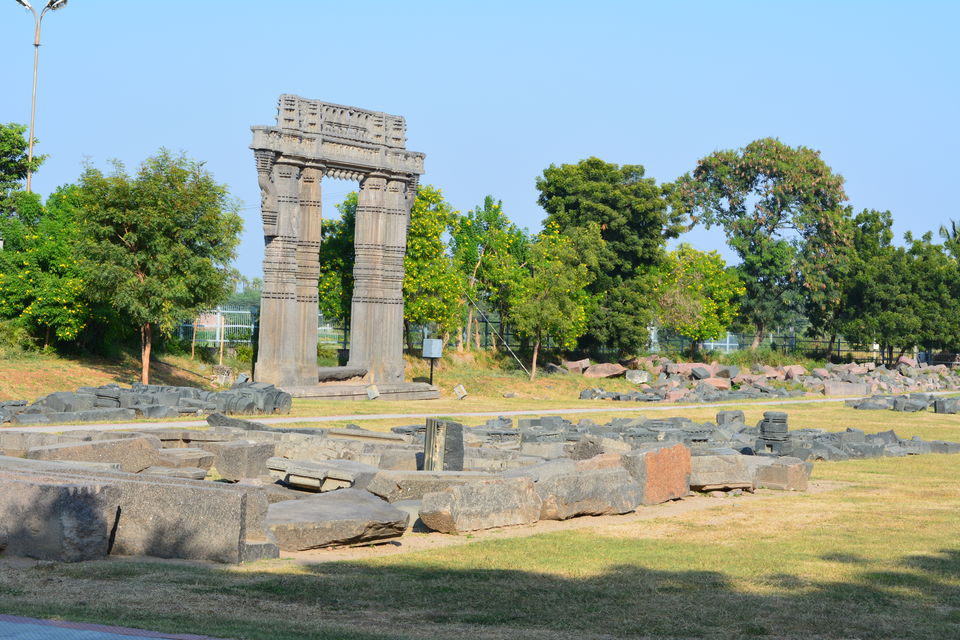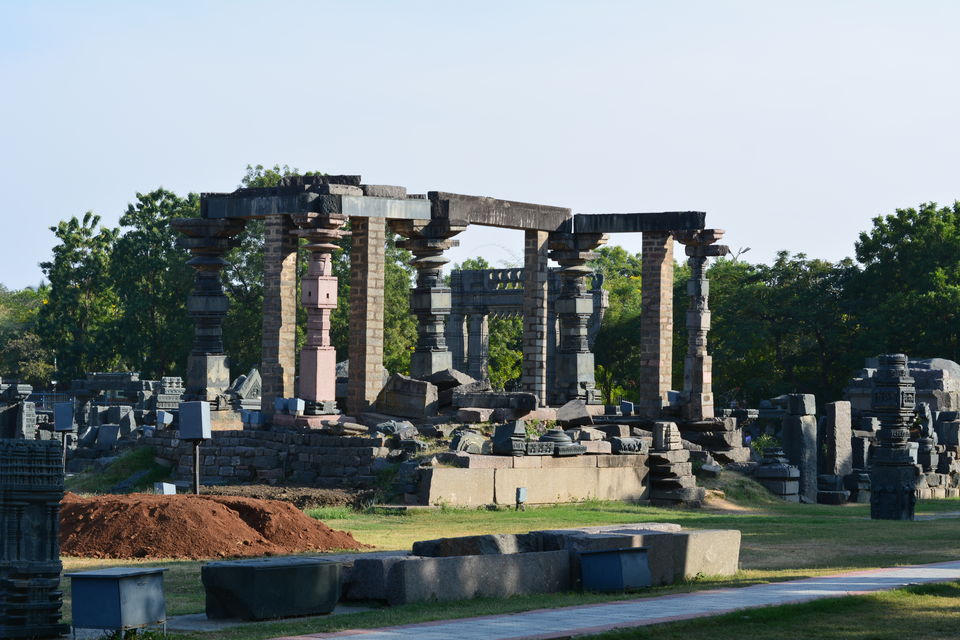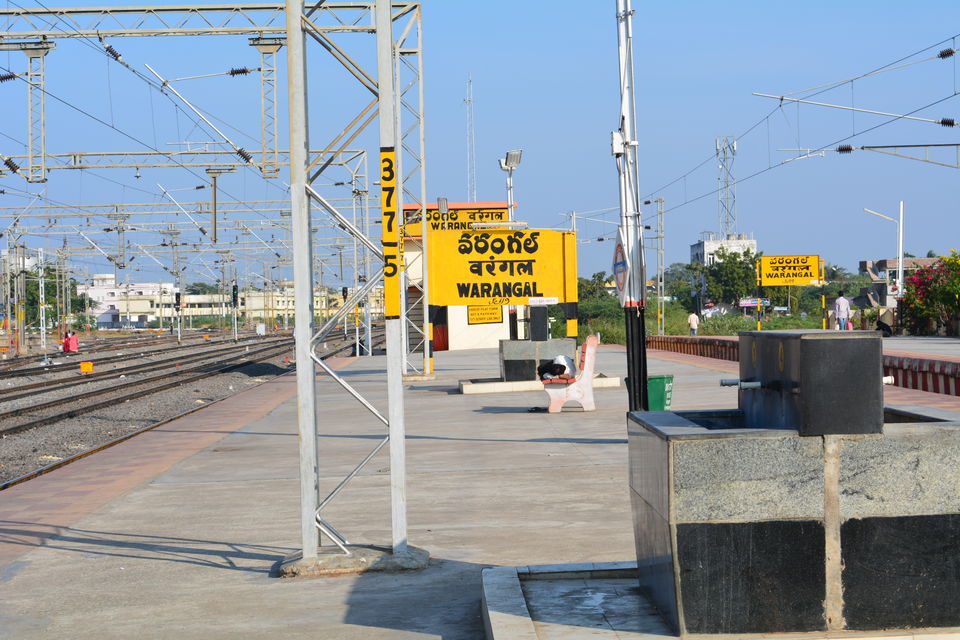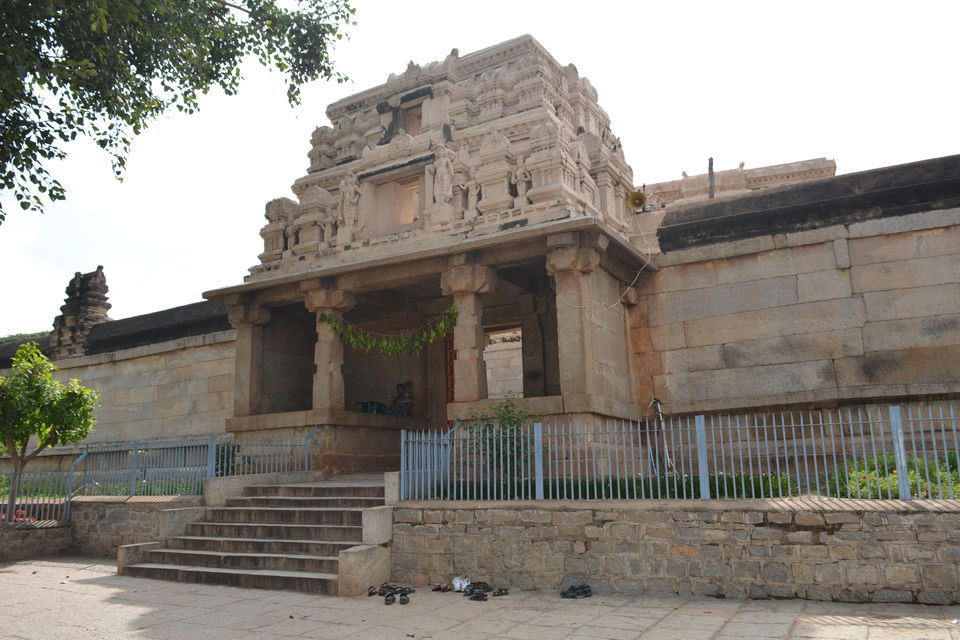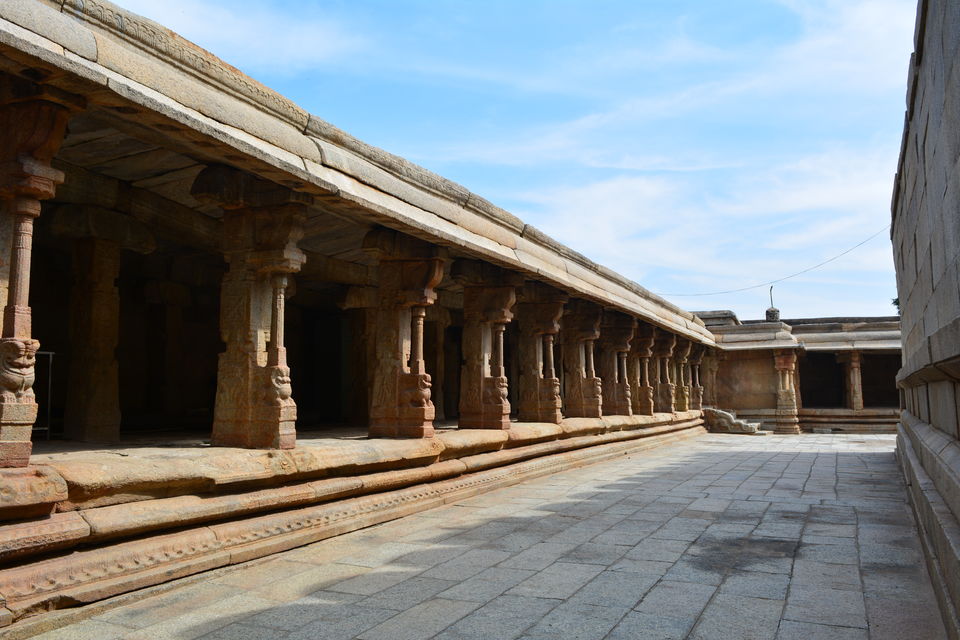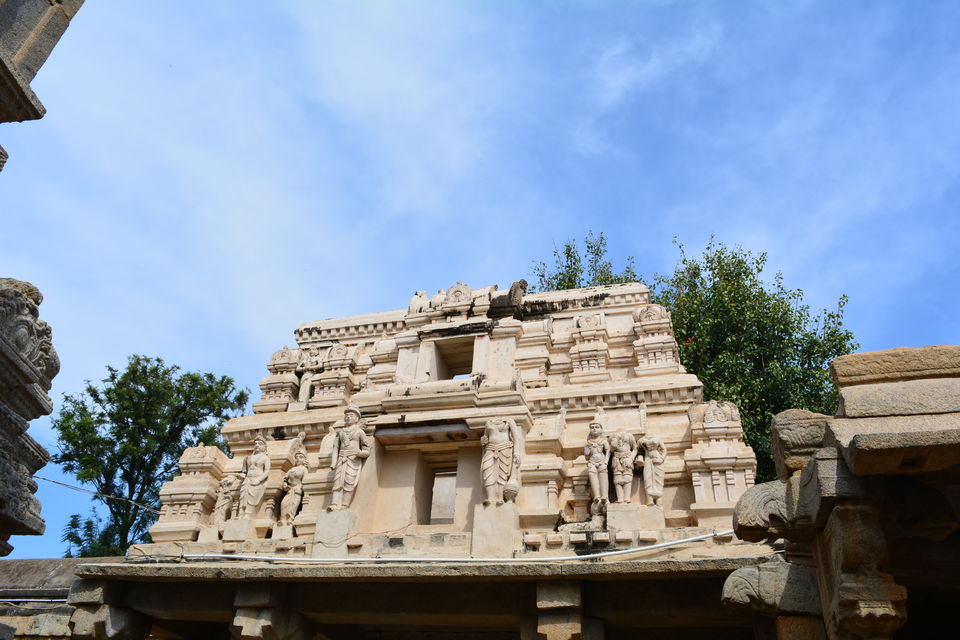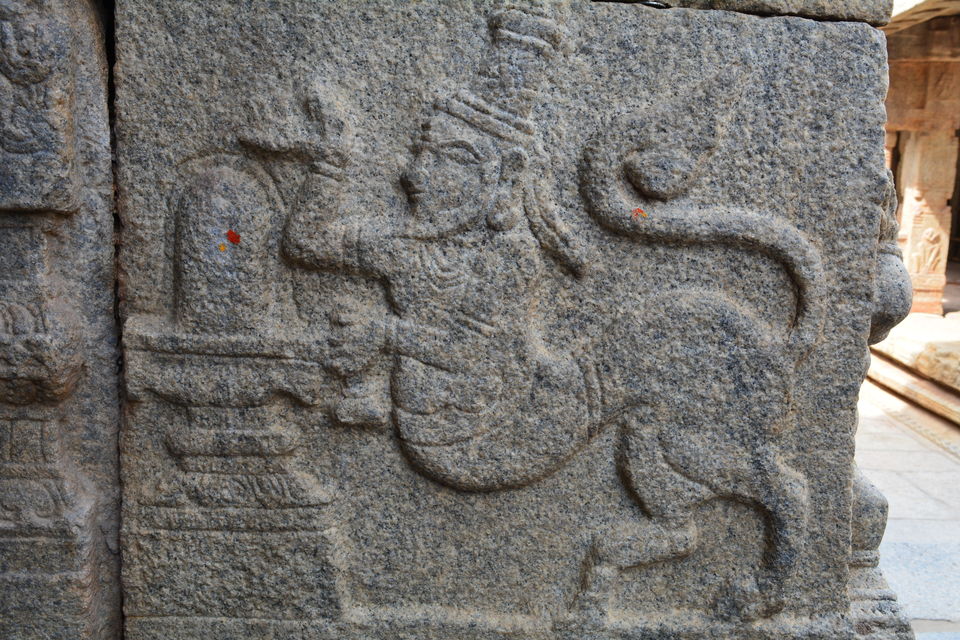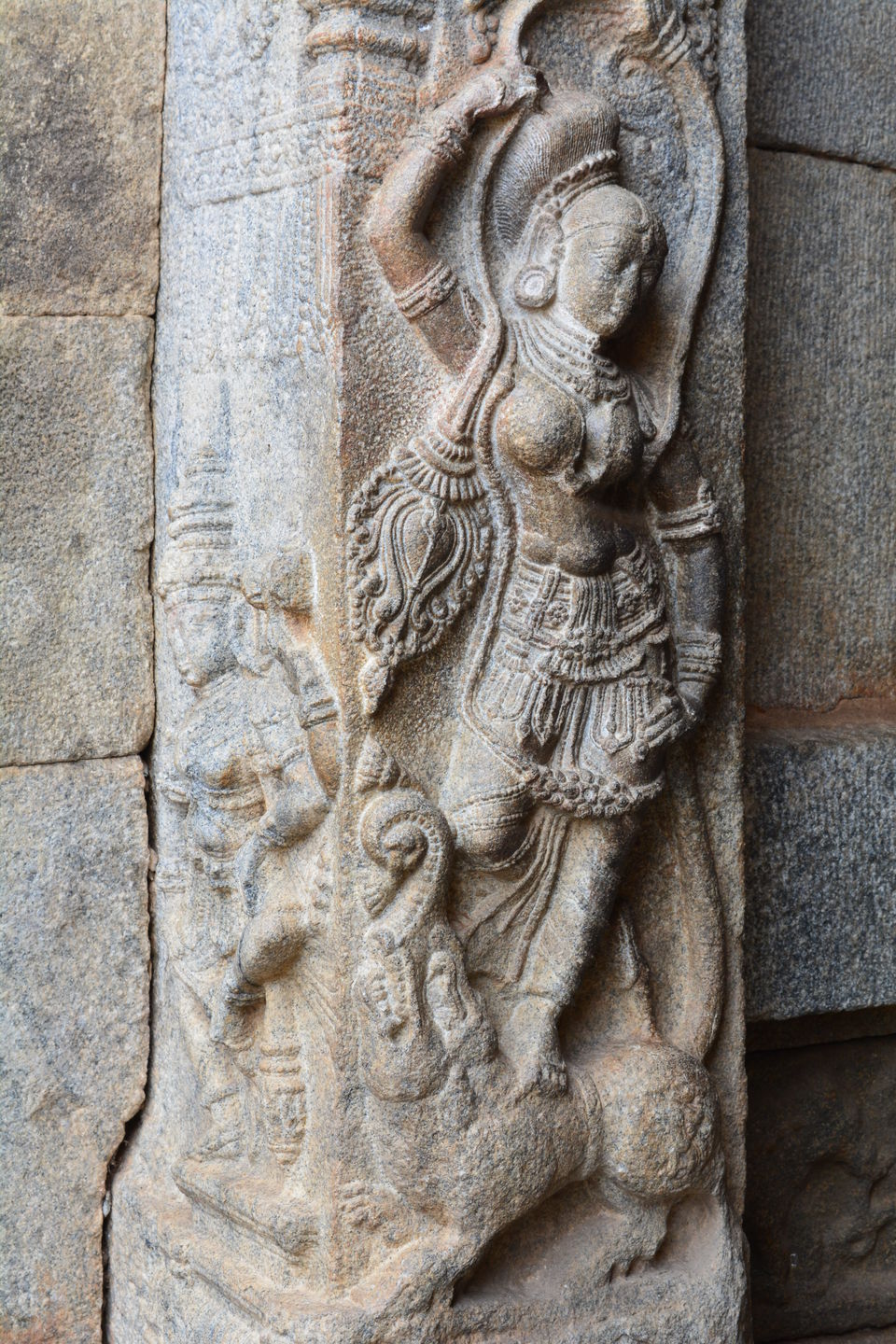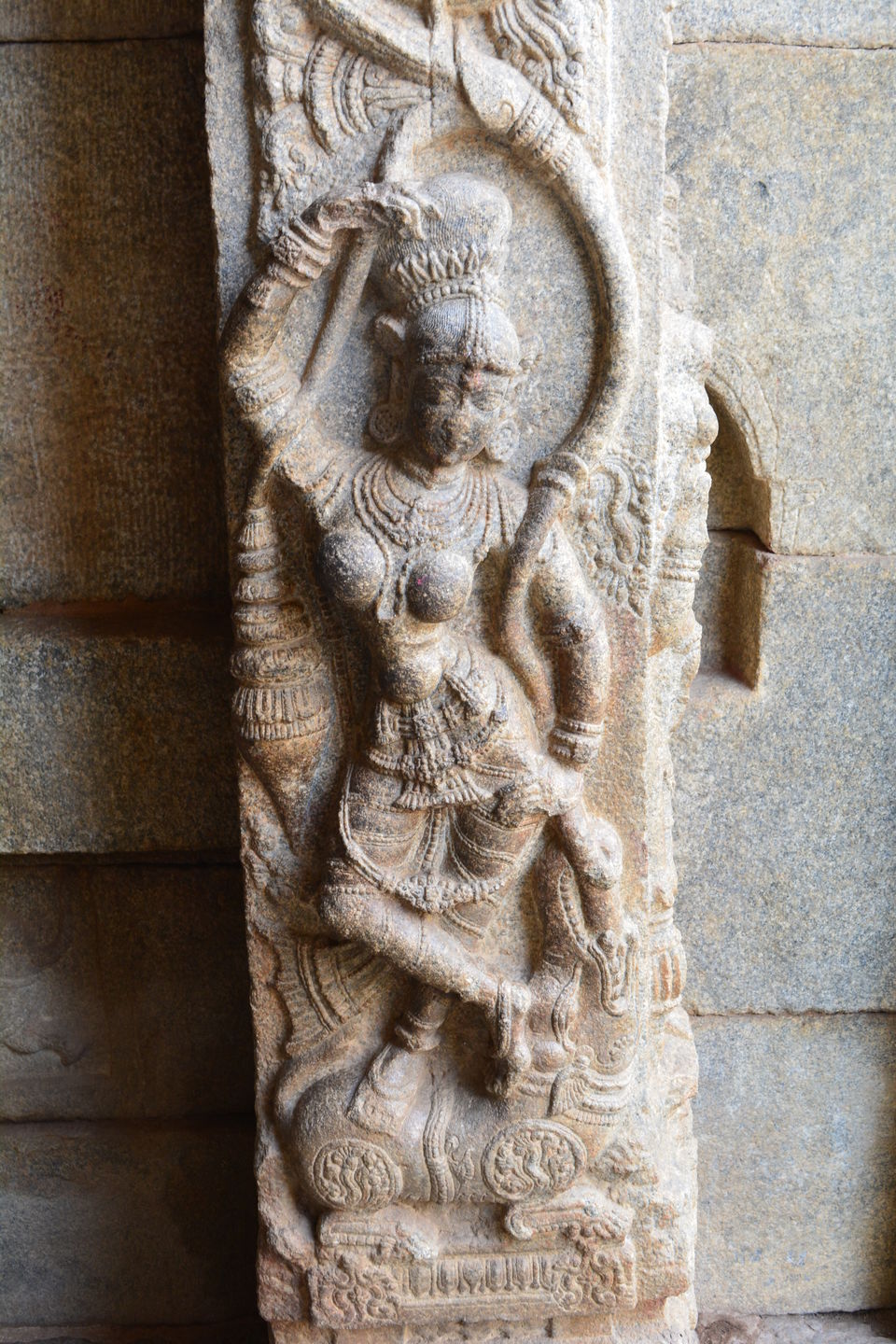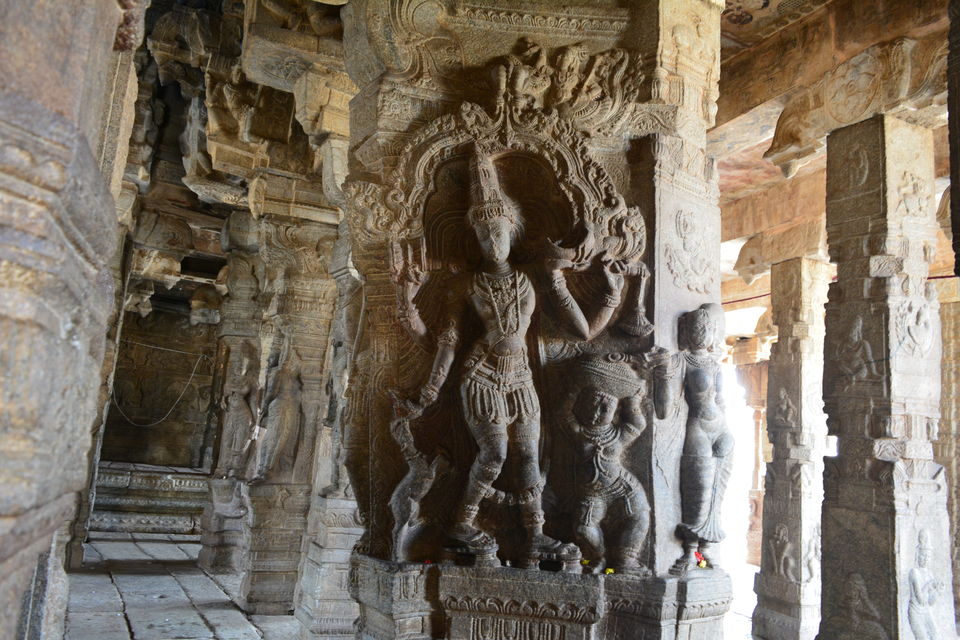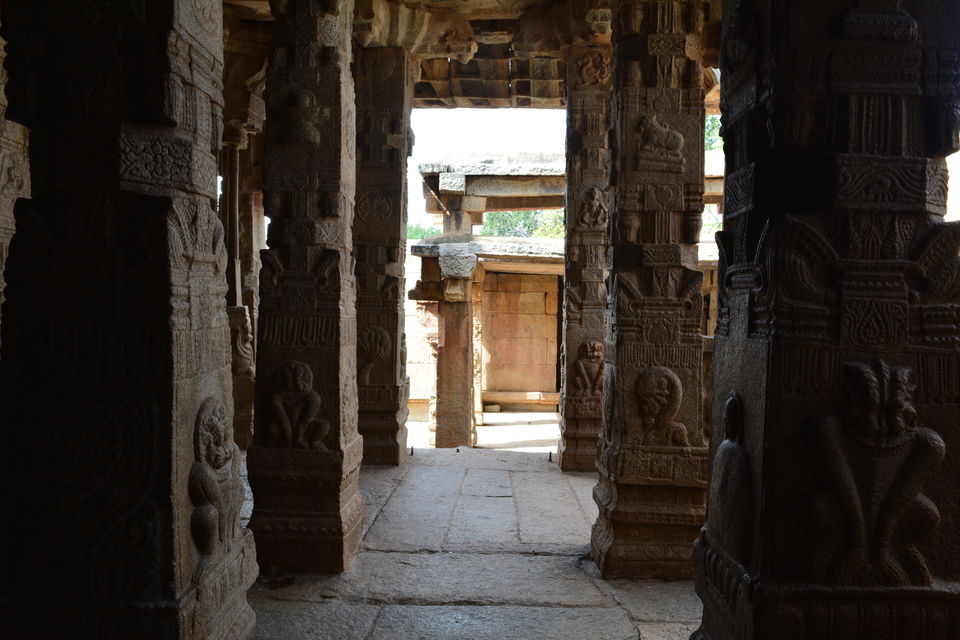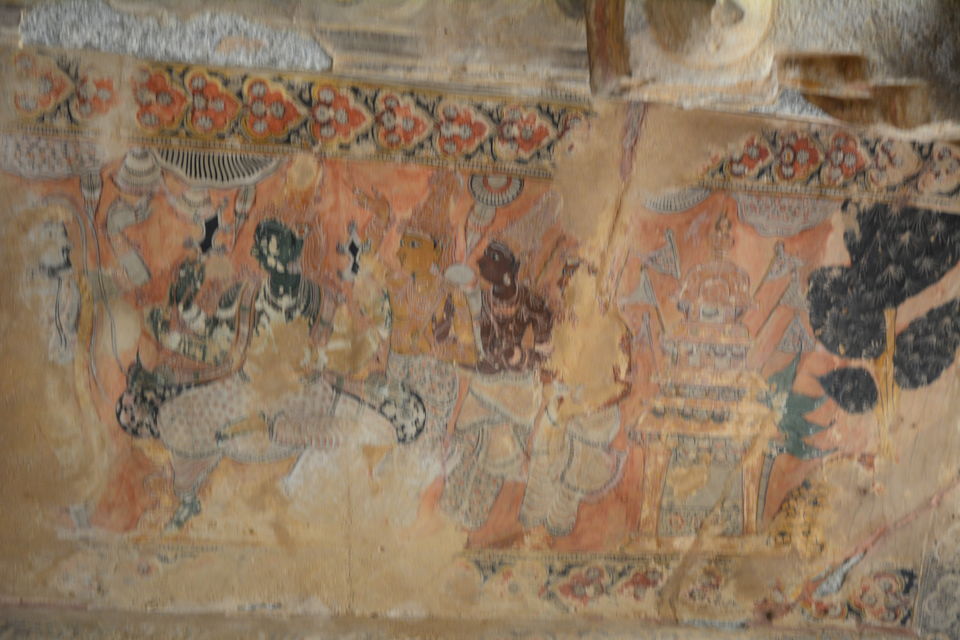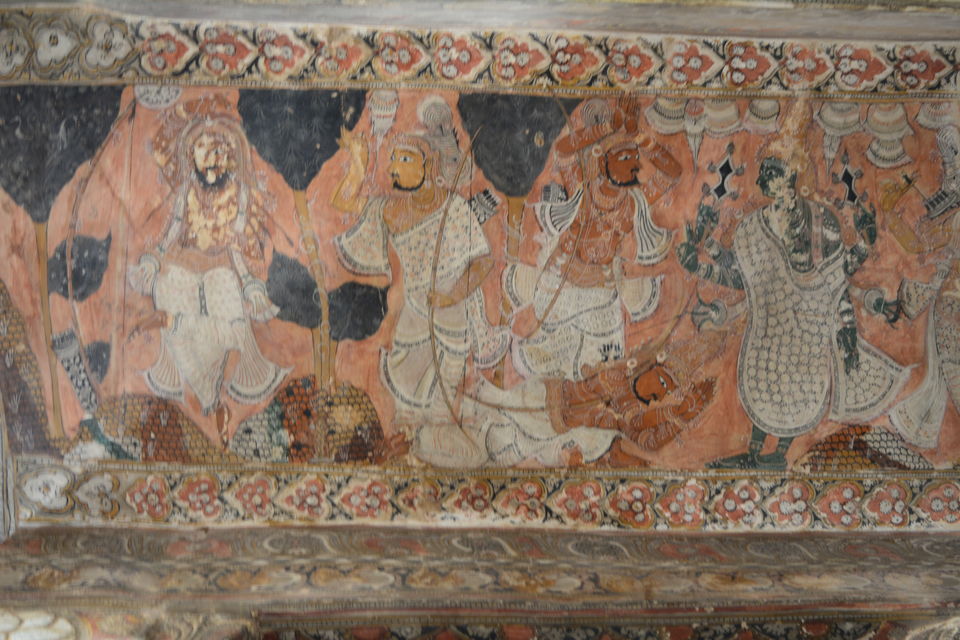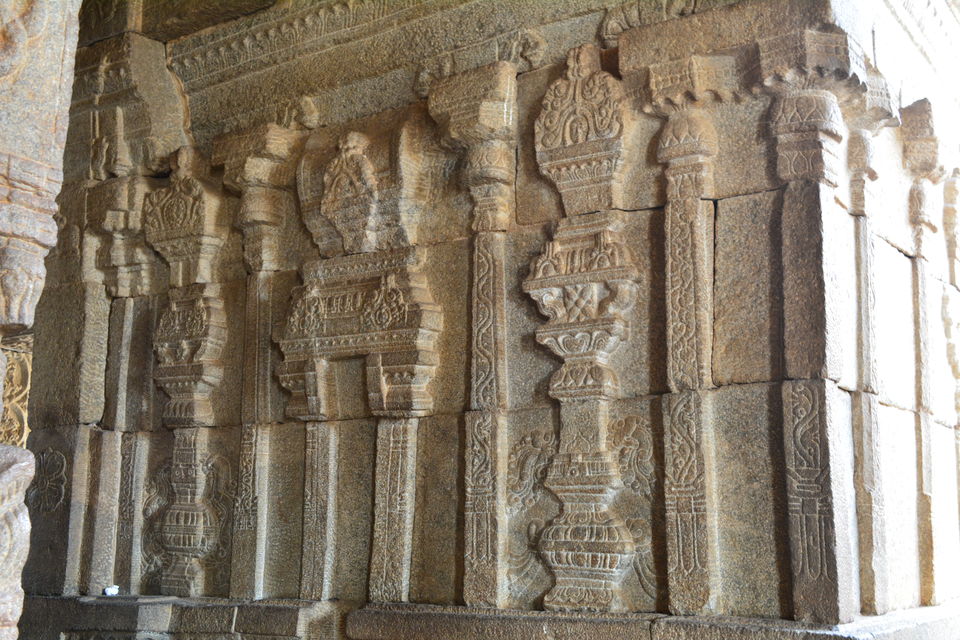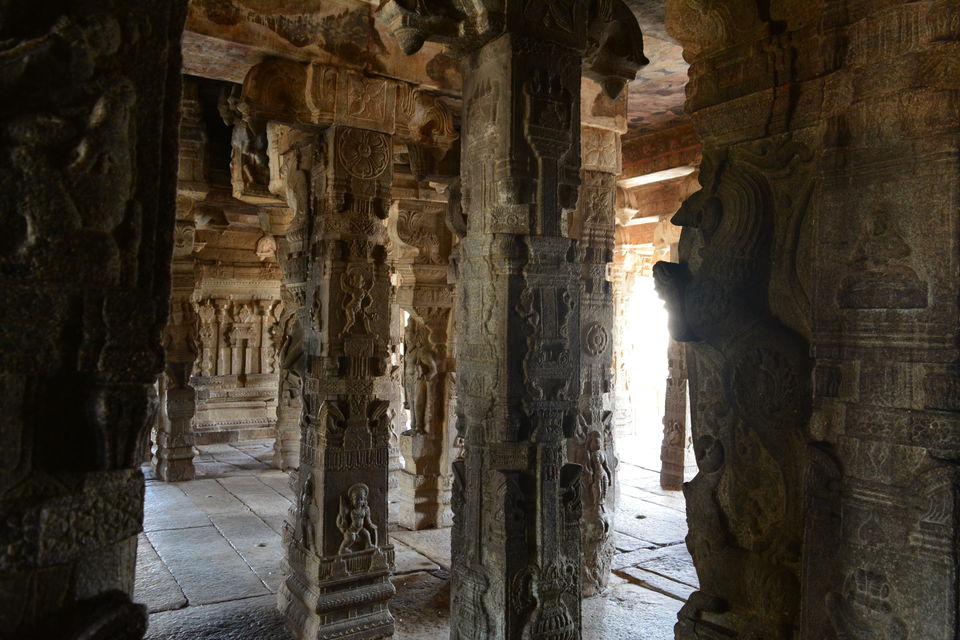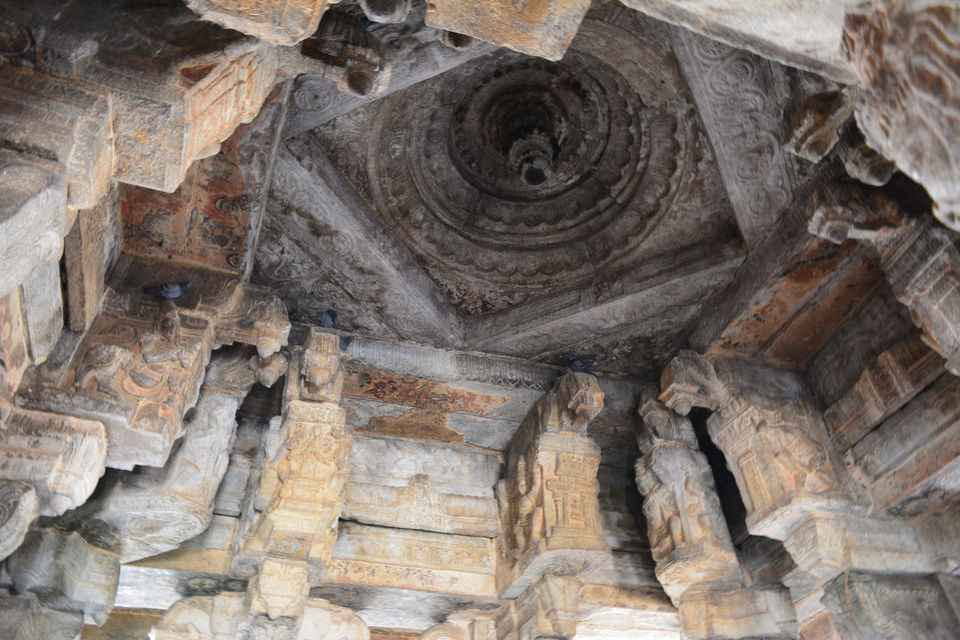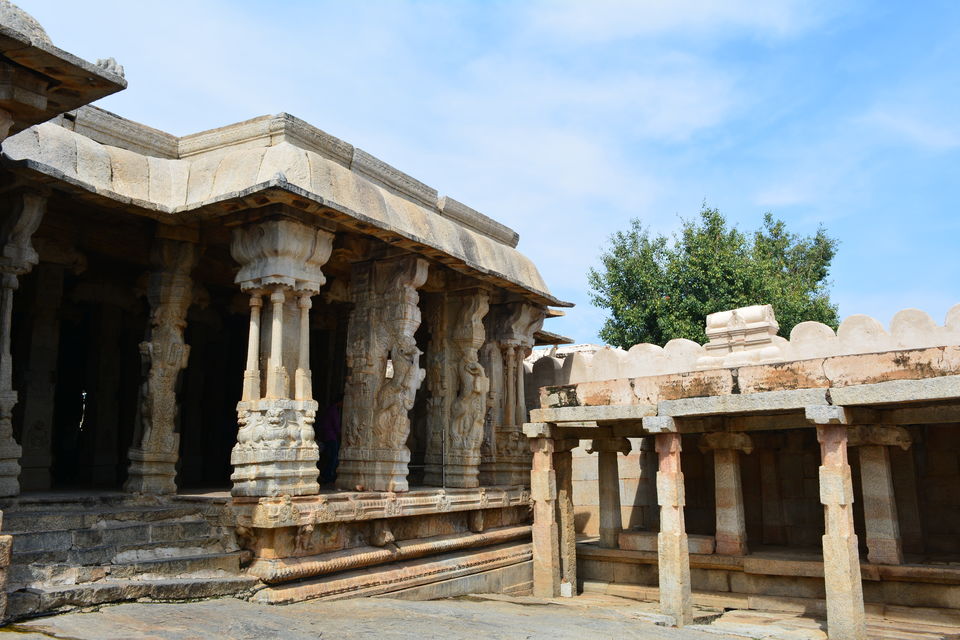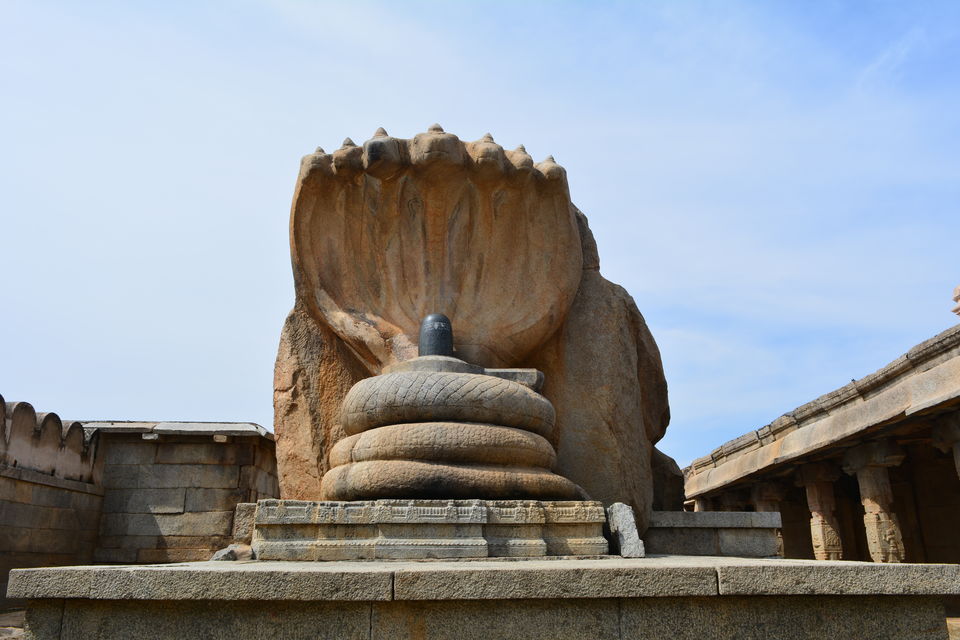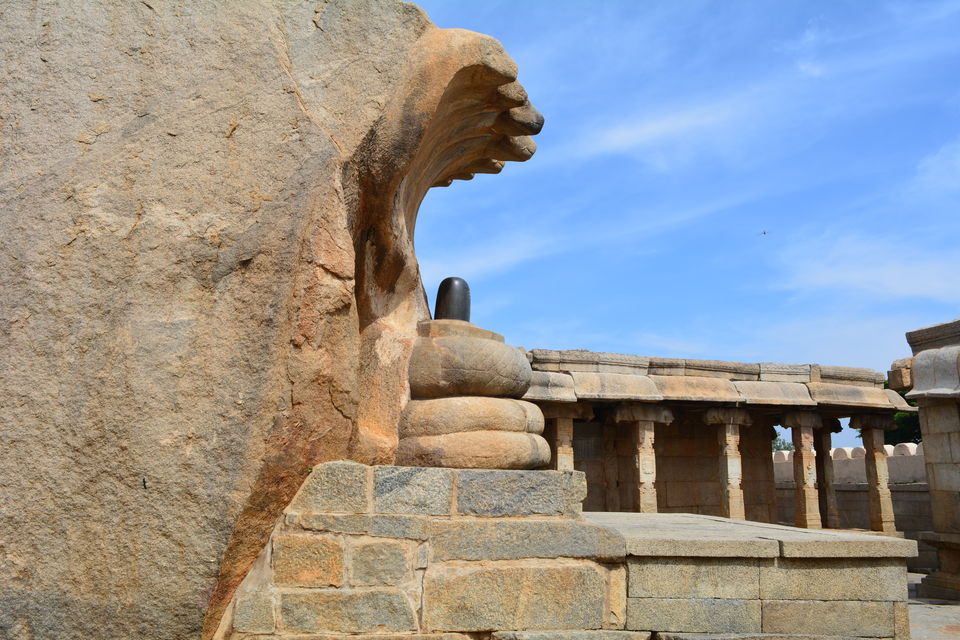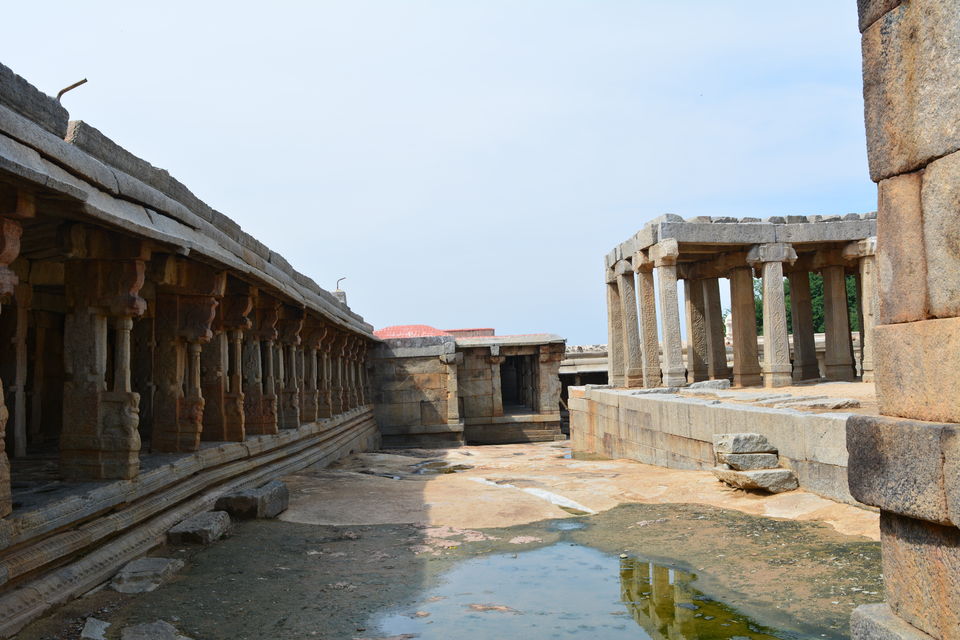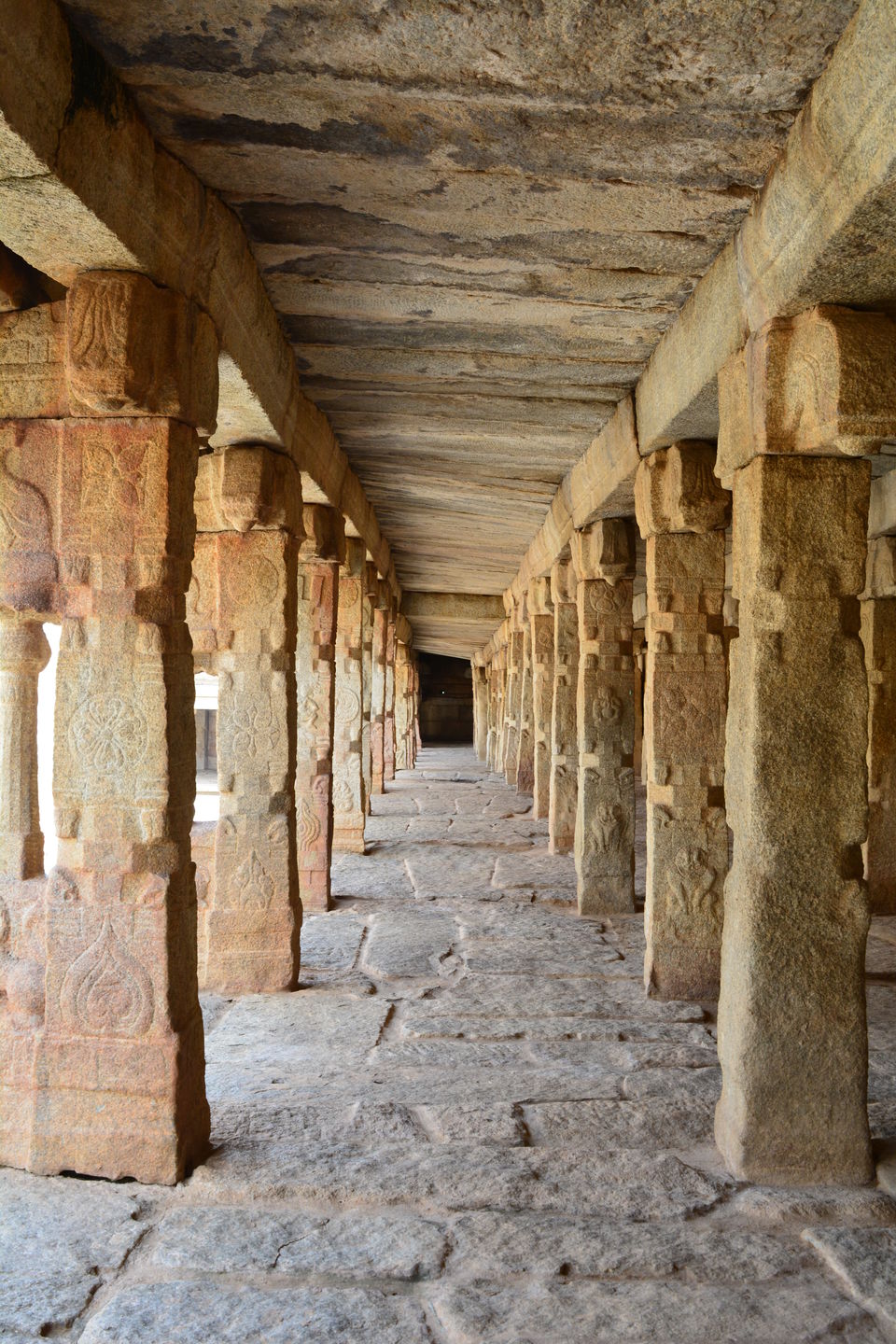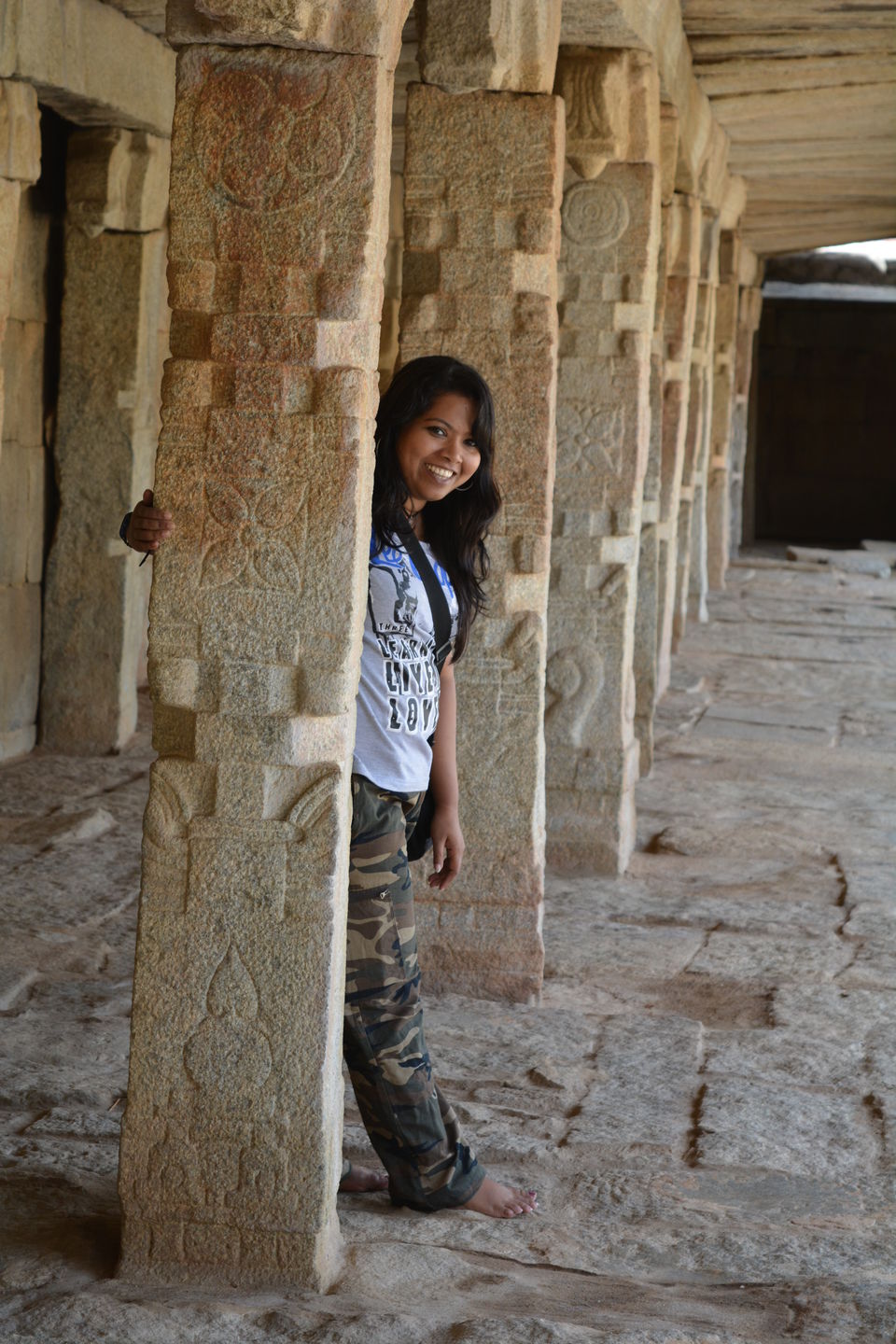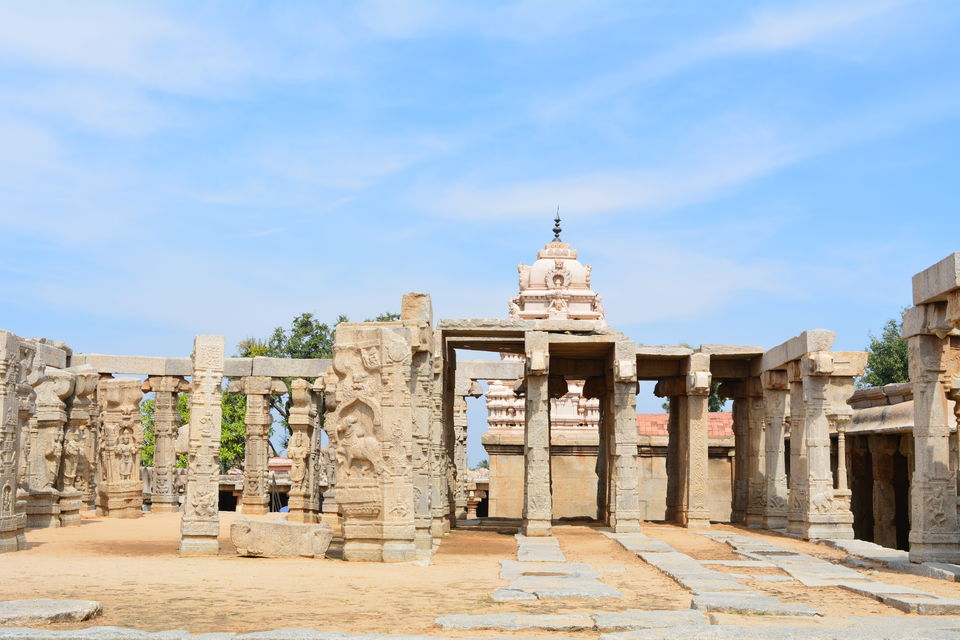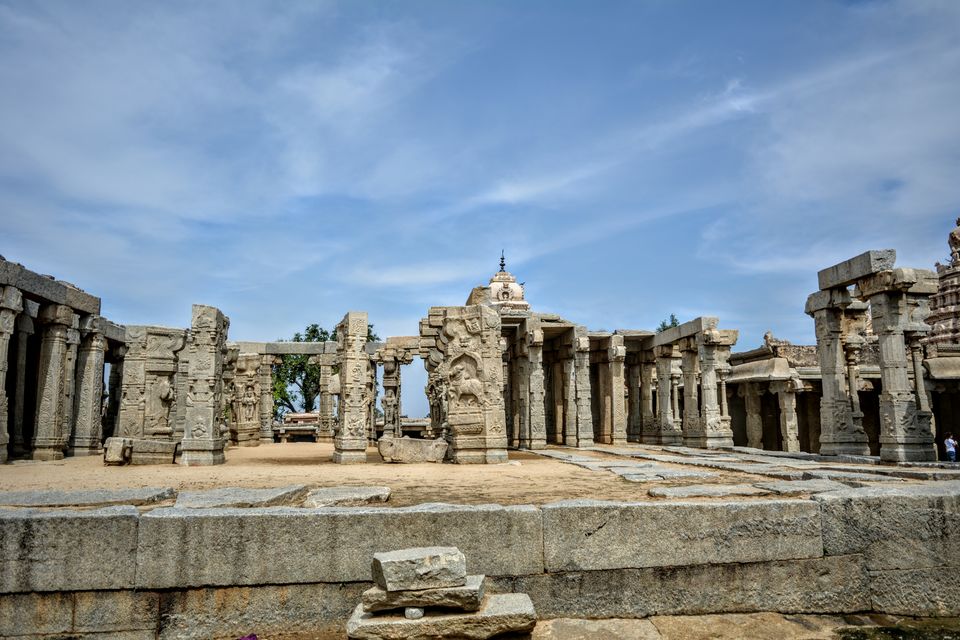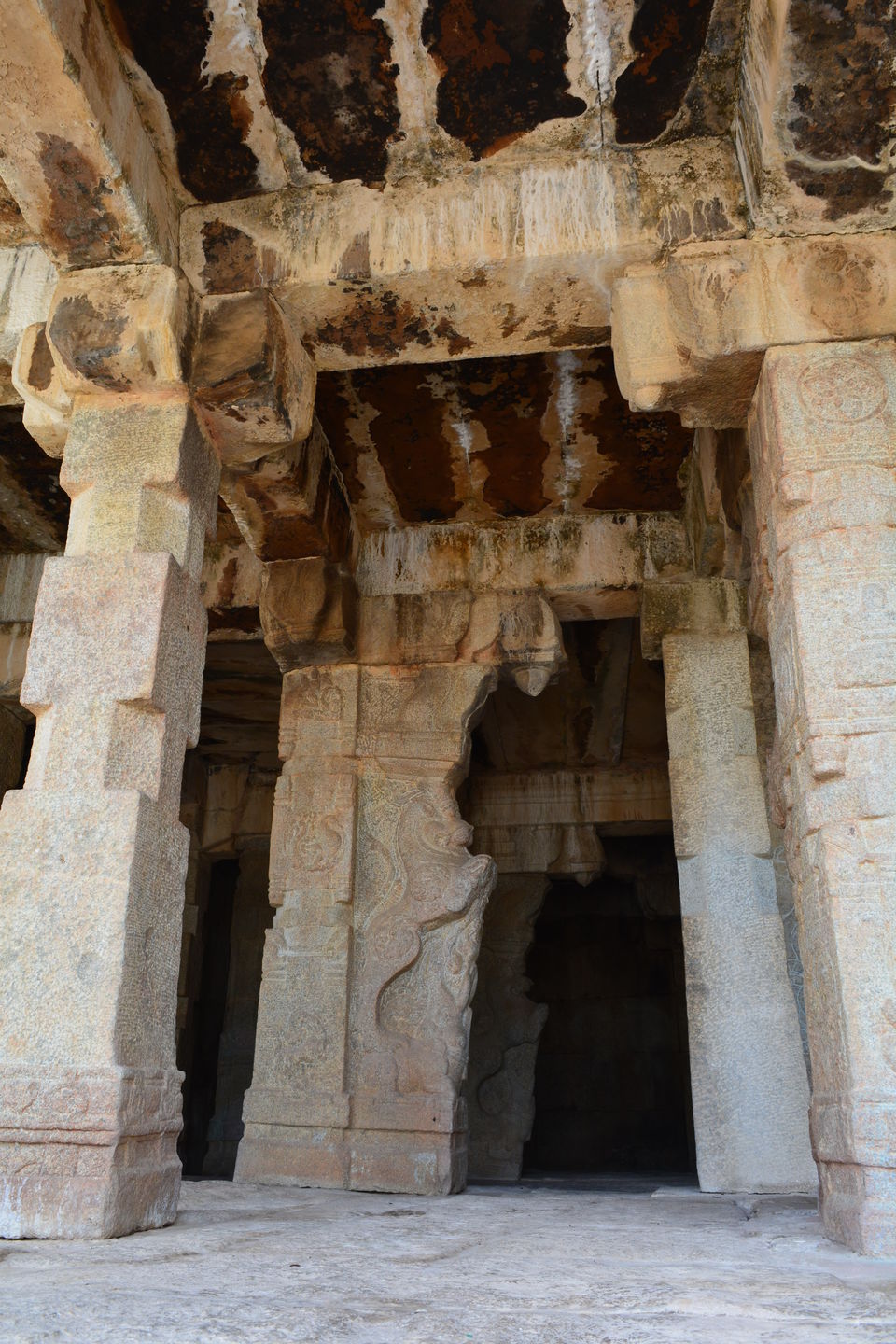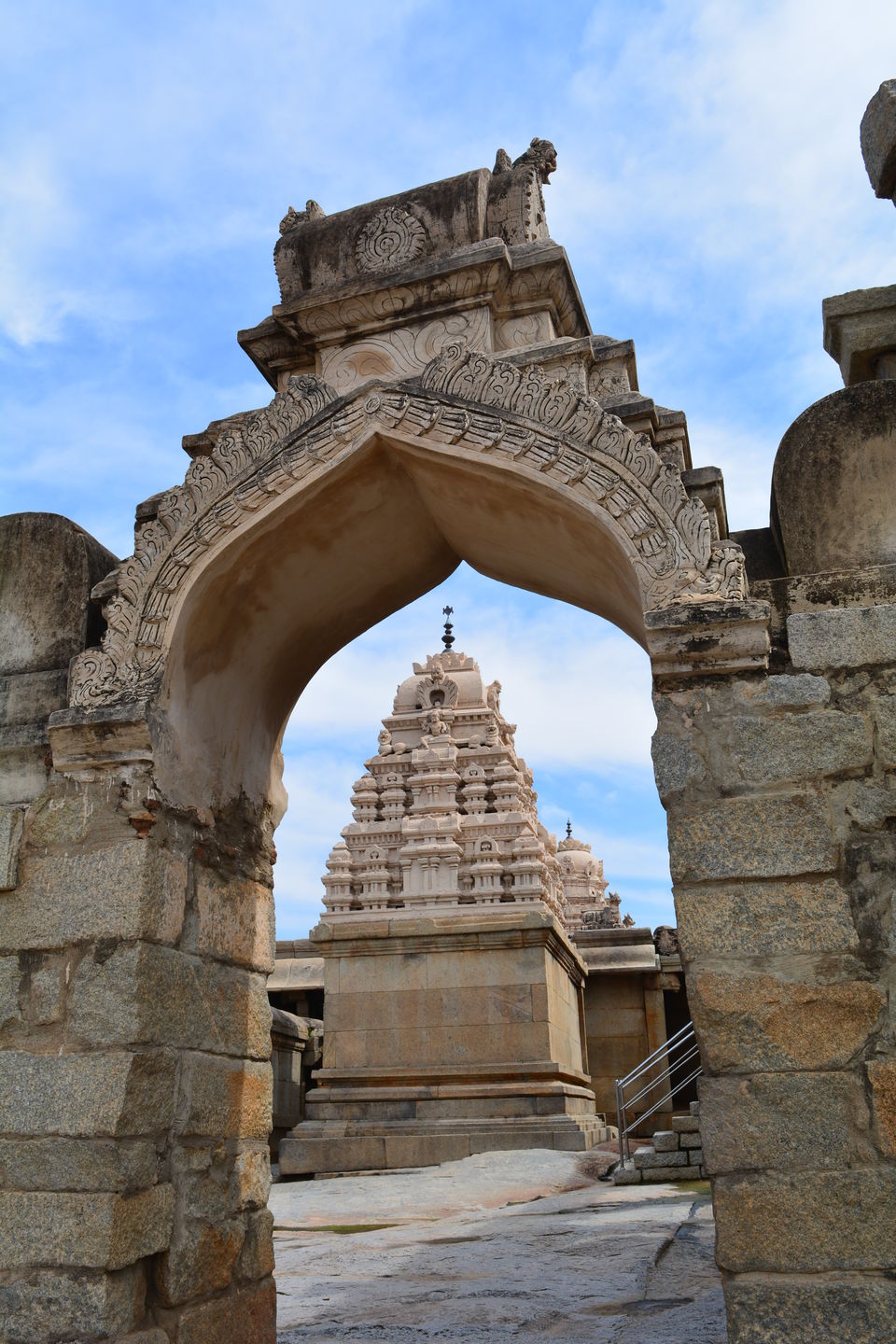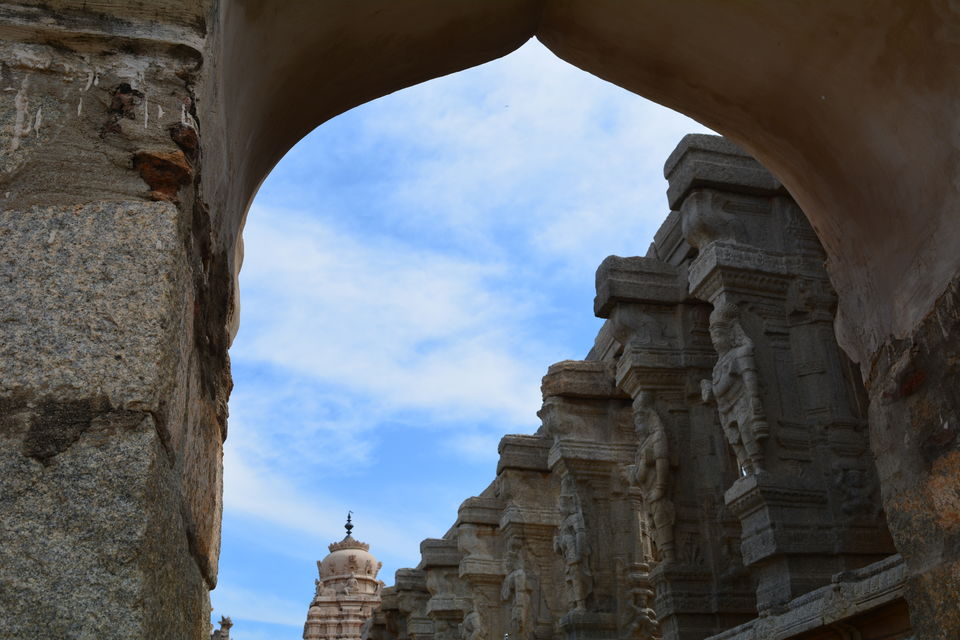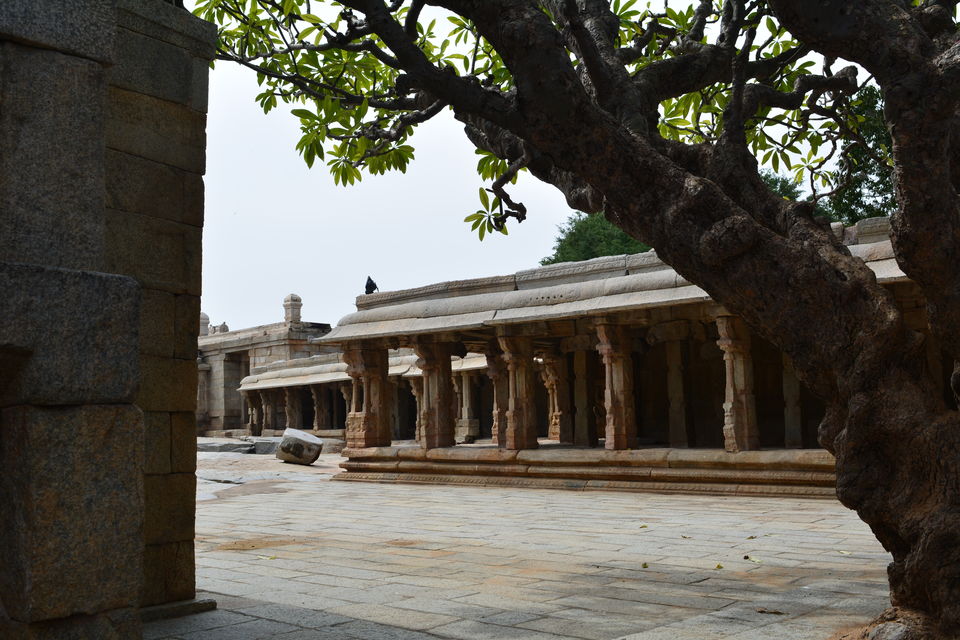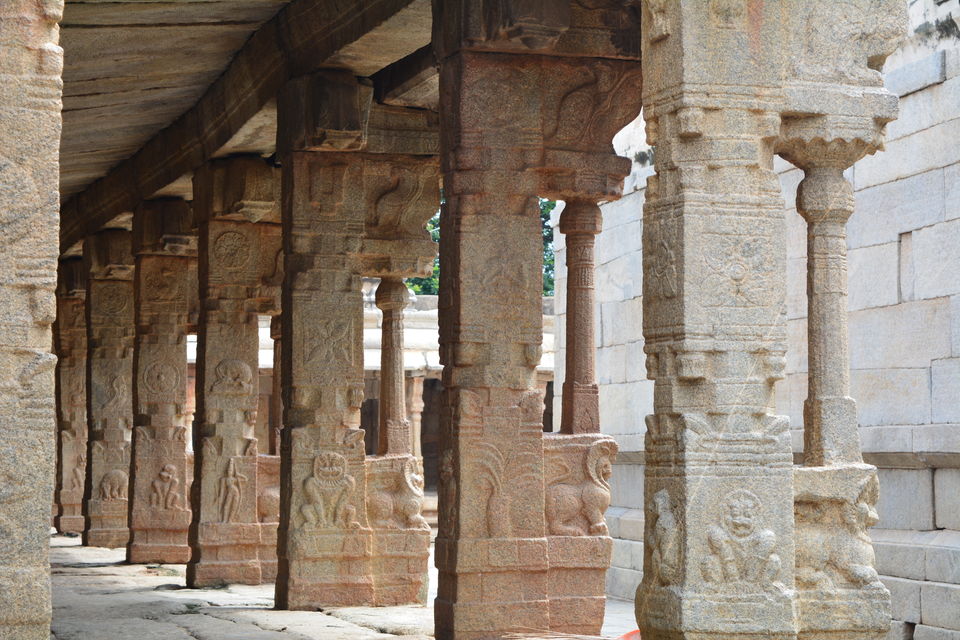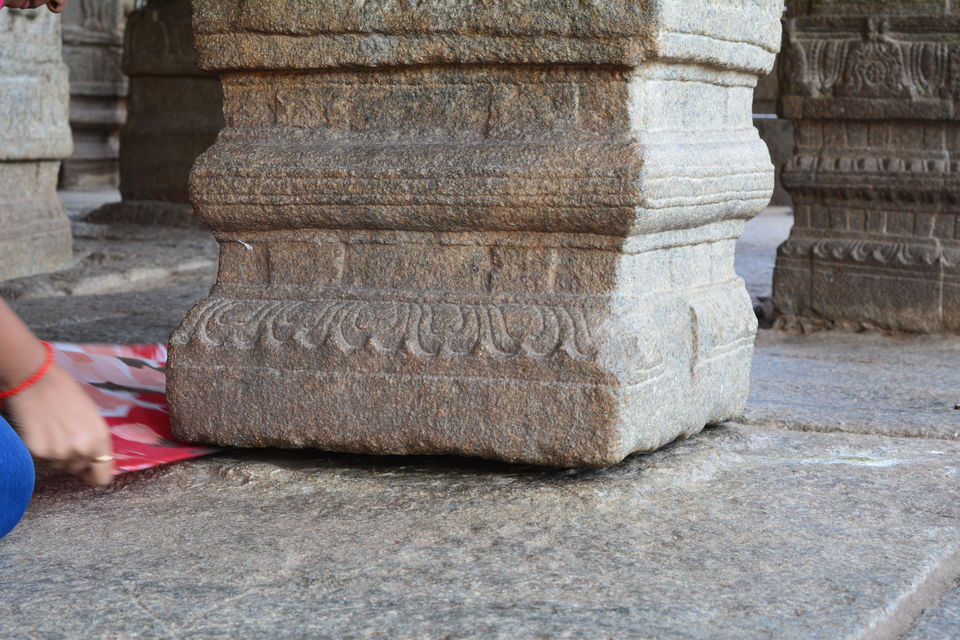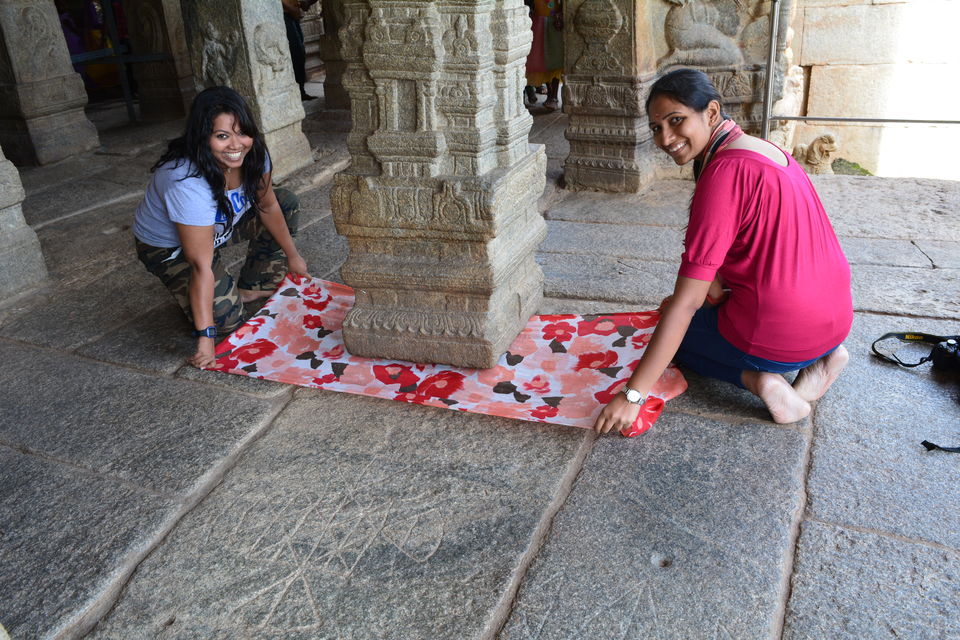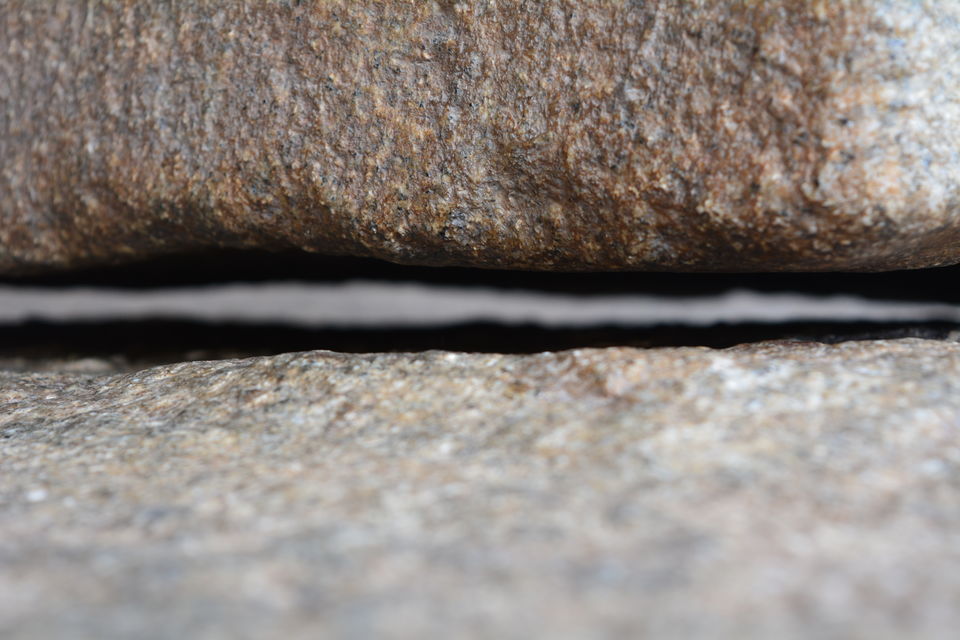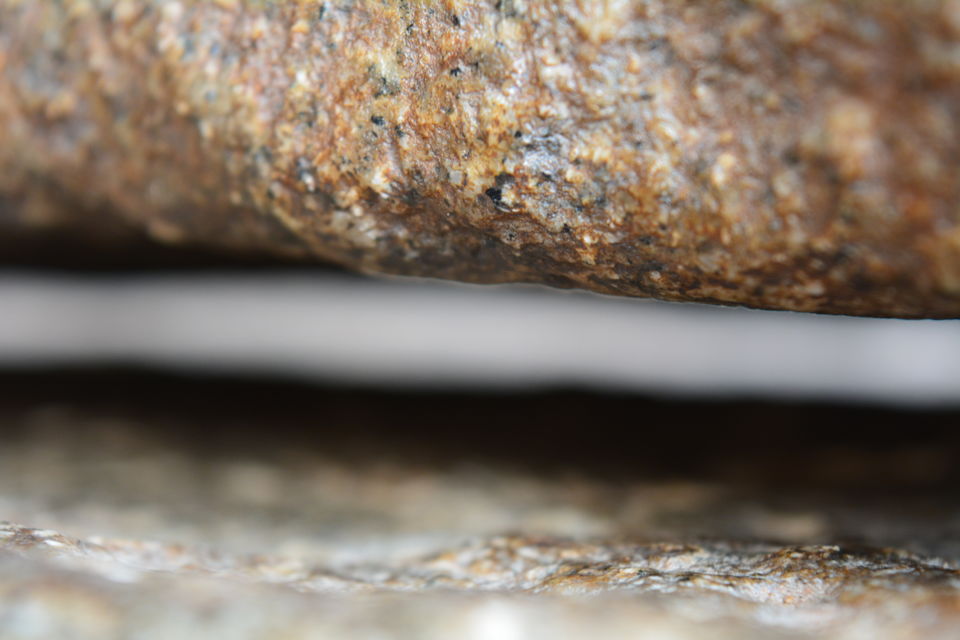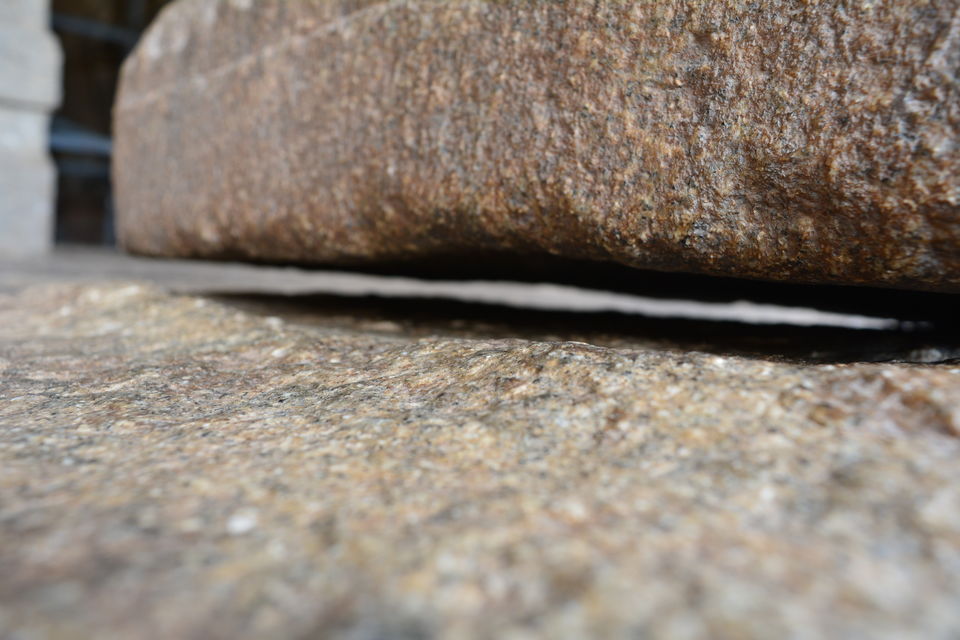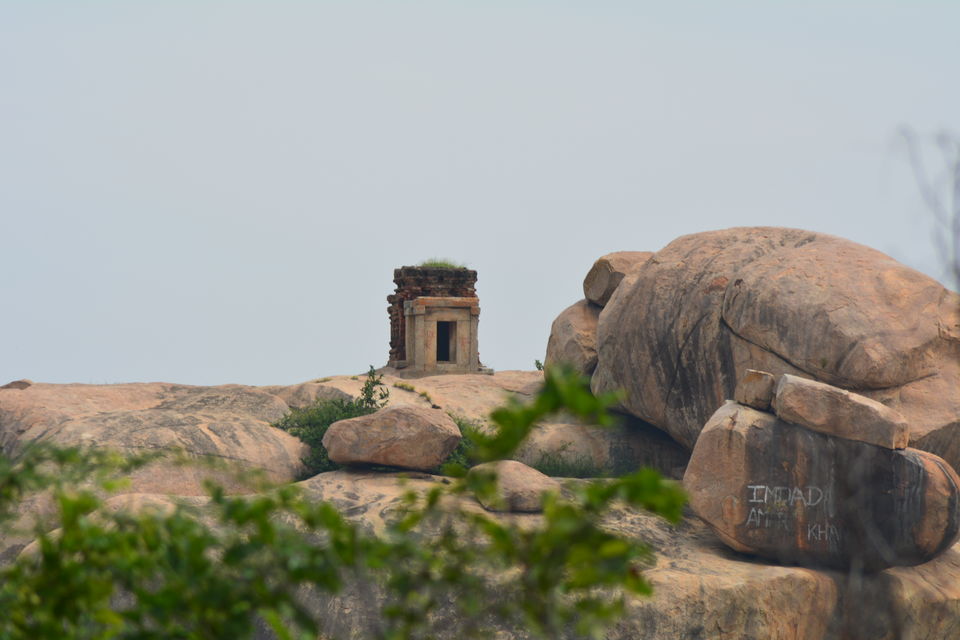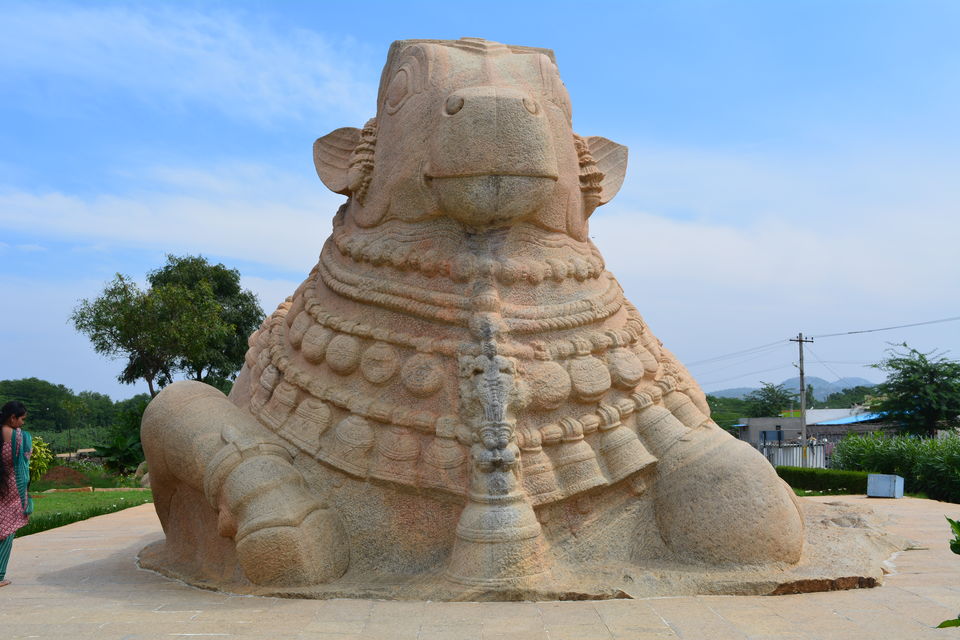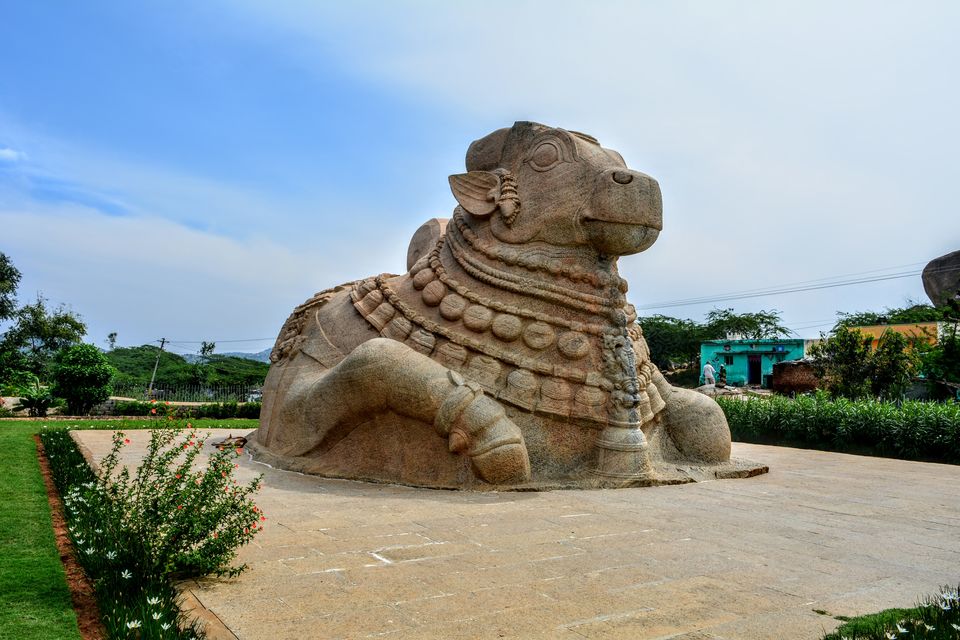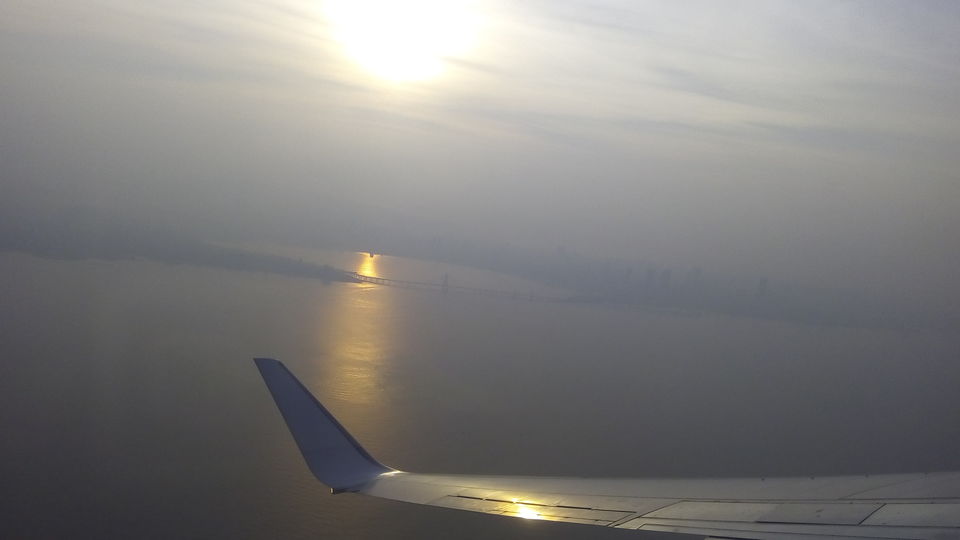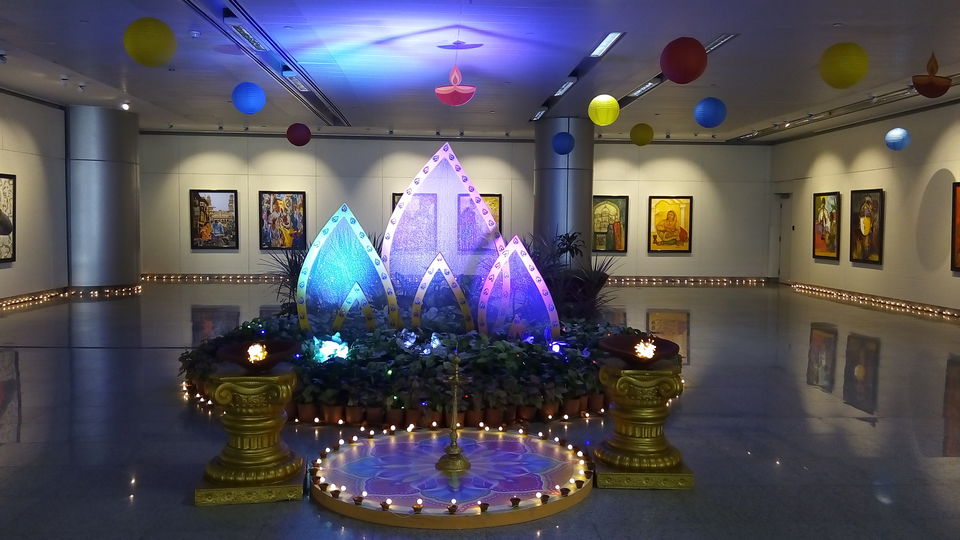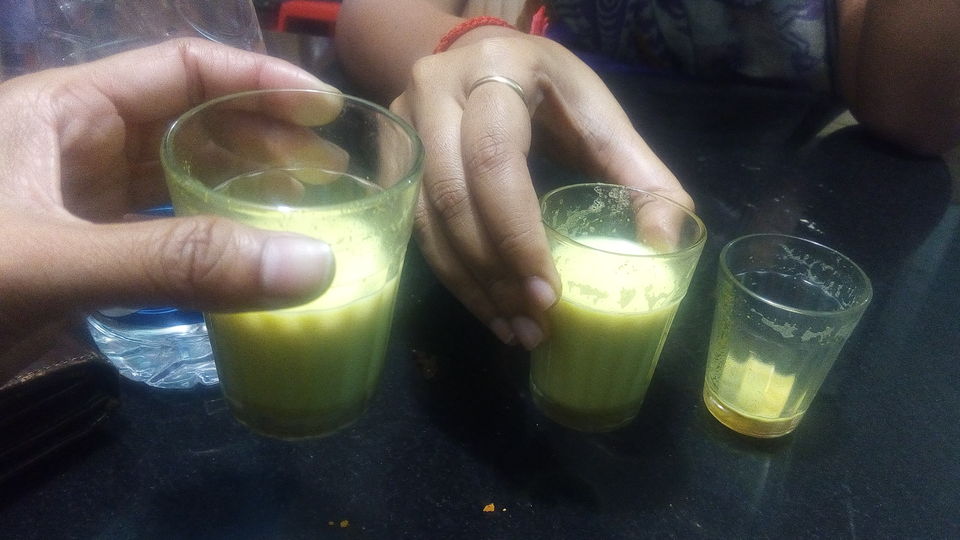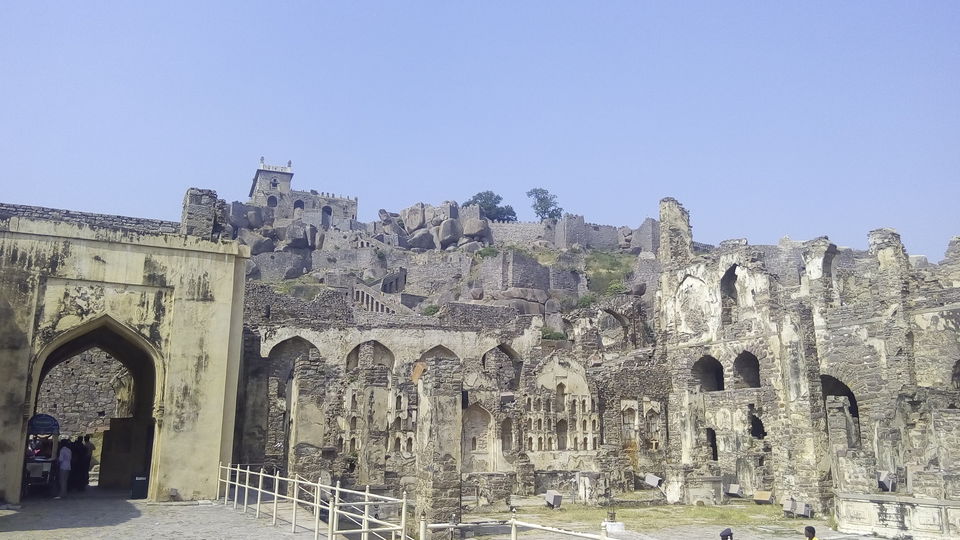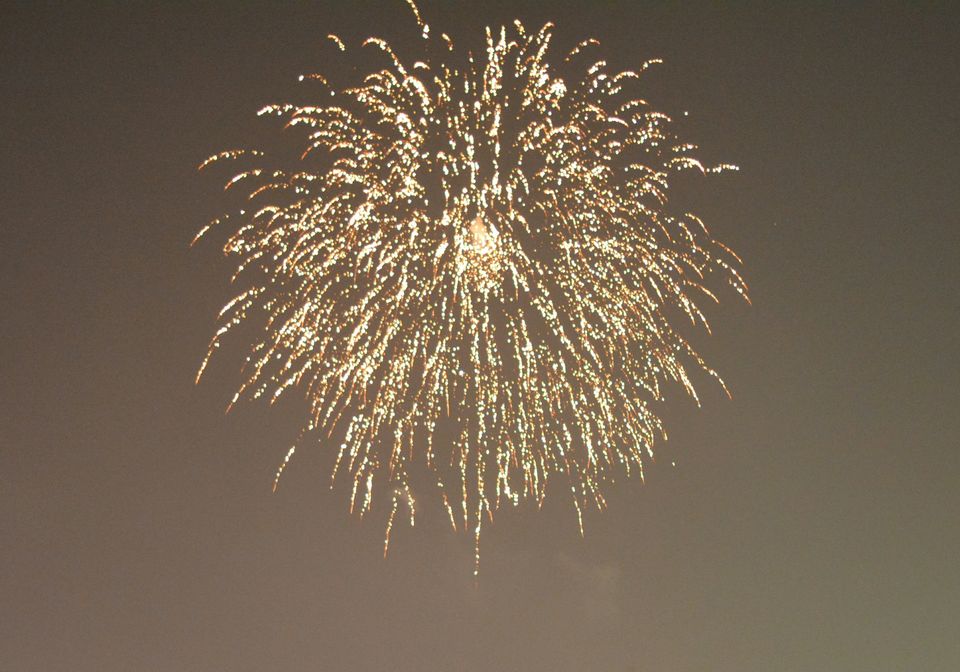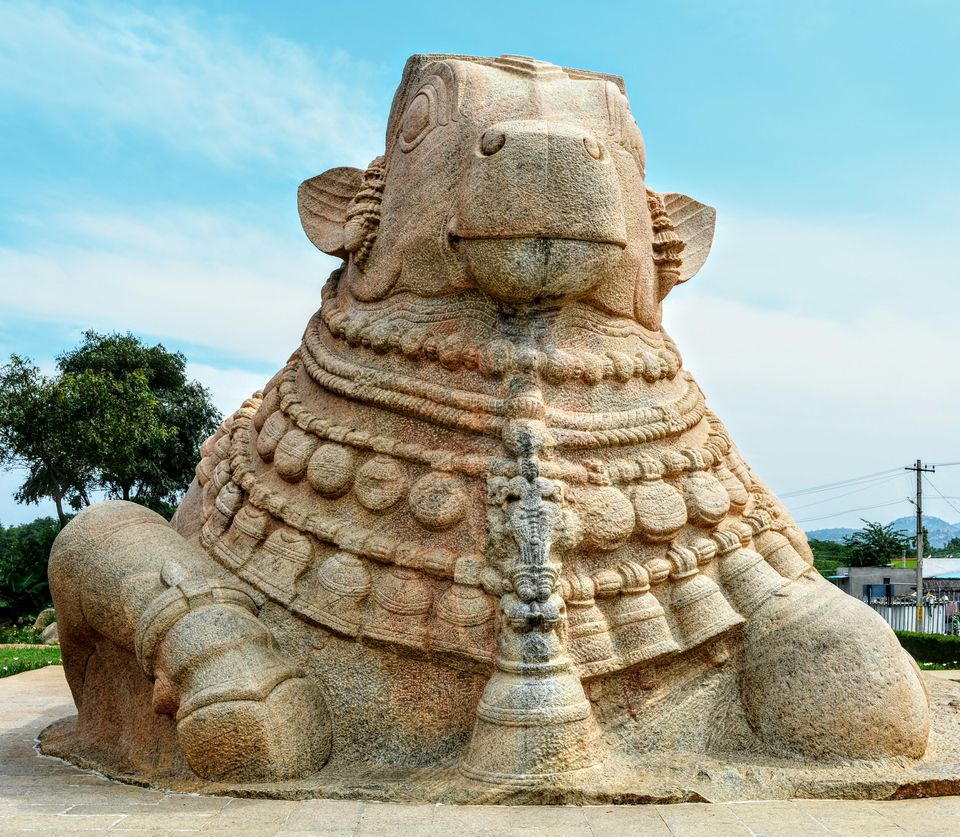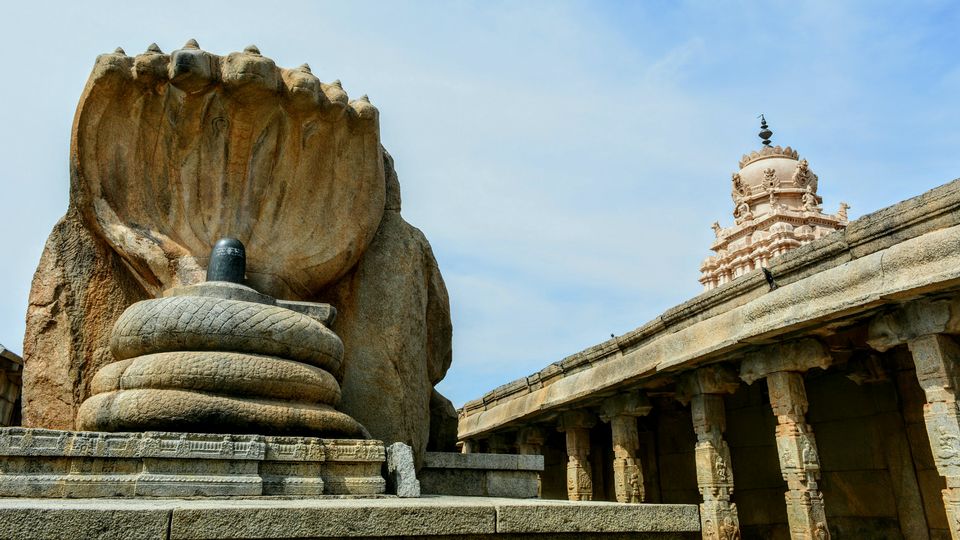 It was supposed to be a West Rajasthan tour, we had booked the train tickets almost 3 months back (sarcastically thanking the government's decision to pre-pone booking to 120 days, travelers like us are in soup because of this). Anyway, tickets didn't get confirm and my one month's research on those places was put aside. With just 10 days to go, I cancelled the tickets; bore the burnt of cancellation amount and looked forward for planning another trip. I had 5 days leave in combination with weekends. It would have been a criminal waste of time to sit at home, preferred to see Diwali celebrations across state. Few days back a friend - Poonam had mentioned about Hyderabad and Lepakshi was always at the back of my mind (came to know about it through Epic Channel). Thought of combining both and added a third place Warangal after learning about its location from a movie -Rudhramadevi. Movie was supposedly shot at Warangal and on researching more about it, realized it has more history than just what few people know. Added Alampur to same for Navabrahma Temple, another architectural wonder.
In short span, plan was drafted- Hyderabad -Alampur - Warangal - Lepakshi from 11th Nov to 15th Nov.
Now, only hindrance was the transportation. Checked the buses, I and Poonam discussed about it for lengths from bus to train and finally settling for Airway. Booked the Jet Airways flight (Rs. 3052) for early morning 7.20 am on 11th November 2015. Poonam and Sonali came to my home previous night itself to avoid travelling early morning from Ambernath and Vashi respectively. We booked the return by Sleeper bus (Rs. 2408) from Bangalore. I left the in-between journeys of 2-3 hrs in local transport, because I couldn't book the same for long waiting list. Also, the overnight bus journey from Hyderabad to Lepakshi was booked (Rs. 605). Last was accommodation, thanks to Cleartrip, we got a good deal for 2 nights stay at Hotel Geetanjali for Rs. 1098/- . Thus, everything was set.
We boarded the flight, reached Hyderabad on time and after waiting for some time for bus to add more passengers, by 9.30 am we were on Airport shuttle bus to Hyderabad city (Rs.180/-). Bus took half an hour to reach main city and dropped us just opposite Paradise takeaway restaurant. We took an auto (Rs.120 after much bargaining came down from 200) to the Hotel Geetanjali at Tilak Road. We checked in, and took another 2 hrs to unpack and get ready for the city. Breakfast was already served in the flight hence that time was saved. Shocking part was about to hit us in short time. We had actually booked the same auto for sightseeing for Rs.800, the one we had hired to reach hotel. First place we decided to check was Salar Jung Museum. And it shocked us to our wits when we found that it was closed for Diwali. And the auto driver further informed us that all the places would be closed. I didn't account the fact that for Diwali, government operated places would be closed. Because on one of my trip to Jaipur during Diwali we didn't face any of this problem, infact whole of Jaipur was decorated with lights and all the places were open for public. That was the time I had decided not to stay at home during Diwali instead experience this festival throughout India.
But here with no options left. we decided to check on Alampur and postpone Hyderabad sightseeing to next day. As per the information. that I had collected about Alampur- where the Navabrahma temple was located, supposed to be 2.5 hrs away. We asked the auto driver to drop us at MG Bus stand. Offcourse, he collected his share for taking us around which was barely 2-3 kms-Rs.100/-. We realized later he was fleecing us. At bus stop, there was another drama that unfolded. No one knew where Alampur was, or anything about Navabrahma temple. We were shocked at their ignorance about this historical place. Even the bus conductors and driver stared blankly when this question was put forth. After going around, here and there, looking for buses that would drop us at Alampur, we were about to give up when one of them said, that one can go to Alampur via Kurnool. We asked the conductor how long it would take to reach Kurnool because half day had already gone, it was 12.30 pm. He replied almost 3.5 hours, instead of wasting the day in hotel room, calculating the time, we thought we would reach by 3.30 to 4.00 and in 1 or 2 hours wind up the Navbrahma temple and take the bus back to Hyderabad, hence took the risk. Seat was available and the journey to Kurnool started. On the way I saw the Zoological park, which was open, we cursed the auto driver for giving us false information, we could have stayed back and covered those places that were open. Instead, we were on never ending route, hour after hour passed, we were getting agitated. We had always experienced the fast driving of government buses all round the other states. But here, these drivers drove at their own leisure and we realized the mistake of getting into the ST bus. We reached Kurnool at 5.30 pm. Already in foul mood and hungry, and some auto drivers suggesting that it would take 2 hours to come back from Navbrahma temples, and further when we negotiated and said that we are short on time, another one said time taken would be 1 hour. We were bit skeptical on trusting them, decided to drop the idea instead looked for a restaurant to satiate ourselves. With hope to include this place in next trip to Telangana, we skipped the Navabrahma Temples. It was a veg restaurant, on asking for masala tea with ginger to relieve the headache, we got Sunti Cha. No tea powder, plain milk with sunti (dried ginger). Something different to taste. All the way to Kurnool for Sunti Cha!
There was Hyderabad bus every hour round the clock, we got into one, scheduled to leave by 7.00 pm and hoped to return to Hyderabad by 10.00pm. Because I kept hammering the driver about its speed, and he replied it would be fast. Thankfully, it was an express, we reached Hyderabad by 10.30pm, dozing off the entire journey. We took an auto back to Hotel again for Rs. 100/-(just for hardly 2-3 kms, Mumbai Fares better atleast Meter works here). A whole day had passed with nothing extraordinary to report about. Next day, we decided to tour Hyderabad. Left by 8.00 am. Hardly there were any souls around, had tough time finding a restaurant for breakfast. After walking around a bit, we saw a café, which was serving food, but breakfast served was like lunch, Kheema roti, khichdi etc. We decided to settle for khichdi and tea. After this brunch, we thought of opting for bus, instead of autos, who were fleecing us right through our nose(Rs. 150-200 for short distances), we asked for the bus to Golkonda. Each one, whoever, we asked gave different number to catch the bus. We were wondering how could this be possible, after looking out for every bus and asking the driver whether it will go to Golkonda, a good Samaritan, came forward and asked us from where we were and where we wanted to go etc. He said instead of waiting for direct bus, which will take a long waiting time, why not break the journey and catch a bus which will drop at some centre point and we can further take another bus from there. We agreed for same, also, he told us to take the Daily bus pass (Rs. 70), with which we can travel whole day. We informed the conductor that we wanted to go to Golkonda Fort, and hence requested him to let us know, the convenient stop to get down. He advised us to get down at Mehdi patnam and catch a direct bus to Golkonda. After alighting at Mehdi Patnam, which was a bus depot and many buses were going through this stand. We kept a look out for Golkonda Bus. Thankfully, a bus arrived and it had Golkonda written in English, we caught that one and reached Fort by 10.30 am
Golkonda Fort is a huge fort, bus goes through the main gates which is manned by the Army, because of training ground inside the fort. Bus slowly climbed up and stopped at the bus stand, next to the entrance of the fort. We hired the guide to understand the importance of the fort. He shared different charges, depending on the area one wants to cover, the cost increased. We settled for whole fort (Rs. 750) because after coming all the way and not going through every nook and corner would have been waste. The moment we started exploring, there was shooting going on for some movie starring Nagarjuna. I and Sonali were amused at the ongoing scene, which seemed funny, no wonder the takes that happen at shooting is boring as well as look funny compared to big screen. And yes, we did sighhhh at his sight ;)
We continued further and explored till 12.30 am. We were hungry and needed something to eat, there are eateries outside fort. We bought some Egg & Veg Puffs before leaving for Qtub Shahi Tombs, which were hardly 1.5 kms far. For Rs. 30/- i.e. Rs. 10 per sharing, we got down at the entrance. It had a humble appearance from outside, once we started walking in, we realized that there were more than 7 tombs, infact around 12 of them. All built in a grand scale. Some of the structures had the Blue & Green tiles still intact. There was a lady selling cucumbers, we ate that to quench the thirst and to keep ourselves cool. We decided to leave the place by 1.30 pm and go for Birla Temple. We were hungry hence decided to feast on famous Hyderabadi Biryani, on inquiry, the auto driver suggested that Café Bahaar serves best Biryani in the city and we should try it. We decided to give it a try. And we did not regret it, it was indeed best. We had ordered for family pack biryani, which turned out to be too much for us. I being foodie, who lives to eat, managed to eat more compared to my two friends, who eat to live. Half of the Biryani, we parceled and hoped to give it to someone and did so. A family pack biryani is enough for 4 adults or 3 heavy foodies.
We decided to skip Birla Temple, and head towards Salar Jung Museum. We walked towards flyover, where the bus to Afzal Ganj would stop. After 10 minutes of walking and waiting, bus arrived and we got down at Afzal Ganj Depot. Salar Jung Museum was 1 km away, we decided to walk. We opted to wind up SJM by 4.00 pm so that we won't miss out on Charminar, which closes by 5.00 pm. Salar Jung Museum, was three storey, enormous & magnificent structure. Baggages were not allowed. Camera was allowed with a fee. We purchased the ticket for one camera and hurriedly went through one door after another wondering in awe, the collection that was displayed. As the clock struck 4.00 pm we left the museum in an auto for Charminar. It is situated in a very crowded place. There is bazaar on all four lanes from Charminaar. We were dropped some 0.5 kms away from monument. One of the strangest thing was one of the whole lane was lined with shops dedicated to dental treatment (wondered why so many of them at one place? :-/ ).
There were two queues, one for the temple adjacent to Charminar and another for monument itself, which was thankfully smaller than the former one. Bought the tickets and were guided into the small spiral staircase, which kept going up and up, only one person at a time can climb the steps. After spiraling we finally found the light and reached the top. One can view the entire Hyderabad city from its four sides. Mecca Masjid was few steps away, some constructions were going on. We decided to skip it, suddenly we remembered the Chow Mohalla Palace was left out. We decided to give it a try before it closes down. We came down passed through laad bazaar, offcourse making plans to come back soon to buy those bangles. We dashed through the busy street, Chow Mohalla Palace was 1-1.5 kms away from Charminar. And since we were told that it closes by 5.30 pm we almost ran. Managed to reach with bated breath only to be informed that it closes by 5.00 pm. The guards were indifferent to our plight. We returned to Laad Bazaar and shopped like there was no tomorrow. We left Charminar area by 8.00 pm, had difficulty in getting an auto. Eventually managed to get one, a rookie. We first told him to take us to Karachi Bakery, since Poonam wanted to buy some stuff, I found the stuff usual hence skipped it. Later, we told him to take us to Paradise for Biryani. Unfortunately, he didn't know the way, and we kept going round and round asking people for directions, after an hour we landed at Paradise – take away restaurant. We got two parcels and returned back to the hotel. Ate and we dozed off.
Next day was trip to Warangal. We checked out of room, left our luggage at the hotel lobby and took an auto to HDN station for Rs. 50/-. We caught early morning 6.25 am express from Hyderabad Deccan Nampally Station to Kazipet Junction which was 11 kms away from Warangal. As soon as we came out we saw some share autos, asked one of them and he quoted Rs. 100. We decided to go by bus. We got into bus (Rs. 10/-) and got down at Hanuman Chowrasta. Initially, we planned to take a bus to visit Ramappa temple, which was 77 kms away from Warangal, hence asked an auto driver to drop us to bus stand, we thought of taking an auto rather than bus, after the remembering the harrowingly slow experience of Kurnool. We bargained with the same auto driver, who agreed to take us to & fro from Ramappa Temple and remaining sightseeing of Warangal by 4.00 pm for Rs. 1200.
Way to Ramappa Temple was straight state road, so boring, that we kept dozing off one by one and almost 2.5 hrs hours passed. We were hungry because in quest of reaching the Ramappa Temple on time we forgot to have breakfast at Warangal. There were few shacks selling biscuits and tea outside Ramappa Temple. We ate some and continued to explore Ramappa temple. History states that this is the only temple to be named after the Architect of Temple. Natural calamities have left their mark on the temple. It has survived the earthquake, one can see the up-down disturbed flooring of this temple. After spending an hour going through its intricate carvings, we left Ramappa Temple at noon to reach Warangal by 3.00 pm. We first covered the Thousand Pillar Temple, which was settled amidst the Hanamkonda town. (The Thousand Pillar Temple of Warangal is built in the form of a star with one thousand ornately carved pillars, and reflects the splendour of the Chalukya kings. Built in a typical Chalukyan style of architecture by King Rudra Deva in 1163 A.D., the temple constitutes of three concentric shrines, dedicated to Lord Shiva, Lord Vishnu and Lord Surya - Sourced from Web). Spent 30 minutes, pondering at the marvel of thousand pillars, some part of the monument was under renovation by ASI, it was blocked by barricade. We wrapped up the visit to go further for Bhadrakali Temple, located next to Bhadrakali Lake. It was located away from town. Peaceful surrounding and worth visit. We decided to wrap up the Warangal trip by visiting the fort. We actually dashed off to see it, before finally biding adieu to Warangal. It turned out to be more of a picnic spot. At present, Warangal Fort or Kakatiya Fort is nothing more than Gates, pillars, inscribed stones, that were placed actually scattered to emphasize the presence of fort. Not worth for someone who actually visualizes a Fort. Four entrance gates and bit of pillars and artifacts here and there. Honestly, it can be skipped.
We dashed back to Warangal Station goofing up the timing of train, which was from Kazipet Station. Again took an auto to Kazipet Station for Rs. 100/- and caught the express which had overcrowded general compartment, managed to survive the odd three hours, regaled the other wide eyed passengers (who wonder how three girls traveled so far from home) with our chronicles, inspired few of them to travel and finally we reached Hyderabad by 8.30 pm.
I had booked the bus from MG Bus Stand at 9.10 pm to Hindupur, being overnight journey, it was a better option than wasting 4-5 hours of day travel from Kurnool to Hindupur. We went back to hotel, hoping to freshen up a bit instead Hotel owner declined our request, we took our haversacks and left for Bus Stand in the same auto, charged Rs. 150.
We reached Hindupur Bus stand early morning by 6.30 am. Hindupur was the closest town to Lepakshi, barely 30 mins of travel. There are hotels outside the bus stand. We booked the hotel for Rs. 800/-. We freshened up, had hearty fulfilling breakfast in a small hotel (Rs. 90/-) which was the only option available, early morning. The next task was hiring an auto. It seemed a daunting task with people quoting exorbitant amount. Finally, we managed to get an auto whose driver charged Rs. 200/- for taking us to two places. Veerabhadra Temple & Shiva's Bull (Nandi).
It was a 20-30 minutes drive from Hindupur. First, we visited the Veerabhadra Temple, one of the main highlight of the trip was this temple. We realized that the distance covered for this temple from Hyderabad was totally worth it, when we first saw the glimpse of the temple. The pillars, colorful murals, the sculpture, architecture, all were magnificent, we kept hopping around, posing, photographing, wondering its glory in bygone era. The main temple has around 70 pillars (The temple dates back to 1583 and was built by the brothers, Virupanna and Veeranna, who were initially in the service of the Vijayangar kings. However, Puranic lore has it that the Veerabhadra temple was built by the sage Agastya. It has idols of Ganesha, Nandi, Veerabhadra, Shiva, Bhadrakali, Vishnu and Lakshmi. Another legend gives the town a significant place in the Ramayana — this was where the bird Jatayu fell, wounded after a futile battle against Ravana who was carrying away Sita. When Sri Rama reached the spot, he saw the bird and said compassionately, "Le Pakshi" — 'rise, bird' in Telugu. - - Sourced from Web) There was a mammoth Nagalinga with three coils and seven hoods. It shaded the black granite Shivalingam from top. It is said to be largest Nagalinga in India. (The Lepakshi temple also has the finest specimens of mural paintings of the Vijayanagar kings. We were informed that the 24 by 14 ft fresco of Veerabhadra on the ceiling before the main sanctum sanctorum is the largest in India of any single figure. The rest of the frescoes are also beautiful and show an impressive attention to detail with colours strikingly contrasted — black limework against an orange-red background with some green, white, black, and shades of ochre-gold and brown mostly applied to a stucco surface specially treated with lime. - Sourced from Web)
When we got in the temple, it was relatively empty, we tried to experiment by checking out the authenticity of the hanging pillar by passing the scarf through the base of hanging pillar. Soon a group of students arrived who were curious with what we were doing, after some time the whole lot started checking the same. We continued our photography and realized we spent more than hour, which kind off justified for the whole place. As soon as we came out, auto driver started grumbling for making him wait and threatened to add more charges. We told him as a tourist, we cannot just spend few minutes and leave, finally he relented. Next, he dropped us at Monolithic Shiva's Bull – Nandi. (At 27ft in length and 15ft in height, it is a colossal structure, reputedly India's biggest monolithic Nandi- Sourced from Web). We stopped for 5 minutes with each of us photographing with such an enormous structure. Lepakshi trip took half a day, we decided to leave for Bangalore instead of spending the rest half in Hindupur. We packed some stuffs to eat and left for Bangalore by 2.30 pm. We had to keep tab on buses that came in the bus stand. Because the person in the enquiry counter kept saying that it will arrive in some time. Some guys pointed us the bus, before it could leave. Thankfully KSRTC drivers were much better and drove well, but got slowed down once we reach the city because of traffic. We had booked the Sleeper coach bus from Bangalore, which was supposed to leave by 9.30 pm. We arrived at Bangalore by 6.30 pm.
Bus dropped us at Majestic Bus stand, we walked the whole way to the VRL stand at Anand Rao Circle. Had late lunch at nearby Restaurant. Since, we had 2 hours to spare, we took a short detour to MG Road to buy some wooden handicrafts after much deliberation watching the traffic on both sides, calculating the time taken for both sides, we finally managed to take the risk. We did manage to buy stuffs and come back for bus on time.
We reached Mumbai on Sunday Afternoon. By 5.00 pm we were at home. Total expense for this trip was approximately 11,000/- inclusive of Airfare & Sleeper Bus fare and all other details.
There were tickets of Rs. 10/- to 15/- as well as camera charges of Rs. 20/- to 50/- at all places
I resolved to take another trip to Hyderabad, just to relish the Hyderabadi cuisine and satiate my unsatisfied appetite from this trip.
Frequent searches leading to this page:-
weekend trips from hyderabad, hyderabad tour packages by car, things to do alone in hyderabad, hyderabad to nagarjuna sagar road trip, hyderabad tour package cost, lepakshi telangana