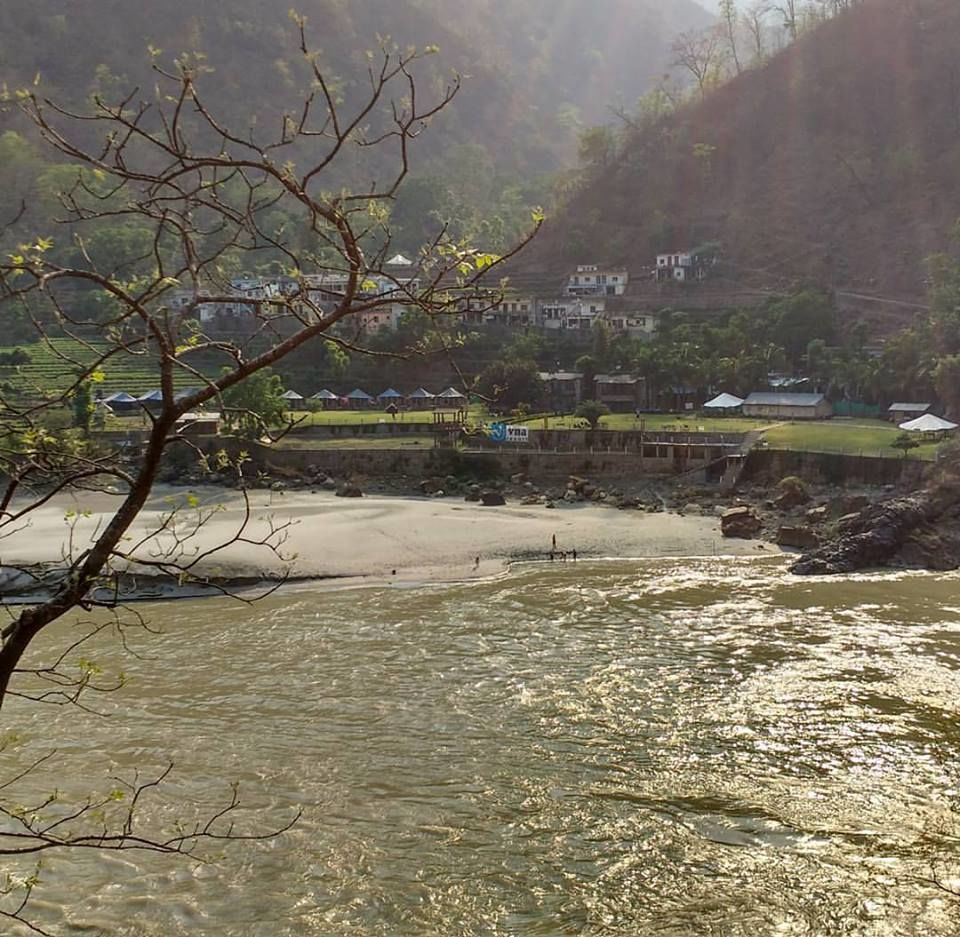 Plan: Weekend getaway; only Saturday and Sunday (appending Fridays and/or Mondays to a weekend is almost a sin. It's like asking for the boss's kidneys).
Participants: Seven girls; fiercely independent and borderline rebellious.
Budget: Very strict.
Route: Delhi >>>Rishikesh>>>Delhi
Transport: Hired Innova (with carrier). The camp we chose was 27 km ahead of proper Rishikesh. The local transport, as we guessed, wasn't too reliable.
One can tell these requirements almost sound like that perfect man one seldom finds. But we had to do this. One of our friends is getting married and her wish to go rafting on a particular weekend was definitely our command. We looked and dug and read reviews and spoke to people and finally chose VNA Resorts - a camp 27 km ahead of Rishikesh, away from the hustle-bustle of the town, away from the city buoys who operate on high dose of testosterone, and judgemental saree-clad aunties who look like they extended their spiritual trip at Haridwar by an extra day to 'camp' at Rishikesh.
We started from Delhi at 5.30 am, pretty much as scheduled. We would have loved to leave early, but most drivers advised us against it for the fear of crossing infamous territories of Meerut, Muzaffarnagar, Modi Nagar, and basically most of Uttar Pradesh. Leaving early morning made it possible for us to cover 100 odd kilometres in about two and a half hours and reach Khatauli, where we pit stopped at an eatery complex which had McDonalds, Subway, Haldiram, and some other chai and juice places. We catered to our grumbling tummies (and de-stressed our bladders) and hopped back in our car, assuming the journey will end in another five hours at the most.
But it wasn't meant to be. Our weekend coincided with a full moon night and an ardh-kumbh mela at Haridwar which translated into an endless jam, cranky moods, no lunch, cramped bodies and plummeting spirits. The car just kept moving along the curves and we read all the names of the camps that had been virtually surfed. I almost thought ours was a fictitious one. The cabbie finally parked the vehicle after 11-hours, after a curve from where we could see a neatly placed camp with a big board that said - VNA Resorts. The sight overwhelmed all of us and out came cameras that clicked, as most boasted, the perfect profile shots for the camp's website. We crossed a suspension bridge to make our way to the exclusive location of the camp, where we were greeted with warmth and food (we were three hours late, but they were sweet enough to keep some food for us). The food was really nice, served in a neat and hygienic setting. We refuelled ourselves and went straight to the Swiss tents. It relieved us even more, to see that each tent had a cooler and an attached bathroom, the beds were neatly made with clean bedspreads and things were placed properly (I am an OCD patient and these things mean the world to me). We changed and asked for permissions to go down till the river. The Uttarakhand government banned all beach camps in 2015 because of the damage being done to the river. Considering the ban, we were excited that VNA had a beach of its own where we could go down and engage in some badminton/volleyball and general feet-dipping.
The overall upkeep of the camp was praiseworthy; absolutely spick and span. We spent most part at the beach by the river side. They served us tea, followed by evening snacks and yummy dinner. They also provided for ice and cold water which made things easier for us. Their extensive lawns made it possible for multiple groups to set up separate speakers without letting Honey Singh mix with Adele.
We sat outside till quite late, enjoying the full moon night, the soothing sound of the river and the company of the two dogs who warmed up to us; more than our pooches at home. The next morning, we were woken up at 8 for a healthy breakfast, followed by 13 km of rafting, that took us about one and a half hour. We were scheduled to do 26 km but because the water levels had been rising every day, the stretch was truncated to do only 13 km. The water was brown and ice-cold. Our leader, Madan, made it a worthwhile experience and we had a jolly good time. The camp even provided for a tent after rafting for us to change so that we could immediately get going.
All in all, it was an excellent plan squeezed all within 48 hours. The camp is highly recommended.
Best season for rafting: Before 30 April
Best place to book camp: Off Shivpuri
Other activities at the camp: Burma bridge, obstacle net and sports equipment
Other activities in Rishikesh: kayaking, paragliding, bungee jumping
We loved VNA Resorts for its amenities, the staff, the no-nonsense policies, the food, space, the ambience, the area, the gardens, the beach, the sky, the moon (it was a full moon night) and everything there was.