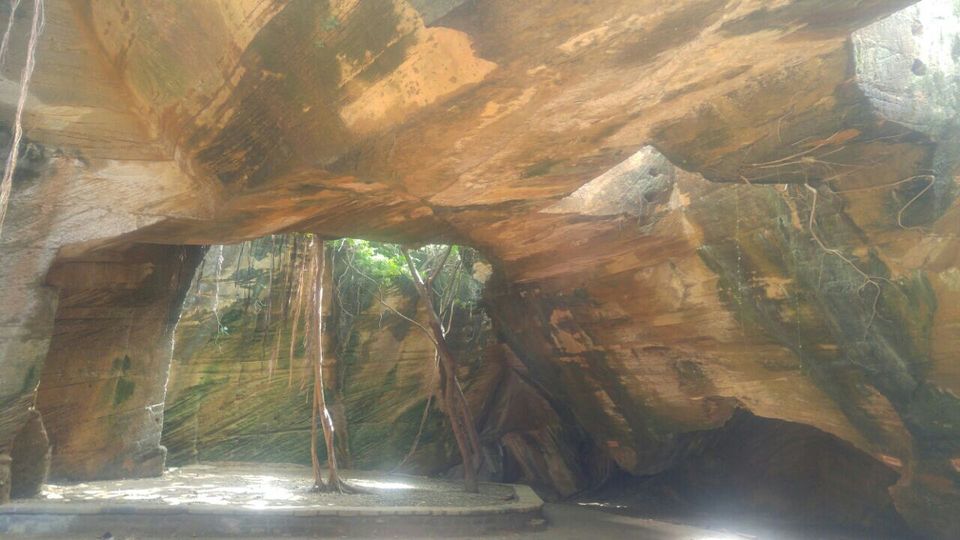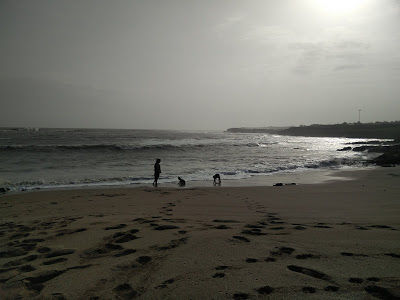 Well, in portugese Diu is known as Ilha de calma, which means island of clam. Diu does comes true to this name. It's a place for just relaxing, find your own isolated spot on the beach and sit for some time. Mind it, Diu is not Goa. So, you won't find too many beaches, too many beach side properties, too many beach side shacks or too many people!
We travelled to Diu in August 2016. Looking for option for our long weekend trip, we finally decided to go to Diu with the thought in mind that if nothing turns out well than at least kids can enjoy the beaches.
There are 2-3 route options, but take the route via Junagarh only as it has the best road. Everyone we consulted for routes advised to take that only.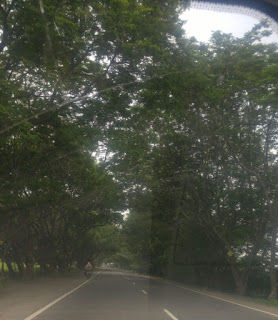 We left from Ahmedabad at 7.oo am. Drove about 100km and took a break for breakfast at Honest Restaurant @ limdi village. Breakfast was decent enough with Indian options like poha, samosa, gathiya, papdi, tea, coffee. It happens in life, you chose something and then realise later that something better was in offing. In the spirit of life, 3 kms down, we found cluster of joints like dominos, CCD etc. Well, but then it's about matter of preferences, right!
The road till Junagarh is a well maintained four lane highway. There is nice green belt on both the sides of the road. I think the road would look good in rains, but then it was not raining that day.
We could spot kingfishers (the bird!) and few other birds sitting on electric wires. You can find many eating joints on the way, so no need to panic and pack a lot of food for the journey, at least till Junagarh. Thought, post Junagarh the food stored for winters can come handy.
In between, at Jetpur we took a short tea break @ manubhai Tea. We moved further towards Choki. Road is good with trees on both sides, sometimes forming tunnels. As I said, would have looked awesome in rain.
Once you start approaching Junagarh, you can't help but notice silhouette of hills. It's mainly a cluster of hills and during rainy season the hills were green. One of those hills is the famous Girnar. The Girnar and its cluster of hills houses several hindu and jain temples. We were given to understand that you need a full day to climb up and come down.
One of such temple is Jatashankar Mahadev Mandir. On tripadvisor someone had posted a review talking about how the path to this temple is dotted with river crossings and many waterfalls. Determined to enjoy the walk to the temple, we enquired. It's about 2-3 hours return trip, but people denied that there would be any such falls or river crossing. Short of time, we skipped that also. When you enquire about places in Junagarh, people will definitely talk about animal zoo. I remember someone mentioning that it's the largest zoo in Asia! Given that we had some anti-zoo kind of people with us (my husband!) we added the zoo to our "places skipped" list
Having skipped almost everything in Junagarh, we thought of at least not skipping the lunch (thankfully!). On the outskirts of Junagarh there is Sugar & Spice restaurant. Sugar & Spice is the chain where we ate most in our college days. And, who can miss a chance to revive some college memories? Food was appetising there and butter milk was great. We gobbled all the food in no time.Overall Junagarh is a nice place because of the hills and religious places.
A small patch of road from Sugar & Spice and on the way to Sasag Gir is very bad. There can be 2 options to go towards Somnath from Junagarh. We took the one which passes through Sasag Gir, where the famous Gir Sanctuary is located, despite it being slightly longer compared to the other one. We knew that Gir sanctuary is closed during that time but wanted to admire the natural beauty. Road is average, mainly 2 lane but not heavy traffic. Can't help but highlight again, semblance of forest along the road would have been great if it rained that day. Remember, you are in west India and not in south, so don't expect that kind of greenly and forest.
The Gir Forest, or at least the road which passes through it, is dotted with tea stalls and resorts. We took a break at a tea stall in the middle of the forest. Discussing lion sighting with locals over a cup of tea was good fun.
Well, did I mention that our plan was to visit Somnath Temple and then move on to Diu? The temple is on the way, so not much diversion required. The temple, of course, is revered all over India as its one of the jyotirlingas. It's beautifully placed on the banks of Arabian Sea. It is said that in a pin drop silence one can hear sea easily. The temple is good and view is best. All famous temples attract crowd, so can't do much about it, but may be getting rid of beggars etc. may enhance the experience. It's actually a temple complex and later we came to know that there are more temples and some 3 river sangam in that area. So, those who are very much interested in temples, should keep this in mind.
It was around 6.30 pm we started from Somnath for our final destination "Diu". We reached there by 8.30 approx. Drive was good. As we entered Diu found roads & infrastructure to be well maintained and well planned too. It was night but could feel that Diu was looking beautiful. Our resort Kostamar Beach Resort was a new one and was located on Nagoa beach. It's the only restaurant on Nagao beach with roof top restaurant. Just to clarify, we couldn't find any property in Diu which is truly located on the beach. In context of Diu, located on beach means at some distance from beach or may be separated by a small road. In case of Kostamar and likes of that in that area, it's the latter case.Thus, the nagoa beach, the most popular one, was just across the road.
Let me first give an overview of the places in Diu and things to do. There is Nagoa beach, where most of the people visit and is relatively clean too. We believe there are some watersports on this beach and some other beaches like Ghogla beach and Chakratirth beach, but this was not the season, given our lifeline of monsoon going on.
Diu is a place where it is necessary to have your own vehicle, so that you can drive around and explore places. There is a cycle track also on major roads and you can hire cycles. But, we couldn't locate cycle hiring places in our 3 days visits, may be because it was not the season. That was one of our target activity which, unfortunately, we couldn't do.
There is a city side of Diu where the Fort, INS museum, St. Paul Church, Nadia caves etc. are located. There is a shiv temple also in that area. As I said, its better you roam around using your own vehicle. On the other side of Diu i.e. the road which connects the nagoa beach side to Somnath side entry, we arbitrary took a turn and found ourselves in midst of a mesmerising meadow, cliff and a graveyard. This place is not at all mentioned anywhere on the internet and is not part of the tourist circuit, but is definitely one of the best part. The graveyard looked like a village from a distance, all colourful and the graves so big that they looked like huts. When we approach nearer, we realised that we can't see any movement or people in that village (thankfully!). And then it hit upon us that it's a graveyard and must be a very old one, may be from the Portugese times.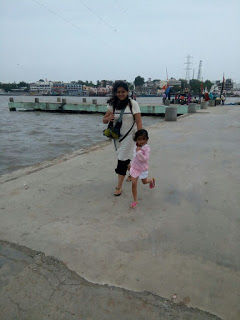 Nadia caves are awesome. So awesome that we visited this place after a long and heavy lunch (will talk about it), and were planning to go to our resort and take a nap, but when we visited this place, we were all charged up. In Nadia caves, you go deep down and then there are some opening to the top. Risky, but when you climb such openings, you find yourself in a meadow. Nadia caves is a must visit. Don't forget to get lost in Nadia caves as that adds to the fun. Also, don't worry about the utilities, as when you get down there are makeshift washrooms in the caves (yes, It's that big!). Nadia caves has openings on top at most places, so you feel like being in mini canyons. Also, inside the cave directions are marked so that you can choose not to follow them.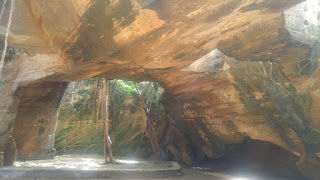 Diu fort is good. Little bit of walking with some uphill walk in between. You can get a good view of sea. The fort houses a prison also and the guard there was friendly enough to have a chat and explain that there are prisoners inside. Of course, to visit the prison part you need to do something, may be not spend some money but steal some!
Beyond Diu Fort in the Arabian Sea is another fort known as "Fortress of Panikoth" built at the mouth of the creek and can be accessed only by motor boat. Given that it was monsoon season, there were no rides (boats) available there. And thus comes another contender for life time memory. After talking to many fisherman's in the area, we managed to convince a fisherman to give us a round in the sea. Boat rides were not allowed in that season, so let me not talk about it.
Apart from nagao beach there are many other beaches like Ghogla, gomtimata, chakratirth and jallandar beach with former being the largest beach. Various places has pecular palm trees "Hoka" which add to the its scenic beauty. All the beaches are almost same, so don't worry if you can't cover all. Heard that Ghogla and Nagao have the water sport facilities.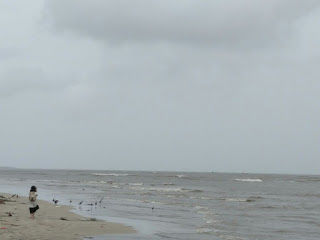 There is a large market near Apna hotel, you can visit there to buy general items at cheap prices. Beyond this area roads go to the shiv temple, Nadia caves and INS memorial. Further to which lies the beach we "discovered". We moved further and reached INS Memorial. We did not visit inside the INS memorial as we thought what's the fun in seeing a model of a ship? Instead, we climbed a huge rock adjacent to the memorial. Its top is almost at the same height as the INS memorial and had a great view. We realised that INS memorial must also be having a great view or may be better. But climbing the rock was fun! The shiv temple must be good. Unfortunately, didn't go inside but we later saw the photographs where in the waves touch and submerge the shiv lingas.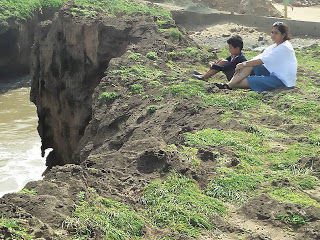 On the main road, with cycle track, which connects the Diu city with the Nagoa beach side of Diu, there is a Dinasour park and also good beauty on the sides. In fact, there is bird sanctuary- Fudam bird santuary alongside the road and you can spot good birds there! It was unfortunate that most of the beaches were filthy in parts in Diu. This includes the one which we "discovered" and the one near the Dinosaur park. By the way, just to clarify, Dinosaur park has few dinosaur and lobster statues and few things for children, not much. But since it's on the main road, you can just drive in and drive out.
Most of these places in Diu have adequate parking, so no issues on that aspect. We were also craving for having lunch or dinner at beach side. Diu is not Goa. What we could find were two places: one is restaurant of Sugati resort. The resort is located on the other end of the Diu (not the Somnath side but the city side), adjacent to the main entry gate of Diu. The restaurant there is ok and is at a distance from beach separated by a garden and a glass wall. But this is as near as you can get near the beach to eat something in a restaurant. Another place was Apna hotel. Don't go by the name, it's a decent place on the fort road and it overlooks the beach, with the fort road in between. Food is delicious at very reasonable price. Good fast service and courteous staff too.On the fort road, there are few more restaurant facing sea but Apna hotel gives better view as it is on 1
Coming from Gujarat you can keep in mind the alcohol aspect, which becomes a key feature of Diu visit for some people. The restaurant in our resort Kostamar was also decent enough. In fact, coming from Gurgaon, Delhi, Mumbai, Ahemdabad or any other major city, restaurants in Diu would seem like road side eateries, but then that what you get there. We ware vegetarians, but came to know that people relish sea food at all such places, But I think, Apna Hotel was pure vegetarian.
There is also a shell museum in Diu, which we skipped, so can't comment on it. Overall Diu lives to its promise of calmness. A visit worth 2-3 days, not more than that. By the way, Diu is not goa, all places including restaurants close there around 10:30 -11:00 pm and after that you are on your own. There is also the water sports angle, which I can't comment on because there were none because of the monsoon season. Better prepare your mind and set your expectations accordingly, take your vehicle there and then you can enjoy Diu.